In 2023, avoid using spreadsheets to stay organized. Airtable and monday.com, for example, integrate database technology and project management with spreadsheet simplicity, as well as Kanban boards, conversations, document control, and other features.
Some of the software tools offered to project teams are inflexible, and not all project team members are tech-savvy enough to be using them. The teams may feel trapped by restrictive software as project needs change or new projects emerge, requiring them to alter their operations. In this post about Airtable vs. Monday.com, we examine two adaptable project management platforms and their features in comparison.
1. Differences Between Airtable and Monday.com
Airtable focuses on data collection, whereas Monday.com focuses on job completion tracking.
Monday.com provides a well-developed project-oriented chat system, whereas Airtable only allows limited team communication.
Monday.com has more functionality than Airtable when it comes to project management.
Individual users will benefit from Airtable's payment plans, while organizations will benefit from Monday.com's.
Monday.com offers 24/7 assistance with their packages, but Airtable only supports their cheaper plans via email.
Monday.com offers fewer connectors than Airtable, which interfaces with various tools and apps.
2. Similarities Between Airtable and Monday.com
Airtable and Monday.com both provide mobile applications of their software.
Both Monday.com and Airtable offer various payment options, with some functions hidden behind a paywall.
Users may access tutorials, self-help knowledge bases, and how-to videos on Airtable and Monday.com.
Both Airtable and Monday.com encourage team openness, highlight changes to your tasks and projects, and provide record-keeping tools.
3. Airtable vs Monday
3.1 Multiple View
In any project management software, task and project views are separate layouts for displaying project and task activity. For example, most free project management software only provides a single task and project view – the board view. The five most used task views are–Table view, Board view, Gantt chart view, File view, and List view.
Airtable multiple view options
Airtable views allow teams to examine data from various points and adapt their ideas as the data changes. Project teams may use the Gantt view to keep track of their procedures, simplify reporting and track progress. The Kanban view gives you a quick summary of the workflow and allows you to make real-time modifications using drag-and-drop. The Calendar view makes it simple to correlate data with important events, whereas the Grid view provides a familiar and versatile user interface for grouping, sorting, and manipulating data. It also features a Gallery view for showing photographs and a Form view for gathering data.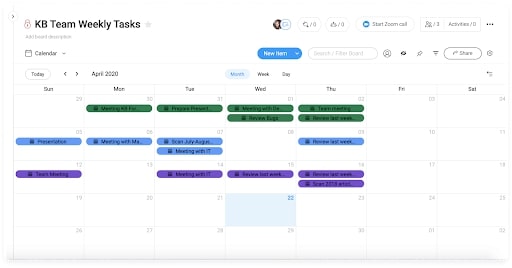 Calendar view in Monday tool
Monday.com gives consumers a variety of options for visualizing their work. The site has eight data visualizations: Kanban, Table, calendar, Gantt, timeline, map, workload views, and form. Its Gantt view allows project teams to visualize work progress quickly and dependencies, check whether any activities overlap, and update dates to accommodate schedule changes. It adds up, customize, and scales the Kanban view. Teams can examine the flow of work and deadlines with pictures they can share with the rest of the team using the calendar and workload views.
3.2 Workflow automation
Workflow automation is the missing link in your process. With the workflow automation tools, you can help the team work better. Create business-critical documents automatically, assign tasks, sign, distribute, and save data and files digitally across numerous platforms.
Airtable workflow integrations
Airtable automation can help teams who develop their apps enhance their operations. It allows customers to customize how much of their workflows they wish to automate, from a single notice to several automated actions utilizing triggers. Users may also use integrations to automate tasks, such as creating Slack, Google Workspace, and Twitter activities. Low-code features based on JavaScript can help extend the automation in apps' capabilities.
Monday workflow integrations
Users can pick from thousands of Monday's automation to simplify everyday operations in their workflow. They can automate various tasks, including delivering notifications, generating board items, assigning task owners, and updating status. When due dates approach, the program may send emails automatically, and it can also notify PMs when teammates finish tasks.
3.3 Integrations
With assistance from third-party applications that keep an eye on every stage, project management applications nowadays have made work distribution simpler. Because no two projects are alike, they may necessitate a variety of extra activities and also different project management technologies. The objectives of your future project determine the collection of software capabilities and features you'll need.
Airtable integrations
Airtable interfaces with over 30 prominent third-party apps, much exceeding the total number of integrations offered by Monday.com. Collaborations with other marketing project management tools such as Asana and Basecamp, file management systems such as Evernote, Box, and Google Drive, event tools, and forms are just a few of them. It also integrates with YouTube, Tumblr, and previously stated social networks. If you require an integration that Airtable does not supply, you may develop one using API.
​​
Monday Integrations
There are 20 applications on Monday.com (fewer than Airtable). It has programs for file storage (Dropbox), communication (Gmail), collaboration (Slack), and project management (Project Manager) (Todoist, Basecamp). It also connects with Shopify and Salesforce, two prominent sales and e-commerce platforms, unlike Airtable. You can program it using its API if you require an integration it doesn't have.
3.4 Project management tools
Project management tools are designed to assist managers in planning, executing, and controlling all project implementation areas. Companies rely on important project management tools to guarantee that each assignment is performed on time and that the burden of employees is balanced for effective time management.
Airtable task board
Airtable features a lot of pre-made templates, and Airtable University contains a lot of user-made templates that you may download and customize.
Airtable supports Kanban and Calendar views and also list views. It also offers a gallery display that you can customize and upload to your site to inform everyone about your project's progress.
You can access details, status, and comments on a task by clicking on a task. Airtable presents photographs in thumbnail mode and then displays them in gallery view to create a more appealing layout. It allows you to join projects together so that you may share similar information like maps of a specific region or graphics. It's an excellent method to keep track of items, contacts, and other resources that cross many projects. It also saves time by eliminating duplicating information in a different task.
Monday Task Board
Monday.com provides basic project management capabilities in a user-friendly and adaptable style. You may either choose a pre-made template or create your own. Monday.com contains a total of 20 data fields that you may customize for unique projects and task information. You may attach documents and photos to the chat functionalities within a task, just like any other conversation. You may construct boards (such as Kanban views), timelines with dependencies (such as Gantt charts), and calendars, among other things.
Monday.com has a location map function. It also has a sophisticated but easy-to-use forms feature for creating tasks based on client input. After submitting a form, you can use automation to send a thank-you letter and route the consumer to your website. You can't make papers with this tool like Airtable Blocks, but you can still import files, pin them, and add attachments to numerous activities, such as forms or instructions.
3.5 Mobile app features
A mobile app for project management software enables users to access your software from any location and at any time using your mobile device.
Airtable mobile app page
You can organize projects, save data, communicate, and do basic project management tasks with Airtable's mobile app from your smartphone. The mobile software is compatible with Android and iOS, albeit iOS appears to perform better. The most common complaints about the Android app are that it freezes and crashes. In addition, the number of view possibilities is restricted.
Monday app page
Monday.com offers a mobile app available for both iOS and Android devices. While it fulfills the fundamental demands of project planning, it's not as customizable or feature-rich as the desktop version. Users also reported issues with onboarding and loading.
3.6 Charts and Reports
Data visualization tools are many tools you may utilize to manage your tasks properly. These tools use charts to present you with helpful information about your projects, allowing you to guide projects in the proper direction while assuring higher-quality deliveries.
Airtable bar graph
Airtable's equivalent of interactive charts for tracking progress is the Blocks feature. It even has pivot tables to help you dive down into the data you need. Airtable has a calendar display and a records search feature. Gantt charts and line, bar, and scatter charts can be created in this tool. Airtable also has the option of organizing charts to organize your data.
Monday Gantt Chart
Monday.com provides bar, pie, and line charts to help you view your project statistics. You may make charts to measure progress or the workloads of team members. Monday.com does not offer standardized or shared statistics, but you may use pictures, SVG, or CSV files to construct your custom project analytics.
3.7 User-Friendliness
Both Monday.com and Airtable are straightforward, with templates, a basic yet effective user interface, and various learning options. Monday.com seems the easiest to set up and use the two, especially compared to Airtable's more distinctive and intricate features.
If you're familiar with Excel's capabilities, you'll find Airtable to be simple to use. The data entering process is very similar. Advanced functionality, such as Blocks, will take longer to master. Airtable University is a helpful tool that shows how the software is used in real-world scenarios by firms in several sectors.
Monday.com is designed to be simple to use. The setup is straightforward; data fields are simple to add and see directly on the task list, while color-coding is ideal for drawing attention to critical information. It's simple to install automation and then manage the administrative details. The interface design is colorful, new, and easy to use, and the support options are excellent.
3.8 Customer Service
Any project managing software should have examples, clear instructions, and locations to seek assistance and suggestions. In these areas, neither Monday.com nor Airtable fall short. It's another reason why both systems are so popular for project management.
Airtable support page
The Airtable help center includes tutorials and a searchable textual and video instructions library. You may also join up for free live lectures or contact us via our online contact form if you have particular queries or need assistance. There is a community forum that is both active and regulated. Overall, all of the standard support functions are handled well.
Monday support page
Monday.com contains a lot of helpful resources. No matter whatever package you choose, you'll get 24/7 email and phone assistance, with the Enterprise Plan including a personal customer success manager who can help you with more than help desk issues. There are frequent webinars, a discussion forum, and simple in-app instructions. Monday.com staff members can also be hired for consultation, customized training, and unique integrations.
3.9 Pricing and Plans
Monday.com's plan rates are based on groups of five, with four guests included as one user. As a result, there is a significant cost differential per user. A basic package, for example, costs $39 each month for one user but only $9.80 per user each month for five users. The cost-effectiveness of a tier increases as you get closer to the top. Discounts on plans are available for nonprofits and educational organizations. The following are the pricing plans for Monday.com:
Basic: $39 per month for five users, with the features of templates, data fields, one-week activity log, and automation.
Standard: $49 per month for five users– with four guests billed as one user and provides all essential features along with forms and customization, unlimited activity log, and 250 integrations per month.
Pro: $79 per month for five users with unlimited shareable boards and all standard features along with 25,000 integrations per month.
Enterprise: Customized price, with all pro features and 100,000 integrations per month.
Airtable costs from $0 and $20 per month, depending on the number of users. While not as sophisticated as the subscription plans, the Free plan offers enough capabilities for any team that need basic managerial tools. However, the most outstanding features, including custom-branded forms, blocks, and restricted shares, need a premium subscription.
View-only access is free for casual users and is a valuable tool when working with clients or a senior manager who has to stay up to date on the development of a project. An Enterprise package is available, which includes limitless users and extra features and support. The following are the pricing plans for Airtable:
Free: 2GB storage space, with all views and web, desktop, iOS, and Android app features.
Plus: $10 per user each month, with 5GB storage space and all free features.
Pro: $20 per user each month, with 20gB storage and custom branded forms along with all free features.
3.10 Special features
Although both Airtable and Monday.com have similar features, a few features are unique and give them an upper hand over other project management tools.
Airtable Blocks
Airtable's Blocks feature will appeal to creators and number crunchers alike. It's an excellent resource for real estate firms since it allows you to upload maps that connect to interactive images of the region. Create web pages, invoices, and other documents using the page designer. You may use the 3D modeler to create a room or design. Video chat, countdown clocks, and analysis tools are all available. It's a handy tool that monday.com does not provide.
Monday screenshot walk-through guide
You realize the value of software assistance if you've ever seen a video about completing a task but still couldn't do it within the application. Monday.com contains standard help options and gives walk-throughs for numerous on-screen operations. Monday.com guides you step-by-step through the program when you click the help button, highlighting the icons and tabs and providing straightforward directions on what to type. It's the equivalent of getting an online coach.
4. When should you use each project management tool?
Airtable is ideal for enterprises that handle creative outputs, such as advertising or video creation. It provides planning tools and connectors specifically designed for social media campaign planning and marketing, saving you time and money. Its Blocks feature includes collaborative tools for creating web pages, papers, organizational charts, and more.
Due to its customizability, monday.com is an all-around project manager ideal for just about any business. Thanks to its colorful, straightforward UI and excellent automation tools, it's a good solution for firms that often communicate outside the workplace, such as those in the retail industries or even for IT and small-scale manufacturing businesses.
5. Conclusion
Airtable or Monday.com will be valuable to small organizations with considerable project management and organization demands. Both are simple to use and provide helpful project management capabilities. They're both inexpensive and include a slew of charts to help you stay organized, along with a slew of software connectors. Share with us which project management tool you have chosen to use and why.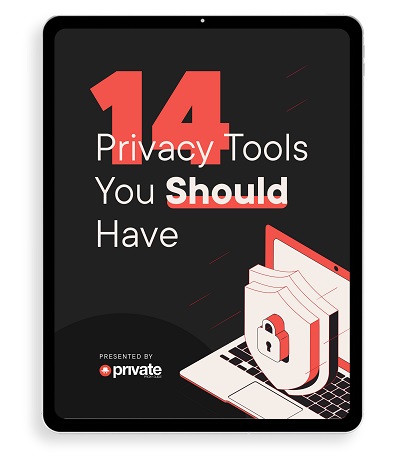 Learn how to stay safe online in this free 34-page eBook.