Offering unique features and breaking stereotypes about free VPNs, Atlas VPN (www.atlasvpn.com) was able to gain popularity in the media and a lot of new users from all over the world. Now, let's look at all facts and how they perform in this Atlas VPN review.
Atlas VPN was launched in January 2020, and its popularity has been growing unrestrainedly. The company positions itself as a free VPN that does not infringe on privacy, does not bombard the user with tons of ads while providing unlimited traffic and military-grade encryption. In short, it has everything that other free VPNs don't. Of course, there is also a premium version, where servers are even faster and better optimized for various tasks.
This VPN is extremely fast, and in a bit more than a year, the company was able to install more than 700 servers in 27 countries. They work quickly and are reliably protected. They use the IPv6 protocol and protect against attacks through DNS and WebRTC. Popular streaming services and platforms are supported on Windows, macOS, Android, and iOS. The company also promises to add native Google Chrome support.
The biggest thing about the VPN is that it collects very little information about the user. In the free version, you don't even need an account!
But does Atlas VPN protect against leaks, or does it allow access to geo-restricted content? Can you trust the no-log policy they declare? Sounds interesting, but now let's find out how this service works.
Pros
Anonymity and Privacy Policy
Free Version with Unlimited Traffic
Very Affordable Premium Subscription
Unlimited Simultaneous Connections
Powerful Security and Encryption Options
Great Connection Speed
Growing Server Infrastructure
Streaming and Torrents Are Allowed on All Servers
Cons
Slower Upload Speed
Torrents and Streaming Services Are Not That Good in the Free Version
No Live Chat Support
Basic Apps and Few Supported Platforms
Lack of Security Protocols
Not Every Declared Payment Method Available
1. What We Like About Atlas VPN
1.1 Anonymity and Privacy Policy
Typically, free VPN services collect user data and sell it to third parties, such as advertising companies. Or they make money by adding ads to the app menu. Therefore, users tend to be skeptical about a free VPN — finding one that is completely transparent about their privacy policy can be tricky.
What makes Atlas VPN better than others? It only collects the minimum amount of data required to support full VPN functionality and comply with applicable laws. You don't even need to register to use the free version! The fact that there is no registration in the free version speaks volumes.
However, when it comes to the paid subscription, Atlas VPN does store some data about you. In their Privacy Policy, the company states that they do not store your real IP address or any information that reveals what you are viewing or doing over the VPN connection. The only information collected is basic analytics to ensure a quality service for all users:
application data to keep the application running smoothly
your real IP addresses
device data such as operating system, approximate location, and device ID for marketing purposes only
email address to prevent abuse.
However, none of these details can be used to identify you or see what you are doing on the Internet. In addition, Atlas VPN can delete any collected information if the user requests it. If you would like your data to be deleted, you should contact the team at support@atlasvpn.com.
Although Atlas VPN is in the USA and works under the laws of the State of Delaware, they do not share information with law enforcement and government agencies upon request. This is great to hear, especially since Atlas VPN is in the 5-eye zone. Such a data collection policy suggests that the service simply has nothing to transfer to the state. In addition, all user information is encrypted, making it impossible to read or intercept.
1.2 Free Version with Unlimited Traffic
While the majority of free VPN services have data limits, which means your VPN usage will be limited, Atlas VPN provides unlimited traffic even in the free plan. So, you can use it as much as you want. This is incredibly handy for both streaming and torrenting applications.
1.3 Very Affordable Premium Subscription
Compared to the free plan which is limited to just three servers and sometimes works a bit slower, the paid subscription gives you a lot more privileges:
servers optimized for watching any streaming platform
more than 700 servers in 27 countries
round-the-clock technical support
any number of connected devices
SafeBrowse feature and security check
higher connection speed.
Now let's look at the prices.
| | | | |
| --- | --- | --- | --- |
| | 1 Month | 1 Year | 3 Year |
| Pricing | $9.99/mo | $2.49/mo | $1.39/mo |
| Billed | $9.99 every month | $29.88 every year | $50.04 every 3 years |
| Money-back guarantee | 30 days | 30 days | 30 days |
The monthly price tag is not the most attractive — $ 9.99, considering that there are much more affordable services in the market. But with an annual subscription, the price drops sharply, in monthly terms, to just $2.49. And if you pay for 3 years in advance, then it's even less — $1.39 per month.
1.4 Unlimited Simultaneous Connections
Although Atlas VPN is not the cheapest in the market, it has no restrictions on the number of devices simultaneously connected to one premium account. In other words, you don't need to buy additional subscriptions to cover all the gadgets in the house! This is a unique feature because the competitors limit the number of connections from 5 to 10.
1.5 Powerful Security and Encryption Options
Currently, the Atlas VPN app for Android and iOS uses the fastest and most secure IKEv2 protocol, which is considered the most advanced solution in the industry. Atlas VPN uses AES-256 encryption, the same technology used in financial and military institutions. Hence, the web traffic is highly protected from IPv6, DNS, or WebRTC leaks, traffic interception, and tracking.
It is almost impossible to hack — hackers cannot intercept encrypted information. Even if someone can get your data, they will not be able to read it. In other words, it will be a pile of random characters.
There is also a Kill Switch feature that protects against data leakage when the connection is broken. In this case, Atlas VPN will not allow you to connect to the Internet.
SafeBrowse is another great feature. It notifies you when you try to open an infected or potentially dangerous website.
Premium users can also select SafeSwap servers which have a pool of different IP addresses. Once you establish a VPN connection, the app will permanently change the IP address automatically.
We checked the connection security on the BrowserLeaks website, a trusted and informative resource. No tested servers leaked IP address, DNS, and WebRTC. This means that no one will see your real location, provider, and other personal data.
1.6 Great Connection Speed
Before the VPN speed test, we checked our ISP connection. Being physically located in Ukraine, we use a 100 Mbps channel and via Wi-Fi, we had the following speed: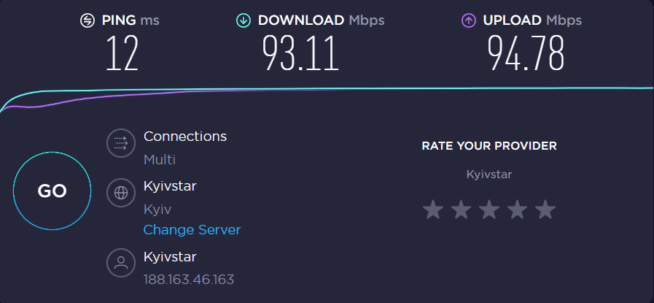 Next, we checked the speed on some locations in different parts of the world. Here are the results:
Server
Ping, ms
Download, Mbps
Upload, Mbps
Free servers
Netherlands
95
33.57
16.46
United States — New York
177
23.26
9.99
United States — Los Angeles
200
4.87
0.43
Premium servers
United Kingdom
65
24.82
18.48
Netherlands
54
76.80
37.44
Germany
47
85.54
32.55
Italy
47
35.36
25.15
Spain
69
20.28
28.22
Switzerland
54
70.35
24.57
Serbia
43
19.73
26.10
Romania
54
57.27
21.52
Estonia
73
76.24
18.25
Denmark
58
81.33
29.44
Finland
79
61.92
18.22
UAE
158
29.50
7.09
India
221
3.91
3.18
Hong Kong
345
5.95
4.59
Singapore
195
57.06
13.45
Japan
289
44.54
3.74
Canada
142
49.82
10.94
United States — New York
130
9.55
12.66
United States — Los Angeles
192
69.47
12.07
United States — Miami
160
62.84
6.50
Australia
314
6.97
5.48
We can see that most servers are really fast. Yes, some of them are slower, but this can be caused by geographical distance. As for free servers, they are slower but they are still quite good to watch an online video even in 4K.
1.7 Growing Server Infrastructure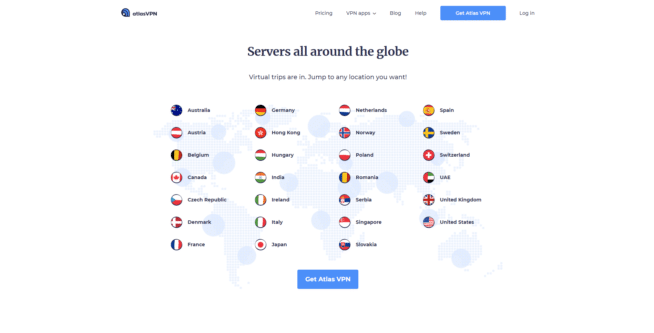 As of the beginning of July 2021, Atlas VPN counts more than 700 servers in 27 countries. They are in different parts of the world: Europe, North America, Australia, Middle East, South, and Southeast Asia. The USA is the only country with several locations: New York, Los Angeles, Miami, Dallas, New Jersey, Phoenix, and Las Vegas.
Compared to other VPNs, it's not so much. Market leaders have thousands of servers in dozens of countries and locations. At the same time, the company is very young, and continually expands its server infrastructure and adds new locations.
1.8 Streaming and Torrents Are Allowed on All Servers
Atlas VPN works with popular streaming platforms such as Netflix, HBO, YouTube, Disney +, Amazon Prime, and BBC iPlayer. We tested each platform out there and found that Atlas VPN works fantastically with each one. We didn't have any problems watching our favorite content.
Speaking of torrents, peer-to-peer traffic is allowed on all servers. We checked several premium servers downloading a Linux Mint distributive from the official website. The download speed was high: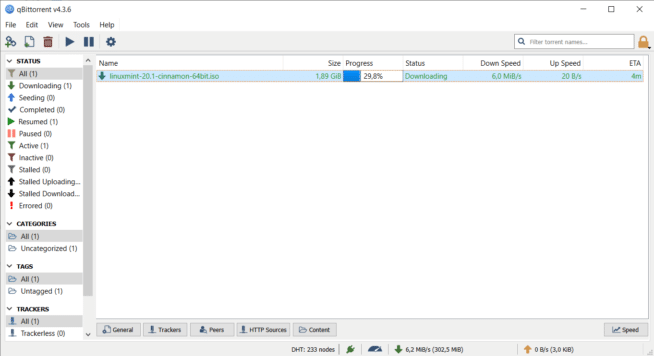 So, if you want to watch some streaming content not available in your country or use torrent networks safely, Atlas VPN is a great solution.
2. What We Don't Like About Atlas VPN
2.1 Slower Upload Speed
Despite the upload speeds being pretty high, they are significantly lower than download speeds. This is still comfortable for most tasks, but it can be critical in some specific situations. For example, it takes some time to send some big files securely.
2.2 Torrents and Streaming Services Are Not That Good in the Free Version
The developers claim that the servers are optimized for Netflix and other platforms on both the paid and free versions, but we did not succeed very well with a free account.
On Netflix, the film did not start immediately, we had to change the server. However, there were no problems with the paid version. Perhaps it depends on the specific server, and if you search properly, you can find a suitable one.
When we tried downloading, we had a similar problem — the files downloaded very slowly until we switched to the Premium version. We were able to download large files very quickly.
2.3 No Live Chat Support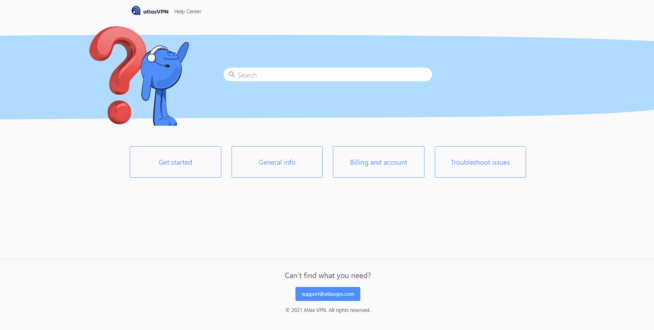 The Atlas VPN website has an impressive Q&A section (under the Help tab). The articles are not organized perfectly, but we found everything we needed with a simple search. If nothing is found, you can write an email to support@atlasvpn.com. Premium subscribers can expect 24/7 support.
Unfortunately, technical support is available only via email. The company does not provide assistance on the phone or via live chat. This can be an issue when you need assistance from a technical specialist.
The average response time is several hours, comparable to most similar services.
2.4 Basic Apps and Few Supported Platforms
Currently, Atlas VPN supports Windows, Mac OS, Android, and iOS. Unfortunately, you will not be able to use it on Linux, and any other platforms like routers, game consoles, smart TVs, etc. There is also no manual configuration. This can be critical for some users who need to protect other devices than home computers and smartphones.
Moreover, the applications are considerably basic and do not provide many configurations. We checked Windows and Android apps, and here is what we are ready to say.
Windows
In the free version, there are four tabs: Home, Settings, Upgrade, and Support. The list of available servers is divided into free and premium ones.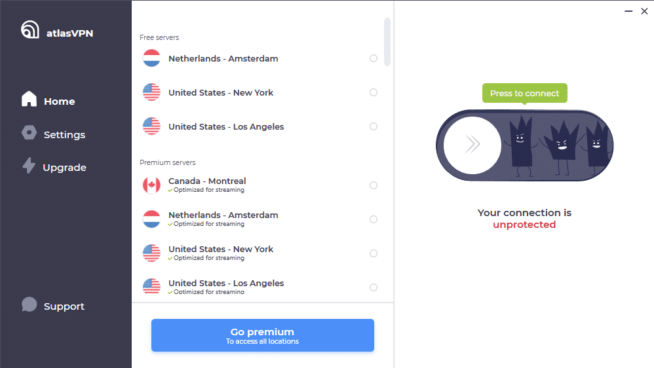 When you switch to the premium version, the Upgrade tab and free servers are not displayed.
The Settings tab does not include many parameters. It only shows the information about your account and plan, as well as basic app settings: Start on Launch, Kill Switch, and In-app Analytics. You will not be able to change the security protocol, port, and other important settings.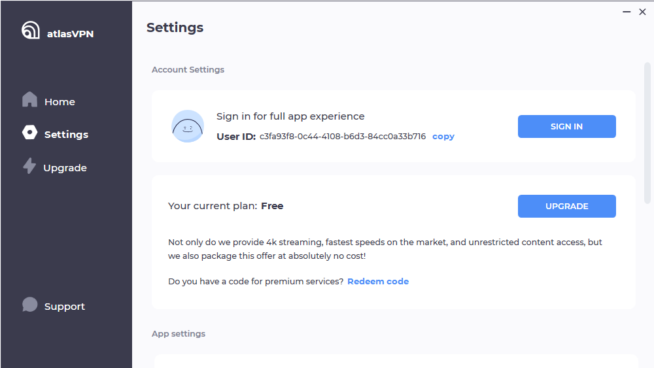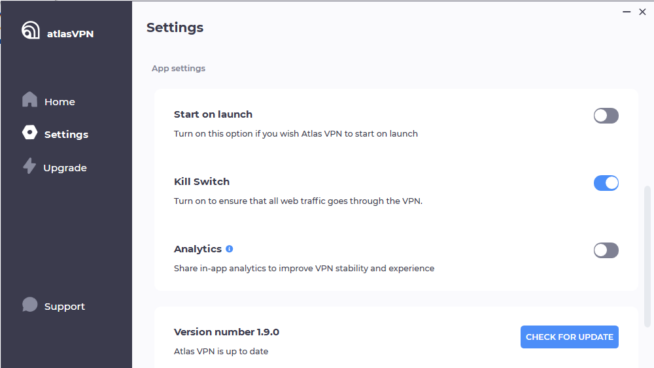 In the Support tab, there is a link to the Help Center, Privacy Policy, Terms of Service, as well as Android and iOS apps. You cannot even contact the support team in the app menu.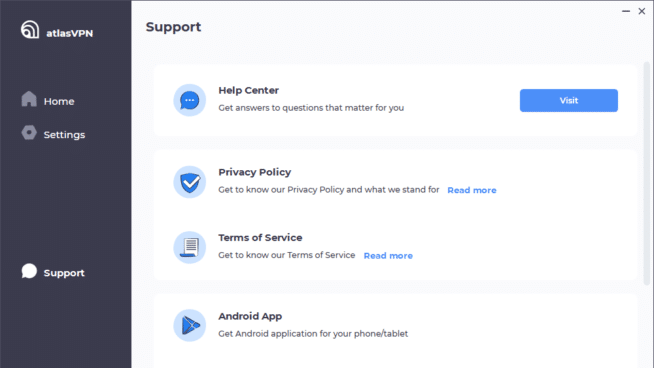 Once you select and connect to a server, the app shows the connection time. You cannot check any additional connection parameters.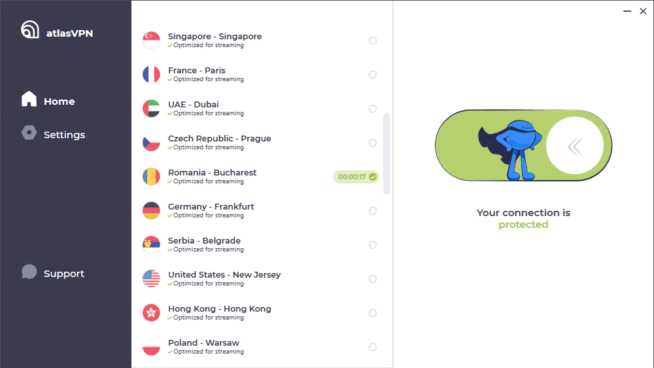 Android
The Android application has more tabs. It includes Assistant, Invite Friends, Premium Subscription, and Settings. In the Assistant tab, you can enable the Tracker Blocker option or check the security of your personal data, email, and passwords (Data Breach Monitor).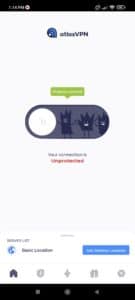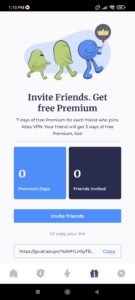 In the settings, you can enable/disable Kill Switch, push notifications, as well as open the support center. Again, you are not able neither to contact the support team directly, nor to change any advanced options. Like Windows, the application is very basic, too.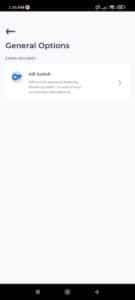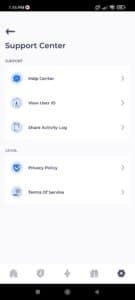 To use the VPN, select the specific location or let the application change the best one automatically. Like in Windows, the Android app displays only the connection time. You cannot check any additional parameters.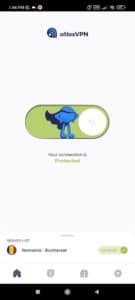 2.5 Lack of Security Protocols
Despite Atlas VPN supporting the most advanced and secure AES-256 and IPsec/IKEv2 protocols, it does not support the additional protocols. For example, you will not be able to use WireGuard and even the most popular and compatible with any device, OpenVPN protocol. It can be disappointing for advanced users.
2.6 Not Every Declared Payment Method Available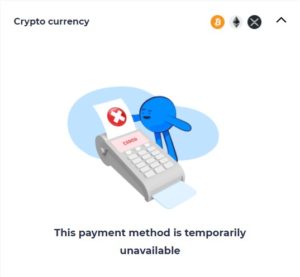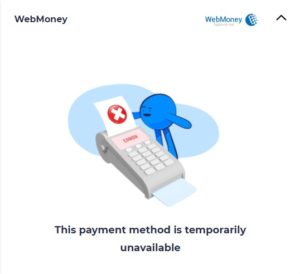 The company states that they accept bank cards, Google Pay, PayPal, some cryptocurrencies, and WebMoney as payment methods. However, the last two are currently unavailable, meaning that you will have to reveal your banking data. This is not ideal for those who prefer anonymous payments.
3. Is Atlas VPN Worth Getting?
It highly depends on your needs and expectations. It's not a huge service with numerous protocols, exclusive features, and thousands of servers like ExpressVPN or NordVPN. It's not available on any possible device. If you prefer services of such caliber, it's not your choice.
Atlas VPN is a good solution for those who need a simple affordable VPN for everyday use. It unblocks the majority of streaming services including Netflix, supports torrent networks, is quite fast, and uses the most reliable security protocol.
4. FAQ
Is Atlas VPN free?
Yes, but the free version is quite limited. It provides only three server locations and is a bit slower. At the same time, the free version has no traffic limits and doesn't require registration — you can use it anonymously.
Can I get my money back?
Yes, you can. The company has a 30-day refund policy. This means you can request a refund within 30 days after the payment. However, be ready for them to try to solve your issue first.
How good is Atlas VPN?
Atlas VPN is a lightweight and easy-to-use service. It does not require manual setups and works perfectly out of the box.
Is Atlas VPN safe?
Despite the fact that Atlas VPN does not support a variety of security protocols, it uses military-grade AES-256 encryption and IPsec/IKEv2 protocols. In addition, there is Kill Switch, SafeBrowse features, and SafeSwap servers. Also, they have a strict privacy policy.
Does Atlas VPN work with Netflix?
If you use a free version, it is not very stable. Sometimes, you will have to reconnect to the server to watch Netflix.
How do I use Atlas VPN?
First, you must install an application. On mobile, go to the Google Play Store or Apple App Store. On the desktop, download the installation file from the website. After the installation, run the app and click on the server in the list to establish a connection.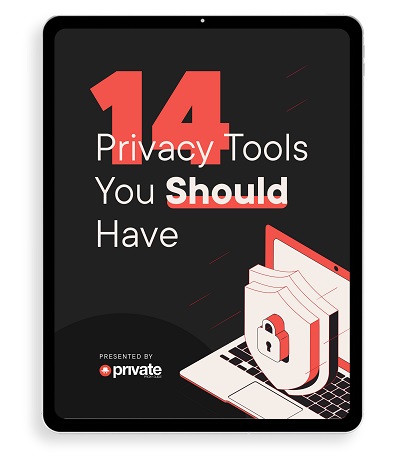 Learn how to stay safe online in this free 34-page eBook.