These days, data is the costliest currency, which is why hacking has become a serious threat in recent years.
Should you make a simple Google search, you'll find that the first recommendation to protect your data is to get some kind of antivirus software – one that can protect everything across your devices without blowing a hole in your wallet.
The thing is; antivirus programs are a dime a dozen these days, which is why choosing the right software for your needs isn't exactly a walk in the park.
Worry not, though, as, in this article, we'll be reviewing two of the best antivirus programs available today: AVG vs Avast. Also, note that there is no consensus on what's best between these two on Reddit.
| Antivirus | Avast | AVG |
| --- | --- | --- |
| Interface | Clean | A bit cluttered |
| Malware Protection | ADVANCED award on AV-Comparatives 5.5 out of 6 on AV-Test | ADVANCED award on AV-Comparatives 5.5 out of 6 on AV-Test |
| Features | Smart antivirus CyberCapture Password protection Wi-Fi inspector Sandbox Real Site Ransomware Shield Two-Way Firewall SecureLine VPN | Antivirus protection Ransomware protection Payments protection Webcam protection Hacking protection Anti-Theft |
| Impact on System Resources | 6 out of 6 on AV-Test | 6 out of 6 on AV-Test |
| Pricing | Free plan Internet Security: $59.99 (1 device) Premier: $79.99 (1 device) Ultimate: $119.99 (1 device) Avast for Mac: $59.99 (1 device) | Free plan Internet Security: $79.99 (10 devices) Ultimate: $99.99 (unlimited devices) |
1. Verdict
Both Avast and AVG are excellent antiviruses that offer reliable real-time malware protection as well as several intuitive features that can take your online and offline security to the next level.
There isn't a clear winner here, as both are equally efficient, but if you're looking for more features at a slightly lower price, Avast might be the better option. On the other hand, if you have several devices that you want to protect at the same time, then you ought to go with AVG.
2. Interface
What we like the most about Avast is its simple yet oh so beautiful and intuitive interface. When you launch the app, you get two things: The status of your protection, which indicates whether everything's good to go or not, and a big, green "Run Smart Scan" button along with the main menu on the left.
The "Smart Scan" covers all of Avast's scans, which include compatibility, viruses, browser add-ons, outdated software, router issues, weak passwords, and performance.
You'll also notice the "UPGRADE" button, which leads to a comparison table that lists the differences between the free and paid versions of the software.
The main menu includes four groups, each leading to a specific set of settings:
Status, which opens the start-up tab.
Protection, which includes the different protection settings.
Privacy, where you can find all the password and data-related parameters.
Performance, which includes performance optimization settings.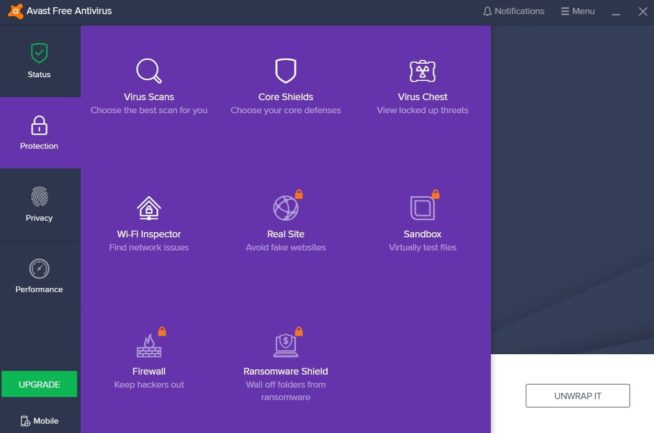 All the items are easy to access and navigate, which makes Avast the epitome of user-friendliness among antivirus software.
Compared to Avast, AVG has a pretty cluttered interface – one that can feel overwhelming, especially for beginners. At the very top, you'll get a green tick with the message "You have basic protection", which basically refers to your plan. Right below, you get the main menu, which includes two groups:
The free, basic protection, which covers Computer and Web & Email.
The paid, full protection, which covers Hacker Attacks, Private Data, and Payments.
Below the menu, there's the "Scan Computer" button, which isn't as visible as that of Avast. Right next to it, there's a small "Fix Computer Performance" button, but don't get your hopes high just yet, as you need another product, which is AVG's PC TuneUp to actually fix your computer's performance.
Finally, the lower space is reserved for the upgrade option, and you can either Buy AVG's Internet Security or try it out first.
AVG vs Avast – Winner: Avast
3. Features
Both antivirus programs offer a plethora of security features. We'll break down those of each separately then announce the winner below.
3.1 Avast Antivirus features
In its free version, Avast offers so many intuitive features, which explains its popularity across different devices. Of course, the company offers even more features in the paid version, but that's expected of any piece of software.
Avast's main job, which is malware protection, can be accessed through the "Smart Scan" button. The Smart Scan covers four main issues: Browser Threats, Outdated apps, Viruses and Malware, and Advanced Issues. Unfortunately, advanced issues can only be solved by purchasing one of Avast's paid plans, which, again, is expected considering that this is a freemium program.
Besides the basic malware protection, the free version of Avast also offers a handful of useful tools, such as the Wi-Fi inspector, which, as the name indicates, checks the level of security of your Wi-Fi network.
You also get a convenient password vault that can be installed via the Avast browser extension, which is pretty impressive, as it substitutes password managing software for free (to a certain extent, that is).
The features don't stop there, of course, as the free version of the Avast Antivirus also includes some pretty neat privacy apps, like the SecureLine VPN, which is self-explanatory, and AntiTrack Premium, which stops online trackers and keeps your identity private as your browse the WWW.
Avast's first paid plan, which is known as Avast Internet Security, overshadows the free version with a handful of extra features that further enhances the software's capabilities.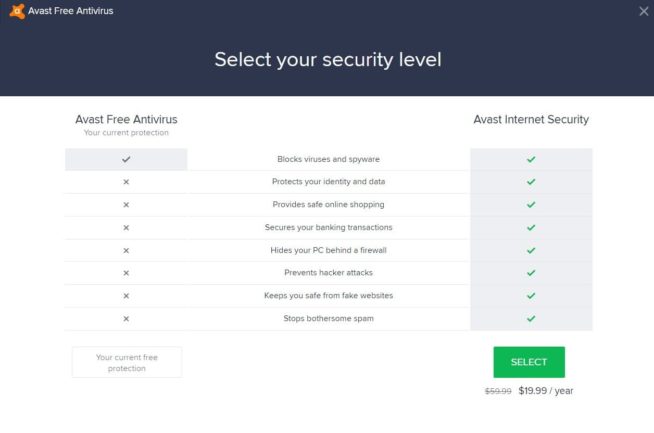 The company's premium suite protects your device from all kinds of digital threats, and it comes with several add-ons that can take your malware protection experience to the next level. These add-ons include:
Real Site: This is a handy feature that protects users from phishing attempts, in which hackers take over one's DNS and reroute them to fake websites so that they can steal their financial details and data, such as credit card numbers.
Sandbox: if you don't feel safe running newly downloaded programs on your PC directly, you can test them out in a secure environment provided by Avast. That way, you'll avoid any risk of malware infiltration.
Two-Way Firewall: Which secures your network traffic and protects your device from hacking attempts without affecting your device's performance.
Email Filter: Which clears suspicious emails from your sandbox.
Ransomware Shield: This is yet another great feature as it prevents hackers from encrypting your files and blackmailing you to get them back.
Avast has another paid plan, which is Avast Premier, which includes everything in the free version and Internet Security as well as:
Data Shredder, which allows you to delete sensitive data permanently so that they can never be restored by hackers.
Webcam Protector, which, as the name gives it away, prevents others from spying on you through your webcam.
Now, all of those features may sound pretty advanced, but if you really want your data to be well protected, you ought to check Avast's Ultimate plan, which is the company's full-blown antivirus suite. The plan includes four products: Avast Premier, Clean-Up Premium, SecureLine Pro, and Avast's paid Passwords Premium.
3.2 AVG Antivirus features
Just like Avast, AVG offers different sets of features depending on your plan. The company's free software, which is called AVG AntiVirus Free, covers basic malware protection functionalities, but nothing mind-blowing or ground-breaking, except for the File Shredder, Avast's Data Shredder counterpart.
If you run a scan using AVG, the antivirus will check three components: Browser Add-ons, Viruses and Malware, and Performance issues, though you need AVG's PC TuneUp to take care of the latter.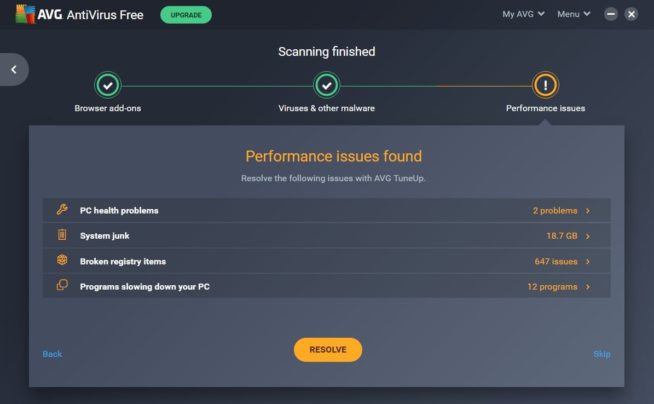 If you just need basic malware protection, the free version will do just fine, but if you really want some sweet peace of mind when using AVG, you might want to consider their free plans.
The company's first premium offering, which is AVG Internet Security, includes all of the free version's features as well as a plethora of extra tools and add-ons.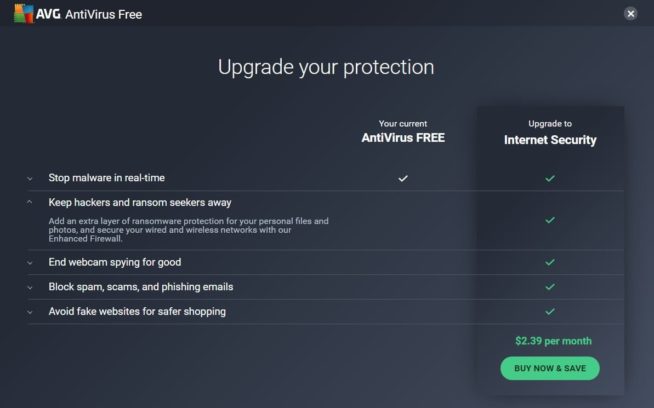 Additional features offered by Internet Security include:
Advanced Ransomware Protection, which protects all of your files and data as well as network from hacking and phishing attempts.
Webcam Protection, which prevents hackers from spying on you through your webcam.
Email Filter, which cleans up your email account from spam, junk, and phishing emails.
Phishing Protection, which, as the name indicates, makes sure every website you visit is legitimate and authentic.
What's great about AVG's Internet Security plan is that if you purchase the upgrade, you'll be able to use the premium software on all of your devices.
Just like Avast, AVG has a high-end antivirus suite, which is also known as AVG Ultimate. The suite includes both Internet Security and TunUp Premium. In other words, it allows you to enjoy optimum protection as well as smooth device performance.  What else could you ask for, right?
AVG vs Avast – Winner: Draw
4. Malware protection
We're comparing antiviruses here, which is essential to take a look at how they actually perform against malware and viruses.
Both software use signature matching technology to detect viruses, trojans, spyware, and rootkits. In other words, they scan for malicious stuff by comparing your files to a variety of virus definition files that are included in their database. Should one of the programs detect a suspicious file, it either removes it or marks it as suspicious until further examination.
Now, as malware protection is pretty complicated in and of itself, the best way to evaluate each product is by taking a look at the evaluations of AV-Test and AV-Comparatives – two antivirus comparison companies that are well respected in the industry. AV-Test and AV-Comparatives compare features, performance, as well as protection of different antiviruses in an unbiased way every single year, which is why we're using them as reference.
The most recent evaluations of AV-Test were held in April 2019. In the protection tests, Avast scored 5.5 out of 6.0, which, although not perfect, is still a pretty good score. AVG got the same score as well, which means that both Antiviruses are neck and neck in this category according to AV-Test.
AV-Comparatives' evaluations were held in Feb-May 2019. Both AVG and Avast got the ADVANCED award, which is the second-best award (the first being the ADVANCED+ award, which was given to Kaspersky and Bitdefender).
So, according to the experts' tests, both Avast and AVG perform well and are pretty reliable when it comes to malware protection, which is why this is yet another draw between the two.
AVG vs Avast – Winner: Draw
5. Performance and impact on system resources
Antiviruses can wreak havoc on your device's performance, which is why you need to consider the impact of each program on system resources before picking the right tool for you.
Thankfully, this is not something to worry about when using Avast or AVG. Both programs are lightweight and smooth, which means that you won't even notice them working in the background. That statement is confirmed by two tests run by a couple of well-respected companies in the industry:
AV-Test evaluations, in which both Avast and AVG scored 6 out of 6.
AV-Comparatives performance test, in which both antiviruses got the highest ADVANCED+ award.
AVG vs Avast – Winner: Draw
6. Pricing
AVG and Avast have different pricing models.
Avast, as mentioned above, has four plans:
Avast Antivirus Free, which is the company's free plan.
Internet Security, which costs $59.99 per year for a single PC.
Premier, which costs $69.99 per year for a single device.
Ultimate, which costs $119.99 per year for a single PC.
There's also Avast Security for Mac, which costs $59.99 per year for a single device. Additionally, you can get other products from Avast, such as their SecureLine VPN, CleanUp Premium, and Password Manager, separately.
AVG, on the other hand, has three plans:
AVG Antivirus Free, which is free.
Internet Security, which costs $79.99 per year for up to ten devices (supported by Windows and Mac).
Ultimate, which costs $99.99 per year for an unlimited number of devices.
As you can see, AVG is the clear winner when it comes to pricing as it doesn't limit the number of devices on which you can use your license. That said, you shouldn't just look at the price when comparing antiviruses, as getting the bang for your buck also depends on what features you're enjoying.
AVG vs Avast – Winner: AVG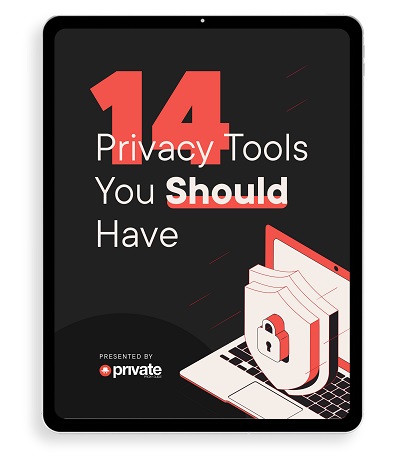 Learn how to stay safe online in this free 34-page eBook.