Nowadays, choosing a reliable antivirus product is a matter of primary importance for any user, because what can protect a computer better than a complete integrated solution?
However, finding free and effective antivirus software is not easy, as many of them come with adware, spyware, malware, and other types of inappropriate content. A good antivirus program should not only clean your computer from threats and viruses but also prevent future infections.
In the article, we will compare the free versions of two very popular products — AVG and McAfee. You will see whether these products are any good and which of them is more preferred. We used 10 different parameters to compare them. Also, note that there is no consensus on what's best between these two on Reddit.
1. Antivirus Options
AVG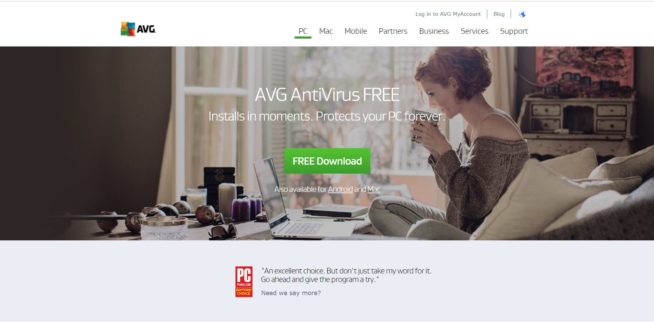 Real-time protection against viruses, spyware, ransomware, rootkits, trojans, and more. Real-time analysis and improved artificial intelligence will block even the latest threats.
Signature Detection System. It compares files to known virus definitions — a byte sequence that is a characteristic to a single virus. Next, it performs a detailed analysis to identify the type of infection.
The polymorphic detection system is used to detect new varieties of a known virus, even if the new version works differently. This method is very effective when detecting macro viruses and script viruses.
Heuristic analysis system monitors the behavior of objects to detect their malicious nature. This level of protection allows identifying malicious programs that are not in the signature database.
Behavioral analysis system monitors the behavior of programs and reveals signs of malicious behavior and then prevents any further execution of the object. This system has been improved with AI Detection machine learning technology, which allows identifying the latest threats that have not yet been classified by the AVG ThreatLabs team. AI Detection is constantly being trained using telemetry data received from AVG users.
Active Malware Detection. Cloud-based detection of common infections has been enhanced with collaborative learning technology to better identify new threats in real-time.
CyberCapture is a new, proprietary cloud-based smart scanning technology that reduces the time it takes to isolate and analyze unknown files in real-time. CyberCapture isolates unknown files into the cloud for deep analysis and automatically establishes a two-channel connection to the AVG Threat Labs center for rapid detection.
McAfee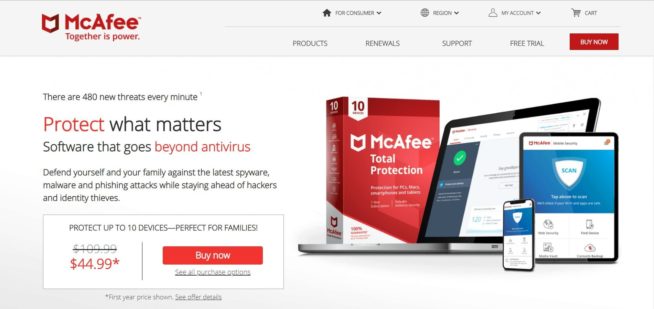 McAfee Security Scan Plus is a free tool to check the system security and data on your computer. After a quick scan of the computer that takes only a few minutes, the software gives information about the status and availability of the updated antivirus program, firewall, and Internet protection.
It also checks for threats, such as malware and trojans, unwanted software that may be among the active processes on your computer, and checks your web browsers for suspicious activity. McAfee Security Scan Plus performs a computer scan in a few minutes without slowing down the computer and you can also configure scheduled computer scans. After each check, the app will generate a report on the system security status. If any problems are found, it will redirect you to the official website to get the full version and buy a license.
Winner: AVG. This is a full-fledged antivirus solution that can fix detected threats. In turn, McAfee is rather a security scan — it does not work in real-time and does not fix anything in the free version.
Score: 1:0.
2. Online Protection
AVG
Blocking all insecure links, downloaded files or email attachments will allow you to avoid any online threats. What's even better, every time an AVG user encounters an unknown threat, the developers quickly examine it and create a countermeasure that is sent to millions of users, providing each of them with reliable protection. You don't have to do anything. Updates and new features are sent out automatically, so you will always use only the latest software.
McAfee
The McАfee Web Protection feature is able to detect suspicious online activity. It will advise you to get a full version of the antivirus solution. This will detect most online threads and timely notify you of them. However, it will not work in real-time you will have to run a check. In addition, the application will check whether your built-in or third-party firewall and major antivirus solution work properly.
Winner: AVG. It provides quite a good protection against online threats and blocks unsafe links and dangerous email attachments. McAfee only scans the system and detects suspicious files when you catch some virus or receive a suspicious file.
Score: 2:0.
3. Reliability
AVG
The product provides good threat blocking. A malicious program from the Internet must go through several protection levels before it can infect a computer. AVG can block access to malicious sites, and remove malicious loads during the download or after the download is complete. If the file still got on the computer, AVG admits that it could have bypassed the early protective layers and performs additional checks before allowing the file to be executed.
After opening a folder containing the current malware collection, AVG immediately blocked all the threats. When trying to start, the antivirus neutralized the malware so quickly that the system displayed the "file not found" message. AVG blocked all malware before it could fully install itself.
Initially, AVG detected 94% of the samples and scored 9 points out of 10. After some time, the AVG representative explained that for maximum protection, you should enable the detection of potentially unwanted programs (PUPs). After enabling that option, AVG detected 97% of the threats and received 9.5 points for cleaning. However, it would be better if the anti-PUP protection was active by default or was offered for activation during the installation of the program.
When a new unknown file is found, AVG sends it to the company's laboratory for a thorough analysis. It was possible to verify this function in action using self-written test samples. AVG completed the process and caused a Windows error message. Moreover, the message included an additional CyberCapture tab, which signaled an unknown suspicious object.
A few more generic utilities caused the display of the following message from AVG: "Stop! This file may have malicious content" and promised to conduct an assessment within 15 seconds. At the end of this time, they were correctly processed as safe files.
At the same time, it demonstrates poor phishing protection. To test the effectiveness of protection against phishing, a set of the latest fraudulent links have been used, which have not yet been analyzed and blacklisted. Each URL opens sequentially in 5 browsers. The other three browsers — Chrome, Firefox and Internet Explorer — rely on built-in web filters to protect against phishing. The test collection is different every time, therefore in this test, we are dealing with comparative indicators of detection levels. The results are not very good. However, it is still good enough for a free product.
McAfee
As mentioned earlier, this product does not work in real-time so you will know that your system is infected only after you run a check. In almost all tests, McAfee detected most threats we added to the computer. At the same time, we cannot say that an antivirus scan is the best and most reliable solution.
Mcafee Security Scan Plus searches for suspicious files only in inactive processes; potentially dangerous programs will not be detected. After detecting malicious files, the utility will send copies for analysis. For the users, this action has no practical meaning, because they will not get access to the results of the analysis. These data will be used by the company solely to improve paid software.
Winner: AVG. It provides reliable basic online protection while McAfee only scans the system meaning that you will infect your computer and will not know about it immediately.
Score: 3:0.
4. Test Results
AVG
This may seem illogic, but in most cases, developers of anti-virus products pay independent laboratories for the opportunity to test their software. A high result can be used for image purposes to promote a brand while a not so good result can help the developers to detect weaknesses and areas for improvement. When the antivirus does not generate revenue, the company may refuse the cost of testing.
AVG does not go this way. The company's products participate in tests of the most trusted laboratories. AVG participated in 4 tests of AV-Comparatives and received two Advanced ratings and two maximum Advanced+ ratings. In the AV-Test comprehensive test, the product received a maximum of 6 points for ease of use and 5.5 points for protection and performance. The final result of AVG was 17 points out of 18 possible. This score did not allow the antivirus to get the "Best Product" product but it is still a very good indicator.
In the Virus Bulletin Reactive and Proactive test, AVG scored 81.05%, which is slightly below the average. AVG failed both MRG-Effitas tests against banking trojans and various types of threats. However, most of the tested products could not pass the test data, and detailed information is unknown.
The result of AVG is 8.7 out of 10 possible points.
McAfee
As this is not a full-fledged antivirus, it has not been tested by antivirus laboratories. We tested the app on our computer and the result was that the scanner detected most of the suspicious files.
Winner: AVG. It demonstrated great results.
Score: 4:0.
5. Use of System Resources
Like any other software, antivirus must use as few system resources as possible. It works constantly in the background, so it must not impact the system's performance.
AVG
AV-Test showed average results off a security solution while performing a few common tasks like opening popular websites, working with other programs, opening files, etc. AVG got 5.5 points out of 6 which is a great result. In a similar test by AV-Comparatives, AVG got an ADVANCED+ rating with 6.7 points.
McAfee
As the product does not work in real-time, it uses very few system resources — this is a great solution for old and weak computers.
Winner: McAfee. It uses almost zero resources.
Score: 4:1.
6. Interface and User Experience
AVG
The main window includes two main panels. The "Basic Protection" section contains two panels of protection components — "Computer" and "Internet and Email". Both modules are enabled by default. In the "Full Protection" section, there are the "Hacker Attacks", "Confidential Data" and "Payments" modules, which are initially inactive. To activate the advanced protection, you need to upgrade to a paid integrated AVG solution.
Below the panels, there is a large "Scan Computer" button. When you click on it, the app will run a full computer scan, which not only detects malicious programs but also finds junk files, traces of Internet activity, system logs and registry problems. To fix these problems, you need to use the trial version of AVG PC Tuneup.
During testing, a full scan completed in 6 minutes, after which we got another option — "Deep scan for viruses." This check took more than an hour. However, due to the optimization during the initial check, the subsequent scan completed much faster and took only a few seconds.
McAfee
The interface is very simple. On the home page, you will be able to run a scan and check its results. Also, you will be able to access the app settings to set up a scanning schedule. The design might seem outdated.
Winner: tie. Both apps are convenient and easy to use.
Score: 5:1.
7. Full Version Pricing
AVG
The company provides a full-fledged free antivirus solution despite the fact that it is a bit limited in functionality. However, if you lack some options in the free version, you are able to get full AVG Internet Security. you will be able to protect an unlimited number of devices for $79.99/year.
McAfee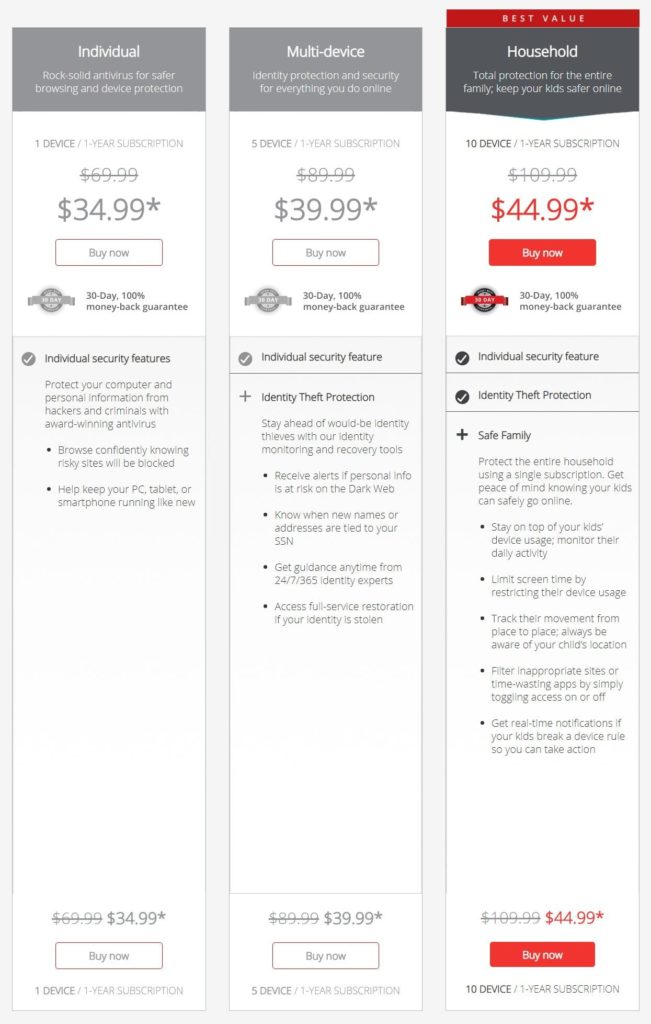 As it is impossible to use McAfee Security Scan Plus adequately, you may consider buying a full version. The price depends on the number of devices you want to protect:
Individual —

$69.99

$34.99 — 1 device
Multi-device —

$89.99

$39.99 — 5 devices
Household —

$109.99

$44.99 — 10 devices
Winner: tie. While AVG may seem a bit more expensive, it protects an unlimited number of devices. As for McAfee, the price is lower only in the first year but after that, it increases.
Score: 6:2.
8. Supported Devices
AVG
The free version is available for Windows, Android, and Mac. It will provide all the basic features and reliable protection.
McAfee
When we talk about the free McAfee Security Scan Plus, it is available only for Windows computers. To use it on Mac, Android, and iOS, you have to buy the full version.
Winner: AVG. The free version is available for multiple platforms and devices, unlike the McAfee one.
Score: 7:2.
9. Support
AVG
AVG offers two levels of technical support: basic and premium. Basic support includes an information section on the company's products and a section with answers to common questions and problems that users have previously encountered. It also has an excellent forum that allows you to chat directly with other users in order to find answers and share notes on existing issues.
I found the answers to most of my questions and all the support staff I spoke to were able to perfectly help to solve my problems. Users can also directly contact the technical service through a form on the AVG website. It will take up to several days to get a reply but they usually provide all the necessary information to solve any problems.
McAfee
No matter which product you choose, McAfee provides you with round-the-clock free technical support. Unlike some antivirus tools that provide customer support only for the paid versions, we were pleased to see that McAfee support is available to all its users.
There are some great sections on the company's website that feature articles, tutorials, and simple guides to fixing common problems. If you need help finding any information, you can chat with McAfee's virtual assistant who will find specific answers for you on the company's website. If you need additional personal support, you can contact the online chat.
Winner: tie. Both companies provide great support.
Score: 8:3.
10. Popularity
OPSWAT and Statista regularly publish the rating of the most popular antiviruses. So what are the positions of AVG and McAfee? The full version of McAfee takes the second position in both ratings. However, we are not sure whether it includes the free version. As for AVG, it is not even included on the lists. Moreover, McAfee is often offered with other software like Adobe Reader.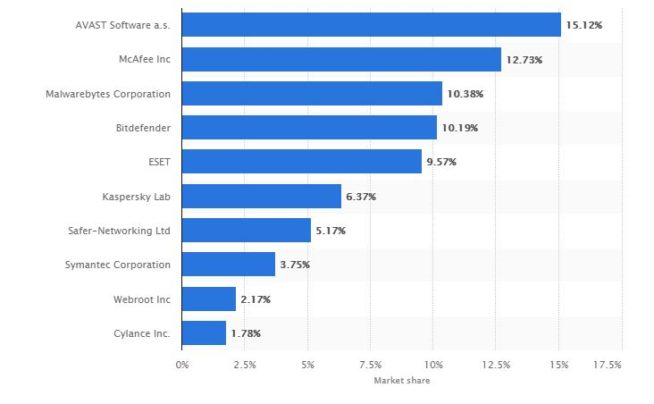 Winner: McAfee. In general, it is more popular than AVG.
Score: 8:4.
Final words
What product should you use for basic protection? AVG is the clear winner. It is a full-featured product, unlike McAfee Security Scanner Plus which is just an antivirus scanner and does not provide real-time protection. However, if you have a weak computer, or do not need a powerful solution, McAfee is the right choice for you.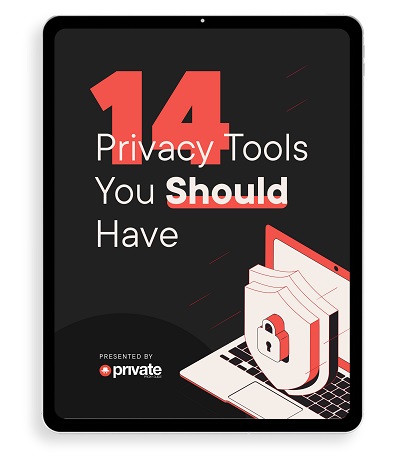 Learn how to stay safe online in this free 34-page eBook.