Both ActiveCampaign and AWeber are industry heavyweights and household names in the email marketing sector.
ActiveCampaign's solution is aimed at more experienced marketers who execute complicated campaigns, often at B2B businesses. On the other hand, AWeber takes a mass-market strategy to appeal to all. Compare ActiveCampaign vs. AWeber to see which one can help you transform your company's email marketing campaigns.
1. AWeber vs ActiveCampaign – Overview
Features
ActiveCampaign
AWeber
Best features
Sticky help button
Advanced segmentation
Flexible personalization
Advanced analytics
Easy-to-use automation builder
Contact management
Key features
Split testing
Email segmentation
Subscription forms
Pre-built reports
Automated campaigns
Email templates
Ease of use
Complicated user experience
Guide for advanced features
Tips to get started
Customized workflowInitial support
Customer Support
Support resources
Live chat and training
Email and phone support
Live chat
Integrations
✔
✔
Pricing
$15-$279
$0- $19
ActiveCampaign is a sophisticated marketing platform with many advanced features, including intelligent segmentation and personalization.
This makes it ideal for seasoned marketers who have worked with email marketing software before and want to be able to construct highly targeted campaigns with precise data. ActiveCampaign has a steep learning curve for new users; it's not as straightforward or straightforward to use as other email marketing platforms.
It may cause delays in campaign setup because you must first understand how to use the technology before plunging into creating email messages. Because of its flexibility to add numerous contact addresses to one user's account and add company details to each client entry, ActiveCampaign is excellent for both B2C and B2B marketers.
Because AWeber is a well-known email marketing tool that has been around for a long time, businesses have likely used it before.
AWeber, a competitor to ActiveCampaign, provides the appropriate balance of complex capabilities and usability to appeal to email marketers of all levels. While the navigation and grouping of features aren't always straightforward, learning how to design and optimize campaigns doesn't take long.
2. ActiveCampaign vs AWeber – Features
No two email marketing software packages are alike, and many excel in one area while falling short in another. ActiveCampaign, for example, has a long list of valuable capabilities, but it might be tough to use. AWeber offers a robust feature set, but nothing distinguishes it from other competing software.
ActiveCampaign provides a wealth of capabilities, the most notable being its segmentation ability. The software allows you to design super-specific segments with several parameters that clients must meet to be included.
For example, you could build a segment for people who live in California, have signed up for your newsletter in the last 30 days, and have visited five separate pages on your website. This enables you to customize messages with much more relevant content.
To aid in creating these segments, ActiveCampaign allows you to add as many customized fields to your contacts as you'd like.
Other features to consider are
Email editor with drag-and-drop functionality
The option to preview your email in various email programs to check how it looks.
To see if mail will reach the inbox of a recipient, can run a spam check.
Templates for automation are built-in.
AWeber's contact management or subscriber management is excellent as it's referred to in the product. You may personalize the categories you use to capture client data, allowing you to acquire the particular data you need to build personalized campaigns. It allows you to start mails in a specific way according to your clients' needs.
As you add additional contacts, AWeber's automation tools propose tags and campaigns based on previous behavior, allowing you to develop better segments faster.
Another easy technique to make segments is to search and limit your contacts using criteria like
Addition of the date
Visited the website
Amount of the sale
City
Customized fields added
You can construct a portion from the findings in one click once you've finished your search.
AWeber's disadvantage is that it only offers essential weekly newsletters templates with restricted images, colors, styles, and customization capabilities.
You can only modify the template's background color, not the colors, borders, or other features. Also, instead of automatically sending emails depending on your clients' time zones or at an appropriate time based on their previous open hours, you may only plan emails for a particular time.
Winner: With its unequaled segmentation features and excellent contact management capability, ActiveCampaign wins this round.
3. AWeber vs ActiveCampaign – Support
Both AWeber and ActiveCampaign received 9 out of 10 ratings; thus, it was a toss-up on who would reign out on top in terms of support.
From 8 am to 4 pm CST, ActiveCampaign offers limited live help alternatives. You may also email or phone for help, or if you live anywhere near Chicago, you have the facility to meet with someone in person.
Other choices include booking virtual one-on-one help or registering for a training session.
When using the program, you may access assistance at any moment by clicking the sticky help icon below on the screen, which implies you don't have to leave your existing screen.
​​
When it relates to support, AWeber's main selling feature is that it provides 24/7 web chat to everyone, regardless of price plan. The firm offers email help 24 hours a day, and phone assistance from 8 am to 8 pm ET on Monday through Friday.
AWeber also offers video training and instructions to assist you in improving your email marketing abilities and connections to reference-based articles related to the feature you're now using.
Winner: Both programs give outstanding support options, so it wasn't easy to choose, but AWeber's 24/7 live phone and email assistance pushed them ahead.
4. AWeber vs ActiveCampaign – Ease of Use
Neither product receives a gold star in this category. One is a little out of date and counterintuitive, while the other requires a lot of discussion and training.
ActiveCampaign is a complex tool to master. Employees today, particularly millennials and Generation Z, expect to be able to use new software without the need for a user manual or hours of training.
To get the best out of this system and make the most of its extensive feature set, you'll need to invest time in training and experimenting with where almost everything is and its purpose before creating campaigns.
Because ActiveCampaign doesn't explain, it depends on you having a prior understanding of ideas (for example, lead score). Rather than just a name, you must provide a URL and a summary when establishing a list. After completing prior steps, you may only use certain features, slowing down campaign development and setup. For example, establishing a lead score necessitates the creation of a section.
ActiveCampaign's platform provides an outstanding user experience because of its speedy and clean backend, which is ironic because they offer a plethora of features, which generally equates to more complexity. But there aren't any issues here: handling lists and users is flexible, powerful, and straightforward. When developing campaigns, another example of outstanding UX is the ability to check preceding and subsequent phases, making the process quick and easy to assess.
Other email marketing systems offer a more contemporary and straightforward user interface than AWeber. It might feel like you have to exert effort to complete each operation.
When you start to use the program, it tries to assist you through all the initial setup by asking you to establish an email list and input a subject header and text confirmation.
However, this is not a reasonable first step for a newcomer to email marketing who does not yet have a list. Some features, such as repeating a campaign or selecting sender addresses, are unnecessarily concealed, and their naming adds to the confusion. For example, they refer to regular newsletters as "Broadcast" and email automation as "Campaigns." The subscriber list is your primary selector, making it more challenging to navigate campaigns and automation.
Winner: While neither option provides better functionality, AWeber is the less complex and daunting of the two.
5. AWeber vs ActiveCampaign – Pricing
When it comes to determining which software is ideal for your company, the cost should be a significant consideration. There wasn't much to choose between ActiveCampaign and AWeber in this category.
AWeber is the only option of the two that offers a free plan with 500 users and 3,000 emails per month. The $15 per month entry-level ActiveCampaign plan allows you to manage 500 customers and three users. AWeber's offer for about the same number of users is $19.99 per month — not a huge price difference, but the features are quite different.
No free plan.
Free trial available for 14 days
Discount: The amount of a yearly discount is determined by the price plan.
For up to 500 users and unlimited emails, the starting price is $15 per month.
The number of pricing tiers is four.
When you pay yearly rather than monthly for ActiveCampaign, you save a lot of money. For instance, the Lite price tier, the most affordable, costs $15 per month if paid monthly vs. $9 per month if paid annually.
There is no free plan, and the ActiveCampaign free trial is just 14 days long.
No free plan
A free trial is offered
9% annual and 14 percent quarterly discounts are available.
Paid options start at $19 monthly for 500 subscribers and unlimited emails.
AWeber's free subscription is limited since it lacks automation, A/B testing, and comprehensive analytics, and your emails are all branded with the AWeber logo.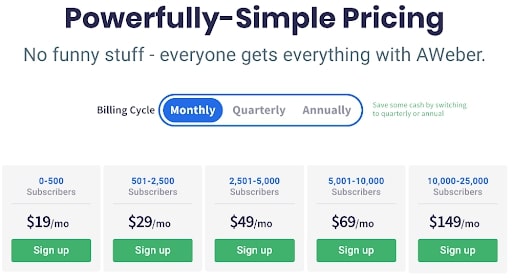 Small companies will find AWeber's paid pricing plans a good value for money because you have access to the same capabilities regardless of whatever plan you pick. When you pay quarterly, you get a 14 percent discount, and when you pay yearly, you get a 14.9 percent discount.
Winner: AWeber and ActiveCampaign provide a trial version, but neither provides a free subscription. Both have relatively comparable beginning prices ($19 for AWeber and $15 for ActiveCampaign for 500 clients and limitless).
However, AWeber wins this round since its price levels include the same features.
6. AWeber vs ActiveCampaign – Integrations
Most current email marketing platforms have native integration with various products and an API for creating your integrations.
On its website, ActiveCampaign highlights the most popular integrations. These are some of them:
Facebook
Shopify
WordPress
Unbounce
Unbounce Zapier
Google Analytics
Pipedrive
ClickFunnels
If there's something you require that isn't on the list, ActiveCampaign has an API that lets you develop connections with other apps.
It also has a lot of information inside its knowledge base that can assist you in overcoming any difficulties.
AWeber may be integrated with various business systems, like those for increasing your social network following, developing landing sites, and monitoring your shopping cart. The following are examples of AWeber's popular integrations:
Google Analytics
Shopify
WordPress
Shopify WooCommerce
GoToWebinar
PayPal
Facebook
ClickFunnels
Zapier
AWeber also has an API that you may use to create integrations with other programs that aren't on the list. The AWeber customer service staff can individually assist you in integrating the system with other software that isn't on the list of native integrations.
Winner: When it concerns integrations, there's no distinction between them. The sole advantage AWeber has is that its customer service staff will personally assist you in developing a connection with applications that aren't on its integration list. This is advantageous for businesses that have limited progress and IT resources.
7. AWeber vs ActiveCampaign – Flexibility and design
ActiveCampaign has more than 125 responsive and modern-looking themes to choose from. They also allow you to change the layouts, which gives the templates more versatility, especially with all of its customization choices. If you're comfortable with HTML, you can also code in it.
With 150 layouts in various color schemes, AWeber provides you with many possibilities right out of the box. On the other hand, the editor is clumsy and lacks versatility, and HTML is also accessible, much as ActiveCampaign.
AWeber would dominate this round-based only on the number of templates available. However, we'd like fewer options in exchange for better-looking designs and a more user-friendly editor. As a result, ActiveCampaign receives a bonus point.
8. AWeber vs ActiveCampaign – Deliverability
AWeber and ActiveCampaign both claim high deliverability rates.
Setting up well-planned campaigns and sending out captivating emails are just a few steps in the digital marketing process. Those properly designed emails must also make it to their intended recipients' inboxes.
Many review sites provide deliverability estimates based on self-testing and anecdotal evidence. However, arbitrary deliverability rates don't always represent the complete story. Since there are many features to consider, such experiments are difficult to reproduce, and they reveal more about the advertiser than the email marketing software.
Winner: This one is a tie. AWeber received a bonus point for clearing the junk email testing, but ActiveCampaign also received a bonus point for providing a private IP.
9. AWeber vs ActiveCampaign – Analytics and Reporting
The Analytics Suite from ActiveCampaign is suitable, but AWeber goes above and beyond.
Marketers eat, sleep, and breathe data. How else can you know if something is functioning or needs to be changed? If you want to learn more about your customers and improve your email marketing efforts, you'll need a platform that can provide various reports.
First, let's take a closer look at ActiveCampaign. With a single button click, you may produce reports on automation processes, email campaigns, and contact activity. You can also get reports on defined goals — the system will tell you whether or not you've fulfilled them once you've established them.
You have access to all of the data you require to develop a more practical approach. ActiveCampaign can inform who read your emails, when or where they opened them, and if you've done the work and acquired the required data.
Meanwhile, AWeber has one of the most comprehensive analytical tools available. AWeber's free plan allows you to create as many reports as ActiveCampaign.
Switching to the Pro plan unlocks even more extensive data, such as precise information on your users and account and priceless email sales tracking.
The capacity of AWeber's analytics package to assist marketers and encourage them to take action sets it apart from the competition. You're not merely absorbing data about your connections and campaigns in a passive manner, and you may immediately build new segments and change lists in AWeber's reporting tab.
If your winter festival advertising email went well, you could easily send a follow-up campaign to individuals who opened it.
Winner: ActiveCampaign put up a good fight, but AWeber wins this round.
10. Conclusion – Which software is ideal for you?
If all you need is email marketing at a reasonable price, AWeber is the solution.
All of their features are included in their packages, so the only price variation is the number of contacts you require on your account. It provides a straightforward solution for automatic email marketing to focus on growing your business rather than worrying about technology.
ActiveCampaign is a fantastic product, and if you operate a service-based firm, you should use it. What's not to like about CRM capabilities that help keep track of all prospects and automate a large portion of your sales cycle for a meager price?
Finally, they are both excellent tools; it just relies on your need! Do let us know the software that suits your needs the best below!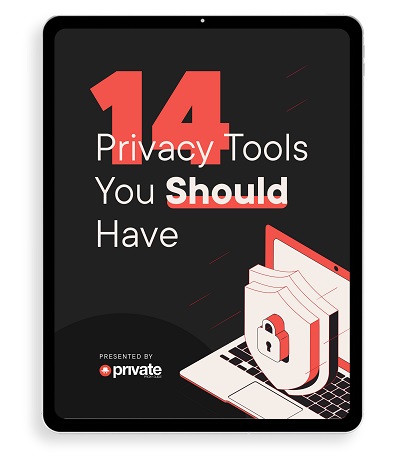 Learn how to stay safe online in this free 34-page eBook.