Affiliate marketing is one of the many ways to earn money by promoting quality products and brands. While it takes a bit of time to get up and going, affiliate marketing can produce serious earnings that aren't just passive but they can also become your main source of income.
The downside is that this requires a lot of attention and effort, and if you're very serious about it, you'll have to track your marketing campaigns, earnings, and statistics. That's where the best affiliate tracking software comes in to make your life a lot easier.
Thanks to this software, you can plan your affiliate marketing strategy with higher efficiency, track your progress effortlessly, and decide on the next move based on your performance. Wondering what is the best affiliate tracking software in 2023? Well, stay with us to find out!
1. Best Affiliate Tracking Software in December 2023
Finding a good affiliate tracking tool sounds like an easy job. However, you should keep in mind that not every software offers the things you want and some are less user-friendly than others. In this article, we'll focus on easy-to-use solutions that'll allow you to keep track of your work effortlessly.
We'll also talk about premium and free trial solutions, so we'll keep the cost of your investment as reasonable as possible. That said, the choices you see below are tested by our team and we can guarantee their genuinity, affordability, and efficiency.
Impact is an awesome affiliate tracking solution with tons of exciting features to check out. For one, it has a robust, easy-to-use interface that you can use to manage the entire affiliate marketing business without too much hassle.
Features
I like that the platform offers migration assistance, letting you transfer your previous affiliate work to Impact for your convenience. In addition, the service allows you to track every aspect of your business, allowing you to have a better understanding of conversions and affiliate links.
To make the process more streamlined, Impact includes Fraud Protection. Impact has complex machine-learning algorithms that will prevent fraud efficiently without you having to do anything. We also like that the service includes cross-device tracking.
This will allow you to track clicks, engagements, and conversions across a multitude of devices. Impact provides colorful, yet, insightful graphs and statistics, all stacked on the home screen, making sure you don't have to wander around to find useful information.
One of the best things about Impact is customer support available through live chat. Plus, the service supports even influencer marketing, so you have all the freedom to try something else if you'd like. For me, the biggest downside is that the price isn't displayed publicly.
Pricing
Impact lets you request a free demo without providing credit card information or anything similar. However, the price, later on, depends on the features and functionalities you need. Thus, users who are new to the platform can't find out the cost of the service upfront.
Pros
Migration assistance
Modern-looking, comprehensive interface
Fraud protection
Customer support through live chat
Cons
The price isn't displayed on the site
Partnerstack is all about skyrocketing your growth by improving your affiliate marketing techniques amidst the ever-growing competition. This platform sports a minimal, yet engaging interface that lets you easily get the gist of the app and fully take advantage of it.
Features
Partnerstack makes the process of recruiting new affiliates very simple. In addition, it allows you to create custom affiliate programs and marketing campaigns to boost your conversions and engagement. When it comes to tracking, Partnerstack surely brings its A-game to the table.
Its comprehensive graphs and statistics will show you your earnings, affiliates, and number of clicks to make sure you're ahead of the game. Partnerstack also supports many third-party integrations. As such, it's perfect for dozens of E-Commerce platforms that are widely used.
You can integrate it with Slack, HubSpot, SalesForce, Recurly, and Stripe. In addition, the Partnerstack API allows you to build custom connections with the software you'd like to use. Among the best things about Partnerstack is the ability to automate your affiliate program.
This will make the job of tracking your progress and controlling affiliate payouts much simpler. Unfortunately, Partnerstack isn't making its prices publicly available, although the good news is that you can book a demo at any moment without paying a single dollar.
Pricing
The price of Partnerstack depends on numerous factors. Some of the factors that determine the price include whether or not you're an agency or partner and the number of employees. Besides, Partnerstack supports companies with more than 1,000 employees as well, making it good for Enterprises.
Pros
Integrations with SalesForce, Slack, and many other apps
Affiliate program automation
Exceptional tracking capabilities
Great for Enterprises with more than 1,000 employees
Cons
The price is unknown and depends on numerous factors
Customer support could be more responsive
Refersion is another affordable affiliate tracking software we've been using lately. We found its interface very intuitive and the whole setup process doesn't take very long. Yet, Refersion is great at providing unlimited affiliates and top-grade performance reporting at your fingertips.
Features
It's suitable for a variety of users looking to earn through affiliate marketing. Whether you're an influencer or you have a large company, you can enjoy its customizable dashboard and full-fledged sales, conversion rates, and invoice tracking.
Refersion also supports scheduled payouts, which improves its functionality. This, along with access to developer APIs allows you to fully customize the behavior of the software and make it to your accord. In terms of third-party integrations, Refersion is nothing short of impressive.
Some of the apps it can work with include Klavyo, Attentive, and Yotpo but there are many others on this list. Moreover, Refersion supports all popular E-Commerce platforms like WooCommerce, Shopify, and BigCommerce, making sure your website is compatible.
Pricing & Plans
When it comes to pricing, Refersion isn't the cheapest solution, however. The Professional plan starts at $99/mo for the annual plan but it offers all of the aforementioned features. We then have this Business plan that supports up to 200 monthly order conversions as opposed to 50 in the previous plan.
This plan costs $249/mo for the annual subscription and is definitely far from being the most affordable. The good news is that the Enterprise plan is customizable and can cost depending on the features you need. This one, along with the Business plan includes live chat and phone support.
The Professional plan lacks multi-store support, custom performance reports, and white-labeling support, which isn't the best thing about it. To get these features, you'll have to go for the Enterprise plan, which will surely be pretty pricey.
Pros
Unlimited affiliates in every plan
Customizable interface
Third-party integrations with Yotpo, Klavyo, and other solutions
Invoice, sales, and conversion rates tracking
Tracking commissions is very easy
Great for tracking a high number of affiliates
Cons
It could be more affordable
Multi-store support is available only in the most expensive Enterprise plan
Scaleo is an incredibly powerful affiliate tracking solution that you can try for free for 14 days. It's easy to set up, as you just have to visit the site, configure it, and start enjoying its features risk-free. Of course, this is a premium solution and that's expected from a robust tool like this one.
Features
It offers a futuristic, yet sleek dashboard that clearly displays your affiliate marketing parameters. I especially like the Performance curve that shows you cumulative earnings across a particular period. You can also see your revenue, profit, and the number of conversions to gain more insight.
The left side of the app is reserved for options and here, you can take control of billing, customizable reports, and transactions. Furthermore, I like that the web-based dashboard lets you quickly add new offers and affiliates, making it simple to onboard new people and introduce new tactics.
Most notably, Scaleo lets you migrate your entire affiliate marketing business into its comprehensive infrastructure. You can unify every affiliate partner through Scaleo and take full control of your business without utilizing any third-party software.
Pricing & Plans
Scaleo, as said, isn't free, and the good thing is that it offers flexible pricing. For brands, its cheapest plan is called Starter and costs $192 a month if paid annually. It includes a robust invoicing system, Partner API, and direct link tracking along with support for up to 5,000 conversions
The subscription for Ad Networks starts at $400 a month if paid annually and this Professional plan supports up to 30,000 monthly conversions, unlimited clicks, and unlimited affiliates, seats, and offers. Like other choices, Scaleo offers Enterprise plans that can go up to $600/mo paid annually.
Surely, it's not very expensive but I'd like to see better customer support in terms of response times. Ongoing setup support for the Starter plan also isn't here, which I found disappointing, as it's present in all other subscription plans.
Pros
It can be used for free for 14 days
Excellent-looking dashboard with all of the required info
You can easily add new affiliates
Flexible pricing that starts at $192 a month
Fraud Prevention System
Cons
Customer support isn't the best around
Ongoing setup support can't be found in the Starter plan
Post Affiliate Pro started in the early 2000s only to become one of the most prominent affiliate marketing tools in 2023. This software is renowned for its affordable prices and worldwide availability, which makes it very versatile and approachable.
Features
The solution comes with the ability to manage all your affiliate marketing performance and combine all your efforts into one comprehensive app. It lets you issue payouts, create new deals, and introduce new affiliates to make your business grow quickly.
E-Commerce brands love using Post Affiliate Pro due to its customization options coupled with real-time tracking and customizable reports. You'll see your performance, unpaid conversions, and every other bit of information needed to manage your affiliate marketing like a boss.
Pricing & Plans
Even the cheapest Pro plan is extremely powerful and can track up to 1M requests a month. For $129 a month, you'll get unlimited affiliates, 220+ third-party integrations, and 125 plugins, Lifetime support marks its appearance here, along with multi-tier commissions and multilingual support.
The next plan is called Ultimate and it costs $249 a month. However, it tracks up to 6M requests a month and supports multiple administrators with Forced Matrix and lifetime support. This one also comes with recurring and split commissions with site replication capabilities.
Its most expensive plan at $599 a month is called Network and it's for more serious users. It can track up to 20M requests each month with free branding, multiple merchant accounts, and a prepaid network account. The great thing about all of these plans is that they can be tested for FREE!
Pros
Fully-customizable reports with real-time tracking
The cheapest Pro plan tracks up to 1M monthly requests
Each plan can be tested for free without credit card info
Lifetime support is available in every plan
No limits on the number of affiliates
Cons
Some additional functionalities are paid separately in Pro and Ultimate plans
If you want a quality, dependable, and feature-rich affiliate tracking tool, look no further than LeadDyno. This site has been around since 2014 and it's an excellent solution for planning your affiliate marketing, making special deals, and introducing new business tactics.
Features
Its interface is one of the best out there, giving you comprehensive views of your earnings and various statistics. In addition, the service is compatible with pretty much all E-Commerce platforms, which is essential for ensuring supreme compatibility with various environments.
LeadDyno's integrations are here too and I like that you can use it with Zapier, Hubspot, or even ZohoCRM, which more experienced users will find useful. The whole setup process is dead simple and you can sign up for a free demo without having to pay anything in advance.
Pricing & Plans
As said, LeadDyno is very affordable – even more so than other picks on this list. For example, its Starter plan starts at $49 a month and supports up to 3,000 unique monthly visitors with unlimited affiliate payouts, team members, transactions, and affiliate payouts.
This plan even has unlimited commission configurations and PayPal mass payouts, making it easy to take full advantage of Paypal and its simplified system. More expensive plans are here as well, such as the Plus plan which costs $129 a month.
This one supports up to 15,000 unique monthly visitors and even allows you to use a custom domain on top of everything I mentioned. The most expensive, Premium plan will cost you $749 a month with 500,000 unique visitors and even a dedicated account manager.
All plans have a 30-day free trial and all of them have automatic lead management, adding to the overall value significantly.
Pros
Fully-automated lead management
A 30-day free trial on all plans
Comprehensive user interface with tons of customizations
It works with all E-Commerce platforms
The cheapest plan is just $49 per month
Cons
A dedicated account manager is reserved for the priciest plan
Kintura comes with a unique AI-powered system to help you bring out the best in your affiliate marketing endeavors. This solution is actually the first AI-powered marketing tool that aims to track your behavior and predict the next required steps for success.
Features
Kintura is, once again, very easy to set up and it comes with a free demo that you can test out by signing up. Its dashboard is intuitive and easy to get into, so if you're a beginner, you don't have to worry, as Kintura will do most of the work for you either way.
I like its dedication to keep every sale and make sure you don't lose any conversions. It provides valuable and detailed insights into your overall statistics, and according to them, it aims to increase your sales and make your conversions even better.
Kintura lets you add custom reports and open up many dashboards for different affiliate programs. This allows you to track all your branches of business within a single app for convenience. Colorful graphs are an integral part of Kintura, making it not only very functional but also eye-pleasing.
Pricing & Plans
Price-wise, Mixpanel, the company behind Kintura, prices this product reasonably. There's a completely free plan but I highly recommend the Growth plan at just $20 a month. You'll get unlimited integrations here, along with email support, and unlimited saved reports.
This affiliate tracking tool also supports features like 2FA, Import API, custom dashboards, real-time alerts, and many other useful functionalities for effective affiliate marketing. As you can see, it's also not expensive as long as you don't go for its Enterprise plan.
This plan costs $1,667/mo, which is a huge difference compared to its Growth plan. Either way, you can test each plan risk-free, so if you're interested, I recommend doing so before buying it.
Pros
The best AI-powered affiliate tracking software
It helps you to boost your conversions and increase earnings
Simplistic, yet, straightforward web-based interface
Custom reports for all affiliates
Cons
The Enterprise plan costs a whopping $1,667/mo
A free plan is available but it's extremely limited
A robust and popular marketing platform like Everflow definitely deserves a place on our list. It's a company trusted by many brands such as Skillz, Tapjoy, and Bunq, making it one of the top choices in 2023. Everflow is an all-around tool for affiliate marketing.
Features
It allows you to track and manage your partnerships, take care of important analytics, and increase your conversions effortlessly. It comes with a beautifully-crafted UI with clear insights into your overall earnings, unpaid earnings, conversions, and affiliates.
Moreover, deep analytics lets you check the performance of each placement, making sure you have full control over the entire process. Everflow supports every E-Commerce platform, so you can use it on BigCommerce, Shopify, and other prevalent services.
Integrations are a big part of Everflow and I found that it works with HubSpot, AppsLyer, and SalesForce, which is incredibly useful. Everflow's attention to detail is astonishing. It'll track ad impressions, the number of clicks, and other vital parameters to give you all the necessary details.
Even more impressive are offline tracking and real-time reports complemented by fraud detection to keep everything safe and secure. The service offers 24/7 live chat support as well and through it, you can book a demo or ask for a refund if you're dissatisfied with the platform.
Pricing & Plans
The downside is that Everflow isn't very affordable compared to some of its competitors. It costs $750 a month with the Core plan which gives you access to EVERY feature with unlimited partners, users, and conversions. However, there's also this Custom plan.
It includes everything from the Core plan with the ability to automate payments and work with larger teams. Logically, it's even more expensive and requires a custom quota from the company.
Pros
It tracks your unpaid earnings, affiliates, and conversions
Everflow fully supports Shopify and BigCommerce
Real-time reports are a welcome addition
Top-grade 24/7 live chat support in every plan
Cons
The cheapest Core plan costs $750 a month, which is very expensive
The last choice on the list of the best affiliate tracking software is Firstpromoter. While not the most popular choice, Firstpromoter is very versatile, all while being affordable and feature-rich. This service offers a 14-day free trial for testing it out and it's dead simple to use.
Features
Once you sign up, you'll be greeted by a fresh-looking web-based interface that contains all of the important bits of data. You'll be able to track your affiliates, referrals, and special deals, allowing you to stay ahead of the game and maximize your revenue.
Furthermore, Firstpromoter supports integrations with Paddle, Braintree, Stripe, and other third-party software. This will allow you to extend the functionality of the app and get more out of it. Firstpromoter's custom reports and colorful graphs make it a joy to use.
You'll be to generate leads and create new campaigns according to the given data effortlessly. All of this comes with one-click PayPal payouts and a branded affiliate dashboard. Another thing I like is a personalized referral link that you can implement with coupon code tracking.
Pricing & Plans
Price-wise, Firstpromoter won't cost you a fortune. The Starter plan is priced at $49 a month and limits you to $5,000 a month earned from affiliates. Transaction fees are 0% and you get unlimited visitors, up to 2 marketing campaigns, and unlimited team members – quite a lot considering the price.
Then, we have the Business plan at $99 a month. It allows for up to $15,000 in earnings each month and adds useful features like unlimited campaigns, migration support, custom domain, and multi-tiered commissions.
Finally, we have the Enterprise plan that starts at $149 a month which is extremely cheap for this kind of plan. Still, you get non-monetary rewards, chargeback fraud, and custom integrations through a powerful API available only in this plan.
Pros
A 14-day free trial with no credit card info
Custom reports with in-depth analytics
All plans offer unlimited team members
It's very affordable and starts at just $49 a month
No transaction fees
Cons
Fraud Prevention is available only in the Enterprise plan
Only 2 campaigns per account are supported in the Starter plan
Let's start this list off by talking about a top-grade affiliate tracking tool. It's called AffiliateWP and comes in the form of a WordPress extension with all of the required features for effective affiliate tracking and management.
Features
AffiliateWP sports a comprehensive dashboard that allows you to see vital statistics. You can use it to enroll new affiliates, manage payouts, and track your conversion rates. Moreover, AffiliateWP lets you check the number of referrals and see your unpaid earnings for even more useful info.
The interface is rather simple and you can see your options on the left side. From here, you can check your Affiliate URLs and various statistics in the form of simple-to-read graphs for easier understanding. It's vital to mention that AffiliateWP puts almost no limits on the features you get.
Pricing & Plans
The cheapest plan is called Personal, and at $149.5 a year, it can be used on one site but with unlimited creatives, payouts, commissions, and affiliates. All of this comes with real-time reporting and one-click PayPal payouts that will let you issue payments with a single click of a mouse.
This software is extremely versatile and supports a myriad of third-party integrations. You can, therefore, use it with WooCommerce, WPForms, Ninja Forms, and many other solutions that greatly improve its versatility and compatibility.
AffiliateWP is actually pretty affordable. The Plus plan supports 3 sites, while the Professional plan at $299.5 a year lets you use it on up to 10 sites at the same time. This plan also includes the Fraud Prevention Suite, custom affiliate slugs, and direct link tracking.
All of this is backed up by priority support, real-time plugin updates, and REST API with lots of useful possibilities. Best of all is that you get a 14-day refund policy with no questions asked. This makes AffiliateWP a very reliable solution even for the most demanding users.
Pros
It's very simple to set up and use
Many third-party integrations
Support for real-time reporting
Affordable Personal plan at $149.5 a year
1-click PayPal payouts
Smart Fraud Detection
Cons
While easy to use, the interface isn't the most modern
2. FAQ
2.1 How will affiliate tracking software help me?
Affiliate tracking software will help you in increasing your earnings through conversions by making your affiliate programs and deals. They'll track your earnings, ad impressions, number of clicks, and other factors necessary for gaining full insight into your overall performance.
Many affiliate tracking tools will help you monitor and manage all your affiliate links and programs, which makes the entire process much simpler and less time-consuming. This, in turn, helps with faster growth and gaining more conversions over time.
2.2 Is affiliate tracking software free?
No, it's not free but you shouldn't expect it to be. Affiliate tracking software is very complex and requires a lot of information to work. Conversely, it's also very efficient and is known to increase conversions and earnings significantly if used correctly.
Pretty much all affiliate tracking solutions offer a free trial or a demo, however, so in many cases, you can use them for free for 14 or 30 days. After that, you'll have to pay.
2.3 What is affiliate marketing?
Simply put, affiliate marketing is a process in which you, as an affiliate, get a commission for every sale you make regarding a particular product. The company that's working with you will pay you a pre-determined commission each time you successfully sell some of its products.
This is done through affiliate links that the company provides you with. From here, you put in your best efforts to promote the product(s) on your website, platform, or anywhere else. Each person who clicks on the affiliate link and purchases the product will bring you what's called a conversion.
In other words, you'll earn money from each person who buys a product using your affiliate link.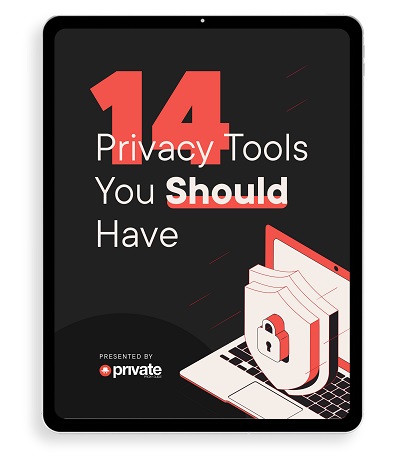 Learn how to stay safe online in this free 34-page eBook.