There seems to be a constant divide between the two types of users. Some users prefer Windows while some swear by macOS, often telling that the entire system is much more secure and less prone to cyber threats such as viruses and malware.
Truth be told, this is indeed true, and while macOS is harder to infect with malware, it's not impossible. Yes, you've read that well – macOS can still be infected with malware that can steal your passwords or steal your computer's resources for mining crypto for the malware coder.
Despite Mac's numerous security measures and updates through Mojave, Catalina, and Monterey, the system still isn't 100% secure, and thus, it's a good idea to think about the best antivirus for Mac. And while we're at it, that's exactly the topic of today's discussion.
1. Best Antivirus for Mac: Our Favorite Antivirus Software for macOS in 2023
Antivirus software is necessary for preventing malware and viruses from infecting your Mac. Even though the built-in security features are quite decent, more dangerous malware and viruses can still slip through the cracks and impact your security, privacy, and PC performance.
To prevent that from happening, using the best Mac antivirus with a high percentage of threat detection is crucial. We tested dozens of them for you, just to make sure you get the highest level of protection against even the most modern online threats.
Let's talk about the absolute best antivirus solutions for Mac, analyze each entry, and present their pros and cons.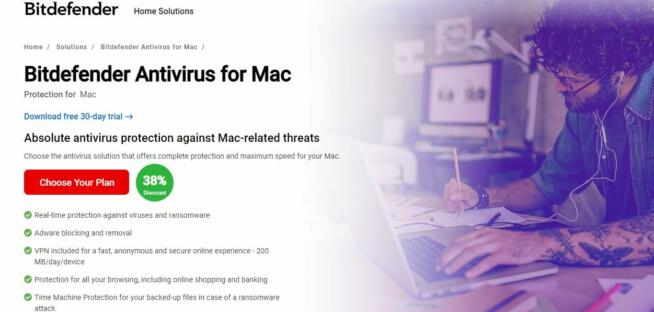 Bitdefender is perhaps the most prominent company in the world of antivirus software. Aside from its great security suite for Windows, it also offers an amazing antivirus for Mac users. Needless to say, it has real-time protection against ransomware and viruses that Mac computers can sometimes catch.
This antivirus is known for very high rates of detection, close to 100%, which means every virus and malware will be detected and removed swiftly. Besides, Bitdefender does an amazing job at updating its antivirus, making sure you're up to date with all the possible threats.
In addition, we should mention multi-layer ransomware protection coupled with browser protection, which ensures real-time threat removal as you browse the web. Bitdefender Antivirus for Mac has phishing protection too and there is this anti-tracker feature that boosts your privacy.
Another thing I really like is the presence of a VPN. Yes, you get a full-fledged, unlimited VPN along with your antivirus, so you can enjoy online privacy, unblock geo-restricted content, and download torrents safely. To make things easier, there's a feature called Autopilot.
It'll work in the background for you, giving you insight into overall security and recommending particular actions to protect your Mac. Adware blocker is here too, and with it, preventing adware infections on your macOS will be a breeze, especially because it works in real-time.
Bitdefender Antivirus for Mac works on up to 3 devices, so if you have an Apple ecosystem, you can protect it with a single subscription. Price-wise, I'd say Bitdefender is relatively affordable, with a 1-year plan costing $29.99 for the first year, for 3 devices.
There's a 3-year plan with the price of $95.99 for the first year too, which, I think, isn't too expensive considering everything you get. Sure, Bitdefender is missing a firewall and its app might not be the most intuitive, but think about the level of security you get with it and you'll see why it's so popular.
Pros
It works on Windows and Mac
Nearly 100% virus and malware detection
It includes a secure, unlimited VPN
An adware blocker is included
It works on up to 3 devices with a single subscription
Affordable prices, starting at $29.99 for the first year
Cons
It's missing the two-way firewall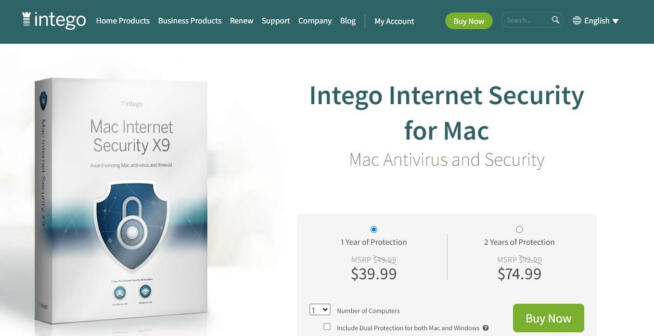 Unlike Bitdefender which covers a broad array of devices, Intego is a company that develops security tools for Mac OS X. It doesn't support Windows or Android, but that's good in a way because it shifts all of its hard work to developing and maintaining a stable and secure antivirus solution for macOS.
And you know what? This antivirus called Mac Internet Security X9 is pretty damn awesome! This is a bundle consisting of two products called VirusBarrier X9 and NetBarrier X9, combining several great features into one functional security bulwark.
For the start, Internet Security X9 comes with a two-way firewall, which, in conjunction with a high percentage of malware/virus detection, grants supreme security for your Mac. In addition, the service works in real-time, so every attempt at infecting your PC will be met with immediate action.
Of course, the service will protect you from various types of viruses and malware. It claims to be effective at removing PC and Mac-only threats, which is useful for keeping your Mac clean. Despite working 24/7 in real time, Intego Mac Internet Security X9 isn't resource-taxing.
This means it won't slow down your Mac with its background processes, which is welcome for productivity and keeping your working hours work-heavy. Its NetBarrier X9 feature adds another layer of security in the form of the aforementioned firewall.
It's an anti-spyware tool that also blocks untrusted devices trying to access your Mac and adjusts the firewall settings to keep you safe and secure. All of this comes at the price of $39.99 for 1 year of protection, but only for 1 device.
It supports up to 5 devices, in which case, the annual plan will cost $69.99 a year, and the 2-year plan will be $124.99 every 2 years. Expensive? Yes, it is, plus it doesn't offer Windows apps. But hey, if you're looking for bank-grade security for your Mac, you must pay for it well.
Pros
Includes VirusBarrier X9 and NetBarrier X9
Real-time threat detection and removal
It removes both Mac and PC threats
The firewall works well in preventing virus infections
Anti-spyware tool
Cons
It's on the more expensive side
Works only on Mac, no apps for Windows, Android, and iOS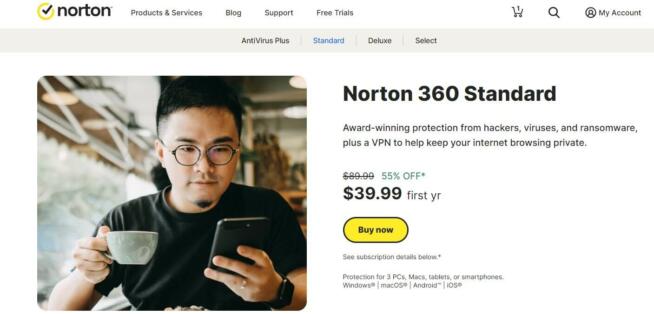 Norton has been around for quite some time and is among the oldest cybersecurity companies on the planet. Developing security software for years, its antivirus is among the best around, with a 99% detection rate and incredible reliability for Mac users.
Not to mention its lightweight nature, which doesn't chew through your resources and slow down your Mac, even if you're using an older model. You won't even notice it working in the background, yet, it'll fend off viruses and malware like a true hero.
I picked Norton 360 Standard because it's affordable, and at $39.99 for the first year, you get protection for 3 devices, be it Macs, Windows computers, tablets, or phones. Aside from its amazing antivirus, malware, ransomware, and hacking protection are here, ensuring total online privacy.
Norton even promises 100% virus protection, which, in my experience, proved to be true, as it managed to detect some threats that other antivirus solutions couldn't. In addition, Norton 360 Standard offers a two-way firewall and you get a feature called Dark Web Monitoring.
It'll make sure your personal data isn't compromised online, making sure your passwords and emails aren't stolen. Norton 360 Standard also includes a VPN, which isn't that bad and allows for unlimited bandwidth and servers in around 30 countries.
While 2 GB cloud backup is here, beware that it won't work on Macs. But on the brighter side, there's a password manager for storing your passwords and making new ones if you want. Users can pay more for Norton 360 Deluxe, in which case, the license is extended to 5 devices and costs $49.99 for the first year.
This will give you 50 GB of cloud backup (not usable on Mac) as well as Privacy Monitor and Parental Control features. Alas, Parental Controls will not work on macOS, which is quite annoying, as you'll pay $10 more to get this feature in the Deluxe plan.
Pros
360-degree protection for Mac and Windows
Hacking protection
100% virus promise protection
Dark Web Monitoring
A VPN is included
Cons
Parental Controls aren't working on Mac
Cloud back functionality is limited to Windows users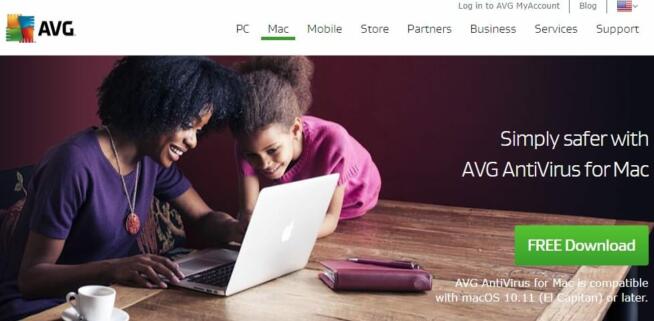 AVG Antivirus is an excellent solution if you're looking for a customizable and flexible antivirus for your Mac. For the start, AVG offers a free antivirus solution downloadable directly from the official site. As you can guess, it's quite limited, but you still get a lot of features.
The free version can still spot and eliminate spyware, malware, and viruses with a high percentage of efficiency in real-time. For instance, I  found that it scans my email attachments and downloads, plus all other apps on my Mac, and reacts if it finds any threats in the background.
Moreover, AVG is known for frequent updates, which is crucial if you want to make sure you're safe against modern and new threats. This is even more prevalent in its paid version, which I strongly recommend, as it offers MUCH more, all at a very affordable price.
The paid version is called AVG Internet Security for Mac and if you're looking to protect one Mac, it'll cost you a measly $3.89 a month. However, the version that supports 10 devices is just $4.99 a month and you get features like payment protection and protection against ransomware.
AVG includes even phishing protection, which is great for preventing hackers and snoopers from interfering with your email and password. During my testing, I also detected that AVG Antivirus for Mac is very mild in terms of taking up your macOS resources.
It does work in the background providing real-time 24/7 protection but its impact on performance is non-existent. And yes, this antivirus isn't as feature-rich as Bitdefender and doesn't offer a two-way firewall. However, if you're not a too demanding user, I think it'll be more than enough.
Plus, it offers significantly cheaper prices compared to all the other providers on this list and you get a 60-day free trial with a 30-day money-back guarantee for all subscription plans. No doubt, this is a solid choice for users on a budget with reasonable expectations.
Pros
It offers a 100% free antivirus for Mac
Cheap premium plan at just $4.99/mo for 10 devices
Ransomware, malware, and virus protection
A 60-day free trial with a 30-day money-back guarantee
Phishing protection
Cons
No two-way firewall
Not many features compared to some of its rivals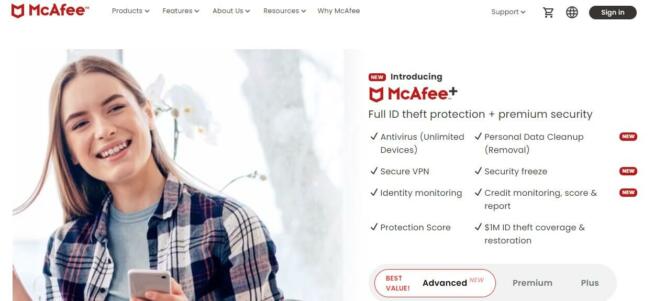 McAfee is, like Norton, among the oldest cybersecurity corporations on the planet. This ensures a streamlined and polished experience with its products, one of which is McAfee Total Protection, which offers a great set of features for the highest level of virus protection for Mac users.
McAfee Total Protection is all about doing things for you instead of you having to dig through its features and clean your Mac yourself. Simply install the antivirus and let it do its job in real-time as you enjoy watching movies, working, or doing anything else.
This antivirus has a high detection rate, including features like a password manager, a firewall, identity monitoring, web protection, and so much more. I like that you can see your protection score in the app too, and McAfee Total Protection will recommend the steps to increase that score.
Web protection is especially useful too because it'll steer you clear of malicious sites and prevent malware, spyware, and adware from infecting your Mac as you browse. Another impressive feature called Security Freeze will prevent unauthorized people from opening accounts in your name.
This will ensure no one can steal your identity online, which is perfectly complemented by lost wallet protection, a feature that will cancel your credit/debit cards and replace them for you. Other useful features include a file shredder for deleting sensitive files, plus a VPN.
McAfee VPN comes with unlimited bandwidth here and it can protect up to 5 devices on a subscription. Finally, there's personal data cleanup for removing your sensitive data from high-risk sites known for selling personal information – something I really valued when using it.
All of this comes at the price of $89.99/year with a license for unlimited devices. While McAfee Total Protection isn't limited to Mac and will work on Windows as well, beware of its seldom performance hits that tend to slow down your computer from time to time.
Pros
Real-time protection against viruses, malware, spyware, and ransomware
Adware protection will prevent advertisers from tracking you
Security Freeze
File Shredder
McAfee VPN is included in Total Protection
Cons
Rare performance hits during system scans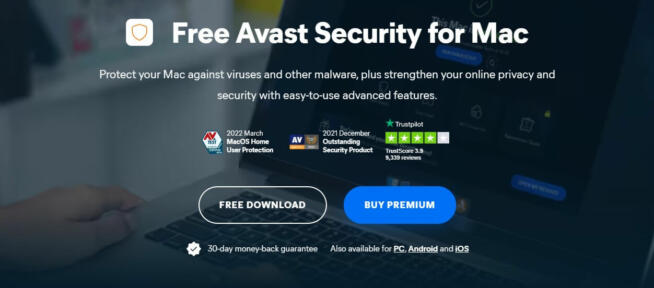 Avast is a household name in the world of cyber protection and online security. Its free antivirus offers some of the best features on the market, even including a firewall, real-time monitoring, and the ability to block malware, ransomware, and viruses.
However, I want to talk about Avast One for Mac, which is its flagship solution for all-around Mac protection. This antivirus costs just $4.19 a month or $50.28 for the first year, yet, it protects up to 5 devices, not limited to macOS. Indeed, it works on Android and Windows as well!
All the features from the free version are here but Avast spices things up if you pay for it. Its antivirus has an incredibly high detection rate, and with frequent updates, even the most malicious viruses and malware won't be able to bypass its firewall.
In addition, Avast adds some privacy features, such as protection against webcam spies, which you'll find handy if you're on Macbook. It'll also block dangerous and fake sites, with the ability to keep private your personal information, which hackers won't be able to steal.
Avast One for Mac includes a dark web monitor. It'll constantly monitor your accounts for breaches, ensuring that you can react immediately if someone signs in to your account from another location. Its browsing protection is excellent too, especially with protection against advertisers.
Avast will automatically detect the cookies that advertisers use for tracking your data and delete them to prevent annoying targeted ads. The premium Avast One version includes Avast Cleanup for removing unnecessary files and speeding up your Mac.
And to make things better, there's a VPN with 55 locations, unlimited bandwidth, and 256-bit encryption. This VPN isn't great, to be honest, but it's good that you can take advantage of it. Besides, you can try Avast One for Mac for FREE for 30 days – sounds good? I'd say so!
Pros
The free version offers real-time monitoring and firewall
It's very cheap at $50 per year
Webcam spies' protection
Avast Cleanup helps you clean and optimize your Mac
There's a VPN with 55 worldwide locations and unlimited bandwidth
Cons
The included VPN isn't the best in terms of performance and unblocking capabilities
Limited features on iOS and Android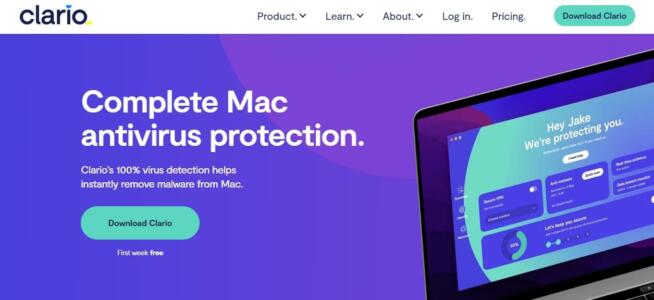 Clario might not be a tech giant like Bitdefender or Norton. However, this company managed to pack all the cutting-edge features into an affordable package that will treat your Mac like a king. After all, Macs are better than Windows computers, right?
All jokes aside, Clario Antivirus for Mac works well in detecting and crushing malware, antivirus, and spyware, being optimized for macOS perfectly. It does offer apps for Android, Windows, and iOS as well, but since we're talking about macOS, let's focus on this platform.
Clario's license can be used on up to 3 devices and if you opt for a 12-month plan, the price will be just $4.17 a month or $50 each year, which is extremely affordable. For the price, you get real-time virus protection, an advanced virus scan, and an ad blocker, which adds to your privacy.
I like its web protection as well, as Clario is capable of detecting website trackers and blocking them while you browse the internet. Data breach monitoring is a part of the package as well, and it'll inform you if your email has been in a data breach, which lets you change your password to avoid being hacked.
Best of all is that Clario Antivirus is easy to set up and use. The installation is quick, after which, its protection will start taking effect with an in-depth scan and elimination of unwanted software. Besides, Clario includes a VPN that will protect you from untrustworthy networks.
This VPN is basic and won't blow you away but it's nice to be able to encrypt your connection and enjoy additional privacy. Beware that iOS users don't get real-time safe browsing, web security, and antivirus for some reason, which I found severely underwhelming for the price.
But if you're using a Mac and you don't think you need an iOS antivirus, I think this won't pose a problem. A 30-day money-back guarantee is available for all plans, so if you're dissatisfied, it won't take long to get reimbursed.
Pros
Affordable annual plan with support for up to 3 devices
Virus protection works in real-time
It includes an ad blocker
It can detect website trackers and block them
Cons
iOS users don't get web security
2. Best Mac Antivirus: Q&A
2.1 What is a good free antivirus for Mac?
If you're looking for a free antivirus for Mac, there are a few choices you can select. AVG, for example, has a great free Mac antivirus, which will detect and eliminate typical threats like viruses, malware, and spyware, but with no additional features.
You can try Avast One Essential as well, which gives you, more or less, the same features. Even Clario offers a free version of its antivirus, albeit with many limitations. In my opinion, it's better to pay for this kind of software if you're really looking to maximize your security and get bonus features.
And let me remind you that some companies were known for selling user information to third parties when using their free products. You'll either pay with your personal data or money. If you ask me, I'll always choose money.
2.2 Will antivirus slow down my Mac's performance?
The answer to this question depends on the antivirus you choose. Some of them are less resource-taxing while some of them will take up more resources while scanning your Mac for potential threats. In general, Macs won't be affected by antivirus solutions.
This means you'll get the same level of performance for your productivity tasks while the antivirus works in the background. Keep in mind that some complex operations that your antivirus performs can impact the performance, however.
One of them is a system scan where the antivirus scans all your drives, files, and folders for malware, viruses, and other threats. This operation is known to be taxing on your resources and with solutions like McAfee and Intego Mac Internet Security X9, you might notice a performance hit.
But once the system scan is complete and you get rid of all the threats, you'll let the antivirus work in the background and detect threats in real-time. In this case, the performance will be unaffected and you can use your Mac normally.
2.3 Is antivirus for Mac really necessary?
To be honest, antivirus solutions aren't necessary for macOS, as the system has built-in security features that should keep a good portion of viruses and malware out of your computer. However, if they were useless, they wouldn't exist – right?
The best antivirus for Mac will significantly increase your security by including protection against spyware, ransomware, and other "advanced" threats that might slip through the built-in Mac firewall. That's where an antivirus comes into play and eliminates the threat before it can make a mess.
It's not just about antivirus, as all solutions on this list come with other security features which make them more valuable. Yes, you'll get virus/malware protection but also a dark web monitor, web protection, a two-way firewall, a VPN, and so forth.
With all of these features AND an antivirus, I think it's worth the price, and while not necessary per se, you'll definitely see a lot of security benefits.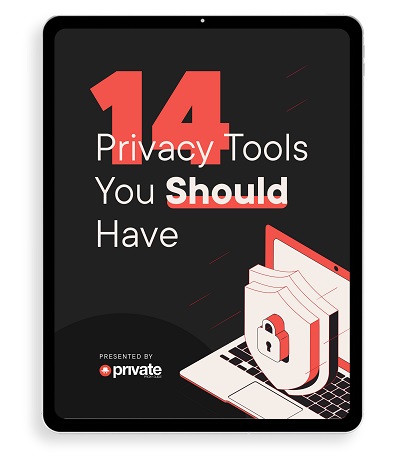 Learn how to stay safe online in this free 34-page eBook.