A CDN caches files on servers worldwide to speed up practically any website. Whether your visitors are from North America, Europe, Asia, or elsewhere, the material is automatically served from the closest place for the best possible speeds, so it's no surprise that it's become a required feature for hosting services and website builder providers.
If you're new to technology, it might be frightening, and there's no denying that pricing can be costly, but don't let that deter you. A CDN isn't just for large businesses. The most straightforward services can easily be set up in about five minutes, and depending on your plan, it may not cost you anything whatsoever. Whatever type of website you have, from a basic blog to a large corporate website, we've compiled a list of the top services available to steer you in the right way. If you find something that sounds promising, give it a shot — many of these CDNs allow you to test them out for free without having to provide any financial information or agree to any terms.
Here, we will introduce you to the best CDN for WordPress
1. Best CDN for WordPress 2022
One of the most prominent CDN services for WordPress is Stackpath. Many popular WordPress blogs use this plugin, including a handful in the ShoutDreams network. Users can choose from various plans offered by Stackpath.
It works with practically all WordPress caching plugins, and all you have to do is enable CDN and submit the required information. Stackpath has servers in the United States, the European Union, and other locations like Singapore, Tokyo, Sydney, Hong Kong, Sao Paulo, Israel, and others. Its comprehensive control interface allows you to manage your website's cache parameters.
Another plus here is the security since this CDN provides customers with free shared SSL (or the option to use your SSL certificate, if you prefer). There's also anti-DDoS protection, a competent EdgeRules, a Web App Firewall, and a powerful tool that enables you to configure StackPath's CDN behavior at various stages of the CDN request.
Pricing:
For about $10 per month ($0.01 per GB), you can get 1TB of bandwidth and unlimited requests with a basic beginning package. Individual services, such as web application firewall (WAF), DNS, and service monitoring, cost $10 per month.
If you're searching for more power, you can combine these and save a little money. For only $20 a month, you can get 1TB of traffic, a Web Application Firewall with 5 million queries and five custom criteria, two million DNS requests, and one-service monitoring with the Edge Delivery 20 package.
| | |
| --- | --- |
| Pros | Cons |
| Excellent value | Outside of North/South America and Europe, only a few places to visit. |
| Web Application Firewall (WAF) is a powerful web application firewall. | CDNPerf's performance was below average. |
| SSL certificate for personal use is provided for free. | There is no image optimization. |
| Edge delivery rules that can be customized | Video support is minimal. |
Cloudflare is a widely used content delivery service in the United States that blends beginner-friendly ease of use with advanced capabilities. It's easy to set up, and you won't have to touch your code. Set your DNS nameservers to utilize Cloudflare, and the service will instantly start caching and providing content to visitors from their closest location.
There's a lot more, though. Blocking bots, limiting content spam, keeping you safe from hackers, and detecting and mitigating DDoS attacks are all possible with web filtering. Smart picture optimizations can cut image sizes by up to 35%, resulting in even faster loading times. There's a great deal of support for protocols like IPv6, HTTP/2, and SPDY sophisticated page controls to help you manage traffic and a REST API that lets developers take complete control of the service. In addition, Flan Scan, a compact network vulnerability scanner, is included.
Pricing:
Free Plan: Some capabilities are restricted, while others are completely removed, but there are no arbitrary limitations to push you to upgrade. You have the same accessibility to several advanced capabilities as commercial accounts, such as the REST API. The plan is also unlimited in terms of bandwidth.
Cloudflare Pro: This adds Cloudflare's Web Application Firewall to the free plan, as well as image optimization tools and up to 20-page rules. The average response time is 2 hours for email support. There are many more user interface and firewall restrictions and DDoS assault real-time notifications.
Cloudflare Business: Custom SSL certificate upload, advanced DDoS protection, efficient delivery of dynamic content, PCI compliance, prioritized support, and up to 50-page rules are all included in Cloudflare Business. All of this sounds appealing to us, albeit the monthly fee of $200 is a stumbling block.
These plans can be supplemented with a variety of add-ons. A dedicated SSL certificate costs $5 per month, plus $5 for five more page rules, $5 for smart routing and task scheduling, and $0.05 per 10,000 good requests for rate limiting, which protects from denial-of-service assaults, brute-force password attempts, and more.
| | |
| --- | --- |
| Pros | Cons |
| Free plan | Comparatively expensive business plans |
| Intelligent website optimization | Speed may be slow in Europe and North America |
| It offers a lot of features to choose from. | |
| Excellent results in Asia and Africa. | |
Amazon CloudFront is a content delivery web service. It works with the other Amazon Web Services to provide developers and organizations with a simple way to deliver content to end consumers with fast data transfer speeds, minimal latency, and no commitments.
Amazon CloudFront is the CDN arm of AWS (Amazon Web Services); therefore it's unquestionably a powerhouse. As you might assume, CloudFront comes with many advanced capabilities, including modifying things like activating automatic Gzip for faster loading times.
Another plus is the on-demand in-depth analytics, which shows you information about your visitors' device kind, operating system, and so on. There's also the option to set up alarms, which will notify you if your data transfer use exceeds a certain threshold.
Pricing:
Free Usage: New AWS customers that sign up for the Free Usage Tier get 50GB of bandwidth per month for a year. That's ideal for doing preliminary tests and figuring out what CloudFront and CDNs can accomplish for you.
Cloudfront Savings Bundle: The CloudFront Security Savings Bundle is a self-service pricing option that allows you to save up to 30% on your CloudFront payment in exchange for a one-year monthly spend commitment. This savings applies to all CloudFront utilization types, including CloudFront Operations and Lambda@Edge, and is not limited to data supplied via CloudFront. Free AWS Web Application Firewall (WAF) consumption up to 10% of your contracted amount is included in the CloudFront Security Savings Bundle.
Custom Pricing: Customers who pledge to a minimum of ten TB of data transmission per month for 12 months or longer can receive special discounted rates. Discounts are calculated based on the size of the commitment.
| | |
| --- | --- |
| Pros | Cons |
| Features are advanced | The pricing structure is complicated |
| It can be configured to the maximum | Extra charges apply for technical assistance. |
| Good performance | A UI with complicated features |
| Free for the first year | |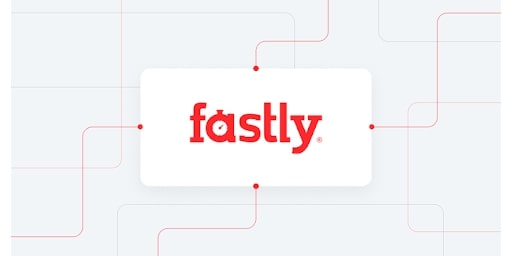 Fastly supplies CDN services to some of the world's largest companies, like Reddit and Spotify, providing lightning-fast speed. According to CDNPerf's rating, it's the second slowest CDN in the UK, and global speeds are also typically good.
Fastly's strongest point, on the other hand, is how customizable the service is. For example, there's support for several sorts of video caching, as well as a plethora of low-level options for individuals who wish to tinker with HTTP headers to customize how content is served. You can use the same credentials to log into several Fastly client accounts for convenience.
Pricing:
Fastly is a pay-as-you-go solution with a $50 monthly minimum and pricing similar to Amazon CloudFront.
Depending on the region, bandwidth is billed at different rates. For the first 10TB, North America and Europe are $0.12 per gigabyte, New Zealand and Australia are $0.19, and Brazil and South Africa are $0.28. For traffic above 10TB, prices reduce by roughly $0.04 per gigabyte.
The price varies from $0.0075 to $0.016 for every 10,000 requests depending on the region.
Pros
Cons
There are numerous powerful features.
It can be challenging to set up.
Configurable to the max
Prices are higher than others.
Free traffic for the first $50.
Only mid-range speeds yield positive outcomes.
It virtually instantly clears its cache.
Rackspace is another outstanding CDN service provider with a solid method for sending your video files and other content. When using Rackspace, you can upload large files in many sections and retrieve them as a single document, such as HD movies, videos, or site backups.
Because Rackspace offers a 99.9% uptime, you can rest easy knowing that your data will always be accessible to your users. Rackspace also promises to copy each file to three separate storage locations and to use duplicate power supply systems on their servers. All of the main cities, including Hong Kong, Chicago, Northern Virginia, Dallas, London, and Sydney, have Rackspace data centers. As a result, your website visitors will always receive data from the nearest location.
Pricing:
Rackspace Email: This plan costs $2.99 per month for each user. The features include easy migrations, round-the-clock customer support, mobile and desktop compatibility, webmail, anti-virus, and a huge mailbox.
Rackspace Email Plus: This plan costs $3.99 per user per month. The various features include all the features in the Rackspace email and much more like instant messaging, calendar sharing, and compatibility with MS office applications.
Plus Pack: This pack costs $6.99 per user per month. Apart from all the features available in the Rackspace email plan and Rackspace email plus plan, it has an additional email archiving feature.
Pros
Cons
Good customer service
Login may take time
Easy migration with limited downtime
Sucuri is a CDN service provider that is well-known in the business. Sucuri's content delivery network, according to the company, increases page load speed and reduces the load on the server by 70% on average. The CDN 9 SuperPOPs are available in the United States, Europe, and Asia, as well as 2 CDN POPs in Brazil and Australia.
Sucuri provides a robust WordPress plugin to safeguard your website from viruses and intrusions. It creates numerous levels of security to protect your website from cyber-attacks. Sucuri's cloud proxy firewall skips all your traffic before it reaches the hosting server. It prevents any malicious malware or hacker attempt to compromise your website, ensuring that you only receive genuine visitors. It also improves the speed and performance of your website.
Sucuri provides a comprehensive range of cybersecurity capabilities to businesses of all sizes worldwide. Sucuri is among the most dependable companies on the market. Sucuri offers useful tools that keep your website clean and secure at all times. Sucuri Cybersecurity plugin has several outstanding features and benefits.
Pricing:
Basic Plan: The basic package is inexpensive, and it examines your website for security every 12 hours. It costs $199.99 per year and includes a Let's Encrypt SSL certificate.
Professional plan: The Professional plan scans your website at shorter intervals. Every six hours, it checks your WordPress website to protect it from security threats. Aside from that, it costs $299.99 per year and includes a personalized SSL certificate.
Business Plan: The Business plan is Sucuri's most efficient and sophisticated plan. It responds to security risks and attacks the quickest. This plan includes live chat help from the Sucuri team, blacklist alerts, powerful DDoS protection, and more. The annual cost of this plan is $499.99.
However, all three services feature unlimited virus cleanup, a website firewall (WAF), attack prevention, blacklist removal, and hacker protection.
| | |
| --- | --- |
| Pros | Cons |
| Good customer support | The number of functions available is limited. |
| Detection of malware | Some small business plans have exorbitant pricing. |
| Blocklist alerts. | Scanning a webpage can take some time. |
| Simple account creation | |
| Backup to the cloud for security. | |
KeyCDN is a simple-to-use, affordable CDN that could be an excellent choice for newbies.
Setting up the account is very easy. You can Register with your email account, and you'll get a free 25GB to play with right away. No credit card information is required. A well-designed web interface makes it simple to create your first zone, and there are tutorials to assist you in integrating the platform with WordPress and other programs. In addition, IPv6 is entirely supported by KeyCDN.
More advanced users may appreciate features such as Origin Shield, which allows you to choose a KeyCDN server as the update source instead of the origin, decreasing server burden. You can change headers, cache, or strip cookies and create custom robots. Once the system is up and operating, a comprehensive set of dashboards and reports allows for near-real-time monitoring of CDN performance. Additional capabilities such as Block Referrer, which blocks hotlinking content websites, and Image Processing, useful for image optimization, are also available.
Pricing:
The cost of KeyCDN is determined by the geographic origin of your traffic. For the first 10TB in Europe and North America, the price is $0.04 per GB, rising to $0.09 in Asia and Oceania and $0.11 in South Africa and South America.
The price per gigabyte drops even more as you use more data, reducing to $0.01 per GB for the first 100TB. Each account supports up to three 'zones,' which might be websites, and you can add more for $1 per month per zone.
Try the service for 14 days and get 25GB of traffic for free with no credit card information necessary. That's a convenient method to check out the interface.
| | |
| --- | --- |
| Pros | Cons |
| Low-cost options | Suits mostly small-scale network |
| SSL certificates are available for free and can be customized. | Response times that are below average |
| Setup is simple. | Minimum credit of $49 |
| Free trial for 30 days (25GB max traffic) | There are some support concerns. |
Bunny, situated in Slovenia, has a good set of capabilities, its Tier 1 network (with over 10 Tier 1 partners), and over 10,000 customers, including Comic-Con and Hyundai. Bunny has 53 locations worldwide, with 19 in Europe, 16 in Asia and Oceania, 13 in North America, three in Africa and the Middle East, and two in South America.
The firm provides the standard features you'd expect, such as HTTP/2 and Brotli compression, IP-based access control, free Let's Encrypt SSL, and a robust rule-based framework that allows you to govern authentication, routing, delivery, and more from edge servers.
Bunny's ability to easily scale and compress your pictures to fit the end-user device is one of Bunny's smart image optimizations. The engine's basic query API also provides dynamic image processing. You can resize photographs, adjust their quality, brighten and blur them, and change their brightness, saturation, and hue, among other things.
Pricing:
Though not simple, BunnyCDNs pricing is good value for money.
Standard Network plan: For example, the Standard Network plan has varying costs depending on the region: It costs $0.01 per GB in North America and Europe, $0.03 in Oceania and Asia, $0.045 in South America, and $0.06 in Africa and the Middle East. Prices for the first 10TB of Fastly start at $0.12 per GB, rising to $0.28 for South Africa.
Volume Network: Bunny's Volume Network has only eight sites, but they can handle even the most intensive sites. Prices start at just $0.005 for the first 100TB, and it's flat pricing with no regional fluctuations.
The file and image optimizer, which costs $9.50 per month per domain, and CDN storage, which costs $0.01 per GB in North America and Europe and $0.03 in Australia, are among the extras. There are no minimum standards or extra fees for queries, so if you're content with 2GB of storage in any of five provinces, you'll spend $0.22 per month more.
| | |
| --- | --- |
| Pros | Cons |
| The prices are pretty inexpensive. | CDNPerf has slower mid-range speeds. |
| Simple to use | There is no firewall for web applications. |
| There are more than 50 network locations. | Live streaming of videos won't be possible. |
| Image optimizer and file and with a lot of features. | |
2. Benefits Of Using CDN
There are many benefits of using the right CDN. Some of them are as follows:
Lower bandwidth costs: Because most traffic no longer egresses from the origin, CDN lets content providers drastically cut delivery costs through cache and request optimizations.
Higher scalability: At peak traffic, the CDN can handle 40-200 Tbps. It can give a global, always-on experience, even in unforeseeable events like malicious assaults or origin failure.
Faster load time: To reduce latency, the user will receive information from a nearby CDN PoP instead of sending queries to the source and waiting for a response.
Better Security: The CDN works as a proxy in front of the source server, providing an additional degree of protection by masking the origin's real IP address.
3. Conclusion
The speed of your website is crucial. Load speed is a ranking issue for search engines like Google, and if your site runs poorly and users bounce, it could indicate a poor user experience. You can ensure that your basic site files are delivered faster rapidly, that your page load time is minimal, and that your website ranks well in the SERPs using a CDN. While websites had to rely solely on servers to transmit their information, CDN services have forever changed the game. By employing a reputable WordPress CDN solution, you can ensure that your visitors enjoy a faster page loading time and a better-performing web page.