While trading crypto efficiently seems like an easy task, it can quickly get complicated if you're looking for advanced features to boost your earnings. One of them is called crypto staking and it's rarely supported even if we're talking about the most prestigious platforms.
Crypto staking is the process of freezing your tokens for a particular period to boost the performance of your blockchain and thus, earn interest. It's quite a risky maneuver and requires a bit more knowledge, as not every crypto token can be staked and you can lose some of your revenue.
If you're looking for the best crypto-staking platforms, we will assume you know what the term means. That's why we'll focus on giving you the best and most reliable platforms in 2023 that will allow you to engage in this complex process and hopefully earn more crypto as a result.
1. Best Crypto Staking Platforms in 2023 – Stake Crypto Safely
Before moving on and divulging our list, I want to clarify that we tested all of the platforms you see below. These are tried-and-tested solutions that our team uses daily, so we can guarantee their safety and all of the features we discuss in the following article.
To avoid making this guide longer than it needs to be, we limited our choices to seven of them. This way, we've chosen the absolute best platforms and narrowed down your selection to make sure you get the best options without wasting time in vain.
Let me now present to you my long-awaited list: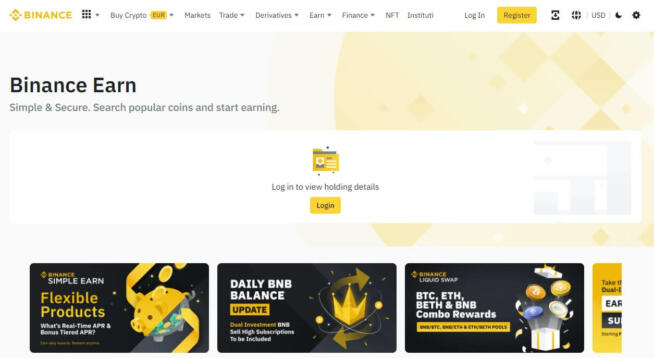 Everyone who trades crypto surely spent some time on Binance. Binance is one of the largest crypto-trading platforms with a rich history of popularity, reliability, and unfortunately, unavailability in the US. Despite this big flaw, we put Binance in the first spot due to how easy it is to stake crypto on it.
The platform requires you to verify your account, deposit some funds, and proceed to stake. You can then monitor daily earnings through the dashboard and see if you want to continue. When it comes to supported tokens, you can expect quite a few of them.
For example, you can stake GLMR, NEO, and over 100 other tokens. Furthermore, Binance is pretty good in terms of payments. Depending on the token at stake, you can expect payments to be from 34% to even 120%, which allows for some great earnings.
Another thing to point out is that Binance supports DEFI staking along with the ability to purchase crypto using a variety of payment methods. This means you can get into crypto trading or staking as long as you have funds that you can use to buy crypto.
Plus, the service has a very robust blockchain network, Binance Chain, where you can stake crypto and receive daily earnings effortlessly. The minimal supported stake is $10 so if you're a newbie, you don't have to invest your entire crypto portfolio.
Overall, Binance is extremely reliable, and with hundreds of tokens at your disposal, it's easy to get lost in its vortex of advanced features. The only issue is that, in the US, it offers very limited functionalities, preventing you from enjoying its full benefits.
But if you live in Europe, Asia, Africa, or even South America or Australia, this platform can be enjoyed fully with no issues.
Pros
Very large selection of tokens that can be staked
High APY for new tokens
The minimum stake is $10
Daily payouts
DEFI staking
Cons
It's not available in the United States
Lower APY for BTC (0.5%)

eToro is yet another popular crypto-staking platform. It built its name upon numerous trading and investing solutions that attract thousands of users daily. Of course, crypto staking is one of its special features where eToro offers excellent commodities.
For the start, the service offers only 3 supported crypto for staking – Cardano, Tron, and Ethereum. However, the good thing is that the reward percentage is very high, so you're looking at 75% to 90% of the monthly staking yield per level.
Additionally, these rewards can be claimed after the 8th day of staking, meaning you won't have to wait for too long before seeing the desired results. eToro classifies its users into different tiers, so you have levels like Bronze and Silver, where Diamond and Platinum+ members get the highest rewards.
The instructions for staking crypto on eToro are simple. Of course, you need to verify your account, select the token for staking, and confirm your choice. From here, you can enjoy the aforementioned earnings with respectable fees that won't go over 25%.
If you're interested in trading crypto on eToro, the platform even offers a demo account, which is highly appreciated. Beginners and those who never traded before can make an account, hone their skills, and test their luck and knowledge before staking.
For me, the only downside is that eToro supports just 3 tokens for staking, which should and must be increased in the future. However, take into account high earning percentages, sometimes low fees, and excellent ease of use which make this an extremely attractive option.
Pros
Ethereum, Tron, and Cardano staking
Three tiers of users, each enjoying high payouts
You can enjoy a demo account for free
Numerous trading and investing solutions on the site
Leverage trading is supported
Cons
Just 3 supported tokens for staking
Fees can go up to 25%, which is a bit higher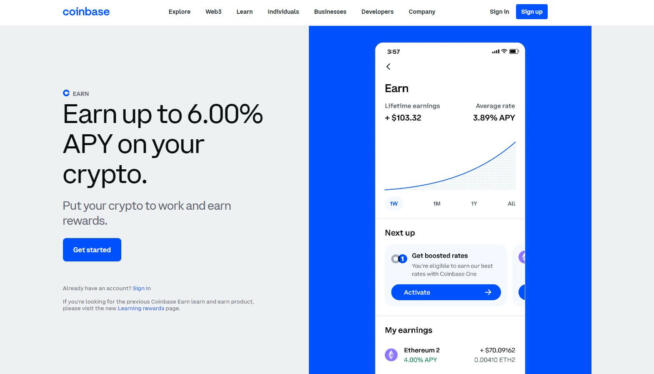 Coinbase is a platform that serves both individual and large companies/investors. It's a platform with tons of crypto assets to trade, allowing more experienced users to enjoy a big portfolio of assets ready to be utilized. As such, crypto staking is a vital part of the platform.
We found Coinbase very intuitive and easy to start with. Once you verify the account, simply deposit some funds or buy crypto and stake as much as you want. Coinbase supports daily rewards, so each day, you'll be able to see just how much you've earned.
The number of supported tokens isn't the largest. Coinbase lets you stake tokens like Cardano, Ethereum, Algorand, Cosmos, and Tezos. For example, you can get paid after 3 days of staking Ethereum while Cosmos requires at least 7 days of staking.
In general, the trading platform is full of features. If you want to exchange crypto, you're looking at hundreds of options and even trading bots. Fiat currencies are supported too and there's a crypto-exchange platform on the site to enhance its reliability.
Coinbase even allows for offline staking, which I found very useful. I could use my hardware wallet to stake Ethereum knowing that it's safe and secure in my pocket. Coinbase lets you earn up to 6% APY on your crypto when staking, which is decent but not the best.
This, along with a limited number of supported tokens for staking, is the only downside of this platform. At least you get the DEFI Yield option as well, which, combined with staking, can help you earn more interest and utilize your tokens better.
Pros
It's built for large investors and individuals
Users can get paid after only 3 days of staking Ethereum
Fiat currencies, trading bots, and crypto exchanges are all supported
Offline staking on cold wallets
6% average APY
Cons
Not many tokens for staking
Its numerous features can overwhelm beginners
When talking about crypto staking, ZenGo is surely one of my go-to options. Generally speaking, this is a multi-chain wallet that lets you earn up to 8% APY on a variety of tokens. You can stake around 70 different tokens, unlike only a few options in Coinbase and eToro.
This platform makes earning passive income easy. If you don't want to use it as a non-custodial wallet, you can utilize its WalletConnect service where you can stake Ethereum, Polygon, DOT, and other tokens with no particular requirements.
One of the best things is that KYC isn't required in ZenGo. This means you just need to download its app, provide your email address, and set a few security parameters. Then, select one of its crypto-staking services such as Lido, and enjoy the entire process.
ZenGo lets you purchase crypto directly through the platform with credit/debit cards and even Apple Pay. On the platform, you can also send and receive crypto from other users or simply trade crypto on an ever-growing marketplace.
ZenGo is very easy to set up and requires no special information and conditions for staking. Plus, its crypto-staking third-party options are very reliable, and thanks to the so-called dApps, you can easily take advantage of the security and reliability that the provider is known for.
Some people dislike its third-party dApps but with 70+ tokens, Web3 Firewall, and other advanced functionalities, I think I can easily get over this minor issue if we can call it that. ZenGo is a choice of thousands of users, so crypto staking will be more than profitable.
Pros
ZenGo allows for staking up to 70 different crypto tokens
You don't need to verify your account with personal info
Simple setup that lets you get started quickly
Web3 Firewall adds to the overall security
APY of up to 8%
Cons
ZenGo uses third-party crypto-staking options which some users dislike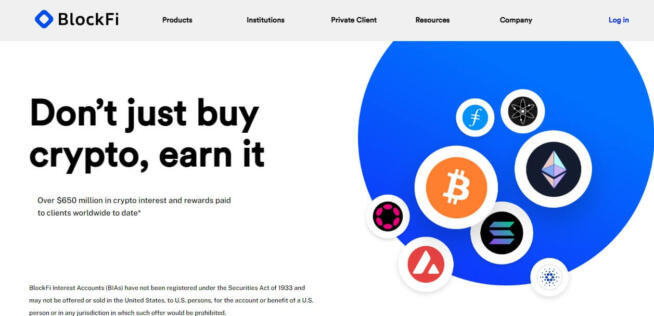 BlockFi isn't a particularly profitable solution, making you wonder why it's on the list. Well, the main thing about BlockFi takes no fees, so everything you earn is yours to take. Its APY is low as well and you don't have a humongous number of crypto tokens to trade and stake.
Still, the platform is very intuitive, and setting it up takes no more than a few minutes. It requires you to verify your account first, after which, you can browse the tokens available for staking. Also, BlockFi bases the APY you'll get on your tier.
Low-tier users who don't own many tokens get lower APY while those with more tokens enjoy higher APY and earning percentages. When it comes to staking alone, BlockFi supports tokens like Ethereum, Paxos Standard, Litecoin, Bitcoin, and even USDC.
You also get no lockup period, which means you can freeze your funds for as long as you want. Typically, APYs will range from 0.1% to 10% but the average number sits around 5% or even less. This isn't something to worry about given that Coinbase's APY doesn't go over 6%.
Beware that BlockFi isn't available in the US either, so if you live there, don't expect it to be functional. Users in other countries can use BlockFi normally and deposit money using a plethora of methods like crypto transfer, credit cards, and wire transfers.
Finally, I'll mention that BlockFi has a dedicated wallet that lets you store crypto securely with no hidden fees or minimum balance. This applies to crypto staking too, meaning you can start staking as long as you have at least some crypto in your account.
Pros
0% fees for crypto staking
Higher APY for users with more staked tokens
It offers a dedicated crypto wallet for storing tokens with no fees
Ethereum, Litecoin, and other popular tokens can be staked
Cons
BlockFi won't work in the United States
Low APYs for the majority of crypto tokens

Now that I started this zero-free crypto staking frenzy, let's talk about Kraken. Yes, it's the good, old crypto-trading platform with the ability to stake crypto and get up to 23% APY. Sounds impressive? Well, Kraken takes special care of new tokens as well.
Staking new tokens gives you more yield, although Bitcoin, Ethereum, and a few others usually have a variable APY that doesn't go above 6%. Still, I found Kraken very easy to use, offering nearly 70 different crypto tokens that you can buy, trade, or sell.
Furthermore, Kraken brought NFTs into play, which further diversified its portfolio and made it among the most versatile trading services. In terms of staking, you're limited to 15 tokens at the moment. Compared to eToro or ZenGo, for example, that's quite a lot.
To complement everything, Kraken has no lock-up period, so you're not obligated to adhere to anything. Trading fees are pretty low too and usually don't go over 1.5%, while staking fees are non-existent, as said. Kraken lets you see APYs for each token individually – a very useful feature.
This allows you to easily choose the token or crypto you want and stake it instantly. Kraken is suitable for both newbies and professional traders due to its great customer support and in-depth guides. It supports daily payments and lets you check your earnings whenever you want.
My only complaint is that it takes a bit longer to start earning. Ethereum, for example, has a so-called bonding period and takes up to 20 days to start paying out. But with no staking fees and relatively high APYs, Kraken is surely one of the best crypto staking platforms in 2023.
Pros
Newer tokens yield a higher APY that goes over 20%
15 tokens fully support crypto staking
No staking fees
Excellent customer support
Cons
You need to stake Ethereum for at least 20 days to start earning rewards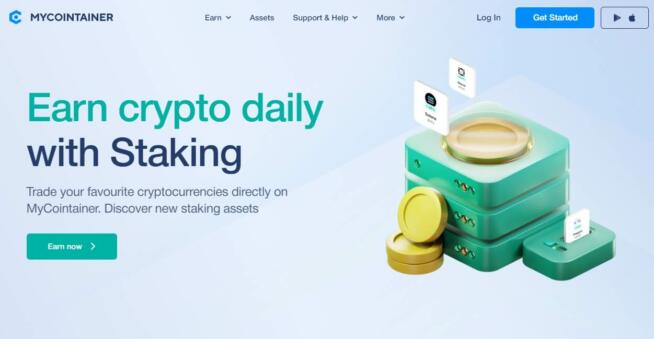 MyContainer promises to make earning crypto simple through various options for staking and trading. Staking-wise, MyContainer comes with traditional and Cold staking, which lets you use your own wallet, delegate coins, and earn various rewards.
Impressively, MyContainer has over 100 cryptos that you can stake and some of them even yield an APY of more than 100%. Of course, we're talking about newer tokens like Decimal, for instance, while "traditional" coins like ETH and Cardano have an average APY of around 10% – give or take.
MyContainer is known for DEFI staking, which is a great addition, and the aforementioned Cold staking is useful for utilizing your wallet instead of a third-party option. Needless to say, daily payouts are essential in MyContainer and you can get plenty of referral bonuses if you bring more users to the platform.
When it comes to buying crypto, MyContainer supports a plethora of methods, even including fiat currencies. Plus, you get dedicated iOS and Android apps, which is handy for staying in touch with your account on the fly or checking your current rewards.
To digress, the platform welcomes both newcomers and more advanced users and offers plenty of chances and ways to earn crypto. Through coin delegation, you can get 50% of the fees back and earn more bonuses to boost your revenue.
Some tokens have higher staking fees and they can go up to nearly 10%. However, this isn't a big issue and is dictated by the subscription plans. The cheapest one is around $8 a month, so it's not too expensive considering that you can try the platform for free before paying for it.
Pros
Over 100 stake-friendly tokens
MyContainer supports cold staking using your own wallet
iOS and Android applications
Daily payouts and rewards
Cons
Some tokens have high staking fees that can reach 10%
Staking fees are dictated by your subscription plan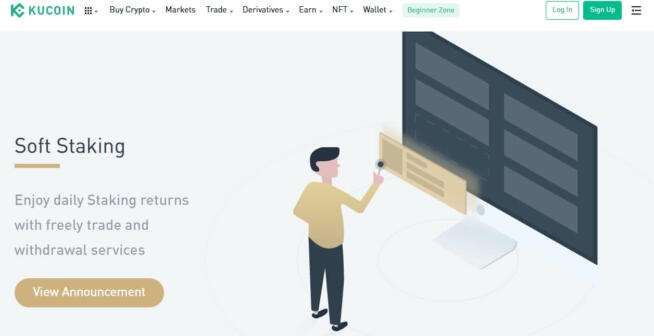 KuCoin offers a diverse experience of crypto trading, buying, selling, and staking. This platform is renowned for offering a plethora of options not only regarding tokens but also NFTs, which lets you boost your portfolio and increase your chances of earning more.
Its staking capabilities are excellent too, as KuCoin comes with soft staking coupled with crypto mining, lending, and many other features. We like that KuCoin gives you the possibility of long-term and short-term crypto earning through staking.
You can, for example, stake crypto for less than a week and still get your reward. Or, if you're for a long-term option, stake crypto for weeks and get even higher rewards. Basically, there's no mandatory lock-up period, so you can withdraw your reward whenever you see fit.
Staking crypto can be done with around 70 tokens, with newer tokens yielding a higher APY that sometimes goes over 100%. Bitcoin and Ethereum staking yields a few-percent APY figure, which is standard for a service of this caliber.
KuCoin isn't a no-free platform, unlike Kraken and BlockFi. Its staking fees are around 8% and for some tokens, there are minimal staking requirements that can range from a few dollars to even a hundred dollars in particular situations.
Pros
An array of options for soft staking, crypto trading, and mining
APY can go over 100% for newer tokens
Long-term and short-term staking
Cons
Higher staking fees for some coins
Staking requirements can be very high, depending on the token
2. FAQ
2.1 Which crypto token should I stake?
Most people decide to stake Ethereum due to its high APY which goes up to 20% on some platforms. DAI, Celcius, Cardano, and Cosmos are also very popular options for the same reason. However, the APY that you're going to get also depends on the crypto-staking platform.
That's why it's vital to check our best crypto-staking platforms and select the one with the higher APY such as Binance, eToro, or even Zengo.
2.2 How do I get staking rewards?
You get staking rewards by staking crypto. In other words, you need to lock up your tokens to improve the performance of the blockchain network and secure it. Staking rewards are higher if you stack more coins and vice versa.
2.3 Is it possible to stake crypto on hardware wallets?
Yes! Hardware wallet or cold wallet users can stake crypto easily given that the staking platform they're using supports this method. If you're using wallets from Trezor or Ledger, for example, you'll have no issues stacking crypto. In fact, this is going to be a more secure method of staking!
2.4 Is crypto staking better than mining?
It depends. Mining requires a mining rig that can cost you a lot. Besides, every type of mining requires investments that cost a lot, be it pool mining or even cloud mining. Crypto staking is cheaper, in general, and you don't need resources to engage in it.
All that is required is to lock up your crypto tokens and generate passive income after the lock-up period, whose length depends on either your choice or the platform's conditions and limitations.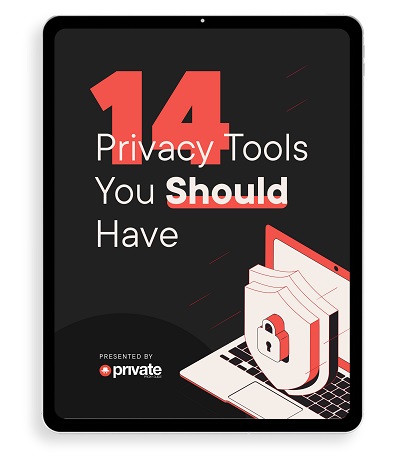 Learn how to stay safe online in this free 34-page eBook.