Cryptocurrency trading can be a lucrative but volatile endeavor. In order to maximize profits and minimize losses, many traders turn to crypto trading signals for guidance. These signals, which can be delivered via a variety of methods including Telegram, email, or SMS, provide alerts about potential trading opportunities based on technical analysis, news, or other factors. In this article, we will explore the best crypto trading signals available, examining their features, reliability, and overall effectiveness. Whether you are a seasoned trader looking to improve your results or a beginner looking to get started in the world of crypto, these signals can be a valuable tool in your arsenal.
1. Best Crypto Trading signals providers 2023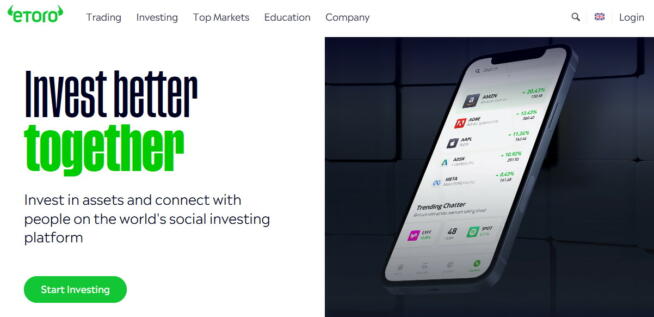 You might have heard about eToro while talking about some of the best places to invest in diversified options and create a great portfolio. But it is also one of the most trusted places to get crypto trading signals and educational material. You can count on eToro when you want to maximize the profit from your crypto trading ventures without going through the complex tasks of traditional analysis or strategizing.
You can use, in particular, the Copy Trading feature from eToro for maximum results. It will help you check out successful investors worldwide and use the same strategy to have the edge in trading. eToro offers the best level of compatibility as well. For one, it provides crypto trading signals for more than 20 crypto assets. But, more importantly, you also get a virtual portfolio that you can use for practice.
Altogether, eToro has what it takes to become your central destination for crypto trading signals and trading. Even if you do not want to get into copy trading, you can use other crypto resources and tools from eToro to have a jump-start.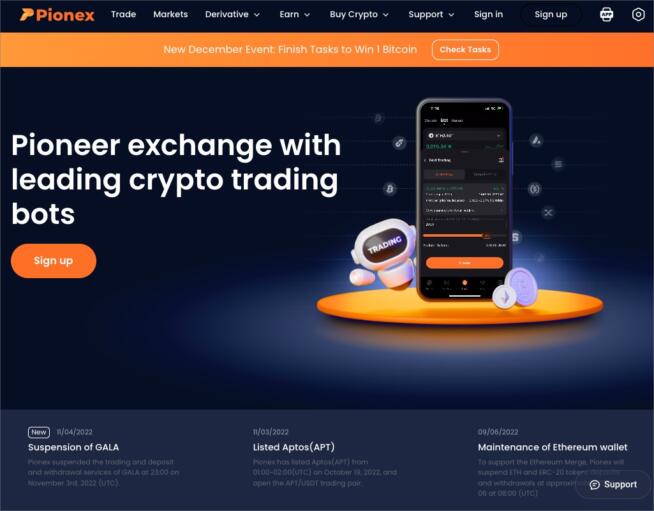 If you want to take your crypto trading game to the next level, you should also consider running a few crypto trading bots. In that respect, you should consider Pionex as a source of the best crypto trading signals. It is worth noting that Pionex does not want you to develop custom code or worry about algorithms. On the other hand, you can set up price-based triggers that become active as per crypto exchange activity.
For instance, you can set up a Pionex crypto robot to sell your crypto assets when their price crosses a limit that you set. There are a couple of disadvantages, though. For instance, you cannot withdraw money in USD or other fiat currency. It means you may need another crypto exchange to cash out your profit. On the bright side, Pionex offers incredible trading limits based on your verification level. It means you can go all the way.
You should check out Pionex if you want to automate crypto trading with the help of reliable signals. You should also keep in mind that Pionex is a great place for you to sell and buy crypto assets with a large crowd worldwide.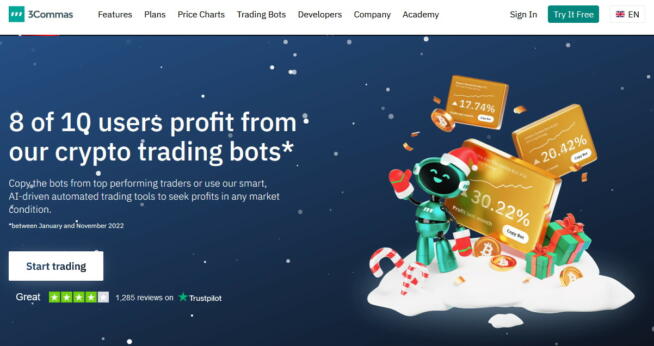 3Commas is another website that helps you get high-quality crypto trading signals and automation tools for different needs. The best part about 3Commas is that you do not have to worry about market conditions much. Instead, there is an option to optimize and customize your crypto trading bots for all sorts of potential changes in the market. There are several more reasons to rely on this trading signals website.
According to the website, more than 75% of people who use 3Commas trading bots have earned some kind of profit from the crypto market. These numbers show the potential profit that AI-powered bots and reliable trading signals from the company can bring you. We also noticed that 3Commas is one of the websites that aim to make the world of crypto easier to understand and leverage.
We believe you should check out 3Commas if you want an increased chance of profits from crypto trading. Even if you already use an automation system, you can see whether an additional plan from 3Commas can help you or not.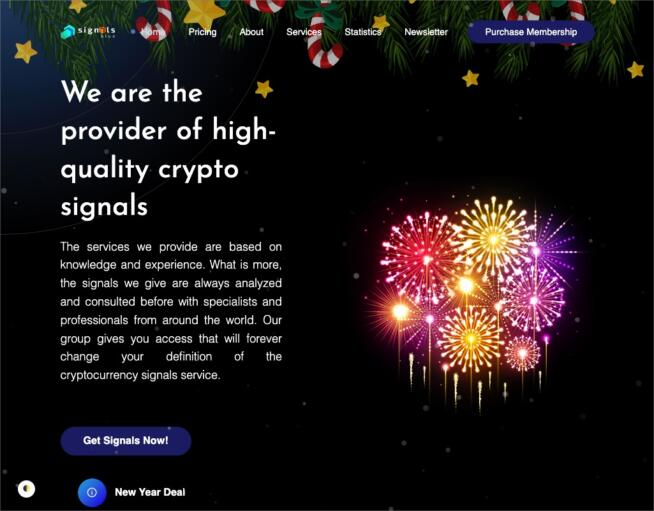 Sometimes, you may want raw crypto trading signals without the hassles of automation and bots. In those instances, you should consider what Signals Blue has to offer. This company has been providing high-quality crypto signals for extended periods, and the customer reviews can prove the same. However, one thing to note here is that you will have to interpret those signals and develop your trading system.
On the bright side, Signals Blue makes it easy for you to work with a trading automation system that you find useful. For instance, you can easily connect the signals with Cornix Automation, a popular name in the world of crypto. You can also use popular crypto exchanges like Binance, Huobi, and KuCoin. You can find easy-to-understand documentation for everything you can do with Signals Blue and the data it gives.
If you have a clear understanding of crypto trading and need high-quality signals, Signals Blue can help. We'd recommend Signals Blue if you already have a system to which you can feed actionable data and signals. It can be a little too advanced for beginners, though.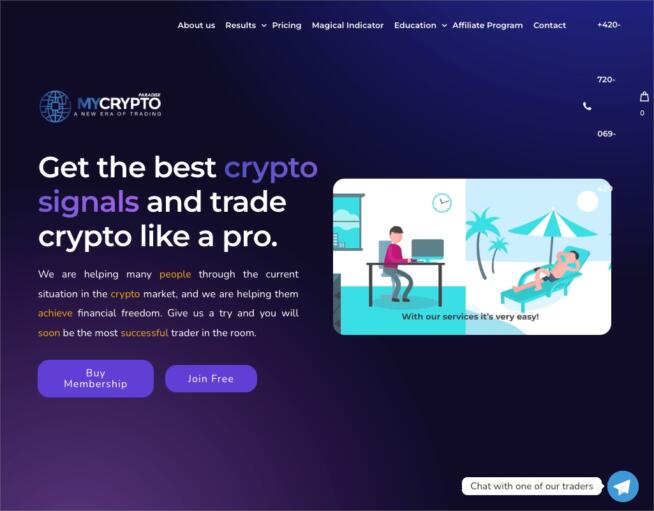 Even though MyCryptoParadise is not as popular as other names on this list, this website offers a quick and easy way to access crypto trading signals. In addition, you can avail of a number of services from the company based on your level of expertise in the crypto world. For instance, if you do not want to do decision-making, you can get the VIP plan from MyCryptoParadise. This plan creates probably the easiest way to profit.
When you buy trading signals from MyCryptoParadise, you benefit from the work of professionals with decades of financial analytics experience. Each trading signal you get from the site results from relentless research and simulations. The best part is that you can use Telegram to keep in touch with some of the best crypto experts across the globe.
In addition, MyCryptoParadise can provide detailed crypto reports, where you can find in-depth insights.
Compared to other crypto trading signal providers on this list, 4C Trading Signal is new to the scene. But even a simple look at the reviews reveals that the service has optimized its signals for crypto futures trading. So, it is a great choice for those who need better insights into dealing with FTX exchanges. In particular, you may have better results if you are dealing with API keys and other kinds of automation.
Another reason for the popularity of 4C Trading Signal is the variety of plans you can explore. To get started, you can use the free trial of the paid crypto trading signal service. It will provide you with an idea about what you get from the service. When it comes to additional features, 4C Trading Signal does not disappoint. For instance, you can set up trading bots to deal with USDC and USDT.
Similarly, the dynamic subscription plans from the company are also worth mentioning. You can also benefit a lot from affiliate rewards and referral bonuses. You can access beneficial crypto trading signals from the company via multiple methods, including Telegram Chat.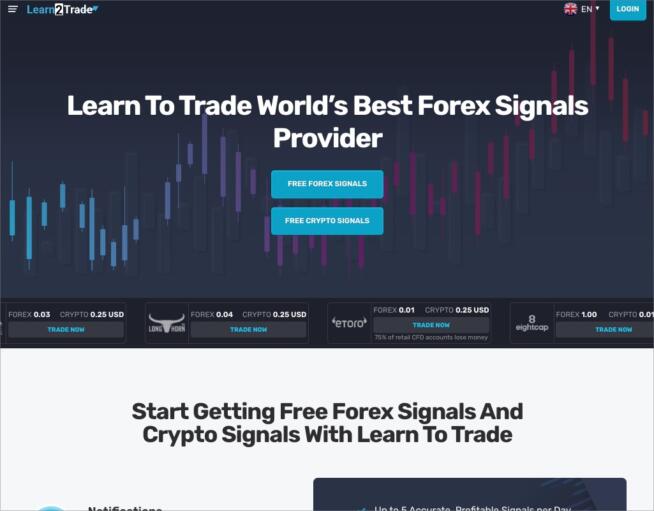 As you can guess from its name, Learn2Trade is designed to provide you with actionable insights. You would find these insights useful when creating a strategy for your forex or crypto trading. The best part is that you can get free crypto and forex signals before you pay anything. Once you confirm how beneficial these signals are, you can purchase one of the plans suitable for you.
You may also have figured that Learn2Trade focuses on the learning aspect. Therefore, if you want to get a jump-start on trading, you can explore one of the courses from Learn2Trade. These structured courses will provide you with a comprehensive idea about the trading world ahead. We also noticed that Learn2Trade is quite transparent about what you get from the website and how it can be used.
Altogether, we think Learn2Trade deserves a chance if you prefer an option to educate alongside the trading signals you receive.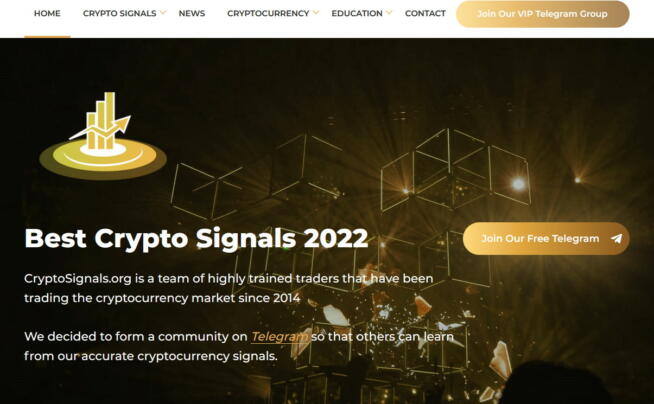 The team behind CryptoSignals.org, which was founded in 2014 and has a Telegram channel where they provide buy and sell signals for cryptocurrencies, is made up of experienced cryptocurrency traders. They provide you with real-time advice on which trades to execute through their authorized partner brokers and how to make money off of those trade proposals. All these tips come from a group of highly trained professionals who have studied the market since its inception. It also a community of 70,000 traders where you can
The group also collaborates with capital.com, Crypto Rocket, and Etoro so that customers can receive complimentary VIP signals while making deposits on Etoro. They exclusively offer real-time alerts via their Telegram channel thrice a week, and each one includes instructions on how to execute the deal through the broker.
Every bundle offers 2 to 3 daily crypto trading signals. The website claims that the signals have an 82% success rate.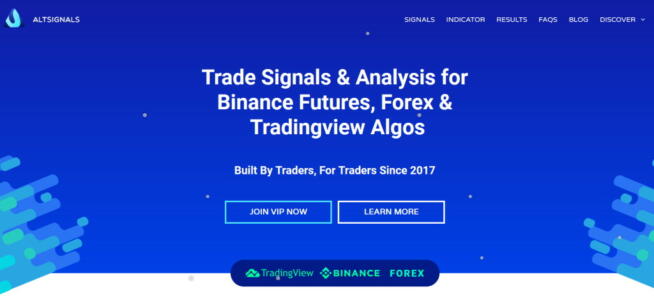 Another well-known brand on this list is Learn2Trade, primarily because it provides both Forex and cryptocurrency signals.
AltSignals, which takes pride in being the top source of crypto signals on Telegram, offers trading signals and analyses for derivatives on many cryptocurrency exchanges, including Binance.
Signals for cryptocurrency trading are merely one of its numerous offerings. Users who are interested can either sign up for the free Telegram group for crypto trading or pay for one of four different packages to acquire access to their VIP groups. These groups have some of the greatest signals on the market, which is why they are not free
Here the average profit reported be users is 15-18% with manual usage while automation offers higher as it offers full support from Cornix Automation. Apart from Telegram information delivery, Alt Signals sends signals via API(webhook and JSON) for advanced users who automate their hedges.
You can link the automation service to Binance, KuCoin, or Huobi to automate the entire trading process with the input of signals. Manual signals are color coded for easier identification to identify the channel source, whether through automation, manual or specific coins reaching certain targets.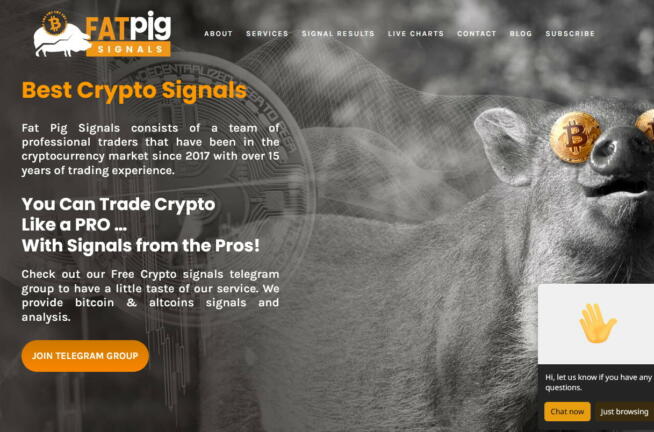 This crypto trading signals provider is coming straight from the UK and have been around for five-plus years now. Their core team has 15 years of experience in trading cryptocurrencies and providing signals through Telegram groups like their competitors.
The organization provides tools for managing both short-term and long-term portfolios, as well as trading signals for Binance, ByBit, and Bitmex margin trading. Their signals are generated based on technical analysis, providing a higher success rate. Here the signal accuracy is in the range of 82%, and the team sets targets of 25% overall.
FatPigSignals specializes in altcoins and has shown considerable gains in the past. You can buy their VIP plans in Ethereum, starting at 0.5 ETH, which is on the higher side of things. Along with that they also offer portfolio advisory and management services which you can use to develop an investment strategy. This will help you reduce manhours and let automation handle the crypto portfolio.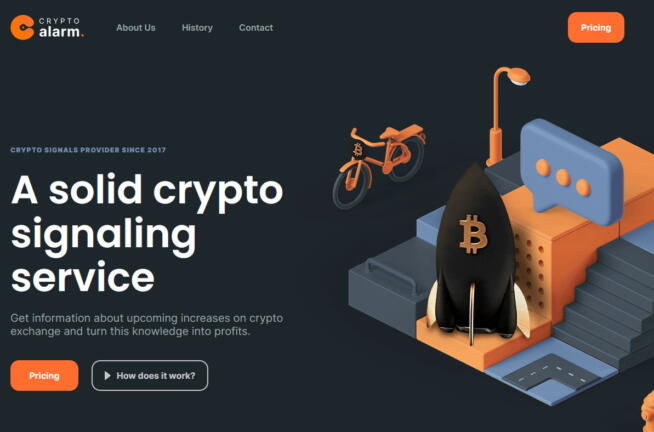 Launched in 2017, the Crypto Alarm Telegram community of signal providers offers traders a well-researched and thorough signal that can help them make significant profits.
The company is gathering positive chatter on Reddit and Twitter for their signals. Their team of experts is assigned with the job of keeping an eye on the market to find an appropriate entry and exit level for routine crypto-analysis. The most well-known exchanges are covered by Crypto Alarm signals, including Binance, Coinbase, Binance.US, Gemini, Gate.io, and Kraken.
The support unit is made up of a team of qualified specialists who are always on hand to respond to any questions or problems you might have. You can connect with them through their live chat widget or a phone call at any time of the day or night.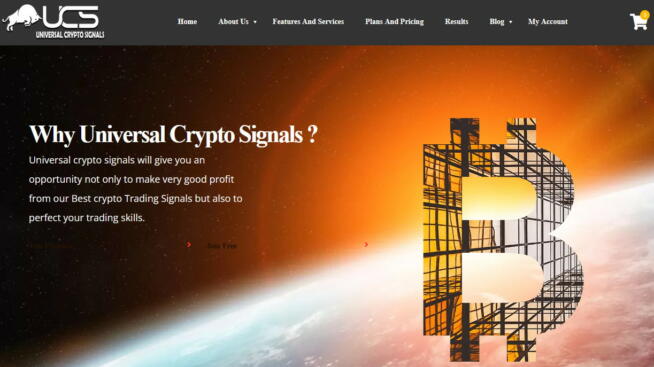 Since its debut in 2018, it has established itself as one of the top signal providers with a sizable number of success rates. Universal Crypto Signals provides free and paid signals through its Telegram channels.
Universal's lowest plan starts at $66/month with altcoin Spot Premium Channel, Premium Toolbox, and semi-automated Cornix help, which are all available to subscribers. Their higher plan lets you fully automate the signal and trading process along with margin trades.
You also get first access to their upcoming three tools when subscribed to any of the top 3 plans. They are available for free to the top tier plan users without any caps.
2. FAQ
2.1 What are Crypto Trading signals provider
A crypto trading signals provider is a service that provides recommendations for buying and selling cryptocurrencies at specific prices. These recommendations are based on the analysis of market data and trends, and are typically provided by experienced traders or market analysts. The goal of a crypto trading signals provider is to help users make informed decisions about when to enter and exit trades in order to maximize their profits.
Some crypto trading signals providers offer their recommendations through a subscription-based service, while others may offer them for free or on a pay-per-trade basis. It is important to carefully evaluate the credibility and track record of any crypto trading signals provider before relying on their recommendations, as the market for cryptocurrencies can be volatile and unpredictable.
2.2 Do crypto signals actually work?
Crypto trading signals are intended to provide recommendations for buying and selling cryptocurrencies at specific prices based on the analysis of market data and trends. While some traders may find these signals helpful in making informed decisions about their trades, it is important to be aware that there is no guarantee of success when using crypto trading signals. The market for cryptocurrencies can be volatile and unpredictable, and there is always a risk of loss when trading.
Additionally, it is vital to carefully evaluate the credibility and track record of any crypto trading signals provider before relying on their recommendations. Some providers may have a proven track record of success, while others may have a less reliable track record.
2.3 Are Crypto signals legal?
In most countries, the use of crypto trading signals is legal. However, it is important to be aware that the laws and regulations governing the use of crypto trading signals may vary depending on your location.
In some cases, the use of crypto trading signals may be subject to certain regulatory requirements. For example, in some countries, trading signals providers may be required to register with the appropriate regulatory bodies or to obtain a license in order to provide their services. Additionally, some countries may have specific laws or regulations related to the use of trading signals in the context of cryptocurrency trading.
It is important to be aware of the relevant laws and regulations in your jurisdiction and to ensure that you are complying with them when using crypto trading signals. It is also important to carefully evaluate the credibility and track record of any crypto trading signals provider before relying on their recommendations, as there have been instances of fraudulent or unscrupulous providers in the past.
2.4 What to keep in mind while evaluating crypto signal providers?
There are many providers of crypto trading signals, and it can be difficult to determine which ones are the best. It is important to thoroughly research and carefully evaluate any provider before using their services. Some things to consider when evaluating a crypto trading signals provider include:
Reputation: Look for providers with a good reputation in the industry, as this can be an indication of their reliability and effectiveness.
Performance: Consider the track record of the provider's past signals to get an idea of their accuracy and success rate.
Fees: Be aware of any fees charged by the provider, and compare them to those of other providers to ensure that you are getting good value for your money.
Customer support: Look for providers that offer good customer support, as this can be helpful if you have any questions or issues with their services.
Transparency: Choose a provider that is transparent about their process for generating signals and their track record, as this can help you make more informed decisions.
It is also important to keep in mind that no trading signal provider can guarantee success, and it is ultimately up to the individual trader to make their own decisions and manage their own risks. It is always a good idea to do your own research and carefully consider your options before making any investment decisions.
2.5 What is the Difference Between Trading Signal and Alert?
A trading signal is a recommendation to buy or sell a financial instrument at a specific price, usually based on technical or fundamental analysis. Trading signals are often generated by software programs or human analysts, and are intended to help traders make more informed decisions about when to enter and exit trades.
A trading alert, on the other hand, is a notification that is triggered when certain conditions are met in the market. Trading alerts can be generated by software programs or by human analysts, and are typically used to alert traders to potential trading opportunities or to remind them to take action on a trade that they have already set up.
In general, trading signals are more comprehensive than trading alerts, as they often include detailed information about the reasoning behind the recommendation, as well as specific instructions for how to execute the trade. Trading alerts, on the other hand, are typically more concise and focused on alerting traders to a specific market event or condition.
2.6 What is crypto trading automation tool?
Crypto trading automation tools are software programs that can be used to automate the process of buying and selling cryptocurrencies such as Bitcoin, Ethereum, and Litecoin. These tools can be used by traders to help them make more informed decisions about when to buy and sell crypto assets, as well as to execute trades automatically based on pre-defined rules or strategies.
Crypto trading automation tools may include features such as real-time market data, technical analysis tools, and the ability to place orders directly with a cryptocurrency exchange. Some tools may also be able to generate trade alerts or notifications when certain market conditions are met, or when a specific cryptocurrency reaches a predetermined price.
Crypto trading automation tools can be useful for a variety of traders, including those who are looking to reduce the amount of time they spend on manual trade execution, as well as those who are looking to implement more complex trading strategies. However, it is important to carefully consider the risks and costs associated with using these tools, as well as to thoroughly research and understand the features and capabilities of any crypto trading automation tool before using it.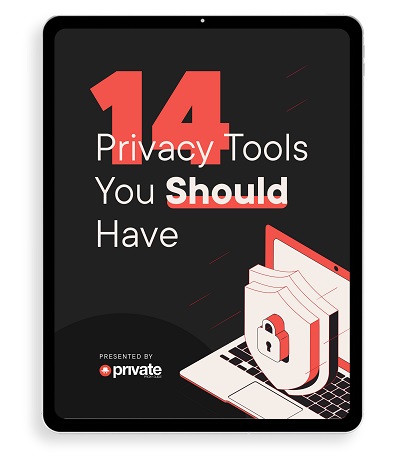 Learn how to stay safe online in this free 34-page eBook.