Data can be anything: your files, photos, videos, presentations, basically anything that can be stored digitally. You obviously want all of it stored and preserved. After all, no one wants photos or videos of their loved ones lost, for example.
However, as is the case with almost anyone nowadays, there will come a day where you would upgrade your whole system. As a result, you will find yourself having to install some sort of data migration software. Yes, you can transfer all of your data manually, but it takes a lot of time, and any mistake can have dire consequences.
A good data migration software will not only make the process easier and smoother but will also greatly reduce the risks of encountering any errors that might lead to data loss.
Data is extremely important, not only to individuals but also to small and big businesses alike. That's why it's a good idea to invest in the right data migration tool.
If you feel overwhelmed by all the options available today, worry not, as, in this article, we will go over the best data migration software in 2023.
1. Best Data Migration Software 2023
True Image is a data backup software that allows you to protect, migrate, and clone anything from boot information to photos, videos, and more.
It boasts end-to-end encryption, which means that Acronis has absolutely no idea what the content of your files might be. The data is saved in their proprietary cloud for both extra protection and easy access.
True Image also comes with built-in anti-malware features and is available on almost every platform out there, including Windows, macOS, Android, and iOS.
It also has a feature known as "active disk learning," which allows you to create an exact copy of your Windows or Mac operating system while it's running. In other words, you will always have a replica of your system even if something extremely unfortunate happens to it, such as a disk failure, a cyberattack, and more.
Who Is It For?
Acronis True Image is the best data migration software for individuals and businesses who seek extra security features on top of the usual data-related ones.
Pricing
Acronis' Essential tier will cost you a yearly fee of $49.99 per device. The tool also has two other tiers, Advanced, which costs $89.99 per year, and Premium, which costs $124.99 per year.
Pros
Easily swap the operating system from an HDD to an SSD and vice versa.
Transfer data from an Android device to an iOS one and vice versa.
Clone disks and resize partitions.
Retain 20 different versions of files for up to 6 months.
Back up an entire disk image.
Copy, format, partition, and delete a hard drive image.
Automatic backups (event-based).
Anti-ransomware protection.
Resumable replicas.
Cons
The error messages displayed by the tool can be a bit hard to understand sometimes
Support can be slow at times
Todo PCTrans from EaseUS is a free-to-use data migration software that's capable of providing you with one-click solutions to migrate your files from one system to another without any issues.
To be more specific, it allows you to migrate data, apps and accounts between Windows systems, and it supports common programs such as Microsoft Office, Google Chrome, Photoshop, Dropbox, Adobe, and more. It runs perfectly on almost every system out there, anywhere from Windows XP up to Windows 10. You can even transfer your files to the upcoming Windows 11 if you wish!
Once you start up the new system, which just received all the data, you will find that all the applications that you migrated are pre-installed and ready to be used an incredibly convenient feature.
This software also comes with free, 24/7 guidance that provides you with expert support throughout the whole process.
Remember, all of this is for free, so what are you waiting for?
Who Is It For?
Todo PCTrans is the best data migration software for newbies trying to migrate from an older windows version.
Pricing
EaseUS Todo PCTrans is free to use. The Pro version costs $49.95/month, $59.95/year, or $69.95 as a one-time payment.
Pros
One-click solution.
No data loss.
Any migrated applications will be pre-installed.
Able to recover data from a non-bootable or dead computer.
Copy a system drive to an HDD or SSD.
Free 24/7 transfer guidance.
Cons
You don't get a lot of info when a failure happens
The image creation speed can be faster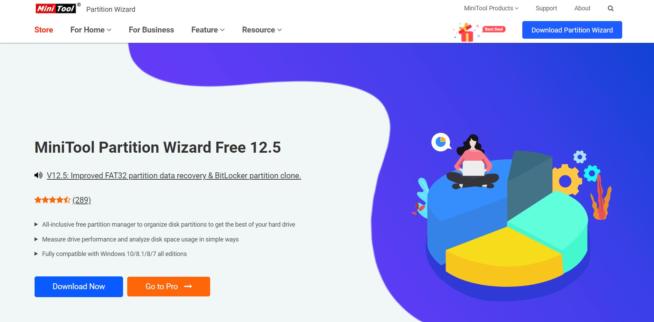 MiniTool Partition Wizard is mainly known for its partition-related features. However, you can also use it to migrate an operating system to HDD/SSD.
It supports Windows systems from XP onwards and allows you to take backups of hard drives or upgrade them without having to reinstall operating systems and other essential applications.
In addition to disk cloning, Partition Wizard can also perform disk diagnosis and data recovery. It is capable of recovering long-lost or deleted files from folders that were either damaged or formatted.
So, if you are a beginner who is looking for a piece of software that combines the ability to format disks, migrate whole partitions, and clone disks, Partition Wizard is for you.
It comes in a free version that will definitely satisfy most of your needs. If you feel like you require more, you can always subscribe to the Pro plan.
Who Is It For?
MiniTool Partition Wizard is basically the best data migration software for personal use, mainly beginners.
Pricing
It comes in both a free and a pro (paid) version.
Pros
Migrate the operating system to HDD/SSD and vice versa.
Create, move, resize, delete, and format partitions.
Enlarge C:/ drive to get rid of the low disk space warning on Windows 10.
Permanently erase any data from a partition.
Carefully measure disk read and write speeds, verify system files, detect storage-related errors, and more.
Split a hard drive into partitions or combine two partitions into one.
Instantly copy a non-system partition.
Cons
The UI could use an overhaul
The free version displays ads for other applications by the same developer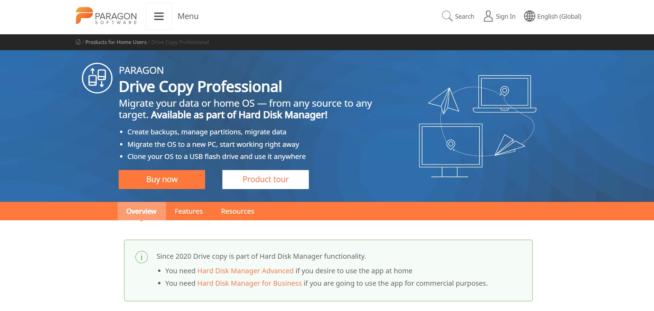 This data migration software will help you to transfer your OS or data to wherever you wish. It's also capable of cloning disks of entire drives as well as partitions. You can also resize partitions using Drive Copy Professional if you wish to do so. There is also the ability to clone your operating system to a USB flash drive for extra convenience.
There is also the ability to migrate any Windows operating system from 7 onwards from an HDD to an SSD.
You can also load an existing backup or fix booting errors that might arise if your operating system fails to boot.
Paragon also comes with the unique option of being able to create a virtual clone of your PC on a USB drive, which can be run on any other PC.
Additionally, there is the inclusion of a recovery media builder tool that allows you to run a WinPE-based recovery environment that enables you to start your computer even if the OS is corrupted for the purposes of recovering important data or maintenance.
Who Is It For?
Paragon Drive Copy Professional is the best data migration software for disk cloning and partitioning.
Pricing
Paragon Drive Copy Professionals costs $79.95 per license, which can be used on up to three computers.
Pros
Clone your disk to a larger drive and migrate all data to a new hard drive.
Copy either the entirety of a hard disk or just a partition.
Copy or restore 512-byte hard disk content to a 4K one.
Split or merge partitions.
Run your computer for maintenance or recovery when the operating system is corrupted.
Restore any type of backup images using the built-in wizard.
Cons
Estimated times are not accurate.
The app may display ungrammatical messages sometimes.
Paragon Drive Copy Professional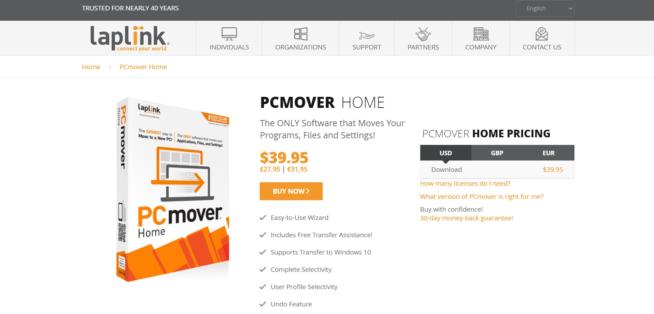 Laplink PCmover makes the process of transferring files, applications, and settings between different systems incredibly easy. It also allows you to restore every bit of data you might have recently lost.
If your sole aim with this software is transferring data, then all you have to do is install it, press a few buttons, and then wait a couple of hours and you should be good to go.
You can opt to have a physical copy of the software shipped to you that comes with a high-speed transfer cable and SafeErase for free and a full-fledged assistance manual.
On the other hand, you can instead opt to connect with one of Laplink's many experts who are available 24/7.
All in all, Laplink PCmover allows you to move your files, apps, and settings without having to do much, and it also has one of the best technical supports in the market.
Who Is It Best For?
This data migration software is one the best for anyone and is recommended by tech giants such as Intel and Microsoft.
Pricing
The Home version costs $39.95, whereas the Professional version costs $59.95.
Pros
Transfer files, applications, and setting easily between computers.
Restore data.
USB 3.0 support.
Supports different user profiles.
Comes with an "undo" feature.
24/7 expert technical support.
Cons
Some users may find it hard to initiate the transfer between computers.
As the name already suggests, NovaBACKUP PC allows you, in addition to migrating, to safely backup files, disks, and even operating systems.
It allows users to create a schedule where they can set up partial or full backup jobs and have them run automatically at specific times.
The software's backup and disaster recovery plan will have it running automatic backups of all your files, which prevents any potential loss of data due to a system error or a security breach.
The idea of generating a 1-to-1 image backup of your system means that you will always be one step ahead of any disk failure, ransomware, and more.
When setting up an image or file backup job, you can choose between incremental, differential, and full modes. As for file copying, you can either do it manually or set it up on a schedule to be done automatically.
Lastly, NovaBACKUP PC gives you the option of either backing up your files locally or online with a wide variety of options in regard to the process itself and the encryption.
Who Is It For?
This is the best data migration software for regular PC users.
Pricing
A single PC plan will cost you $49.95 per year.
Pros
Back up individual files or whole systems.
5GB of free cloud storage included with any plan.
Restore files back to your computer or an external location.
Schedule backup jobs.
Backups are compressed by default.
Set up differential, incremental, or automatic backups on a schedule.
Keep all of your data secure.
Keep an updated version of all your files.
Deaf and blind-accessible.
Cons
A bit expensive compared to other solutions (for what it does).
Doesn't support macOS, Android, or iOS devices
Runtime has a big catalog of data recovery products; DriveImage XML is one of them. It allows you to clone, backup, or restore drives.
It doesn't require a reboot once it's done, and all of the backup files will be saved as XML documents meaning they can be read by literally every PC cloning tool out there.
The software comes in two different versions, a Private edition that is free and aimed at home users and a Commercial edition that supports up to 100 users.
If you decide to opt for the Commercial edition, you will have access to top-notch technical support for a whole year, and you will receive free updates from the time of purchase.
DriveImage XXL is excellent for backing up partitions or logical drives, copying a drive to another, and more.
Who Is It For?
DriveImage XXL is perfect for people looking for a simple-to-use, reliable data migration software that can easily copy and backup partitions or drives.
Price
There is the free Private edition and the Commercial edition which starts at $100.
Pros
The personal edition is free.
Requires no reboot.
Back up, image, or restore formatted drives (NTFS and FAT)
Back up any drive to an XML image file.
Clone an HDD to an external drive or an SSD.
Browse images and extract files from them.
Create "hot" images using VSS technology.
Schedule backups using the Task Scheduler.
Cons
Not compatible with all operating systems.
The restoration process can take quite some time to complete.
IBM Infosphere Data Replication allows you to integrate as well as access your own data from all platforms. It is also capable of performing data migrations and upgrades with zero downtime.
Additionally, you can closely follow all of your replication processes without missing anything. There is also the ability to move data in small amounts so that you don't overwork your system or network traffic, significantly decreasing any operating costs in the process.
Moreover, IBM Infosphere can load real-time information about your every move into a data warehouse. This means that you can access operation, configuration, as well as monitoring, using other systems even.
IBM Infosphere Data Replication is also capable of providing accurate logs of any changes that happen to data capture, including large-scale operations.
Who Is It For?
IBM Infosphere Data Replication is the best data migration software for larger-than-usual enterprises.
Pricing
You will have to personally contact IBM's team to get your pricing.
Pros
Handle big volumes of data using massively parallel processing (MPP).
Dynamic warehousing, application consolidation, and master data management (MDM).
CDC Replication Management Console
Offloads the processing to another environment (Linux) to reduce operating costs.
Service-oriented architecture (SOA)
Extract-transform-load (ETL)
Cons
The support team isn't that responsive.
IBM Infosphere Data Replication
Macrium Reflect 7 is an image-based data migration software that provides backup solutions for both personal users and businesses alike. It also has some advanced features up its sleeve, aimed at IT professionals.
For starters, Macrium Reflect 7 allows you to create exact replicas of partitions or a hard disk, which can be used for disk restoration. You can also take images of your hard drive, save them, and take a look at them later.
Besides just looking at them, you can go back to those disk images any time you wish without having to do a full system restore. Macrium Reflect 7 is also capable of supporting full-system backups as well as copying folders and files necessary for a server-class operating system backup (MSExchange, SQL, etc.)
Any backup you set up using Macrium is fully encrypted, meaning it's safe from any potential data breach.
Macrium Reflect 7 is perfect for small-scale backup and cloning operations. Its migration system supports local means, network-based ones, USB drives, and more. You also get numerous image compression options which make the process even easier.
Who Is It For?
Macrium Reflect 7 is the go-to choice for people looking for free disk cloning software.
Pricing
Macrium Reflect 7 is free in both its regular and commercial versions.
Pros
Simple to use but also capable of offering advanced features for professionals.
Fast disk cloning or data backups.
Capable of restoring non-booting systems.
Capable of restoring backups using a Hyper-V virtual machine.
Allows you to take images of your computer's storage and to visit them later.
Can copy the needed files and folders for MSExchange and SQL server backups.
Regular backups can be scheduled.
All backups are encrypted.
Cons
Premium support can get a bit expensive.
The updates can prove to be a bit tedious.
Clonezilla is a free, open-source data migration platform that is capable of both disk imaging and cloning. It comes with all the necessary features for data migration and recovery as well as system deployment. It can run on Windows, macOS, Linus, and ChromeOS.
The software is available as either a USB stick or a Live CD for backup and restoration or as a server for multi-machine cloning. It basically comes in three different versions: Clonezilla Live, Clonezilla Lite Server, and Clonezilla SE.
Clonezilla basically runs independently from the OS that's being restored. In other words, it's accessible for anyone with basic knowledge of command-line operations. However, don't let this fool you into thinking that it's a simple, basic piece of software. It's actually capable of performing many advanced options.
The disk images you create can be stored in numerous different ways: locally, on an external hard drive, or on a WebDAV or FTP server. There are numerous compression algorithms at play when it comes to this in order to help reduce the total storage volume.
Clonezilla gives you the option to restore a single image to numerous local devices at once. You can also clone to another image or physical disk. For numerous users out there, Clonezilla is the perfect choice for mass cloning operations as well as restoring data on numerous systems at once.
So, it should come as no surprise that Clonezilla sees wide use by IT professionals and system administrators. It's rich with features and allows for highly customizable imaging, restoring, cloning, and backup operations.
Who Is It For?
You have guessed it, Clonezilla is the best data migration software for mass deployment cloning and restoring.
Pricing
Clonezilla is free and open-source. You are free to use it, modify it, as well as distribute it.
Pros
Can perform bare-metal backups.
Comes as a Live CD or USB for single-machine backups or as a server for multi-machine cloning.
It runs independently from the operating system that's being backed up, restored, or cloned.
Requires basic command-line operations knowledge to use.
Allows you to store disk images onto a partition, an external hard drive, or a server (WebDAV or FTP).
Boasts a large number of compression algorithms.
Cons
There is no GUI that can make using the tool easy. Everything is done using the command line.
O&O DiskImage supports the latest SSD technology as it is capable of quickly restoring all of your data in the event of loss, even if your system is too corrupted to start.
In addition to restoring a system's data, O&O DiskImage also enables you to duplicate or clone a hard drive or an entire system. Moreover, O&O DiskImage allows you to restore your backups onto another system with completely different hardware. This is especially useful if you plan to change the motherboard of your rig, for example.
The program allows you to easily create boot mediums as well as store data in a location of your choosing automatically.
The moment you connect an external hard drive to your computer, O&O DiskImage will automatically start backing up the selected folders and files through the plug-and-play medium.
All in all, O&O DiskImage is an incredibly versatile cloning software capable of file splitting, encryption, compression, and more. It will help you to make bootable media as smoothly as it will enable you to image a hard drive or an entire system with one single click.
Who Is It For?
O&O DiskImage is the best data management software when it comes to security. If you're the kind of user who values security over everything else, this is the right tool for you.
Pricing
The Professional Edition of O&O DiskImage will cost you $49.95 per PC.
Pros
Back up hard drives and entire computers.
Clone drives and disks.
System restores onto different hardware.
Capable of creating a Windows Boot system.
Automatically backs up selected folders and files whenever the computer is connected to an external hard drive.
Security risks monitoring.
Capable of creating VHDs directly.
Cons
The UI is a bit outdated.
CloverDX comes with a set of tools, one of which is a data migration module that can be easily edited and set up. It basically allows you to design, operate, and publish data while allowing you to debug it on a single platform if you wish to do so.
You can also produce data through local or cloud-based sharing platforms and monitor its movement regularly. Moreover, CloverDX allows you to manage anything from regularly updating data warehouses to constantly moving data between different systems and servers.
You can basically set data pipelines that will run automatically, regardless of the complexity or volume of the data. And as we have just mentioned above, this can be done either on a local target or a cloud-based one.
Who Is It For?
CloverDX is the best data migration program for processes involving visual data integration.
Pricing
You will need to contact the team behind CloverDX. They will give you a demo and a personal price.
Pros
Design or debug the data.
Comes with templates that allow you to easily edit your preferences and have them run automatically.
Mask or show data based on users.
Produce data from local to cloud-based platforms across all desktops.
Monitor the data live.
Supply data warehouses with updates.
Cons
MapForce is Altova's very own data conversion, mapping, and integration software which allows users to map data between combinations of EDI, XML, XBRL, Excel, flat file, JSON, or web service. It is also capable of transforming data instantly and can generate the necessary source code or executing files for recurring conversions.
Besides allowing you to perform GUI mapping between two components, Altova MapForce also enables you to write custom functions and use the database as well as debug while the mapping is happening. You can also configure your EDI files and rely on the standard EDI format that's preloaded within the software.
With MapForce, you can literally map any-to-any conversions as well as perform them yourself on platforms such as Google Protocol Buffers, Excel, SOAP Web services, and more.
All in all, Altova MapForce is a mapping, conversion, and integration tool that has both the power and flexibility needed to convert your data and automate transformations in a wide variety of ways.
Who Is It For?
In case we haven't made it obvious already, Altova MapForce is the best data migration software for data mapping, conversion, and transformation.
Pricing
The Basic Edition of the Altova MapForce 2022 will set you back $219.
Pros
Extract data from XML files, JSDN files, and more.
Set up ETL processes to run automatically on a schedule.
Create a visual data map from the source database to the target one.
Create data maps without the need to code.
Move data from one database to another.
Transform data into numerous different formats.
Merge or execute data before transforming or mapping it.
Cons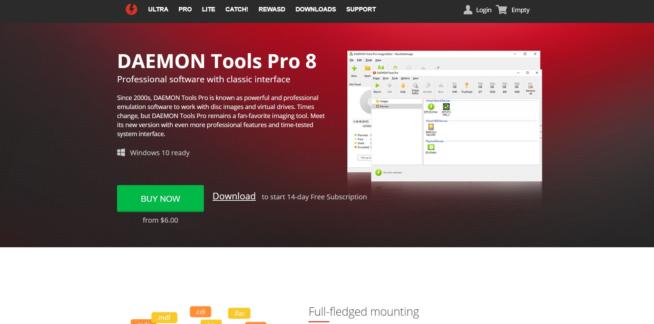 DAEMON Tools Pro 8 is one of the most popular imaging tools out there. It's capable of cloning and migrating and relies on some of the best security technologies out there, such as Securom, StarForce, Safedisc, and more.
It allows users to mount all of the known types of images, anything from regular applications to Explorer.
DAEMON is also capable of emulating up to 32 HD, DT, SCSI drives together with 4 IDEs. It also offers numerous emulation adjustments which can be applied manually in real-time. Moreover, attaching virtual devices to physical ones is totally possible through DAEMON Tools.
Additionally, with DAEMON Tools Pro 8, you can make new Audio and Data CDs as well as edit existing ones. You can also convert existing files, compress them, or encrypt them using passwords.
Creating a raw disk image from data found in a USB device is also possible, as well as factory restoring the USB itself.
To put it shortly, DAEMON is up there with EaseUS Todo and Acronis True Image when it comes to disk imaging. It is a cheap and extremely powerful solution for such processes.
Who Is It For?
DAEMON Tools Pro 8 is the best imaging and emulation software for disc images and virtual drives.
Pricing
DAEMON will cost you $6 per month.
Pros
Mount most image types from Explorer or an application.
Manually customize the emulation process.
Move, compress, and protect your files with passwords.
Easily create data and audio CDs.
Create a disk image from the content of a USB stick.
Organize your image files in catalogs.
Easily create dynamic or fixed virtual hard disks.
Cons
The tool consumes too much memory at times.
This proprietary data migration software from Samsung is their solution to people who are looking to transfer all of their data, including their OS, quickly and easily from existing storage devices to their new Samsung SSD.
In other words, this data migration software only works on Samsung products, so don't expect it to work on your brand new ADATA SSD, for example. In addition to data migration, this tool is also capable of managing disks and cloning them.
Who Is It For?
As we have just mentioned, the Samsung Data Migration software is the perfect choice for someone who just purchased a brand new Samsung SSD (or HDD).
Pricing
Contact Samsung Data Migration for more information about pricing and such.
Pros
It can be used to completely wipe a drive.
It can be used to enlarge the Windows partition in case your system is suffering from the "running in low disk space" error.
You can recover deleted or lost partitions.
You can align partitions to improve the performance of your Samsung SSD.
Keep track of your solid-state drive's health and improve its performance.
Cons
It can only be used for Samsung products.
Samsung Data Migration Software
2. Data Migration FAQ
2.1 What Is Data Migration Software?
Let's explore it with an example. Let's assume that you have been working hard at analyzing certain aspects of the performance of your company. Your work is flawless, some of your colleagues (and potentially your team manager) are impressed, and they wish to take a closer look at your findings.
You find yourself in a situation where you need to utilize a data migration tool of some sort to transfer the data to all of them in formats that respectively work on their systems and devices.
Data migration software makes such a task easy and straightforward. They are versatile programs that are useful for both individuals and businesses alike.
In addition to the obvious task of migrating data, such software is also capable of protecting your data from malware, hardware failures, and more.
2.2 What Are the Different Methods of Data Migration?
Depending on the type and volume of data that you want to migrate, there are numerous different ways through which it can be done.
Nowadays, more and more intricate ways are being created to ensure the safe transfer of data. The development of cloud interfaces, for example, allows users to migrate the data found in their work systems from home.
Here is a list of the numerous types of data migration. You need to understand the basics of each since it will help you determine which data migration software is best for you.
Storage migration: moving data from a storage source to a storage target.
Database migration: migrating a whole database.
Cloud migration: transferring data from a storage source to a cloud platform and vice versa.
Big bang migration: moving a large volume of data (a whole disk or system) in one go.
Trickle migration: transferring large volumes of data in small chunks.
2.3 What Features Do You Need in Data Migration Software?
When choosing the best data migration software for your needs, you need to consider a number of different factors such as functionality, pricing, and more.
Here are some of the main features that you need to keep an eye on:
Functionality
The more features a data migration software has, the better. Yes, some of these features can be "extra," but many are quite helpful in the case of random errors arising or something.
When looking for a new data migration software, stay on the lookout for the following features:
Pre-migration data analysis and profiling.
Planning and scheduling.
Testing
Quality validation and assurance.
ETL (Extraction, Transformation, and Load).
Scalability
Some data migration tools can be quite expensive. So, it is recommended that you go for one that will be able to meet your growing needs.
Security
Data, important or not, is always at the threat of cyber-attacks. Therefore, it is wise to go for a data migration tool that is equipped with state-of-the-art security features such as malware detection, virus scans, and more.
Ease of Use
A data migration software should be easy to use, especially if you run a big business. You want everyone in your company to be able to use it regardless of how familiar they are with such a process.
Customer Support
Customer support is a very important feature. You or your employees might encounter unordinary problems while using the software, which might lead to unwanted delays.
The best way for users to overcome such problems is by contacting the people behind the data migration tool itself.
2.4 How Long Does Data Migration Take?
The duration that data takes to be migrated from a source to a target varies on a number of different factors, including the volume of the data, whether it's being compressed or not, the nature of the source and the target, and more.
It can last anywhere from a couple of minutes to a whole day or months, even in extreme scenarios.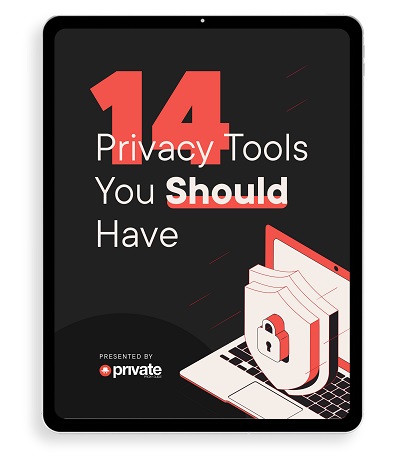 Learn how to stay safe online in this free 34-page eBook.