We are in an era where data is available in abundance. Accessing it is even easier, thanks to the seamless Internet connectivity that makes it possible. Then comes the task of understanding the compiled data. It is made possible using data visualization, which unravels hidden patterns and layers.
Sheets of numbers and figures while providing accurate information do invite oversight due to monotony. Getting a foresight view of the data through visual cues helps companies and researchers grasp what the information represents.
These data visualizations often help in building a proper dashboard used by companies. And the good news is, you do not need to be an expert in data analytics to use these tools. Bridge the gap between data and decision-making by using a data visualization tool.
1. What is a Data Visualization Tool?
Fundamentally, a data visualization tool is the graphical representation of the data. We perceive colors and patterns more swiftly than anything else. Therefore, it is imperative to organize data visually to extract the most details without spending a large chunk of time perusing through it.
Get a bird's eye view in a short time, which can be further studied when required. It is easier to scan through charts and bars when a trillion data lines are involved, which is just a regular day for a big firm.
Some examples of common types of data visualization include charts, graphs, tables, maps, infographics, dashboards, etc.
2. Best Data Visualization Tools 2023
Best For – Large corporations are looking for a tool that manages itself.
Beginning with the industry leaders, Tableau is an established name in the data visualization niche. Coupled with artificial intelligence, they take visualization into unexplored dimensions. You can take it for a test drive with a two-week trial that does not warrant billing info.
Just after activating the email, you are prompted to set up your site, along with other details. We also get to choose the server region for our website, which is a welcome move. The extra milliseconds advantage can sometimes really add up. After creating a site, import a workbook or create a fresh one right away.
PROS
Pre-built workbook templates to choose from, including Salesforce, Oracle, Marketo, amongst several dozen others.
A vibrant community of Tableau, with over a million users, spread across 500 different user groups. You can connect with them and never hit a roadblock; learn new ways to use the tools.
Intuitive apps for multiple platforms such as a mobile, desktop. You can manage your tool from anywhere, even on the go. The web interface is no less but sometimes crowding in an extra tab in the web browser is not an option.
Create schedules in the calendar for managing the data.
The entire tool can be interfaced with NoSQL, relational and non-relational databases.
Easily apply the ETL (Extract Transform and Load) for copying data from one source to another.
Advanced integration with Python and R, along with custom calculations.
CONS
The large learning curve for getting the hang of things on the tool.
Extended loading time for the site at times is not expected from a tool that charges premium prices.
Tableau Explorer lacks depth, and some features can be added.
Visualizing data in a time series manner is underwhelming on the tool.
Pricing – Teams and Organizations
| | | | |
| --- | --- | --- | --- |
| Plan | Viewer | Explorer | Creator |
| Price(annually) per user | $12/month | $35/month | $70/month |
| Manage Users and Permissions | No | Yes | Yes |
| Server Administration | No | No | Yes, on three servers |
| Download Full Data | No | Yes | Yes |
| Create Data-Driven Alerts | No | Yes | Yes |
| Edit Existing Workbooks and Visualizations | No | No | Yes |
| Create New Data Flows | No | No | Yes |
| Receive Data-driven alerts | No | Yes | Yes |
Best For – Use cases where the data needs to be gathered from a variety of sources.
Zoho started as a web-based office tool, primarily WordPress, an online alternative to Microsoft office. They quickly swerved to BI and analytics platforms, offering some promising data visualization tools.
With over two million users, they have established themselves as amongst the top players of the game. As a first-time user, you can register using your Google, LinkedIn, or Office365 account without requiring an email. They offer cloud and on-premise accounts, wherein you need to fill in the deployment server details. A two-week trial on the cloud and an entire month trial is handed to the users, free of charge.
PROS
Over 250 different data connectors for importing your raw data. All the available services are compatible with Zoho Analytics.
The auto model helps in automatically identifying the data types and suggestions for joining the databases. You can also create custom data types.
Auto-generated reports with a click of a button, with the selected dataset from any data point.
Work with advanced collaborative analysis through communication tools—share reports along with the entire dashboard. Furthermore, publish and embed different reports on web pages, sites, and other online columns.
Create intuitive slideshows of your data with Zoho Shows. Weave a story with your data without boring the audience with information overload.
Whitelabel BI and analytics app with your brand name. You can set up a portal or maintain a standalone application.
Keep a log of every activity that happens on your account. The users who are logged in, for how long, from where, and which function has been accessed, amongst other things.
CONS
Reports cannot be shared with other cloud storage services.
The AI assistance, Ask Zia, is far from reaching its time. There have been more misses from it.
Lack of real-time sync with other Zoho apps.
Performance on Big Data needs improvement. An overhaul in that area would skew things to the positive side.
Pricing – Teams and Organizations
| | | | | |
| --- | --- | --- | --- | --- |
| Plan | Basic | Standard | Premium | Business |
| Price(annually) | $24/month | $48/month | $115/month | $455/month |
| Users | 2 | 5 | 15 | 50 |
| Record/Rows | 500,000 | 500,000 | 1 million | 50 Million |
| Pre-built Reports | Yes | Yes | Yes | Yes |
| Workspaces | Unlimited | Unlimited | Unlimited | Unlimited |
| Cloud Service Integration | Yes | Yes | Yes | Yes |
| Data Refresh Rate | Daily | Hourly | Hourly | Hourly |
| Conversational Analytics | No | Yes | Yes | Yes |
Best For – Large companies and firms dealing with billion lines of data.
Sisense offers robust data analytics tools that simplify complex data into valuable and quick view insights. You can request an instant free trial from the landing page itself. The dashboard will be available within seconds of registration.
Sample use cases offered on the dashboard help get a headstart while designing your own data set.
PROS
No need for expertise in SQL or any programming language for raising complex business data queries.
A single sign-on mechanism for the entire dashboard to keep things unified and hassle-free.
JavaScript and REST APIs (for SaaS embed) for automating and integrating the workflow. Additionally, you can embed the data directly into a webpage or an app.
Use the Blox to build a highly customizable and actionable analytics app using low-code.
Sisense supports a wide variety of add-ons with its software. Expand the capabilities by using these plugins from the app store. Both premium and free add-ons are available to install on the dashboard.
Support for significant data pipelines that enables seamless ETL partnership.
Directly embed the Sisense infusion apps framework into your existing data-driven services.
CONS
The ElastiCube Manager is buggy and often fails to connect specific data points.
Lack of reliable customer support for even the elementary issues.
Data-set is limited to specific languages alone.
The dashboard has limited customization options.
Pricing
For knowing the pricing, you will need to fill a form stating your requirements. They will get in touch with you. From what we could gather, the cloud-based plans start at $42/month.
Best For – Individuals and small enterprises looking to process juggernaut quantities of data.
Microsoft enters the ring with its loaded Power BI, which provides many tools to aid the data compilation, processing, and visualization—keeping you accompanied along the journey.
They offer a variety of services that Azure, Microsoft's cloud service, can power. As with every service, you can set up a standalone on-premise solution embedded with different Microsoft and Non-Microsoft applications.
PROS
Highly customizable dashboards offering an extensive range of visualizations along it.
Segregate flexible tiles in the dashboard and move the datasets around with ease.
Over 200 functions in the Power Bi function library. They include the DAX functions, which can perform specific data analytics functions on demand.
Lower cost of multi-user deployment across different plans. It is also included in the Office365 business plan.
Free account for students to visualize their data. The features are limited in number but enough at a student level to get started.
Resemblance with Microsoft Excel allows legacy users of the program to transition with minimal convenience.
Power BI allows using multiple databases from multiple sources, and you can connect all of them together.
CONS
Set colors of every single element in the bar chart type.
Power BI Desktop app consumes a large amount of computer resources.
Data connectors to social media can use an upgrade.
For sharing a report with another user, the person needs to be on the same Power BI to access it.
Pricing
| | | | |
| --- | --- | --- | --- |
| Plan | Power BI Pro | Power BI Premium | Power BI Premium(based Per Capacity) |
| Price | $9.99/month per user | $20/month per user | $4996/month per Capacity |
| Mobile App Access | Yes | Yes | Yes |
| Model Size Limit | 1 GB | 100 GB | 400 GB |
| Data Refresh Rate | 8/day | 48/day | 48/day |
| Bring Your Own Key(BYOK) | No | No | Yes |
| Maximum storage | 10 GB/user | 100 TB | 100 TB |
| Paginated (RDL) Reports | No | Yes | Yes |
| Dataflows | No | Yes | Yes |
Best For – Established companies with business intelligence experience looking for a customized dashboard on their data visualization tool to manage the data.
Visualization is offered on all the tools here, but when you want flexibility and customization, Domo shines in this department. Personalize your dashboard in a way that suits your exact data representation needs.
A pricier tool starting at $83/month per user, Domo aims to provide an overall view of the data, powered by exclusive third-party tools for the very purpose.
PROS
Over a thousand pre-built data connectors connect to everything. Powered by API ecosystems, you can use Domo has as a hub for real-time data writeback as well,
Drag and Drop ETL to visually define and sequence all the operations on DOMO, requiring no coding skills.
Swiftly query your data with the Domo's live cache layer, scanning on over a billion lines without any delay.
Use your natural language to ask questions and get instant answers from the chatbot.
Enable collaborative efforts with the Domo buzz that lets you place all the data in one place. A built-in chat app is also offered for team communication.
Access the hundreds of apps from the Domo Appstore.
Export data in most major formats such as CSV, XLS, PDF, and PPT.
CONS
Costly for individual users and small businesses.
Removed the ability to build visuals on multiple tables.
Steeper learning curve for Excel users.
The Domo onboarding tools need a significant refresh. They lack the fundamentals for some segments of users.
Pricing
You will need to contact their sales time and list out your needs. They will reply with a quote according to that. Users have reported the pricing starting at $83 a month for one user.
Best For – Intermediate users with a smaller amount of data.
We have already covered visualization tools that cater from large corporations to small businesses. With Infogram, data visualization goes for amateurs, individuals with a small data set that could use the graphics.
The platform allows logging in through Google and Facebook accounts if registering through the conventional method feels too much work. On the free plan, you get ten projects with over 35 plus chart options.
PROS
Choose from a library of a million images and icons for your data reports.
Drag and drop based editor for every element of your reports. Set different display options for making your data shine.
Interactive maps based on data visualized from over 550 countries and regions. Generate heat maps, geo time-series data, along accurate marker icons.
Directly publish your content online to Facebook, Medium, or Instant articles. Moreover, use the Infogram plugin on WordPress for pushing out content on different webpages, sites.
Export the visualized data in high-quality PNG, PDF, or even a GIF for sharing on social media. That's not all, and you can embed them on web pages using HTML.
Import directly from SQL databases, JSON feed, RedShift, etc., and turn them into visual infographics within minutes.
Real-time collaboration allows you to create engaging visuals, infographics, and reports, etc. while working together. (Team Plan)
CONS
No on-premise solution is available.
Only web-based with no option for mobile devices.
Own fonts are not allowed for inclusion in the reports.
Lacks feature to transfer data from one infographic to another.
Pricing
| | | | | |
| --- | --- | --- | --- | --- |
| Plan | Pro | Business | Team | Enterprise |
| Price(annually) | $19/month per user | $67/month per user | $149/month per Capacity | Contact Sales Team |
| Projects | Up to 100 | Up to 1,000 | Up to 3,000 | Up to 10,000 |
| Real-time collaboration | No | No | Yes | Yes |
| Custom Branding | No | Yes | Yes | Yes |
| Dedicated Accounts Manager | No | No | No | Yes |
| Version History | No | Yes | Yes | Yes |
| Analytics | No | Basic | Engagement | Advanced |
| Pages per project | 10 | Unlimited | Unlimited | Unlimited |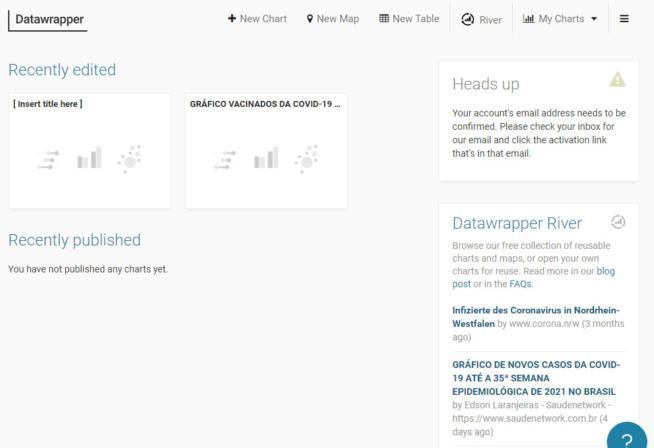 Best For – Journalists, academicians, and individuals from other professional fields who want to compile their data in a visually appealing way.
DataWrapper is another interactive way to present the data aesthetically. Get down to business within 10 seconds of registering an account. The dashboard will open up right after you enter your name, email, and a suitable password.
PROS
Automatic adjustment of colors with different reports and themes.
Create live updating charts in which new data gets added as it comes in. As the user inputs more data into the website, it will be taken from the CSV file.
Charts, tables, and tables can be fully customized according to your company's style.
Create teams for classes, clients, or when working on projects in a company. Invite members to different teams, depending on your organizational goals.
Utilize superscript, subscript, and footnotes as the Unicode character are allowed on the platform.
Experiment with color using HTML in the reports. Embed them in the background as and when it feels appropriate.
Extensive library of support articles in the DataWrapper academy to help you through all the tool's functions.
CONS
Lack of native data connectors could be monumental in importing data.
Limited export options, offering only SVG, PDF, and PNG.
No Whitelabel apps are available to use with custom branding.
Underwhelming communication tool in the team feature.
Pricing
| | | | |
| --- | --- | --- | --- |
| Plan | Free | Custom | Enterprise |
| Price(annually) | Free | $599/month | Contact Sales Team |
| Visualizations | Unlimited | Unlimited | Unlimited |
| Export Format | PNG | PNG, PDF, and SVG | PNG, PDF, and SVG |
| Created with DataWrapper attributes | Yes | No | No |
| Users | 1 | 10 | Starts from 25 |
| Support | Email | Email and Priority | Email and Priority |
| Self-hosting of created content | No | No | Yes |
| Custom Themes(fonts, colors, etc.) | No | 1 Custom Theme | 1 Custom Theme |
Best For – Big data-based visualizations with a reliable and robust cloud service.
SAP needs no introduction in the industry, being a leader in the software products segment. The ERP software giant from Germany adds AI and Machine Learning for assisting in business intelligence and data management.
By default, they offer a month-long trial that provides enough mileage to decide the value of their subscription plans. You can either sign up to the regional or head directly to the parent website. They both virtually offer the same features.
PROS
Automate all the data cleansing that will send you alerts, recommending measures in a structured manner. This helps greatly in efficiently modeling and preparation of your data.
Go far with Augmented analytics, powered by AI, natural language, and machine learning. Ask questions in a regular conversational way and instantly get back data visualizations, answers, and solutions.
Going further with the advanced analytics on the data, generate predictive forecasts and analysis at the click of a button.
Leverage SAP S/4HANA digital suite for enterprises, diving deep into integrated financial planning. Leave transaction combing, compiling, and categorization to the SAP analytics.
Utilize the centralized analytics catalog, bringing in all the SAP analytics tools under one roof. Stay on top of your data with detailed business metadata information with lucid descriptions.
Take benefit of the wide range of prebuilt business content that is ready to take off. With the help of the end-to-end business dashboard, you can use a reusable line of business packages—no need to invest time in starting from scratch.
Adjustable widget behaviors that aid in standardizing the analytics content across the platform.
CONS
Lack of relevant guides in different pages, sections in plain, simple language for a non-techie individual.
Non-availability of cheaper plans, ideal for individual users.
Combining uploaded data with new entries is not entirely possible.
No support for analytic functions automation using scripting.
Pricing
The company does not endorse a fixed pricing plan. Several users have subscribed to the plans, starting at $25/month per user/ feature, making it complex to calculate for initial budgeting.
Best For – Technically, folks with data visualization needs can rely on D3 to bring life to their dataset.
JavaScript experts and users would absolutely love what we have here. Right on the homepage, you will find an interactive slider with different data visualizations.
Banking on the advanced web capabilities of the modern browser, they use the powerful visualization components, along with the data-driven approach to DOM.
PROS
Easy to customize using the JavaScript backend. Modify animations, interactions, and data-driven plots on the web-based framework.
Detailed tutorials on how to proceed in making the visualizations work. You will find videos accompanied by articles for every step forward. Users with limited technical knowledge can get started with the help of support articles.
Write your code in the IDE for creating beautiful data-driven visualizations on the web browser.
Large SVGS can be scaled down and represented in the text, graphics form.
Extensive library of animations, transitions, objects, and other media elements to enrich your data presentation.
Capable API that as Math, logics, physics, statistics and preloaded data in other related fields, that will come in handy for visualization,
CSV and JSON are interchangeable on the platform, converted into a uniform data line for compatibility.
CONS
The processing time takes a hit when dealing with a large set of data.
No support for ReactJS, therefore missing out on a plethora of functionalities.
Previous web development experience is an absolute necessity to using the tool to its full potential.
Web browsers start seeking the majority of the available computing power, thus leaving no room for other applications.
Pricing
D3js is open-source and does not cost a dime. You can also implement it in your commercial projects without worrying about license costs.
Best For – Businesses with data analytics and BI needs on their own cloud server.
Become data-driven with Qlik Sense, powered by a sophisticated data analytical engine. Turn your raw data into meaningful insights with a click of a button.
Combine, explore, segregate and integrate data of any size on the platform. The AI-powered analytics, along with the insight advisor, help create a clearer picture in the reports.
PROS
Interactive data storytelling and reporting helps provide accurate and in-context commentary on the display data. The software does the heavy-lifting and delivers a story with a unique perspective,
Access Qlik Sense from anywhere in the world. All you need is a smartphone with the platform app.
Centralized control and scalability using the Qlik Management Console (QMC).
Qlik Indexing engine creates seamless connections in the data, compressing it for presenting it pragmatically.
Create a Qlik Sense File for data preparation, loading, and more. You don't need manual data sorting through scripting at all.
Custom and Embed analytics using the open APIs that allow for personalization of the dashboard, analytics behavior. This comes in along with the insight manager, who relies on the might of R and Python language for the predictive calculations.
Real-time tools training with actionable examples to get you apprised with the essential functions. Create your first report within a few minutes after the induction training.
CONS
A steep learning curve for absolute beginners.
Sometimes Qlik Sense goes out of memory due to the size of the data.
Error explanations for some features are not described enough for self-resolution.
Lacks functionality on the pivot table.
Pricing
| | | |
| --- | --- | --- |
| Plan | Business | Enterprise SaaS |
| Price(annually) per user | $30/month | Contact Sales |
| Associate Exploration | Yes | Yes |
| Shared Spaces | 5 | Unlimited |
| Standard App Size Limit(in memory) | 1.25 GB | 5 GB (can be expanded by contacting sales) |
| Geographic Calculation | No | Yes |
| Support | Email | Email and Priority |
| Single-Sign-On | No | Yes |
| Desktop Client | Yes | Yes |
Best For – Creating intuiting charts, representing raw data in a fluid manner.
When you have sufficient data that can use some representation on some solid charts, you choose ChartBlocks. A relatively new entrant in the visualization, backed by a commendable set of features.
You can get started right away by logging via Facebook, Google, or a Twitter account. Apart from that, the traditional sign-up works as well.
PROS
HTML5-responsive charts that will work on any browser and device. Resize them in any manner, and they won't break, ruining your chart representation.
Access to easy-to-use sharing tools for embedding the data anywhere on the Internet.
Five-step quick process for creating your chart. Enter your data, select the type of chart, finalize the series, choose a template, and you are done.
Chart wizard is available that will help you pick the correct data for a particular element.
Upload data directly from Twitter, OpenData, etc., data feeds.
Exclusive access to other ChartBlocks API and SDK for integration with your applications, websites
Share your chart directly to Facebook, Twitter, Pinterest, amongst other social media platforms.
CONS
A limited amount of data can be represented on the chart.
The lack of font choices is certainly a letdown.
Frequency of data updating on PDF exports is patchy.
No room for chart customization.
Pricing
| | | |
| --- | --- | --- |
| Plan | Professional | Elite |
| Price(annually) | $20/month | $65/month |
| Charts | Up to 75 | Up to 200 |
| Remove platform branding | Yes | Yes |
| API Access | No | Yes |
| Additional Users | Unlimited | Unlimited |
| Support | Premium | Premium |
| API Access | No | Yes |
| Monthly views | 500,000 | 2.5 Million |
Best For – Customers with several data sources and could use some modification with the help of the modeler.
This Canadian data visualization giant does not leave any stone unturned for bringing context to data-induced conversations. KlipFolio sprinkles a pinch of dynamism into the static spreadsheets.
Login using a Google account or create a free account. They offer a two-week trial on either of them.
PROS
Simplified data aggregation through the standard import tools, along with the REST/URL-based connectors.
Combine social media data along with other streams of data for bringing out the entire picture.
Data history with PowerMetrics, storing multidimensional records of the data. Compare your latest data with the historical insights for references.
Search for visualizations, data points, or the entire dashboard using the natural query language (NQL)
Automatically retrieve data whenever a change in user data is detected.
Merge data sources of different kinds to create the desired Key Progress Indicators for your business.
Use your source code for customizing the dashboard.
CONS
Large quantities of data often slow down the general functions.
Limited chart color options.
Requires prior programming knowledge for creating some of the charts.
Buggy mobile application, with potential for major improvements.
Pricing
| | | |
| --- | --- | --- |
| Plan | Plus | Pro |
| Price(annually) | $99/month | $249/month |
| Number of viewers | Unlimited | Unlimited |
| Editor Users | 5 | 10 |
| Data Services | 10 | 20 |
| Data History | 1 Year | 3 Years |
| Data Refresh Rate | 1 hour | 15 min |
| Dashboards | Unlimited | Unlimited |
| Support | Dedicated | Dedicated |
Best For – Medium size data sets which can be represented on the charts.
Google keeps on bringing in new tools through its developer channel. Some see the light of the tunnel while others break down on the way. Google Charts is one such project which is showing promise.
Running on HTML5 and SVG, you can create browser-based charts for showing your data.
PROS
Events-based charts can be triggered with the assigned action. For instance, a click of a mouse button can trigger a specific action.
Edit the charts in whichever way you fancy with the dedicated chart editor.
A rich graphic library of charts and elements to accompany them.
Easy to use and does not require previous knowledge of coding.
Integrate it swiftly with other Google products with a single click.
Every chart is free to use with a three-year guaranteed backward compatibility.
Embed the charts anywhere, compatible with any HTML5 compatible platforms.
CONS
Lack of dashboard customization can be limiting in some cases.
You require HTML/CSS basic knowledge for creating charts.
No offline version to use the tool.
Sometimes plotting the points is complex. Accuracy is a big question mark there.
Pricing
Google Charts is a free-to-use tool. A sign-in to a Google account would open all the doors for you.
Best For – Large size corporations with juggernaut data sets, requiring automation.
Wrapping up with IBM Cognos Analytics, which flexes its all-inclusive BI solutions. Their USP is the efficient use of UI for eliminating time spent on nonsensical research.
Take advantage of the 30 days trial and explore the platform-wide features before going subscription shopping.
PROS
Automate report sending for periodic updates on the data gathering for visualization.
AI-assisted data preparation does all the manual work for you. Prepares reports, calculates figures, and even adds new tables wherever necessary.
IBM Cloud hyper protect crypto services help create an impenetrable security layer for your data and its transmission with the cloud.
Easy integration with most of the ERP software.
Intuitive mobile app to stay top on the data insights.
Up to 10 simultaneous data connectors for both on-premise or on the cloud.
Smart data discovery finds hidden patterns and trends in the data.
CONS
Steep learning curve for initially preparing a report.
Underwhelming cloud-based SaaS for COGNOS.
Expensive for mid to small-size companies.
The customer support is not that great and costly.
Pricing
Plan
Standard
Premium
Price(annually)

Per-user

$10/month
$40/month
Cognos Mobile
Yes
Yes
Data Exploration
No
Yes
Smart Discovery
10
20
AI Assistant and Watson Highlights
No
Yes
Managed Report Distribution
No
Yes
Support
Priority
Priority
3. Checklist while Selecting a Data Visualization Tool
The Size Matters
Identify the size of your data. How many lines, rows, and columns of data is there to process. Some tools offer services for the visualization of more minor data for cheap. And for bigger corporations, data going in million lines can go with the big players.
What kind of story do you want to tell?
Decide on what kind of data-driven stories you want to convey. It will help narrow down the visualizations to look for in a tool.
Are my data connectors available?
The data is already loaded on different services used by you. So the question you need to ask is whether the connectors are supported on the tool you fancy. There is also a way to import data using a third-party connector.
Do you want to compare two or more values?
A lot of the data visualizations let you compare two or more trends. They help in providing a clear-cut picture of the concluding insights. If you want to display a comparison between two or sets, then look for tools with:
Bubble charts
Spider charts
Scatter plots
Bar charts
Are APIs required for external applications?
For instance, when you have to seek data from user interactions, the APIs come into play. They help you gather data and send it to the appropriate data visualization projects on the tool.
4. FAQ (Frequently Asked Questions)
Do I need programming language expertise?
Some tools like D3js, Google Charts require prior coding experience for efficiently using the features. Others are comparatively user-friendly, especially the likes of Visually, Infogram is apt for non-technical users.
Is it necessary to pay money for using tools?
The majority of these tools offer free trials, which is enough to get started. However, they hit the ceiling pretty soon when you need more features. You can check out the pricing of each tool and zero in on the one which fits your budget.
Can I set it on my own server/cloud?
Absolutely, the on-premise option is offered by almost all of the tools mentioned above. With the right technical manpower, you can set it up and run it seamlessly. The maintenance is hectic and does cost money.
Will Excel expertise have any advantage in using these tools?
Few of the visualization tools keep their interface features similar to the ones offered on MS Excel. Even the syntaxes, formulas are kept uniform for an easy transition to the tool.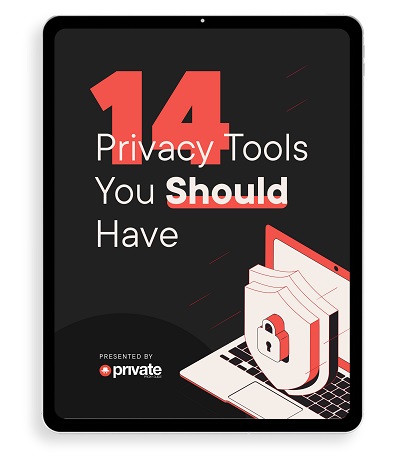 Learn how to stay safe online in this free 34-page eBook.