Building an eCommerce website from scratch takes a lot of resources and time. However, with the implementation of eCommerce platforms, this process is a lot less tedious and, might I add, satisfying.
eCommerce platforms let you build reliable, good-looking, and extensive eCommerce websites.
There, you can carefully showcase your products and enjoy an advanced, cutting-edge experience. eCommerce platforms are usually very robust and consist of many different features and parts. Thus, choosing the one for your needs becomes increasingly hard.
But, as always, we do all the heavy lifting for you, so we came up with the 10 best eCommerce platforms. This is going to be a long read but I assure you that this is the ultimate guide on choosing the best eCommerce platform for your needs.
1. Best eCommerce Platforms 2023 – Top 10 Choices
Without wasting a minute more of your time, I decided to talk about the best eCommerce platforms right away. After you get to know more about each one, we'll talk more about the eCommerce business in general and give you some valuable tips and tricks.
The best platforms for your eCommerce business include:
1.1 Shopify (for all types and sizes of eCommerce businesses)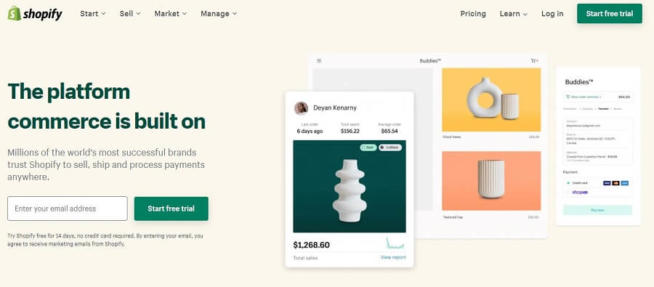 | | |
| --- | --- |
| Starting Price per Month | $29 |
| Free Plan Included? | ❌ |
If you've never heard of Shopify, you're probably living on another planet… or under a rock. Seriously – this is one of the best eCommerce platforms on the market, boasting an impressive number of features. Best of all, Shopify is suitable for small and large businesses.
Shopify's main highlight is the ease of use. It offers a simplistic drag-and-drop editor, letting you set up your website in no time. Furthermore, Shopify performs really well, taking merely a few seconds to load up and start working.
We like its 1-click selling option as well. Plus, when designing your eCommerce site, you can choose from a wide variety of templates, designs, and colors. Shopify also lets you sell both digital and physical goods, as well as services, making it suitable for all types of businesses.
Furthermore, Shopify isn't THAT expensive, yet, gives you advanced functionalities, such as gift cards, themes optimized for mobile platforms, and even customizable discount codes. All of this makes Shopify the best overall eCommerce platform.
Not to mention the possibility of third-party integrations. Should you integrate it with Google Analytics, you will get info-rich reports on your sales and earnings, all within one app.
Simply put, Shopify comes with all important features, but sadly, lacks a real free plan and its more advanced plans are very expensive. This, I guess, won't be a problem given the level of quality of this service.
Pros
Shopify is very easy to use, so it requires no prior knowledge to use it efficiently.
Hundreds of interesting and well-designed templates for different types of eCommerce websites.
Lots of third-party integrations and support for Google Analytics.
Multi-channel selling on social media platforms like Instagram and Facebook.
Great inventory system and sales-oriented features.
Customizable gift cards and discount codes.
Cons
Fees on pretty much all payment methods.
No free plan.
More expensive prices.
1.2 WooCommerce (suitable for all business sizes)
| | |
| --- | --- |
| Starting Price per Month | $100 (hosting) |
| Free Plan Included? | ✔️ |
WooCommerce is a user-friendly platform built on WordPress. It's open-source, which leaves a lot of room for customization. And you know what? By using it along with your WordPress-based website, you can enjoy all the existing SEO features for massive improvements on your eCommerce portal.
In terms of ease of use, WooCommerce is phenomenal – that is if WordPress is already familiar to you. However, what sets apart WooCommerce from the others is an extensive choice of themes and templates. Along with that, the service lets you add numerous extensions and payment options.
Indeed, WooCommerce supports PayPal, but you can also include credit cards as a means of payment. In that case, the service will get a small fee that won't take too much off of your earnings. Speaking of earnings, Google Analytics is here to analyze everything for you and point you in the right direction.
Much like Shopify, WooCommerce has you covered from all directions. From 1-click selling and 24/7 customer service, all the way to a proprietary WooCommerce payment system – you get everything! Did we mention a free plan, too?
Well, this service has one, just in case your demands aren't very high. And if you want to test out its premium plans risk-free, there's a 30-day money-back guarantee. So, if you don't like it for any reason, you can get your money back without losing a single dollar.
Pros
WooCommerce is built on WordPress, which opens up a lot of customization options.
Open-source nature – great for making unique eCommerce websites and frequent upgrading.
Numerous payment options are supported with very small fees on PayPayl, VISA, and many other payment methods.
1-click selling.
The free plan is included.
Support for Google Analytics.
Cons
Lackluster customer support.
WooCommerce is very simple to use only for those familiar with WordPress.
Lots of paid extensions that end up being crucial for your business.
1.3 Wix eCommerce (for smaller and medium-sized businesses)
| | |
| --- | --- |
| Starting Price per Month | $17 |
| Free Plan Included? | ✔️ |
Wix is a company known for its extensive website builder. While not more popular than WordPress, Wix knows its businesses. That can be said about its eCommerce platform that emerged not long ago. We like how flexible Wix actually is, offering more than 500 free themes and templates.
And if you go for a paid plan, you get features galore. In that case, Wix will let you create your online store in more than 90 languages or even enjoy a proprietary payment method. Whatever you choose, know that Wix charges no transaction fees, so all your profit is… well, yours to take!
We must mention Wix's advanced features, too. This platform offers useful options like adding products to a cart from the gallery, 1-click purchase buttons, and even customers' accounts and loyalty schemes. Furthermore, you can enjoy numerous third-party integrations.
I mean, Wix lets you enjoy multi-channeling through eBay and Facebook, but also use it with Google Analytics. Apart from PayPal, the platform supports more than 30 other payment methods, and there's reliable 24/7 customer service.
Wix, on the other hand, isn't the best when it comes to SEO. Also, it's not as customizable as WooCommerce. However, it has a FREE subscription plan, and honestly, it's really affordable. So, why not try it out, huh?
Pros
500+ free templates and themes for pretty much any type of eCommerce website.
The ability to make your website in more than 90 languages.
No transaction fees on almost every payment method.
Affordable pricing with a solid free plan.
Multi-channel selling through Instagram, Facebook, and eBay.
24/7 customer service available on the spot.
Cart abandonment notifications.
Cons
Not as customizable as its competitors.
Poor SEO tools and SEO performance.
Amazon integration could be better.
1.4 Magento (for entrepreneurs with advanced technical knowledge)
| | |
| --- | --- |
| Starting Price per Month | ~ $916 |
| Free Plan Included? | ✔️ |
Magento comes from a well-known company called Adobe. You know, these are the guys that made Photoshop, Illustrator, and many other valuable tools. This time, they've come up with Magento, which is an open-source eCommerce platform focused on smaller businesses.
We like Magento because of its customizable nature. With this platform, you have all the freedom of this world to design and put your eCommerce website in commission. However, as its interface isn't the most intuitive, you will need some prior experience to use it.
Nevertheless, Magento supports many useful features. These include a 1-click purchase button, dozens of payment methods, and many extensions available on Adobe's store. Moreover, you can integrate third-party analytics tools and this is important for monitoring your sales.
All in all, Magento will offer you all the features and functionalities you get from Shopify or WooCommerce, for example. But, as said, it's not very intuitive and supports no drag-and-drop menus and stuff like that.
Instead, you have to manually do everything from scratch, with the silver lining being an extreme degree of freedom. That is if you go for a paid version, which can cost you quite a lot. And if you don't know how to use it, you'll have to pay someone to do all the heavy lifting for you.
Pros
Its open-source nature is excellent when it comes to updating and customizing your website hassle-free.
One of the most feature-rich options on the market, with hundreds of extensions available online.
Reliable and in-depth analytics tools, including third-party Google Analytics.
Lots of SEO-related features and great SEO performance.
Scalable plans that let you quickly upgrade your existing plan, should your business progresses.
Cons
The user interface is not easy to use. It requires previous knowledge to use it efficiently, so it's not beginner-friendly.
Not the best customer support.
Very expensive prices.
1.5 BigCommerce (for large and enterprise-sized eCommerce businesses)
| | |
| --- | --- |
| Starting Price per Month | $29 |
| Free Plan Included? | ❌ |
As its name implies, BigCommerce is for those going BIG when it comes to doing business. Don't fret – you can use it for your small business, as well, as BigCommerce is pretty robust and powerful, yet, it won't cost you a fortune if you own a small business.
For the start, BigCommerce has some free offerings, such as its 12 carefully-crafted themes. This is accompanied by the ability to use email marketing, insert customer reviews, and even multi-channeling. Not to mention its overarching support for payment methods.
With BigCommerce, your customers can use PayPal, credit/debit cards, and dozens more means of payment. To that, we can add a 1-click payment button as well as reliable customer support, should any issues arise. Much like Magento, BigCommerce is filled to the brim with different functionalities.
However, the result is a bit cluttered interface that requires a bit of previous knowledge. On a good note, BigCommerce lets you sell as many products as you like, with no limits, and supports third-party app integrations for added functionality.
If you don't mind its expensive price for larger businesses and you want to maximize your business potential, I think that BigCommerce is a great option. After all, the price you will pay for it directly reflects the features you will get, so, after all, it's a good value for the money.
Pros
Greatly designed eCommerce themes that you can get for free.
BigCommerce offers useful additions like email marketing, customer accounts, and user reviews, for maximizing your selling potential.
A great number of payment gateways are available – they include even PayPal and credit/debit cards.
24/7 customer support is one of the best in the business.
Cart abandonment notifications.
Multi-channel selling on platforms like Facebook, eBay, and Instagram.
The ability to sell unlimited products on your site.
Cons
Expensive prices for larger businesses.
Not the most intuitive interface.
1.6 Volusion (for medium-sized eCommerce stores)
| | |
| --- | --- |
| Starting Price per Month | $29 |
| Free Plan Included? | ❌ |
Volusion is perhaps the oldest eCommerce platform on the list. It started in the early 2000s and since then, its focus is on giving you the most options for the money. The truth be told, it's reasonably customizable and allows for some neat possibilities, such as customer accounts and third-party integrations.
I think that it's important to mention its Facebook integration, as well. With it, you can connect your eCommerce store with the Facebook Store and increase traffic. Another worthy mention is analytics. Here, Volusion is probably among the best options on the market.
This eCommerce platform offers super useful, in-depth reports that will let you stay in touch with your business. Moreover, Volusion supports tons of payment methods, including, but not limited to Apple Pay, PayPal, credit/debit cards, and even Stripe.
For me, Volusion is simple enough to use, although not as simple as Shopify. But, it's one of the best options to sell physical products, although, with no ability to sell digital stuff like, let's say, Windows keys, games, or images.
If you don't mind paying additionally for an SSL certificate and you want a robust eCommerce platform with great analytics tools, Volusion is for you. And it offers a 14-day free trial – sweet!
Pros
The ability to create customer accounts on your eCommerce website.
Facebook integrations are included for increasing your sales figures.
One of the best options for in-depth analytics.
Popular payment methods like Apple Pay, PayPal, Google Pay, and Stripe are included.
0% transaction fees on all payment methods.
Cons
Volusion doesn't support selling digital products.
The SSL certificate must be bought separately.
Premium support is not available on the cheapest plan.
1.7 Squarespace (for smaller and medium-sized stores)
| | |
| --- | --- |
| Starting Price per Month | $23 |
| Free Plan Included? | ✔️ |
Squarespace is yet another resounding name on the list. The highlight of this service is its focus on aesthetics and making your eCommerce website as beautiful as possible. Seriously – with Squarespace, possibilities are endless when it comes to website creation and you get a good ol' drag-and-drop menu.
With dozens of templates and themes, Squarespace effectively covers all areas of business. For instance, there are templates for restaurants, fashion, and many other types of eCommerce sites. What's more, this service focuses on emphasizing the best things about your products.
For example, it offers beautiful 1-click payment buttons accompanied by pop-ups related to discounts and various promotions. Discounts also have an overhaul.
You can add several types of discounts on your site and sell an unlimited number of products, no matter how much money you spend on Squarespace.
So, customization-wise, Squarespace is among the best choices on the list. That could also be said about analytics and sales reports where this product shines. As always, some downsides are here, and one of them is a smaller number of payment methods.
Squarespace also has a very small learning curve because of an extensive choice of features and templates. But, with 24/7 customer support and relatively affordable prices, it deserves its place on our list of the best eCommerce platforms.
Pros
Some of the best-looking themes.
Very simple to use, thanks to an intuitive drag-and-drop menu.
The ability to add pop-ups in the form of different promotions and special discounts.
Squarespace lets you sell unlimited products on any of its paid subscription plans.
24/7 customer support is fast to respond and very helpful.
Cons
Third-party integrations could be a lot better.
Not many payment methods when compared to more expensive choices.
Initial setup can be complex for the newcomers.
1.8 Sellfy (best suited for medium-sized and small businesses)
| | |
| --- | --- |
| Starting Price per Month | $19 |
| Free Plan Included? | ✔️ |
Sellfy is an eCommerce platform suitable for selling merchandise and digital goods. Unlike Magento, Sellfy is intuitive and easy to use, so, to make a good-looking eCommerce site, you don't have to be an experienced user.
What I also like about this platform is the ability to go for a free plan. Despite being limited, it at least lets you add up to 10 physical products and sell them on your website. Sellfy is very cheap at its core, and while not the most advanced service, it supports third-party apps.
However, in some instances, that can cost more money, but also give you more new features. Needless to say, in its paid version, Sellfy lets you fully customize your site and design engaging contact forms, newsletters, and discount pop-ups.
Furthermore, the platform supports email marketing and you can sell an unlimited number of products with its paid plans. Sellfy does offer the cart abandonment notifications and store design migration but on its more expensive packages.
For example, in the Premium package, you also get priority support and 50,000 email credits. Sadly, this plan is very expensive, at $99 a month, and is the best way to experience Sellfy.
Pros
The free plan of Sellfy lets you sell up to 10 physical products on your site.
It's easy to use even for beginners who never used an eCommerce platform before.
Neat-looking newsletters, contact forms, and customizable discounts pop-ups.
Unlimited products with all paid plans.
Store design migration.
Cons
Almost all crucial features are available only in the most expensive plans.
SEO capabilities are limited.
Customer support is not the most responsive.
1.9 Zyro (suitable for small eCommerce stores)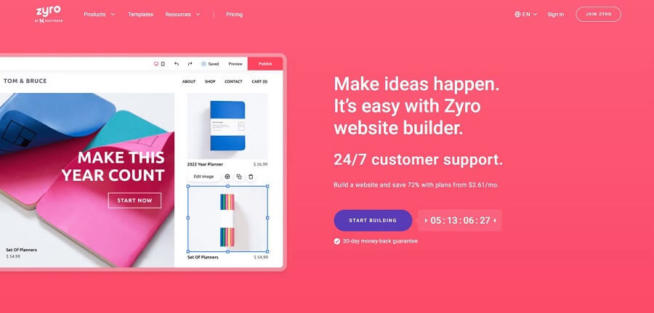 | | |
| --- | --- |
| Starting Price per Month | $11.49 |
| Free Plan Included? | ❌ |
Zyro emerged from the woodworks just recently and is a commercial success in the world of eCommerce platforms. This platform has all you need to make your eCommerce site beautiful and functional, starting with 11 free, fully-customizable themes.
Speaking of customization, Zyro uses an intuitive drag-and-drop menu, making everything buttery-smooth. Unlike more expensive options, this platform lets you sell both physical AND digital goods, as well, which is great for making your website more versatile.
Despite being cheap, Zyro will give you advanced features like a 1-click purchase button, gift cards, customizable discount codes, and multi-channel selling. Moreover, it supports payment methods such as Stripe, AMEX, and PayPal, making it easy to receive payments for your goods.
Much like every other pick on the list, Zyro can be integrated with Google Analytics. As a result, you can enjoy in-depth reports and the ability to track orders and payments. Being a cheaper product, Zyro does cut some corners.
With its cheapest plan, you can sell no more than 100 products and its customer support could be much better. Its more expensive plans are more feature-rich, though, including abandoned cart recovery and even the ability to design your store in several languages.
Pros
Zyro lets you sell digital and physical products on all subscription plans.
The cheapest plan supports up to 100 products.
Website creation in several different languages.
Almost all popular payment methods are supported.
Google Analytics integration for enhanced analysis and sales monitoring.
Cons
Customer support is poor.
The most advanced features reside in the most expensive plans only.
SEO capabilities are average.
1.10 Salesforce Commerce Cloud (for both small and large eCommerce stores)
| | |
| --- | --- |
| Starting Price per Month | $4 Price Per Order (B2B Commerce), 1% Gross Merchandise Value (B2C & B2B2C Commerce) |
| Free Plan Included? | ❌ |
Finally, we have Salesforce Commerce Cloud, which is an eCommerce cloud platform. Coming directly from Salesforce, you can expect a respectable level of customization, analytics, and ease of use. Indeed, this software is intuitive and it lets you access all of its features effortlessly.
On its own, Salesforce Commerce Cloud is good enough. But, if you want, you can add more than 4,000 apps into it, resulting in more functionalities and versatility. When it comes to payment methods, this platform has you covered.
Everything from PayPal and VISA, all the way to Google and Apple pay – all of them can be found here. Plus, we must mention various analytics tools that are powered by Salesforce's AI called Einstein Analytics.
It lets you generate useful reports for keeping up with your sales and earnings. Furthermore, Salesforce Commerce Cloud's templates and themes are mobile-friendly and your site will be easily accessible through any device.
Now, when it comes to pricing, Salesforce Commerce Cloud is a bit more expensive than its competition. Given that the majority of add-ons are also not free, making your eCommerce website with this platform will yield more upfront costs.
Pros
4,000 additional apps for increased versatility.
AI-based system for advanced reports and sales monitoring.
Lots of customization possibilities.
Intuitive user interface and mobile-friendly themes.
Cons
More expensive prices.
Many add-ons from Salesforce's store are not free.
2. What Should I Look for When Choosing an eCommerce Platform?
Okay. So we gave you the 10 best eCommerce platforms and the list is pretty extensive. As a result, choosing the one that suits your needs the most can be quite frustrating and cumbersome.
For that reason, we decided to make your job a lot easier and point you in the right direction. So, when choosing the best eCommerce platform for your website, which parameters should you take into account?
2.1 Ease of Use
Obviously, the platform you pick as your daily driver should be very easy to use. Otherwise, you'll get all confused and messed up, which decreases your performance and leads to lackluster results. On our list, not every platform is dead-simple to use and there's a reason for that.
You see, Magento is probably the most versatile platform on this list. Yet, at the same time, it's the hardest to use, which sometimes comes as a result of advanced features and lots of possibilities. On the flip side, you have Wix that can be used by anyone.
And, if you paid attention, it's much more simplistic, offering a lot fewer functionalities than Magento. Because of that, you should test out a few of them and see which one works the best for you. I would say that Shopify represents the best balance of advanced functionalities and ease of use.
Therefore, it can be a good starting point for those who aren't exactly tech-savvy.
2.2 Payment Methods
By payment methods, we don't think about payment methods available during your purchase. Sure – every eCommerce platform can be bought with typical gateways such as PayPal or credit cards, but that's beside the point.
What we mean, instead, is how many payment methods you can offer to your customers via the selected eCommerce platform. Almost all choices on the list will support over 30 of them and this is important for many reasons.
First, they must include popular payment methods such as PayPal, Apple Pay, Google Pay, VISA cards, etc, etc. Second, these payment methods must be geographically available. Sometimes, PayPal won't be available in certain countries, and as such, you must be able to provide another eligible method.
When talking about payment methods, eCommerce platforms tend to include service fees for some of them – or all of them. If you don't want additional fees, look for those that take no fees. Simple, right?
For those who didn't pay attention, Wix and Volusion are some of them. Albeit, they don't support as many payment methods as Shopify, which takes a very small fee off of your sales.
2.3 Available Themes and Their Customization
When I build my websites, I'm all about aesthetics and functionality. A good eCommerce website should be good-looking and it shouldn't deter your visitors from buying your digital/physical products. Well, that's what eCommerce platforms are built for.
A good platform should have a lot of themes and templates already included and they should be customizable. From there, you can just choose the theme you want, customize it to your liking, and make it appear on the forefront of your website proudly.
What I want to accentuate is how important it is to have all the customization options at your disposal. They should also be suitable for different types of eCommerce businesses and integrate perfectly with what you're trying to achieve.
Wix, Shopify, BigCommerce, and others, all offer a wide array of free and paid themes that are fully customizable. Therefore, you can pick and choose different elements, combine them, and make a stunning, yet functional eCommerce website.
2.4 Analytics Features
Analytics are pretty important for paving the way to success. With in-depth metrics about your website and sales, you'll have an insight into how well your business is progressing. All of the choices on the list have some degree of analytics tools, with the ability to use Google Analytics for more versatility.
It's important to mention that, some tools that are not on the list, have very little in this compartment. In that case, you should at least check out if they support third-party analytics tools, such as the aforementioned Google Analytics.
2.5 Third-Party Integrations
Now that I touched on it, third-party integrations are a must-have in every eCommerce platform. eCommerce platforms let you combine them with other software to create a cohesive and reliable online store.
When that's not possible, that is a big problem.
As I made this list, I made sure that you can integrate a wide variety of third-party tools into each of these platforms. By doing so, your eCommerce platform will have much more functionalities, allowing for a higher degree of customization and improvements.
2.6 SEO Capabilities
If you wish to stay afloat in restless online waters, having SEO knowledge is obligatory. The best eCommerce platforms will make this process easier, introducing some useful features related to this subject.
To a certain extent.
For maximizing your traffic, we suggest looking for eCommerce platforms that are SEO-friendly. One of them is WooCommerce which is based directly on WordPress.
Furthermore, it lets you add SEO-friendly stuff like customer reviews or even blog sections, which attracts organic traffic, thereby, increasing sales steadily.
Think about all of this when making your website. As I said, it can have a HUGE impact on your website's performance and your revenue.
2.7 Support for Digital and/or Physical Products
When choosing the best eCommerce platform, you should see which type of products it supports. Usually, we're talking about digital and physical products.
What is a digital product? Well, it's basically something you can't "touch" and this includes subscriptions, software keys, and similar stuff. On the contrary, physical products can be anything – shirts, shoes, physical software, and so forth.
More or less, every platform on the list supports both digital and physical products. But, beware that Volusion supports only physical goods, so you should take that into account before purchasing it.
Also, if you don't use a free eCommerce platform, you'll always be able to implement unlimited products on your site. Free versions of eCommerce platforms are limited in this regard and we discuss them more below.
2.8 Customer Support
In case things go south, customer support should always be there to back you up. Just imagine this. Your website is down, you're losing customers, and you wait for the customer support team for 2, 3, or 4 days to respond and fix your issue.
You'll surely feel furious and disappointed. To prevent this from happening, you should look for an eCommerce platform with lots of support options, like phone, live chat, email, and even community and comprehensive FAQ sections.
After all, you're giving your hard-earned money to a particular company. With that fact alone, it should focus on being there 24/7 for its customers – right?
2.9 Mobile Friendliness
I left this parameter for the end, although, to be honest, I still wonder if that's the right choice. Nevertheless, an interesting fact is that many users of eCommerce websites are actually coming from mobile devices. More than 50%.
What this means is that your eCommerce platform should be able to create mobile-friendly stores and websites. This will allow your buyers to make purchases on the spot, using their mobile phones, without having to go back home, turn on the PC, and then make a purchase.
That is if the product is still available by that time – of course.
So, this is perhaps one of the most important parameters for the best eCommerce platform. If the themes and templates you get are mobile-friendly, you've done a good job of selecting a valuable tool for your online store.
3. How Do I Start My eCommerce Business?
Choosing the best eCommerce platform is just the tip of the iceberg when starting your business. You see, starting a business takes a lot of time, effort, and money, which is why you don't see many entrepreneurs walking around.
If we talk about an eCommerce business, there are a few mandatory steps to go through to successfully start your journey towards greatness.
Here's are a few simple steps on what to do to maximize your chances of success:
3.1 Investigate the Market and Choose Your Niche
Before starting your eCommerce voyage, you must do your research. Or, as some would say, do your due diligence. First, think about what you want to sell. Is it going to be a set of physical items? Subscriptions? Digital items?
Then, what about sourcing? Where will you source the products that you're going to sell?
These are very important questions that you need to ask yourself way before starting your business. Moreover, you need to think about the ways of distributing the products to your customers. Of course, take into account international shipping, if you want to expand your business at any point.
Now, as said, it's important to choose the branch of your business – or niche, if you will. By doing so, you can narrow your research to one single niche, making it easy to get the most information necessary for starting.
Here, thinking about your competition might help a lot. If you want your store to compete with the likes of Amazon or eBay, chances are that you're going to progress very slow, if at all. On the flip side, if you find a niche with low competition, yet a reasonable amount of interest, your chances of success are much higher.
All in all, you need a thorough investigation of the market in which you're planning to compete. Without that, you set yourself up for failure and you're just going in blind. That, as you know, is very dangerous for any type of business.
3.2 Decide on Your Company's Name and Type
Once you did everything from the first step, it's time to put your creativity to the test. What's gonna be your company name? Of course, it needs to be an appropriate name. A name worthy of marketing, and one day, presenting to a broader audience.
Unique, yet simplistic names work really well. People remember them correctly and it's easier for you to present your company. Furthermore, your name needs to have implications about what your business is about. Otherwise, potential buyers will immediately discard it upon seeing it.
Beware that the name you've chosen might not be unique. You can contact the authorities and check if your business name is already taken, to avoid any legal troubles.
When it comes to the company type, you'll have to do a bit of research as well. You can choose from LLC (Limited liability company), sole proprietorship, partnership, corp, and many others. Every structure has its pros and cons, so none of them is perfect.
That's why you need to contact any eligible professional to give you a thorough explanation of what should be your pick, according to your business plan.
3.3 Get Your Business License
Getting a business license is a different process and depends on your jurisdiction. However, in every state, it means the same – the right to operate in your city or country legally.
In most cases, eCommerce businesses don't require any special workplaces and buildings. Instead, they're based at home, so in that case, you won't need to do as much work when obtaining a business license.
Still, depending on what you're working with, additional licenses may be needed. One example is selling food. In that case, you'll need to get safety and health licenses. If you're selling digital goods, chances are that most of the usual licenses won't be obligatory.
3.4 Subscribe to an eCommerce Platform of Your Choice
Since we already talked about the ten best eCommerce platforms, we don't think that this step needs further discussion. If you got everything set up, just scroll up and pick the platform that you deem the best.
3.5 Source and List the Products You Want to Sell
Thanks to an eCommerce platform, you've now designed your website successfully – hooray! Now, it's time to populate it with the products you want to sell. With your business licenses in place and your products sourced, you can easily add them to your digital store.
Make sure you list the pricing, add some user reviews, and insert customer accounts. During this process, make sure you also SEO-optimize your store and give as much useful information as possible.
This step might be easy, although, it's definitely time-consuming. I suggest taking your time, making everything as neat as possible, and then, your website can go live.
3.6 BONUS TIP: Don't Forget to Market Your Business!
Here's a quick tip – do NOT forget to market your eCommerce business. Marketing is such a crucial thing for your success, that we can't stress its importance enough. It's costly, but it's very beneficial in the long run, which is the point of owning a business.
There are many ways of advertising your products and online store. For example, you can use social media ads, Google ads, PPC ads, or do it physically with flyers. Moreover, you can use WOM (Word of Mouth) or sponsor a big YouTube channel to do the advertising per your instructions.
If you do it right, it's almost impossible not to succeed. During this period, you will see what is the best way of marketing your business and learn how to keep it afloat in the long run… which, once again, is the entire point.
4. eCommerce FAQ
4.1 What is eCommerce?
eCommerce stands for 'electronic commerce' and its name is pretty self-explanatory. It is a process of selling and/or buying products over the internet via internet-based payment methods or through credit cards.
This type of commerce isn't limited to particular types of products. Therefore, you can buy both physical and digital goods, but also subscriptions and services.
Today, this is the most popular way of purchasing goods. It's not only easier for the buyer (and seller), but also yields fewer expenses, and you can get the product you want on your doorstep (if we're talking about physical products).
4.2 Is using an eCommerce platform necessary?
No, but it's highly advisable. An eCommerce platform makes the process of creating an online store much easier. This is possible thanks to hundreds of customizable themes that you can edit out and make the website according to your needs and aspirations.
Without an eCommerce platform, you have to do everything from scratch. This takes much more resources and time, and in the end, you might not like the result. Not to mention that using eCommerce has many other benefits.
Every platform has integrated useful features that you wouldn't be able to get on your own. Plus, you'll be able to make your online store in a week or so, and start selling goods right away.
4.3 Best free eCommerce platforms – are they any good?
Looking for the best free eCommerce platform? In that case, you're probably wondering if they're any good. The answer depends on your expectations. Besides, free products are always inferior to paid ones, so you must expect some limitations
Nevertheless, I think that there are some great free options for those on a tight budget. My personal recommendations include:
WooCommerce (Free)

We already talked about WooCommerce, but let's talk about its awesome free version. This is an open-source solution that comes in the form of a WordPress plug-in. Therefore, to use it, you need to have WordPress and a hosting thing sorted out.
Despite being free, WooCommerce offers some themes that you can utilize right away. These themes aren't as good as with the paid version, but you can still customize them to your liking. Of course, in this case, you will have limited resources to work with.
The good thing about WooCommerce is third-party integrations. So, you can still use Google analytics or incorporate payment methods like PayPal and Stripe.
If you go with a free version, WooCommerce will take a transaction fee of 1% for all credit/debit cards issued outside of the United States. For those in the US, WooCommerce will take 2.9%.
All things considered, this is the best free eCommerce platform. Just don't compare it to the paid version because here, you don't get nearly as many possibilities. Plus, some things must be done manually, as some functionalities are missing.
Magento (Free)
Magento also has a free plan included. However, it's only suitable for non-demanding developers and very small businesses. The platform does offer some free themes, but in the free versions, not as many. Moreover, it comes with a lot of extensions that you can buy via Adobe's store.
Even as a free, cut-down product, Magento won't be very easy to use. On top of that, Adobe will take a small 2.9% transaction fee and you'll need to pay for hosting separately.
Not to mention that you won't be able to sell unlimited products on your website. This, unfortunately, leads to decreased sales, and with many crucial features missing, your business won't grow as rapidly.
To gain access to a full set of features, we recommend going for its paid option.
PrestaShop (Free)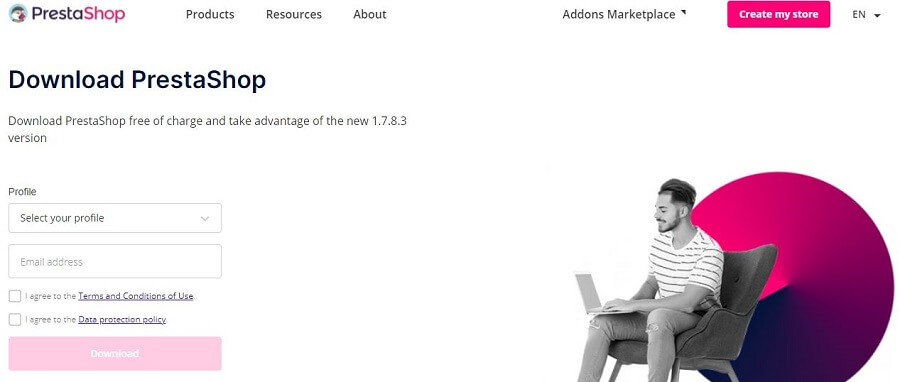 Finally, you can check out PrestaShop, which is another open-source solution. The highlight of this eCommerce platform is a strong and active community, which puts out free themes for others to download from the PrestaShop forum.
PrestaShop also allows for third-party integrations. This is accompanied by the ability to use payment methods like crypto or PayPal, which is backed up by its automatic fraud protection. Surprisingly, this option is completely free of charge.
To clarify, PrestaShop doesn't have fancy 24/7 support or many advanced features. But, it's good to know that you can enjoy it in 75 different languages and add free modules to your online store.
For a free product, it's surely going to impress you, as long as you're aware of its technical limitations.
4.4 Are eCommerce platforms expensive?
Yes and no. The rule of thumb is usually this – the more you pay, the better the eCommerce platform you get, but that is not always the case. Cheaper eCommerce platforms tend to exclude some important features and some of them won't perform very well.
More expensive platforms, on the other hand, come with an overwhelming number of features. So, in the end, they can be expensive if you need more possibilities. And if not, you can actually save quite a lot of money.
4.5 Is Shopify free?
No. Shopify isn't free. Although, it has a 14-day money-back guarantee and a starting $29/mo subscription plan.
4.6 How to use an eCommerce platform?
In theory, using an eCommerce platform is simple. You need to subscribe to the service, after which, you gain access to all of the features that the service offers for that particular plan.
The whole process starts with selecting a theme from the gallery. By doing so, you lay the groundwork for your website, as this is the template that you're going to use.
So, after applying the theme, everything else is on you. You can now customize your theme by adding new elements, deleting the existing ones, and adding your products. Managing your website is done from the dashboard.
Here, you'll be able to read reports, check analytics, stay in touch with your sales, and tweak many different options.
4.7 If I don't like the eCommerce platform I'm using, can I switch to another without losing my work?
Well, the answer to that question is a bit more complex. And so is switching to another platform without throwing all your work into the trash. For that feature, you need to use platforms like Squarespace, Shopify, Volusion, or BigCommerce.
They allow you to migrate all of your work to another eCommerce platform without losing any progress. Otherwise, changing your platform and keeping your work might be possible in some cases, but it's extremely complicated and not guaranteed to work.
This is why we stress that testing out a few platforms before you choose the one is crucial. If you end up making your store and, for any reason, find the platform you're using unsatisfactory, you could find yourself knee-deep in trouble and lose all previous work.
4.8 Website builder vs eCommerce platforms – which is better for selling products online?
Can you guess the answer to this question? Of course, it's an eCommerce platform. Website builders are great for one purpose – building websites. They aren't meant for selling anything, listing products, services, and subscriptions.
On the other side, you have eCommerce platforms. At their core, they're website builders. However, they're equipped with many auxiliary features that allow for seamless eCommerce integration and building online stores.
Classic website builders don't have these possibilities, hence, for online stores, they're pretty much useless.
4.9 Do eCommerce platforms take transactional fees?
Some of them do. Thankfully, transactional fees aren't too big and won't take too much off of your earnings. For example, Magento takes merely 3% when using US-based cards and only 1% for cards issued anywhere in the world.
Wix eCommerce is one of the platforms with no transactional fees. This means that every bit of money you earn through sales is yours to take and nothing is taken from you.
4.10 Where can I go wrong in choosing the best eCommerce platform for me?
There are several things that you can go wrong with here. For instance, you can choose a platform that doesn't suit your needs in terms of customization. In that case, you won't' be able to create an eCommerce site the way you want.
Or, even worse, you'll have to pay for third-party tools, which just leads to more expenses and decreases your earnings.
Moreover, some platforms won't support all the payment methods you intend to use on your site. As a result, users from certain countries won't be able to purchase your products at all. Perhaps, the most important factor is scalability.
If you plan on expanding or changing your business model, yet, your platform isn't suitable for that, you made a huge mistake. So, before you start a business, have at least some plans on the direction you want to go in.
That way, you can add more features needed to level up your online store and keep it up with the trends of other similar companies.
Finally, make sure that you don't spend more money on an eCommerce platform than you initially planned. Sometimes, an eCommerce platform can be so expensive for you, that, at the end of the month, you get very little revenue.
However, if you take into account everything we talked about, it's very unlikely that you'll make a wrong choice. Proper research takes time, but, in the long run, it always pays off.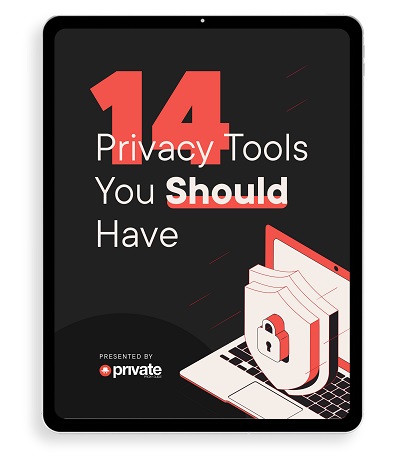 Learn how to stay safe online in this free 34-page eBook.