Mozilla Firefox is perhaps the most popular web browser, along with its fierce rival Google Chrome. While Chrome isn't exactly focused on privacy, Firefox, on the other hand, is revered by many fans for its focus on privacy and its open-source nature.
Besides, a popular Tor Browser is based exactly on the almighty Firefox. However, if you're looking to increase your level of privacy and stay anonymous online, looking for the best Firefox VPN addon is quite a rational choice.
And today, we present 7 of them – keep reading to find out more.
1. Best Firefox VPN Addons September 2023
If you're spoiled for choice, I'm sure that our top 7 Firefox VPN services will come in handy. And if you're not exactly tech-savvy don't worry, we have setup guides for all of them – here they are.
1.1 ExpressVPN – Fastest Firefox Addon VPN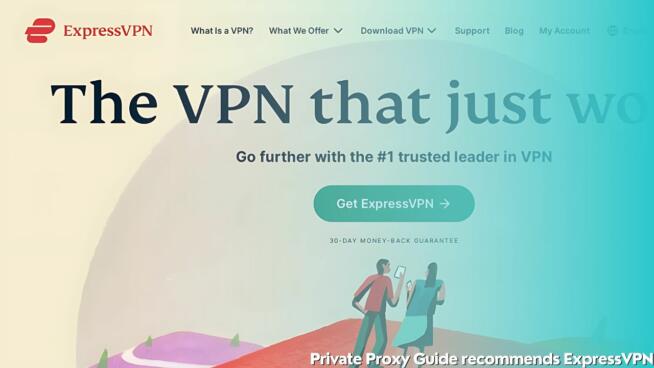 ExpressVPN is the best VPN extension for Firefox. This VPN is known for the best performance on the market, accompanied by the highest level of security. Logically, since we're talking about a browser extension, you can't expect the same features as in the full-fledged app.
However, you get pretty close to that.
Even as a browser extension, ExpressVPN sports 256-bit encryption, which is the highest level of encryption. For a web browser, it's important to have features like WebRTC blocking and IP/DNS leak protection and that's exactly what you get.
Unlike many free Firefox VPN addons, ExpressVPN works similarly to its desktop/mobile app. This means that you still get more than 3,000 servers in 94 countries to choose from, as well as the ability to unblock geo-restricted websites.
These include at least a dozen Netflix catalogs, BBC iPlayer, Disney+, and many more.
Privacy-focused users will also value the presence of a no-logs policy. ExpressVPN indeed won't store any logs and this is proven by PwC, the auditor of ExpressVPN's security. Last but not least, we must mention 5 simultaneous connections and reliable 24/7 customer service, should any VPN-related issues arise.
Generally speaking, ExpressVPN doesn't have any particular downsides. However, it's crucial to know that this Firefox addon is NOT free. So, after all, you need to subscribe to ExpressVPN, install the desktop client, and then get the addon.
But, if you ask me, that's not a problem, given ExpressVPN's 49% discount plus 3 free months on the annual plan. This, along with a 30-day money-back guarantee, makes it quite a bargain!
Installation Guide
To install ExpressVPN on Firefox, you first need to subscribe to it. Use this link to claim the cheapest deal on the annual plan (49% discount and 3 months free).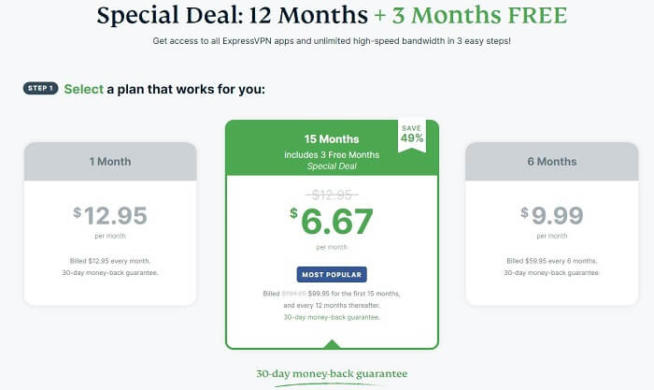 Once you subscribe, create an account using the email you provided upon purchase.
We recommend installing a desktop client first and then logging in to the app. After that, open your Firefox browser, visit this download link, and click on 'Add to Firefox'.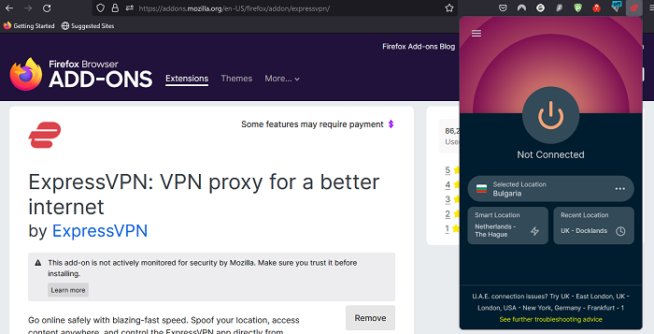 Once you do that, the addon will be added to your browser. Just click on it, sign in using the same credentials, and you'll be able to use it with no issues, as long as your ExpressVPN subscription is active.
1.2 NordVPN – Best Overall Firefox Addon VPN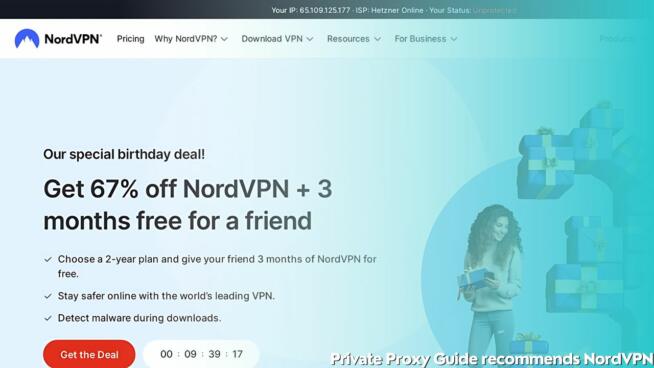 What about NordVPN? This Panamanian VPN provider is all about safety and security online, offering a crystal-clear no-logs policy. It's not to say that it doesn't offer great speeds and performance. Because, in all honesty, it does. As a browser extension, NordVPN is a bit cut-down, but you still get all the goodies.
Starting with 256-bit encryption, NordVPN pledges to keep you safe and secure during your online voyages. What I also really like is the addition of an ad-blocker, but also WebRTC blocking which is crucial for a high-quality Firefox VPN addon.
Furthermore, NordVPN's server fleet is nothing short of impressive. You get 5,200+ servers in 60 countries in the app. However, here, this list is a bit shrunk and you can choose from a couple of worldwide locations. Still, you'll be happy that NordVPN included a feature similar to split tunneling.
Basically, it allows you to select which websites will bypass NordVPN's proxy. These can include, for example, your local bank portal, shopping website, or Netflix account. Speaking of which, NordVPN works with Netflix and allows for 6 simultaneous connections on one subscription.
Apart from 24/7 customer service, NordVPN is pretty affordable. Although, I would like to add that, unlike ExpressVPN, NordVPN acts more like a proxy service. So, in terms of unblocking geo-blocked websites, it may not be as efficient, depending on which websites you're looking to unblock.
For the money, though, NordVPN packs one hell of a punch!
Installation Guide
Installing NordVPN on Firefox is a piece of cake. Once again, you need to subscribe to it and by using this link, you can get the cheapest deal.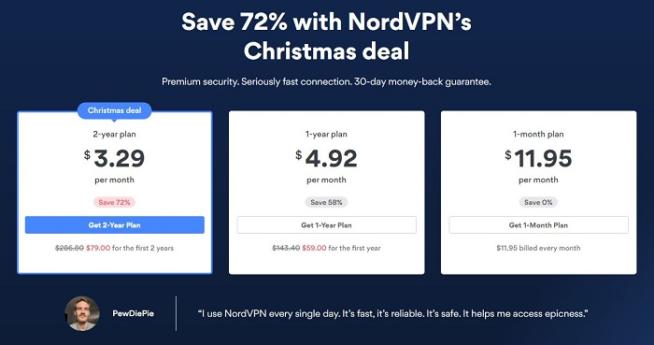 When subscribing, you need to provide your email. Use this email to create your NordVPN account, and then, you can download a desktop client and log in. Now, visit the download page using Firefox and click on 'Add to Firefox'.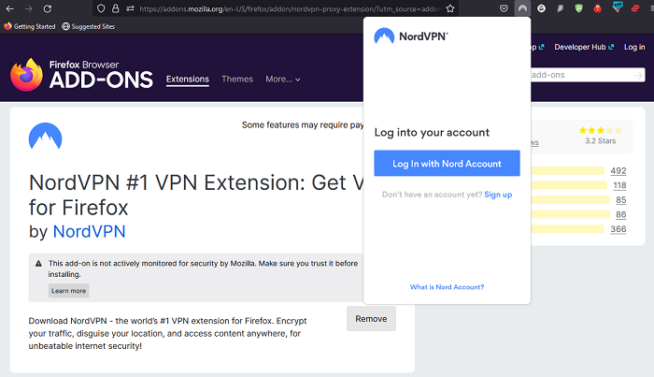 Congrats – you can now use NordVPN on Mozilla Firefox simply by logging in!
1.3 CyberGhost – Free Firefox Addon VPN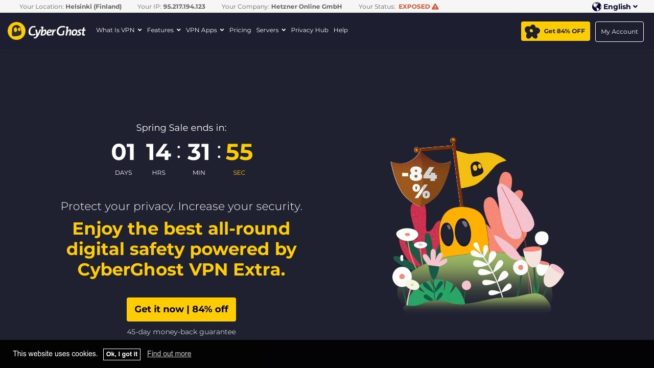 Now that we mentioned affordable VPNs, we will venture onto the cheaper side of the VPN marketplace. A great Firefox VPN extension like CyberGhost can be a great solution. Unlike the previous two VPNs, however, it doesn't require you to pay for a subscription – splendid!
This means that the addon is completely free of charge and ready to download. Being free, this addon is severely cut-down when compared to the premium version. For example, you won't get WebRTC leak protection, but on the flip side, 256-bit encryption still makes its appearance.
And of course, the all-important no-logging policy, for those who like keeping things away from the prying eyes.
Moreover, CyberGhost on Firefox isn't the best-looking addon. But, that takes away nothing from its simplicity and a single button that is needed to make it work. In the full (paid) version, the VPN gives you 7,500 servers in 91 countries. Here, you get 4 locations – Romania, Germany, the US, and the Netherlands.
Obviously, this is not the best treatment you can get. Neither is the fact that this Firefox addon won't unblock Netflix or BBC iPlayer. However, should you decide to pay for a subscription, CyberGhost will change its game for the better.
By paying a really minuscule monthly price, you can enjoy CyberGhost on 7 devices simultaneously, more security features, as well as all 7,000+ servers I mentioned. Additional features even include dedicated P2P/streaming servers, WireGuard support, and an extension for Chrome – in case you need it.
Installation Guide
To get CyberGhost on Firefox, you don't need to have a subscription previously. So, this installation is perhaps the simplest one.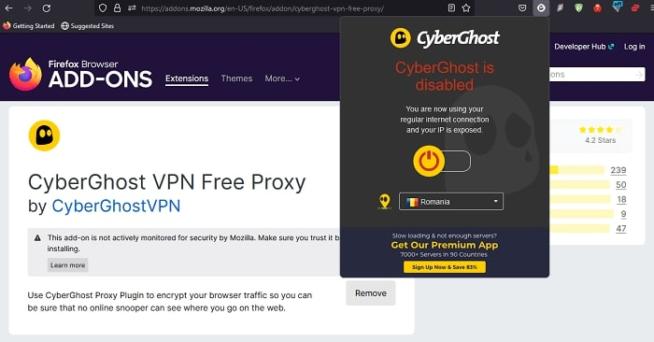 Visit this download link by using Firefox and once again, click on 'Add to Firefox' to install it. After doing so, you'll be able to use it right away without the need to log in.
1.4 Surfshark VPN – Best Budget Firefox Addon VPN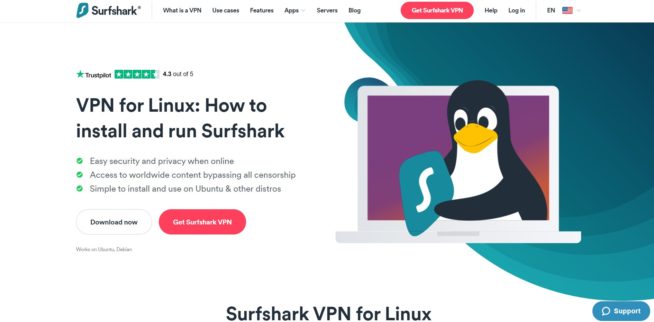 Surfshark is another wallet-friendly solution. Does that mean that the level of quality is proportionate? Well, not exactly. Surfshark's 3,200 servers in 65 countries are definitely impressive and most of them are usable in this very Firefox VPN extension.
Furthermore, the extension looks like the desktop app as well. So, if you know how to use it, using this Firefox extension will be a piece of homemade cake. This VPN takes the game to another level and introduces a boatload of features that you can find in the full-fledged app as well.
For instance, a MultiHop functionality for routing your traffic through two different VPN servers. Then, we have CleanWeb for blocking annoying ads, Bypasser, and even WebRTC leak protection. Moving on, Surfshark implements military-grade encryption and lets you block cookie pop-ups online.
Did I even mention a certified no-logs policy? Well, now I have.
For a VPN this cheap, Surfshark works surprisingly well with Netflix. Also, watching BBC iPlayer will be a breeze thanks to several VPN locations in the United Kingdom. Logically, Surfshark doesn't limit your bandwidth and the same applies to simultaneous connections.
To translate, you DO get unlimited simultaneous connections with Surfshark and no other VPN on the list will give you that. Sadly, you have to have a Surfshark VPN subscription to use it. This, as I said, shouldn't be a problem given that you can get it for about two and a half bucks a month and enjoy other awesome features.
Installation Guide
The installation process for Surfshark is the same as with ExpressVPN and NordVPN. You need to subscribe to it by using this link. By doing so, you provide an email address used to create an account upon purchase.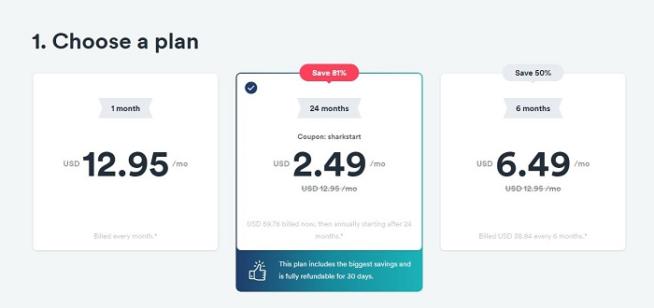 As soon as you finish the registration process, you can download a desktop client or immediately get the Firefox extension here, log in, and start using it.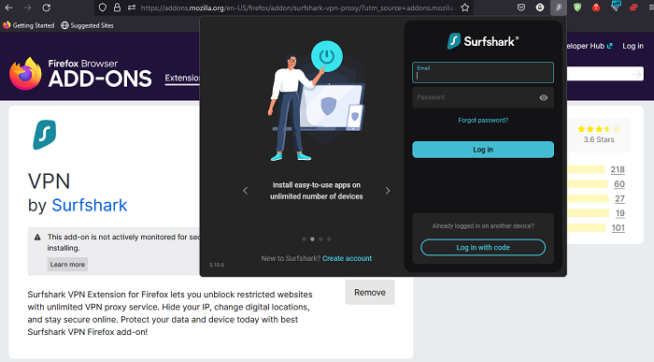 1.5 PureVPN – Secure Firefox Addon VPN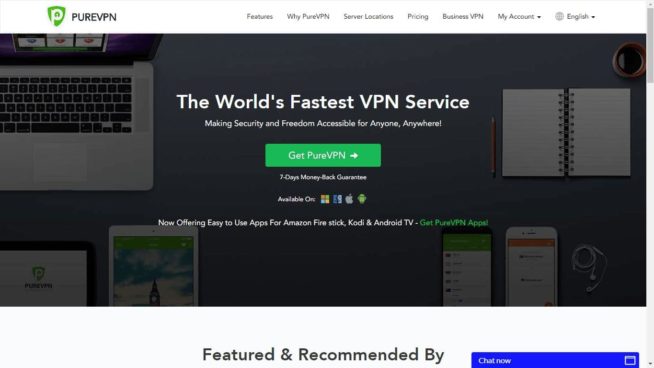 Who said that that the best Firefox VPN extension needs to be fancy? Actually, nobody, but nevermind. PureVPN is a cheap, Hong-Kong based VPN that offers more than meets the eye. On the surface, its cheap prices might deter potential users from buying it, as it doesn't exactly scream quality.
However, PureVPN offers an awesome Firefox VPN addon. For the start, it doesn't store any logs and offers 256-bit encryption. Furthermore, we must mention obligatory WebRTC leak protection in the app, as well as a choice of server locations.
Sure, it's nothing big or impressive, but you get several locations to choose from. Sadly, this isn't a great addon for unblocking Netflix or stuff like that. What's good, however, is that it won't reduce your speeds that much and actually works really well when it comes to preserving your privacy.
My main issue with it is that you have to get a subscription to use this VPN extension. For me, that's a no-no if I'm not going to use a VPN on other devices. And if I or you decide to do that, you can enjoy more than 6,500 servers in almost 100 locations, more security features, and 10 simultaneous connections.
Installation Guide
How to install PureVPN on Firefox? Here's how. Get a subscription from PureVPN first. We recommend using this link to get the cheapest deal. By subscribing and providing your email, PureVPN will guide you through the process of creating an account.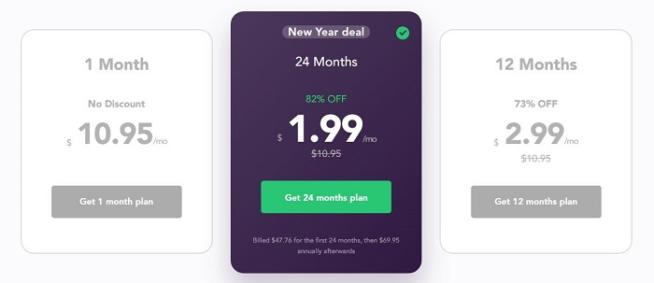 Remember your account credentials and then go ahead and download PureVPN for Firefox using this link.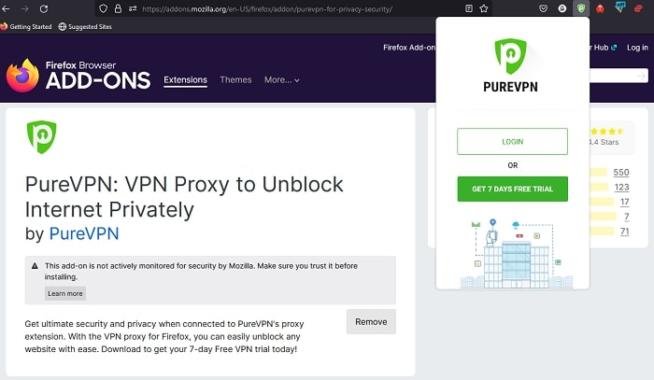 After that, just sign in to PureVPN directly from Firefox and enjoy browsing the web securely.
1.6 Hide.me – Firefox Addon VPN With Good Protocols
Hide.me is a VPN that needs no special introduction. It's a Malaysia-based VPN service, offering a wide array of premium and free plans. Its premium version is known for its high level of security, solid speeds, the ability to unblock Netflix, and a no-logs policy.
If you go for a free subscription, Hide.me will put a lot of constraints, making it not that great. The same can be said about Hide.me free proxy that now comes as a completely FREE Firefox extension. It offers 3 locations – the Netherlands, Canada, and Germany, and no advanced security features.
To be honest, we don't know if WebRTC leak protection is here. Although, 256-bit encryption is definitely present, which makes it a bit more valuable. As an extension, Hide.me won't unblock Netflix or let you enjoy cutting-edge VPN protocols.
In my opinion, this is not an issue. After all, Hide.me's free VPN Firefox addon doesn't require you to sign up or pay for anything. And if you decide on a paid version… well, you get a lot, and I mean a LOT more features to play with, on more devices.
Installation Guide
To use Hide.me on Firefox, you don't need to have an IQ higher than the room temperature. It's completely free and doesn't require signing up. So, visit the Hide.me page on the Mozilla Firefox store and click on 'Add to Firefox'.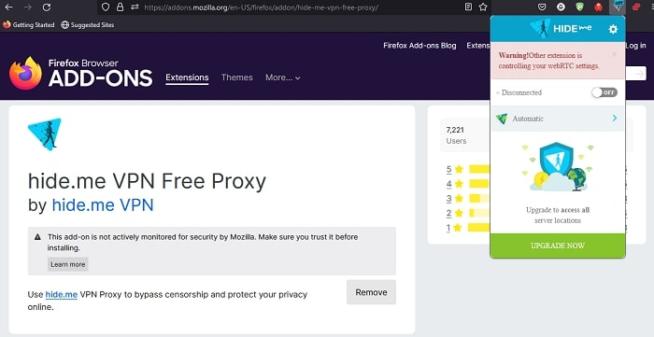 Now, the extension is ready to use with a single click of a mouse.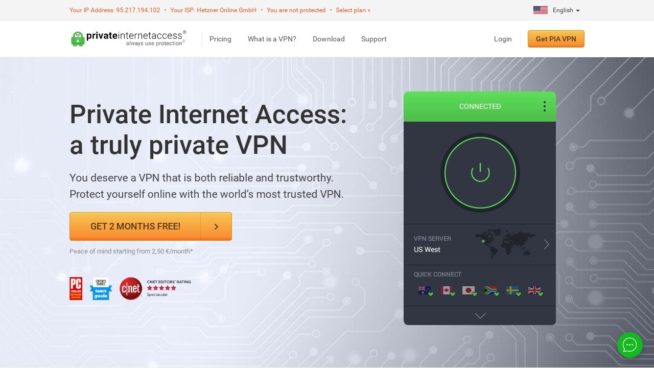 Last but not least, we need to mention Private Internet Access or simply PIA. PIA is among the most popular VPNs on Reddit and as such, it's a choice of thousands of users around the globe. Its Firefox extension is, simply put, phenomenal.
You get almost all server locations to choose from and PIA went a step further, introducing a whole new set of security features. These include WebRTC leak protection, Smart Location, Bypasser, and tracking protection.
Furthermore, PIA VPN offers solid speeds, which is always great to hear. Sure, it's not faster than, let's say, ExpressVPN, but you get stable performance across the board.
Despite being based in the US, PIA's no-logs policy is ironclad, but sadly, it won't be the most reliable choice for unblocking Netflix, Hulu, and other geo-blocked platforms.
As an extension, it works only inside the browser, so you can't expect any P2P capabilities. Given its premium nature, you also need to pay for a subscription before using it. But, if you do so, you will get 10 simultaneous connections, 24/7 support, and apps for all your devices.
Installation Guide
Lastly, PIA VPN functions the same as its brother VPNs – CyberGhost and ExpressVPN. Of course, you will need to subscribe to it first and by using this link, you can obtain the cheapest possible deal.

When you subscribe and create an account, visit the Private Internet Access page on Mozilla's official add-ons site. Click on 'Add to Firefox' and your extension will be installed successfully.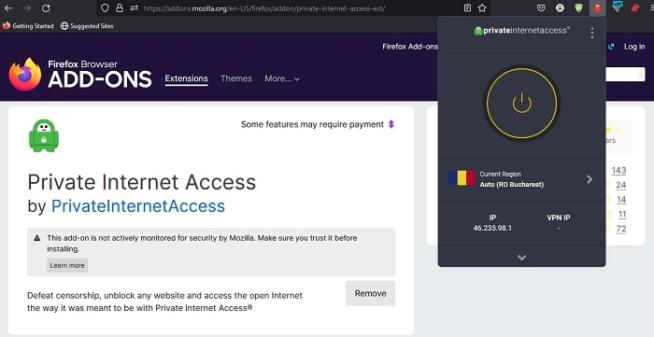 Now, just log in using the credentials you used to create an account and that's basically it. Connect to the server you want and explore the depths of the internet safely and securely.
Private Internet Access Review
2. Mozilla Firefox VPN Addon FAQ
2.1 Should I use a free VPN for Mozilla Firefox?
You can use a free Firefox VPN but we don't recommend it. Paid VPNs such as ExpressVPN or Surfshark will give you much more than free counterparts such as TunnelBear or Windscribe.
Free VPNs aren't secure, they're very limited in terms of bandwidth and speeds, and many times, they don't even include WebRTC and IP leak protection. This, of course, provides nothing in terms of security, which automatically violates the whole purpose of using a VPN.
2.2 VPN addon vs VPN application – what's the difference?
Simply put, the addon works only inside the browser, while the VPN app works on a system level. Simply put, the first will protect your traffic inside Firefox and the app will protect the entire network, which opens up more possibilities and actually removes the need to use the addon.
That's why we recommend purchasing a subscription from any of the VPNs above. You'll get more security features, better speeds, and even the ability to download torrents safely.
2.3 Does Firefox on Android support addons?
Sadly, no. Our best Firefox VPN addons can only be utilized on PC since mobile browsers don't support any extensions.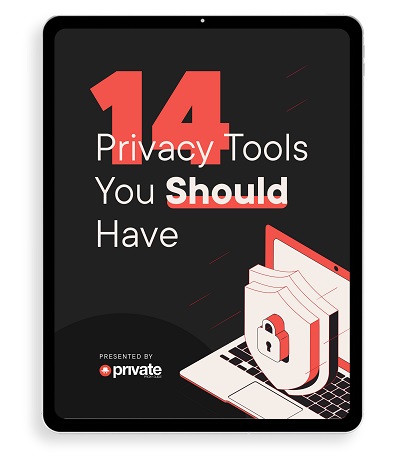 Learn how to stay safe online in this free 34-page eBook.