Photoshop is one of the best applications for image editing and graphic design but a high number of its built-in features significantly load your system.
However, if you need a tool with basic functions for everyday work on editing images, then using Photoshop is not the best option. Moreover, Photoshop is a very expensive tool. If you are not a professional photographer, you may not want to spend money on buying Photoshop but this does not mean you cannot edit images without Photoshop. Are there any alternatives? Yes, in fact, there are a lot of them.
The best free photo editors can turn your photos from OK to amazing, but there are so many programs around that it may be difficult to understand which one is the best for you. From powerful software with features that allow outperforming Photoshop to simple tools that give a picture a whole new look with just a few clicks, there is a good choice for everyone. In this article, we are going to review the best 10 free Photoshop alternatives. We will review both apps and online services.
1. Best Adobe Photoshop alternatives in 2022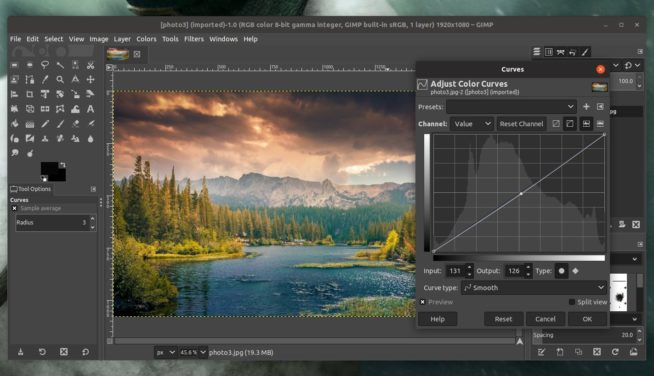 Many people will see in Gimp a full replacement of Photoshop, moreover, completely free of charge. And really, why pay a lot of money for Photoshop, if there is Gimp for free? Yes, many of Gimp's features are similar to those of Photoshop and also it supports its original PSD format, however, it is somewhat limited.
The name of the features and the tools available are also very similar. But even the Gimp developers themselves do not position their product as a complete alternative to Photoshop. It is rather an independent product with similar functionality and its own audience. However, it is preferred by amateurs and small organizations that cannot afford to pay a monthly subscription and or buy a full Photoshop license.
The Gimp graphical editor allows you to perform a wide range of operations with different images. It supports a large number of formats and has many pre-installed filters, brushes, and templates. If you're not happy with the original functionality, it can be extended with additional modules. So, what can the program do?
Key Features
Creation and advanced processing of graphic files, photos, logos, pictures. You can change the size, edit the color, merge several photos into one, adjust the level of brightness, contrast, color balance, distortion, convert images from one format to another.
Support for native XCF format as well as JPG, JPEG, GIF, TIFF, PNM, MPEG, PNG, TGA, TIFF, PS, XPM, BMP, SGI, PDF, ICO, PCX, and many others. It also provides limited support for PSD, the original Photoshop format.
A full set of working tools is available to create complete drawings, including pencils, brushes, stamps, and others. Each element can be fine-tuned, the thickness and shape of the lines can be changed, as well as transparency.
Creation of multilayer projects. Each element can be applied as a separate layer, which is then very easy to remove or correct if necessary. A full alpha channel setup is also available.
A complete set of tools for transformation: tilt, scale, rotation, and reflection.
Selecting a portion of the image. Selection tools such as free-form fragment, ellipse, rectangle, and intelligent selection are available.
Support for scanners and graphics tablets.
A large number of built-in filters, the ability to process files in bulk as well as one by one.
All your actions are stored in the "History" section, so you can keep track of all the changes made.
Processing of animation files in MNG format. Each frame is treated as a separate layer.
Multilingual menu — you are able to use it easily even if English is not your first language.
Detailed interface setup, the ability to work in the classic multi-window menu, and in a more familiar for beginners single-windowed one.
Integration of external tools developed especially for the Gimp editor.
Automation of your operations due to scripts written in Perl, Python, and Script-Fu languages.
Pros
A huge number of available features and options.
Can replace Photoshop in most cases.
The application takes fewer computer resources and is absolutely free of charge.
Cons
No official support. The product is developed by the community. So, if you need some assistance, it will take more time to get it.
Less attractive design.
Limited support of native Photoshop PSD format, making it not so good for professional work.
---
Photo Pos Pro is a professional image editor to use for free. The focus of the program is mainly on the processing of bitmap graphic files, in particular photos. The numerous functions of Photo Pos Pro allow you to manage layers, apply masks and filters, and apply various graphic effects. To work with text, the editor contains an extended set of features.
These allow the user to give a realistic volume to their headings, add shadows, reflections, and even draw with the help of letters and numbers of complex shapes and images. Photo Pos Pro helps to remove undesirable elements that you could somehow catch. These can be advertising banners, various industrial buildings, and structures, strangers, etc. Similarly, the user can change the background of the image to a more preferable one.
Unsuccessful shots can also be improved with the help of tools provided by Photo Pos Pro. The removal of the red-eye effect, as well as various variants of balance and color correction, will allow you to bring any photos back to normal, make them warmer or colder, "tighten" the histogram, increase the sharpness and saturation, and many others.
Advanced graphic effects in Photo Pos Pro are represented by deformations, projections, blurring and smoothing. Also, the user is able to quickly and easily give the image a peculiar effect of drawing, moving the few sliders of the Paint feature. The program interface resembles other similar image editors and, in addition to several themes of color design, offers the user two options of the graphic environment. All toolbars in Photo Pos Pro are floating and can be moved out of the main working area, for example, to an additional display.
Photo Pos Pro works quite quickly and applies various overlay effects in seconds, even if there is no dedicated graphics card on the computer. Given the free product and the limited, but still professional functionality, the program can be recommended to users for use regularly in a wide range of tasks.
Pros
No need to purchase the program.
No need to register an account and no need to provide personal information.
Support of x86 and x64 architectures.
Two interface options.
Several themes and color design.
Built-in graphic effects.
Support of working with layers.
Cons
Relatively few presets and no ready-made templates and primitives.
Lack of a full-fledged mechanism for creating your own brushes.
Quite weak possibilities of pre-press preparation.
---
Do you want an almost portable, free, and easy version of Photoshop? Here it is, called Adobe Photoshop Express. It includes the basic editing functions of the most famous program in the world to edit and process photos. To process the image with Photoshop, you no longer need to study complex tutorials or manuals, where you will find explanations about each function of Adobe's application.
This version, launched by the company itself, was conceived for those users who want to apply quick and basic enhancements to any image without having to download heavy and expensive versions, such as Pro CC or CS6 which are without a doubt, great programs, but not conceived for quick adjustment of image parameters. With this software, you can enjoy the lightest and easiest way to use Photoshop. Ideal for beginners, this idea of ​​the Express version of this application is a lightweight program that, unlike the full version, comes with a user interface adapted to the level of any user with ordinary knowledge when it comes to managing computers or design programs.
Key Features
Tools for cropping, straightening, rotating and mirroring the image.
Red-eye removal for humans and animals.
Automatic one-click correction.
Color adjustment for exposure, contrast, clarity, intensity, and more.
Over 30 different effects.
The ability to expand its functions through expansion packs that can be purchased online through in-app purchases.
Easy photo sharing on Instagram and Facebook.
Pros
Multi-platform support.
Very easy to use.
All the necessary features for basic photo editing.
Cons
Very simple for advanced users.
Some necessary options are not available.
No full desktop version — there is a version for Windows 10 in Microsoft Store.
---
Krita is a multifunctional open-source tool designed to create and edit bitmap graphic images. Krita is aimed at artists and photographers and, thanks to the abundance of training materials, will be suitable for both professionals and novice illustrators.
Krita offers the user a huge choice of available options, such as layer management, brush creation, the imposition of filters and masks, selection of palettes taking into account different color schemes and much more. All these features bring the software to almost the same level as the leading graphic editors. Built-in tools support modern graphic tablets, the ease of use of which is provided by the mechanism of brush stabilization. As a result, drawing smooth lines has now become even easier — you don't have to worry anymore about shaking hands.
One of the main advantages of the editor is the powerful engine for creating your own brushes including an impressive number of options with the possibility to create color, form, and density of a print. However, the user can expand a set of working tools importing the packages with brushes and textures which are accessible for loading on the Internet. The program's interface is available in several options. The layout of the controls is very similar to that of other popular editors, which makes it much easier to master Krita and allows the user to focus directly on the creative side of the workflow.
In addition, the user is free to change the working area based on his/her own preferences, removing unnecessary options and leaving those that are most frequently used. Krita supports a variety of graphic file formats, including layouts with PSD extensions, thus helping the author to interact within the framework of one project with other artists who have alternative image editors. However, the editor is quite demanding on system resources. The use of some functions on weak computers leads to a significant delay. Otherwise, Krita can completely replace the majority of the commercial decisions intended for the processing of a raster drawing.
Pros
Free product.
Windows 7, 8/8.1, 10 operating systems support.
Support for x86 and x64 processor architectures.
Layers support.
Possibility to create your own brushes.
Brush stabilization mechanism.
Fast creation of patterns.
PSD format support.
HDR support.
Flexible interface. Ability to create your own working area.
Ready-made templates of brushes, textures, documents, and others.
Cons
Not very good for weak computers.
Limited PSD support.
---
PhotoScape allows you to view images, edit graphics, process files in batch mode, and convert RAW files. There are also a lot of filters that can be used to edit images (wind effect, blur, waves, granulation, oil effect, etc.). PhotoScape is ideal for those who need to edit photos before posting them on pages of various online photo repositories, sites, photo albums, blogs, etc.
The main features:
Provides the ability to resize images, crop images, as well as change the brightness, color saturation, white balance, mosaic mode, text printing, blurring images, contrast correction.
Batch editing. Ability to edit a large number of files.
Eliminates the red-eye effect.
Create one image from multiple photos.
Animated images. Create one animated image from multiple GIFs.
Print photos, business cards, etc.
Dividing photos into several parts.
Screen capture. Create and save screenshots.
Color capture. Zoom in and take a color sample.
RAW to JPG image converter.
Slideshow mode.
Pros
Free of charge.
A lot of features — you can do anything with graphic files.
Full RAW files support.
Cons
---
If you're ready to dive deep into photo editing, Pixlr Editor is what you need. It has a wide range of functions and offers many of the same powerful tools as Photoshop. With Pixlr, you can perform many complex operations: work in layers for overlaying images or effects, use color correction and sharpening tools to make your photo even better, overlay text or other elements on the image to increase the attractiveness of the picture.
The top line contains a series of drop-down menus for settings, filters, transforms, and distortions. Some elements, such as "History", "Layers", and "Navigator" may remain visible while working on an image, like docked Photoshop panels, while other elements must be configured and accepted before proceeding to the next operation.
How effective the editing elements are depending primarily on the image being processed, but Pixlr includes so many professional-level tools that you can find a way to deal with almost any issue of a failed photo. At first glance, the Pixlr software seems rather complicated, but this does not mean that it is difficult to use. The application has colorful icons and convenient sliders that allow you to easily configure settings.
Also, Pixlr works in its own frame, which means that it does not occupy the entire browser window. A nice bonus: Pixlr can open Photoshop PSD files and save them in its own format, as well as in PNG, JPEG, BMP, and TIFF formats for publication on social networks or save to your hard drive. Pixlr is a deep tool, and like Photoshop, it has a learning curve. Before diving into it, you will probably want to get acquainted with some similar photo editors or "look through" online textbooks. Note. The application comes in several versions: a web application and a mobile app for Android and iOS. The web app is available in several versions too: Pixlr Editor based on flash, Pixlr X based on HTML5, Pixlr Pro, and Pixlr Express for basic editing.
Pros
Online version — you do not need to download anything.
A full set of tools to work with the images.
Supports all modern browsers.
Cons
No support of groups or users. However, if you read the Pixlr blog, you will find more information on how to get the most out of the program.
The Help section doesn't help much. You will not find answers to many questions.
The flash-based version will not work well on Google Chrome which blocks the Flash plugins.
---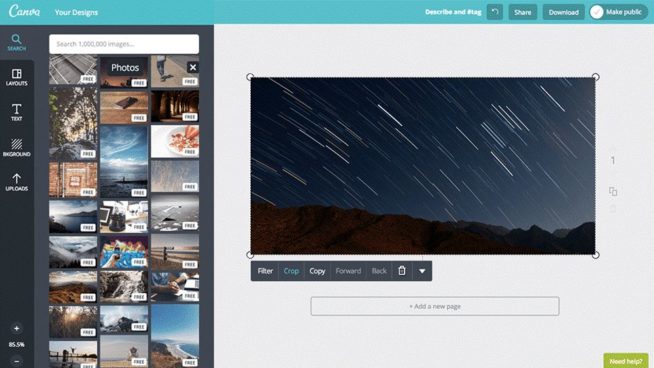 Canva is a graphic design tool that uses a drag and drop format and provides access to over a million photos, graphics, and fonts. It is used both by mainstream users and professional designers. The tools can be used for both design and print preparation.
Canva is both a full web version and a smartphone app. If you create an account, both versions give you access to tools, design libraries, and your own archive — all the designs you create can be saved as templates and used or modified later. As a registered user of the free version, you will have access to most of the application tools. All photos, logos, business cards, leaflets, invitations, and other designs are divided into free and paid. When clicking on the paid designs, you will be offered to buy coins for payment; if you don't pay for them, the designs will be covered with the watermarks of the application after you save the files and you will not be able to fully use them.
The basic features of Canva are free and additional features (saving images with a transparent background, access to more templates and stock photos, convenient corporate identity management, downloading your own fonts, sorting designs into folders, etc.) are available on a Canva for Work subscription for $12.95 per month.
Pros
Canva works as a constructor: new images can be created from ready-made elements, including geometric shapes, lines, photo frames, 3D and contour drawings, icons of different styles and themes, interactive graphics and diagrams, which can be based on input data, as well as stock photographs.
Mobile app with the same set of features.
Cross platforming.
Most features are available for free.
Cons
Some tools are available only in the paid version which is even more expensive than Photoshop.
Paid tools will be available with watermarks.
---
Fotor is a free photo editor with collage and batch processing functions. The user has the opportunity to purchase a Pro-version, and advertising banners and watermarks on the images in the free version are some of the ways used to convince them to do so.
The editor includes both the usual, most commonly used primary processing tools — trimming, cropping, color correction, brightness, and contrast adjustment — and less popular options such as adding textures, borders, frames, and a variety of effects. Mastering the latter will not be difficult for users, as it is based not on the rotation of all kinds of handles and sliders, but on the use of templates with pre-configured parameters.
In the Fotor editor, developers have a separate section for face processing. With its help, users can remove the red-eye effect in photos, add blush, whiten teeth, and hide wrinkles, folds, birthmarks, scars, bruises, and other undesirable elements. In addition, you can adjust the shape of the face, eye and lip color, and give eyebrows and eyelashes volume and density.
Another remarkable combination of functions is focusing on one area of the image and simultaneously blurring its other areas. The option allows creating professional photos similar to those taken with digital SLR cameras. The program interface is made in corporate style. By default, Fotor uses a dark design theme, following the trends of modern editors.
The welcome window is divided into four blocks — editor, collage master, retoucher, and batch processor. The working area with the image is not overloaded with tools, which can be easily and easily switched between. The editor supports the most common file formats such as JPG, PNG, TIFF, GIF, BMP, and RAW. The app is the best solution mainly for novice designers who are just taking their first steps in this field and have not yet decided on their main processing tool. As for professionals, Fotor may not be an appropriate assistant because of watermarks and advertising banners in the free version, limiting the user and distracting him.
Pros
Free product.
Availability of a huge number of instruments and effects with pre-configured parameters.
Support for batch processing of photos.
Support for popular file formats.
Ability to create collages.
Availability of the corporate interface of the program.
Cons
Branded watermarks and advertising in the free version.
---
BeFunky is known for its special effects, as evidenced by the effect manager located at the top of the main toolbar.
A drop-down menu is available from each main section and includes commands such as "Edit", "Effects", "Frames", "Graphics", "Overlay", "Text", "Textures", "Adjust", "Artistic Effects", allowing you to switch between photo editing, design and collage creation. All these editors have free and premium elements. The free version has a huge list of elements and styles, as well as mind-blowing sets of stickers, fonts, and backgrounds. The "Drawing" mode allows you to apply effects with a brush instead of applying them evenly over the entire frame.
You can do a lot of things with the free BeFunky version, but if you like what you see, you can upgrade to get access to advanced editor effects. HDR DLX, Sharpen DLX, Vibrant Colors DLX, and DeNoise DLX are easy-to-use tools that make BeFunky stand out from the rest of the online editors with their updated accuracy and photorealistic algorithms. The Fine-tune feature provides basic controls free of charge, but most of its tools are only available in premium versions. The Artistic Effects section is also part of the premium version, but you can try all the effects to determine if you need them. Among other things, upgrading to the premium version removes advertising and allows you to display images with a 4000 x 4000-pixel resolution.
Pros
The free version includes the most necessary tools for image editing.
An online tool that does not require any downloads.
Great user-friendly interface is available in many languages.
Cons
Some features are available only in the premium version which does not have very attractive pricing.
The free version has quite a few limitations.
---
Polarr is another great free online photo editor with a premium subscription. When you download Polarr for the first time, the app will show you its basic functions in the sample image.
From the vast array of built-in filters that include unique options such as Modern Film and Art Film, you can choose the set that you most often use. You can edit the image with an Apple Photos-like utility to correct brightness, contrast, glare, haze, cropping, aspect ratio, tint, and color temperature. The free version has the tools to adjust the tone, saturation, and brightness and there is a possibility to fix facial defects for portraits.
Polarr supports the RAW format, which is unusual for online image file editors. To start, simply drag and drop the original image into the web interface. When you're finished you can save your image in JPEG, PNG or TIFF format. The free version gives you access to the Pro version, where you can work with gradients, colors, text, etc. You can try the features of the Pro version, but you will not be able to save the image.
Pros
The full set of basic photo editing tools.
Ability to try pro features for free.
Multi-platform support — you are able to use it in the web browser, on desktop, and on mobile devices.
Cons
The free version is quite limited – to be able to use all tools, you will have to get a subscription.
---
2. Summary
In fact, there are many more free photo editors. Some of them are open source and are supported by the community while others have a limited version with premium plans. No matter what solution you are going to choose, you will be able to edit your photos for any purpose.