What is identity theft? Identity theft is the illegal use of someone else's data (identity) for profit.
Recently, there has been a rise in this type of crime, which relates to an increase in the number of remote services that do not require the user's to be present personally, for example, selling items in online stores. The second important factor is the spread of social media, where many people can access confidential information. Attackers use the data collected to make attacks, cheat, send spam, create twins of famous personalities and others to damage the reputation of the victim. You can read plenty of horror stories about identity-theft on Reddit and Quora.
NOTE: Increase safety by encrypting your traffic with a VPN. See our list of recommended VPN-services.
1. Best Identity-Theft Protection Services in 2022
1.1 IdentityForce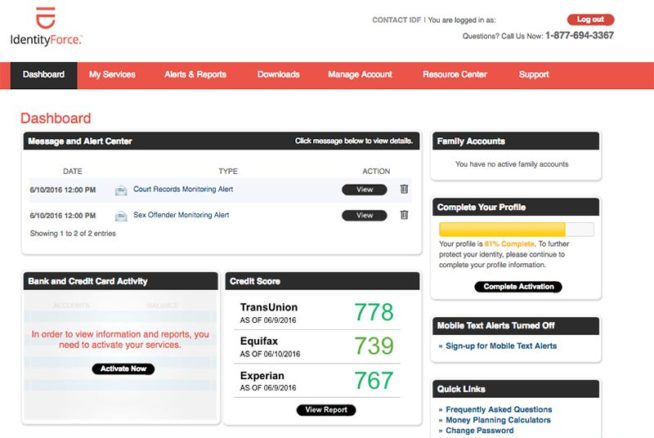 This is one of the best identity-theft protection services, providing a great set of features for an attractive and affordable price.
Pricing: from $12.95/mo, personal and business plans.
Pros
The service is one of the best and offers high-level protection at an attractive price, providing a huge set of features without you having to pay too much. The company provides credit monitoring and attorneys to control your credit history using the databases of all three major credit bureaus. If something wrong happens, you will be immediately notified via email and the mobile app. You will know all the details about your personal accounts and financial credentials. In addition, you have an option of insurance and restore.
The convenient dashboard offers access to all the features in one place. You are able to control all your personal information such as credit score, recent alerts, and notifications, or links to other family members. The interface is very intuitive and easy to use. You will not need to make my efforts to access the necessary information.
This service offers attractive family features. If you plan to share the service with the whole family, there are a number of options, including child protection and many others. The company also offers discounts for several family members. You will be able to save up to 50% when getting the annual subscription.
Cons
The mobile app is very limited, it is not rich in features, and does not provide the full functionality of the service. In fact, its main task is to notify when you require to contact the identity theft protection provider. You will not even be able to see the alert, having to use the web version of the service for that. However, even the website will not help to solve any issues. The only way to solve them is to call phone support.
No options for pre-existing theft. This service is really great if something happens after you already are a subscriber. However, if anything happened before that, they will not help you at all, even if the paperwork is the part of discovering the problem. So, if you have to solve a pre-existing identity theft issue, IdentityForce is not the best solution.
1.2 LifeLock
This is an advanced theft protection service with an extremely feature-rich app and detailed notifications.
Pricing: from $9.99 per month.
Pros
Fantastic feature-rich The mobile application is really the best among the competitors. If you usually solve your problems by using your mobile device, this service is the best solution for your needs. In fact, you can do everything without a computer and without the need to call the phone support team. It really is a great option and allows you to save a lot of time and effort.
Detailed notifications. The company offers notifications for a huge number of scenarios that are not supported and monitored by other companies. They include third-party data breaches and all the words about the crimes committed using your stolen data. Of course, these features are not vital but they are a great extra level of protection and assurance. The company also offers an option to get notifications on the phone. In that case, you will immediately receive an explanation about what the information means.
Cons
Extra payment to resolve any pre-existing theft. The cheapest plan offers a solution only after you signed up. If anything happened before you subscribed, they will not be able to help. However, if you subscribe to a more expensive plan, the will solve any issues. For some this may not be the best option but, in general, you know what you pay for.
1.3 ID Watchdog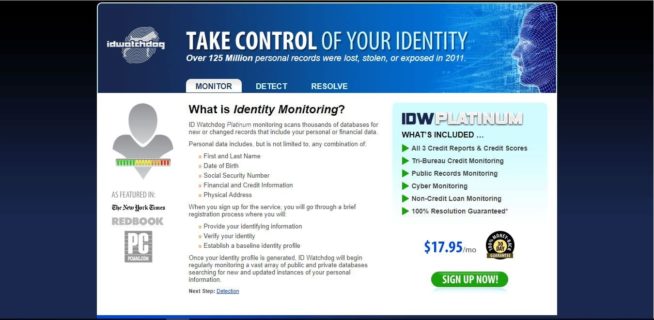 This is the best service to solve already existing issues. Choose them if you already know something is wrong: the company is ready to help you.
Pricing: $17.95 per month.
Pros
Rehabilitation for pre-existing theft. In their basic tariff plan, they do not provide anything extraordinary, just a set of features and notifications including financial, credit score, and bank account monitoring. At the same time, they have the biggest advantage over the competitors: retroactive protection services. This company is the only one that offers the option to solve issues that happened before you became their subscriber. So, choose this service if you are already a victim. However, you must be ready to pay some extra money for assistance. Unlike their competitors, this is a one-time payment and no membership is not required.
Cons
They have an extremely outdated and ugly website which is not entirely logical. It is difficult to understand how to use it, has an outdated layout and font, and very limited features. As a result, you will have to call the phone support to solve any issue.
1.4 Identity Guard
This is the service with perhaps the most effective fraud protection. The company uses IBM® Watson™ artificial intelligence to control, process, and analyze numerous data sources.
Pricing: $6.67-16.67 per month.
Founded by Intersections Inc. in 1996, Identity Guard has been actively changing its business model to provide its users with effective protection from the latest identity theft trends. This became obvious when they built the new IBM® Watson™ AI, which is the most recognizable artificial intelligence program in the world. Besides, Online Trust Audit and Honor Roll by the Online Trust Alliance recognized the Identity Guard services for six years in a row for implementing the best practices in data privacy and protection.
Identity Guard offers a wide range of features and some of them are not provided by other identity theft prevention companies. Apart from the efficient artificial intelligence algorithm, you can expect $1 million reimbursements under the stolen assets insurance, U.S. case management services, risk management scores, an online identification panel, and a mobile app.
They also have a wide range of alerts that include dark network detection, high-risk transactions, monthly credit evaluations, 3 major credit bureau changes, bank account hijacking, requests to open current or savings accounts in your name, information about your child in the dark web, and if a potential threat of cyberbullying is detected on social media sites. They also offer anti-phishing mobile apps, secure browser extensions, and social reporting.
Pros
Social security number monitoring.
Monitoring of 3 major credit bureaus (the feature varies depending on your plan).
IBM® Watson™ Artificial Intelligence
Computer data protection.
Risk management scores.
1 million dollars insurance to reimburse your stolen funds.
Dark web monitoring.
Case managers located in the USA.
Many different warnings about various potential threats and changes.
Anti-phishing mobile applications.
Secure browser extension.
Social analysis report.
Covers an unlimited number of family members living in one place.
Monitoring of transactions to take over a bank account.
Warnings about possible cyberbullying.
Cons
There is no personal plan for children — they can be protected within a family plan.
Upper-tier individual plans are expensive.
The cheapest tariffs have limited protection.
1.5 Zander Insurance
This is the most affordable service in the market. You get almost every industry-standard service except credit monitoring.
Pricing: individual plan $6.75 per month, family plan $12.90 per month.
Zander Insurance has been working in the business for more than 90 years and has an A+ rating from the Better Business Bureau. 96% of their customers are satisfied with the quality of their services and many well-known professionals recommend them. The platform also offers the industry's cheapest identity theft protection plans, not to mention that their family plan provides free insurance for your children. In addition, the platform guarantees a 100% recovery success rate.
This company does not offer to monitor your credit report, however, they offer a wide range of other types of monitoring of identity theft including financial fraud, medical identity cards fraud, tax fraud, criminal identity theft, social security fraud, theft of children's identity cards, benefits and employment fraud, and property rights fraud. As you can see, the insurance offered by Zander is worth it even without them monitoring your credit report, which is easy to do by yourself.
Zander Insurance will also send you e-mail notifications of identity theft and changes if anything is found. In addition, their services also include unlimited recovery, reimbursement of up to $1 million if your funds were stolen, including any funds stolen from your bank account.
Pros
The service covers all types of identity theft.
Monitoring of personal information.
Social security number monitoring.
Unlawful address change monitoring.
Monitoring of court documents.
24/7/365 customer support and recovery team.
Data leaks updates.
$1 million in reimbursement.
Lost wallet protection.
Dark web monitoring.
Free of charge monitoring of information about the child's personal data theft.
Identity theft capture and notification of changes by email.
100% recovery success rate.
Unlimited recovery services.
Cons
The monitoring of the credit report is not available.
You have to keep an eye on your own credit reports.
E-mail notifications only — text notifications are not available.
1.6 IDShield
This is a service with an extensive range of fraud monitoring and reporting options. The best family plan will cover you, your spouse and up to 10 children, and protect against all sorts of identity theft.
Pricing: $12.95-$32.95 per month.
IDShield is a division of LegalShield, which entered the market in 1969. However, IDShield was launched in 2003 and now counts more than a million customers. In addition, they offer insurance coverage in 50 states and Canada. The company offers the most advanced security features so you can be ahead of the criminals. They also offer 24-hour access to their emergency services in case of identity theft, so you can react immediately after an incident.
IDShield provides a huge identity theft protection package — it would require several articles to cover all their services in detail. Regarding the price, it is impossible to outperform this platform! However, they only have two different plans, which at first glance do not seem to offer much. But if you read carefully what they offer for each plan, you'll see how extensive their service is at such a low price, especially for everything you get.
Hard credit request alerts are an invaluable feature, as this service notifies you in real-time if someone tries to open an account in your name. This allows you to contact IDShield as your case progresses so that you can review the notification with an investigator, who will then review the request and take action if necessary.
The high-risk application and transaction monitoring is another feature that alerts you immediately when it detects that a new account is being requested, potentially fraudulently. This service allows you to detect fraud up to 90 days earlier than traditional credit monitoring services. Also, IDShield exclusively allows sending a message to the company that the detected action is fraudulent, therefore stopping it from being opened.
There is another feature that IDShield offers to give you more peace of mind, namely their telecom monitoring. This feature tracks the phone records databases of new landline, wireless and VOIP phone accounts to make sure that your phone is not being redirected. If you don't have this service, you probably wouldn't know that your phone is being redirected and may be used for any sort of criminal activity.
Pros
Monitoring of credit, health databases, and social networks.
Monitoring of public records — up to 34 different elements of PII over 78 billion public archives.
Court records, change of address and monitoring of pay-day loans.
Integrated monitoring of the Dark Web.
Financial/investment security monitoring.
Instant hard inquiry notifications.
Monitoring of high-risk orders and transactions.
New application alerts.
Monitoring of children with up to 10 dependents.
Telecommunications monitoring (telephone records database).
Cons
Lack of monitoring of the pension account.
No free trial period.
Only one credit bureau — TransUnion.
It does not provide computer security.
1.7 Experian IdentityWorks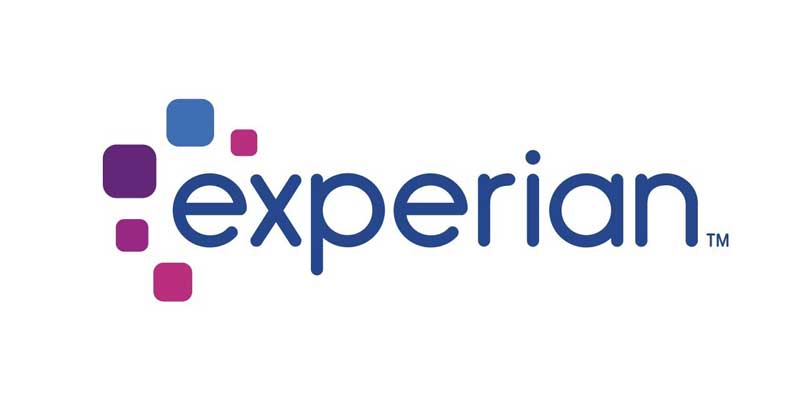 This is the best integration with the credit bureau and offers 30 days warranty.
Pricing: $19.99 per month.
One of the few companies on the list based outside the US, with its headquarters in Dublin, Ireland, Experian is one of the world's largest credit reporting agencies with a 125-year history and roots dating back to 1826. They are represented in 37 countries and have more than 17,000 employees in their organizations. Experian currently has an "A" rating from the Better Business Bureau. Moreover, the platform has received numerous awards from many respected companies and organizations.
Pros
Dark Web monitoring.
3-Bureau FICO scores and credit monitoring.
30-day free trial.
Tracking of the social security number.
Social media monitoring.
Social security number monitoring.
Address change detection.
Monitoring of pay-day loans.
Court records and bookings.
Monitoring the file-sharing network.
Cons
A credit card is required to start a 30-day free trial period.
Top-level plans are expensive.
FICO scores are only updated quarterly (only expert points are updated daily).
1.8 Complete ID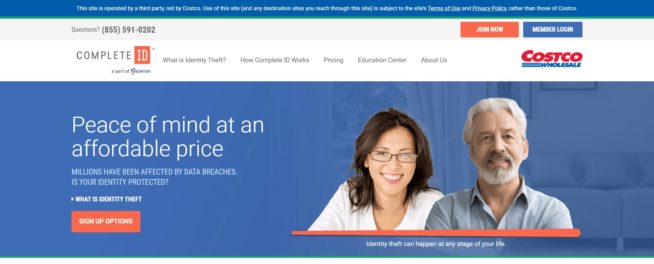 An exclusive offer for Costco members, Complete ID offers reliable ID protection, credit monitoring and alerting services. And with insurance of up to $1 million, your identity is safe and sound. The company offers the best plans for children.
Pricing: $8.99-$13.99 per person per month.
Complete ID is a renovated identity theft protection service that Costco offers its members at reduced rates. To benefit from these discounted identity theft protection plans, you must be a Costco member.
If you are a Costco member, purchasing a membership and registering with Complete ID theft prevention will make sense. However, if you don't use the Costco membership, then buying one just to register with Complete ID Services will probably not be feasible because choosing another provider will likely be a cheaper option overall.
Pros
Credit monitoring.
Personal data theft insurance of up to $1 million.
Monitoring of children (available for an additional fee).
Annual credit report from three bureaus, VantageScore and monitoring three bureaus.
Dark Web monitoring.
Mail change warnings.
Credit card, cheques, savings accounts alerts.
Monitoring the criminal records.
Monitoring of pay-day loans.
SSN monitoring.
Cons
Must be a Costco member to register.
The third-party resolution required.
1.9 IDnotify
Best plan for the first year. High-quality ID protection and credit monitoring. Efficient detection of suspicious activity.
Pricing: $9.99-$25.99 per month.
IDnotify is headquartered in Austin, Texas, and is a product of the Experian Credit Bureau. They are proud to be credit experts and hire a team of professionals to monitor a range of credit and non-credit factors to identify inconsistencies and potential identity theft. If they detect a potential problem, they will notify you immediately so that you can take appropriate action. Besides, they are constantly innovating to provide their customers with the best available identity monitoring and protection services. Therefore, if you have a problem with identity theft or just suspect one, they provide round-the-clock support with professionals who are willing to help you.
Pros
Credit monitoring — depending on the plan, they will monitor 1 to 3 bureaus.
Monthly updates of VantageScore points for the top plans.
Internet monitoring.
Social media monitoring.
Address change monitoring.
Monitoring of court bookings and records.
Tracking the social security number.
Monitoring of non-credit loans.
Insurance and identity theft recovery services.
Monitoring of children (additional $5.99 per month).
Cons
No mobile application available
Higher-level services are expensive.
The cost of kids monitoring is higher than in most competitors.
Cheaper plans allow monitoring just one credit bureau.
Several important functions are only available in the most expensive plan.
1.10 AllClear ID
The best solution for employers. The invitation-only platform.
AllClear ID is located in Austin, Texas, and has been operating for 14 years. They currently have an A+ rating from the Better Business Bureau. They also have 31 awards for outstanding customer service, a 96% customer satisfaction rate, and a 100% success rate in financial matters related to identity theft.
The AllClear ID business model is designed to provide free personal data protection services to consumers. Fees are paid by businesses that sign up for their services to protect their customers from identity theft, usually as a result of data leakage. AllClear ID reports fraud using the TransUnion service and only facilitates communication between TransUnion and the consumer and the consumer has to set up the fraud notifications and must agree to the terms and conditions of TransUnion's services. However, they also offer other services, such as identity recovery, identity theft monitoring, credit monitoring, and fraud reporting, as well as credit monitoring.
Since AllClear ID does not offer its services to the public on a retail basis, they do not advertise specific tariff plans and related tariffs. The company that requested the services handles everything. This means that you must be invited to AllClear ID services before you can register.
However, with this in mind, if you have studied AllClear ID services in the past, you may be a little confused. The company offered its services to the general public for about $14.95 per month, but since then, they have changed their business model and stopped selling their services directly to consumers. That's why you need an invitation from the company before you can use its services.
Pros
Identity theft and credit monitoring.
Free for consumers — companies pay for the service.
Annual credit report from TransUnion and VantageScore 3.0.
Fast and secure phone alerts — exclusive patented alert technology.
$1 million of identity theft insurance.
ChildScan monitoring — the system will scan the databases to detect unauthorized use of a kid's Social Security Number.
Recovering your identity — AllClear ID will help correct and restore your identity if you become a victim of identity theft crime.
Theft monitoring includes credit card numbers, email addresses, user names, passwords, and social security numbers.
Collaboration with the National Cyber-Forensics and Training Alliance.
Downloadable data sheets
Cons
Services cannot be purchased — you must receive an invitation.
No social media monitoring.
Lack of control over the file-sharing networks.
No public record monitoring.
Lack of criminal record monitoring.
2. Identity-Theft Protection FAQ
2.1 What types of identity theft are there?
Financial frauds. Criminals may steal user databases to resale, use the information to make false documents to get loans and make purchases in someone else's name.
Criminal identity theft. This means using the data in unlawful actions. For example, if the SSN is stolen in the U.S., it can be used to get the medical care that will be paid for from the victim's insurance account.
Theft of data to change identity. This is a method used by fugitives or illegal immigrants to hide from the authorities.
Theft of medical data. This is used by criminals mainly to purchase prescription-only drugs, including those containing narcotic drugs.
Often, third parties create pages of actors, musicians or athletes on various social networks to gain fame or to use a known name for their purposes that exclude material gain. It is not a criminal offense until the account holder uses the promoted name to make an illegal profit.
2.2 Who can become a victim?
Active users of electronic devices and other modern technologies: criminals have learned to get the necessary information from ATMs and other devices remotely, using special devices.
Internet users without pre-installed anti-virus software; in this case, attackers can install any software that steals the data as the characters are entered on the keyboard (using keyloggers), screenshots, etc., including payment systems details.
Social network users participating in many communities and actively correspond with friends and strangers.
People who have filled in study or work applications or promotional materials for participating in various promos.
2.3 What are the possible ways to have your identity stolen?
Hacking and stealing databases from government agencies, medical and educational institutions or purchasing them from other hackers.
Physical theft of documents, bank cards or cheques.
Recovery of personal data from hard drives and other electronic media not prepared for disposal or sale.
Theft or forgery of fingerprints, voice and other biometric data.
Obtaining information from social media or other public sources, including resumes from job exchanges.
Infecting devices with malicious software to obtain the right information in varying degrees of confidentiality.
2.4 What does the identity-theft protection service do?
In a few words, identity theft protection services protect your personal data, similar to an antivirus. For this type of protection, you have to pay an annual or monthly fee. In most cases, they monitor your credit reliability and provide some additional services.
For example, they can notify you about any potential issues or help avoid higher risks. At the same time, they cannot predict all the illegal activities. They once notify you after the theft has taken place. So, the biggest advantage of these services is that you can avoid having to deal with larger-scale consequences. For example, if someone stole and misused your financial data, the earlier you find out about that, the less dangerous the consequences will be. Most companies on the market provide three main services: monitoring, alerts, and recovery. The set of services depends on the package you choose.
The higher the protection you require, the more expensive the cost will be. Let's take a closer look at these solutions.
The identity-theft protection company monitors the Internet looking for your personal data, how it is used by different organizations and whether it was used illegally. So, if someone stole your identity and takes credit or makes any illegal activity, the company must detect it and notify you.
The identity theft protection company must immediately notify you when someone used your sensitive data illegally or without your permission. It is a very important feature because almost no one knows about being scammed until they get notified about a huge debt, the bank account is depleted, or their credit is wrecked. If you found out too late about this happening, you can suffer a lot because of it.
This is some sort of insurance against illegal activity taking place using your identity. You have the chance to recover lost money, damaged credit, broken reputation and get monetary compensation. Most market participants offer insurance of up to $1 million.
2.5 When do you need these services?
Mostly, you should pay for the identity-theft protection service in the following cases:
You have already become the victim of identity theft or there is a huge risk of it. For example, you lost your Social Security information or some of your information has been disclosed. When this happens, criminals can easily access your personal data and use it in their own interest.
You are not ready to freeze your credit reports.
You are not very experienced or do not have enough time to constantly monitor your sensitive data available online. In this case, trusting it to a third-party service is a great solution.
2.6 How to protect your personal data
1. Use strong passwords
You probably heard this many times: set strong passwords for important accounts! But it is really very important. Attackers can gain more power over you if they access, for example, your personal social networks accounts. They will not only have access to all your messages and personal data but they will also be able to communicate with your friends on your behalf. Many of us received requests to borrow money from our friends only to turn out that our friends knew nothing about that.  It is not enough to come up with a strong password. You must use a unique password that will not be possible to be hacked for each service and for each of your accounts. It is recommended to use a password manager to store your passwords safely.
2. Two-factor authentication
When you use your accounts from different computers, especially when it comes to computers in public places, you are especially vulnerable to hackers. Many services support two-factor authentication, with Google being one example. This protection means that it is not enough for you to know the password in order to log in. You will need to pass another check: enter a code received by SMS, confirm your identity in the application on your phone, etc. This greatly increases your online security.
3. Do not disclose your data
Try to share your personal information less. Do not spread much information about yourself, such as your date of birth, graduation year, maiden name, pet nicknames, etc. This does not mean that you need to completely hide your online presence, but be careful when you share with some people some details of your life.
4. Remove unnecessary information
We have been using the Internet for quite a long time to accumulate a lot of accounts on various sites. How often did you enter information about yourself? Date of birth, wedding date, etc. Try to remember the personal details you shared online. Where did you register? What services do you no longer use? Delete accounts that you no longer need.
5. Create a secure email account
The careless attitude regarding personal data is one of the biggest problems in today's world. Often, people recklessly provide their phone number or email address in order to participate in various marketing research or to receive bonus cards and it's hard to guess how much data these resources store. Do not add in such questionnaires the email address you use for important tasks and do not use a personal email for working correspondence. To protect yourself from illegal actions, it makes sense to create a separate e-mail for such services. It is recommended but not necessary that you use a secure email provider for this.
6. Do not install untrusted apps on your phone
Avoid visiting dubious links even if they are sent by friends and installing applications from untrusted sources. When installing and using applications, check what rights and information they request. In the case of any suspicious request, carefully check the email address of the person who wrote the message to make sure that they really are who they claim to be, do not follow the links and do not open attachments if you are not sure that they are addressed to you. It is also worth using licensed programs and regularly updating them. Installing additional information protection tools will help you not only create a barrier for fraudsters but also build an evidence base.