Instagram, which is owned by Facebook, is one of the more recent social media outlets and it is heavily used for marketing purposes.
As a service that revolves around photo and video posts, it allows for a different kind of marketing than platforms that are predominantly text-based. Generating views and clicks on such a platform continues to become a more difficult task as there is seemingly an endless sea of advertisements in almost every industry. Hope is not lost, however, as there are techniques that can be applied to ensure that your marketing attempts do not get lost in the proverbial sea.
Gaining the required perspective to apply the right techniques is possible with the insight provided by Instagram courses that are geared towards improving your marketing abilities and your influence online. Udemy and Skillshare are two platforms, which can be used to gain these insights and below is a list of the eight best courses that can be used to do so.
Please note that while Udemy courses have an individual cost, Skillshare is a subscription-based platform with two subscription tiers. Once subscribed you can begin to view courses that interest you and so there are no prices listed for Skillshare courses below. Also, don't forget to see options on how to automate your business with Instagram bots. If you are looking for a social media agency that knows how to grow your Instagram account, then give Social Sensei a try.
Don't worry! Most of these programs are updated for 2021 but their name still says 2019.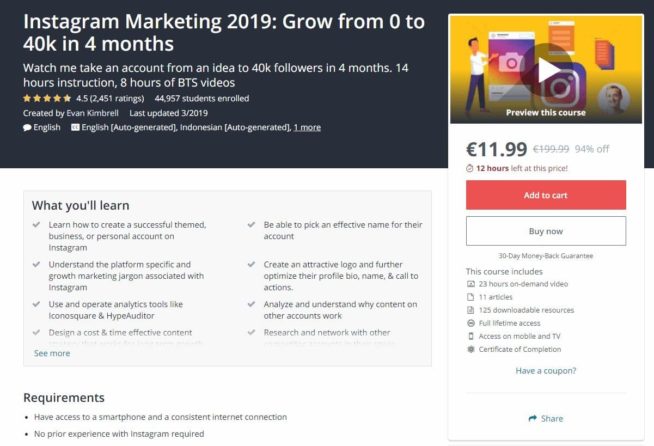 There is no doubt that the name of this course offered by Udemy sounds like the impossible. However, the 44,000+ students and the 4.5-star rating on this course contradict that premise. Once this course is paid for, you are given full lifetime access to 23 hours of on-demand video, 11 articles, 125 downloadable resources, and the ability to access all this on TV, via mobile, or via PC. A Certificate of Completion is awarded upon completion of the course.
This course covers key points such as:
Choosing an account name
Understanding why content on existing accounts is effective
Content strategy design for long term growth
Understanding Instagram lingo
Use of various software platforms such as Pablo, Adobe Photoshop, Final Cut Pro, Buffer & Later, Jarvee, and HypeAuditor to enhance posts
Hashtag selection and creation
Leveraging the power of shoutouts
Configuring and using bots to monitor likes, follows, and comments
The only requirements for the course are a device that can access it and a stable internet connection. One recent user of the course describes it as:
"The most well researched, in-depth, well explained course on Instagram right now."
At the time of writing, this course is available at a special price of $11.99 (the cost is usually $199.99) and purchase can be made on the course page. The purchase is protected by a 30-day money-back guarantee.
This course, offered by Skillshare, says all you need to know in its name. The idea here is to be able to reach large amounts of persons while maintaining a low budget. This 50-minute course focuses on the following five objectives to point you in the right direction:
Establishing and debunking Instagram myths
Defining your objectives
Deciding on your target demographic
Building your ad
Keeping track of your engagement levels
These objectives are all covered in individual videos and the course culminates in a real-life project that requires you to setup an Instagram ad and share the engagement results along with your allocated budget. Once you have shared this, you are eligible for advice and guidance from the course instructor. Reviewers of the course have alluded to its meeting or exceeding of their expectations. The course is most suited to beginners that want to dive into the world of Instagram ads in a short time. You may review the course at its official page.
This Udemy course has a 4.7 rating and includes full lifetime access to 2.5 hours of on-demand video, 48 downloadable resources, and access on multiple platforms (TV, PC, and mobile). Upon completion of the course, you can look forward to a Certificate of Completion. The only Requirements for enrollment apart from payment are a phone, tablet, or PC, along with access to the Instagram app.
Learning objectives for this course include:
Account growth and follower increase
How to setup your account to reach the right followers
Getting influencers to work for you while working with you
Getting Instagram followers to become paying customers
Increasing post engagement
Using the Instagram algorithm to grow your account
While no promises can be made, one student of this course said:
"This course is seriously so helpful!! In just 3 weeks my sales with my Mary Kay business has increased by 22%!! The instructor is organized straight to the point and makes it way easy to understand and it's doable!!!"
The course is available on the course page for $11.99 at the time of writing, a 94% reduction to the regular price of $199.99. There is a 30-day money-back guarantee available if you are unsatisfied.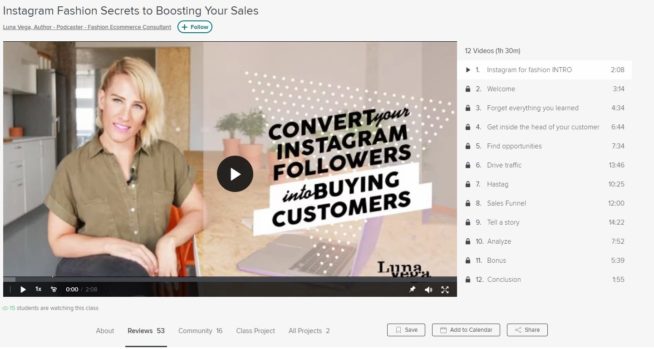 Is your business in the fashion industry? This course exists to offer targeted information to you to contribute to business growth exclusively through use of the Instagram platform. This premium class is aimed at those at the intermediate level that have some exposure to Instagram. The course establishes and teaches the five formulas used by successful fashion companies. The idea here is that by conveying these fashion trade insights, you can create customer advocates through efficient, time-saving and cost-effective posts.
The basic outline of the course states that learning objectives include:
Leveraging current fashion trends to reach your target audience and grow your following
Using hashtags effectively to generate traffic
Using your brand to convey a unique and effective story, which helps to develop customer loyalty
The course duration is 1.5 hours, which spans 12 videos and it includes two projects. Most students who reviewed the course have indicated that it either meets or exceeds their expectations. You can review the course on its official page at Skillshare.
The InstaFamous course has a near-perfect Udemy rating as it stands at 4.9 stars. The run time of the course is 2.5 hours and you receive full lifetime access upon enrollment. Of course, you can access the course on PC, mobile, and TV. You can expect to gain the following insights during our course tenure:
Learning to develop respect and gain likes from people through the creation of a stylish profile
Learning how to focus only on the Instagram features that compliment your objectives and contribute to growth
Converting Instagram followers to customer advocates
General tips from a real Instagram Guru. The course instructor Jun Wu (at the time of writing) has nearly 50,000 Instagram followers and achieved this without paying for ads
The course, which is branded as a comprehensive tour of Instagram as opposed to lectures, culminates with a Certificate of Completion, and it can be purchased at a reduced price (at the time of writing) of $11.99 on the course page. This purchase comes with a full 30-day money-back guarantee.
This 4.7-star Udemy course, which is aimed at small to medium businesses, is built to encourage the use of various available Instagram tools to generate interest and profile growth.
Enrollment in this course comes with the following learning objectives:
Creating a professional profile look
Accelerating the process of gaining large numbers of followers
Using research to determine the most suitable hashtags for your business
Deciding on appropriate stories for posting
Increasing viewership of Instagram stories
Running Instagram ads successfully
Generating and capitalizing on sales leads from Instagram
Deciding on what makes content exciting
The requirements for this course are simply having an Instagram account and making a commitment to act based on the insights the course provides. The course duration is two hours, and enrollment guarantees full lifetime access to the course videos. Completion of the course is rewarded with a Certificate of Completion.
The reviews for the course are mostly positive and one of these says:
"I loved this course. I'm an Instagram novice and Vasily really went in-depth with actionable strategies."
At the time of writing, you may purchase this course on its webpage for $11.99, which is an 88% reduction in the full price of $99.99. Of course, there is a 30-day money-back guarantee should you not be satisfied with the content.
The stories functionality of Instagram is one of the newer features that allows you to upload content to be displayed for 24 hours after which it is automatically removed. Unlike regular posts that require potential viewers to discover them by scrolling along their newsfeed, stories appear in a bubble type notification to stand out. This Skillshare course encourages you to leverage the power of stories whether it be through a simple story post or a story ad. The idea here is to help you double your engagement as Instagram statistics show that 75% of users act upon what is viewed in stories. For a good visual map, there is also a review of brands that have successfully integrated stories to increase their growth.
The duration of the course is 53 minutes and includes insights on:
Brainstorming a winning strategy
A hack guide to using stories
How stories should tie in to your business
Monitoring performance results
Avoiding becoming lost in the vast content shuffle.
The course, which is aimed at the intermediate level Instagram user, also becomes interactive as it contains three projects in total. Reviews on this course are mostly positive side and one such review begins by saying:
"hello!! thanks for the nice approach on some extra insta knowledge, great tips."
If you are interested in this course, you can review it on its course page.
The last course on the list is the only one that falls within the free tier on Udemy. While this may lead you to believe that this means the course is no good, consider that it has a 4.3-star rating after 899 of 13,216 students (at the time of writing) wrote them.
One of these reviews states:
"Pouya Eti has done a great job in this course. He explains everything nicely. As the instructor has done all the methods shown in the course before so it is reliable. Overall it helps in getting real Instagram followers."
The course is not very long as it is only 44 minutes of video, however, it also includes four downloadable resources and two articles. Enrolling in this course gives lifetime access to these course resources. The course can be accessed on PC, mobile, and TV, and completing it earns you a Certificate of Completion. The teachings of the course are expected to lead to results such as:
Increasing daily follower count by at least 100
Getting better performance results on Instagram using less time
Learning powerful marketing strategies for Instagram
The only requirement is a simple one, which is having a basic knowledge of the Instagram platform. Should you be interested in the course, you can review a comprehensive description of it and enroll at the official course page.
The courses listed here are the baseline for your studies and are no means the complete extent of learning resources for everything Instagram related. However, there is no denying that enrolling in one or more of these courses in an important investment in yourself and/or your business that provides you with the necessary information to get yourself placed in the eyes of your target audience while giving the desired impression.