Whether you're a wannabe Instagram influencer or a successful businessman, social media gives you access to prospects at all hours of the day and night. Social media platforms like Instagram and TikTok, on the other hand, limit your potential to relate off the platform. In actuality, there is only one link provided. People who want to take their social media efforts to the next level and create relationships beyond a single channel are limited by simply having access to a single link. That's why, during the last several years, a multi-link solution — effectively a mini landing page — has risen to popularity.
1. What are the benefits of a link in profile tool?
Link-in-profile tools are a must-have Instagram marketing tool for every brand or influencer, and they come with a slew of advantages:
Cross-platform promotion—you can also use the tool to cross-promote your other social media pages by linking to them.
Increased Click Through Rate (CTR) — offering your Instagram audience more click options increases the likelihood that they will click through, increasing your CTR, one of the many significant Instagram metrics.
More focused — Having more links to pick from means you can run more targeted Instagram campaigns, targeting different consumer personas with different links.
More affiliate sales —along with your personal/branded links, you can add one (or multiple) affiliate links to your unique landing page.
Branding — For better branding and visual identity, you can also use brand photos on your landing page.
2. What is Linktree?
According to its About page, Linktree launched in 2016 and now boasts a user base of over 18 million. While it began as a one-to-many link solution, it has now grown to incorporate analytics, third-party connections, and even money collection.
The platform's tagline is "The only link you'll ever need," and it claims several well-known celebrities and brands as users. No one doubts the platform's popularity. However, as you can probably guess from the title of this article, Linktree isn't your only option for convenient link placement and discoverability.
3. What are the features to look for in a Linktree alternative?
Before finalizing on an alternative, a few pointers to keep in mind are:
Easy-to-use Page Builder — With the page builder, you should be able to construct an engaging landing page by dragging and dropping objects onto your page. It should be simple to use, quick to learn, yet still, allow you to create a fantastic website.
Pre-designed Templates – Predefined templates should be available in your link-in-bio tool, allowing you to construct any layout in minutes. If you require a template that isn't already available, the tool should allow you to create one.
Adding the various Social networking websites: Every bio tool should make it a requirement to add several social networks. It should let you add as many social media accounts as you like, such as Instagram, Patreon, Twitch, Discord (here's how to stream on Discord), Telegram, and so on.
In-depth Analytics: You should be able to track click rates, conversion rates, monthly revenue, and other metrics to see which content is the most effective.
Visuals: To engage your audience, your bio tool should allow you to add visuals such as GIFs, embed YouTube videos, upload photographs from your system, and so on.
Additionally, search for features like an email sign-up form, messenger links, Google Analytics integration, and more.
Check out the curated list of Linktree alternatives below to see if there's a better fit for your needs.
4. Best Linktree Alternatives 2023
4.1 ContactInBio – One of the best Overall Link-In-Bio Tool In the Market
ContactInBio is a Linktree replacement that allows you to create a landing page where you can keep all links at one location. They also allow you to incorporate payment forms, streaming platforms, social media comments, and more, in addition to endless links.
ContactInBio is an online tool that allows you to design your own micro-lending webpage or a mobile-friendly website for use on Instagram. Using the ContactInBio link on Instagram or other social media platforms is quite useful because it has several connections to your other resources as well as other engaging material that will help your followers navigate faster and learn more about your offerings.
Visitors to your Instagram page will be able to buy your items, order your services, contact you faster, make an appointment, and follow you on all other social media platforms if you build a page with ContactInBio.
A micro-landing page can help you get beyond the constraints of social media, such as the fact that most of them only allow you to post one link. You don't have to modify your bio link every time you had anything new to share with your followers; instead, log into your ContactInBio account and manage all links from there.
Unlike Linktree, ContactInBio allows you to pick from four different domain names: yourusername.contactin.bio, yourusername.ctcin.bio, allmy.link/yourusername or yourusername.contactinbio.com.
Unlimited customizations are possible with ContactInBio. Your links and landing page can be customized in terms of height, width, color, background and text size. You also can alter the backdrop of your page to gradient colour, a picture, or a video.
ContactInBio also allows you to integrate your online store items directly into landing pages. Potential customers can now purchase and pay using PayPal, Stripe, and other payment methods. Or, with the push of a button, connect with you via "smart links."
You also have the option of adding:
Carousel of images
A video as a backdrop.
Your Vimeo or YouTube videos.
Form to sign up for email updates.
Soundcloud, Spotify, iTunes, and other music streaming platforms can be linked.
Links to Paypal, Stripe, and other payment processors.
First four options, on the other hand, are only accessible with paid premium subscription. They also hope to add sophisticated features like sign-up forms and embeddable email, an Instagram shopping page, and a custom form in the near future.
Key Characteristics
Smart Links – You can create links directly to messaging systems like WhatsApp, Facebook Messenger, Viber, Telegram and Skype using Messenger Smart Links.
Contact Form — One amongst the few link-in-bio forms which allow you to include a contact page on their homepage is ContactInBio. This removes unnecessary stages and allows potential clients to get in contact with you immediately.
Native Google Analytics Integration — Integrating Facebook Pixel and Google Analytics allows you to track visitor demographics to perform Facebook retargeting advertising.
Pricing Plans
Starting- Free
Yearly plan- $2.6 per year
Agency plan- $13.65 per year
Lifetime plan- $59.15 (one-time)
Lifetime Agency Plan- $177.45 (one-time)
4.2 Tap Bio – Best Tool For Instagram Influencers as well as for small business
Tap Bio is a link-in-bio application that allows you to create personalized, branded cards with links, photos, and messages to share with your Instagram followers. Your Tap. Bio link will appear in your Instagram bio, providing direct access to your website and other social accounts to your followers.
You can add cards to the tool and choose from a variety of card types, such as an image gallery, YouTube videos, Twitter posts, Instagram posts, and so on.
Each situation and call-to-action you would like to place has its own card. You can even include links so that people can contact you directly by phone or email. The UI of the "Instagram Links" card, on the other hand, is far too close to Instagram. Some viewers may object to being redirected to another Instagram-style interface.
However, some people may prefer this visual approach to text-based links. Finally, look at the statistics for each card to see how they're doing and which one is bringing in the most money.
Key Characteristics
Retarget Ads — Using Google AdSense, Instagram, and Facebook advertising, Tap Bio allows you to retarget your followers.
Stats and Analytics — Advanced analysis is aided by integration with Google Analytics and the Facebook Tracking Pixel.
Pricing Plan:
Basic (Free plan) – Lets you create only one profile card.
Silver ($3/month) – Up to three cards and view stats.
Gold ($8/month) – Unlimited cards, view stats, Facebook Pixel Tracking, and Google Analytics integration.
Platinum (Quote-based) – Same as Gold plan + custom branding.
4.3 Shorby – Best Social Media Tool For Large Organizations and Agencies
Shorby, a social media application makes sharing several links with an audience via social media platforms a breeze. The landing page can include a limitless number of links, as well as other key features including unlimited clicks, a personalized URL, and Facebook pixel integration. However, the $9/month starting plan is limited to 3,000 tracked links.
Some other features like modifying background images, the ability to add direct messenger links, native Google Analytics integration, and more are included. Some features, however, are available only with certain plans.
When it comes to configuration and themes, a variety of options as well as unique controls are provided. But there's nothing ContactInBio's $2.6 per month and even the free plan can't provide. Its simple-to-use interface featuring drag-and-drop allows you to put thumbnails above links.
Main Characteristics
Messengers – You may link to Facebook Messenger, WhatsApp, Telegram, email, Viber, and even your mobile number. This is a useful tool for e-commerce businesses especially.
Dynamic Feed – Customize your landing page using YouTube videos, Etsy products, Shopify categories, WordPress posts, Apple podcasts, and more.
Collaboration with a team – The most expensive plan lets you invite ten team members for working on up to 3 projects together.
Pricing Plans:
Rocket ($12/month) – This plan offers five landing pages, ten image links, no dynamic feeds, unlimited links per page.
Pro ($24/month) – Offers 50 pages, 50 links along with images, five dynamic feeds, unlimited links on every page.
Agency ($82/month) – Offers 250 pages, 500 links with images, five dynamic feeds, unlimited links per page.
Apart from the above, Shorby also offers a five-day trial period for free.
4.4 Campsite.Bio – Best Easy To Use Interface With Unlimited Features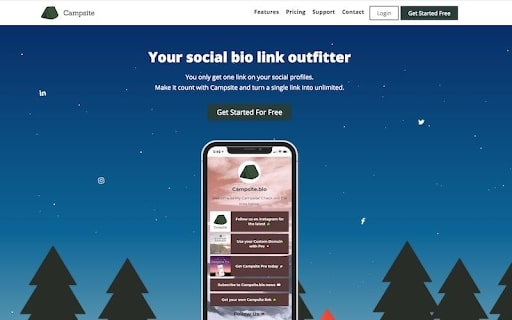 Another tool on our list is Campsite.bio, which allows the inclusion of infinite links on one single landing page and the option to link it to an Instagram bio. On the website, you can add links to your Instagram, Twitter, Facebook, and even email accounts.
With the inclusion of thumbnails/ images with standard links, the application is nearly identical to Linktree. However, there's no option to upload your own photographs; but you can use thumbnails from an Instagram feed.
You can also customize your theme colors and track where visitors are most likely to click. On the list, there are tools that provide significantly more customization choices and allow you to create more attractive sites. In other ways, though, Campsite's simplicity lends to its ease of usage. Simply copy and paste links, write a brief explanation, change the feel and style and hit publish.
You may also link your Campsite profile to your own website. It's also worth noting Campsite's strong native integrations. It works with Google Analytics, Google Sheets, Facebook Pixel, Canva, Google AdSense, and MailChimp, one of the many email marketing platforms. However, only the premium plan has access to these integrations.
Key Characteristics
Schedule Links — Before starting any new Instagram contest or campaign, schedule links to be published.
Carousels – Create as many carousels as you want with just as many banners as you could require.
Link Animation – Use animation to draw attention to a link.
Pricing Plans:
Free — Unlimited amount of links, branding control, track clicks, upload Instagram images, restore and archive links, and more.
Pro ($7/month) — Includes all the features of the free plan plus additional integrations, a daily analysis of your link click stats, a custom subdomain, and an animated link, among other things.
You may even test the Pro plans for free for ten days.
4.5 Bio.fm – Best link-in-bio Featuring Music Content Through Spotify
Bio.fm is a digital media aggregator that allows you to curate content from platforms such as YouTube, Instagram, Twitter, Medium, Facebook, and Spotify. You can also include an opt-in form for gathering emails, GIFs, links, polls, and other information.
You can also add several graphic blocks to your content in addition to regular links. You can also adjust the profile by rapidly moving the blocks down and up. You can display your information in a variety of ways after importing it from any social network. Posts from numerous social media sites come in a variety of layouts. You can also use icons or cards to highlight five social media accounts at once. Also, you can include several website links, a section about yourself, your LinkedIn page, and other information.
Key Characteristics
Make a Custom Theme — You have four pre-made templates to choose from, or you can create your own by experimenting with colors and fonts.
Question Polls and GIFs — You may use Bio.fm to add polls and dynamic GIFs to your bio page.
Pricing Plans:
Free – create an Instagram bio link forever.
Semi-Pro ($5/month) – Custom URL, remove bio.fm logo, Three extra blocks, customization options, and schedule in advance.
Pro ($10/month) – Similar to the Semi-Pro plan along with monitoring the user's view and click rate.
4.6 Link.Bio by Later – Best Link Sharing Platform For Tagging And Recreating Links To Insta Post
Later's link-sharing site, Linkin.bio, allows you to create and exchange short links to your favorite content. It allows you to create a unique landing page using the Instagram feed and tag links for the posts. You also can add several third-party links, blog links entries, or web pages as a custom link. These postings can even be made into shopping links.
Creating your own landing page won't take you more than a few minutes. Simply go to the backend, select the post, type a title, add your preferred link that you'd want to send to your audience, and click the "Add to Linkin.bio" button. A single post can even contain several links.
Integrating Linkinbio with Shopify is another approach to add shoppable posts; the solution has native Shopify connectivity. Shopify stores may even examine Instagram earnings directly from the source. You can track the visitors and sales from your Linkin.bio with Later's built-in statistics. Brands that wish to sell their products directly from the Instagram feeds can use Linkin.bio.
Key Characteristics
Shopify Products – Include shoppable links in Instagram photos by tagging your Shopify products.
Google Data UTM Tracking — To track sophisticated conversion and sales analytics, enable Google Analytics UTM Tracking.
Several Links Per Post – Each Instagram post can have five links.
Pricing Plans:
Lite Plan (Free – $12.50/month) – One link for every post, Later banner on landing page, no Shopify integration, Google Analytics UTM tracking, analytics.
Standard ($20.93/mo – $33.33/mo) – Lite plan + no Later banner, multiple links per post, and Shopify integration.
4.7 Taplink – Best Multi-Link Tool For Time Specific Offers and Contests On Instagram
Taplink is a tool with a multi-link option for Instagram that assists in generating sales and leads. It lets you add links to many other social accounts, blog articles, accept online payments, take orders, and more all on one page.
You can also include a sign-up sheet for collecting email addresses, instant message connections, and special offers. You'll be given many block kinds to which you also can add various content. There are distinct blocks for adding image carousels, movies, ordinary links, Messengers, custom HTML codes, and other features, for example. You can also use tools like high-converting text, countdown clocks, interesting videos and graphics, and more to personalize your page. They'll assist you in persuading your prospects and leads to select CTA button or perform a specified action.
Key Characteristics
Time-Limited Offer — Use Taplink's mini landing page to run a time-limited promotion or deal with countdown timers.
Frequently Asked Questions (FAQs) — Provide replies to FAQs using the answer block.
Order Management System – Taplink does have an order processing system that sends you an email whenever someone requests an order. It can also be used in conjunction with an external CRM.
Pricing Plans:
Basic (Permanently Free) – An unlimited number of links, headers, text blocks, Q&A blocks, page-views statistics, shared themes, and pre-designed themes.
Pro ($24/month) – All Basic features + link clicks analysis, customization options,, links to social networks, a scheduled display of blocks, links to messaging apps, Pixels, Facebook, etc.
Business ($54/month) – All Pro features + custom domain, countdown timer, accept payments online, CRM system, removable Taplink logo, notifications to messengers, etc.
4.8 ShortStack – Best Tool For Running Social Media Contest And Giveaways
ShortStack is a contesting platform that allows you to design landing pages to conduct social media competitions with ease. It can be used to run many contests, such as video contests, photo contests, quizzes, refer-a-friend contests, and user-generated contests. You'll get a lot of templates for use when running your contests, as well as a lot of customization possibilities.
Furthermore, each type of contest has its unique set of features. ShortStack, for example, allows you to construct customizable forms for competitors to enter consumer content competition. They can use the form to upload Instagram posts.
Using ShortStack's refer-a-friend feature and to notify viewers via scheduled emails, you can further motivate participants to spread the word. You can also deliver discount coupons to email subscribers via autoresponders. You can also integrate the contest-bearing landing pages on your business or personal websites, in addition to your social media biographies.
Key Characteristics
ShortStack's action-gating allows you to collect relevant consumer data in exchange for giveaways, a discount code, and more.
Style Panel — Modify font and text style, add widget designs, and more using a complete collection of stylistic choices.
Manage your Team — Give everyone on your team and clients their personal logins so they can stay informed. Different responsibilities can be assigned, and control access can be managed.
Pricing Plans:
Business ($79/month) – Refer-a-friend, Social media comment to enter contests, and instant win contests.
Agency ($159/month) – Same as Business plan + retweet contests, video upload contests, and hashtag contests
Brand – ($399/month) – Same as Agency plan + unlimited hashtag and retweet contests, five team member seats, dedicated account manager.
Enterprise (Custom plan) – Same as Brand plan + custom integrations, custom templates, custom settings.
4.9 Leadpages – Best For Creating Mobile Friendly Landing Pages
Leadpages is a website builder that allows you to host and construct landing pages. You may use Leadpages to construct your page, then use link shortening tools like Rebrandly to shorten the URL and add it to your social media bio.
You'll receive a lot of themes and customization possibilities because it's essentially a landing page builder. You even can customize the templates to fit your industry, aim, and color scheme, style. You can alter the color, element location, font, style, and other aspects of these templates.
There are also the following features:
Analytics in real-time.
Hosting is provided for free.
Templates that are mobile-friendly and SEO-friendly.
Facebook Pixel and Google Analytics are used to track your progress.
They also offer device-specific previews as well as customized social media previews, so you can see how the final page is going to look. Email campaign solutions and Integration with CRM software are also available. This means that you can include an opt-in form that directly leads to existing company tools.
Key Characteristics
A/B Testing — Run split tests on landing pages along with multiple element styles along with placements to see what works best.
Built-in Conversion Guidance — The in-app algorithm predicts the performance of your page and tells you what to change to increase conversions.
Tools – Advanced conversion tools, such as opt-in text advertising, email triggering links, built-in payment alternatives, and more, can be used.
Pricing Plans
Standard ($26/mo) – Unlimited leads, Free custom domain, mobile-responsive templates, lead notifications, 40+ integrations, email support.
Pro ($59/mo) – Same as Standard + A/B testing, email trigger links, online sales and payment, ten opt-in text campaigns.
Advanced ($239/mo) – Same as Pro + 50 extra opt-in text campaigns, five sub-accounts, etc.
5. Conclusion
These days, micro websites or social network bio tools are getting increasingly popular. Customers and brands use several social media platforms. It's understandable why producers and marketers want to include multiple links in a single location. The issue is that many social media networks only allow you to have one link in your bio.
As a result, Linktree arose as the ideal solution. However, it is no longer the lone player in this game. There are a variety of link-in-bio programmes that allow you to do more than merely curate links. Alternatively, you also can create your own website, fill it with whatever you like, and then link to it in a bio.
Do let us know in the comments below regarding which of these Linktree substitutes do you intend to use.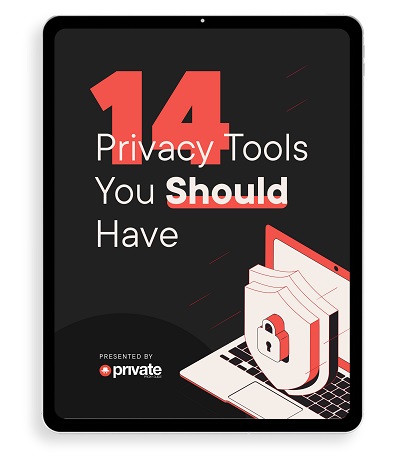 Learn how to stay safe online in this free 34-page eBook.