Since the dawn of the Pandemic, online learning has grown many folds. Several educators have gone online to teach without requiring physical classrooms. With the clouds of uncertainties still at large, there is no fixed timeline on when everything will go back to the way it used to be. Maybe they never will be. Therefore, it is essential to move with the tide.
Right now, is the best time to create your course online and sell it to prospective students. You can do that through online course platforms. They provide you an avenue to get started with creating a course with all the necessary tools. Once done, they also help in pricing it and marketing the package for high conversions.
What can all be done on online course platforms?
Create personalized courses for different types of students
Provide tools for customizing the course and help it stand out from the rest.
High conversion landing and sales pages templates for use in different sales funnels.
Design a dashboard for students for dropping new lessons and tracking their progress.
Interactive question-banks, quizzes for your courses.
Customized video player for your visual content.
And much more, according to the plans you subscribe to.
The train of online courses leaves the station soon as more people start creating courses through these platforms. Be among the first disruptors and have the first mover advantage before others. Here are a few of the best online course platforms that you can use for creating your course.
2. Best Online Course Platforms 2023
Who is the platform for – Teachable is ideal for users who are absolute beginners and have no idea where to begin. Their extensive video guide can help you sail through the initial tides.
Teachable is amongst the most popular online course platforms on the Internet. Started by a UC Berkeley grad who was teaching a marketing course at another platform before he decided that something better could be built. Ten years later, with more than a hundred thousand instructors on board, they have the experience and craftsmanship for creating your course.
They offer a free plan with a considerable number of features. Just after logging in, you are greeted by the option to create a product, which is what they call their courses. Don't just rush into it; look below that, and you will find a 40-minute long guide for getting started.
Pros
Connect your existing site to the Teachable platform using a custom domain that is provided by the platform.
Design and create the entire web page according to your plans. Take help of the HTML and block editor. Add custom CSS code to your pages for adding different elements.
Even if you are not familiar with designing a webpage, they have your back. Add your logo, favicon, and thumbnail with a click of a button.
An unlimited number of students are allowed on the free plan as well. This is great when you are starting with little seed money.
Add coupon codes for prospective students who are looking to enroll. Give them the CTA(Call-to-Action) as an incentive to act now.
Exclusive course creating training that walks you know the nooks and crannies of creating the courses. They include interactive tutorials that help as you progress in creating a course.
A members-only community for interacting with other course creators on the platform.
Cons
Payout options are not the best for non-US members. They have limited payment gateways for users who are living outside of the US.
High commission for lower plan users. Ten percent plus various charges, including the currency conversion (for non-US), really adds up.
Video uploader does not support files of over 1.5 GB in size.
The course seller cannot send non-monetizer videos to the enrolled students.
Pricing
| | | | | |
| --- | --- | --- | --- | --- |
| Plan | Free | Basic | Pro | Business |
| Price (annually) | Free | $29/month | $99/month | $249/month |
| Admin level users | 1 | 2 | 5 | 20 |
| Commission per sale | $1+10% | 5% | 0% | 0% |
| Custom Domain | No | Yes | Yes | Yes |
| Custom CSS Snippets | No | Yes | Yes | Yes |
| Support | Email | Email | Email and Live Chat | Email and Live Chat |
| Drip Course Content | No | No | Yes | Yes |
| Coupon Codes | No | Yes | Yes | Yes |
Who is the platform for – Thinkific is designed for clients who are expanding their enterprises. Have over four dozen admins to run your education empire.
Next up, we have an online course platform that follows the 14-step program to publish your course. Thinkific has a 4-section program, each containing four steps.
You can start on the free plan with a limited set of features. Housing limited course options it is enough to get the ball rolling. After logging in for the first time, a questionnaire will pop up. It will take in information regarding your and your course.
Pros
New course wizard to get you started right away. Design your course player and preview it at every step.
Up to 50-course admins/authors can be added to the higher plans. It is different from site admin accounts.
Flexible course pricing includes subscriptions, one-time payments plans, and add-ons.
Sell memberships and upsell by including bundles of courses.
Send your data to other tools using the Zapier triggers.
Live, on-demand, and a combination of both can be offered to the students.
Drag and drop website builder, which does not require any previous experience.
Cons
Certificate features are not available for all plans.
No built-in email facility for sending to the students.
A limited number of themes with narrow scope for customization without technical know-how.
No integration of social media marketing tools. Instead, they are referring to a third-party website.
Pricing
| | | | | |
| --- | --- | --- | --- | --- |
| Plan | Free | Basic | Pro | Premier |
| Price (Annually) | Free | $39/month | $79/month | $399/month |
| Admin user accounts | 1 | 1 | 2 | 5 |
| Course Admins/Authors | 1 | 1 | 5 | 50 |
| Custom Domain | No | Yes | Yes | Yes |
| Access to Thinkific App Store | No | Yes | Yes | Yes |
| Support | Email | Email and Live Chat | Email and Live Chat | Email and Live Chat |
| Live Zoom Classes | No | Yes | Yes | Yes |
| Advanced CSS/HTML Editing | No | No | Yes | Yes |
Who is the platform for – Proprofs is best for users who are new to course creation and like assistance in getting started.
Starting with Proprofs, a course platform that allows a 14 days trial. You can register an account or log in with different social media accounts. Reputable companies such as Sony, Adobe, Dell, Ford, amongst others, have used their service. That puts out the statement about trust and integrity.
They offer a wide variety of different services, which is why you have to navigate through a lot to find the courses creation section. Once you find the right place, just log in and get to the dashboard.
Pros
Thousands of course templates that you can use to get a head start. No need to start from scratch.
Templates don't feel enough? Try using the full-fledged courses of different niches. Complete course packs made by professionals that you can just pick and make the desired changes. Call it your course without doing the heavy lifting.
Video-conferencing based demo for getting started when you are clueless about where to begin. Schedule it according to your time of convenience.
Import quizzes, assignments, and other material from other LMS without a hiccup.
Design print quality certificates for the learners to print by themselves. Available in all but essentials plan, which offers web quality.
Add other people as invigilators, administrators to help you monitor the learner's progress and overall performance.
Sell courses on ProProfs' own marketplace. Get paid directly there with zero commission while using the Stripe gateway.
Cons
Limited features in the trial account make it difficult to get a good idea about the whole service. A full-fledged free seven days account would be a better idea.
Expensive price structure for people with a low budget. A progressive pricing policy would help smaller creators prosper on this course platform.
No direct link-based URL for sharing the quizzes, course material. The enrolled students must log in to access anything on the website.
The design options could use a refresh. Given that the competitors are leaving no stones unturned, ProPofs could use newer designs for their course's creation toolset.
Pricing
Plan
Essentials
Premium
Enterprise
Price (Annually)
$3.5/month
$6/month
Get in Touch
Instructors
1
2
Unlimited
Storage
5 GB
Unlimited
Unlimited
Certificate Quality
Web quality
Print Quality
Print Quality
Quiz Maker
Quiz Make Essentials
Quiz Make Premium
Quiz Make Enterprise
Groups
5
Unlimited
(also includes sub-groups)
Unlimited
(also includes sub-groups)
Access to Customizable Courses
No
Up to $1500 worth
All
Roles, Permissions & Collaboration
No
Yes
Yes
Who is the platform for – Perfect for users who don't want to run to different places for different tools. Offering everything under one roof, they help save time and provide convenience.
Kajabi is a popular content marketing platform considered the elite of creating and selling courses online by the experts. They do not offer a free account but a trial for which you will need to enter the payment details.
It is amongst the few online platforms that offer all the tools in one place without requiring 3rd-party integration. Everything under one umbrella without needing to look elsewhere. They put extraordinary emphasis on marketing and sales, essentially putting your course out there.
Pros
Feel-good and commendable "onboarding" process that takes you through the entire process. This is quickly followed by an extensive guide and access to the Kajabi University for learning everything inside and out about how to make it work.
CRM, membership area, landing page, affiliate programs, and assessment forms, amongst other things. Everything in one place, without needing to leave the platform.
Intuitive mobile application that can be accessed from anywhere with the Internet. The seamless access to the courses for the customers helps improve the completion rate.
Lead generation and product launch tools for helping your course get a head start. On top of that, use the marketing webinar funnels for amping your conversion numbers right away.
Effortless and easy-to-use interface. Designed for uses with minimal computer knowledge.
Advanced automation helps in decreasing unnecessary workload.
Responsive 24/7 live chat support, which comes in handy when you are in gridlock.
Cons
No community feature for students and teachers.
Limited payment gateways, supporting only PayPal and Stripe.
Expensive plans as compared to the competitors.
Email campaigns are notorious for landing spam boxes.
Pricing
| | | | |
| --- | --- | --- | --- |
| Plan | Basic | Growth | Pro |
| Price(annually) | $119/month | $159/month | $319/month |
| Admin users | 1 | 10 | 25 |
| Courses | 3 | 15 | 100 |
| Website | 1 | 2 | 3 |
| Ability to Remove Kajabi Branding | No | Yes | Yes |
| Chat Support | Normal working hours | 24/7 | 24/7 |
| Affiliate Program | No | Yes | Yes |
| Code Editor | No | No | Yes |
Who is the platform for – A good fit for course creators who are detail-oriented. Have more control over your courses and a custom payment gateway, reducing the cost of transactions.
Ruzuku is advertised as a friendly course creator platform. They emphasize being easy-to-use and hands-on for first-time users.
Similar to Kajabi, Ruzuku does not offer a free plan. You have yourself a 14-day unlimited user trial to try virtually all the features onboard.
Pros
Zero transaction fee across all the plans. This is important when you are just starting, and the enrollments are low.
Up to 50 courses, admins/authors can be added to the higher plans. It is different from site admin accounts.
A dedicated account manager will be assigned to you in the top plan. They will take care of all your support needs and other requirements regarding the account.
Daily backups of your account to ensure that you never lose your course in any unforeseen circumstances.
Students can post media in response, such as PDFs, images, videos, and text.
Host video broadcasts with the slides, text and also take advantage of the auto-recording feature.
Accept payments in your gateway. They also have PayPal and Stripe for convenience.
Cons
Lack of detailed video tutorials for beginners.
Canceling a plan is a hectic task.
Limited customization on the sales page template.
There is a limit of 100 people on the webinar that you host for the enrolled students.
Pricing
| | | | |
| --- | --- | --- | --- |
| Plan | Bootstrapper | Up-and-Comer | University |
| Price (Annually) | $74.75/month | $83.08/month | $125/month |
| Admin user accounts | 1 | 1 | Multiple |
| Course Admins/Authors | 1 | 1 | Multiple |
| Custom Domain | No | No | Yes |
| Unlimited Webinars | No | Yes | Yes |
| Subscription and Payment plans | No | Yes | Yes |
| Customer Support | Comprehensive | Comprehensive | Comprehensive and Dedicated Account Manager |
| Polls and Quizzes | No | Yes | Yes |
Who is the platform for – Podia is an excellent match for course creators looking for an affordable platform with the most email subscribers.
Podia is all about getting the most out of your money. They offer a lot of features in their basic plan, called the Mover. Just like Ruzuku and Kajabi, they also offer a two-week trial.
After registering, you will get the option to join the weekly live demo. See the general setup in real-time being taught by the platform expert.
Pros
Pre-sell courses even before you launch them. Create hype around it, sort of like a crowdfunding campaign.
No transaction fee on the sale of any of your courses. All the money goes to you through PayPal or Stripe.
Include video lectures in your course without a sweat, as the unlimited video bandwidth is available on the platform.
No ceiling on the level of members' plans, offering different perks, content, and fees.
Offer a free trial to prospective customers before they decide to purchase the course.
Free transfer and setup of your courses for users who are subscribing to the annual plans.
Advanced email campaigns with segmentation and automation for selling more products to customers.
Cons
Email campaign kits are limited when compared to platforms such as Ruzuku.
Adding co-authors/admins requires you to pay $20/month on all plans except in Earthquaker.
No scope with CSS/HTML coding to customize the pages.
Needs better categorization of products offered by the seller.
Pricing
| | | | |
| --- | --- | --- | --- |
| Plan | Mover | Shaker | Earthquaker |
| Price (Annually) | $39/month | $79/month | $179/month |
| Admin user accounts | 1 | 1 | 5 |
| Sell Membership | No | Yes | Yes |
| Course certificates | No | Yes | Yes |
| Unlimited Webinars | Yes | Yes | Yes |
| Monthly Email Recipients | 5K | 15K | 50K |
| Team Seats | No | No | 5 |
| Dedicated Account Manager | No | No | Yes |
Who is the platform for – Course creators who want an aesthetic flair in their courses. The lesson plans don't need to look dull and mundane, like a copy of other courses.
Swerving to a course platform that keeps aesthetics on the table. LearnWorld's extensive library of themes is a testament to its mission. Your courses don't compulsorily need to have mundane and monotonous visuals accompanying them.
Unlike the majority, LearnWorlds offers a month-long trial period. You can take your sweet time before making a purchase decision.
Pros
Create an extensive question bank for your courses and connect them to multiple courses.
Personalized digital certificates with your branding.
Integrated social network for building a community of your own.
Show auto-generated and synchronized transcripts on the videos of your course.
Advanced video viewing statistics, consisting of interaction, behavior, and more.
Students can take advantage of the multiple and innovative ways of taking notes.
Soundcloud integration for all your copyright-free requirements.
Cons
The site builder feels incomplete and missing the Midas touch.
Lack of reliable payment gateways for third-world countries.
You need to wait for 24 hours before sending the drip course to a user.
Lack of save option for specific sections of the course. You need to save it entirely or lose progress.
Pricing
| | | | |
| --- | --- | --- | --- |
| Plan | Starter | Pro Trainer | Learning Center |
| Price (Annually) | $24/month | $79/month | $249/month |
| Admin user accounts | 1 | 5 | 20 |
| Transaction fee per sale | $5 | No | No |
| Course certificates | No | Yes | Yes |
| Support Email | Email 24/5 | Email 24/7 | Email 24/7 |
| Mobile App(White Labelled) | No | No | Yes |
| Live Class, Webinars, and Meetings | No | No | Yes |
| Copyright – Video Watermark and PDF Stamping | No | No | Yes |
Who is the platform for – Educators from universities, schools who prefer taking live virtual classes due to logistical constraints and their courses would fit right in.
A cloud-based online course platform that emphasizes both PC and mobile users. Their USP has been virtual classrooms apart from providing a platform for course creators.
While on the trial period of a fortnight, you get 5 GB of cloud storage to get started. You get a quote of 5 learners in the trial plan along with unlimited attendees for the virtual classroom.
Pros
A well-versed mobile app for creating and managing your courses. Create courses, mocks, tests, and deliver live sessions from the mobile app itself.
Import your course PowerPoint presentations and turn them into courses with the course builder.
Deliver classes using the live virtual classroom without any cap on the number of attendees.
With the exam builder, create tests in nine different formats. They can be laced with videos, photos, and more.
PCI compliant integrated systems are considered amongst the most reliable payment systems.
Integrate CMS such as WordPress, Joomla, and Drupal, amongst others using the plugging integration.
WizIQ NextGen for next-generation management of online learning.
Cons
Dearer plans with no room for small starters.
Lack of certificates for course learners.
Single whiteboard for virtual classroom sessions.
Few languages are supported on the platform.
Pricing
The plans start at $25/month, but there is ambiguity regarding the exact price. We asked live customer support, but they did not give an exact quote.
| | | |
| --- | --- | --- |
| Plan (Annually) | Professional | Enterprise |
| Students | As per Plan | As per Plan |
| Cloud Transfer | 25 GB | 50 GB |
| Number of Tests | Unlimited | Unlimited |
| Course certificates | No | No |
| Commission on Selling Courses | No | No |
| Support | Email | Email, Telephone, LiveChat (24×7 Live Support) |
| Custom Stripe Payment gateway | No | Yes |
| Mobile Apps with Your Branding | No | Available as an Addon |
Who is the platform for – Made for users who are not looking to invest a considerable amount of money. If you are looking for the cheapest option to get started, GuruCan is the way to go.
GuruCan is amongst the few course platforms that are openly GDPR compliant. It started in the midst of 2019, a relatively new service that is making great strides.
They offer a week worth of trial without requiring a credit card. You can either create an account or use your Google account to log in.
Pros
Design and create automatic marketing pipelines that help sell your course without requiring manual effort.
White label website and mobile app, where you can place your branding.
No cap on multimedia storage. Upload all the videos and photos you want without worrying about space quota.
An unlimited number of memberships on all the plans.
Push-notifications are enabled by default for you.
Receive recurring payments on your memberships with tailored subscription plans for different customers.
Zero transaction fee on all the plans.
Cons
Email footer is static and hence cannot be edited.
No chat feature for engagement with the students.
A 200-character limit in the quiz section.
Lessons and courses cannot be imported to the platform. You will need to start from scratch or manually copy-paste.
Pricing
| | | |
| --- | --- | --- |
| Plan | Creator | Expert |
| Price (Annually) | $26/month | 65/month |
| Users | Unlimited | Unlimited |
| Courses | Unlimited | Unlimited |
| Emails | 2,500 | 5,000 |
| Custom Domain | No | Yes |
| Transaction Fee | No | No |
| White label Website | No | Yes |
| Integrations | No | Zapier, Webhooks, API |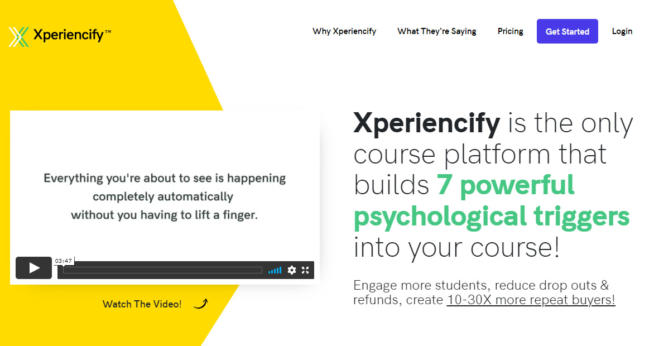 Who is the platform for – People who want to improve their course completion and conversion rates. Ideally, organizations who take up such courses in bulk for their employees would prefer completion over other things.
Based on the much-advertised triggers for your course, Xperiencify banks on user behavior data to improve completion rates.
You can give the free trial a try by filling in your credit card information during registration. Make sure to remove it after the trial to avoid automatic charges on the card.
Pros
Features are designed keeping in mind the seven triggers that can be added to the courses.
In-built Zapier integration and you can use it for tagging it with the CMS.
Points (XP) system for students to feel a sense of achievement in quantified terms. Gamify the course to make it more fun and intuitive.
Experience engine for tailoring the best experience for the students, based on the ongoing trends and behavior.
Add captivating sound effects in rewards, completion, and more.
Choice of 3-5 points in the drip content plan system.
Content tracks for keeping two flows of content – Advanced and Simple.
Cons
Limited scope in designing the page layout.
The community section still needs work.
You need to use Vimeo for uploading videos to the platform.
Importing a course from a different platform is real work. The structure of Xperiencify is different from others, so it is a hectic task.
Pricing
| | | | |
| --- | --- | --- | --- |
| Plan | Launch | Growth | Scale |
| Price (Annually) | $49/month | $149/month | $499/month |
| Students | Unlimited | Unlimited | Unlimited |
| Courses | Unlimited | Unlimited | Unlimited |
| Drip Content | 3 Options | 4 Options | 5 Options |
| Content Tracks | 1 | 2 | 2 |
| Transaction Fee | 4.9% | 0% | 0% |
| Experience Engine | Core | Advanced | Advanced |
| Custom Domain and Email Sending | No | Yes | Yes |
Who is the platform for – Creators who want complete and utter control over the course, and want to track every aspect of lessons being taken by the students.
Pathwright takes course creation on an innovative path. By providing more control to the teachers, you can analyze what works and what needs to go.
There are two ways to access the trial. You can use the free version without putting in billing details or access any plan for a few days with the payment details.
Pros
Send Learner's Digest daily, weekly, or monthly to your students.
Keep a watch in real-time on your learners. See which page they are currently reading while logged in.
Elaborate notification that sends alerts when a student requires your attention.
Set up automatic grading for giving points when a specific part of the course is completed.
Embed virtually any external content on the platform.
The Ask to Answer feature lets you assign questions to specific students who are well versed in the specific topic.
Integrate with Google Analytics, Intercom.io, and others to analyze foot traffic and behavior in microscopic detail.
Cons
Need more content blocks customization.
The startup guide lacks depth, which needs to be detailed, explaining all the features.
Team members cannot view/manage one course together.
Fewer staff members are allowed on the started plan.
Pricing
| | | | |
| --- | --- | --- | --- |
| Plan | Starter | Essential | Complete |
| Price (Annually) | $89/month | $179/month | $449/month |
| Students | Unlimited | Unlimited | Unlimited |
| Courses | Unlimited | Unlimited | Unlimited |
| Staff Members | 1 | 5 | 20 |
| Use own domain | No | Yes | Yes |
| Transaction Fee | 2.9%(charged by Stripe) | 2.9%(charged by Stripe) | 2.9%(charged by Stripe) |
| Support | Email Support | Priority Email Support | Priority Email Support + Live Chat |
| Cohorts (group Learning) | 1 | 3 | Unlimited |
Who is the platform for – Course creators who have a site ready and would like the packages designed for displaying on their own platform.
We did not expect this level of usability from Teachery. You register an account, and within a few seconds, we are setting up the outline/structure of the course.
Billing details are not required to use the trial plan, which expires within two weeks of activation.
Pros
Custom locked course screen page, which you can design and decorate as you like.
Email integration with services such as MailChimp and ConvertKit.
You can set up individual domains for every course that is created on the platform.
Course introduction and completion emails that can be set up with automation.
Foster a community with the integration of Disqus on the course.
Monetize new lessons that are added to an old course.
Customize your course with the course-style editor. Be it fonts, buttons, background colors, or even the sub-lesson colors, change them all.
Cons
Do not host any of the content. You will need to host your videos, images, presentations, and more, embedding them on the Teachery course.
No quizzes, surveys, or even course completion certificates.
Lacks course marketing and sales funnel tools.
No automation for course rewards and lesson completion.
Pricing
Two plans are offering the same features. The only difference is the duration and the consequent saving on subscribing to the long-term plan.
| | | |
| --- | --- | --- |
| Plan | Monthly | Yearly |
| Price | $49/month | $470/year |
| Students | Unlimited | Unlimited |
| Courses | Unlimited | Unlimited |
| Custom HTML Support | Yes | Yes |
| Custom Domains | Yes | Yes |
| Promo Codes and Discounts | Yes | Yes |
| Lesson Drip Scheduling | Yes | Yes |
| Transaction Fees | 0% | 0% |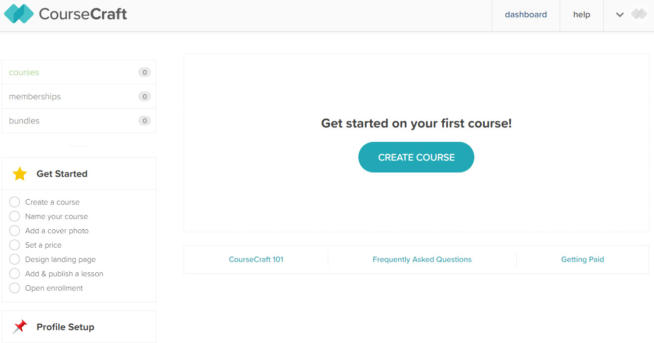 Who is the platform for – Individual teachers who are on low budget with a formidable number of offline students looking to go online.
CourseCraft is for educational entrepreneurs who want to expand their academic demographics with new courses.
They offer a free plan which is not a trial per se. Other than that, the platform offers two premium plans which will be discussed later on. You can log in through social media platforms such as Twitter, Facebook, and Google.
Pros
Create private courses which have restrictions on their access. Only people with the access code can access it.
Add collaborators to your courses, and they will be able to edit, revise your lessons, amongst other things.
User-friendly site editor that does not present a load of options to confuse you. Upload images, videos, and more to create more lessons without worrying about the complex settings.
Manage and pay affiliates of your course from a centralized dashboard.
Customize your course URL to reflect what's in the store. Pro Tip – Also helps in SEO.
Auto geolocate your customers at the checkout page and help facilitate the process.
Add custom styles and scripts to your course using the code editor.
Cons
Lackluster customer support doesn't cut it all for a platform of this nature.
Drip lesson scheduling lacks a variety of steps.
Non-existent marketing tools for your course.
Lacks webinar option for live classes.
Pricing
| | | | |
| --- | --- | --- | --- |
| Plan | Free | Club | Society |
| Price (Annually) | Free | $31/month | $63/month |
| Students | 100 | Unlimited | Unlimited |
| Courses | 3 | Unlimited | Unlimited |
| Custom HTML Support | No | Yes | Yes |
| Use your Custom Domain | No | No | Yes |
| Support | Standard | Standard | Priority |
| Collaboration | No | No | Yes |
| Transaction Fees | 9% | 0% | 0% |
Who is the platform for – Educational entrepreneurs looking for a combination of course creation, coupled with a full-fledged LMS integrated with it.
Spayee is an online course platform that also doubles as an LMS (Learning Management System). You can host it on your servers.
Apart from a free plan, they offer four different plans, which offer value for money if you are starting out.
Pros
Dynamic watermarking for your videos ensures the course always carries your signature. On top of that, they have anti-screen recording and mirror checks in place for preventing any theft of your course.
Zoom and YouTube integration for live classes. No need to purchase a premium Zoom license as Spayee takes care of that.
Conduct and invigilate live tests for your students.
Choose from a plethora of payment gateways that work around the world.
Advanced marketing tools for capturing the leads to sales and beyond. Start working on the sales aspect while designing the course itself.
Launch your affiliate program, setting the policies according to what the market demands.
Add a referral program that lets learners refer new students to the course. They will earn cashback rewards for referring to an enrollment.
Cons
Lacks a variety of template options.
The analytics dashboard lacks the necessary details and needs to provide more details.
More email providers integration is the need of the hour.
Help and guide articles could use a refresh of the content.
Pricing
| | | | | | |
| --- | --- | --- | --- | --- | --- |
| Plan | Free | Basic | Pro | Business | Advanced |
| Price (Annually) | Free | $36/month | $63/month | $128/month | $228/month |
| Students | 200 | Unlimited | Unlimited | Unlimited | Unlimited |
| Courses | Unlimited | Unlimited | Unlimited | Unlimited | Unlimited |
| Admin Account | 1 | 1 | 3 | 6 | 16 |
| Custom Domain | Yes | Yes | Yes | Yes | Yes |
| Support | Standard | Standard | Priority | | |
| Spayee Branding | Yes | Yes | Whitelabel | Whitelabel | Whitelabel |
| Live Class Users | 200 | 300 | 500 | 500 | 500 |
3. 7 Tips on Creating Your Own Course
Having the right online course platform is not enough in this decade. Competition is cutthroat, and people are leaving no stone unturned to craft their course. Here are few handy tips to get you started.
3.1 Pick the Right Subject
You cannot just barge in and start a course based on your favorite subject. That's not what customers are looking for. Find a problem that requires a solution by a sizable amount of audience.
For instance, suppose you have expertise in digital marketing. Therefore creating a simple course titled "Digital Marketing" is not going to cut it. You can go with "Basic of Digital Marketing" or even "Learn Digital Marketing for better online conversions."
3.2 Create a Course Outline
A man needs a plan, and your course deserves no less. Create an outline containing the lessons that will be covered in the course. That helps you get started and lays the path for the action forward. You can individually elaborate on each lesson and give yourself enough time to do justice to every one of them.
3.3. Don't Start from Scratch
Take advantage of the course template offered by many of these platforms. Starting from scratch is not always the wisest option. Save your time and work on the core of the course, leaving the unessential to the templates.
3.4 Price Your Course Right
Your prospective customer is standing at the door of your course page. The right price will nudge them in the right direction. Have a look around and see how people with similar courses are pricing it. Try to match their prices and offering extra discounts for immediate enrollment(CTA – Call to Action)
3.5 Start for Free and Build A Reputation
Have a look at the popular courses on Udemy and Skillshare. They all started by offering their course for free and raked in good reviews. That helped them in creating a base for their future courses as well.
3.6 Market Your Course
Marketing is the lifeblood of a product. You cannot let your excellent course lie dormant just because you didn't market it enough. Use email marketing, social media marketing for spreading the word out to the right demographic.
3.7 Build a Community
Once your course has taken off, it's time to build a community around it. It not only helps the students but the course creators as well. Communities help get the good word about your upcoming courses as well.
4. FAQ (Frequently Asked Questions)
Do I need to be an expert in creating courses?
Not at all; all you need is the knowledge of the course topic you plan to create. Online course platforms are incredibly helpful in doing all the heavy-lifting while focusing on creating an amazing learner experience.
Is it necessary to subscribe to a premium plan?
Most platforms offer free or trial plans with features that can give a decent mileage. Once your course gains traction, you can invest in the subscription to take things forward.
Can I embed the course on my site?
The majority of these learning platforms offer LMS (Learning Management System) that can be embedded into your websites. Once you have created a course, you can also use embeddable course buttons that will land on the platform.
How to Market my Course and ensure more Enrollments?
Take advantage of the marketing tools offered by these course platforms and start applying them even before the course is published.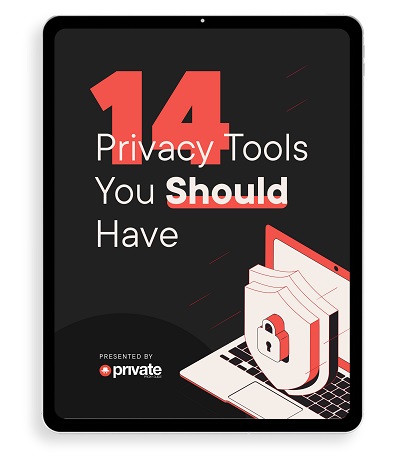 Learn how to stay safe online in this free 34-page eBook.