Compared to iOS, Android is an open-source operating system with an imposing degree of freedom and customization. However, for some users, that's all but enough and more often than not, they're looking to root their device to gain access to more features and unlock their phone's full potential.
Rooting is a process that grants you complete control over your Android device. With it, you can remove bloatware, unlock bonus features, block ads in all applications, and even increase your level of performance. Beware that rooting, in general, can be quite risky.
Not only can you brick your phone but also lose your warranty and get something called Android malware. Rooted phones, while more capable, are also more susceptible to online threats, which is a risk that some people won't take.
Still, if you're looking for the best root apps for Android phones, you've already made up your mind. Thus, I'm going to talk you through the best apps for this purpose and analyze each of them to make sure you learn more about each entry as you go.
1. Best Root Apps for Android in 2023
The best root apps for Android that I'm going to present are mostly free. However, know that some applications offer paid options for additional features that you will or won't need. The good thing, as I said, is that most of them are free, so you can download them and start using them immediately.
Without further ado, here are the best root apps for Android that will let you take total control of your device: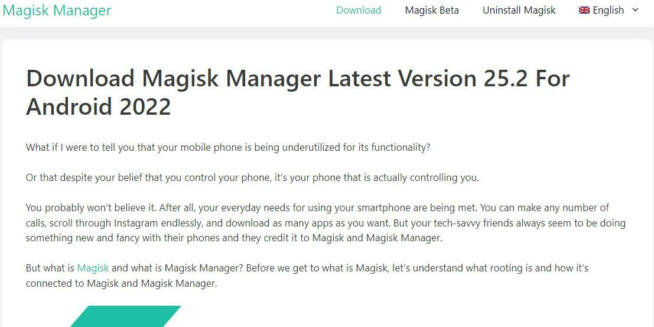 If you're looking to root your Android phone safely and securely, Magisk Manager is probably the best choice. Magisk Manager is famous for offering the so-called systemless root, which offers plenty of benefits and reduces the risks that come with rooting.
For the start, even after rooting, it will allow you to receive relevant security and OTA updates as if your phone isn't rooted. Magisk Manager can hide your root status, which will allow the apps that require the SafetyNet feature to still function properly.
When the app uses SafetyNet to check on your root status, it won't see anything, which will allow you to use it properly. Some of these apps include Netflix but also banking/financial apps that won't work on a traditionally rooted Android phone.
Even better is the fact that Magisk Manager is very simple to use. With a single tap on the button, it will root your device, allowing you to get more access to its otherwise hidden features. Of course, Magisk Manager is completely free, although you can't find it on Google Play.
You'll have to, instead, use a third-party website to download it. Beware that, even though Magisk Manager is safe to use, there's still a small risk of voiding your phone's warranty. And if you have a $1,000+ phone, I doubt it's something you want to do.
As with every other app on the list, proceed with caution and you'll be good to go. I've left a safe download link below, by the way, so if you're unsure where to download it, check it out.
Download: Magisk Manager
Pros
Systemless root
It can hide your root status
It's very simple to use
Completely free
Allows you to get OTA updates
Cons
Not available on Google Play
Framaroot has been on the market for quite some time. I vividly remember trying to root my Android tablet a few years ago, which ended up being quite successful in giving me better performance and longer battery life, even though I picked up the cheapest tablet.
That said, Framaroot is pretty impressive and is one of the best root apps out there. With a single tap on the screen and without any coding, you can root your phone/tablet in less than 30 seconds. What's more, you can even unroot the device if you've made up your mind.
How to use Framaroot, you might ask? Well, simply install the app, open it, and tap on Install SuperSU. From there, Framaroot will complete the process, after which, you'll need to restart your device and you'll be good to go – that is if the process is successful.
Speaking of which, Framaroot supports a boatload of devices, which you can find on its official sites. Although the last update was in 2018 at the time of writing, Framaroot still works with many newer phones and tablets, requiring at least Android 2.3 to work properly.
All in all, it offers multiple options and exploits, it's free, and it's safe to download from the official site. Just be aware that Framaroot uses a traditional procedure, so your root status might be detectable by some apps, unlike Magisk Manager that masks this status properly.
Download: Framaroot
Pros
One of the oldest solutions
Quick and easy rooting
Unroot option
Works with Android 2.3 or above
It's 100% free
Cons
Traditional root method (root status can be detected)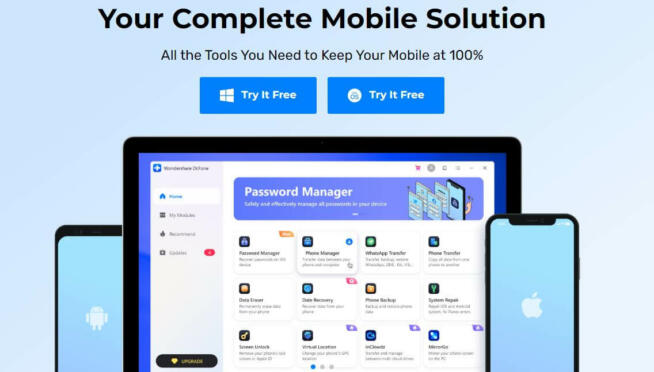 Dr.Fone Root comes from the Wondershare company, the same company that developed Filmora and other notable software. Unlike Framaroot, Dr.Fone is frequently updated and at the time of writing this article, it supports more than 7,000 devices.
Even better is the fact that Wondershare claims that its root app is 100% safe and secure and won't void your warranty! Dr.Fone-Root lets you perform various processes to make your Android experience better. You can remove ads on a system level and install blocked apps.
Moreover, it's free to use, and to root your phone, you need a Windows PC. However, everything is done with a single click, so it's nothing too complicated. Once you complete the process, you can update Android to its latest version, uninstall annoying bloatware, and extend your battery life.
Much like Framaroot, you can use it to unroot the device and restore the system settings to their default. Wondershare offers its Full Toolkit for both Android and iOS if you're interested in jailbreaking, which is much harder than rooting.
The Full Toolkit includes features like system repair, data eraser, phone manager, password manager, WhatsApp transfer, and many other useful options. It costs $79.95 and it's a one-time purchase, although, if you want a Windows version that does the same, it'll cost $139.95.
Download: Dr.Fone-Root
Pros
Support for more than 7,000 devices
It won't void your warranty
You can uninstall bloatware
Offers a toolkit for iOS in addition
Works well for extending battery life
Cons
Expensive premium version
It requires a Windows PC to work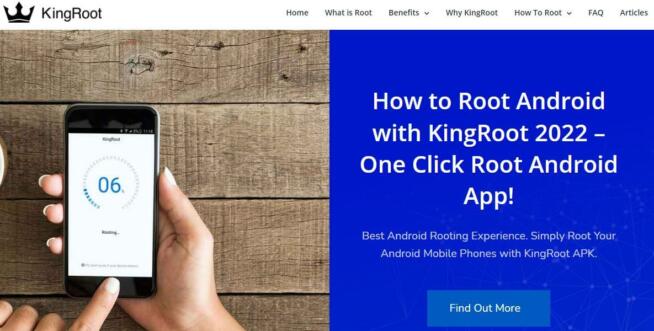 KingRoot is yet another popular root app for Android that takes pride in being simple and effective. As the developer says, the app is made for lazy people who want all the benefits of rooting their phones, yet, they don't want to get their hands "dirty."
The application takes advantage of system exploits, using them to root your device in an instant. However, the trick is that the app isn't updated frequently, so it's better to use it on a slightly older device, although users reported that it will work with newer devices in some cases.
The last version, at the time of writing, is the one from 2019 and I found it great for some of my 2-year-old Samsung phones. KingRoot can also unroot your device, but if you're looking for rooting, know that it works best with Sony and Samsung phones.
Besides, it won't trigger their KNOX and RIC security measures that could brick your phone and prevent the process from being completed. Once you use KingRoot, you can access more features and fully customize your phone to your accord.
KingRoot is 100% free and you can download it from its official site safely. KingRoot also offers a Windows app but I prefer its Android app that lets you do everything on your phone. With a single tap on START ROOT, it'll do everything for you, restart your phone, and get it ready for use.
Additional features include removing system apps, managing auto-start, and purifying your system to make it run faster.
Download: KingRoot
Pros
It uses system exploits for rooting
Unrooting functionality
Works well with Sony and Samsung phones
Offers Windows and Android apps
Cons
It works mainly with older phones
Isn't updated frequently

One annoying thing about Android apps is the presence of ads. Admit it, you hate them as well, but you understand that this is the developer's way of making at least some money. Alas, despite your understanding, you're still looking to block ads on a system level.
If that's your story, you can try AdAway. As its name implies, this root app lets you completely remove all ads from all applications, making your enjoyment that much higher. AdAway offers additional abilities, such as blacklisting and whitelisting certain domains and logging DNS requests.
Furthermore, there's an automatic hosts file, as well as the ability to see how many ads you've blocked. The app is fairly simple and clicking on the "play" button will start the process of blocking ads. I also need to add that AdAway is updated very frequently to improve its ad-blocking capabilities.
This way, it will work even on unrooted devices, so you can use it risk-free. One thing I noticed, however, is that its ad-blocking capabilities can slow down older and slower devices as finding and blocking ads is resource-taxing, especially for older chipsets.
If you use a newer phone with at least a mid-range chipset, you won't have any issues. Besides, AdAway is free and you can download it from the official site where it'll reroute you to GitHub or F-Droid to complete the download process.
Download: AdAway
Pros
Blocking ads on a system level
Blacklist/whitelist functions
Logs DNS requests
Works on unrooted devices
Cons
It can slow down low-end chipsets
Odin is one of the best root apps for Samsung phones. To be precise, it'll work only with Samsung Android devices, allowing you to flash different versions of Android, both new and older versions. The app works on Windows, so you can't download it on your phone.
For me, that's not a problem, as it allows for one-click rooting of your Samsung phone or tablet, with a high degree of success. If you don't want to take advantage of additional features anymore, Odin lets you unroot the device and get back to default settings.
Moreover, Odin lets you flash your ROM and install a custom ROM, which lets you make the device function exactly as you want. Odin supports the auto-reboot feature but it can also re-partition your memory to make it run faster.
Everything is done via a Windows app, but also a USB cable that you use to connect the phone to your PC. Once you select the options you want, all you need to do is click on Start and the app will do the job. The Reset button returns your phone to default settings if that's what you want.
Finally, I should mention that Odin is free, so if you're on a tight budget and you want to root your Samsung phone, you can try this option without any risk.
Download: Odin
Pros
One-click rooting
Flashing and installing a custom ROM
100% free
One of the best solutions for Samsung phones
Cons
More suitable for older phones
Works only with Samsung devices
File recovery is one of the biggest benefits of rooted phones. However, it wouldn't be possible without useful apps, one of which is DiskDigger Photo Recovery. Its name is self-explanatory and it tells us that it lets you recover deleted photos and even videos.
DiskDigger doesn't require you to root your phone but to take full advantage of it, your Android device should be rooted. In this case, DiskDigger can fully scan your memory and find deleted photos and files more efficiently, which lets you recover them easily in return.
After all, recovering files DOES require root access, so it's the only way. DiskDigger sports a fairly intuitive interface. It can automatically scan for removed photos and show them to you in the form of a Gallery app on your phone, making it even more recognizable.
From here, you can save photos locally on your phone, recover them, or upload them to FTP. Albeit, the last option is reserved for the Pro plan which will cost you $2.99. This version, however, lets you recover other types of files, in addition to, of course, photos and videos.
DiskDigger is free to download from Google Play, therefore, not requiring you to visit any third-party website to get it.
Download: DiskDigger
Pros
It can recover deleted photos and videos
Root access is not mandatory
Recognizable and easy-to-grasp interface
You can save files locally or upload them to FTP
Cons
The backup of other file types is locked behind a paywall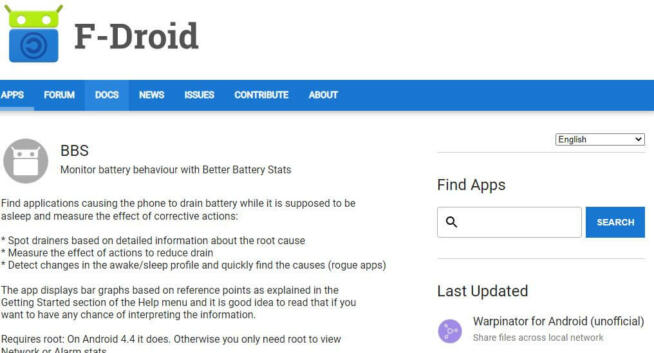 The battery is, in many cases, the first thing that starts showing signs of aging in your phone. Because of that, it drains faster, reducing the overall screen time, which feels discouraging. Before you throw your phone away, you can try this BetterBatteryStats app.
In many cases, the problem lies in the background apps that drain your battery all the time without you knowing anything about it. Well, BetterBatteryStats is here to detect those apps and processes, but also determine their impact on your battery life.
By knowing this information, you can disable those processes or change the way they work to maximize your battery life. BetterBatteryStats won't require you to root your device for basic monitoring. But if you want to tweak your Sleep/Wake profile, rooting is indeed required.
This way, you can fully customize these profiles which sometimes aren't optimized well by phone manufacturers. BetterBatteryStats can, therefore, fix the problem of rogue apps that are known to drain your battery and impact the performance of your phone.
If you don't mind downloading it from F-Droid, you can do so through the link below. Unfortunately, BetterBatteryStats is removed from Google Play but it's still safe and free to download.
Download: BetterBatteryStats
Pros
Drastically improves battery life
Lets you see rogue apps
It can tweak your Sleep or Wake profile
Cons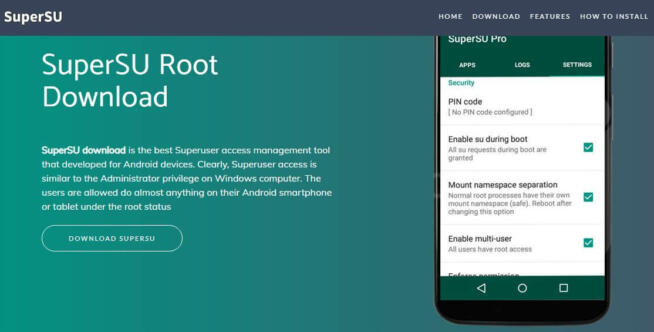 The last best root app for Android on this list is SuperSU. This application has been around for quite some time now and as such, it went through multiple updates to become even more functional. Granted, its last update was a few years ago but it still works well.
It's a basic root app that lets you root your Android phone with a single tap on the screen. In addition, you can control various factors, such as allowing for multi-user access and granting different permissions. Even better is that SuperSU is safe.
This means it can protect your phone from dangerous and malicious apps even after rooting. Moreover, it also functions in recovery mode and it can unroot your phone if you change your mind. After rooting, SuperSU will unlock all hidden features of your device.
From here, you can shut down system-related processes, manage your battery life, and get rid of rogue apps. SuperSU is free as well and you can get it from the official website. It also offers a Pro version with additional features such as PIN protection, OTA survival mode, and per-app PIN protection.
It supports every Android version from 2.3, allowing you to enjoy the app even on older phones.
Download: SuperSU
Pros
One-tap root access
Allows for multi-user access
Protects your phone from malicious apps after rooting
You can unroot your phone
Cons
More useful features are available only in the pro mode
Not the most frequently updated
2. Best Root Apps FAQ
2.1 What are the risks of rooting my phone?
When thinking about rooting, you should always have potential risks in mind. Many people talk about voiding your warranty, which, to be honest, is the most concerning risk. Having in mind the increasing prices of mobile devices, for a "good" phone, you'll have to spend at least $800.
This money isn't easily earned for many people, so many users rely on their warranty to fix potential problems. Rooting the phone can, however, violate this warranty and leave you on your own if you encounter any issues, which can be pretty expensive to repair.
Unrooting your device can be a good solution, as it will return your phone to a default state, allowing you to keep your warranty. Another risk I encountered is bricking. In my case, my old Prestigio phone bricked and didn't want to go past the Android logo screen.
This rendered my device useless, so I had to visit the local service and pay for it to be restored. Finally, Android malware can also be a problem in rooted devices that are more susceptible to threats. Installing a custom ROM after rooting will cause you to stop receiving mandatory Google security updates.
Thus, with no latest-and-greatest protection, you're exposed to potential threats that can influence your phone's performance or your privacy negatively.
2.2 What are the benefits of rooting my Android device?
But what about the benefits of rooting? Well, there are many of them, as this process lets you control your device fully. You can remove bloatware, tinker with previously unchangeable settings, fully customize your Android experience and block ads on a system level.
What's more, rooting lets you access blocked Android features and install custom ROM, which is great for advanced users. Simply put, by rooting your device, you can control each aspect of the operating system, putting you in the driver's seat of the entire experience.
2.3 Can rooting permanently damage my phone?
No. It can brick your phone, which will prevent it from booting up. However, this program can be fixed by re-installing Android, which you can do in your local phone repair shop or yourself if you're a tech-savvy person.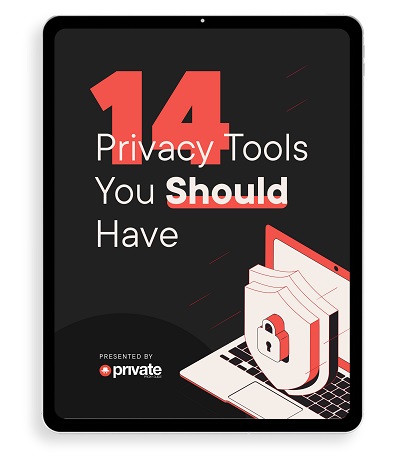 Learn how to stay safe online in this free 34-page eBook.