As your business grows, it becomes increasingly harder to manage all the meetings, scheduling, and appointments. This leads to the weaker organization of your workplace, which results in less efficiency and a smaller profit. Thankfully, to remedy this issue, you can utilize scheduling software.
Scheduling software makes your life easier by optimizing business management. It helps you reduce annoying paperwork, schedule meetings and appointments easier, and even increase your profit as a result.
Wondering what is the best scheduling software you can get? Well, today, we give you 10 of them, covering options for small, medium-sized, and large businesses.
1. Best Scheduling Software 2023
Whether or not you run a small team of 5 to 6 employees or you have a large company with 100+ of them, this list is going to help you out. We even listed the pros and cons for each entry, to help you make a better and more rational decision.
Here are the best scheduling software suites for your business:
1.1 Calendly (great for medium-sized and small teams)
If you're looking for a great scheduling tool, you've heard about Calendly. No matter where you look, Calendly tops the lists and for very good reasons. It's easy to use even for beginners and offers plenty of affordable subscription plans.
What I really like is the inclusion of a free plan. Sure, it's basic and doesn't have many features. But just think about it – is it easy to find a good free scheduling tool? Not exactly.
Calendly is the best fit for small and medium-sized business teams. Moreover, its focus is on maintaining businesses by helping you not only save money but increasing your sales and overall service quality. We also must mention automatic scheduling.
By using Calendly, won't need to manually schedule all your calls, appointments, and meetings. Instead, just run Calendly and let it do all the magic for you – sounds great, does it?
Pros
An extremely easy-to-use interface that makes scheduling very easy. It's also suitable for the newcomers that will quickly get used to it.
Calendly supports integration with popular business-oriented tools. Therefore, you can easily integrate it with an email client, such as Outlook. Or perhaps, you can use it in conjunction with the entire Office 365 package.
The application allows for reliable scheduling by double-checking all your scheduled meetings and appointments. This way, you avoid booking two meetings at the same time.
We like that Calendly is available for all platforms and devices as well. So, even if you're waiting for a train or a bus, you can keep up with your business plans on your mobile device.
Calendly allows you to include automated emails and reminders for your teams. That way, you minimize the possibility of missing important business meetings.
Cons
The best Calendly features are preserved for the most expensive, Enterprise plan.
Calendly supports connections to only one calendar per account, which is not enough for large businesses.
Pricing
Calendly won't cost you a fortune. You can get an 'Always Free' plan for free but also enjoy a monthly subscription ranging from $8 to $16 for teams. The Enterprise plan is a bit more expensive and its price can be determined with the team behind the service.
1.2 Bookafy (best for small businesses)
People running a small business team can definitely benefit from Bookafy. Undoubtedly, this is among the best scheduling software suites made with ease of use in mind. Apart from its simple apps, we like its affordable prices accompanied by a beginner-friendly free plan.
Furthermore, Bookafy lets you automatically schedule meetings, use it with Office 365, and even customize your scheduling site the way you want. All in all, it's a nice application that offers all the tools you need for successfully running and organizing your business.
Pros
Bookafy offers a beautiful and intuitive interface that's also customizable. This means that you can now make every aspect of your interface in line with your branding. Everything from images and fonts, all the way to overall styling can be changed to satisfy your inner perfectionist.
Even though it's paid software, we must address its free plan. The free plan comes with a boatload of possibilities, making it one of the best in the business.
The application allows for easy integration with third-party suites. These include Google Calendar, iCloud, Office 365, and even Outlook.
Bookafy offers many times of appointments. For example, you can utilize meetings with one customer and one staff member. Or perhaps, you can engage in meetings with multiple staff members and multiple customers.
Cons
Bookafy offers no applications. Everything you do is online-based, which isn't as reliable as having a full-fledged mobile app.
No data and time tracking.
Pricing
Bookafy offers 3 subscription plans. The Pro plan starts at $7 a month, while the Pro+ plan will cost you $11 a month. The Enterprise plan, the best one, is, once again, determined by the Bookafy team once you contact it.
1.3 Calendar (a universal solution for small & large businesses)
Calendar is a great solution for entrepreneurs who are determined to succeed and want nothing less than perfection. This software is available not only for Windows but also for iOS and Android smartphones.
As a result, keeping track of your appointments, meetings, and webinars can be extremely easy. We like its intuitive interface, too. I mean, Calendar lets you create beautiful calendars and schedules to easily keep track of your employees.
Besides, with Calendar, you can enjoy automatic sync schedules and even time zone recognition. So, if your client is in a distant country with a different time zone, you can schedule a video call at the appropriate time in a matter of minutes.
Pros
Calendar.com offers a wide array of applications for different systems. This means that you can use it on your Windows or macOS computers, as well as Android and iOS smartphones.
Thanks to a simplified interface, you can create a new calendar in a matter of seconds and share it with your employees for booking and scheduling new appointments.
Calendar.com comes with a very reliable customer support team. You can get in touch not only via email but also over the phone, albeit, only if you pay more for more expensive plans. Luckily, their knowledge base is extensive and is full of solutions to potential problems.
The service offers a decent free plan as well. With its features, it's catered more towards small businesses and individuals, so it's still somewhat useful.
Last but not least, it's one of the cheapest and best scheduling software suites for the money. So, if you're on a budget, this is a way to go.
Cons
Phone support and Zoom integration are available only on Premium plans.
Third-party services integration isn't the best when compared to its competition.
Pricing
Calendar.com is easily among the cheapest best scheduling software choices. Apart from a free plan, the most expensive one is called Pro and you can get it for just $8 a month. Compared to UpKeep, it's several times cheaper.
1.4 Acuity Scheduling (suited for businesses of all sizes)
What about Acuity Scheduling? Well, this is a very popular scheduling software suite, offering its features for businesses of all sizes. Its highlight is a functional, yet feature-rich interface that lets you track your business in real-time.
Furthermore, Acuity Scheduling lets you build your schedule and arrange meetings, video calls, and appointments according to that. Thanks to the intuitive interface, you'll never miss a meeting or lose track of your revenue, which is crucial for skyrocketing your earnings.
Simply put, Acuity is one of the best scheduling applications you can get. Its main qualities lie in real-time tracking that lets you take care of each appointment, payment, and business obligation with a minimal error margin.
Pros
Acuity offers lots of features for the money, all bundled up in a simple and beautiful interface.
Real-time business and revenue tracking come as standard. This means that you can now keep track of all your appointments, both paid and unpaid, giving your more control over your business.
For securing every bit of information inside your company, Acuity protects your communication with end-to-end encryption.
Receiving and making payments is easy with the app, given its support for PayPal, but also several other platforms.
Acuity Scheduling lets you share your calendars and schedules via email and social media. As a result, your employees can also schedule their next meetings or assignments.
Cons
Not very visually-customizable interface.
A free version is a bit limited in features when compared to free versions of other scheduling software suites.
Unreliable customer support, with no phone support in place.
Pricing
Acuity Scheduling starts at $14 a month for the Emerging plan. The best plan, however, is the Powerhouse plan that costs $45 a month. This plan offers all the features that Acuity offers, unlike the previous two plans that have missing 3, 4, or more features.
1.5 Setmore (good for small teams and individuals)
Setmore is very affordable scheduling software. It's simplistic, easy to use, and packs all you need for your freshly-baked business. Despite being cheap, Setmore packs a punch, letting you simplify payments, client management, and scheduling processes.
To avoid missing important assignments, Setmore includes automated emails and even SMS alerts that you can send to your employees. Moreover, thanks to faster payment processing, your transactions will be blazing-fast, making both you and your clients more than satisfied.
If you're looking for a cheap or even free solution, Setmore is a decent option. Albeit, only for small teams due to limited features and possibilities.
Pros
Setmore has apps for all platforms and offers you the ability to use it anywhere, as long as you have a smartphone, tablet, laptop, or desktop PC.
The addition of automated email and SMS alerts is quite useful. Setmore, therefore, can notify you of canceled or rescheduled appointments, assignments, and meetings.
Setmore allows for easy and quick payments directly through the service or by using third-party payment services.
If you use Facebook or any other social media site, you can schedule appointments directly through them. In fact, Setmore allows for seamless third-party apps/websites integration to maximize your organization's efficiency.
The service is known for reasonable pricing as well as the inclusion of a free subscription plan that can be used by up to 4 users.
Cons
The interface, while easy to use and looks nice, could be a bit modernized.
Not as many features and possibilities as similarly-priced scheduling software.
Pricing

Setmore comes with an attractive free plan. The attractiveness applies to its Premium and Pro bundles, too. Setmore will cost you a maximum of $9 a month for the Premium plan and this is definitely a bargain.
1.6 Findmyshift (suited for small to large businesses)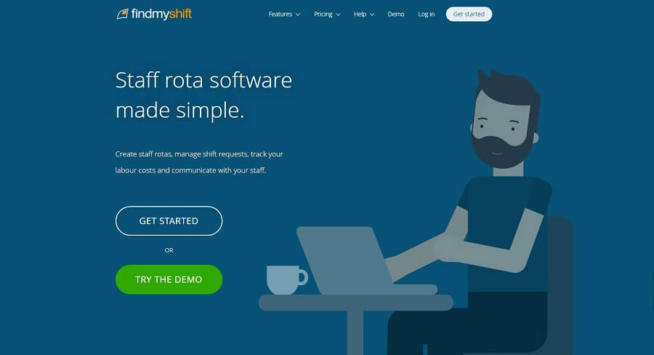 Findmyshift is a cloud-based user-friendly scheduling tool. In our experience, it's suitable for small businesses but large teams can utilize it as well. Moreover, it's jam-packed with features and allows you to track your costs of labor, schedule working shifts, and arrange appointments.
The application lets you communicate with your teammates and employees easier, as well. Plus, we like that up to 5 of your colleagues can create schedules and track all the required work to enhance your management capabilities.
Needless to say, Findmyshift is easy to use. So, even if you're not tech-savvy, using it will be a piece of cake.
Pros
Findmyshift offers an all-encompassing and simple interface for tracking all the required resources.
The app lets you use several types of reminders and notification messages. These include automated push notifications, emails, and even SMS.
Regardless of the platform you're using it on, Findmyshift will let you calculate salaries for each employee. This allows you to pay each of your workers fairly according to their rates.
Although not free, Findmyshift offers a 30-day free trial that lets you use its premium features limitlessly.
Finally, the app lets you track the work schedules and hours of your employees so that you can keep everything in order easily.
Cons
Not the best solution for a large team, as it's missing some important features.
Despite being easy to use, the app interface could use some modernization.
Pricing
If you're looking to buy Findmyshift, here are the prices. The Starter plan will cost you more than $20 a month and for Enterprises, you're looking at a price of around $61 a month, which is a lot more expensive. The free plan is included as well.
1.7 UpKeep (best for large teams)
Leading a large team and commanding an ever-growing business is exhausting. It's also rewarding, but even more so if you use UpKeep. UpKeep is the best solution for your enterprise business and is accessible on all platforms.
This means that you can use it on the fly, on your tablet, laptop, or smartphone as well. UpKeep has a lot to offer, and one of the best features is automatic workflow maintenance. Furthermore, to remain in good relations with your employees, you can now track downtime, receive notifications when something you wanted is done, etc, etc.
UpKeep is simple, yet feature-rich, and this makes it worth the price. Of course, it's not free, but that's not an issue if you run a large business. After all, it lets you control and monitor every aspect of your business, making it a reliable companion for dedicated individuals.
Pros
UpKeep is available for all major platforms and devices.
From a single app window, you can monitor and control every aspect of your company. These include revenue, business locations, and even your company's assets.
UpKeep lets you receive alerts and notifications in real-time on new assignments and completions or your employees. Also, you can send new assignments, schedule meetings, or give new orders to your workers.
Its interface is not cluttered and doesn't require you to have a lot of experience. On top of that, you get monthly and weekly updates and upgrades, to make the app more reliable and kept up with the trends all the time.
Cons
A bit more expensive prices, which makes it unsuitable for individual entrepreneurs or very small businesses.
Its free version is severely cut-down and isn't very useful, forcing you to go for at least a Starter subscription.
Pricing
UpKeep is a very expensive service. There's surely a free plan, but a Starter plan will cost you $45 a month, which is… well, not very cheap. While the Professional bundle starts with $75, the Business Plus plan is more expensive and you can request its pricing separately, in case you need it.
1.8 Bitrix24 (suitable for teams/businesses of all sizes)
Bitrix24 comes guns-blazing with features, making it a dream-come-true for businesses of all types. If you're an individual entrepreneur, it's great. And if you're stressed out, leading a huge team of employees, it will ease your stress and make the whole process a lot easier.
The application is a bit overwhelming at first. However, once you get the gist of it, planning the next meetings, scheduling calls, and taking care of payments will be a breeze. Also, we must mention easy data control, the ability to sync with third-party apps, and reliable 24/7 live chat and phone support.
Bitrix24 is perhaps one of the best options on this list. However, it's a tad more expensive and isn't for those with a shallow pocket.
Pros
Bitrix24 is a well-equipped platform available for all devices, offering a cloud-based system that won't take up unnecessary space on your hard drive.
The service has some great features that are absent from cheaper options. For example, you can initiate and receive virtual calls, as well as share files of all types with your employees.
We like that the application includes important features like task planning, time tracking, planning tools, and a great event scheduler.
Bitrix24 comes with state-of-the-art customer support available 24/7 through live chat and phone.
Thanks to a robust platform, Bitrix24 allows you to integrate it with third-party applications. Some of them include Microsoft Outlook, Google Calendar, and plenty more.
Cons
Bitrix24's interface is not the easiest to use. It has a steep learning curve and is not beginner-friendly due to a large number of features and options.
It's more expensive than the majority of other best scheduling software we listed.
Pricing
Bitrix24 is the most expensive scheduling software on the list, along with HubSpot. Its Basic plan starts at $39 a month and the most advanced, Professional plan will set you up for $159 a month. This is why it's suitable for larger businesses and not very wallet-friendly for individuals.
1.9 Square Appointments (a solution for small/medium-sized catering businesses)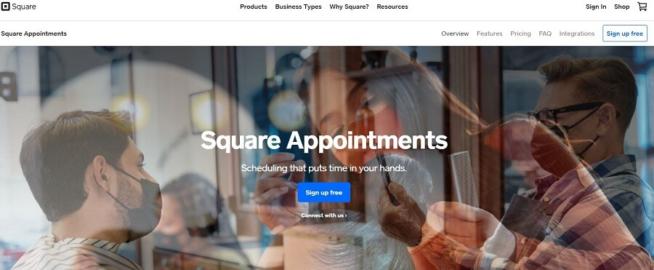 Restaurants, hotels, and health businesses will be happy to hear about Square Appointments. Square Appointments was initially a small, yet versatile booking software. However, since its inception, the company behind this app decided to extend its services to scheduling, which was the right move.
Square Appointments is all about selling and booking stuff, as well as organizing your meetings the right way. By using it, you can create attractive discounts on your services, receive payments, and even allow for tips.
Because, what's a catering business without tips, right? While the suite isn't great for large businesses, you'll find it very useful if you own small or medium-sized health, catering, or wellness business.
Pros
The best scheduling software for booking businesses, such as hotels, restaurants, and cafes.
Square Appointments lets you make and receive payments but also receive tips for your quality services.
We like that the app can be used on multiple devices at the same time. So, this means that you and your colleagues can make, schedule, or reschedule appointments simultaneously.
Square Appointments supports all platforms and you can use it on mobile devices such as tablets, laptops, and smartphones.
Being a product of Square, the app lets you customize your booking website with widgets and other resources from Square's rich gallery.
Cons
Not suitable for larger businesses that will find it underwhelming.
Limited to certain types of businesses, so it's not for everyone.
Pricing
The price of Square Appointments can vary depending on your needs. So, if you want to know how much you need to pay for it, you simply need to set the required parameters, and Square will calculate your monthly price accordingly.
1.10 HubSpot Meetings (best free scheduling software)
Starting your business can be very demanding and stressful. With you looking to maximize your investments, you sometimes don't want to spend money on anything else. If that applies to your next scheduling software, you might want to take a look at HubSpot Meetings.
HubSpot Meetings offers a phenomenal free plan that includes several functionalities. There's a Marketing, Sales, and Service Hub for maximizing your business potential. Moreover, HubSpot lets you design your own booking page for scheduling meetings and appointments with your clients.
Not to mention an overwhelming number of marketing tools. By utilizing marketing tools, you can benefit from more traffic and thus, increase your earnings. Finally, HubSpot can easily be utilized with third-party scheduling software, such as Office 365 or even Google, for example.
Pros
Seamless Office 365 and Google integration.
The free plan offers excellent features for small businesses, including a marketing and service hub.
HubSpot Meetings lets you personalize your booking page to meet the standards and look of your company.
With HubSpot Meetings, you can import custom calendars on your website as well as book meetings/calls with several employees simultaneously.
Cons
Phone customer support only for Professional and Enterprise plans.
Analytics features could use some improvement
Pricing
Using HubSpot Meetings for free is a great choice. However, if you're looking to get more features, buying it will cost you a LOT. There's a Starter package at $45 a month but if you go for the Enterprise plan, you're looking at $3,200 a month, which is REALLY expensive.
2. What to Look for in the Best Scheduling Software?
Okay, so this was our extensive list of the best scheduling software for 2023. You know what are the best picks, but how to actually choose the one according to your needs?
Well, it's quite simple. Just follow these guidelines:
2.1 Number of Features
This one is pretty simple, right? You want the best possible features and you want a LOT of them. Before buying a scheduling software suite, carefully examine what the service has to offer.
Some features you need might not be on the list. And then, when you pay for a subscription, you end up unsatisfied and unable to improve your business in the way you wanted.
One piece of advice – avoid focusing on the features you don't need. Sure, a service might offer fancy functionalities and all of that, but if you don't intend on using them, what's the point?
2.2 Device Compatibility
Scheduling software must be available for several types of devices and systems. After all, you can't carry your desktop PC around and use the application in a bus, car, or train.
For that reason, you want to get the one that lets you use it on your mobile devices, too. Moreover, they need to support Android and iOS/macOS platforms, so that you can, for example, utilize the app on your phone, tablet, or laptop.
2.3 Possibility of Third-Party Integrations
Third-party integrations are crucial for an improved, smooth, and seamless scheduling experience. It's important that you can utilize Google Calendar, Gmail, Office 365, and other suites in the scheduling software.
These tools will make your life easier, especially if your choice can integrate social media websites such as Facebook. By having these possibilities, you can connect with other people easier and keep everything under control.
2.4 Customer Support Quality
In case any issues appear, who's gonna be there to help you? Of course – customer support. I personally prefer the ability to make a phone call and fix my issues right then and there. However, live chat support is also great, as long as it takes not more than a minute to respond.
Some platforms even offer you setup assistance. So, if you're new to the platform, you can get the required help and set up your scheduling software in no time.
2.5 Expandability
We are all looking to expand our businesses. Entrepreneurs hate standing in one place. Your business might be small for one year, but after 2 or 3 years, you can expand your business and employ more people.
In that case, your service must be expandable. This means that it needs to allow you to buy more expensive plans for Enterprises or larger companies and more personnel. If it supports, let's say, a maximum of 5 people, and your company has 15 employees, it's not going to work well.
3. Scheduling Software FAQ
3.1 What is scheduling software?
Scheduling software is a suite of tools that will aid your business management and overall organization. It allows you to set new goals, give assignments, and take care of your employees with high efficiency.
The best benefit of a scheduling service is process automation, meaning that you can now rely on the service alone to schedule appointments. Furthermore, with its precise calculations and the ability to cancel and reschedule meetings/appointments, it leaves pretty much no room for error.
3.2 How much does scheduling software cost?
The cost of scheduling software can range from 0 to thousands of dollars monthly. Usually, we're talking about $45 a month for the basic plans, where plans for the largest businesses can be 10, 20, 30, or more times expensive.
3.3 Should I use scheduling software?
Absolutely. If you're having a hard time managing your business for whatever reason, the best scheduling software will make the whole process a lot less cumbersome.
Beware that not every software will be good for your goals. So, before subscribing, make sure you devote some time to studying the service you want.
If it has what you need, managing your business will not be just easier, but also more efficient and lucrative.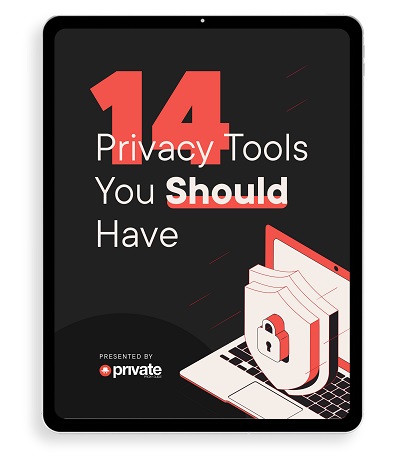 Learn how to stay safe online in this free 34-page eBook.