Unlocking the true potential of search engine optimization (SEO) requires the right tools and strategies. One vital tool in every SEO professional's arsenal is a reliable proxy service. SEO proxies play a crucial role in ensuring anonymity, overcoming restrictions, and gathering accurate data for effective SEO campaigns.
However, with numerous providers available, choosing the best SEO proxy service can be a daunting task. In this article, we will explore and evaluate some of the top SEO proxy providers in the market. From proxy pool size and IP diversity to performance and customer support, we will delve into the key factors to consider when selecting the ideal SEO proxy provider. Whether you are a seasoned SEO expert or just starting your optimization journey, this guide will help you make an informed decision and empower your SEO efforts with the best proxy provider for your needs.
1. Best SEO Proxy Providers in October 2023
Proxy type: Residential, Static, Mobile, and Rotating IPs
Proxy Network size: 40 million plus
Proxy Protocol: HTTP(S) + HTTP
SmartProxy, launched in 2018, offers a wide range of proxy options to cater to various needs. It provides access to rotating proxies, shared proxies, HTTP Proxies, anonymous proxies, back-connect proxies, and IPv4 Proxies. Additionally, their rotating data center IPs are particularly effective for crawling US websites while keeping costs under control.
In addition to its impressive proxy options, Smartproxy also excels in providing excellent service. The platform is user-friendly and affordable, making it accessible for users of all levels. With a convenient dashboard, users can easily monitor their traffic usage and manage their activities independently.
Features
Vast Proxy Network: Smartproxy boasts a large and diverse proxy network, providing access to millions of residential IP addresses from over 195 locations worldwide. This extensive coverage allows for comprehensive SEO research, localized SERP tracking, and efficient data gathering.
Anonymity and Security: Users can browse the web anonymously, protecting their real IP addresses and ensuring privacy and security. This is especially important for tasks such as competitor analysis, rank tracking, and data scraping, where maintaining anonymity is crucial.
Easy Integration: It is designed to integrate smoothly with existing tools and workflows. Whether you're using SEO software, web scraping tools, or automation frameworks, Smartproxy offers easy-to-follow documentation and support for seamless integration.
Data Center Proxies: Get high-speed connections, which are suitable for various use cases, including web scraping, social media management, and market research. These proxies are cost-effective and can efficiently handle large-scale operations.
No Restrictions: Easily tackle data-intensive tasks without hassle. Their SEO proxies are specifically engineered to provide exceptional speed and performance with unlimited threads and caps on certain plans.
Proxy type: Static, Mobile, and Rotating IPs
Proxy Network size: N/A
Proxy Protocol: HTTP(S) + Socks5
Experience comprehensive worldwide coverage and enjoy the convenience of full API functionality with Nimbleway. With their extensive IP network, you can collect data swiftly and effortlessly without the fear of being blocked or experiencing slowdowns, while enjoying exceptional performance.
The Nimble API offers an encrypted AES-256-bit solution that requires zero maintenance. It enables seamless data scraping with complete automation and unlimited access to any public web resource. This powerful API empowers you to construct efficient data pipelines, which can be utilized in multiple programming languages from anywhere in the world and across various devices.
In addition, Nimbleway offers a native browser that delivers exceptional speed and precision, elevating your data-scraping endeavors to unparalleled levels. With this browser, you can effortlessly emulate any real-life device, ensuring a realistic browsing experience.
Features
Unlimited Access: Nimbleway provides unlimited access to public web resources, allowing you to gather data without restrictions. This unrestricted access enhances the scalability and scope of your data scraping operations.
Captcha Solving: Nimbleway integrates CAPTCHA solving mechanisms, which automatically handle CAPTCHA challenges during the scraping process. This feature saves time and effort by removing the need for manual intervention when encountering CAPTCHAs.
Real-time Monitoring and Alerts: Get real-time monitoring of your scraping tasks, allowing you to track progress, identify issues, and receive alerts when scraping errors or anomalies occur. This feature helps ensure the smooth execution of your scraping processes.
Data Quality Control: Set a parameter for data quality control, allowing you to filter and validate scraped data based on predefined criteria. This ensures that you obtain accurate and reliable data for your analysis and decision-making processes.
Detailed Analytics and Reporting: They offer comprehensive analytics and reporting features, offering insights into scraping performance, success rates, data volume, and other relevant metrics. This helps you evaluate the effectiveness of your scraping operations and make informed decisions based on the collected data.
Proxy type: Static, Mobile, and Rotating IPs
Proxy Network size: 102 million plus
Proxy Protocol: HTTP(S) + Socks5
Oxylabs is a prominent proxy service provider that offers a range of solutions for web scraping, data extraction, and online privacy. With a strong emphasis on data-driven insights, Oxylabs provides access to a vast proxy network and specialized tools to empower businesses and individuals in extracting valuable data from the web.
They stand out by prioritizing transparency, ensuring users have complete visibility into the sources of their SEO proxies. You can seamlessly integrate Oxylabs' proxies with third-party solutions using their user-friendly API or dashboard. Effortlessly manage IP addresses, gain control over your proxy settings, and customize your scraping operations.
They also offer comprehensive and developer-friendly documentation to support you in optimizing your proxy usage and leveraging their services effectively.
Features
Proxy Management Tools: Oxylabs offers user-friendly proxy management tools, including an API and dashboard, allowing you to control and monitor your proxies easily. These tools enable you to track usage, manage IP rotation settings, and integrate proxies seamlessly into your SEO workflows.
Residential Proxies: Get access to a vast network of residential proxies, allowing you to gather SEO data from real user IP addresses. These proxies offer high levels of anonymity and authenticity, enabling you to scrape search engine results, monitor rankings, and perform keyword research without the risk of being blocked or detected.
Optimal Performance: Maximize your scraping efficiency with Oxylabs' single back connect proxy solution. With a continuously rotating proxy pool at your disposal, you have full control over sessions, ensuring seamless operations while avoiding IP bans and CAPTCHAs. Rest assured, Oxylabs guarantees an outstanding average success rate of 99.95% for your scraping projects. This level of reliability ensures uninterrupted data extraction, empowering you to gather valuable insights from websites with utmost confidence and precision.
Target Major Search Engines – Gather accurate and up-to-date search results data from leading search engines. Depending on your specific needs, you can retrieve either raw HTML or structured data in JSON format, encompassing both organic and paid search results.
Dedicated Support: Oxylabs offers dedicated support to assist you with any queries or issues related to their SEO proxy services. Their support team can provide guidance on proxy setup, configuration, and best practices to optimize your SEO efforts.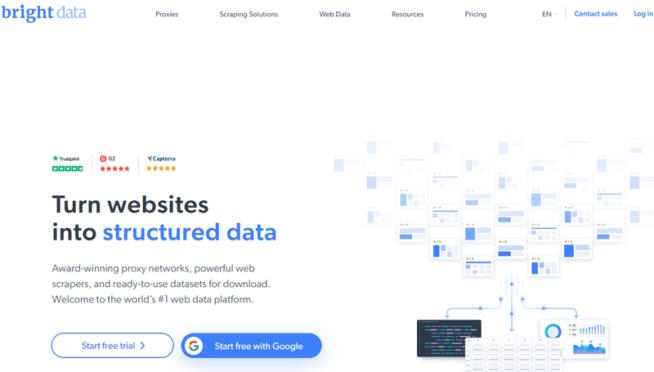 Proxy type: Static and Rotating IPs
Proxy Network size: 72 million plus
Proxy Protocol: HTTP(S) + Socks5
It is highly regarded for web scraping and other Search Engine marketing campgains. With Bright Data, you can enjoy a free 7-day trial accompanied by a substantial balance to explore the service fully.
Upon email verification, you are greeted with a user-friendly dashboard that provides a helpful tutorial to kickstart your experience. In addition to web scraping capabilities, Bright Data offers features such as image extraction, ISP proxies, and Mobile proxies to cater to diverse needs.
Features
Rotating Proxies: Bright Data offers the flexibility to choose between static IPs or rotating proxies without any limitations. Rotating proxies help bypass censorship, avoid blacklisting, and enable accessing region-restricted websites, servers, and services while cloaking your location.
Unlimited Concurrent Sessions: Run multiple sessions simultaneously without worrying about session caps. Set up campaigns on different servers and machines for separate projects. Be mindful of bandwidth consumption when running multiple sessions, as it can deplete quickly. Higher plans or custom plans with unlimited data are available for shared IPs.
Proxy Manager: Efficiently manage all your proxies through the comprehensive proxy manager. Access detailed metric logs, monitor and browse requests directly from the user-friendly dashboard. Implement custom rules and regex to control traffic and bandwidth. The proxy manager is available as a standalone client for both PCs and servers, offering versatility for various use cases such as price comparison and ad verification.
Switchable IPs: Easily switch between different IP types with a simple click, including shared, data-center, residential, and mobile IPs. There are no restrictions on IP switching, and the billing cycle adjusts accordingly based on your selection.
Most Extensive Coverage: Bright Data boasts the most extensive coverage available, with IP addresses from 195 countries worldwide. Whether you need a residential proxy from a remote location or a specific country, Bright Data ensures comprehensive coverage across the globe.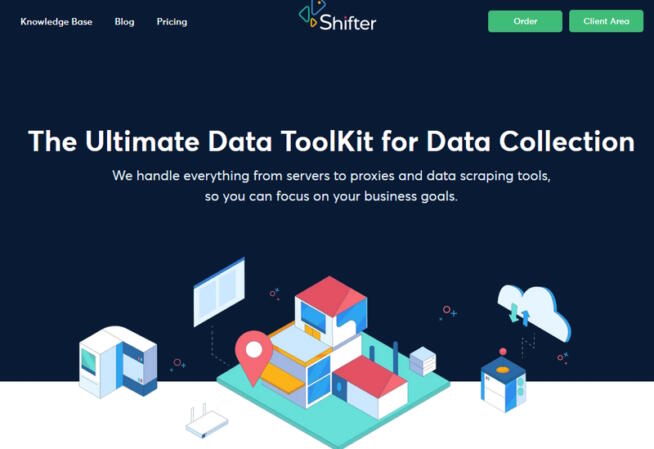 Proxy type: Rotating IPs
Proxy Network size: 31 million plus
Proxy Protocol: HTTP(S) /SOCKS 4 and 5
With a rich history in the market, Shifter, formerly known as Microleaves, has established itself as a reputable player in the industry. Trusted by large businesses and ad campaigns, Shifter excels in providing exceptional data scraping services while ensuring that the IP addresses used appear "normal" to maintain anonymity.
Shifter stands tall alongside industry giants such as Bright Data and Smart Proxy, solidifying its position as a prominent SEO proxy provider. Its extensive experience and expertise make it a reliable choice for businesses with diverse data gathering needs.
When it comes to residential IPs, Shifter offers a rotation duration of 5 minutes, providing flexibility to adjust the rotation frequency based on specific requirements. This allows for efficient data collection while maintaining a high level of anonymity and ensuring optimal performance.
Features
Automation Integration: Shifter offers reliable APIs that allow you to seamlessly integrate proxies into your automation workflows. Add authorized IPs and enable random rotation effortlessly. Detailed tutorials guide you through the process of creating scripts using the API connection, making automation setup a breeze.
Unlimited Bandwidth and Connections: Enjoy unlimited bandwidth and concurrent connections with Shifter. The starter plan provides 10 Backconnect proxies, each with 100 different IPs available simultaneously. Customize your configuration to assign an unlimited number of connections, with IP rotation occurring every 5 minutes or even less frequently.
User-Friendly Advanced Panel: Shifter's advanced panel is designed to be accessible and user-friendly for various user groups. The billing section is kept separate, ensuring financial details remain separate from your primary tasks. The panel provides usage statistics, IP blacklist/whitelist management, and more, all conveniently displayed on a single screen without the need to navigate through multiple buttons.
Instant Scaling: When your campaign gains exponential traction, Shifter understands the importance of seamless scalability. Scale up your campaign instantly without any delays or formalities. Ensure that your vital proxies can handle the increasing demand without interruption.
Unlimited Bandwidth and Connections: Shifter.io doesn't have any cap on the bandwidth and the number of concurrent connections. The starter plan has 10 Backconnect proxies, with each node offering 100 different IPs each at a time. Depending upon your configuration, you can assign an unlimited number of connections tied with different IPs, which are rotated every 5 mins or less.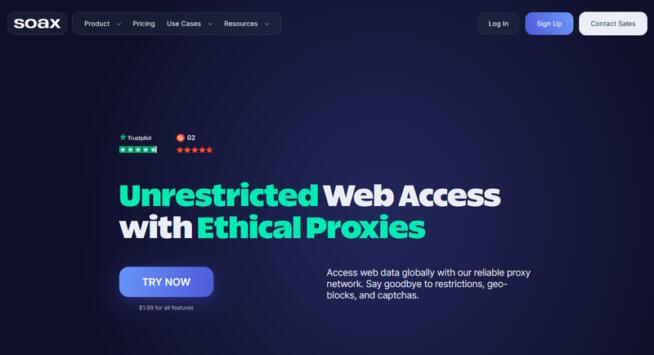 Proxy type: Rotating IPs
Proxy Network size: 8.5 million plus
Proxy Protocol: HTTP(S) /SOCKS5
Soax is a prominent provider of SEO proxies that caters specifically to the needs of SEO professionals and marketers. With a comprehensive set of features and a reliable proxy network, Soax is designed to optimize your search engine activities and deliver effective results. Here's an overview of Soax for your SEO proxy requirements:
Features
Precise Geo-Targeting: Soax offers city-specific proxies along with ASNs, allowing for precise geo-targeting. Unlike other proxy services that focus solely on countries, Soax takes it a step further by providing proxies from specific cities, enhancing the authenticity of your online activities.
Abundance of Ports: Even the basic plan from Soax provides 300 ports, ensuring ample resources to kickstart your campaigns with unlimited concurrent sessions. This generous offering allows beginners to dive into their projects without straining their budget.
Dedicated Browser Extensions: With Soax, there's no need to install a separate desktop application to utilize the proxies. Take advantage of dedicated browser extensions available for all major web browsers. Simply add the extension, log in, and blacklist your IP to start working on your projects seamlessly.
Strong Authentication: Each Soax proxy requires authentication, and they offer two convenient methods to accomplish this. The first method involves using the IP whitelist, which can be easily managed through the browser extension. The second method is the classic approach, using your login credentials for authentication.
Node Accessibility: For long-term projects requiring static IPs from specific residential locations, Soax provides the option to reserve access to specific residential devices. This ensures consistent requests sent from the same IPs on a recurring basis, offering stability and reliability.
Proxy type: Rotating IPs
Proxy Network size: 7 million plus
Proxy Protocol: HTTP(S) /SOCKS5
Proxy-Cheap understands the budget constraints that many users may face when it comes to SEO proxies. Unlike other providers that require a monthly commitment that can be costly, Proxy-Cheap offers a more affordable solution. They offer plans with prices based on data usage per GB, rather than a fixed monthly charge. This pricing model allows users with limited budgets or those who are just starting out to access SEO proxies without breaking the bank. With Proxy-Cheap, you can enjoy the benefits of search engine friendly proxies without the burden of a high monthly cost, making it a cost-effective option for a larger consumer base.
Features
Instant Deployment With Proxy-Cheap, you can quickly get started within 90 seconds. Purchase data and obtain a dynamic proxy IP address promptly. Utilize the IP generator to streamline the process, eliminating the need for manual entry.
Long-lasting IP Sessions Enjoy extended durations for static IP sessions. These sessions can last for a minimum of 30 minutes and continue until the servers are restarted. Tailor the configurations to align with your campaign requirements and rotate IPs as needed.
Effortlessly Bypass Captchas Proxy-Cheap provides a solution to bypass captchas seamlessly. Their integration with CapMonster, an automatic captcha recognition service, enables you to overcome captchas effortlessly. This feature ensures smooth automation for web scraping, mass queries, and other tasks.
No Monthly Commitment With Proxy-Cheap, you are not bound by monthly commitments or recurring fees. Their pay-as-you-use model allows you to purchase data in gigabytes, granting access to the entire IP pool and all available features. This flexible approach ensures that you only pay for what you need, without straining your finances.
Exceptional Customer Support: Proxy-Cheap prides itself on delivering fantastic customer support. From initial sales inquiries to billing assistance, their team goes the extra mile. Users have lauded the company's willingness to accommodate plan changes after purchase and their willingness to issue full refunds if you change your mind.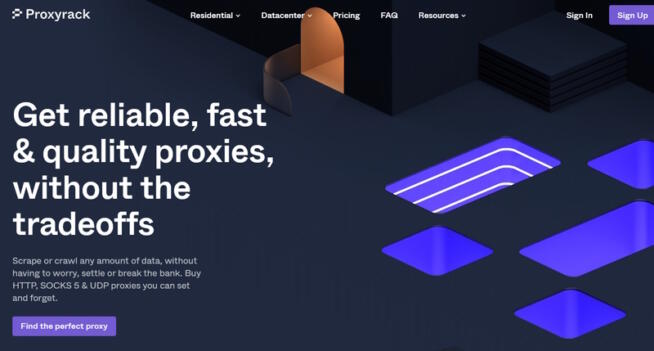 Proxy type: Rotating IPs
Proxy Network size: 5 million plus
Proxy Protocol: HTTP(S) /SOCKS5/UDP
Proxyrack is a prominent name in the realm of proxy providers, offering a wide range of proxy solutions for various needs. With a solid reputation and a comprehensive set of features, Proxyrack stands out as a reliable choice for individuals and businesses requiring proxies for different online activities.
One of the key advantages of Proxyrack is the extensive proxy network it offers. They provide proxies from diverse sources, including residential, datacenter, and mobile IPs. This ensures that users have access to a vast pool of proxies, enabling them to select the most suitable type based on their specific requirements. Whether it's web scraping, SEO, social media management, or ad verification, Proxyrack has proxies that cater to different use cases.
Features
Automatic Proxy Replacement:
Proxyrack's system constantly monitors the proxy pool, automatically replacing any proxies that may become unusable or unreliable. This ensures that users can continue their projects without interruptions caused by faulty proxies.
Flexible Rotating Intervals:
Users have the flexibility to set their preferred rotation intervals for proxies, ranging from 3 to 30 minutes. This feature allows for customization based on specific use cases and project requirements, ensuring optimal performance and IP rotation.
Exclusive Unshared IPs:
Subscribers to Proxyrack's Unmetered plans are provided with exclusive, unused, and unshared IPs. These IPs are reserved solely for customers on these specific plans, minimizing the chances of IP blocks and maximizing anonymity and reliability.
Extended Money-Back Guarantee:
Proxyrack offers one of the longest money-back guarantees in the industry. Users can try out the residential proxies for up to two weeks and if they are not satisfied, they can request a refund without any questions asked. The refund process is typically completed within 24 to 48 hours.
Pay Per GB Option:
In addition to traditional monthly plans, Proxyrack also offers a pay-per-GB option for their metered plans. Users can subscribe to a monthly plan with a fixed fee and then pay for the data they consume beyond the initially provided credits. This provides flexibility for users who have varying data usage requirements.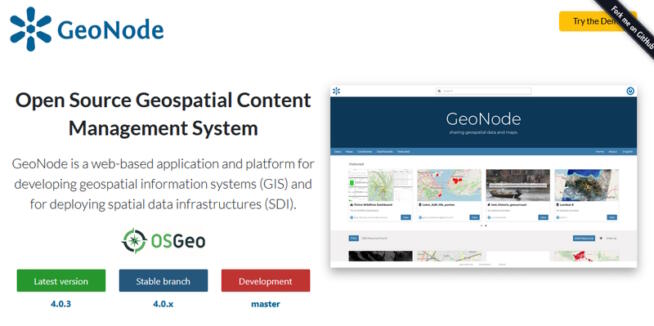 Proxy type: Rotating and Static IPs
Proxy Network size: 2 million plus
Proxy Protocol: HTTP(S) /SOCKS
Geonode is a provider of SEO proxies that aims to offer a hassle-free experience without imposing excessive limitations. With access to their extensive pool of 2 million exclusive IP addresses, users can enjoy unlimited bandwidth without interruptions. While there are charges based on the number of threads or simultaneous connections allowed, the mini plan provides 10 threads for users to utilize.
Although Geonode does not offer a free trial, they do provide the option to try their services for a week by paying a nominal fee of $7. This allows users to test the performance and compatibility of the proxies before committing to a longer-term plan.
Features
Pay for What You Use:
Get unlimited bandwidth and IP access without any restrictions. You can rotate IPs seamlessly, either manually or through the API. Pay only for the number of connections you need, providing flexibility and cost-effectiveness.
Easy API Integration:
You will get effortless API integration, ensuring a smooth experience for developers. The deployment process is user-friendly, and the extensive documentation provides step-by-step guidance for seamless integration.
Multiple Authentication Options
Get support for both username-password authentication and IP authentication. You can choose the authentication method that suits your needs. Additionally, you can whitelist up to 20 IPs for enhanced security and access control.
Zero Data Logs
Geonode prioritizes your privacy by not keeping any logs of your information and data on their servers. Your activities while using the proxies are not recorded or stored, ensuring maximum privacy for your SEO proxy usage.
Target Multiple Countries
Easily target a specific country by configuring the proxies from that location and excluding others. This can be done through the IP Gateway page, specifically in the rotating ports section.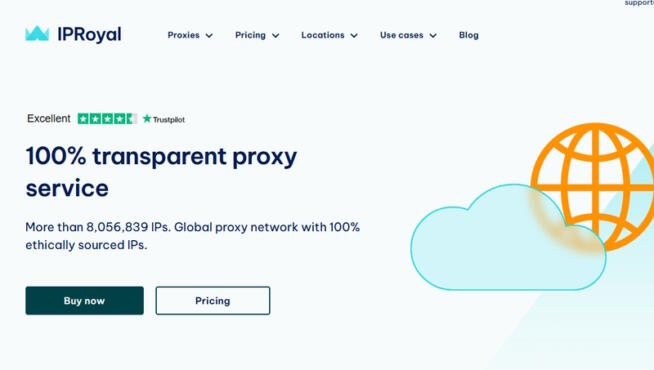 Proxy type: Rotating and Static IPs
Proxy Network size: 10 million plus
Proxy Protocol: HTTP(S) /SOCKS
IPRoyal is a reputable provider of SEO proxies that offers a range of features and services tailored to meet the needs of businesses and individuals requiring reliable and secure SEO proxy solutions. With a focus on ensuring high-quality connections and excellent performance, IPRoyal stands out as a trusted option in the realm of proxy providers.
Features
IPs from Real Users:
IPRoyal's Pawns program allows users to earn money by sharing their internet connection. By installing the application and running it in the background, users can provide real and genuine IP addresses for the proxy services.
City-based Proxies
Reach every corner of the world with precise geographical targeting. Utilize a vast pool of IP addresses to ensure comprehensive coverage, leaving no region untouched.
All Sites Allowed
There are no limitations on using the proxy as long as the website is legal. Feel free to deploy multiple proxies without any obstacles. Additionally, APIs can be seamlessly integrated as needed.
Long Duration Connections
Stay connected with the same SEO proxy session for up to 24 hours on a single IP address. Customize the duration based on your project requirements and easily enable IP rotation if desired.
SwitchyOmega Support
SwitchyOmega, a versatile proxy management tool, allows you to efficiently handle your proxies with custom-defined rules. It can be easily set up on Firefox and Chrome in just a matter of minutes.
2. FAQ
2.1 What are SEO Proxies?
SEO proxies, also known as search engine optimization proxies, are dedicated proxies specifically used for SEO tasks and activities. They allow users to perform various SEO-related activities, such as keyword research, website analysis, rank tracking, competitor analysis, content scraping, and link building, while maintaining anonymity and avoiding IP blocks or restrictions imposed by search engines.
2.2 What are the benefits of SEO Proxy?
The main benefits of using SEO proxies include:
Anonymity: SEO proxies hide the user's real IP address, ensuring their online activities are anonymous and not directly linked to their identity.
Unrestricted Access: Proxies enable users to bypass IP-based restrictions or blocks set by search engines, allowing them to perform SEO tasks without limitations.
Geo-Targeting: SEO proxies provide the ability to simulate different locations, allowing users to gather localized search results and tailor their SEO strategies accordingly.
Scalability: With SEO proxies, users can scale their operations by leveraging multiple IP addresses and distributing their requests across different proxies, enabling efficient and faster data collection.
IP Rotation: Some SEO proxies offer IP rotation capabilities, allowing users to automatically switch IP addresses at specified intervals, making it harder for search engines to detect automated behavior.
2.3 Can you explain the concept of IP rotation and why it's crucial for SEO proxy usage?
IP rotation is the practice of regularly changing the IP address used for online activities. In SEO proxy usage, it is crucial for maintaining anonymity, avoiding IP blocks, simulating user behavior, overcoming rate limiting, and adapting to dynamic IP policies. By rotating IPs, SEO professionals can minimize the risk of detection, access localized search results, prevent rate limits, and ensure uninterrupted SEO activities.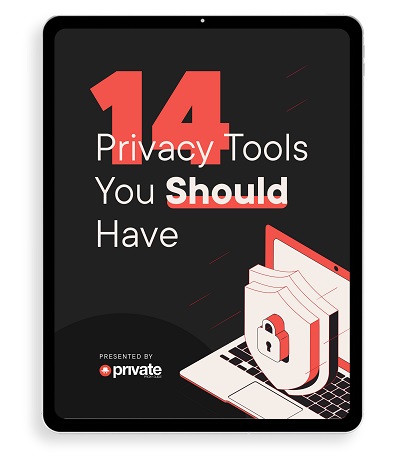 Learn how to stay safe online in this free 34-page eBook.