Despite increasing social media or other marketing platforms, SMS marketing remains an efficient as well as an economical approach to communicating with your consumers.
According to reports, text messaging has a 209% faster reaction time than calls, emails, and other marketing methods and a whopping 98 percent open rate.
Unfortunately, many people believe SMS marketing is not effective anymore and only use other media. However, they are inadvertently losing customers, valuable relationships, and money due to this. So, do you include yourself among them? Do you want to boost your income and conversion rates? Are you utilizing SMS marketing yet not getting the results you want? This post will answer all of these queries. Simply keep tuned.
SMS marketing is a timeless marketing channel that entails delivering transactional and promotional text messages to prospects and customers that they may use to take action or learn more about your service or product. These messages contain information, offers, and alerts for those who have expressed interest in your products or services and have agreed to receive communications from you.
However, SMS marketing systems or software may assist you in mass-producing text messages and sending them to various phone numbers. It can readily manage any promotional, instructive, and transactional communications. It has a wide range of applications:
Sending discounts, offers, and freebies
Keeping a contact list
MMS and automatic answers are sent.
Making polls, competitions, and surveys
Providing superior client service.
Report generation
Investigating response rates
Text message delivery on a schedule
Customers are reminded and informed.
1. How is SMS Marketing so successful?
SMS marketing is still popular today because of its relevance, simplicity, and ability to get delivered right to your clients' smartphones.
Smartphones are used by about 3.8 billion people worldwide, and it is not necessary that they have to be on social media and check their emails daily to get text messages. As a result, SMS marketing gives you plenty of chances to stay in front of your clients' minds and boost your conversion rates.
1.1 Faster delivery rate
Compared to social networks or emails, SMS is a speedier way to get your word out. An SMS is delivered straight to your customer's phone, regardless of the sort of phone or carrier they use.
1.2 Open and click rates are higher
As previously stated, SMSs have 98 percent greater open rates than emails and a 9.18 percent higher CTR than alternative digital marketing channels. SMS marketing is effective.
1.3 Measurable outcomes
You can track the success of your SMS campaign with SMS marketing software. You may see the number of SMSs sent in total, how many of those were opened and responded to, and then create reports to go through. You may then use the data to assess and enhance your methods.
1.4 Affordably priced
You may send many texts to your consumers without paying a lot of money using bulk messaging solutions. Unlike email campaigns, which need more innovation, design, effort, and expense, SMS marketing allows you to economize on these factors.
2. 15 Best SMS Marketing Software
Sender is an all-in-one SMS and email marketing platform which helps smart organizations expand their email and SMS lists while keeping costs down. This software is ideal for small and medium-sized businesses and eCommerce companies searching for a fully automated solution to increase revenue and sales by virtually instantaneously reaching out to a worldwide market.
Choose from a library of TCPA compliant, privacy-friendly, ready-to-send pop-ups and forms, or create your own using the extremely simple drag-and-drop tool. In this manner, you may develop your SMS list without worrying about GDPR violations or other potential privacy problems.
The step-by-step automation builder aids in the creation of strong workflows that launch precisely-timed or prompted email and SMS steps to run evergreen, fully-automated income funnels which work for your business 24×7. Customize outgoing SMS messages using the subscriber's name, location, or other information to make them feel like they are exclusively being texted. You may send out more targeted and relevant advertising by utilizing the under-appreciated potential of segmentation to determine who is most likely to purchase right now and who needs further attention and care and can be approached later.
Sign up for the Forever Free plan, which provides up to 15K monthly mails to 2,500 recipients and the option to purchase SMS credits for as little as $0.015 per SMS (US). Alternatively, its feature-rich monthly PRO package includes $70 in free SMS credits each month and generous email marketing capabilities.
With the aid of ActiveCampaign, keep your consumers engaged with your brand with SMS marketing or text messages. It enables you to find a more efficient approach to reach out to consumers and give them an amazing experience. You can use SMS automation with ActiveCampaign to deliver follow-ups, inform agents, etc. Because your consumers prefer to read texts over emails, our software makes sending short reminders and flash deals a breeze.
To ensure effective workflows, schedule the delivery window by identifying the specific day and time. Allow your users to enter contact information, allowing you to collect phone numbers via importing or manually maintaining them. This allows you to communicate with each consumer and promote new offers, promotions, campaigns, etc.
Get a slot based on the number of consumers you have and start enjoying the finest service for $9/month.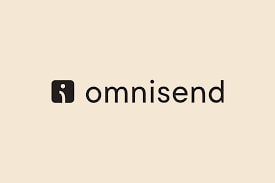 Avoid the hassle of using various SMS programs by integrating SMS with your emails using Omnisend. Combining programmed texts with emails to add push alerts in a single workflow will provide the users with a personalized and consistent experience. With a few clicks, you can access pre-built SMS processes for birthdays, delivery confirmation, cart abandonment, and more with Ominsend's library. You may utilize simple features to set up and have no limitations in terms of use cases to reach your audiences/customers wherever they are.
You may even target a worldwide audience because it supports all country codes for text-only messaging, allowing you to convert foreign consumers better. You may gather site users' contact information via landing pages, pop-ups, wheel of fortune, registration boxes, and more using Omnisend's TCPA certified SMS list building tools.
With the pre-built automation workflows, you may save energy and time. Set up flash deals and use SMS for advertising the newest goods. You may also enhance interaction by using photos and GIFs. Keep track of how your SMS performs and what you should incorporate to boost sales. Omnisend connects with Gorgias to increase client engagement and retention via two-way SMS.
Start your free trial today and experience the perks, or upgrade to a monthly subscription beginning at $16 to get more features.
TextMagic is an easy-to-use SMS promotional platform that will make your consumers happy. You may send confirmations, alerts, and notifications from anywhere. Send tailored text messages to your employees, suppliers, and customers with bulk texting software.
You may send mass messages to users in over 190 countries after logging in to your account. Emails may be converted to SMS and sent to any smartphone. You may use the SMS gateway API for sending text messages straight from the app. Send or receive SMS online using the program on your Mac and PC desktop.
TextMagic allows you to communicate precise and brief messages to partners, workers, or customers quickly, cost-effectively, and secure manner. Virtual mobile numbers, MMS, SMS attachments, SMS opt-out management, mail merge templates, and many more capabilities are available.
TextMagic is a business text messaging program that includes features such as member sub-accounts, corporate SMS solutions, single sign-on for organizations, analytics, secure text messaging, reporting, incoming message automation, number validation, and email lookup, and more.
Using text on your Android & iOS smartphones, reach out to your consumers at the perfect moment. When 160 characters aren't enough, you may deliver texts up to 918 characters long. Arabic, Japanese, Chinese, English, Russian, and more languages are supported. Furthermore, by forwarding the TextMagic contact to a phone, you may let your prospective customer call you.
Drips allows you to send messages and increase earnings by providing dynamic and customized product suggestions at the perfect moment. You may automate activities with Drip's simple workflow builder to achieve better results.
You may also communicate with your users/customers by SMS, which is quick, simple, and to the point. They're the ideal way to build a strong relationship with them, convey valuable messages, and create income. Clients prefer SMS to emails or phone calls; therefore, use the simple Drips form for adding your top customers to the list. Although many consumers enjoy SMS messages, they enjoy them more when they include promotional or discount coupons. SMS marketing software allows you to contact your customers wherever they may be with only a few clicks.
Send holiday promotions, product debuts, VIP campaigns, time-sensitive discounts, and much more through SMS to attract attention, increase user loyalty, and create urgency. People dislike verbose, spammy communications; to attract more customers, make your material basic, brief, and easily comprehended. You may also automate the operation and add a delivery time and date to avoid missing any customers.
Start your 14-day free trial or pick a plan based on the number of clients you have, beginning at $7.50 for 500 messages.
It might be difficult if you don't understand where to begin with SMS marketing for your eCommerce business. A dependable tool like ManyChat, on the other hand, may assist in sending texts to users and closing purchases for a conversation. You may effortlessly contact your consumer and talk with them without interrupting their day.
Within 3 minutes, you may distribute discounts, offers, and content to customers with this application. It's simple to link Messenger or Facebook to SMS and email, allowing companies to communicate with clients for free.
Customers can also receive one-to-one communications from companies for updates, tailored content, appointment reminders, special offers, etc. It's also necessary to conduct two-way text chats with consumers to obtain feedback or evaluations through surveys.
You may also use SMS drip marketing to nurture consumer conversations, such as monthly publications and 7-day challenges. For a smooth experience and innovative multimedia messaging, collecting statistics from an eCommerce business is simple.
EngageBay can help you sell your product, deals, and more through SMS marketing. By customizing your campaign, you can track all of your answers in one place and send SMS texts to hundreds of individuals.
EngageBay saves information such as first and last names, age, company, and location. You may even add it all by gathering data and sending mass SMS. You may add SMS capabilities to automated processes to send SMS depending on consumer behavior or events such as failed payments, product changes, cart abandonment, promotions, etc.
You can use filters to choose a subset of potential clients for your demand. It covers contact source and location depending on date, activities, and other factors. Additionally, you may use custom space to segregate contacts and create targeted text message campaigns. Use EngageBay's easy designs for your advertising processes without needing any coding experience, and make use of all of the tools available to help you develop your company.
You may efficiently create marketing campaigns for delivering SMS to clients using beautiful pictures. Through extensive stats, EngageBay allows you to track each SMS marketing campaign. You may use the program to track your advertising success rate and growth to understand more about your clients and succeed with marketing.
EngageBay offers 1000 branded emails and 500 contacts for free. You may pick an $8.99 beginning fee if you have additional connections.
Sendinblue allows you to communicate directly with your clients using SMS texts. You may use Sendinblue's contact list to send mass campaign and event communications in a single click.
After that, you may compose your message, select a specific list based on their geography, demand, and other factors, and plan your text message to be delivered at a specific day and time. You may use Sendinblue's API, marketing automation, and lots of plugins to set up shipment updates, order confirmations, transactional SMS, and a lot more based on your business.
Using segmentation and specific features for various contacts, create customized communications. For example, you can choose the last name, first name, date, firm name, and other details.
Obtain ideas about what works with the assistance of important engagement indicators, and then build on them to get greater outcomes. You can also measure and monitor the effectiveness of SMS marketing. You can fix associated issues for different SMS campaigns in real-time based on engagement figures and deliverability reporting. No matter where the clients are, this easy method of communication allows them to keep a log of your promotions, discounts, and other offers.
Choose a free or premium plan that meets your requirements and take advantage of the perks.
SlickText is an established leader in the SMS marketing field, assisting businesses in increasing income through SMS marketing. It has a lot of helpful features that make it easy to use the program, and it works on any device.
Furthermore, there are no contracts or hidden costs, and you can upgrade, downgrade, or cancel your services at any moment. SlickText helps you to swiftly convey your message to clients since people respond faster to SMS.
To achieve a higher customer reaction, include an image with your ad. You may employ every element to assure your business's better growth, from restaurants and shops to schools and churches. Send bulk text messages from anywhere, and invite your customers to participate in the advertising campaign by sending a text.
To work efficiently, save your notes and arrange them by setting the day and time. You may set up auto-replies to deliver messages to your customers. In addition, turn on two-way messaging to keep in touch with your consumers. You may also keep records of your customers' birthdays and send them greetings on their special days.
Additionally, use the free smartphone app to control your text messages. It also has the same functionality as the Android and iOS versions. You can, for example, schedule daily, weekly, and monthly repeated messages. In addition, you may send several texts to users using Drip campaigns. SlickText interacts with Zapier, allowing your application and other apps to communicate with one other. To increase reach, it also interacts with email and Facebook. You may also use features like double opt-in, link tracking, built-in link shortening, personalized messaging, and more.
With all of these capabilities, SlickText is a superb alternative, and it offers a 14-day free trial. After that, you may choose from various options, starting at $29 per month.
With ClickSend, you can send marketing messages to your consumers using a web-based SMS interface, making business messaging simple. With their Web to SMS service, you may send hundreds of messages worldwide. You may even use Clicksend's SMS Gateway API to handle transactional SMS.
The online SMS gateway from ClickSend allows you to send texts to one or many recipients at once using a simple web service. To transmit text messages, ClickSend also uses the Microsoft Outlook Plugin. You may also send bulk SMS using an internet service or an existing application. Once you've entered a list of consumers and their contact information, the SMS service will take care of the rest, leaving your work much easier.
You may also send bulk SMS through the SMTP gateway, giving you a taste of the tremendous performance. You can easily send marketing messages, promotional SMS, transactional SMS, reminders, events, and more using all of these capabilities and plugins.
ClickSend guarantees 100 percent uptime and is certain in sending your texts to the intended recipients. It also comes with an easy-to-use dashboard that allows you to utilize the service and monitor each piece of data in one location. Furthermore, you may program the software to reply to consumer communications using certain phrases. Finally, assess your success and effectiveness using ClickSend's reporting and analytics to deliver real business value. Flexible payment options are available, both prepaid & postpaid. More features include:
Auto top-up,
Safe SSL,
1224 character limit,
Low credit warning,
High performance of 4800 messages per minute,
Sender ID customization,
Lightning-fast message delivery,
Access to online SMS software,
Free responses,
Status monitoring,
No setup costs, among others.
Smart clients select smart services like Textlocal, which provides your users with real-time SMS messaging capabilities. Use a bulk SMS provider that is dependable, accessible, and one of the finest SMS platforms to increase brand recognition, improve the customer experience, and optimize your communications.
There are several methods for sending communications to your target market. You can pay as you go as your contact list grows or outsource your messaging. In this situation, regardless of your industry, managed services will assist you with your customized SMS solutions. Textlocal also allows you to choose a high-density API connection for your company.
If you're a developer, SMS API is more adaptable and configurable. This functionality allows you to combine Textlocal with any other program to operate as quickly and efficiently. You may also add website connections, personalized coupons, films, photos, and files to each receiver, among other things.
Textlocal makes interacting with your customers and tracking your performance a breeze. You can get a free SMS specialist, a dedicated keyword, two-factor authentication, partner accreditation, and a GDPR-certified platform when you create a Textlocal account.
Make sure your clients don't have to wait long for an SMS notice. Klaviyo can assist you with obtaining your own toll-free number, ensuring that your consumers are delighted with your excellent service. This service allows you to maintain and strengthen your business ties with your loyal consumers and increase your revenue.
Klaviyo interacts with over 200 eCommerce platforms and tools, ensuring that you have all you need when communicating with your customers. With this SMS platform, you may greet customers by name, send birthday greetings, share purchase data for any product, advise them of stock status, send short reminders, etc.
Instead of duplicating effort, double the marketing channels by sending multiple emails and SMS in the same series, allowing clients to select which option they prefer. By enabling you to measure and evaluate your sales success via SMS messaging, Klaviyo demonstrates exactly what is required to build your business.
Automation processes allow you to select a release time and date, and Klaviyo also has many template variations to pick from. Allow consumers to register by filling out a form or clicking on subscription buttons. You may calculate your cost by counting how many clients you have and paying appropriately.
Klaviyo offers customized pricing with a free plan. The free plan provides up to 250 contacts, 500 email sends, and email support.
EZTexting is a well-known organization in SMS marketing, with over 165k active subscribers. It's a cloud-based text message service that any company may use to communicate with their customers using mobile technology.
Campaign management, custom sign-up forms, text marketing, contact management, and more features are included. All of these factors combine to assist firms in reaching and converting their mobile consumers. You'll also get full rights to its extensive template collection, which you can use to create aesthetically appealing SMS or MMS messages.
Features:
You can customize, import, and Segment the contact list
Text messaging options such as text forwarding, two-way texting, and more are available.
With a template library, you may personalize SMS and MMS messages.
Create a scannable graphic, similar to QR codes, to drive clients to your website, sign-up form, or other location.
Allow someone to join your mailing list by simply sending a phrase to your phone number.
EZTexting helps you to conquer the SMS marketing sector by providing you with a full range of messaging solutions. EZTexting will let you connect, interact, and convince your mobile prospects by dividing your contact lists and customizing your text and photo communications. This software starts at $29.
Twilio is a comprehensive platform that enables users to engage with consumers via whatever channel they want, including phone, video, email, live chat, and chatbots. It facilitates effective communication channels, ranging from email marketing to lead capture to dispatch notifications and appointment reminders, among other things.
Features:
Twilio Flex, Twilio frontline, account security, marketing campaigns, and Twilio segment are some available apps.
It includes Internet of Things (IoT) connection, phone numbers, elastic SOP trunking, and shortcodes.
It caters to marketing, operations, and customer service departments and also numerous sectors (retail, real estate, hospitality, financial services, and healthcare)
Twilio is recommended because of its transparent pricing plans. You don't have to pay for features you don't want, which means you can choose a package based on the channels, applications, and connections you need, and you must pay as you progress. Pricing ranges from $0.001 to $150 per month, depending on the channels, apps, and connection.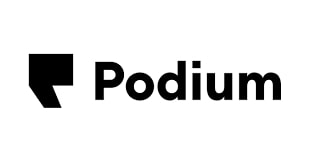 Podium is a simple messaging platform for small businesses that assist with payments, and reviews, combining all customer discussions in one place, marketing campaigns, web chat, video chat, team chat, and customer surveys via feedback. It offers operations, sales, marketing, and customer service departments solutions.
Features:
Obtaining automated feedback from customers.
Brings together all of a customer's discussions across all channels in one location.
Creates text-messaging marketing campaigns to assist in establishing an opt-in list of prospective customers.
It aids in the conduct of customer surveys, which aid in gathering feedback and analyzing performance.
Provides a webchat & video chat feature so you may communicate with customers in the way they choose.
Podium is the greatest platform for collecting automated evaluations and feedback from clients via texts. It's also good at using messaging to create marketing campaigns. It offers a free trial before choosing a package or requesting a price.
3. Frequently Asked Questions
3.1 How does an SMS marketing tool work?
It is a tool for companies that allows them to communicate with their clients digitally to market their services or goods via SMS. It's a sort of web promotion.
3.2 Are SMS texts free of charge?
It varies depending on the program and its many pricing levels. Some companies provide free basic packages with a particular number of messages, and others provide free versions for a set number of days. They charge their pricing according to their plans in this manner.
3.3 What category does SMS marketing come under?
It belongs to the digital marketing or internet marketing area. It is a type of marketing where a business advertises its products and services using digital platforms such as email, social media, SMS, and search engines.
SMS marketing best practices
Ascertain that everyone on your contact list has agreed to receive your SMS.
Keep in mind that message delivery must depend on the location of your clients. Sending an SMS at odd hours is a bad idea.
A direct and brief message is effective, and you also can include pertinent links.
Emphasize the initial line of an SMS to entice the recipient to read it.
Personalize the message by including your brand name.
Include critical disclaimers.
Keep an eye on the frequency and maintain consistency.
4. Conclusion
SMS marketing is changing in tandem with technological advancements. We discovered how much SMS marketing is required for a business, regardless of whether it is a local or small-scale business, medium-sized business, or large-scale business, in the above research. You constantly need a channel and means to reach out to customers or communicate with them, such as SMS marketing.
SMS marketing software is widely accessible on the market. Every piece of software has certain aspects in common and some unique features, but they all contribute to good marketing.
Sending bulk messages is a function shared by the SMS marketing software mentioned above. They are packed with capabilities to help you communicate more effectively and enhance your sales or revenue. Select one of the above SMS marketing solutions and begin utilizing its features to connect and interact with your consumers while raising your conversion rates.