Gamers and those interested in following gaming trends know the importance of Twitch. It's one of the largest, if not the largest game-streaming site where you can find thousands of uploaders playing your favorite games.
In recent years, Twitch became more than just a plain gaming platform. Today, it's a platform where streamers upload interesting vlogs and discuss non-gaming stuff, which makes it far more engaging. Sometimes, videos can be so memorable that you want to keep them forever.
However, Twitch doesn't allow you to download its videos, so you have to rely on your internet connection to watch them. The good news is that, with the best Twitch video downloaders, you can forget about this issue and download your favorite videos quickly and efficiently.
If you're on a plane or you're in for a day-long bus drive, you can use the best Twitch video downloaders to save your videos for offline use. Thus, you can watch your favorite Twitch streamers regardless of your internet connection!
1. Best Twitch Video Downloaders 2023: Our Favorite Apps
While Twitch allows you to download your own videos if you're a registered user, as said, downloading videos from other streamers is impossible. Thankfully, third-party options exist, so let's check them out and talk more about their features.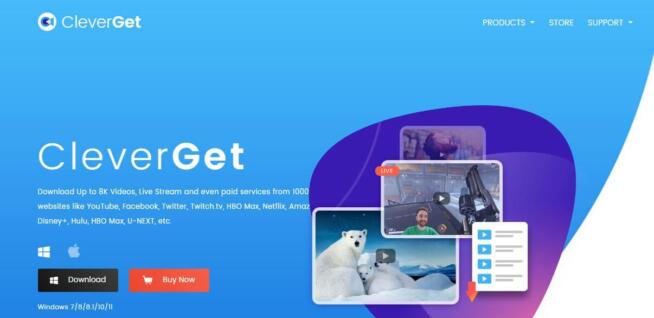 CleverGet Twitch Downloader is one of the best Twitch downloaders you can currently use. If you're a Twitch addict, this app will let you download any video you want, in any quality, all while enjoying fast download speeds that will make the process buttery-smooth.
I used it to download not only live streams, but also highlights, short clips, broadcasts, and VODs. In addition, all downloads are lossless, so the downloaded videos retain the same great quality. Speaking of which CleverGet Twitch Downloader lets you select the video resolution.
You can download in 720p, 1080p, or 4K, up to 60 fps. Not to mention that CleverGet even offers the ability to choose the video format, to make sure it's working even on your mobile devices. The interface of this app is very simple as it has an in-built browser.
Therefore, you don't need to use a third-party browser to search for videos. You can do so within the app and download the video you want right there and then. And before you ask, there's no limit on the video length, so you can comfortably download a 10-hour stream if that's what you seek.
It's vital to mention that CleverGet Twitch Download is a premium solution. However, it does offer a short free trial where you can download 3 videos. After that, you're going to need to pay for it, which shouldn't be a problem considering its affordable nature.
I mean, the annual license costs just $29.97 and there's a lifetime license at a measly $47.97, where both of them come with a 30-day money-back guarantee. If you ask me, that's pretty fair!
Pros
4k 60fps video download
It has a built-in browser
It can download VODs, short clips, highlights, and streams
Fast download speeds
Offers a free trial
Lifetime license
Cons
You can download only 3 videos in a free trial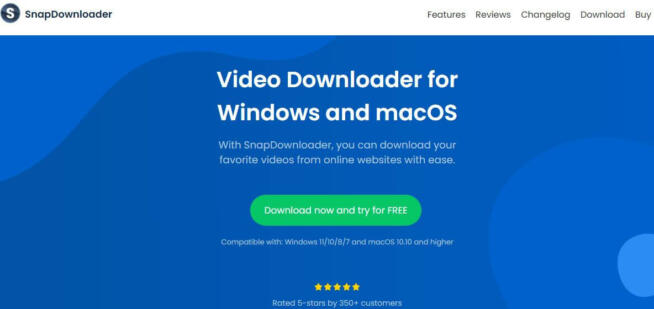 SnapDownloader follows a similar path. Once again, we're talking about a highly-versatile solution that lets you download videos from Twitch but also YouTube and other video-focused platforms. Here, the main focus is video quality, which I found really important.
If you hate compression and you settle only for the best quality videos, this is for you. SnapDownloader offers a myriad of downloading options, and apart from those I mentioned before, it even gives you 8K, 2K, and SD versions to make sure you get the best resolution for your screen.
For instance, I personally use a 2K monitor and the 2K video I downloaded looks stunning. Choosing your output format is also possible. If you don't want MP4, formats like WMA and AVI are also here. And if you don't want to download the entire stream, you can cut the videos to your liking.
People who are often driving might enjoy some videos in the podcast format. Not a problem – you can convert video to audio with SnapDownloader, transfer it to your car, and listen to your favorite gamers talking while commuting to a job and doing daily chores.
Remember that the app can download videos from nearly 1,000 other platforms, so it's not just for Twitch. That's why it's also not free, although it offers a cut-down free version that I don't recommend. The paid one, however, isn't very expensive if we're talking about long-term plans.
The annual plan is priced at $29.99 and that's the one I recommend. The monthly plan of $7.99 isn't cheap compared to some of the Twitch downloaders on the market. In my opinion, the inclusion of the lifetime plan would be great here, but it is what it is.
Pros
Usable for Twitch and YouTube
It can download 8K and 2K videos
Variety of formats like AVI, MP4, and WMA
Works with nearly 1,000 video platforms
Cheap annual plan
Cons
Lacks the lifetime subscription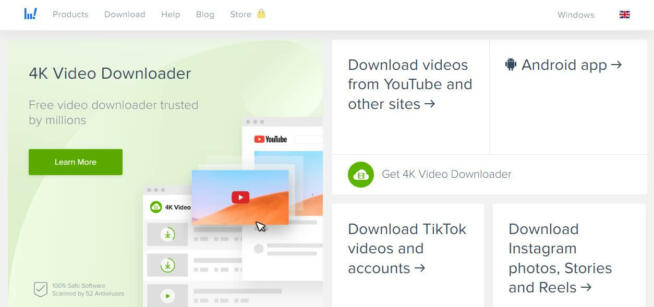 4K Video Downloader has a name that says it all. It's an app that lets you download 4K videos and that's all, right? Well, not exactly. You see, this desktop app lets you download videos from many platforms, where Twitch is included.
It's not a Twitch downloader per se but rather a video downloader that you can use for this platform. Nevertheless, it's here to download 4K videos in amazing quality, along with 360-degree videos that you can watch on your computer the same way you do on YouTube or any other platform.
This feature is amazing and is rarely found on similar software. Nevertheless, much like SnapDownloader, 4K Video Downloader will work on both macOS and Windows, and as you can guess, it requires a download to work – it's not web-based.
In the same fashion, it offers the ability to choose download parameters, such as output format and video resolution. Once you click on Download, the video will be on your computer in a matter of seconds or minutes, depending on how big it is.
I don't like that it doesn't let you search for videos inside the app for a direct download. Instead, you'll have to use your browser, copy/paste the URL into the app, and download it that way. 4K Video Download is free but its free version limits your simultaneous downloads and other parameters.
For $36, you can get a lifetime license that unlocks the full potential and lets you enjoy every aforementioned feature. As such, this is the one I wholeheartedly recommend.
Pros
You can use it on macOS and Windows
Downloads 360-degree videos
Very fast downloads
A cheap $36 lifetime license
Cons
It requires you to download the app, it's not web-based
Can't search for videos inside the app
The first three advanced options might be too much for users on a budget and that's okay. For that reason, we decided to include KeepVid on this list. As you can already guess, it's a simple web-based video downloader that you don't have to download to your computer.
In fact, it'll work on mobile devices as well, unlike SnapDownloader or CleverGet. Once you visit the site, you'll find a search bar where you can either search for videos or paste the link to the video you want to download. Clicking on Go lets you tweak different parameters.
You can choose the quality of the video, although it goes up to 1080p, with no 4K options. Also, you can choose whether you want to download it in MP4 or MP3 format. The latter is just audio, while MP4 is great for both desktop and mobile users.
Downloads are super fast and KeepVid doesn't decrease your native internet speed as many downloaders do. In terms of quality, I'll admit that KeepVid isn't as good as the other three options and it doesn't have advanced settings for cutting or adding subtitles.
For me, it's not a big deal as it's 100% free and works on every platform due to its web-based nature. If you're not too demanding and you're not watching your downloaded videos on a big 4K monitor or TV, this one will do the job just fine, trust me.
Pros
Web-based solution, no downloads
Works on mobile platforms in addition
You can convert videos to MP4 or MP3 formats
Relatively fast download speed
It's 100% free
Cons
No option to clip videos
You can download only up to 1080p videos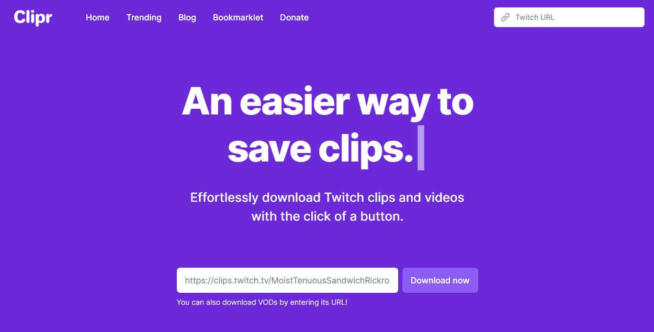 When you visit the website of Clipr, you'll see that it looks similar to KeepVid. However, it allows for a bit more flexibility, as you can download different types of Twitch videos, including videos on-demand (VODs).
The interface is rather simple and consists of a single text box and the "Download Now" button for initiating a download. Here, you'll need to paste the URL of the Twitch video, after which, you can use the button to download it in no time.
In addition, longer videos can be clipped, as Clipr allows you to set starting and ending points per your accord. Being a great Twitch video downloader, Clipr offers a part of the site called Trending. By clicking on it, you can see trending Twitch videos that you can instantly download within the platform.
Speaking of downloads, I'll mention that the quality is fairly decent. The compression isn't too noticeable and I'm not sure if it exists. You can choose the video resolution as well, and downloading videos in 60 fps is possible given that the video you want is recorded and rendered in 60 fps.
Overall, Clipr requires no registration, no payments, or anything. Just beware that it won't let you download videos longer than 1 hour, which can be a big turn-off for people who want to download the entire streams.
Pros
It allows you to download VODs
Simple and intuitive interface
Allows you to select start and end points
60 fps videos are supported
Requires no registration as it's free
Cons
It can't download videos longer than 1 hour
No 4K downloads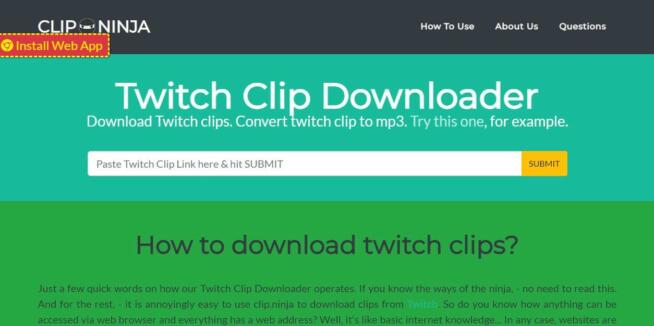 Clip.Ninja is an awesome Twitch clip downloader that's user-friendly and provides a high enough quality level for less demanding users. Much like KeepVid or Clipr, it's a web-based solution with a text box that you'll use to paste Twitch video links for download.
Once you do that, you click on Submit and Clip.Ninja will download the video for you. Since it's a completely free solution, Clip.Ninja is limited in terms of the features you get. For example, you can download videos up to 1 hour in length and you can't choose the video resolution.
However, Clip.Ninja lets you convert videos to MP3 and listen to them in an audio format. The downside is that the MP3 file can last up to 20 minutes only, which, I think, is a far bigger compromise. At least the platform is pretty simple to use and it can download videos fairly quickly.
Plus, before each download, Clip.Ninja will give you all the relevant information about the video you want. You can even see the details of the author (streamer), number of views, and other similar info. If these limits don't bother you, Clip.Ninja is surely a choice to be considered.
Pros
It's very easy to use
It can convert videos to MP3
Gives you information about every Twitch video before download
Requires no payments as it's free
Cons
MP3 up to 20 minutes
You can't choose a video resolution
Can't download videos longer than 1 hour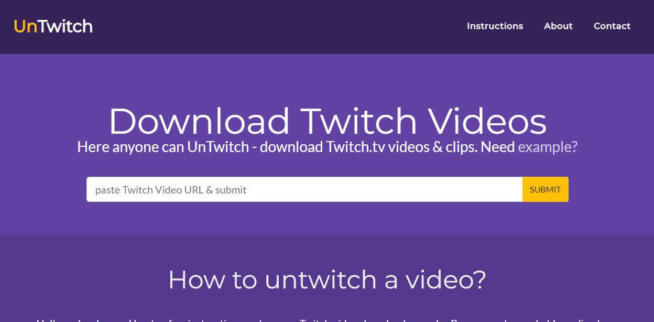 UnTwitch is a dedicated Twitch video downloader that lets you download videos with no hassle. If you're in a hurry, its simple interface will do you only good, as it's easy to paste the URL of the video into the text box, set the parameters, and start your download.
Unlike Clip.Ninja, UnTwitch lets you choose various parameters, such as video quality. Beware that it can go up to 1080p 60 fps only, so don't expect 4K quality as we've seen on CleverGet or SnapDownloader, both of which are premium solutions.
Even better is that UnTwitch lets you select start and end times, so you can cut the video to avoid uninteresting or sponsorship parts that many people find annoying. In addition, you can use UnTwitch to convert videos to MP3 but it, along with the MP4 option, has its limits.
First, you can't download a video longer than 1 hour, and second, the MP3 file can't exceed 30 minutes in length. While I also don't like that you can't select start and end points for MP3, I can't blame UnTwitch that much. Besides, it's free of charge!
Pros
You can choose a video quality
The ability to select start and end time
Conversion to MP3 and MP4
Cons
1 hour limit on videos
30 minutes limit on MP3
No ability to select start and end point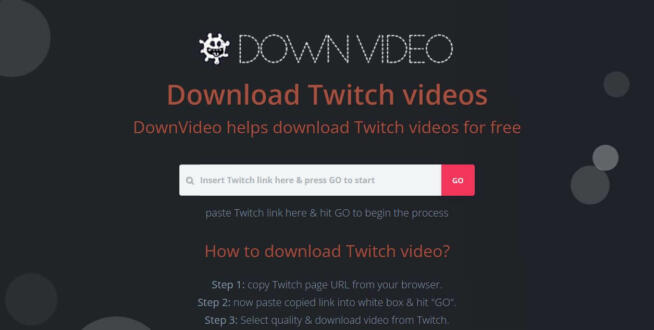 DownVideo is yet another simple platform where you can download high-quality Twitch videos. Not only that, but despite being completely free, it offers the option to download videos from other platforms such as YouTube and Twitter, making it far more useful than many similar options.
The site looks a bit dated but this web-based solution is all but. Once you copy the Twitch video URL, simply paste it into a textbox and click on Go. From there, you can convert the video to your liking and download it to your computer or phone quickly.
Despite being free, DownVideo actually doesn't limit your video length, so you can download the entire live stream if you want. Moreover, the videos can be converted into MP3 but also downloaded in 4K, although there's a bit of compression that isn't that noticeable.
On the other hand, MP3 files don't have any limits either. This means you can get a big audio file for listening in your daily routine, even if it's 10 or so hours long. Apart from a dated interface and the lack of advanced features we found in SnapDownloader, DownVideo has no particular downsides.
Pros
Downloads videos from Twitch and other platforms
It can convert videos to different formats
No limits on video and audio length
4K videos can be downloaded
Cons
The lack of advanced features
Dated interface
Apart from its cute name, Clipsey is here to make your life easier if you download Twitch videos every day. One-click downloads are surely something you'll cherish and Clipsey, with its intuitive and simple web-based interface, is here to deliver exactly that.
Is it feature-rich? Surely not. For example, you can't choose the video quality or select a format, so you're limited to downloading videos without the ability to convert them to MP3. On the good side, Clipsey is pretty fast and you won't have issues with the download speed.
Once you click on Download Clip, it'll be on your device in no time. In addition, it offers a great Chrome extension that lets you download Twitch videos right when you see them. Clipsey has no limits in terms of video length, which is another great feature.
Keep in mind that Clipsey is also free and you won't have to pay a dime for it. Yet, it still gives you unlimited video length, alas, at the cost of quality, which isn't at the highest level.
Pros
Simple and intuitive interface
Fast downloads
Offers a Chrome extension
Unlimited video length
Cons
No ability to convert to MP3
Downloaded videos aren't at the highest level of quality

The last choice on this list is YouTube 4K Downloader. Its name says that it downloads videos from YouTube but don't let that fool you – it's a very capable Twitch video downloader as well! For the start, it's free and it's web-based, requiring no app download on your side.
Second, it's pretty impressive in terms of features. It won't limit video length and you can download unlimited videos, cut them, choose the format, and even convert them to MP3. One of its most impressive features is simultaneous downloads.
This means that you can download several videos at the same time, even in 4K resolution which is fully supported on this platform. YouTube 4K Downloader offers browser extensions for Firefox, Edge, and Chrome, as well, allowing for downloading videos effortlessly.
My only complaint is the processing speed which isn't the fastest. This especially rings true for longer, high-quality videos that can take up to a few minutes to fully process. However, if you're patient, waiting for a few minutes for a high-quality video isn't that bad considering it's free.
Pros
Web-based solution
Simultaneous downloads
Allows for 4K video downloads
Cons
Downloads could be faster
Slow processing for longer videos
2. Twitch Video Downloaders FAQ
2.1 Can I download Twitch videos on my mobile phone?
As you probably know, Twitch has a dedicated mobile app for iOS and Android users, which lets them experience the platform to the fullest. This begs the question – can I download videos from Twitch using my mobile phone?
Of course, but I recommend using web-based platforms from the list to do that. My first 3 apps won't support Android and iOS and they'll work only on Windows and/or macOS. However, if you use KeepVid, Clipr, or UnTwitch, you can download Twitch videos using your phone.
2.2 How to download a video directly from Twitch?
Twitch currently doesn't allow you to download videos from other streamers. Unlike YouTube premium which lets you save videos for offline access, Twitch isn't offering anything similar. If you're a streamer, you can download your videos instead.
Once you find the Video Producer menu, you'll see all of your videos, which you can then download. As for downloading videos of other streamers, you'll have to use one of the best Twitch downloaders we talked about.
2.3 Can I download Twitch videos for free?
Yes, by using a free downloader from our list. Just beware that free downloaders don't offer as many features as premium options, so don't expect the same level of video quality or clipping functions you get in CleverGet, SnapDownloader, and 4K Video Downloader.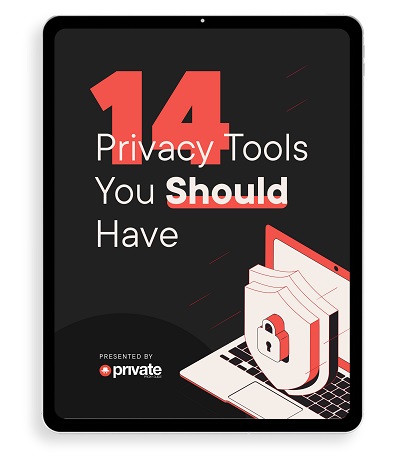 Learn how to stay safe online in this free 34-page eBook.