Getting rid of the programs and apps you don't need is often seen as a chore, which, in all honesty, it really is. It's much easier to fill your Windows computer with unnecessary stuff but when it's time to remove this clutter, your "Add or remove programs" option isn't going to cut it.
Even if you uninstall some programs, they're not deleted entirely, with some registry entries and files that "couldn't be removed" remaining. Additionally, doing the cleaning manually is time-consuming, so you'll spend this time tinkering around rather than watching Netflix or gaming.
However, with the best uninstallers for Windows, these issues should be fixed altogether. Uninstallers will scan your system and offer you the ability to thoroughly delete and clean your computer of the apps and software you aren't using, leaving no registry entries or non-removed files behind.
And if you're wondering what is the best uninstaller for Windows, I think you'll want to stick around. That's exactly what I'll talk about in the following few minutes!
1. Best Uninstaller for Windows: The Top 10 Picks for 2023
Having in mind the scope of the features and functionalities, many of the best uninstallers for Windows offer both free and premium plans. While premium options are always better, free choices are not to be regarded, especially since they're usually more than usable.
With that said, we did our due diligence and took our sweet time to test and analyze dozens of uninstallers for Windows. Thus, we came up with the list of our top 10 favorites which you can check below: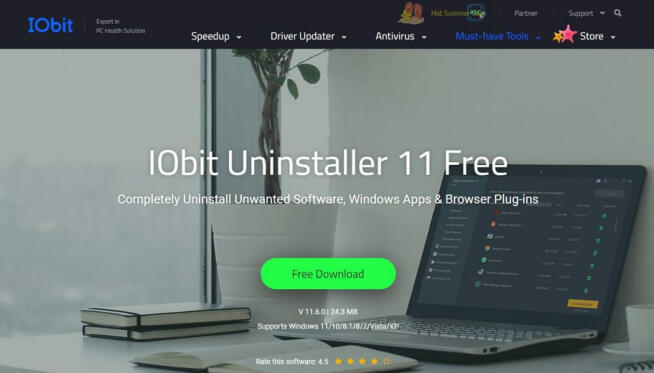 The best uninstaller for Windows comes in the form of an IObit Uninstaller. IObit is a well-known company that produced some of the best PC optimization software. This one is no different, offering both free and paid versions, both of which are extremely impressive.
IObit did a nice job with its uninstaller, packing a neat and intuitive interface with tons of features and possibilities. For the start, it offers deep scanning which will detect all your apps. In addition, it'll sort out the apps based on the time of installation as well as their impact on your system.
This way, you get a clear overview for easy uninstallation of the apps you don't need. I also want to mention that IObit Uninstaller is very efficient at detecting non-removed files from previous apps, as well as caches and shortcuts left deep in your computer.
Once the scanning is finished, all of the apps and their leftovers can be swept clean with a single mouse click. Mind you, IObit Uninstaller is very hasty, so even if you have an average PC, it'll work fluidly and with no major slowdowns.
For me, a useful tool was also the ability to manage browser extensions. I had tons of them that I didn't use and IObit Uninstaller helped me get rid of them. Besides uninstalling, IObit Uninstaller will also optimize your Windows PC through the Software Health feature.
The only gripe with it is that the free version is limited to basic uninstalling features. Its Pro version, on the other hand, blisters with all the features I mentioned and it costs a measly $17/y for three computers, so it's pretty affordable!
Pros
Tried and tested solution
Intuitive and good-looking interface
Removes leftover files
Fast and deep scans
Removes browser extensions
Software Health in the premium version
Cons
The free version is very basic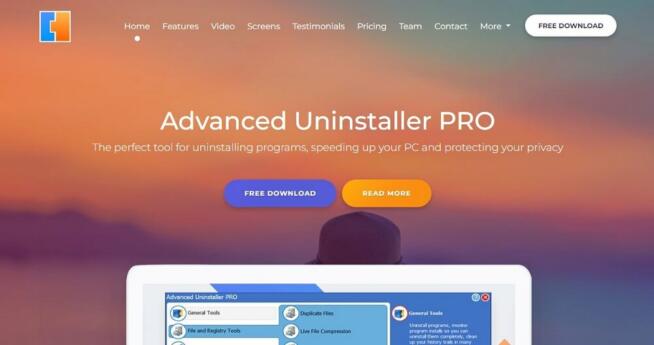 Advanced Uninstaller is so much more than your typical file-removal tool. However, its uninstalling capabilities are above-average, especially when we consider its awesome free plan. This software offers an easy-to-use interface with many file categories for easier access.
Once you scan your system, Advanced Uninstaller will let you see registry entries, duplicate files, and all other apps that you can remove easily. Moreover, the app is capable of deleting your browser extensions that often tend to slow down Chrome or Firefox.
Its deep scanning feature offers a high level of the commodity when uninstalling unnecessary apps. For example, Advanced Uninstaller can repair or even restore deleted files and folders. Even if a file is corrupted by malware or ransomware, this app can fix it and bring back its old shine.
If you're interested in this option, I strongly recommend its premium option. After all, it offers a Daily Health Check feature for optimizing your computer daily, as well as features like antivirus and browser security through extensions monitoring.
I don't recommend its expensive monthly plan but its 2-year and 1-year plans are very cheap. Plus, Advanced Uninstaller works on all Windows versions dating back to Windows 7, so even older machines can benefit from it.
Pros
Feature-rich free plan
It can delete corrupted registry entries
Repairs and restores files and folders
Daily Health Check for added functionality
Works with Windows 7
Cons
Very expensive monthly plan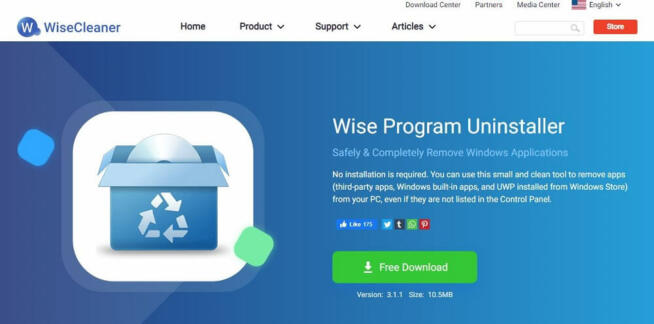 Wise Program Uninstaller represents a simple solution for quick and efficient uninstallations. I mean, it's a small portable program that isn't larger than a few megabytes, yet, packs a punch of an enraged bull. Of course, it's completely free, although there's a Wise Care 365 premium solution in addition.
Today, my focus is on this uninstaller, so let's keep it straight. The highlight of Wise Program Uninstaller is the options you get. Once its scans your system, you get the full list, with the ability to go for a Safe or Forced uninstall – or perhaps, repair some of the programs.
Safe uninstall takes you to the default uninstaller, while Forced uninstalls are much more useful. With it, Wise Program Uninstaller will deep-scan your computer for broken registry entries and trash files surrounding the app, letting you delete all of them as a result.
Another great thing is its minimalistic interface that eliminates the learning curve for beginners. And on top of that, Wise Program Uninstaller works on all Windows versions starting with the now ancient Windows XP.
Is it the most feature-rich? Surely not. Is it functional enough? Absolutely! Besides, if you want a premium Wise Care 365 option, you'll get a 60-day money-back guarantee, so feel free to try it out if you find Wise Program Uninstaller's small size and lack of some features unsatisfying.
Pros
Portable and lightweight
Safe and Forced uninstalls
Works on all Windows versions
Some programs can be repaired
Minimalistic interface
Cons
Not the most feature-rich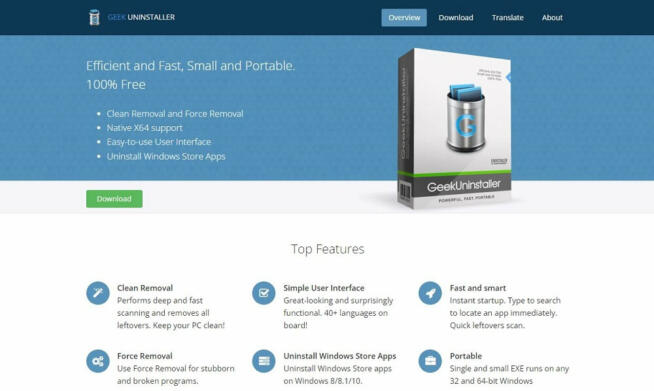 Geek Uninstaller follows the footsteps of Wise Program Uninstaller. It's a free, portable solution that comes with the optional Pro version called Uninstall Tool. However, I think its free version is more than good if you're not after the most advanced and cutting-edge features.
And if you are, you're better off with IObit Uninstaller than this one. Geek Uninstaller's main issue is the lack of deep scan, preventing you from registering new installations or scanning for registry entries and leftover files.
However, scanning is pretty fast and you get the same Safe and Forced uninstall options. In addition, it'll let you Google-search a particular file if you're not sure what it is, which is useful if you're not tech-savvy and you're not sure what to delete.
Geek Uninstaller, being portable, is very small in size and is easy to deploy on the machine you need. And if you're not an avid English speaker, the company translated the app to 30 languages, so you'll most likely find a way to adapt it to your preferences.
If you don't mind an old-school interface and the lack of advanced features, this free software should be on your to-try list.
Pros
The free version is enough for most people
Forced uninstalls delete leftover files
The ability to Google search files
The app is available in 30 languages
Cons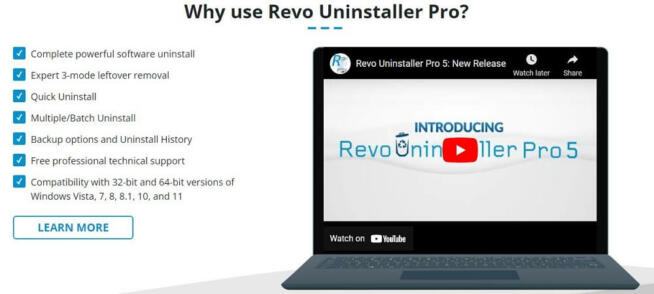 Revo Uninstaller is a full-fledged app-removal software for Windows. Its free version is among the best out there, offering you the option to remove leftover files and Windows apps but also to enjoy it on unlimited computers.
What's more, its registry cleaner works really well, and I like that it creates restore points before doing any changes to your setup. Plus, it offers even a portable version and works directly from your desktop. Thus, with the right click of your mouse, you can uninstall or repair the app without opening Revo.
Revo Uninstaller is clean and intuitive, although its interface could be modernized. Still, I think it's well organized, as you get lots of information about each app for determining whether or not to delete it. Of course, its Pro version offers additional features.
They include removal of browser extensions, Forced uninstall, real-time system monitoring, and full registry backup. Simply put, the premium version makes Revo Uninstaller a great solution for Windows optimization in addition, for a silly price of just $12.5 a year with a lifetime license!
Or if you want, you can go for a free version instead, but it's a shame that you don't get an option for a Forced uninstall here.
Pros
One license is enough for unlimited computers
Creates restore points before uninstallations
It can work directly from the desktop
Real-time system monitoring
The premium version is affordable
Cons
No Forced uninstall on the free version
Ashampoo Uninstaller is a very capable solution that looks modern and retains its intuitive nature. Its free version is very limited compared to other choices on the list, so I recommend going for its premium version that packs all the necessary features.
This tool lets you uninstall not only applications but also Windows Store apps and browser extensions. Additionally, Ashampoo Uninstaller is great at cleaning broken registry entries and eliminating leftovers that various applications usually leave on your PC.
Silent uninstall is also an option here if you don't want auto-purging that will delete more unnecessary files. I'm quite baffled that Ashampoo Uninstaller won't allow for batch uninstallations, so you'll have to delete programs one by one.
On the bright side, there's a reliable file shredder accompanied by other tools such as deleting duplicate files and optimizing your computer. All of this comes at a one-time price of around $25, so you aren't obligated to subscribe and pay monthly.
Just buy it once and use it as much as you want – simple as that!
Pros
It can uninstall browser extensions
Broken registry entries can be removed
It includes File Shredder
$25 subscription plan (one-time payment!)
Cons
Doesn't support batch uninstalls
Limited free version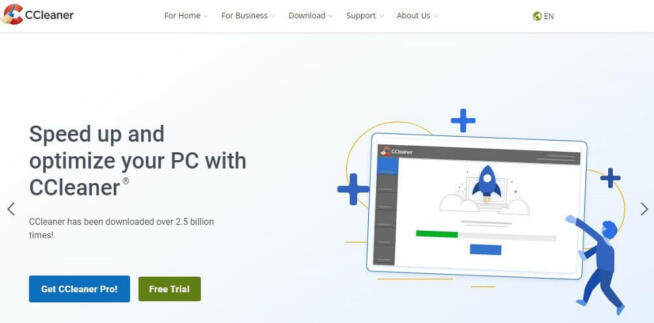 CCleaner is among the best PC optimization tools on the market. It's been around for quite a lot of time, offering lots of useful features for cleaning your PC from trash files, broken registry entries, and files left after unsuccessful uninstallations.
Needless to say, CCleaner offers free and paid versions, but also a free trial that gives you a glimpse of what its Professional plan has to offer. The Professional plan will cost you around $25 a year and in this case, you'll get all of its features, which include the uninstaller.
CCleaner is very efficient here, as it performs deep scans to find out even the most stubborn files. Furthermore, it offers file recovery options, in case you've accidentally deleted some files and you want to get them back.
As is the case with every other uninstaller on this list, CCleaner is easy to use, although its interface hasn't seen an update for a very long time. Overall, CCleaner is a great uninstaller for Windows and mobile devices as long as uninstalling isn't your priority.
It's a device optimizer above all, but uninstalling apps/software you don't need is just a part of it. Thus, CCleaner won't be the most feature-rich in this regard.
Pros
Uninstaller and PC optimizer in one app
Free trial for the premium version
Deep scanning is available
Easy to use on Windows and Android
File recovery
Cons
Outdated interface
Its uninstaller features aren't the best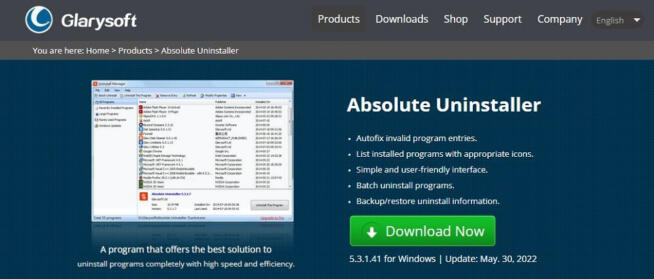 Absolute Uninstaller comes from Glarysoft and it's a 100% free solution for removing unwanted software and programs. In my experience, Absolute Uninstaller is functional, it's simple to use, and offers an interface akin to Windows Explorer.
Being a free option, it's surprising that it supports batch uninstalling, which is useful for uninstalling multiple programs simultaneously. Another perk is the option to fix registry entries as well as get rid of the files left by some of the apps.
Absolute Uninstaller will fix invalid program entries automatically too, and perform deep scans to make sure everything's under its watchful eye. Besides, it also offers the ability to backup or restore the uninstall information, just in case you want to keep these files somewhere safe.
As its name implies, this is strictly a Windows uninstaller, so don't expect any bonus features. However, with batch uninstalling and a plethora of useful options, Absolute Uninstaller is a good free choice. And if you want more, you can check out some of Glarysoft's premium products.
They include registry repair, disk cleaner, and many other tools that aim to optimize your PC and make it faster.
Pros
100% free Windows uninstaller
Supports batch uninstalling
Fixes invalid program entries
Backup or restoration of uninstall information
Cons
No bonus features or a premium plan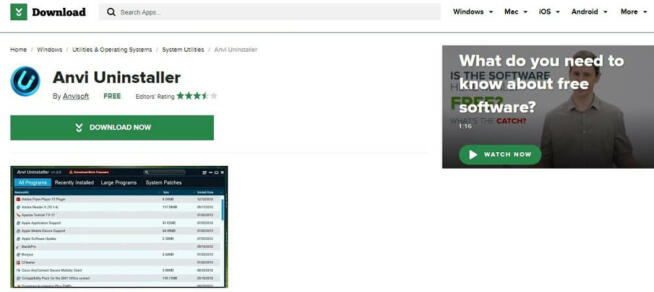 Yet another lightweight and portable solution is Anvi Uninstaller. Being almost at the very bottom of this list, you shouldn't expect it to be better than IObit or Advanced Uninstaller. However, this one's pretty good for what it is, especially considering its few-megabytes size.
Right from the start, you'll notice its categorization of programs, with recently installed, large programs, and system patches in place. This allows you to choose which programs to uninstall without wandering around the app too much.
In addition, Anvi Uninstaller will always create a restore point before each uninstallation, to make sure you can always go back to it if things go south. This option, while quick and efficient in uninstalling unwanted apps, won't support some crucial features.
For example, it won't clean broken registry entries or support batch uninstalls. Neither will it remove leftover files, which is a bit of a compromise. On the good side, it successfully removes Windows patches and works with all Windows versions starting with Windows 7.
Oh, and it's also completely free, so you won't have to pay a dime to use it. If you need an uninstaller for basic needs, this one's undoubtedly a solid choice.
Pros
Intuitive categorization of installed programs
Allows you to create a restore point
Removes Windows patches
Compatible with Windows 7 and above
Cons
It can't clean broken registry entries
Batch uninstalls aren't supported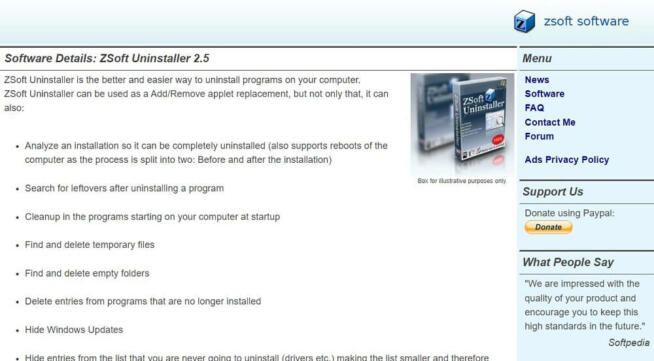 ZSoft Uninstaller is an older program that aged relatively well. It's a simple uninstaller that scans your computer for new installations, letting you see all the installed programs in real-time. Its interface isn't award-winning and I think it's also not the easiest to use due to poor program list organization.
However, the good thing is that it can find temporary files or hidden programs, which you often can't find on your own. And while scans work well in detecting new programs, ZSoft Uninstaller is rather slow, so the scanning process might take a while initially.
Another red flag is that it doesn't support batch uninstalls as many other choices on this list do. But let's take it for what it is – a free uninstaller for Windows with no recent updates that still functions properly. In this case, ZSoft Uninstaller actually isn't that bad.
It can uninstall any program you want, fix leftover files, and delete empty folders, it works even on Windows XP, and offers a handy portable version.
Pros
It detects hidden programs and temp files
Deletes leftovers and empty folders
Supports even Windows XP
Cons
Not the most user-friendly interface
The scanning process takes a while to complete
Batch uninstalls won't work
No recent updates
2. Best Uninstaller for Windows FAQ
2.1 Can uninstallers for Windows optimize my PC?
Well, they can… sort of. Uninstalling remnants of old software on your PC will clean up your space and make your computer run faster. However, uninstallers are, in many cases, a part of optimization software that offers more tools for fully optimizing your PC.
That said, uninstallers will have a mild impact on your computer's performance unless they're used in conjunction with other tools. For instance, CCleaner offers the ability to shut down startup processes and remove malware, both of which will result in a higher performance increase.
2.2 How to use an uninstaller for Windows?
Uninstallers are great because they're, in 99% of the cases, very simple to use. Therefore, to fix broken registry entries, remove software, or clean your browser, you usually need a single mouse click on the button. After that, an uninstaller will do everything for you.
2.3 Do I really need an uninstaller for Windows?
Windows computers tend to be full of duplicate files, unwanted programs, and remnants of uninstalled apps after a while. They then tend to slow down for seemingly no reason, ruining your previously great experience.
While these issues can be fixed manually, it's VERY hard to dig for potential problems. That's why you need an uninstaller for Windows. It will not only make your PC run somewhat better but also free your HDD space by getting rid of any excessive and useless files and programs.
So, do you need one? I'd say YES. Once you download one and you perform a deep scan, you'll see how stuffed your computer is with files and programs you don't need or use.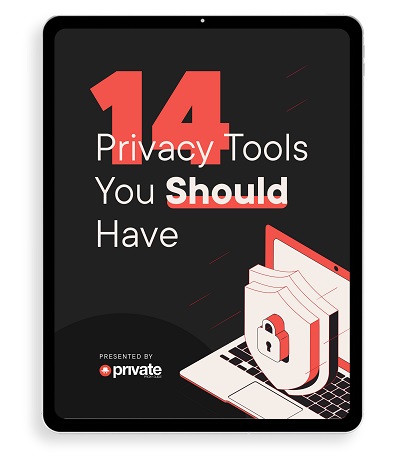 Learn how to stay safe online in this free 34-page eBook.