The best video capture software will let you capture your device's screen during important moments. With it, you can create how-to guides and tutorials, or perhaps, take a recording of an online class or meeting so that you can remember all of the important information.
In addition, the best video capture software will allow you to share your saved videos with friends and colleagues and edit them to your accord. While there is a lot of video capture software out there, not many of them could be considered exceptional.
Today, we'll talk about our favorite video capture software options and give you the solutions we personally tested. With them, you'll be able to capture videos from your webcam, computer screen, mobile screen, and YouTube videos, and enjoy many other awesome benefits.
1. Best Video Capture Software in December 2023
Before we start, let's just clarify that we'll mostly talk about premium products here. However, we also included some free options and some free-trial video capture software, which will let you test the software out before buying it or using it in the long run.
Without further ado, our choices are below, so let's talk more about them and see what they offer.
Believe it or not, we'll start this list with one of the best free video capture software apps out there. OBS Studio is the most popular choice for streamers, gamers, or anyone who wants to capture his/her computer's screen efficiently and with low effort.
OBS Studio is completely free and it works on Mac, Linux, and Windows. And while it's not a video editor, it supports capturing videos in multiple formats with localized recording. For the start, you can add several scenes to the recording, as well as choose the audio output.
From here, you can select the size of the recorded screen to capture exactly what you want. You can capture full screen or zoom in and record only the part you want. I really like that it's gamer-friendly as well, as it allows you to add recordings from multiple sources.
This means you can add a popular face cam or anything else to complement your videos. Audio Mixer is here too and it allows you to tweak your audio settings to achieve the best possible recording. OBS has the Virtual Camera option but also the Studio Mode for advanced settings.
It supports filters to make your video look the way you want and you can even add some basic screen transitions. Needless to say, OBS Studio allows you to record videos in ANY resolution in 60 frames per second without any watermarks or intrusions.
OBS Studio is often used for live-streaming videos to YouTube or Twitch, and as such, it represents the most versatile option on this list. It's great for both gamers and non-gamers who are focused on productivity and want to record their screen for other purposes.
OBS Studio doesn't have a premium version but I suggest you donate to this open-source project to keep it afloat. After all, it's the best video capture software and it's 100% FREE, so I think it deserves at least a dollar to keep it going.
Pros
It's great for gamers
OBS Studio lets you adjust the recorded screen size
It supports videos from multiple sources
Studio Mode is included
Virtual Camera
Recording in any resolution at 60 fps
It's free
Cons
Beginners might find it a bit intimidating
Adobe is a company known for many solutions like Illustrator, Photoshop, and Captivate. Captivate is a highly-capable screen recorder available for macOS and Windows. It supports webcam recording but it can also record audio for making the entire experience great.
Unlike OBS Studio, Adobe Captivate actually supports video editing. And while we're not talking about video editing on the level of Sony Vegas, you can most likely completely edit the video the way you want and share it with friends or colleagues.
Admittedly, Captivate is a complex app that won't be very suitable for beginners. However, it has plenty of options for recording and saving videos in MP4 format. Much like OBS, you can select the resolution of the video or capture only a part of your screen.
What I really like is the ability to add buttons to the videos you record. This is great if you're recording something work-related and you want people to vote for particular options. Being a product from Adobe, Captivate lets you integrate other software to make the editing process superb.
This, you can incorporate content from Illustrator, Photoshop, or any other program into the editing process. In addition, PowerPoint presentations can also be implemented, and thanks to advanced editing options, you can make an interactive module out of your presentation.
One of its best features is sharing. It's extremely easy, as you can publish your video to YouTube with a single click. Captivate will also optimize your videos for all devices and can even seamlessly play the videos across multiple devices for better multitasking.
It's not free, however, and while Adobe doesn't mention the price on the site, you can start a 30-day free trial and see how much it costs after that.
Pros
It records both audio and video
Great editing capabilities
Supports custom animations and buttons.
Works with content from other Adobe products
It can play videos across multiple devices seamlessly
Cons
The price isn't mentioned on the site
I often used Wondershare Filmora to create and edit videos and I can tell you it's a perfect balance of affordability and feature-richness. Well, DemoCreator is the same, and for just $75 as a one-time payment, you can get this robust video capture software for Windows and Mac.
DemoCreator is both a screen recorder and screen editor, which is very handy for doing everything within a single app. It doesn't use any watermarks, which is great, and you can record for as long as you want, which will be great for gamers who record long-play sessions.
However, this software isn't just for gamers. You can record online meetings, webcam footage, or anything else you want at the same time. From here, editing videos is easy, as you can add text and other effects to make the video stand out.
What's more, DemoCreator is great for interacting with your videos in real time. You can, for example, draw on the video while it's running, customize your framerate, and even select a custom screen size. DemoCreator usually saves your videos in MP4.
For added compatibility, you can also save them in MOV and even GIF. Wondershare DemoCreator includes 1 GB cloud storage in every plan but the downside is that it supports 720p export resolution, so Full HD or 4K videos can't be uploaded to the cloud.
As for editing features, DemoCreator includes noise cancellation, virtual backgrounds, a voice changer, and many others. As said, you can get its Perpetual plan for $75 but if you want, you can also pay $15/mo and get its apps for Windows, macOS, and in the form of a web app.
DemoCreator also has a free version but as you can guess, it's cut down in features and won't offer even a remotely close experience.
Pros
A very intuitive interface
Unlimited video recording
It can add text and video effects
1 GB of cloud storage is included
Noise cancellation and 9+ video enhancements
Cons
The free version includes a watermark
720p export resolution for cloud storage
Camtasia might not be a gaming-focused solution like OBS. However, it's excellent for capturing high-quality videos concerning tutorials, lessons, how-to guides, demos, or anything similar. Above all, it's great for sharing videos on YouTube, making sure you can immediately see the fruits of your work.
This software offers a free version but its paid version is the most feature-rich. It allows you to record the full screen, as well as webcam footage or a particular presentation. Thanks to video-editing capabilities, Camtasia lets you add various transitions and insert audio into your videos.
I like the ability to add animations, which makes the video look professional. Users can zoom in or out of their videos to highlight important moments and make their tutorials or demos more comprehensive. Much like DemoCreator, you can add text and buttons to your videos.
Camtasia lets you play around with quizzes, which is great for testing out the knowledge of your students if you're a professor. The application is compatible with Mac and Windows and it's fairly simple to set up, so you don't have to be an experienced video editor.
As said, it's not free but you don't have to subscribe to it. Instead, it's a one-time license that costs just around $180 and you get one year of maintenance. There's a 30-day money-back guarantee as well, coupled with live chat, email, and phone support if things go south.
While it may seem expensive, keep In mind this price is for the first year only. Once it renews after a year, you'll pay just $50, which is dirt cheap compared to what it offers. Users are very satisfied with it, although some of them report occasional crashes when working with very large videos.
Pros
Quality video recording with a single mouse click
Easy sharing to YouTube and other online platforms
The ability to zoom in or out of your videos
It allows you to add quizzes to videos for increasing interactivity
It works on Mac and Windows
Cons
The first year of subscription is expensive
Some people reported seldom crashes while working with longer videos
Movavi is another popular video capture software that you can use on Windows and Mac. People often use Movavi for recording streaming videos, webinars, demos, and online calls, so it's a stellar choice if you're into productivity and not gaming.
I like that it allows for creating crystal-clear full HD videos in 60 frames per second, which makes your videos look smooth on any screen. Movavi allows you to record both audio and video at the same time, so you can utilize your microphone as well.
From here, you can tweak different parameters, such as audio levels and screen size, to make sure you record exactly what you want. Since Movavi supports basic editing, you can merge two videos, cut the videos into smaller ones, and edit the framerate if you want.
Movavi is useful for capturing webcam footage as well, but you can also easily share your videos with other people. Movavi lets you upload a video to YouTube effortlessly and thanks to the Movavi Cloud, you can save your videos without taking up space on your computer.
Video capturing can be scheduled in advance too, meaning you can be away from your PC and still capture relevant footage. The software isn't free, however, although it offers a free option with the annoying Movavi watermark on your videos.
If you want a full experience, I recommend buying its Lifetime license at $59.95. As a one-time license, it requires a one-time payment, so you won't have to pay each year or month. An interesting offer is also this Video Suite Lifetime plan at $94.95.
It includes Movavi with the video converter, video editor, and other tools like Split Movie, Media Player, and DVD & Blu-Ray Burner. A 30-day refund policy applies to all plans, so if you're dissatisfied, getting reimbursed is an option.
Pros
Great for capturing webinars, webcam footage, and demos
You can adjust screen size and audio levels
It supports basic editing features
Movavi Cloud is included
The ability to schedule screen recording
Cons
A Movavi watermark ruins the free version
Not the fastest rendering
Telestream is a prominent name in the video production industry and it came up with a solution called Screenflow. Screenflow is a robust and powerful video capture app for Mac, giving you the ability to capture videos in many formats.
People use Screenflow for making tutorials, professional videos, and even product advertisements thanks to its quick and easy setup and easy-to-use interface. Furthermore, Screenflow isn't just a pure screen recorder but a video editor as well!
It, therefore, lets you apply filters, add text animations, and even incorporate beautiful transitions to make the video look professional and thought out. Video tutorials are easily craftable with ScreenFlow thanks to several templates that you can utilize.
If you're making business-related videos, you can add your company's logo. This is accompanied by the ability to capture videos from multiple devices at the same time and combine them into one comprehensive video that can be shared on YouTube or used privately.
Screenflow lets you record 60 fps videos and you can convert parts of them to GIFs if you want to display a particular part without audio. I appreciate that Screenflow lets you record your iOS screen too, meaning that you can use it on your phone – unlike many of its competitor apps.
Unfortunately, it's available only for Mac and doesn't support Windows. It's also not particularly cheap and costs $169, with the price going up for Screenflow Super Pak ($229) and Screenflow Super Pak + ($259). Is it worth the price?
Absolutely – especially if you're looking for professional-grade video capture and editing software that won't let you down when you need it the most.
Pros
Professional-grade video capture and editing
Many video templates to help you get started
Recording in 60 frames per second
Videos can be converted into GIF
You can add the company's logo
Excellent editing features for the most demanding users
Cons
It's available only for Mac
An expensive price (starts at $169)
The interface is a bit complicated for beginners
2. FAQ
2.1 Does my PC have a built-in screen recorder?
Yes, both macOS and Windows have a built-in screen recorder. These screen recorders are overly simple and they don't give you the same possibilities and features as the ones we talked about. Not to mention that the footage quality isn't the best and you can't edit your videos properly.
As a short-term solution for quick screen capture, built-in screen recorders are great. But if you want to make longer videos and make them look professional, getting the best video capture software from our list is the way to go.
2.2 How to capture video on my phone?
Well, much like computers, phones also have a built-in solution for screen capturing. You can use this option or go for a third-party app that allows you to edit videos and incorporate your microphone.
2.3 What is the best video capture software for gaming?
If you're a game and you'd like to capture gameplay for streaming purposes, OBS Studio is easily the best choice. It supports live-streaming features and allows you to add videos from multiple sources, which comes in handy if you need a face cam, for instance.
Other options on this list aren't gaming-oriented and are mostly focused on productivity, tutorials, guides, and professional videos. Aside from OBS Studio, you can try Streamlabs OBS which is its cut-down version for beginners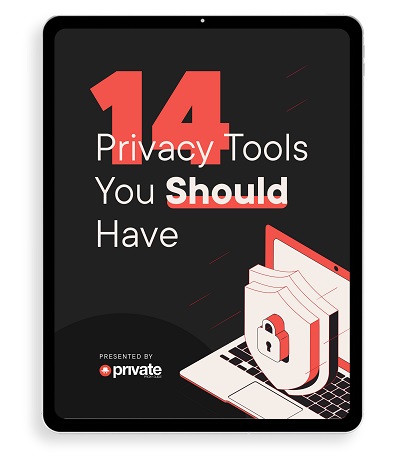 Learn how to stay safe online in this free 34-page eBook.