The radical shift in workplace dynamics owing to the pandemic has undoubtedly changed the work for good.
Barring a few, many workplaces have shifted permanently to work from home models, based on the time and cost-saving from commuting alone.
As the workspace moves places, the telephones at work are no longer in business. It's time you start looking for other options, such as VoIP phone services, which are not only cheaper but also easy to maintain. You can install and get it running within a couple of minutes.
Here the benefits include unlimited calls, clearer voice quality, free calling to local and toll-free numbers, queueing incoming and outgoing calls, and creating conference calls.
That's not all; it is not just a simple phone calling service. You can also send media in different formats (images, video, and text).
Some of the services also offer to fax over IP without requiring a fax machine. The added clarity through data packets helps deliver high-quality material.
We have compiled a list of the best VoIP services providers to help your business get on the communication channel without any delay. They can be set up by yourself as well without requiring heavy technical knowledge.
1. Best VoIP Service Providers in October 2023
Best for small businesses with varying needs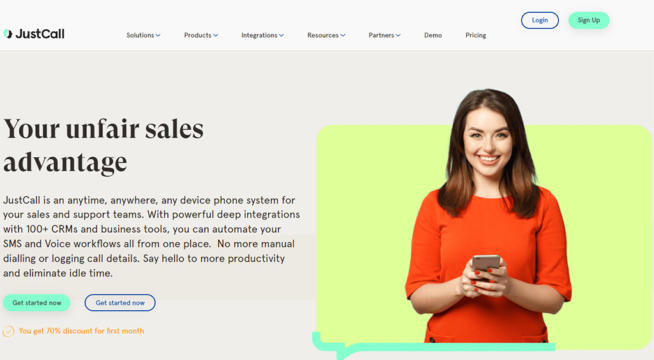 Start with JustCall if you are starting out and need a versatile VoIP provider which doesn't shy away from providing excellent customer support. Their feature lists are tailored for smaller businesses with distinct needs.
You also get 70% discount for the first month on the business phone system. JustCall has designed the system in a way that it takes just 5-minutes to set up the entire thing. Get a new number or port to an existing number right away without any lengthy formalities to complete. Subsequently, invite your team members to use the service for receiving or making calls.
Pros
JustCall offers local numbers in over 70 countries across the world. Always be local when calling with a multi-city feel, providing a local presence to your big business.
Integrate any of the leading and your favorite CRM and helpdesk tools. Streamline all your communication with the advanced integration onto the platform itself. Get your sales and customer team a powerful weapon through automation and improved workflows.
This service is trusted by over 6,000 leading companies, including Google Fiber, Walmart, AIG, Jaguar, etc. Customer support can help get more knowledge on the client base.
Invite team members from sales, support, and marketing. Assign them unique or shared phone numbers to work with it. Increase productivity without hitting the ceiling due to limited capacity.
Make/receive calls from desktop, mobile apps, or web from the JustCall numbers. All the features are accessible from either of the platforms without any limitations.
Take advantage of the advanced analytics and reporting of the calls. Get on top of what's working and what needs to go. Have a deeper look at the calling numbers, recordings, and more.
JustCall Conversation Intelligence helps sales teams access the real-time transcripts of calls. Let AI create insights for the sales-based conversations and hand out a conversation score.
Cons
Adding additional lines can become expensive beyond a certain point.
The power dialer feature is still far from reaching its maturity stage.
Pricing
Their standard plan starts at $20/user per month when billed annually. You get one local or toll-free number with call tracking, recording, and forwarding. On the support front, we get the email and chat. The call support is reserved for premium plans.
Best for businesses with flexible needs in different periods
Now we have an industry leader at our hands now with Nextiva. Every plan has essential VoIP features to have your business needs covered. They offer a 30-day trial which is chargeable at the end of the trial period.
Right now, they are offering 25% off across all their plans, with the offer being valid till Christmas. Request a demo before deciding by contacting their sales team. If you like what you see, get on board and start using the service right away. You can always change your plan if it doesn't fit the business's needs.
Pros
Understand what your customer wants by using the NextOS platform. It tracks every interaction with customers and shares the information in real-time with concerned departments of the business. Backed by the analysis engine, create smart automation through AI for optimal results.
Unlimited audio and video call across all the plans. Be it the most basic one, essential plan, or enterprise, and you have no limits on the duration of calls. Worrying about minutes has become a thing of the past.
Have a meeting coming up, and employees from different regions need to attend? Use the video conferencing feature without a second thought. It has unlimited participants on the higher plans.
Over 100,000 clients from across the world, consisting of industry leaders of different domains. Be it Amazon, Panasonic, or Taco Bell, Nextiva has made its footprint in various industries. Also, access the case studies of the leading clients and see how it's done.
Nextiva is all about automation to reduce workload and manpower. Powered by its AI-centric software, it will automatically detect keywords in conversations and make real-time suggestions to move it in the right direction. The icing on the cake here is the automatic follow-up and check-in with the clients, which help in keeping customers in the loop for renewals, newsletters, and more.
Next-gen NextOS admin dashboard with new features that allow call forwarding, phone dialer automation, and contact lookup in one place.
Ideal for businesses of all sides. Nextiva, tailor different tools for businesses of various sizes. You don't have to run to another VoIP service when scaling up.
Cons
The onboarding process is delayed around the busy days of the week.
No voicemail transcription is yet available on the service.
Pricing
Their cheapest plan starts at $18.95/user/month when subscribed annually. It comes with unlimited audio and video calling. You also get integration with Google contacts and Outlook.
Best for businesses with call center departments
Go all-in on the cloud with CloudTalk, which offers tremendous call solutions for call center-centric businesses. They have solutions categorized according to different sectors.
No credit card is required for using their two-week trial. Type in your business email, phone number, and other company information to start using the trial. If you don't want to go for a trial, there is a demo available as well. Schedule it at your convenience, and a representative will get in touch.
Pros
Get access to numbers of over 140 countries from across the world. It can be with and without geographic codes. This allows customers from different countries to dial local numbers and not be charged enormous fees for them.
Add personalized greetings to the incoming calls from the customers. Make them feel heard and valued without breaking the bank by hiring extra staff for that. Upload MP3 recordings of your choice as messages as well.
Protect the privacy of both buyers and sellers by masking the calls with temporary phone numbers. They are created to hide the actual phone number of either party for protecting their personal information.
Create VIP queues for your special customers to make them feel valued when connecting over a call. Assign them to particular agents which are reserved for exclusive clientele.
More than 2,500 call centers requiring businesses to rely on CloudTalk phone systems for powering their communication. Their clientele ranges from Tech Mahindra to Mercedes Benz.
Give your agents the power of information by providing real-time consumer cards containing all details about the callers. Their call and purchase history, chats, notes, and more.
Take advantage of the unlimited concurrent calls allowance on CloudTalks. Handle as many outbound and inbound calls without worrying about hitting the ceiling.
Cons
Installing the CloudTalk client on Zendesk can be a challenge at times.
Some of the beta features are not yet polished enough to be used properly.
Pricing
Their start plan starts at $25/user/month when subscribed annually. You get unlimited inbound and outbound calls. Call queuing is available, along with access to numbers from 140 countries.
Best for businesses requiring occasional calls
Phone.com is all about value for money. They provide a mix and a match of different features that you specifically need to bring the cost down.
You will need to put your payment information down for a 30-day money-back guarantee. There is no free trial or a demo available. The easiest way to try their service is by subscribing to the basic plan.
Pros
Use mobile, web, PC, or IP desk phone to immediately start your communication system with access to a pool of 20 million phone numbers. There is no headache with implementation at all.
Browser-based instant video chat with your clients. No installation or loading of any application is required. You can have up to 100 participants in a call and record the entire thing. There is also screen sharing, which often helps in tutorials and explanatory.
Send and receive text using Phone.com numbers. Maintain a separate work inbox and outbox, along with group messaging to collaborate with the team.
Embed a cute little click-to-call code on your business website for clients to call directly without typing in or noting down a number.
Share call minutes in basic plans by forming a pool. The basic plan has 300 minutes per user, which, when it involves multiple users, can share the minutes amongst themselves.
Use your old analog phones with Phone.com's VoIP without spending money on additional equipment. All you need is the company's Analog Telephone Adapter to get online.
Dive deep into the caller analytics and find what clicks. Observe the caller patterns, drops, and misses. Real-time graphs of the data can be generated with a click of a button.
Cons
Limited integration with the third-party apps narrows the scope for utilization to its potential
The iOS app needs some polish around the edges. There are some minor inconsistency issues for some features.
Pricing
Their basic user plan starts at $10.39/user/month when billed annually. It includes 300 minutes that can be pooled when more users are subscribed. You can have up to 10 participants in a video conferencing call.
Best for small businesses who will scale up in the near future
Are you looking for a flexible yet productive VoIP solution for your business? Then Dialpad is for you. You are hooked with an advanced combination of AI and cloud.
Like Cloudtalk, there is a two-week free trial apart from a demo that does not require putting your credit card down. Even before signing up, you can see the available phone numbers from the home page itself.
Pros
No pricey hardware addition is needed when subscribing to Dialpad. Their BYOD (Bring Your Own Device) principle promotes the existing network equipment used with the service. Use simple apps on different devices to turn them into a business phone system.
Screen capture and record the call agent's entire screen while talking to a caller. Assess the performance, and it will help in providing valuable feedback.
It is difficult to be available at all times. You might be busy on a call, in a meeting, or conducting a team-building exercise. Enjoy the next-gen call delegation that routes the calls to other members when you are not available.
Create private lobbies for conference calls. Add pins for access and lobby alerts when someone enters. Protect the privacy of your online meetings.
Integrate all your existing tools for agility and maintain the flow of communication during the transition. Explore the App marketplace to find the tools that aid your efficiency and workflow.
Dialpad ensures that your data is safe at all times. With their secured data practices, rest assured that network outages will not stop you from accessing the required information from any supported devices.
Voice intelligence will generate post-call notes, which generally consist of key takeaways, actionable items on the list, and mandatory steps that need to be taken after every call.
Cons
Speech-to-text performance needs improvement.
Limited CRM tools are supported.
Pricing
The standard plan starts at $15/user/month when billed annually. There is no restriction on calling for US and Canada inbound/outbound calls. You can also set up custom voicemail greetings.
Best for small businesses-based call centers and large enterprises
Owned by Comcast, Blueface is providing efficient VoIP phone systems and cloud PBX. The SaaS-based platform has the option of fully hosted PBX, managed SIP trunks, and business landlines.
Blueface does not offer a free trial. You can request a demo by filling the form, and technical staff will contact you. There is also a 30-days money-back guarantee which you can try by subscribing for a month.
Pros
Work with the in-built call flow designer and help save time while improving the customer experience. Design efficient call flows for different categories of callers, providing automatic delays, IVR, assigning automated messages based on the scenarios.
Access a centralized phone console for monitoring the real-time status of different calls, user groups, and more. Disconnect, merge, or intercept calls as the situation demands. Be on top of each call and improve conversions, solutions on an average.
Automate routing according to the time of day. Redirect business numbers for a particular country depending on the prevailing holidays in the region. Redirect calls to voicemail, IVR, and automated messages based on local holidays.
Often we get a call on the mainline, and the long duration is holding up a busy line. You can park the call and resume it on another phone through the call parking feature.
Maintain multiple sites from a centralized admin panel. A single portal for managing all the hardware, users, devices, and call flows from anywhere around the world.
If you have a staff that is not the fastest learners out there, Blueface will take care of that. They provide extension remote and onsite training for your staff that will help them in efficiently using the VoIP system.
Robust API integration with all websites, platforms, and applications of your business. Callers can tap to start a video or audio call without getting charged a dime.
Cons
Reported call drops for callers from Asian numbers
The centralized admin panel needs better sub-user management
Pricing
Blueface offers a standard plan that starts at ​€12.99/user/month when billed annually. Unlimited local and national calls to Irish landline plus. Remote training for the staff is also included.
Best for businesses who want to empower their customer support teams with advanced VoIP systems
Freshdesk Contact center, formerly FreshCaller, takes conversations to the next level with intuitive AI-based conversation suggestions and fast answers. Don't keep your customers waiting with answers when you automate everything.
It does offer a 21-days, no-questions-asked free trial. You can log in using a Google account or create a new account for the service. After creating an account, you can log in using your subdomain directly. For instance, if your company is John and Co, your domain could be john.freshcaller.com.
Pros
Purchase vanity numbers that define your brand and company. Bare numbers are difficult to remember, and virtually none does that in the era of smartphones. Create memorable numbers such as 1-800-BIZ for targeting certain demographics.
Retain your existing phone numbers while switching phone systems. Port them quietly to the Freshdesk contact center system without requiring notification to the customers. They can still call on the same number and connect to you without any hurdle.
Apart from retaining your number, you can also retain your carrier. Freshdesk contact center's BYOC (Bring Your Own Carrier) lets you carry your own with our current carrier. The service will issue a SIP domain that must be shared with the carrier to forward the calls.
Start looking at abandoned metrics from a new lens. See what went wrong with the abandoned calls, how the team is performing, and have a closer look at the short abandons (5-8 seconds).
Click-to-call from your web browser through the extension. Currently available for Chrome, you can click on a button and make calls directly.
Provide your agents with individual call extensions. Give your callers the freedom to skip the tedious IVR and connect directly to a particular agent.
Freshdesk offers a Call lifecycle that helps you have a closer look at every event of the call and identify the crucial moments of the conversations.
Cons
No call extension available for Firefox
Support tickets can be delayed during busy hours
Pricing
Freshdesk contact center offers different plans for agent licenses and individual call charges. For a local US number, you will have to pay $1/per month. Similarly, the toll-free numbers start at $2/month. Incoming call rates for the US start at $0.016/minute from a web browser.
The paid plan for an agent license starts at $15/month/agent, including 2000 free incoming minutes and number porting.
2. VoIP FAQ
2.1 What is a VoIP service provider?
A VoIP service provider is a business that provides you access to VoIP phone services, texting, calling, and other services that use VoIP technology. You need a VoIP service provider in addition to a good internet connection if you want to make calls over the internet.
VoIP providers can offer their services for personal and business needs. While the individual plans provide an affordable way to make calls, business plans also integrate CRMs, dedicated customer support, and automation options. The best VoIP service providers take care of every single aspect that you can use the VoIP services like you use traditional telephone services.
2.2 What are the things to look for in a VoIP service provider?
As we said, VoIP service providers have different plans lined up for individual and business needs. Each of these plans will have features dedicated to the use-case scenario. We can keep these aside for now and look at the various factors that make a VoIP service provider reliable.
Quality: The service provider must offer the best-in-class quality of service. It mainly means you do not miss calls or messages due to infrastructural issues.
Compatibility: You have to see if the service provider has apps available for different platforms like Desktop, mobile, and web.
Support: 24*7 support is a must-have feature for every VoIP service provider. Although we can hope for the best, instant support should be available in case of issues.
Integration: You should have an option to integrate the VoIP service to your different needs. For instance, it should have an opportunity to connect to web apps and telephones alike.
Pricing: You should also consider the pricing structure of the VoIP service provider. You may have to choose between unlimited or pay-as-you-go plans.
You should also check whether the VoIP service provider has any restrictions/regulations. For instance, some services may be restricted for personal use.
2.3 What is the difference between VoIP and a landline?
A VoIP-based calling system uses the Voice over Internet Protocol technology while a traditional analog signal technology powers a landline. The landline communication technology goes back to the late 19th century, and the core infrastructure has not changed. Due to the same reason, you can expect only the basic features like call waiting, voicemail, call blocking, etc., from a landline.
On the other hand, VoIP uses the same infrastructure used by broadband internet connections. The VoIP system will retrieve these signals via the internet and convert them into voice. Because the VoIP system is entirely digital, service providers can offer additional features like third-party integrations, multi-platform availability, etc.
In the end, VoIP calling services are more versatile and affordable. Moreover, as fast internet connections become the norm globally, VoIP services can easily replace traditional landlines.
2.4 Can you use VoIP without a computer?
Yes, you can use VoIP without a computer. However, it depends a lot on the VoIP service provider.
For instance, VoIP service providers like Skype have enabled VoIP calls via mobile for a long time. As long as you have a reliable internet connection, everything will be fine. Nowadays, business-class VoIP providers are also offering multi-platform support. It means you can use VoIP calling services without a desktop. There is even an option to connect the VoIP services to a traditional landline. In that case, even though you use VoIP technology, you can receive and make calls using an 'actual' telephone.
Regardless of the method you use for making VoIP calls, you must have a fast and reliable connection. If you do not, the calling experience will be pathetic.
2.5 What is faxing over VoIP?
Faxing over VoIP refers to the process of using the Voice over Internet Protocol technology to send info from one fax machine to another. Now that traditional landlines are replaced by IP phones and VoIP services, fax machines can use VoIP technologies.
The problem is that faxing over VoIP is not as reliable as calling over VoIP. There are reliability concerns while faxing in bulk. We should also keep in mind that you can find many fax alternatives that cost little to nothing. You can also explore cloud fax models, which are more reliable than VoIP-based fax options.
2.6 Why does your business need a VoIP service?
Compared to a traditional landline, VoIP services offer several advantages. First, we have to consider the lower costs they have. Your business does not have to spend a lot on hardware or software. Second, as we said earlier, you can access VoIP services from a wide array of devices, including desktop, mobile, and web.
It provides you worldwide access to the services, especially if you have to move around a lot. Third, because most VoIP services use a type of data compression, you can enable a sensible use of bandwidth. Last but not least, you do not have to worry about copper wires and gigantic telephones. Instead, you can even use WiFi as the network solution for your calling/texting needs.
More importantly, a VoIP service offers you additional features like third-party integrations. These features exist alongside the standard options like caller ID, contact lists, voicemail, etc. On the bright side, businesses can easily automate the VoIP communication system. For instance, you can greet your customers with a professional message or set up an IVR for forwarding calls to the corresponding department.
You can also explore other features like fax over IP if you are interested. In short, your business can benefit from enhanced communication options with the help of a VoIP service.
2.7 What's the difference between VoIP and PSTN?
In case you didn't know, VoIP stands for Voice Over Internet Protocol while PSTN stands for Public Switched Telephone Network. As you can guess, VoIP uses an internet connection to enable voice calls, messages, and other services. On the other hand, PSTN relies on copper wires to transport analog signals from one device to another. As a result, VoIP is more straightforward than PSTN and costs a lot less. More importantly, VoIP also offers more room for integration and automation.
2.8 Is there a free VoIP service?
Yes, there are free VoIP services available. Services like Skype, WhatsApp, Facebook Messenger, Hangouts, Google Duo use the VoIP technology to make voice and video calls. However, only a few of them offer the ability to make voice calls to mobile/landline numbers. For instance, you can purchase a premium plan from Skype if you want to make international calls. The problem with these free services is that you do not get all the options for integration and customization. Of course, because you do not pay for these services, there is little assurance regarding the reliability of everything.
2.9 Does VoIP work if the internet is down?
No, VoIP services do not work if the internet is down. You may also face reliability issues if the connection is unstable. Therefore, if you want to use the best VoIP service for your business, you should make sure that you have a reliable internet connection in the first place. It may be a good idea to see if your VoIP service provider also offers internet services.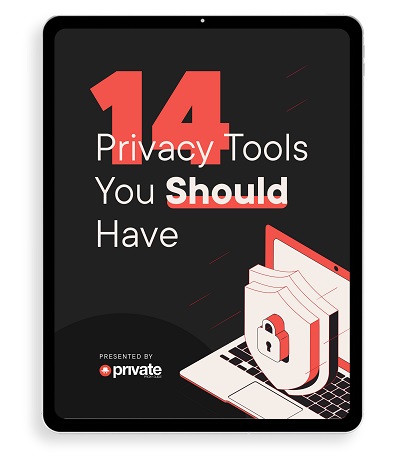 Learn how to stay safe online in this free 34-page eBook.