Binance is currently the largest crypto trading platform for traders. Logically, many people worldwide want to use this platform for either trading or making P2P transactions since it's much easier than with other platforms.
Unfortunately, Binance isn't available for all countries worldwide. It may be available in some of these countries with particular limitations, which isn't good news for those traders. If you want to get ahead of the issue, it's highly suggested to get a reliable VPN.
There are several VPN options you can currently get for Binance, but you must get the one that best fits your needs and budget. On this list, we're going to take a look at the best five VPNs you can get for Binance so that you can get started on this amazing trading platform.
1. What Should You Consider for a VPN for Binance?
Getting a reliable VPN is the best way to ensure your connection is thoroughly protected from scammers, hackers, and other invasive agents. Additionally, you can use VPNs to hide your IP address, which adds an extra layer of protection for your internet connection.
VPNs are especially good in cases where you have to use public networks. Public networks tend to be unreliable and risky since there are likely no protection measures for them. In these cases, a VPN can protect you from any cyber-attack.
Some of the things you must consider before getting a VPN for Binance or other online services include the following:
Number of countries and servers available
Pricing
Plans
Guarantees
Data protection policies
Extra features
2. Best VPN for Binance 2021
2.1 NordVPN – Best Overall Binance VPN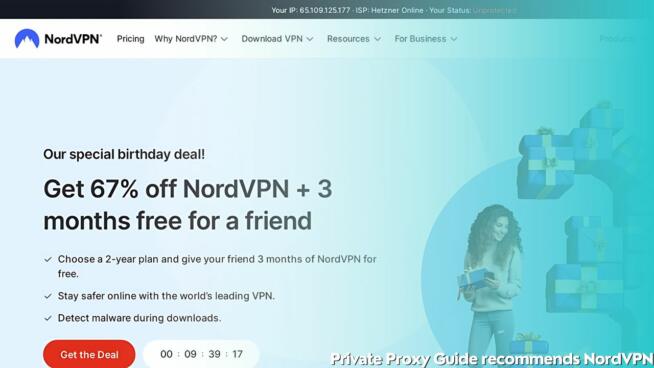 NordVPN offers one of the friendliest user interfaces we've seen for a VPN. Overall, it offers up to six simultaneous connections, more than eight different apps/extensions, and up to 5,200 servers spread throughout 60 countries. Keep in mind that the more servers available, the less likely is for a particular server to be overcrowded.
Some of the best features NordVPN offers include DNS leak protection, a kill switch, an audited no-log policy, and much more. In essence, you may use NordVPN on any device you consider appropriate for your goals without any accessibility problems.
NordVPN gets second place due to connection speeds. While NordVPN offers fairly decent connection speeds for Binance, they're not as fast as ExpressVPN's. If your goal is simply to use Binance, you're not going to have any issues with NordVPN for the most part.
As with ExpressVPN, NordVPN offers a 30-day money-back guarantee, so if you're unhappy with the service, you can reach out to NordVPN's team promptly and recover your money. Still, we're positive you're going to have a good experience with this service.
2.2 ExpressVPN – Fastest Binance VPN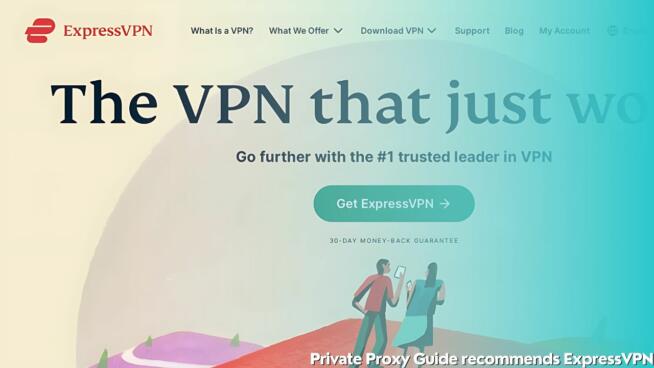 ExpressVPN is known for being one of the greatest VPNs of all time. Not only does it have availability in over 90 countries, but it also has a no-log policy, meaning it doesn't record any of the information you receive or input when browsing the internet.
Another great feature about ExpressVPN is that it has apps for both desktop and mobile devices, meaning you can use it on the platform you desire without any problems. In case you experience a sudden VPN connection drop, ExpressVPN already comes with a DNS leak protection and kill switch, meaning your information is going to be safe every step of the way.
If you're planning on using a VPN for Binance, ExpressVPN is likely the best choice you have since it provides strong encryption, modern VPN protocols, and it accepts crypto payments for your subscription. In case you have the budget for it, ExpressVPN is the right way to go.
Keep in mind that ExpressVPN offers a 30-day money-back guarantee to all its subscribers, and it also offers discounts for some of the yearly plans, so it may be worth checking out those too.
2.3 CyberGhost – Safe VPN for Binance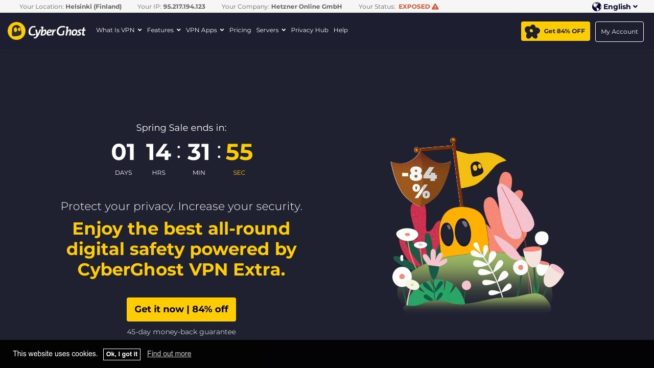 CyberGhost is known for having an astonishing number of servers available for browsing (7,000). Additionally, these servers are spread throughout more than 55 countries worldwide, meaning you can easily access Binance from anywhere you are without any problems.
You can connect up to seven devices simultaneously with CyberGhost, which is more than enough in most cases. Some of the most vital features for CyberGhost include a kill switch, state-of-the-art encryption, and efficient security protocols, keeping your information and connection safe.
It's important to note that while CyberGhost is one of the most reliable VPNs out there, it doesn't have an audited no-log policy, which can be bad news for those who tend to be strict with their data protection.
The connection speeds for CyberGhost are considerably fast for the price it offers, so you may use the VPN for Binance, streaming, and even torrenting. CyberGhost offers several different membership plans, and some of those come with discounts, so you may check those out.
Finally, CyberGhost offers a 45-day money-back guarantee, which is the highest term for this list. Overall, this is an affordable but effective VPN you may use if you're looking for something to browse Binance at a considerable price.
2.4 IPVanish – Binance VPN With Many Locations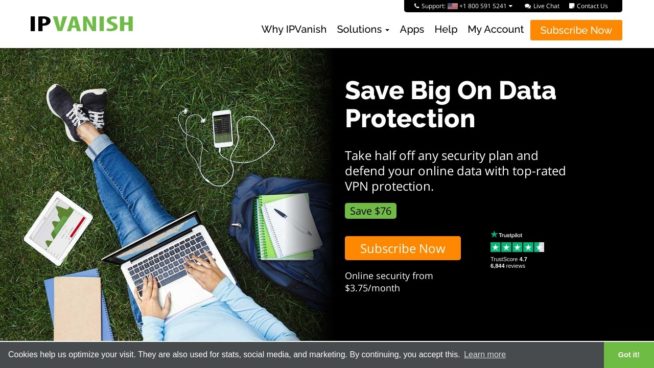 The most attractive feature of IPVanish is that it offers unlimited simultaneous connections; this means you can connect from the number of devices you want without having to worry about any connection drops.
Additionally, IPVanish offers over 75 locations, a major VPN server network, 256-bit AES encryption, and more. As with other services, IPVanish also offers a no-log policy, so you don't have to worry about your browsing information getting recorded and sent somewhere else.
One of the drawbacks for IPVanish is that it's based in the U.S., which not many users like. Still, IPVanish has proven to be a reliable option to browse Binance despite being based in that country.
Some additional features for IPVanish include a kill switch, unlimited VPN server switching, torrenting support, and more. If you're looking for a VPN at a decent price, IPVanish may be a good option to consider and test out.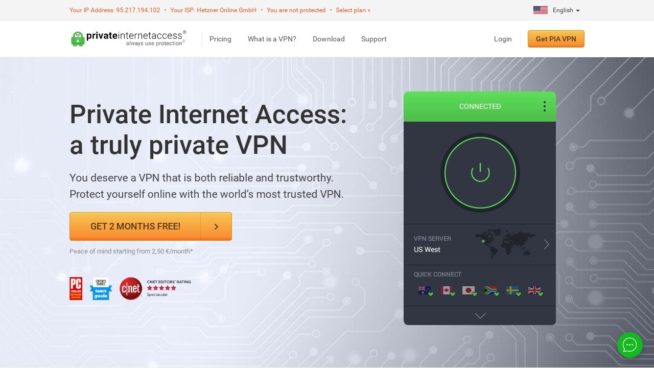 Private Internet Access is popular due to its strict online security policies. If you're looking for the safest VPN for browsing Binance, this may be one of the best choices you can consider.
Overall, Private Internet Access comes with a WireGuard protocol and 256-bit AES encryption, which is amazing for every user. Additionally, the software works with SHA1 or SHA256 for data authentication, which is some of the best out there. In case your connection drops suddenly, Private Internet Access has a kill switch ready to go.
One of the most remarkable features of Private Internet Access is that it comes with a dependable no-log guarantee, meaning you're going to have safer access to the internet.
You can get up to 10 simultaneous connections with your Private Internet Access account, which is more than other services. As for the connection speeds, PIA is considerably fast for browsing Binance, although it's not as fast as other services on this list.
Overall, Private Internet Access comes with fairly competitive pricing plans for potential uses, and it also offers a 30-day money-back guarantee, making it a considerable option for most users wanting to unblock Binance.
Private Internet Access Review
3. Why Would You Need a VPN for Binance?
While Binance is already available in most countries, some of them have particular bans that don't allow users to make the most out of the Binance trading experience.
Binance was banned in the United States in 2019 on regulatory grounds, making the app unavailable for the public. However, the Binance team responded with Binance.US, a separate app designed to appeal to the regulations the government imposed. Still, it didn't offer all the features that the full version of Binance offered.
Aside from Binance's U.S. ban, the app has also been banned/regulated in the following countries:
United Kingdom
Japan
Thailand
Residents in these countries must use VPNs if they want to access the Binance platform, which is why it's so important for them to get a reliable VPN where they can do everything.
It's important to note that using a VPN to unblock Binance may come with particular risks of losing your account or getting your funds frozen. Binance has a strict security policy for access, and it may ask for ID verification to get your account started, so make sure to be careful with which VPN you use to access the platform.
In case you still want to try out Binance, we suggest you go for one of the VPNs shown on the list above.
4. Binance VPN FAQ
4.1 Can You Use a Free VPN to Access Binance?
While you can try out free VPNs to try Binance, it's highly unrecommended to do so. Free VPNs often log all of your browsing data to sell it to advertisers, and you may also be vulnerable to cyberattacks, which is bad news.
Additionally, servers in free VPNs tend to be overcrowded, making your browsing experience extremely slow in some cases. Since you're looking to trade with Binance, using a free VPN is not recommended since you're going to be handling money.
4.2 What Is a No-Log Policy?
A no-log policy is a security policy that ensures the VPN provider doesn't keep records of what you do online. It's important to note that not all VPN providers have this policy, so you must check them out before signing up.
5. Bottom Line
Choosing a VPN for Binance is the best way to ensure a safer and faster connection to this trading platform. Still, remember that using a VPN to bypass geo-restrictions is risky, so make sure to assess those risks before signing up.
VPN Service

www.nordvpn.com
NordVPN
Review
Price: $11.95 $3.71/month Servers: 5500+ in 59 countries Simultaneous connections: 6 Jurisdiction: Panama Payment: PayPal, AmazonPay, Crypto, Google Pay, Klarna Torrenting: OK Unblocks US Netflix: Yes Dedicated IP: $70/yr TrustPilot Score: 4,7/5 Money-back: 30 days Extra: Double VPN, Obfuscated servers Visit NordVPN »

www.expressvpn.com
ExpressVPN
Review
Price: $12.95 $8.32/month Servers: 3300+ in 94 countries Simultaneous connections: 5 Jurisdiction: British Virgin Islands Payment: PayPal, Crypto, AliPay, Klarna, Torrenting: OK Unblocks US Netflix: Yes Dedicated IP: Not provided TrustPilot Score: 4,7/5 Money-back: 30 days Visit ExpressVPN »

www.cyberghostvpn.com
CyberGhost
Review
Price: $11.99 $2.25/month Servers: 6600+ in 89 coutrines Simultaneous connections: 7 Jurisdiction: Romania Payment: PayPal, Crypto Torrenting: OK Unblocks US Netflix: Yes Dedicated IP: $51/yr TrustPilot Score: 4,8/5 Money-back: 45 days Visit CyberGhost »

www.surfshark.com
Surfshark
Price: $11.95 $2.49/month Servers: 3200+ in 65 coutrines Simultaneous connections: Unlimited Jurisdiction: British Virgin Islands Payment: PayPal, Crypto, Google Pay, Amazon Pay Torrenting: OK Unblocks US Netflix: Yes Dedicated IP: Not provided TrustPilot Score: 4,3/5 Money-back: 30 days Visit Surfshark »

www.purevpn.com
PureVPN
Review
Price: $9.60 $3.33/month Servers: 6500+ in 140 coutrines Simultaneous connections: 10 Jurisdiction: Hong Kong Payment: PayPal, Credit Cards Torrenting: OK Unblocks US Netflix: Yes Dedicated IP: $35.88/yr TrustPilot Score: 4,7/5 Money-back: 31 days Visit PureVPN »