While traveling to or from Brazil, do you want to protect your privacy and watch streaming shows and movies from home?
The best VPNs for Brazil secure you from hackers and allow you to access stuff that is only available in your region.
A VPN is a wise investment whether you're touring Brazil on vacation or live there and want to go overseas.
Brazil has previously faced more cybercrime than any other South American country.
Many individuals have questioned how they can protect their data from hackers when using public Wi-Fi. We made the decision to conduct some research.
The VPNs on this list can keep your online information safe from hackers while also enabling you to bypass geoblocks and stream US Netflix or RecordTV from anywhere.
1. Best Brazil VPN in September 2023
1.1 NordVPN – Best Overall Brazil VPN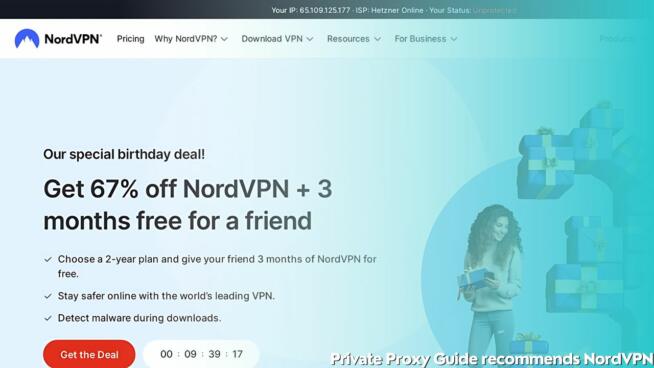 One of our recommended suggestions for a Brazil VPN is NordVPN. This Panama-based privacy-focused service has a network of more than 5,000 servers in 59 countries, including more than 20 in Sao Paulo. Furthermore, this service's lightning-fast speeds, as well as its capacity to access information from famous websites, make it ideal for streaming. Netflix, HBO, Hulu, Amazon Prime, GloboPlay, and more services are available in the United States.
With a kill switch, 256-bit encryption, and DNS leak protection, NordVPN exceeds expectations in terms of security. While using the VPN, no records are maintained at all, including bandwidth data. A basic subscription allows you to connect up to six devices at once.
This is a fantastic advantage for families or individual users with many devices, while many competitors only give five or less.
It's lightning-quick and a great all-arounder that works with most streaming services. Additionally, subscriptions come with a 30-day money-back guarantee, so they're completely risk-free.
1.2 ExpressVPN – Fastest VPN for Brazil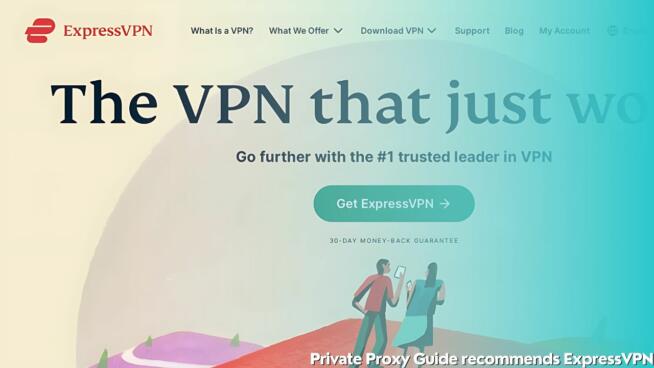 ExpressVPN has blazingly fast connection speeds. It has over 3,000 servers spread over 94 countries, including Brazil. We tested servers in the United States, the United Kingdom, and Australia, and found that the average speed reduction was just 22%, 27%, and 30%, respectively. Use the Smart Location function to connect to the fastest server in the country where you wish to access the material.
By wiping all data with each reboot, ExpressVPN's TrustedServer technology makes your data even safer. Because all of its servers only save information in RAM rather than on a hard disk, no one can access your information.
ExpressVPN is not constrained by restrictive privacy rules. This is significant because it means that your data is never shared and that the Brazilian government has no access to it. Moreover, the private DNS on each server prevents censorship of your internet connection.
You may also use the VPN on five different devices at the same time with only one account. Also, you have the option of paying using PayPal, Bitcoin, or a credit card.
If you're not ready to commit, ExpressVPN offers a 30-day money-back warranty. Its refund process is simple, and its customer care service is available 24 hours a day, seven days a week.
1.3 CyberGhost – Safe VPN for Brazil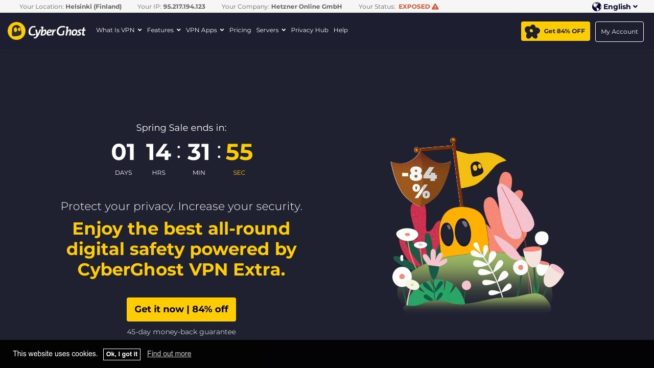 You can connect to the fastest accessible server or manually select your desired location with CyberGhost's Best Location option. Additionally, you can get access to more than 7,000 VPN servers across the world, including 60 in Brazil. When tested, the automated feature connects you to the fastest streaming server in the United States. As a result, you may watch Netflix US without having to wait for it to buffer.
The speed wasn't always steady, and certain long-distance servers can slow you down. When connecting to Australia, for instance, the speed dropped by an average of 83 percent.
Your data is protected by AES-256 encryption, an automated kill switch, and a no-logs policy. When using public WiFi, you have an added layer of security. You may also set CyberGhost programs to automatically run before connecting to a new Wi-Fi network, providing you with total protection right away.
CyberGhost's global server network is ideal for geo unblocking, allowing you to watch local and international material from anywhere in the world. You can even watch the entire Netflix catalog in the United States.
Advanced functionalities are accessible through user-friendly and highly customizable apps. With CyberGhost's Smart Rules, for example, you can connect to servers based on your preferences and have them activate automatically when you open the program – no manual setting is required.
You may try CyberGhost risk-free for 45 days with its money-back promise. We put it to the test and found their customer service to be outstanding. Furthermore, we were able to cancel our subscription quite promptly, and our money was returned to our account within seven working days.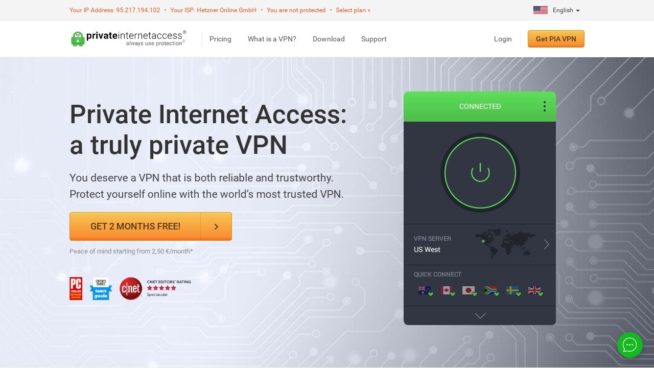 While Private Internet Access (PIA) does not always provide constant server speeds, some of its servers are quite fast. PIA has 29,000+ servers in 77 countries. As a result, you won't have any issues streaming services like Disney+.
Private Internet Access is our first choice for torrenting anonymity because it supports P2P on all of its servers. When you use Private Internet Access, you can download a huge number of files efficiently and privately.
Even on public Wi-Fi, its AES 256-bit encryption makes it extremely difficult for snoops or fraudsters to steal your data. PIA's IP masking and leak protection technologies can also keep your true IP address and physical location secret.
You can save money when purchasing online thanks to a global network of servers, which includes servers in Brazil. Many eCommerce sites have different prices depending on where you are, so you may simply connect to a server in a nation that offers a lower price for the item you wish to buy.
PIA is not only inexpensive, but it also supports a variety of payment options, including PayPal, Bitcoin, and even iTunes. Thus, instead of using your credit card, you can secure your online data even more.
If you're not convinced about Private Internet Access, you may sample its 30-day money-back guarantee to see if it's right for you. Before initiating a cancellation, we used the service for three weeks. It took a few hours for its customer service team to respond, but a refund was processed fast after that.
Private Internet Access Review
1.5 IPVanish – Brazil

VPN With Many Locations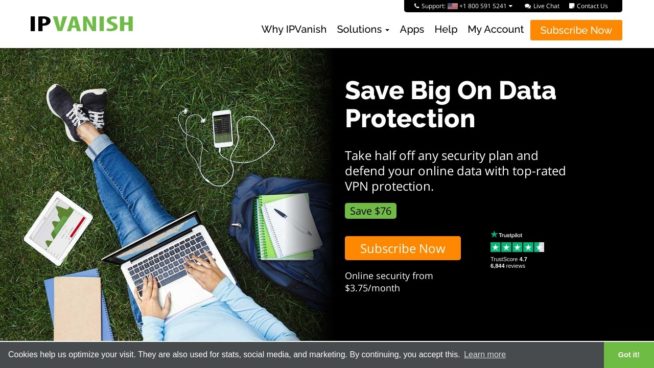 IPVanish, situated in the United States, operates a global network of over 1,900 servers in over 75 countries. In Sao Paulo, there are around a dozen servers. This one is particularly popular among Kodi users and torrenters. It can securely access US Netflix and a few other streaming services, but it isn't as good as the others on this list at unblocking streams.
This VPN is another good option for security-conscious users, thanks to its 256-bit AES encryption and full forward secrecy. Your IP address can never be exposed thanks to DNS leak prevention and a kill switch. With a stringent no-logs policy, IPVanish stays up to its name. There are no traffic or connection logs kept at all.
With a basic IPVanish service, you have no hard limit on how many devices you may connect. Windows, iOS, macOS, Android, and Fire TV apps are all available.
2. Brazil VPN FAQ
2.1 Is It Legal to Use a VPN in Brazil?
Yes, there are currently no regulations prohibiting the use of a VPN in Brazil, and it's definitely a good idea to use one of the four we recommended, as cybercrime is a serious worry there.
2.2 When Using Public Wi-Fi in Brazil, Why Use a VPN?
Any Wi-Fi network that does not require a password or other form of identification, regardless of where you are in the world, poses a security concern, and Brazil is no exception. Hackers can breach these hotspots or put up their own decoys to snoop on or even attack anyone who connects to them. Setting up a false Wi-Fi hotspot, waiting for others to connect, and then accessing their information is a frequent ruse used by hackers.
If you're visiting for a large tourist event, you have even more reason to be concerned. In the 30 days leading up to the 2014 World Cup in Brazil, there were around 90,000 cyber-attacks in the country. As a result, visitors attending the 2016 Summer Olympics in Rio were cautioned to be on the lookout for a similar incident.
Using a VPN is the most secure option. Hackers are unable to read or use any data intercepted by the VPN due to its encryption. Just make sure it's linked for the duration of your Wi-Fi session, as your information can be stolen in a matter of seconds.
2.3 Is It Safe to Use Free VPNs in Brazil?
In a nutshell, no. VPNs that are provided for free must nonetheless generate a profit. It frequently accomplishes this by selling your data to advertising or restricting functionality, forcing you to subscribe to a paid subscription. We recommend ExpressVPN, a premium, full-featured VPN that you can test risk-free thanks to their 30-day money-back guarantee.
2.4 Is It Possible to Use the Same VPN on All of My Services?
Yes! Multiple devices can be connected simultaneously with the four best VPNs for Brazil on this list. We propose ExpressVPN, which allows you to connect up to five devices at the same time with just one subscription.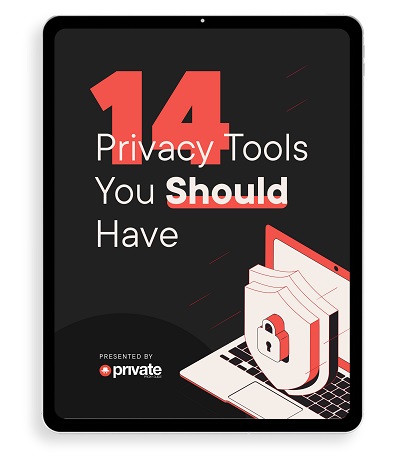 Learn how to stay safe online in this free 34-page eBook.