Internet monitoring in Cambodia has become highly restricted with recent government controls. It is now implemented that the government controls all internet traffic that goes in and out of Cambodia. These restrictions are very similar to the ones that people see in China, and they can eliminate freedom of speech.
On top of everything, there is also a new cybercrime bill that has restricted privacy rights and increased internet surveillance. Therefore, many people have opted to get a VPN because it can protect their data from the government and other third parties. Also, it allows users to freely watch what they would like to and browse the internet freely.
This article is going to outline the top five VPNs that can help users access the internet while in Cambodia.
1. Best VPN for Cambodia in December 2023
1.1 ExpressVPN – Best VPN for Cambodia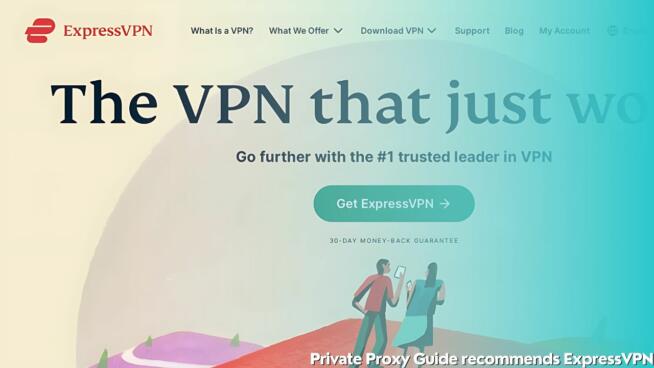 ExpressVPN has a network of 3,000 servers in 90 countries worldwide. This makes it one of the leading VPNs to access any geographically restricted content. Accessing this VPN allows users in Cambodia to watch hours of unrestricted shows from the USA. Additionally, its obfuscated technology makes it harder for the government to track you because it makes your internet traffic appear normal.
Additionally, this VPN allows people to access a Cambodian IP address, so if you are overseas, you can still access your Cambodian banking from anywhere in the world. Fast and unlimited bandwidth is also available with ExpressVPN. It automatically connects the user to the quickest server locally so that you can stream and browse seamlessly.
Key Features:
Over 3,000 servers in 90 countries, including Cambodia
AES 256-bit encryption and perfect forward secrecy are used
No logs are being kept, and private DNS is in operation
30-day money-back guarantee
1.2 NordVPN – Secure VPN for Cambodia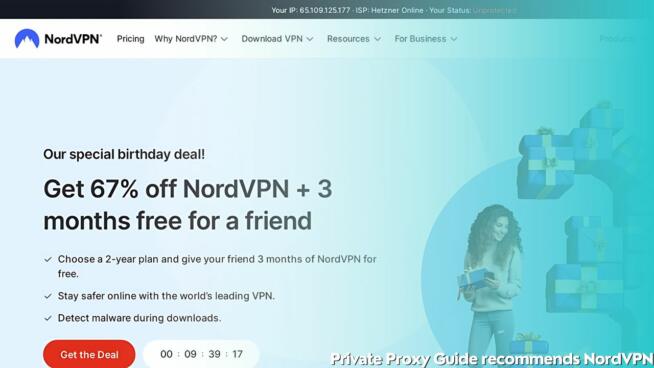 NordVPN is a reliable and secure VPN. The VPN is in the jurisdiction of Panama, so it can follow through with its commitment to user privacy and the ability to not collect any user logs. Also, military-grade features, such as the kill switch, Nordlynx, CyberSec, DNS leak protection elements, and AES 256-bit encryption are all used. That is why it is one of the most secure VPNs for those in Cambodia.
With one of the largest and fastest-growing networks, -over 5,100- it can provide fast browsing and streaming services for those that are geographically restricted. However, there are no servers in Cambodia, but there are multiple servers in neighboring countries like Thailand and Vietnam. Users can still mask their IP address, so the Cambodian government cannot recognize their presence online while streaming.
Key Features:
Known for unblocking many streaming services
Encryption protocols like IKEv2, OpenVPN, and AES 256-bit are used
It runs on 73 Mbps on a 100 Mbps connection
1.3 PrivateVPN – VPN With Good Server Quality for Cambodia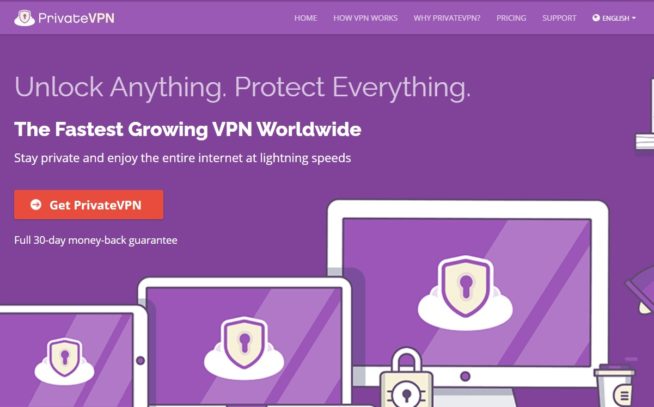 PrivateVPN focuses on quality as opposed to growing an overly extensive network. It does what it promises very well with its speed, encryption standpoint, and privacy. Like many other VPNs, it has access to many different streaming platforms. Also, it has over 200 servers in 63 countries around the world.
Privacy is encrypted with 128 or 256-bit protocols, so users know their information is being kept safe. Additionally, it provides an internet kill switch, perfect forward secrecy, and DNS leak protection. The basic plan allows six different devices to connect simultaneously while supporting torrents.
Key Features:
It has a reasonable price
You can speak to in-house industry developers when trying to figure out an issue
It does not log any personal data or internet browsing history
Unlimited bandwidth and speed are available
1.4 Ivacy VPN – Useful VPN for Cambodia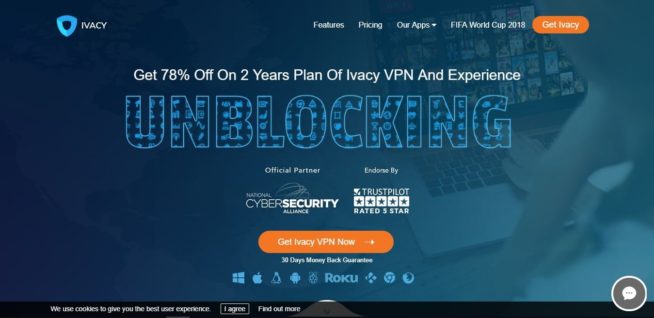 Ivacy VPN has servers in Cambodia, making it very convenient for those living in the country. It has more than 450 servers in over 100 locations in 50+ countries. Also, Ivacy VPN is compatible with many different operating systems and can be installed on all devices. Additionally, it can unblock services and sites so that users can roam the internet in peace.
Users can enjoy the use of five devices at the same time with Ivacy VPN. The price for the service is relatively low, so it is accessible for many individuals. In the case of students, they receive a 20% discount when they choose Ivacy VPN, which is excellent for those who want to do unbiased research.
Key Features:
7-day money-back guarantee
Can connect to Wi-Fi seamlessly, so unwanted hackers and malicious malware do not infiltrate your device
Ivacy VPN masks your IP address, so users can overcome ISP Throttling
1.5 CyberGhost – User-friendly VPN for Cambodia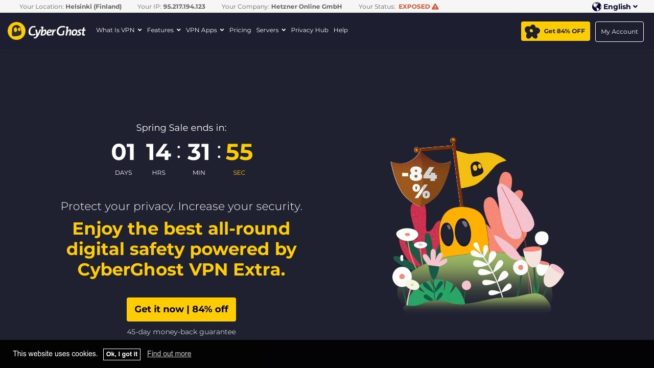 CyberGhost is explicitly made to unblock specific streaming platforms with just the tap of a button. It's as easy as choosing the preferred country you want to stream from and what you're interested in. Also, it is easy to do if you are outside of Cambodia and still want to watch some shows from home because they have 24 servers in Phnom Penh.
Those in Cambodia can use one of the 24 servers to receive fast and secure internet. Also, CyberGhost can conceal the user's location, so snoops cannot find out what you are watching online. Another helpful feature is that the VPN automatically kicks in when connected to the internet, so you are always protected.
Key Features:
There are 7,580 servers in 90 countries, including 24 in Phnom Penh
It uses AES 256-bit encryption and automatic Wi-Fi protection
It follows a no-log policy and an automatic kill switch
45-days money-back guarantee
Compatible with many different operating systems.
2. Cambodia VPN FAQ
2.1 Why Do You Need a VPN for Cambodia?
It is helpful to have a VPN in Cambodia because all your internet history and personal information are protected while on the internet. Also, with the added control implemented by the government, users cannot freely access many services on the internet. This does not allow for free speech and further censors people from outside the country.
With the proclamation by the government back in May 2018, there are now building blocks to filter website and social media content further. There have been many criminal prosecutions for online activity because the government is cracking down on people's voices.
After this proclamation, there have been genuine concerns about the potential of internet surveillance. In 2018, the government ordered that all international and domestic network traffic be routed via a data management center. This is where they have seen what citizens and visitors are doing on the internet.
Sites like Cambodia Daily have been blocked because they violate national sovereignty. Therefore, it is highly recommended to have a VPN while in Cambodia. With a VPN, you can still browse the internet but keep yourself safe from being monitored and tracked by the government.
2.2 Is It Safe to Use a VPN in Cambodia?
Yes, it is safe and legal to use a VPN in Cambodia. It is recommended to do so, because then, users can stay undetected and keep their private information safe. Also, a VPN helps people to avoid government surveillance while protecting themselves against any cyberattacks. Being subscribed to a global network and secure encryption VPN is the best way to stay safe while online.
2.3 Can a Free VPN Be Used?
A free VPN can be used, but it is not recommended. Users need to have a VPN with a worldwide network to get past any geographical restrictions. Free VPNs tend to have limited networks, security, number of servers, and bandwidth. It is better to pay for a secure and reliable VPN than risk using a free one.
Additionally, some VPNs that claim to be completely free still sell your data and internet history to third parties and internet marketers, which is the opposite of why people use VPNs in the first place. That is why it is encouraged to purchase a VPN that is strict on its privacy rules and no-logs policy.
That is the only way to ensure your information stays safe while streaming and browsing the internet.
2.4 What Can Be Done with an IP Address from Cambodia?
Connecting to a VPN does allow users to watch Cambodian programming online. It is recommended to pick a VPN with servers directly in the country, so it is easier to create an IP address. Once this is done, users can watch all their television shows online without being physically in the country.
However, some of these websites may still ask people to sign-up and make a profile before giving them full access to the site.
On top of this, those who wish to access their Cambodian bank account can do so with a VPN; it allows users to do so safely and securely. The VPN creates an IP address, so no intrusion alerts or red flags are sounded when you access your bank account overseas.
Additionally, it makes your internet connection impossible to hack, so you can surf the internet even on a public Wi-Fi connection. This is extremely important because public internet connection is rife with cyberattacks and malicious software.
3. Bottom Line
We hope this article has helped you find the best VPNs for Cambodia! Remember your online security must always be a priority, so make sure to look for something that fits your needs.
VPN Service


www.nordvpn.com
NordVPN
Review
Price: $11.95 $3.71/month
Servers: 5500+ in 59 countries
Simultaneous connections: 6
Jurisdiction: Panama
Payment: PayPal, AmazonPay, Crypto, Google Pay, Klarna
Torrenting: OK
Unblocks US Netflix: Yes
Dedicated IP: $70/yr
TrustPilot Score: 4,7/5
Money-back: 30 days
Extra: Double VPN, Obfuscated servers
Visit NordVPN »


www.expressvpn.com
ExpressVPN
Review
Price: $12.95 $8.32/month
Servers: 3300+ in 94 countries
Simultaneous connections: 5
Jurisdiction: British Virgin Islands
Payment: PayPal, Crypto, AliPay, Klarna,
Torrenting: OK
Unblocks US Netflix: Yes
Dedicated IP: Not provided
TrustPilot Score: 4,7/5
Money-back: 30 days
Visit ExpressVPN »


www.cyberghostvpn.com
CyberGhost
Review
Price: $11.99 $2.25/month
Servers: 6600+ in 89 coutrines
Simultaneous connections: 7
Jurisdiction: Romania
Payment: PayPal, Crypto
Torrenting: OK
Unblocks US Netflix: Yes
Dedicated IP: $51/yr
TrustPilot Score: 4,8/5
Money-back: 45 days
Visit CyberGhost »


www.surfshark.com
Surfshark
Price: $11.95 $2.49/month
Servers: 3200+ in 65 coutrines
Simultaneous connections: Unlimited
Jurisdiction: British Virgin Islands
Payment: PayPal, Crypto, Google Pay, Amazon Pay
Torrenting: OK
Unblocks US Netflix: Yes
Dedicated IP: Not provided
TrustPilot Score: 4,3/5
Money-back: 30 days
Visit Surfshark »


www.purevpn.com
PureVPN
Review
Price: $9.60 $3.33/month
Servers: 6500+ in 140 coutrines
Simultaneous connections: 10
Jurisdiction: Hong Kong
Payment: PayPal, Credit Cards
Torrenting: OK
Unblocks US Netflix: Yes
Dedicated IP: $35.88/yr
TrustPilot Score: 4,7/5
Money-back: 31 days
Visit PureVPN »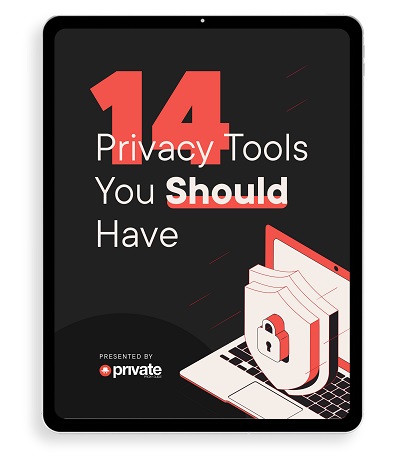 Learn how to stay safe online in this free 34-page eBook.