My friend landed in Beijing for a year of Engineering studies and immediately opened Instagram on his phone to post a story. Followed the typical routine – connected to the public Wi-Fi, enabled his VPN, and then proceeded to open the Instagram app. The only problem here is that the VPN failed to do its job; hence none of the popular apps could be accessed.
Everyone is aware of the censorship in China, and many VPN services promise a way to bypass that. Most VPNs don't work in China, and most of the ones that do are slow.
China's sophisticated online censorship mechanism, managed by the Cyberspace Administration of China, is commonly known as the Great Firewall, a combination of Firewall and The Great Wall of China. You cannot access the most popular websites and apps like Netflix, Twitter, Facebook, Snapchat, Instagram, and other famous global news media sites.
Finding a VPN that works in the largest country in the world is not easy, which is why we have compiled five of the best VPNs for China that work.
| | | | | | |
| --- | --- | --- | --- | --- | --- |
| | NordVPN | Surfshark | Windscribe | ExpressVPN | PureVPN |
| Speed | 105 Mbps | 142 Mbps | 8 Mbps | 188 Mbps | 88 Mbps |
| Servers | 5,000+ | 3,200+ | 600+ | 3,000+ | 6,500+ |
| Countries | 140 | 64 | 60 | 94 | 160 |
| Netflix Libraries | 7 | 30+ | 25+ | 20+ | 7 |
| Monthly Cost (on Two-year plan) | $3.67 | $2.49 | $4.08 | $8.32 | $2.91 |
| Maximum Devices | 6 | Unlimited | Unlimited | 5 | 10 |
| Private IP Address | Yes | No | No | No | Yes |
| Based in | Panama | The British Virgin Islands | Canada | The British Virgin Islands | Hong Kong |
1. Best VPN for China 2022
1.1 NordVPN – Best Overall China VPN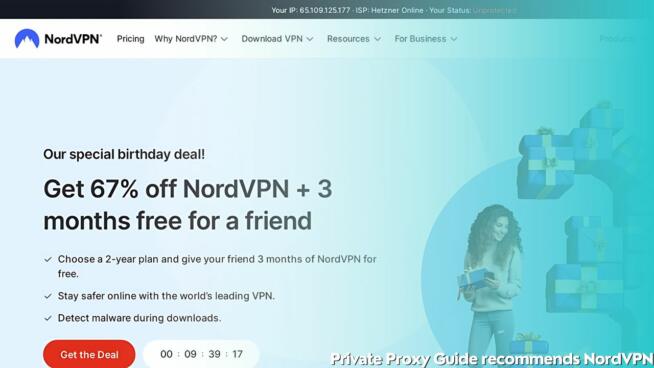 Total Servers: 5,000+ in 60 countries
Maximum devices: 6
Based in: Panama
Pros
Double VPN through split tunneling
Anonymity masked by The Onion Router
Private static IP address
Stream sites such as Netflix, Hulu, Prime Video, BBC iPlayer, etc. work
Industry grade encryption
Cons
Torrents supported on a limited number of servers
Inconsistent speed across servers
iOS app required manual setup
NordVPN has had an on and off performance when it comes to working in China. They published a tutorial post on making NordVPN work in China for users who couldn't get it done on their own. Delving into VPN protocols, we get three different options, OpenVPN, IKEv2, and the service's very own, NordLynx, built around the WireGuard protocol.
On the PC, the desktop app feels well placed and easy to use. Similarly, when we move to mobile, there are several features at your disposal. There are no restrictions on torrenting and Streaming apps such as Netflix, Disney+ work without a fault. All their apps work seamlessly without any issue. You can download them using their alternative domain nord-help.com as the default one is blocked in China.
In the features department, we have the split tunneling, kill-switch, and adblocker, which doesn't seem to work properly yet.
Covered by the industry-grade 256-AES encryption with the no-logs policy, users can keep their privacy worries on the backburner. Even the customer support communication is encrypted using the PGP.
1.2 Surfshark VPN – Best Budget VPN for China

Total Servers: 3,200+ in 66 countries
Maximum devices: Unlimited
Based in: British Virgin Islands
Pros
Unlimited device and simultaneous connections
Shadowsocks support
In-built antivirus(desktop)
NoBorder mode for bypassing censorship of China
MultiHop connection feature
Cons
Unreliable P2P servers
No private IP addresses
Lack of split-tunneling on the iOS app
Enjoy massive Netflix library accessibility from China on the Surfshark VPN. With no cap on the number of devices and simultaneous connections, you can share and split the cost with other users. They offer four VPN protocols such as OpenVPN, WireGuard, IKEv2, and the Shadowshocks. The latter relies on SOCKS5 proxies that help bypass the censorship of countries like China and Crimea.
Surfshark takes its crusade on censorship a step further with the NoBorder mode. When a regional restriction is detected, the mode is enabled automatically. It provides a list of selected servers optimized for working in regions with strict regulations and restrictions. You can turn it on manually as well.
Talking about security, they have advanced AES-256-GCM encryption in place. No-logs policy is enforced along with RAM-only servers, meaning everything is wiped once servers are shut down.
Their desktop app feels inadequate with their quick-access dashboard option. You can also use the double VPN, MultiHop, which connects to a VPN on top of another, providing an added layer of security. This feature is available on the browser extension while mobile misses out.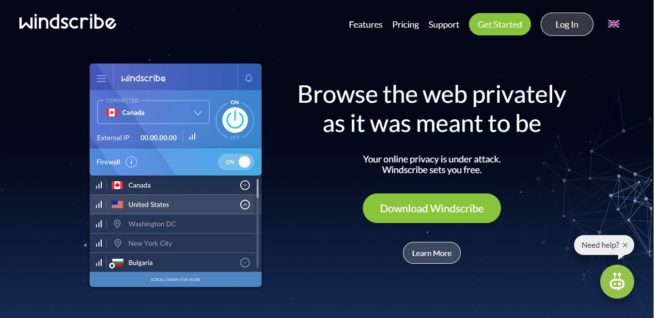 Total Servers: 600+ in 61 countries
Maximum devices: Unlimited
Based in: Canada
Pros
Optimized for handling P2P connections(torrents)
Free tier for trial users
Dedicated VPN locator, showing optimization for different services such as Netflix, Hulu, etc.
Versatile browser extension and mobile app
Advanced encryption for all the apps
Cons
Lack of periodic security audits
No dedicated IPs
Lower number of servers
Windscribe offers a free tier plan with virtually all the premium features. Their special VPN protocol ensures that most of their servers work in China. The catch is the 1 and 2 GB data-cap, depending on whether you sign up from mobile or the desktop app. You can sign up for it using a username and password while the email remains optional. They support a total of six VPN protocols – IKEv2, WireGuard, OpenVPN UDP/ TCP, Stealth, and Websocket Stealth. The latter two consist of a network of obfuscation servers.
Windscribe leaves no changes when it comes to security. You get AES-256 cipher with SHA512 authentication on the desktop app. The browser extension also gets a layer of security using TLS 1.2, ECHDE_RSA with P25 keys.
The mobile and desktop app share their UI, streamlining usability with everything packed neatly. All the relevant information is right on the screen, and features such as MAC spoofing and split-tunneling can be found in the settings missing on the extension. The browser extension is as peppy as it can get, taking inspiration from their elder siblings. You get a moderately effective ad blocker along with a tracker blocker here.
1.4 ExpressVPN – Fastest China VPN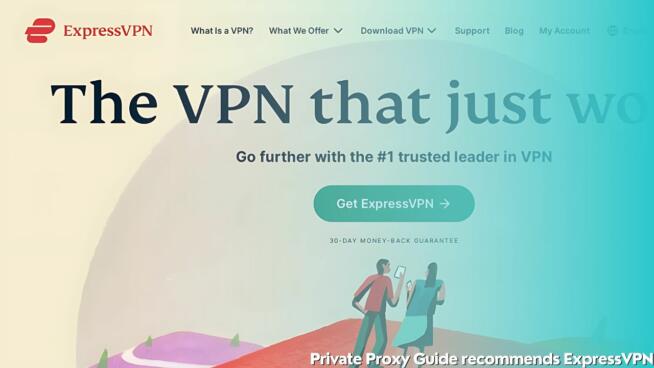 Total Servers: 3000+ in 95 countries
Maximum devices: 5
Based in: British Virgin Islands
Pros
User-friendly router level configuration
Advanced split-tunneling
Servers are independently audited
Impressive speeds in China and UAE
Support for a wide variety of platforms
Cons
Expensive compared to competitors
Mobile app is not available in many regions
No split-tunneling on macOS app yet
Over the years, ExpressVPN has been at the forefront of bypassing censorship in countries like China. With its comprehensive platform support ranging from video game consoles to old routers, you will never lose the VPN cover. There is no free trial, but the standard 30-day money-back guarantees. Furthermore, they offer up to 80% speed of your connection across the board.
Security is tight around here with the robust AES-256-GCM based encryption, relying on HMAC authentication for transmission protection. You can also take advantage of the secret code-based login, which doesn't require login credentials. On top of that, we can also use a 20-digit alpha-numeric code for accessing the VPN, which feels like overkill for some users.
Their desktop app offers a blank dashboard for pinning your websites and apps. Launch them, and they will be connected using the VPN. You can tag your favorite server with them as well. Similar to the mobile app, we get all the same features unless you are on iOS. The notification bar widget keeps you on top of VPN activities on the device. Lastly, the browser extension triumphs as you can see it alone tunneling the computer's entire network through the VPN. No need to install a desktop client.
1.5 PureVPN – China VPN With Many Locations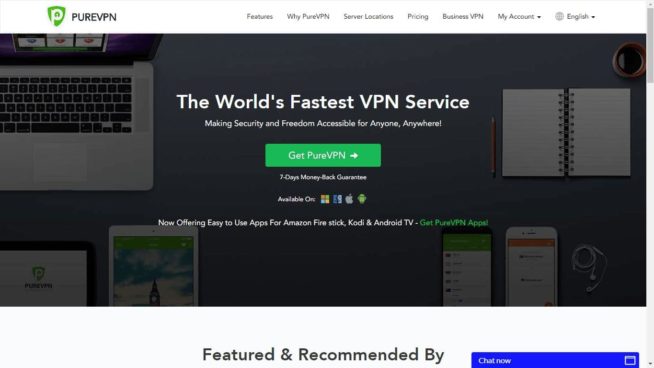 Total Servers: 6,500+ in 140 countries
Maximum devices: 10
Based in: Hong Kong
Pros
Create a VPN hotspot
Port Forwarding for efficient P2P usage
Capable in-built ad blocker
Impressive speeds in China and UAE
Option of different add-ons
Cons
Additional fee for few features
Slower speed on locations with few servers in the region
History of problems with privacy
PureVPN offers over 6,500 servers across 140 countries, which is amongst the highest in the segment. Most of their servers work in mainland China. You can try their service for a week by paying $0.99.
Their servers are regularly audited by KPMG, housing AES-256 asymmetric encryption across the board. Five major VPN protocols are offered here – L2TP, IPsec, IKEv2, OpenVPN UDP and TCP, SoftEther. You can keep the selection automatic if you are unsure about it.
The desktop app houses a lot of utilities, and the user will not need to visit the official website for anything. Raise a support ticket from the app itself. They also offer different modes according to your usage. For instance, streaming has lower security but ensures maximum speed. Similarly, the Internet freedom mode is ideal for places with strict censorship laws. On the other hand, don't expect much from the mobile app, which does the basics. There are no extra features except split tunneling.
2. China VPN FAQ
2.1 Are VPNs legal in China?
This is the most common question we get. The legal status of VPNs in China has an ambiguous definition. There has been a crackdown on VPNs in the past, but no official remark on the usage has been shared yet.
In early 2019, China started issuing fines for using VPN, which comes as a surprise for a country with over 30% of the Internet users relying on VPN. A slew of mixed signals has been going around with no lucid instructions on its usage as of yet.
2.2 What is the Great Firewall?
The Chinese government regulates the Internet domestically through a combination of legislation and technologies operated by CAC (Cyberspace Administration of China). They block foreign information sources, mainly news media, journals, and online platforms such as Facebook, Twitter, Google, and Wikipedia. Apart from using technology, there are dedicated Internet police, consisting of over 50,000 personnel tasked with enforcing and enforcing the laws.
The Great Firewall relies on various networking measures and tactics such as IP range ban, DNS spoofing, URL filtering, packet forging, and man-in-the-middle-attacks.
2.3 How do VPNs bypass the Great Firewall?
VPN essentially hides your data and the location. They are encrypted by the VPN application while leaving your device, and the Firewall fails to find anything meaningful in the deciphered data during the transmission.
All your messages, chats, emails, and other stuff are encrypted before leaving your device. As they are random bits of data in transmission, the Great Firewall has no idea what is being sent from your end. The data, in turn, goes to a VPN server located in a third country, acting as a middleman, which appears as the destination to the Firewall. After that, the data is sent to the original destination where it is supposed to be. Then the receiver sends back the data back and forth as required. This way, when are trying to stream a video from YouTube, which ordinarily would be blocked by the Firewall. Using a VPN wouldn't happen as the censorship mechanism will not read the data as it will appear like regular Internet traffic.
2.4 What sites are blocked in China?
In total, over 8,000 websites are blocked in China by the Great Firewall. The list is non-exhaustive and increasing at a pace with the inclusion of hundreds of mobile applications. A few of the popular ones are:
| | |
| --- | --- |
| Websites | Category |
| Wikipedia | Encyclopedia |
| Twitter, Facebook, Instagram | Social Media |
| Pinterest, Imgur, Flickr | Image Sharing |
| Netflix, Hulu, Prime Video | OTT Content |
| WhatsApp, Discord, Viber, Telegram | Messaging |
| Vimeo, YouTube, Twitch | Video sharing and Streaming |
| Dropbox, OneDrive | File Sharing |
| The Guardian, BBC, Hong Kong Free Press, WION, Medium | News Media |
| Google, Bing, DuckDuckGo | Search engines |
One thing to note here is that few sites are blocked in some regions while accessible in others. Censorship is in full swing during festivals and events of national significance, often leading to a blanket ban on previously allowed applications and websites.
2.5 Should I leave my VPN on all the time?
That is YOUR call. A VPN gives you a mask identity online, along with providing access to the censored part of the web. In a country such as China, where Internet restrictions are rampant, it is not a bad idea to leave your VPN on all the time.
However, there might be cases when it becomes more of a hindrance than convenience; that's where you draw the line. A VPN server slows down or does not work correctly with particular apps, sites. It is better to switch it off during those times.
2.6 Which are the best VPN protocols?
The best available VPN protocol is configured by default. You can head to the settings for manually changing them.
OpenVPN
IPsec
IKEv2
WireGuard
SSTP
Some of the protocols often get banned temporarily or permanently in different provinces. You can check it by connecting to a different server before heading to the settings for changing the protocol.
2.7 How to use a VPN in China?
Using a VPN in China is easy as modern apps configure everything for you. Just flick a switch on the VPN app to enable/disable a connection using their secure servers. Here is how you set up a VPN.
Sign up for any of the VPNs we mentioned above. You can always use the trial with a money-back guarantee.
Install the VPN service's app on your device and put in your login credentials.
Select a server, which is outside China but located in a nearby country. We would recommend a server in Asia, which would help minimize lag in the connection, preferably helping in streaming Netflix and others.
Tap or Click on the connect button for switching on the VPN connection. Now all your Internet traffic will be routed through a secure encrypted connection.
2.8 Can I access Google Play Store in China?
Play Store, along with other Google services, are banned in China. No app can be downloaded from the Play store, even your VPN app. So, if you are visiting China, it is best to download all your apps before landing in an East Asian country. If not anything else, make sure to load up your VPN app for accessing the play store.
In other cases, when you are already in the country, the other way is to get the APKs through third-party websites. There is an added risk of viruses and malware involved. That is a risk you should be prepared to take.
2.9 How can I access the iOS app store in China?
The good news here, Apple's iOS app store is allowed in China under strict abidance with the censorship laws. Don't expect VPN apps to be present there as China is cracking down on anti-censorship applications. Recently Apple removed over 30,000 apps in compliance with China's new regulation.
The way to access banned apps on iOS is by changing the Apple account's region to another country. But for that to work, you will need to make a payment using a method native to that country. You can dodge that by purchasing a gift card from the respective country and using it as payment for shopping on the app store.
2.10 How to Bypass the Great Firewall without a VPN?
VPNs are ideal for all your Internet usage needs, but sometimes that's not needed. In general, surfing and checking emails does not warrant turning on the VPN app at all. You can use these for sporadic web usage without worrying about privacy.
Tor
The Onion Router, abbreviated as Tor, is an encrypted network relay that anonymizes your Internet activities to circumvent strict censorship laws and blockades. They offer a free Tor browser which is available for all major platforms.
Lantern
Another anti-censorship proxy tool relies on a peer-to-peer network to bypass local restrictions. You can download the app for both mobile and desktop.
2.11 Can I use a free VPN in China?
Using a completely free VPN has its share of risks involved. Few VPNs made in China, such as TurboVPN, may come with monitoring by the authorities. Along with that, you hit the features ceiling pretty fast.
You can use Windscribe and Hotspot shield, which offer premium features with a data cap, beyond which subscription plans are available.
What goes through a VPN will be anonymous and undetectable, meaning the Firewall will not be able to stop you from accessing banned social media sites. This, however, doesn't ensure the extensive monitoring put in place for all social media websites by the authorities. Posting any kind of content against China's laws may land you in trouble with the authorities. Make sure to keep all your personal communication inside the secure VPN tunnel.
2.13 Does the VPN server need to be in China?
Housing a server in China means adhering to the laws of the land. With the intrusive regulations requiring access to all the records, this will defeat the prime purpose of a VPN. All the leading VPN services do not have a server in China and are smartly stationed in nearby Hong Kong, the Philippines, where the Great Firewall is not in effect. Connect to any of the nearby servers for ensuring maximum speed and minimal lag.
2.14 Will China block all the VPNs?
On paper, China has rubbished all rumors of a blanket ban on VPNs despite various reports by media outlets. There are constant measures by the authorities blacklisting IP ranges, DNS servers, and proxy servers of different VPN servers, which have said otherwise. Their removal of anti-censoring tools doesn't propel confidence in the official statement. VPN servers are banned from time to time, so it is crucial to have a backup server in your favorites for impromptu needs.
2.15 Which are the best VPN server countries to use in China?
As a general rule of thumb, all the countries surrounding China with geographical proximity would provide the best VPN connection with minimal delays or lags. By connecting to a respective country, you will also gain access to the Netflix, Hulu, and other OTT libraries available in the region. You can look for servers in these countries:
Honk Kong
South Korea
Singapore
Taiwan
Philippines
Malaysia
2.16 Can I watch Netflix through VPN?
Streaming Netflix and other OTTs are easier than you would expect. VPN services offer as high as 30 Netflix libraries without charging anything extra. You will need to check with your VPN service before subscribing to see how many libraries they have to offer. Currently, Ireland has the greatest number of titles available on Netflix, followed closely by Malaysia.
VPN Service


www.nordvpn.com
NordVPN
Review
Price: $11.95 $3.71/month
Servers: 5500+ in 59 countries
Simultaneous connections: 6
Jurisdiction: Panama
Payment: PayPal, AmazonPay, Crypto, Google Pay, Klarna
Torrenting: OK
Unblocks US Netflix: Yes
Dedicated IP: $70/yr
TrustPilot Score: 4,7/5
Money-back: 30 days
Extra: Double VPN, Obfuscated servers
Visit NordVPN »


www.expressvpn.com
ExpressVPN
Review
Price: $12.95 $8.32/month
Servers: 3300+ in 94 countries
Simultaneous connections: 5
Jurisdiction: British Virgin Islands
Payment: PayPal, Crypto, AliPay, Klarna,
Torrenting: OK
Unblocks US Netflix: Yes
Dedicated IP: Not provided
TrustPilot Score: 4,7/5
Money-back: 30 days
Visit ExpressVPN »


www.cyberghostvpn.com
CyberGhost
Review
Price: $11.99 $2.25/month
Servers: 6600+ in 89 coutrines
Simultaneous connections: 7
Jurisdiction: Romania
Payment: PayPal, Crypto
Torrenting: OK
Unblocks US Netflix: Yes
Dedicated IP: $51/yr
TrustPilot Score: 4,8/5
Money-back: 45 days
Visit CyberGhost »


www.surfshark.com
Surfshark
Price: $11.95 $2.49/month
Servers: 3200+ in 65 coutrines
Simultaneous connections: Unlimited
Jurisdiction: British Virgin Islands
Payment: PayPal, Crypto, Google Pay, Amazon Pay
Torrenting: OK
Unblocks US Netflix: Yes
Dedicated IP: Not provided
TrustPilot Score: 4,3/5
Money-back: 30 days
Visit Surfshark »


www.purevpn.com
PureVPN
Review
Price: $9.60 $3.33/month
Servers: 6500+ in 140 coutrines
Simultaneous connections: 10
Jurisdiction: Hong Kong
Payment: PayPal, Credit Cards
Torrenting: OK
Unblocks US Netflix: Yes
Dedicated IP: $35.88/yr
TrustPilot Score: 4,7/5
Money-back: 31 days
Visit PureVPN »