Using a Virtual Private Network is a great choice for those who want to have a pleasant internet experience with no restrictions. Many Colombian citizens and those visiting the country use VPNs to keep their internet activities secure. You can even torrent files safely and access geo-restricted sites, including Amazon Prime Video, Netflix, ESPN, and others.
Some of the VPN providers listed below offer many server locations, including Colombia. Therefore, you may get an IP address in Colombia and be in the UK, US, Australia, India, Canada, Germany, Japan, or anywhere else!
Here are the best VPNs for those in Colombia:
1. Best VPN for Colombia 2023
1.1 ExpressVPN – Best Overall Colombia VPN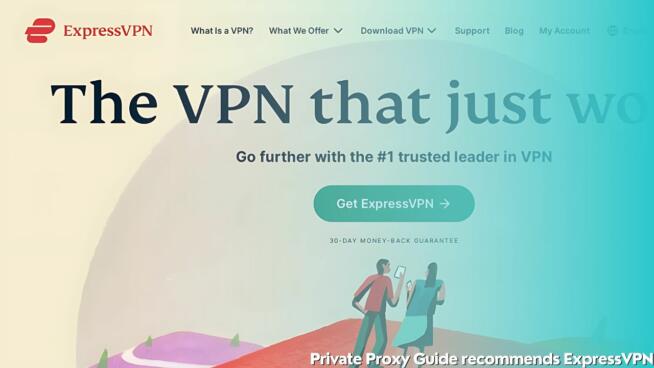 ExpressVPN is there with blazing fast speeds, military-grade encryption, and a truly global server network. That said, this provider offers over 3,000 servers in 94 countries throughout the world, and each one has countless IP addresses.
Luckily, there's one in Colombia!
You're sure to find that ExpressVPN works well with streaming services, such as ESPN, BBC iPlayer, Hulu, and Netflix. There are also additional perks to enjoy, such as round-the-clock support.
Its choices for security protocols are top of the line, too. They include 256-bit AES encryption, an internet kill switch, and also DNS leak protection. Therefore, your information always stays secure and in the encrypted tunnel.
With that, ExpressVPN doesn't store your logs or IP addresses. There could be metadata retention, but it's only used to improve quality levels and cannot be tracked to individual users.
1.2 Surfshark VPN – Best Budget VPN for Colombia

SurfShark offers over 3,200 servers from more than 65 countries. However, there are none located directly in Colombia. This VPN can unblock stubborn services, including Amazon Prime Video and Netflix, while you're abroad. Plus, the speeds are usually decent, so there should be no problems with routine browsing or streaming.
With that, SurfShark is different from the others on the list because there is no connection limit!
You're sure to appreciate it because it focuses more on user security. The traffic is hidden with 256-bit AES encryption. Plus, you get protection from WebRTC, DNS, and IPv6 leaks. A kill switch is also included.
With that, there's also a hybrid malware scanner and ad-blocker available, and the NoBorders function unblocks your internet in countries that have serious censorship issues.
On top of it all, SurfShark doesn't store data that might identify you, so there's no issue. Still, you may pay for the service with cryptocurrency if you're worried.
1.3 CyberGhost – Safe VPN for Colombia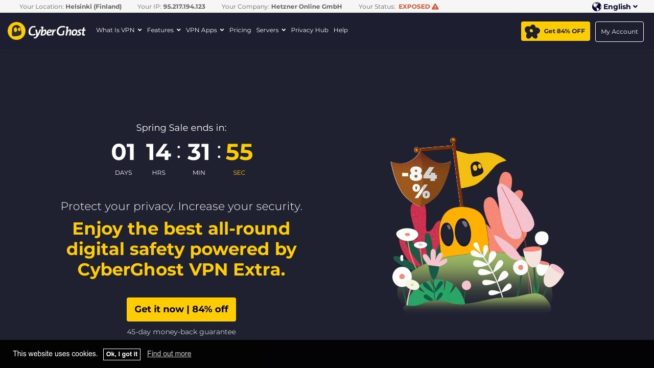 CyberGhost is an excellent budget provider. It offers a robust product with fast speeds and hardy encryption that doesn't break the bank. Plus, the provider has about 7,000 servers across 91 different countries, and Colombia has four! There's also a dedicated IP you can use whenever you want!
The CyberGhost app makes it easy to unblock streaming services or anything else. In fact, tell it what you want it to do, and it lists servers that can help.
This provider has many great security features, such as perfect-forward secrecy, 256-bit encryption, DNS leak protection, and an auto-kill switch. Therefore, the connection stays safe all the time.
On top of it all, CyberGhost doesn't store any user data, including IP addresses. Plus, you have additional measures in place, such as anti-tracking, anti-malware, and an ad-blocker!
1.4 IPVanish – Colombia

VPN With Many Locations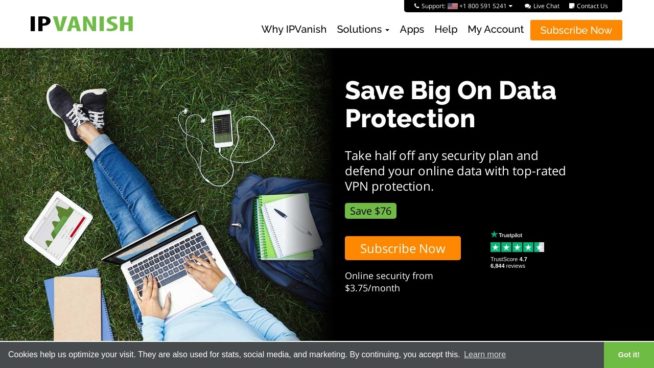 IPVanish ranks high for speed and privacy. With that, you get great customer support to ensure that everything is done right.
Currently, it has over 1,600 servers in 75 locations and over 40,000 IP addresses. Five of those servers are located directly in Colombia!
Though its headquarters are in the UK, the user data is fully protected, and there's a strict no-logging protocol in place. That way, you can remove all traces of your digital footprint.
With that, IPVanish is a favorite for Kodi and torrent users. You can download the Android APK to your device directly. Plus, it's possible to use a remote control, so you don't require a mouse and keyboard!
You're sure to appreciate the 256-bit AES encryption. It also features DNS leak protection, perfect forward secrecy, and a kill switch.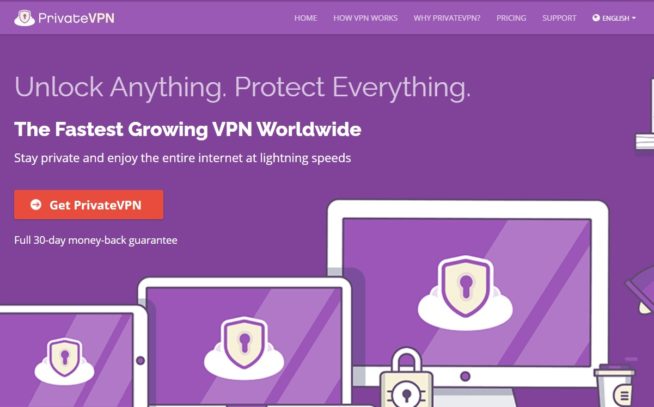 PrivateVPN is located in Sweden, which has pro-privacy laws in place. However, it's a newcomer into the VPN space and hasn't been around for as long as others. Still, that doesn't mean it offers subpar options.
In fact, it's quick, unblocks geo-restricted content, and has great encryption standards!
Currently, PrivateVPN has over 200 servers in 63 countries, with one in Colombia. Still, there's no private dedicated IP address unless you pay more.
You're sure to appreciate that the provider doesn't log user data and features torrenting support. Plus, there's unlimited bandwidth for your HD video streams. Some streaming services you can access with it include HBO, Hulu, Netflix, BBC iPlayer, and others.
It's possible to choose between 128- and 256-bit encryption, depending on what you need. There's also DNS leak protection, a kill switch, and perfect forward secrecy.
2. How to Set Up Your VPN in Colombia
Here's how to set up your VPN in Colombia:
Choose a VPN provider you like that provides the functionality you need. Though the mini-reviews above can help, you may want to look at each official website to get more information.
Once you've chosen a provider, sign up with your credit/debit card information and personal information. Some services might accept Bitcoin or PayPal transactions.
When the provider processes the payment, you receive an email with your login information.
Visit the official website to download the apps for your device. Install directly from the site or app store to avoid any issues.
Reboot the device once the installation is completed.
Log in to the account and connect to the VPN server you want.
Your internet connection is now private and encrypted, so you can access the content you want.
3. FAQ
Should You Use a Free VPN While in Colombia?
It's tempting to go with a free VPN because you don't have to pay anything upfront. Most people believe they're getting a great deal, but that's not often how it works.
Generally, free VPN providers don't offer a premium product. They could mine your data and sell it to third-party entities. With that, you may see invasive advertisements all the time.
On top of it all, you are exposed to weaker encryption standards, a handful of servers, slower speeds, and bandwidth throttling. Such providers just can't deliver restricted content and social media apps.
Plus, if you use a free VPN, you run the risk of it automatically downloading malware to your device. It's generally best to use a reputable paid provider. Still, you might get lucky enough to find a free trial, and this is okay!
How Does the VPN Work?
VPN software is designed to route all internet traffic from and to your device using an encrypted intermediary server outside of the current location. This hides your real IP address, so it appears that you're in the chosen locale.
That way, you can unblock geo-restricted content in your country. With that, the encryption offers the advantage of preventing hackers from monitoring online behaviors.
Why Is It Important to Use a VPN in Colombia?
Colombia has many people using the internet, at about 63 percent of its population. However, the government authorities take a more skeptical view about freedom of expression, so it's not guaranteed that you can say what you want without running into obstacles.
In a sense, Colombia's internet is partly free, and there's plenty of extra surveillance. Self-censorship and threats also run rampant, depending on what you say.
Lethal attacks have been known to happen to outspoken activists. The bad news is authorities don't try to stop them, so self-censorship is the best policy.
With that, illegal practices and government surveillance are high. Journalists often get targeted, especially when they're trying to expose irregularities and corruption.
On top of it all, foreign gambling sites are always blocked in Colombia from 2017 onward. This happened because of the gambling legislation, which required operators to have a license. That's just one more reason to use a VPN – the software tricks Colombian ISPs into thinking that you're accessing the site from an outside location.
It's illegal to torrent in Colombia, even though the government rarely arrests people. However, your ISP could block you or lower your bandwidth if you regularly do it. Therefore, it's best to use a VPN. Most of them listed here let you safely access the torrents and don't attract regulators if you connect to the VPN first.
4. Conclusion
Using a VPN can be highly beneficial if you like to post sensitive content that could outrage the government or other entities. Colombia doesn't restrict freedom of speech as much as other countries, but it still does so.
It's in your best interest to protect yourself so that you can say what you want without backlash or fear. With that, you're allowed to use social media and other traditionally blocked sites without issue.
ExpressVPN could be the best VPN because it offers fast and stable speeds with great security features. Plus, it works well on popular streaming services and comes with a money-back guarantee.
VPN Service


www.nordvpn.com
NordVPN
Review
Price: $11.95 $3.71/month
Servers: 5500+ in 59 countries
Simultaneous connections: 6
Jurisdiction: Panama
Payment: PayPal, AmazonPay, Crypto, Google Pay, Klarna
Torrenting: OK
Unblocks US Netflix: Yes
Dedicated IP: $70/yr
TrustPilot Score: 4,7/5
Money-back: 30 days
Extra: Double VPN, Obfuscated servers
Visit NordVPN »


www.expressvpn.com
ExpressVPN
Review
Price: $12.95 $8.32/month
Servers: 3300+ in 94 countries
Simultaneous connections: 5
Jurisdiction: British Virgin Islands
Payment: PayPal, Crypto, AliPay, Klarna,
Torrenting: OK
Unblocks US Netflix: Yes
Dedicated IP: Not provided
TrustPilot Score: 4,7/5
Money-back: 30 days
Visit ExpressVPN »


www.cyberghostvpn.com
CyberGhost
Review
Price: $11.99 $2.25/month
Servers: 6600+ in 89 coutrines
Simultaneous connections: 7
Jurisdiction: Romania
Payment: PayPal, Crypto
Torrenting: OK
Unblocks US Netflix: Yes
Dedicated IP: $51/yr
TrustPilot Score: 4,8/5
Money-back: 45 days
Visit CyberGhost »


www.surfshark.com
Surfshark
Price: $11.95 $2.49/month
Servers: 3200+ in 65 coutrines
Simultaneous connections: Unlimited
Jurisdiction: British Virgin Islands
Payment: PayPal, Crypto, Google Pay, Amazon Pay
Torrenting: OK
Unblocks US Netflix: Yes
Dedicated IP: Not provided
TrustPilot Score: 4,3/5
Money-back: 30 days
Visit Surfshark »


www.purevpn.com
PureVPN
Review
Price: $9.60 $3.33/month
Servers: 6500+ in 140 coutrines
Simultaneous connections: 10
Jurisdiction: Hong Kong
Payment: PayPal, Credit Cards
Torrenting: OK
Unblocks US Netflix: Yes
Dedicated IP: $35.88/yr
TrustPilot Score: 4,7/5
Money-back: 31 days
Visit PureVPN »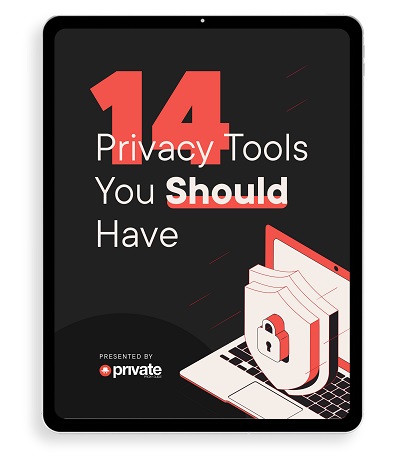 Learn how to stay safe online in this free 34-page eBook.