If you're a fan of manga, anime, or Japanese television drama, Crunchyroll is a great platform to catch your favorite shows. The company licenses, produces, distributes, and publishes Japanese content.
Japanese shows are becoming increasingly popular, which is why many people are searching for the best VPN to allow them access to this exciting platform. Crunchyroll is an American company that distributes Japanese content to the world, but like most streaming platforms, it is restricted in several countries.
If you are an avid anime fan or want to catch up on the latest Japanese drama, you'll need a reliable VPN to help you bypass geo-restrictions by tunneling your traffic through one of its servers.
You can also use a VPN service to stay safe online and prevent intrusive ads from interrupting your browsing.
This article will provide you with all the information you need to access Crunchyroll from your country.
1. Best VPN for Crunchyroll in 2022
We've done our research to bring you the best VPNs for Crunchyroll. Here are the five best VPN services to help you stream Japanese content to your heart's content.
1.1 NordVPN – Best Overall Crunchyroll VPN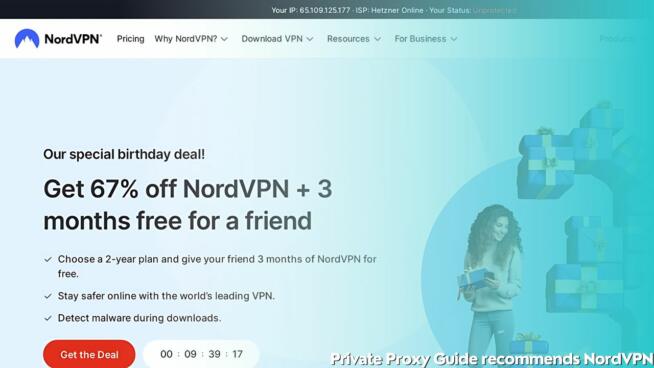 Crunchyroll users can trust NordVPN. It provides excellent value for money, with good security and privacy capabilities, in addition to its ability to unblock the most prominent streaming sites, such as Netflix, Hulu, and Crunchyroll.
This VPN service offers a wide range of innovative features thanks to its many servers in 62 locations worldwide. Furthermore, it has fantastic speeds, so you won't struggle with annoying lags or buffering when enjoying your favorite anime series.
NordVPN uses obfuscated servers that allow you to avoid proxy detection when bypassing Crunchyroll's geo-restrictions. Thanks to its kill switch, you'll have protection even when you lose connection.
It offers a 30-day money-back guarantee, giving you more than enough time to try out the service before committing. Moreover, NordVPN allows you to connect a maximum of six devices at the same time, which is ideal for folks who enjoy their entertainment on a range of devices.
1.2 ExpressVPN – Fastest VPN for Crunchyroll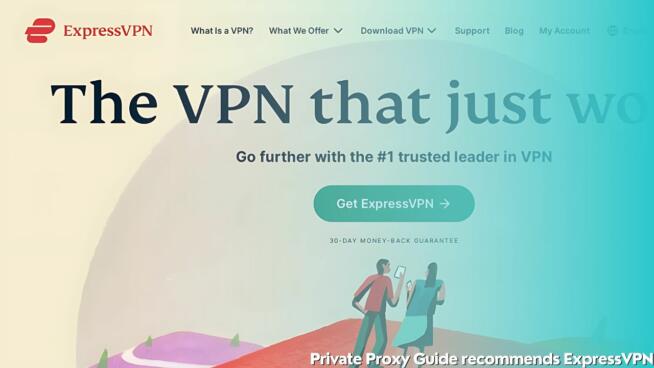 If you're looking for a VPN with top-notch security and excellent unblocking capabilities, there is no better option than ExpressVPN.
This VPN service is quick, effective, and secure, with military-grade encryption, which means that you can expect anonymity and privacy without sacrificing performance. Furthermore, the transfer speeds are excellent for streaming HD videos without lags or interruptions.
ExpressVPN does not keep any form of activity logs, so you can rest assured that your privacy is protected. It also has an internet kill switch, that safeguards your online identity if the VPN connection is lost.
You will also receive an IP address to unlock Crunchyroll content and will have access to its large network of 3000+ high-speed servers, including numerous servers in over 20 cities in the United States.
1.3 CyberGhost – Safe VPN for Crunchyroll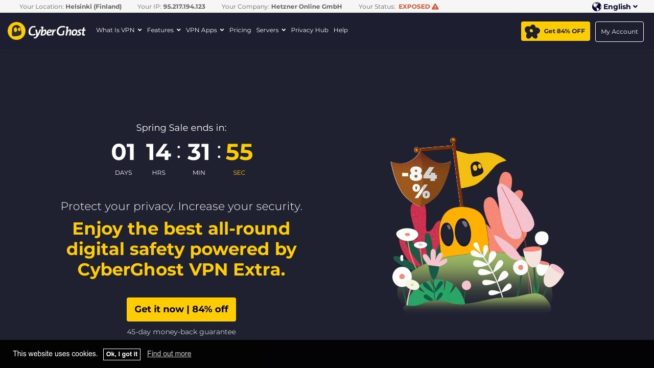 CyberGhost is a low-cost, dependable VPN with over 7,700 servers worldwide and 1,224 in the United States, so you'll have no trouble bypassing Crunchyroll's geo-restrictions. Some are even tailored to operate with popular streaming services such as HBO Max and Netflix.
While there isn't a dedicated Crunchyroll server, you won't have any problems streaming anime with CyberGhost. The speeds are impressive, and you can protect up to seven devices simultaneously with one subscription.
The company expressly states that it does not keep track of user activity or surfing histories. Moreover, because it is based in Romania, it is exempt from statutory data retention regulations.
A kill switch, 256-bit encryption, IPv6 and DNS leak protection, and automatic malware detection are among its most notable security features.
If you're new to VPNs, you'll appreciate CyberGhost's apps, as they have been designed to be user-friendly.
1.4 PrivateVPN – Crunchyroll VPN With Many Protocols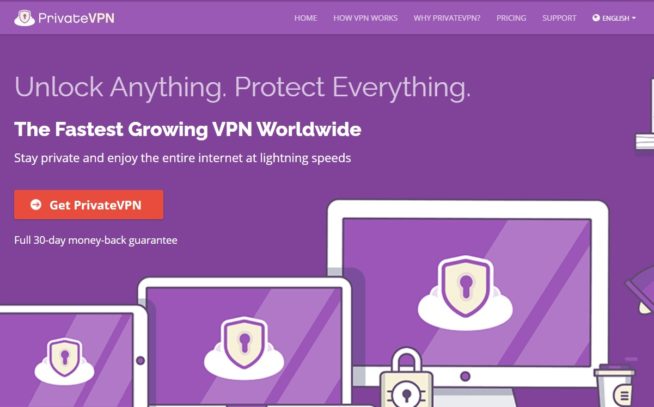 PrivateVPN offers 200 global servers, which is less than the other VPN services on our list. However, this is no indication of its capability, as it is still a growing company that hasn't been on the market as long as other providers.
Despite its small network, PrivateVPN still has extensive coverage in the United States, which is what you will need to enjoy the Crunchyroll platform to the fullest!
When connected to a PrivateVPN server, you won't experience any lagging or low-quality video. Furthermore, because of its lightning-fast bandwidth, it has no difficulty unblocking worldwide Netflix libraries and other popular streaming services.
The VPN service presently supports up to six concurrent users and offers a variety of protocols to meet your needs. It is compatible with Windows, macOS, iOS, Linux, and Android, so you shouldn't have any trouble securing all your devices.
1.5 StrongVPN – Stable Crunchyroll VPN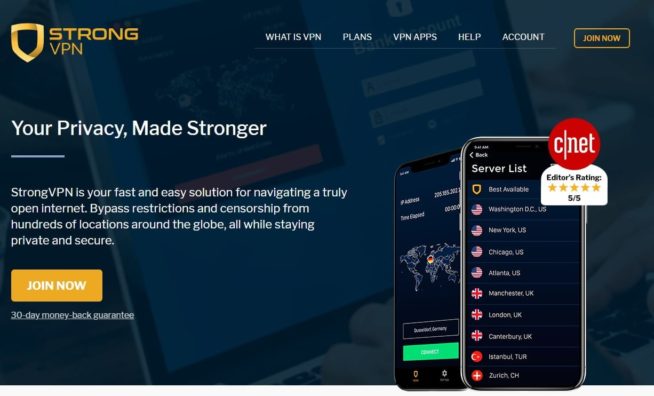 Gaining access to Crunchyroll is as easy as downloading StrongVPN's free app on your smart TV or mobile phone and connecting to one of its global servers.
This allows you to safely access your favorite Crunchyroll episodes, whether you're relaxing at home or enjoying a series on the go. You can also use public Wi-Fi to stream, as StrongVPN will keep your connection secure, preventing hackers from gaining access to your device.
As one of the most secure VPNs, it employs AES 256-bit military-grade encryption and perfect forward secrecy. Moreover, you can choose from a range of protocols, including OpenVPN, WireGuard, IKEv2, L2TP, SSTP, and IPSec.
You will also get leak protection, an internet kill switch to keep you safe even if you lose connection, and an auto-connect feature to get you back to your viewing experience as soon as the connection has been reestablished.
2. Final Thoughts
If you are a fan of manga, anime, or Japanese television shows, Crunchyroll is one of the best streaming services you can use to watch them outside Japan. However, Crunchyroll usage is limited or banned in some countries, so you'll need a dependable VPN service to enjoy its shows!
Should you need help finding a VPN service for another streaming service, check out our other VPN recommendations!
3. Crunchyroll VPN Frequently Asked Questions
In the section below, you can find the answers to some of the most asked questions about using a VPN for Crunchyroll.
3.1 Why Do I Need a VPN for Crunchyroll?
Shows such as One Piece, Attack on Titan, Naruto, and Dragon Ball Super are all favorites on Crunchyroll. One of the most substantial benefits of using the platform is that it makes every new episode of these legendary shows available for its viewers within an hour of their original Japanese broadcast.
However, these benefits are only available to those in the United States, so you'll need a reliable VPN if you live outside the US or are traveling. A VPN will mask your actual location to help you bypass geo-restrictions.
It will also keep your online activity private and secure by encrypting your traffic and keeping your data away from the prying eyes of ISPs, governments, and advertisers.
3.2 Is It Legal to Stream Content on Crunchyroll?
Yes, Crunchyroll is perfectly legal, and you're not breaking any laws by using the service to watch anime.
However, the platform can only offer users access to some titles in specific geographic areas due to copyright and licensing constraints. You'll need to utilize a VPN to appear to be in the United States to access the Crunchyroll library's largest collection.
3.3 How Can I Access Crunchyroll with a VPN?
Follow the steps below to watch your favorite show on Crunchyroll using a VPN.
Select a VPN service from our list above and sign up for a subscription.
Download and install the VPN app on your mobile phone, smart TV, or another device you wish to use to access Crunchyroll.
Launch the app and log in using the credentials you created when you signed up.
Your device will be connected automatically to the nearest server. To change the server location, simply browse the server locations and select one. We recommend connecting to a server in the US for access to Crunchyroll's largest online collection.
Once you have connected to a server, go to the Crunchyroll website, and enjoy your favorite series!
3.4 Why Doesn't My VPN Unblock Crunchyroll?
The truth is that not all VPN services are the same. Some emphasize security and speed, while others focus on preventing DDoS attacks. This means that many VPN services will not have the unblocking and streaming capabilities that others have.
Furthermore, Crunchyroll works hard to ensure that VPN users aren't gaining full access to the site and has certain measures in place to detect VPNs. If the VPN you choose doesn't have obfuscated servers and other advanced security measures, it may not be successful at unblocking Crunchyroll.
3.5 Should I Use a Free VPN?
You should never use a free VPN for Crunchyroll for several reasons. Firstly, free VPNs keep records of your online activity that they often sell to advertisers and other third parties.
Secondly, these VPNs do not offer the level of security and anonymity that the best VPNs for Crunchyroll offer. This means that Crunchyroll's security system may detect the use of a VPN and block you, or you may not be able to bypass the platform's geo-restrictions at all.
Thirdly, many of these free VPN networks are smaller than paid VPN services, so you can expect lags and interruptions in your online viewing experience.
VPN Service


www.nordvpn.com
NordVPN
Review
Price: $11.95 $3.71/month
Servers: 5500+ in 59 countries
Simultaneous connections: 6
Jurisdiction: Panama
Payment: PayPal, AmazonPay, Crypto, Google Pay, Klarna
Torrenting: OK
Unblocks US Netflix: Yes
Dedicated IP: $70/yr
TrustPilot Score: 4,7/5
Money-back: 30 days
Extra: Double VPN, Obfuscated servers
Visit NordVPN »


www.expressvpn.com
ExpressVPN
Review
Price: $12.95 $8.32/month
Servers: 3300+ in 94 countries
Simultaneous connections: 5
Jurisdiction: British Virgin Islands
Payment: PayPal, Crypto, AliPay, Klarna,
Torrenting: OK
Unblocks US Netflix: Yes
Dedicated IP: Not provided
TrustPilot Score: 4,7/5
Money-back: 30 days
Visit ExpressVPN »


www.cyberghostvpn.com
CyberGhost
Review
Price: $11.99 $2.25/month
Servers: 6600+ in 89 coutrines
Simultaneous connections: 7
Jurisdiction: Romania
Payment: PayPal, Crypto
Torrenting: OK
Unblocks US Netflix: Yes
Dedicated IP: $51/yr
TrustPilot Score: 4,8/5
Money-back: 45 days
Visit CyberGhost »


www.surfshark.com
Surfshark
Price: $11.95 $2.49/month
Servers: 3200+ in 65 coutrines
Simultaneous connections: Unlimited
Jurisdiction: British Virgin Islands
Payment: PayPal, Crypto, Google Pay, Amazon Pay
Torrenting: OK
Unblocks US Netflix: Yes
Dedicated IP: Not provided
TrustPilot Score: 4,3/5
Money-back: 30 days
Visit Surfshark »


www.purevpn.com
PureVPN
Review
Price: $9.60 $3.33/month
Servers: 6500+ in 140 coutrines
Simultaneous connections: 10
Jurisdiction: Hong Kong
Payment: PayPal, Credit Cards
Torrenting: OK
Unblocks US Netflix: Yes
Dedicated IP: $35.88/yr
TrustPilot Score: 4,7/5
Money-back: 31 days
Visit PureVPN »