It is no secret that Facebook has become an integral part of our lives. With more than 2.9 billion users, what started out as an alternative to MySpace, grew to become one of the most widely used social media platforms of all time.
If you're trying to unblock Facebook in a country where it has been restricted or simply wish to stay safe while posting online or scrolling through your news feed, a VPN can help you do just that!
A VPN, or virtual private network, hides your actual location using encryption and tunneling the traffic to and from your computer or smartphone through one of its servers.
When you connect to a VPN, it will keep those pesky ads from interrupting your social media activity and ensure that your history and preferences are kept away from the prying eyes of third parties.
In this article, we will discuss the best VPNs that you can use for Facebook.
1. Best VPN for Facebook 2023
1.1 NordVPN – Best Overall Facebook VPN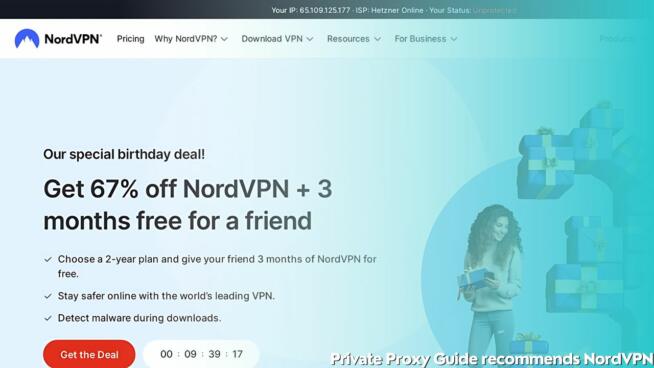 A great choice of VPN to help keep your social media activity secure is NordVPN. It can be classified as a no-log VPN service since user information isn't saved, so you'll never have to worry about anyone getting hold of your private messages or Facebook posts. 
Furthermore, NordVPN uses data leak protection and military-grade encryption to keep you anonymous online. It also provides obfuscated servers that hide the fact that you're connected to Facebook via a VPN.
Network administrators often use Deep Packet Inspection (DPI) to detect and prohibit VPN use and obfuscated servers can be a real asset to help you bypass rigorous security measures.
In addition to accessing Facebook and bypassing restrictions, NordVPN is also a great tool to help you access your favorite streaming sites, such as Netflix and BBC iPlayer.
1.2 ExpressVPN – Fastest VPN for Facebook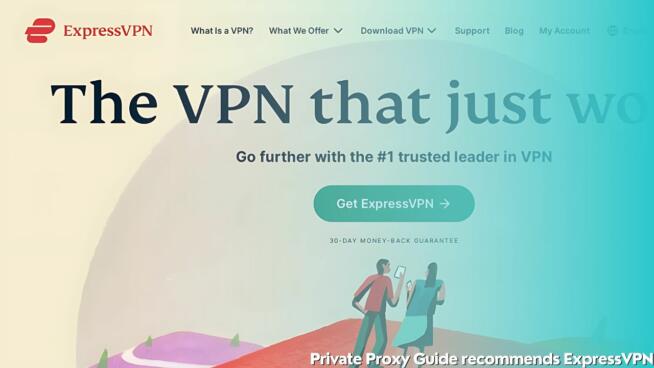 If you're looking for a VPN that offers the best security, reliable connections, excellent unblocking capabilities, and fast speeds, ExpressVPN is the best choice.
Because it flawlessly integrates military-grade encryption methods with a dependable, advanced solution to data protection and unblocking needs, ExpressVPN is a favorite among internet privacy seekers.
Unblocking Facebook or Facebook Messenger at the office, school, or while traveling is a breeze when you use this VPN. There is an extensive network of servers from which to choose, consisting of over 3,000 high-speed servers in 94 countries.
The company uses OpenVPN, which employs 256-bit AES as its default encryption method. An SHA-512 hashing technique is used to identify 4,096-bit DHE-RSA keys.
To put it simply, these features are used to ensure your online safety, whether you're browsing social media or conducting financial transactions online.
A single membership allows you to secure up to five devices at the same time, making it a convenient way to share the expense with friends. 
1.3 CyberGhost – Safe VPN for Facebook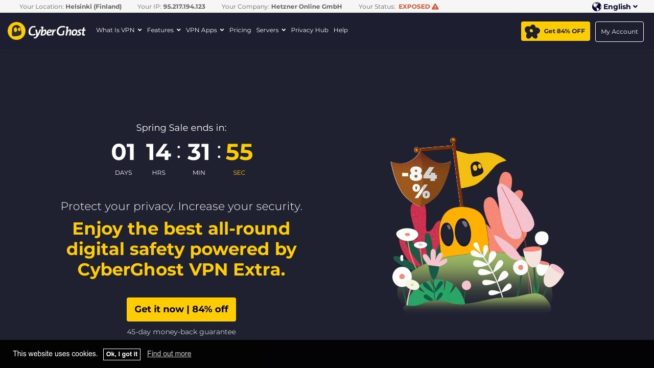 If you're looking for an affordable, quick fix for your social media security woes, CyberGhost is an excellent choice.
It has the largest network of servers, and with speed and encryption as standard features, CyberGhost is a fantastic option for unblocking Facebook or using the social media platform stress-free.
A CyberGhost membership gives you access to OpenVPN, split tunneling, a kill switch, and DNS leak protection to safeguard you even if you lose connectivity. Like ExpressVPN and NordVPN, you can use this service to access your favorite shows and sports events.
Since the company is headquartered in Romania, it isn't subject to any mandatory data storing laws, so you can browse your Facebook news feed without having to worry about prying eyes.
Try out a subscription with the assurance that you have 45 days to decide whether it's the right choice for you, thanks to a 45-day money-back guarantee.
1.4 Ivacy VPN – Best Budget VPN for Facebook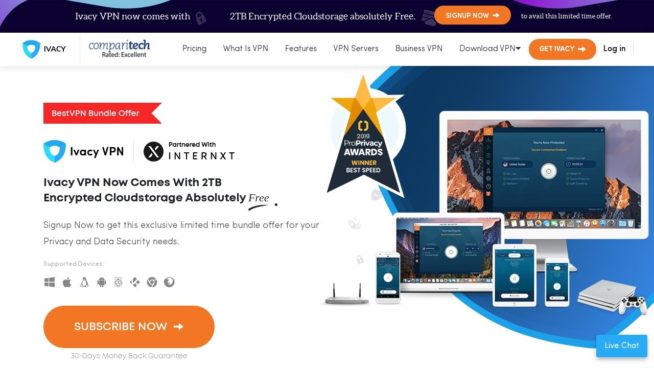 Another excellent VPN service to help you access Facebook and Facebook Messenger is IvacyVPN. As one of the most affordable VPNs on the market, you'd expect a small network of servers and fewer features.
However, this simply isn't the case. The truth is that for just $1.15 per month, you can get military-grade encryption, buffer-free streaming, unblocking capabilities, a dedicated IP, split tunneling, and an internet kill switch!
IvacyVPN also lets you choose a server based on what you aim to accomplish. Its smart purpose selection feature makes it easier to find servers, and a free password manager will ensure that your Facebook account is never hacked. The VPN will also help you keep track of your Facebook password, so you won't lose access to your account!
With one subscription, you can secure up to 10 devices, so whether you choose to browse social media on your phone or laptop, you have the assurance that you are protected.
1.5 ZenMate VPN – Budget-friendly Facebook VPN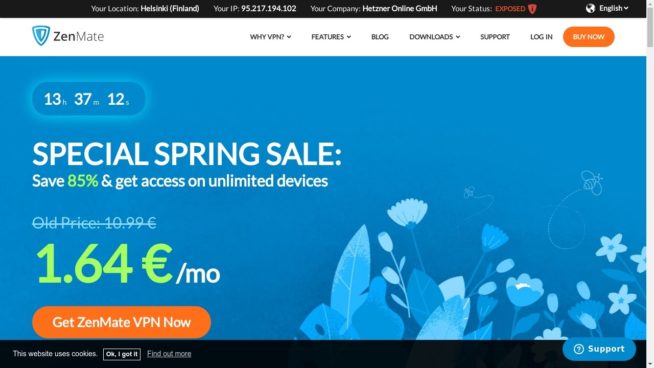 With ZenMate, you can get past geo-restrictions or network restrictions to access Facebook with ease. It's among the most secure VPNs for using Facebook.
ZenMate not only masks your IP address but also protects your data using encryption. This means that no one can see your internet activities, including ISPs, cybercriminals, and governments.
Thanks to its no-logging policy, no one, including the VPN provider, will have access to your sensitive information, so you can conduct your social media activity without worrying about anyone keeping track of your activity.
In addition to an internet kill switch and great unblocking capabilities to help you access your favorite TV shows or sports events, ZenMate also has an extensive network of servers.
This means that you will have no trouble accessing Facebook in countries where it is restricted. Simply connect to a server in another country and enjoy your social media activity!
2. Final Thoughts
Suppose your Facebook usage has been restricted, or you want to browse your news feed without worrying about prying third parties. In that case, you can connect to one of the best VPN services for Facebook!
Need a VPN service for another social media platform? Please browse our website for other recommendations!
3. Facebook VPN Frequently Asked Questions
Here are the answers to some of the most asked questions.
3.1 Why Is My Facebook Usage Restricted?
If you are trying to access your social media account from your office, school, or tertiary institution, you may find that your Facebook usage is restricted. This is because network administrators block social media platforms that can cause distraction.
Moreover, many countries, such as China, Iran, North Korea, and Vietnam, ban the use of Facebook and other social media platforms. While some countries do not place bans on Facebook usage, they restrict Facebook Messenger access.
3.2 Could I Be Locked Out of My Facebook Account for Using a VPN?
The truth is that VPN usage can sometimes trigger Facebook's security protocols, which could lead to you being locked out of your account.
However, when you use the best VPN services for Facebook, you shouldn't have this problem since these service providers go above and beyond to ensure that you can browse the internet anonymously.
In some cases, Facebook may have blocked a particular server, so it will not allow you access if you use this server. You can simply switch to another server to enjoy secure Facebook use.
3.3 Why Should I Use a VPN for Facebook?
Network administrators in schools, offices, and other institutions often block Facebook since it serves as a distraction.
However, using a VPN, you can get past these restrictions since it encrypts your traffic. This means that your network administrator will have no idea that you've accessed Facebook!
Moreover, the social media platform has been restricted in certain countries, while others limit the use of Facebook Messenger. To get past these geo-restrictions, you can connect to a VPN server in another country.
Many internet advertisements seem a little too personalized, urging you to purchase something you were only contemplating yesterday.
The truth is that targeted advertising can be unpleasant and frightening, but when you browse Facebook while connected to a reliable VPN, you can rest assured that no ad trackers will be keeping track of your online activity.
A VPN will also allow you to use social media anonymously. When you're not on social media, you can use your VPN service to bypass geo-restrictions and enjoy sports events and TV shows in other countries.
3.4 How Do I Connect to a VPN and Use It to Access Facebook on My Device?
If you're wondering how to connect to a VPN service and use it for Facebook, follow the steps below:
Select a VPN service from our list above.
Sign up for an account and purchase a monthly or yearly subscription.
Download and install the VPN app on your device.
Launch the app and log in using the details you created in step two.
You should be connected to the nearest server. To change your server location, simply browse through the list of servers and choose one.
Log in to Facebook and enjoy secure browsing!
3.5 Should I Use a Free VPN for Facebook?
While a free VPN might sound like a good idea, we recommend steering clear of these services. This is because the security you often receive when you connect to a free VPN is questionable, and there tend to be fewer servers, which means slower speeds.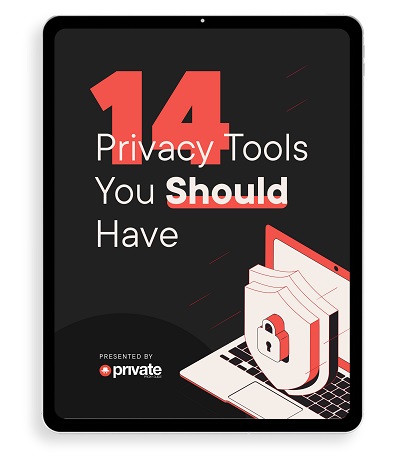 Learn how to stay safe online in this free 34-page eBook.