People who are in Australia know the name Foxtel. It is an internet and cable television monster that has been around since 1995. Afterward, it did not take very long for it to become one of the primary sources of entertainment in Australian households. Foxtel is no different from online streaming, and it allows its customers to view their favorite programs online and with their app.
However, if you're traveling abroad, Foxtel programming is no longer available online. The content that is no Foxtel is region-locked, so only those in Australia can watch its programs. This can be frustrating for viewers, but there is an easy solution to this problem.
VPNs are a great way to bypass Foxtel's region-locked service. This article is going to explain to you what the five best VPN services are to use for your Foxtel streaming needs.
1. Best VPN for Foxtel 2022
1.1 NordVPN – Best Overall Foxtel VPN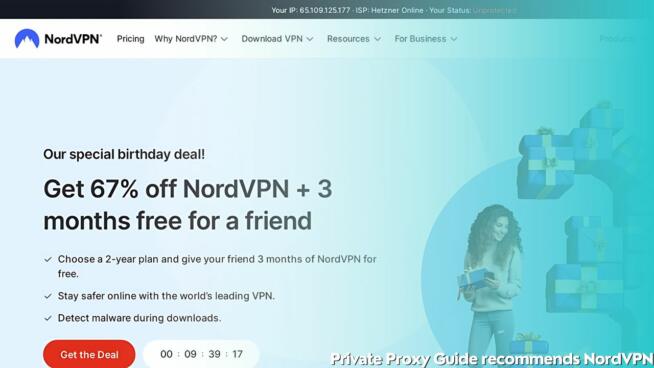 NordVPN provides breakneck connection speeds, extensive multi-platform support, high-end security, and privacy, and more. There are thousands of servers across the globe, but there are several located in Brisbane, Adelaide, Perth, Melbourne, and Sydney. That means an Australian server is always ready to unblock Foxtel when you want it.
NordVPN uses military-grade encryptions with a kill switch when it comes to security. That is why with some of the fastest connection speeds, NordVPN can stream and handle 4K and HD content from Foxtel. If limitations to bandwidth or data cap are something you worry about, you don't need to because there are none with NordVPN.
Key Features:
There are a lot of Australian-based servers
High-speed connections
Connect up to six devices simultaneously
Good value for money
Supports apps across all major operating systems and devices
1.2 ExpressVPN – Fastest VPN for Foxtel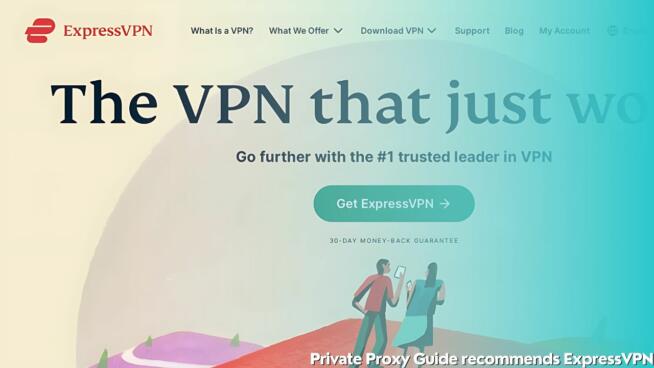 ExpressVPN offers exceptional global server coverage with many servers located in Australia. The Australian servers can be found in Melbourne, Brisbane, Perth, and Sydney. With so many servers in Australia, it provides enough for most streaming needs. If streaming high-quality content is what you want, ExpressVPN can easily do that because it is made to stream HD and 4K content.
The headquarters are in the British Virgin Islands, so it takes full advantage of the country's respect for online users by not keeping any logs. Moreover, Bitcoin payments are accepted, so the anonymity of users can continue. However, the downside to ExpressVPN is that it is one of the more expensive options available.
Key Features:
Military-grade encryption is used
Works well with Foxtel and other streaming services
Global servers are available for fast and reliable connections
Multi-platform support
Connect to five devices simultaneously
1.3 CyberGhost – Foxtel VPN With Low Prices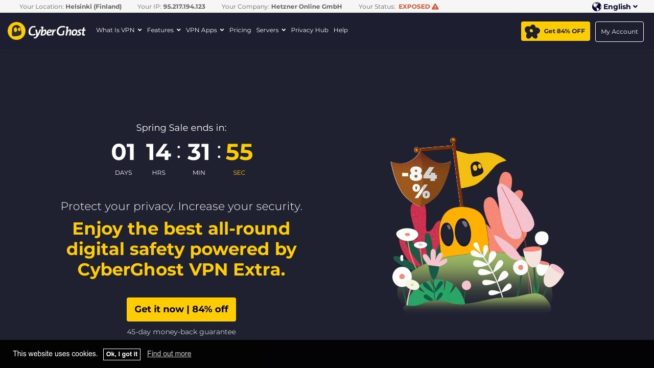 CyberGhost is very easy to use, has well-located servers, and its download speed is fast. With thousands of servers in 90 countries worldwide, it is one that many people rely on. Also, there are 76 servers located throughout Sydney, Melbourne, and Brisbane. That means users have excellent access to Foxtel and other Australian streaming services.
Additionally, CyberGhost has recently added some brand-new features that include antivirus protection, an app that scans for vulnerable and/or outdated apps, and a password manager. Also, there is the ID Guard feature, which alerts the user via email if their email address has been exposed in a data breach. With so many safety features, it's no wonder why CyberGhost is a popular and reliable option.
Key Features:
Users can pay in Bitcoin
Fast download speeds
There are many servers in Australia
The apps are user-friendly for beginners
Excellent privacy and security coverage
1.4 Surfshark VPN – Foxtel VPN With Unlimited Devices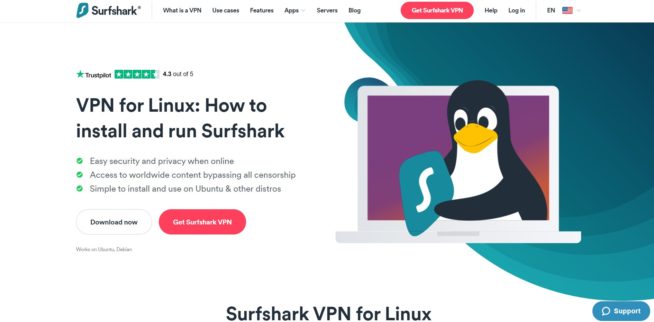 SurfShark is a low-cost leader when it comes to VPN services. It provides a reliable and safe way to access Foxtel nearly anywhere around the planet. With over 3,200 servers in 65+ countries, it is one that users utilize when it comes to their streaming and browsing needs. Those that enjoy streaming HD video, share large files, and play online games can relax with SurfShark because its connectivity is phenomenal.
Also, one of the significant aspects of SurfShark is that you can connect an unlimited number of devices simultaneously. This is fantastic for family and friends who want to share their subscription. Additionally, banking-grade encryption, kill switch, and DNS leak prevention protection are all used to keep you safe.
Key Features:
MultiHop option allows users to double their encryption and anonymity
Reliable access to Foxtel
Connect an unlimited number of devices
It is supported across many platforms
1.5 IPVanish – Foxtel VPN With User-friendly Apps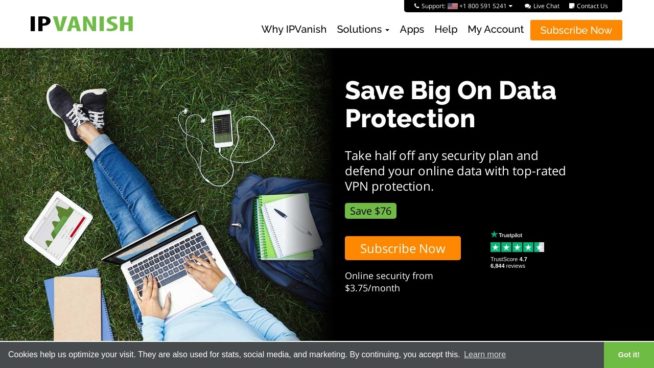 IPVanish has many different apps that users can utilize when streaming and browsing online. These apps provide fantastic security and a high download speed, so videos are buffer-free. When it comes to server coverage, IPVanish is one of the best in the industry. There are many servers worldwide, and there are some in Australia.
Users can enjoy connection speeds that are fast and reliable, so you can enjoy HD and 4K streaming from Foxtel. Moreover, IPVanish uses military-grade encryption, auto-reconnect, kill switch, scramble, and IPv6 leak protection. Also, there are no logs kept. However, there is no cryptocurrency payment option available.
Key Features:
Connect to an unlimited number of devices
IPVanish owns and operates all its VPN servers
30-day money-back guarantee
It can be used across multiple operating systems and platforms
2. Foxtel VPN FAQ
2.1 Why Do You Need a VPN for Foxtel?
The reason for using a VPN for Foxtel is that it allows users from outside of Australia to access the service. Otherwise, users outside of the borders are not able to watch the shows and movies they want from Foxtel. This is because Foxtel is region-locked, so it only operates inside Australia.
2.2 Should You Use a Free VPN?
Free VPNs only allow users to connect to a limited number of servers. Also, that is only if it enables you to pick which server you want to connect to. However, it is unlikely you can choose because servers are limited.
Additionally, free VPNs are not known for their fast capabilities. They tend to be slow and cannot support a wide variety of HD and 4K programming. Plus, most free VPNs have a cap on users' usage, so many users cannot roam the internet or watch their favorite shows for a significant length of time. It is important to read the fine print before signing up with one of these services.
Moreover, many free VPN services log and sell users' data to third parties and advertisement marketers. This is the opposite of what a VPN is supposed to do. Therefore, it is up to you to use a free VPN, but it is not recommended because the cons outweigh the pros.
2.3 How Do You Use Foxtel with a VPN?
There are only a few simple steps to take before using Foxtel and the VPN together.
Subscribe to Foxtel.
Subscribe to a VPN.
Download the VPN app onto the device of your choosing.
Log in to the provider's network and choose a VPN server in Australia.
Load up the Foxtel app or visit the website.
Begin streaming your shows!
2.4 What Else Can I Do with a VPN?
A VPN does not just allow users to access streaming services from all over the planet. It also offers users protections and enhancements for all their online activities. This is done by the encryption protection that a VPN provides and uses to protect all users' data.
VPNs are extremely useful for online banking, bill-paying, shopping, and other sensitive online activities. Imagine sitting in a coffee shop on your laptop, and you have connected to the public Wi-Fi, so you can browse the internet. Well, while you are distracted by what's on your laptop screen, a hacker now has access to all your personal information and data because you have used a public Wi-Fi.
However, if you have a VPN in place, hackers are less likely to break into your data because of the added encryption and security it provides. Not only does it protect you from hackers, but it also protects you from malicious software, which can be automatically downloaded onto many different devices. A VPN helps protect your device from that malicious software and can detect it before it manages to download itself.
Lastly, a VPN provides added protection for you from your internet provider. Your internet provider can see everything you do on the internet, so you are constantly watched. Downloading a VPN allows users to browse, stream, play games, and more on the internet freely without being monitored by their internet provider.
There are many reasons why people purchase a VPN, because it is a safe way to protect yourself from any unwanted visitors or from being tracked.
3. Conclusion
Enjoy watching the Foxtel content with one of the VPNs previously mentioned. Also, it's not just about watching your favorite content; it is also about protecting yourself and your personal information while on the internet. VPNs are the best way to do this, so make sure to pick the right one for you.
VPN Service

www.nordvpn.com
NordVPN
Review
Price: $11.95 $3.71/month Servers: 5500+ in 59 countries Simultaneous connections: 6 Jurisdiction: Panama Payment: PayPal, AmazonPay, Crypto, Google Pay, Klarna Torrenting: OK Unblocks US Netflix: Yes Dedicated IP: $70/yr TrustPilot Score: 4,7/5 Money-back: 30 days Extra: Double VPN, Obfuscated servers Visit NordVPN »

www.expressvpn.com
ExpressVPN
Review
Price: $12.95 $8.32/month Servers: 3300+ in 94 countries Simultaneous connections: 5 Jurisdiction: British Virgin Islands Payment: PayPal, Crypto, AliPay, Klarna, Torrenting: OK Unblocks US Netflix: Yes Dedicated IP: Not provided TrustPilot Score: 4,7/5 Money-back: 30 days Visit ExpressVPN »

www.cyberghostvpn.com
CyberGhost
Review
Price: $11.99 $2.25/month Servers: 6600+ in 89 coutrines Simultaneous connections: 7 Jurisdiction: Romania Payment: PayPal, Crypto Torrenting: OK Unblocks US Netflix: Yes Dedicated IP: $51/yr TrustPilot Score: 4,8/5 Money-back: 45 days Visit CyberGhost »

www.surfshark.com
Surfshark
Price: $11.95 $2.49/month Servers: 3200+ in 65 coutrines Simultaneous connections: Unlimited Jurisdiction: British Virgin Islands Payment: PayPal, Crypto, Google Pay, Amazon Pay Torrenting: OK Unblocks US Netflix: Yes Dedicated IP: Not provided TrustPilot Score: 4,3/5 Money-back: 30 days Visit Surfshark »

www.purevpn.com
PureVPN
Review
Price: $9.60 $3.33/month Servers: 6500+ in 140 coutrines Simultaneous connections: 10 Jurisdiction: Hong Kong Payment: PayPal, Credit Cards Torrenting: OK Unblocks US Netflix: Yes Dedicated IP: $35.88/yr TrustPilot Score: 4,7/5 Money-back: 31 days Visit PureVPN »