There are many reasons why Ghanaians want to access a VPN connection. Virtual private networks can help you keep your internet activities protected, securely access your public WiFi, safely torrent files, and unlock geo-restricted streaming websites.
What's a VPN? They establish an encrypted tunnel that directs the internet traffic to/from your device with an intermediary server.
For example, if you choose one in the United States, the Ghana IP address gets replaced with a US-based one.
All the apps and websites you connect to automatically assume that you're located in that country, allowing you to bypass your country's geolocation restrictions. Plus, it's harder for government agencies and hackers to snoop on your online behaviors.
1. Best VPN for Ghana in October 2023
You can find plenty of VPN services available, but they aren't all the same or the best. To choose an ideal one, you need it to:
Provide knowledgeable and prompt customer support
Allow for many simultaneous connections
Use strict encryption parameters to hide your location
Offer reliable and fast systems with less downtime
Unblock geo-restricted services
Have many server networks throughout the world
Here are the top VPNs for Ghana:
1.1 ExpressVPN – Best Overall VPN for Ghana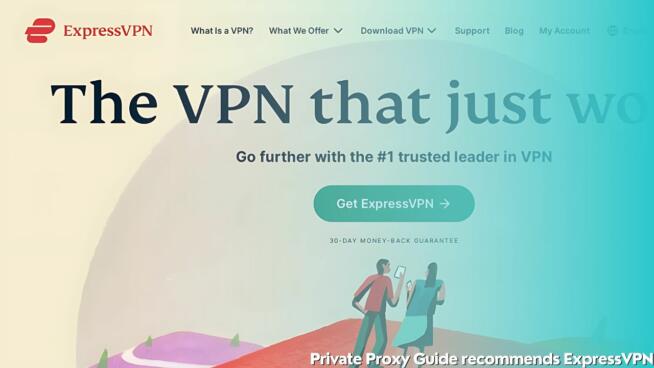 ExpressVPN is found in the British Virgin Islands and is a favorite for VPN and privacy enthusiasts because of the military-grade encryption standards it uses, blazing-fast speeds, and a huge server network.
The provider has over 3,000 servers in 94 countries throughout the world. However, there are none located specifically in Ghana. Still, it does offer South African servers, so you can connect and have fast speeds.
With it, you can unblock various geo-restricted streaming services, such as Crunchyroll, ESPN, BBC iPlayer, Amazon Prime Video, Hulu, HBO, and Netflix. ExpressVPN provides quick speeds and excellent customer support, which is available whenever the need arises.
Overall, ExpressVPN utilizes 256-bit AES encryption, DNS leak protection, perfect forward secrecy, and an internet kill switch. It only stores your non-identifiable metadata and doesn't record IP addresses or anything that might identify you. Plus, it offers minimalist and clean apps for iOS and Android, and you get three simultaneous connections.
1.2 NordVPN – Fastest VPN for Ghana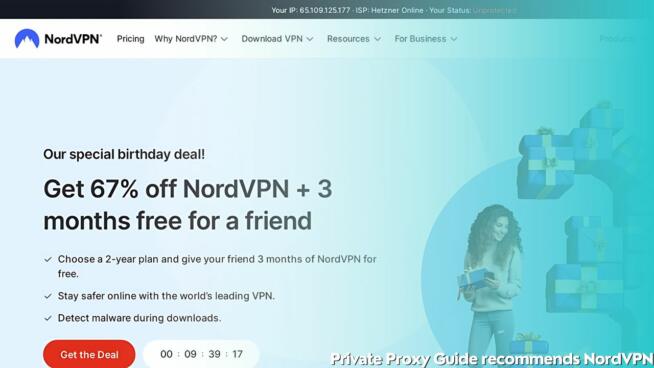 NordVPN is found in Panama and has a network of over 5,100 servers in 62 countries. However, none of them are located in Ghana. Still, there are options for South Africa, which is close enough. This provider has been in the industry for more than 10 years, so it has a loyal fan base.
In a sense, NordVPN unblocks many streaming websites, including Sling TV, Sky, ESPN, Amazon Prime Video, HBO, and Netflix. Plus, it never stores the user details, IP addresses, or traffic logs, allowing you to rest easy. Overall, the security of this VPN makes it the top choice in Ghana.
The provider offers higher customizability options, which is a strong reason to pick this service. Users can select dedicated servers that optimize tasks, such as double VPN, streaming HD video, and Tor over VPN. Its desktop version offers detailed guides on unblocking streaming services, too.
Privacy enthusiasts are sure to enjoy the 256-bit AES encryption on its OpenVPN protocol, which secures all web traffic. Additional perks can include the DNS leak protection and kill switch.
1.3 CyberGhost – Safe VPN for Ghana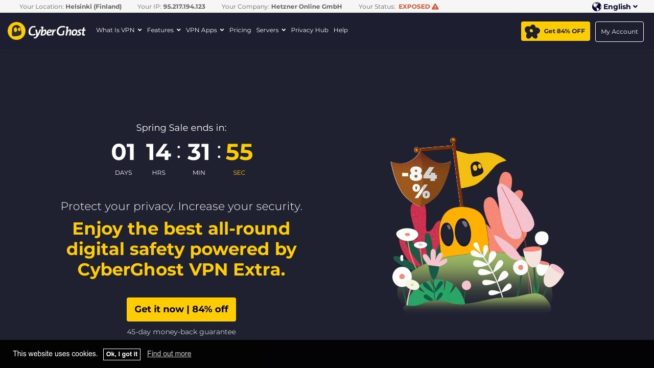 CyberGhost is another excellent VPN for Ghana and is headquartered and registered in Romania. It's efficient, nimble, and speedy, operating a network of over 3,700 servers in 59 countries. However, there are no servers directly in Ghana. Still, you have 24 in Johannesburg, which is pretty close. Therefore, you should have no issue getting connected.
It is adept at unblocking geo-restricted content and streaming, which is ideal for those with a Ghana IP address. Plus, the app unblocks Amazon Prime Video, BBC iPlayer, and Netflix. Choose the Unblock Streaming mode to follow the instructions on what to do.
Internet traffic is highly secured through 256-bit AES encryption, but it also uses the 2,048-bit DHE-RSA keys. There are many security protocols available, such as anti-tracking, anti-malware defense, ad blockers, DNS leak protection, an internet kill switch, and perfect forward secrecy.
The provider never logs IP addresses, so your data isn't exposed. Plus, there are fewer data retention laws in Romania!
1.4 IPVanish – Ghana

VPN With Many Locations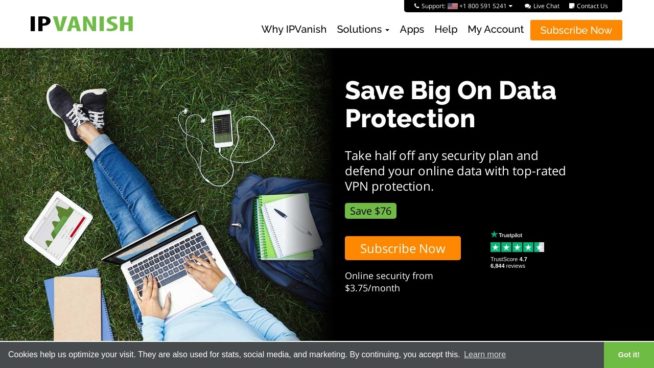 IPVanish has everything you could ever want, scoring points for customer support, speed, and privacy. There are more than 1,300 servers in 60 countries, but none are located in Ghana or Africa as a whole. Still, that doesn't mean you can't stream whatever you want and enjoy your favorite content.
The company is located in the United States, but it doesn't send data to the NSA and similar agencies. In fact, this is a no-logs provider because it doesn't track and store user data at all. Plus, it operates and owns all of its servers, giving it the control it needs. Typically, the industry standard is to rent server farm space or outsource operations, but IPVanish does neither.
All packages come with military-grade encryption protocols. Specifically, IPVanish uses 256-bit AES encryption, DNS leak protection, perfect forward secrecy, and a kill switch.
This provider is a favorite for torrenters or Kodi users because it lets people download Android APK to their devices. That interface is remote-control-friendly and helps you unblock streaming sites like Netflix.
1.5 PrivateVPN – Good VPN for Unblocking Geo-restricted Content in Ghana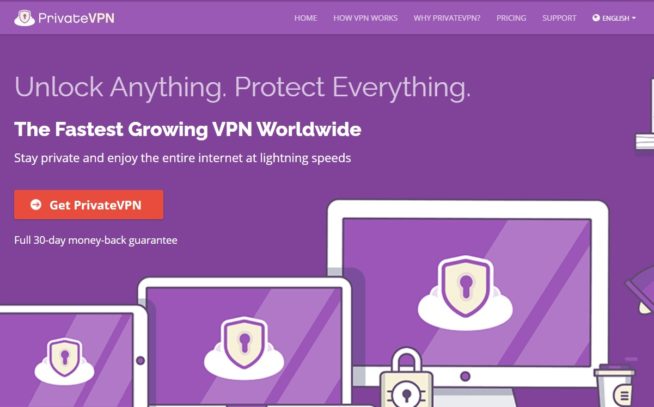 PrivateVPN is located in Sweden and is new on the scene. However, it offers high-quality service, fast speeds, and can quickly unblock your favorite geo-restricted content.
The server network is quite small compared to other options on the list, though they work well. There is no option for Ghana itself, but you can find a server in Johannesburg, South Africa. It only has 80 servers in 56 locations, but that's set to expand soon.
This provider never logs user data, offers unlimited bandwidth, and supports torrenting. In fact, it can unblock HBO, Hulu, Amazon Prime Video, BBC iPlayer, and Netflix.
Its security parameters are robust. You can choose 256- or 128-bit encryption based on your protocol choice. Plus, you have access to DNS leak protection, an internet kill switch, and perfect forward secrecy. The basic plan lets you connect six devices simultaneously, and it offers apps for Android, iOS, Mac OS, and Windows.
2. Ghana VPN FAQ
2.1 Should You Use free VPNs in Ghana?
You've probably found a few free VPN services and think they might be just as good as the paid versions. However, it's best to be skeptical and very careful about them. Yes, they are tempting because you don't have to pay, but there's often more than meets the eye here.
Sometimes, free VPNs put up tons of pop-ups and advertisements to get you to click on other things. They still have to find ways to make money, and that's their only choice.
Therefore, they're not interested in offering high-performance VPNs with excellent security features and tons of server options. Be prepared for limited bandwidth, data caps, and weaker encryption standards.
Often, these services allow hackers to insert malware onto your devices. This could lead to data loss or financial extortion. If you want to be safe and stream geo-restricted media securely, free VPNs aren't a good option. Paid versions like the ones listed above don't cost much and offer more peace of mind.
2.2 What Internet Freedoms Do You Have in Ghana?
Ghana enjoys more civic freedoms than other areas. The Freedom House claims that a "free" ranking indicates that the government doesn't threaten people for their political stance or interfere in the electoral processes.
However, one issue with the Ghanaian internet is cyber fraud. It is on the rise and unlikely to drop anytime soon.
Torrenting is also a gray area. Copyright infringement laws are in place, but no one has been arrested for it. Therefore, it's best to get a VPN first to protect yourself and hide your identity.
2.3 Why Do You Need VPNs for Ghana?
Whether you're doing something that could be deemed illegal or not, a VPN in Ghana is crucial for internet security and privacy. Some websites don't use secure protocols. Plus, ISPs can't spy on you and tamper with the data communications.
Another reason to use a VPN in Ghana is to watch streaming movies from your streaming service. Many sites are restricted, such as Netflix, but you can get around them easily.
2.4 Will a VPN Affect Your Browsing Capabilities?
No, a virtual private network doesn't affect your browsing capabilities. In fact, you can view more websites with a VPN than without.
Often, things run just as quickly with a VPN as without, so you're not waiting excessively long periods or have buffering to deal with. Just make sure that your VPN offers unlimited bandwidth for the best results.
2.5 Is It Illegal to Use a VPN in Ghana?
It is not illegal to use a virtual private network in Ghana because there are no content laws in the area. In fact, many ISPs recommend that you use a VPN to protect your privacy online and personal information. The Parliament of the Republic has laws in place to regulate how personal data is kept, used, and obtained, so it's best to do what you can to prevent hackers.
3. Conclusion
Even though Ghana doesn't have rules in place to prevent you from viewing certain content, it is still wise to use a VPN. That way, you're protected and can still stream from US-based sites like Netflix and Hulu.
There are plenty of top options, but these five are the best. Test one of them out to enjoy browsing the internet again.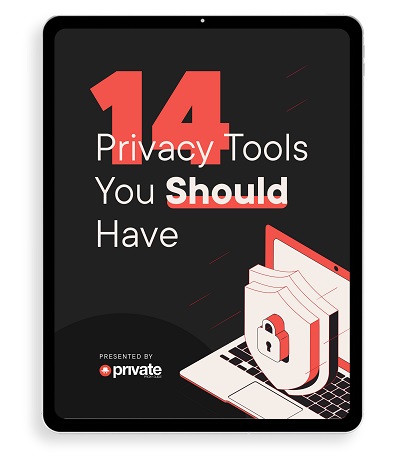 Learn how to stay safe online in this free 34-page eBook.