With most of our everyday activities becoming digitized, having a reliable internet connection is essential. Google Fiber is a leading internet service provider in the United States that offers speeds up to 100 times faster than other networks.
If you're one of those people who are weary of Google's questionable privacy history, you're probably wondering if signing up with Google Fiber is a good idea. After all, its parent company is Alphabet Inc. – one of the most notorious user data collectors.
The good news is that you can encrypt your connection and protect your personal information with the help of a VPN. A virtual private network (VPN) service encrypts your data traffic to conceal your location and identity from third parties like cyber criminals, ISPs, hackers, and government authorities.
However, not all VPNs are the same, so choosing the right one can be tricky. In this article, we'll provide you with a list of the best VPN services you can trust to keep you safe when using Google Fiber.
1. Best VPN for Google Fiber 2022
Here are our top five picks:
1.1 ExpressVPN – Best Overall Google Fiber VPN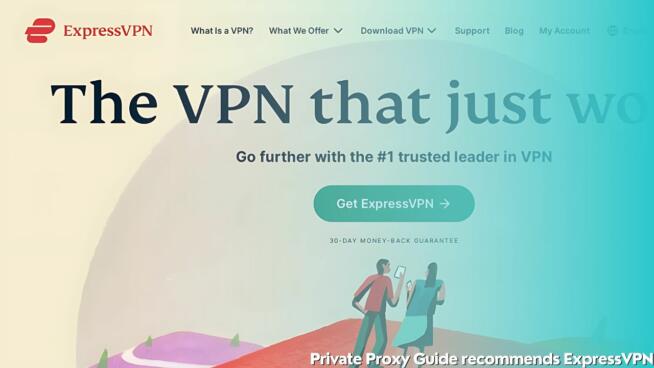 ExpressVPN claims our number one spot as the best VPN for Google Fiber for a number of reasons. Firstly, you will have access to a sizable number of IP addresses that you can use to conceal your location thanks to the 3,200+ servers dispersed over 160 locations, including 23 in the United States.
Secondly, ExpressVPN provides a strict no-logs assurance with servers that use TrustedServer technology, which erases any records of your activity every time the server reboots.
An essential factor to consider when choosing a VPN is speed because tunneling your traffic through a VPN server can slow down your connection considerably, which would defeat the purpose of using Google Fiber, the fastest internet service provider in the US.
Fortunately, you won't have to worry about this when using ExpressVPN because it has one of the quickest and most reliable networks in the industry! Whether you're browsing social media, streaming your favorite shows, or uploading photos, your service will never be interrupted, thanks to unlimited bandwidth and a host of other features.
1.2 NordVPN – Safest VPN for Google Fiber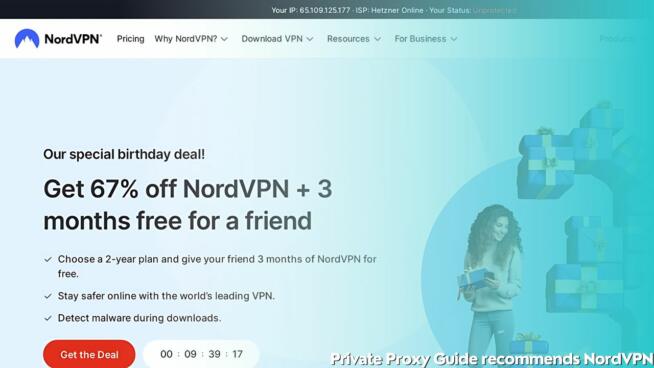 Our second choice is NordVPN, another provider with a stellar reputation for reliable service. You can enjoy your favorite sporting event and access geo-restricted websites with the help of its 5,500+ servers, including a sizable number in the United States.
NordVPN also provides strong encryption and VPN features, including the lightning-fast NordLynx protocol, to ensure your online security and optimal performance.
Another noteworthy feature is its threat protection – a functionality designed to automatically block malware and intrusive adverts, allowing you to browse the net safely.
You'll also get access to its double VPN functionality, which encrypts your data twice and provides the assurance that no one will be able to decrypt your information while using Google Fiber.
If you spend a lot of time torrenting, you'll be happy to know that NordVPN has P2P servers for a better torrenting experience.
1.3 CyberGhost – Secure VPN for Google Fiber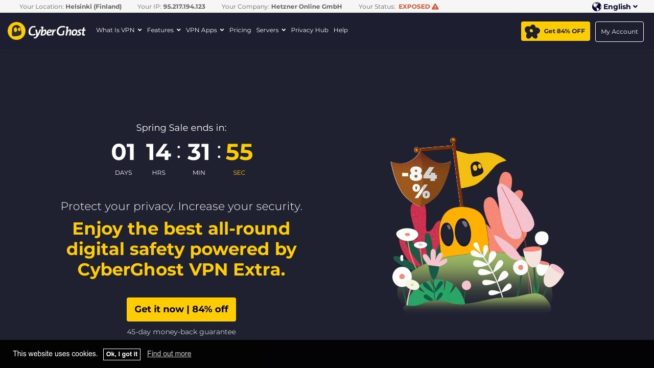 Our list of the top Google Fiber VPNs also includes CyberGhost because of its simplicity and always-on security. The VPN service provider has a vast network, with 8,000+ servers in 91 nations.
Across 11 American cities, you will find more than 1,300 of those servers that are situated in areas where Google Fiber is accessible.
However, when using this service, you'll have to remember that it isn't as fast as ExpressVPN or NordVPN. The good news is that CyberGhost indicates the distance between each server and your location, allowing you to select one nearby to reduce the slow connections.
Moreover, the performance of streaming, downloading, or playing games improves with server proximity.
Another plus is that CyberGhost charges extra for a dedicated IP, just like NordVPN does. This is important for added security and site speed.
The "smart rules" feature, which enables you to construct always-on security mechanisms, is one of the best features of this VPN that you'll find helpful when connecting to the internet with Google Fiber.
1.4 HideMyAss VPN – Google Fiber VPN

With Good Support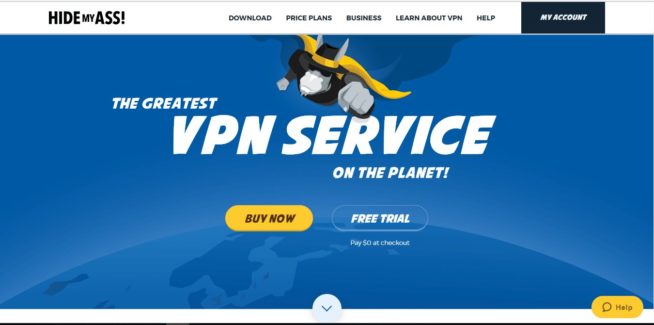 With a strict no-logs policy, 256-bit AES encryption, and faster servers, Hide My Ass (HMA) is a fantastic choice if you want to browse the internet using Google Fiber safely. What's more, it has one of the largest networks of servers, with over 2800+ servers in the United States, which means you can enjoy secure, reliable connections and excellent speeds.
HMA also has an internet kill switch that ensures you are protected even when you lose connection. You can connect up to 10 devices simultaneously, which means that your whole family can enjoy safe browsing with a single subscription.
It also has a speed test functionality, which you can use to find the fastest server near you. This allows you to truly reap the benefits of Google Fiber, one of the most reliable, high-performing internet service providers in the US.
1.5 ZenMate VPN – Budget-friendly Google Fiber VPN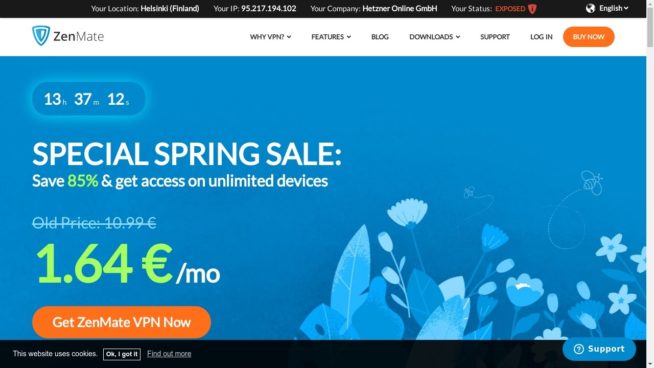 From the creators of ExpressVPN and CyberGhost comes our final choice, Zenmate. This VPN has over 690 P2P-optimized servers in the United States, allowing you to browse the internet and enjoy your Google Fiber service with no interruptions or lags.
Its security features include RAM-only servers, complete leak protection, military-grade encryption, and a kill switch. Although Zenmate has an impressive network, not all of these servers work all the time, which is why it is at the bottom of our list.
That being said, it still offers incredible value for money with multiple concurrent connections at an affordable price.
Another important quality that we look for when recommending a VPN service is customer support quality. With this VPN, you'll have access to 24/7 support, so if you're having any issues connecting the service to your devices, you have the assurance that help is always available.
2. Google Fiber VPN FAQ
In the section below, we'll look at some of the most-asked questions about VPN services for Google Fiber.
2.1 Why Do I Need a VPN for Google Fiber?
Search engines like Google and internet service providers are notorious for maintaining activity logs, only to sell them to third-party companies who could use them to target you. They frequently create buyer profiles and display tailored ads based on users' online behavior to increase the likelihood that a sale will be made.
The practice jeopardizes user privacy because ISPs and search engines have access to virtually all your personal information, including your present location (through your IP address), the websites you frequent, your favorite websites, and more.
To protect yourself when using Google, you can connect to one of the VPNs on our list for complete peace of mind that you're not being watched.
2.2 Can I Use a Free VPN with Google Fiber?
When using your Google Fiber internet service, a VPN is required to improve your online privacy and safety.
The majority of free VPN services, however, struggle in this department. We don't recommend using free VPN services because many free VPN providers prey on naïve customers and collect their data to sell it to third parties.
What's more, there's no assurance that your connection will be secure, as most free VPNs don't have features such as leak protection, kill switches, and military-grade encryption, so Google and its parent company can gain access to your data easily.
2.3 How Do I Connect to a VPN Service for Google Fiber?
Connecting to a VPN is simple. Follow these simple steps to enjoy stress-free browsing with Google Fiber:
Select a VPN service from the list above and go to its website.
Choose a subscription and follow the prompts to make payment.
Download the VPN's app from Google Playstore or the Apple App Store and launch it.
Enter the login details you created in step two.
You will be connected automatically to the nearest server. To change your server location, you can scroll through the list of servers and select one to connect to it.
Once you're connected to a server, you can browse social media, send emails, shop, or bank online using your Google Fiber service securely.
2.4 Is It Legal to Use a VPN for Google Fiber?
Yes, it is. According to Google Fiber's terms and conditions on accepted usage, users are allowed to use the service while connected to a VPN. However, if you use your VPN service to break the law or contravene Google Fiber's terms, you may be banned from using it.
3. Final Thoughts
The truth is that advertisers are finding new ways to target users, and search engines like Google are a great tool to help them collect information. Moreover, if you're using an internet service provider such as Google Fiber, there's no doubt that your every virtual move is being watched.
Fortunately, you can safeguard your personal information and browsing history with the use of a VPN service. Virtual private networks encrypt your data and tunnel it through an external server, which keeps your location a secret.
You can choose from one of our top picks if you're looking for a reliable VPN service to keep you safe online.
VPN Service


www.nordvpn.com
NordVPN
Review
Price: $11.95 $3.71/month
Servers: 5500+ in 59 countries
Simultaneous connections: 6
Jurisdiction: Panama
Payment: PayPal, AmazonPay, Crypto, Google Pay, Klarna
Torrenting: OK
Unblocks US Netflix: Yes
Dedicated IP: $70/yr
TrustPilot Score: 4,7/5
Money-back: 30 days
Extra: Double VPN, Obfuscated servers
Visit NordVPN »


www.expressvpn.com
ExpressVPN
Review
Price: $12.95 $8.32/month
Servers: 3300+ in 94 countries
Simultaneous connections: 5
Jurisdiction: British Virgin Islands
Payment: PayPal, Crypto, AliPay, Klarna,
Torrenting: OK
Unblocks US Netflix: Yes
Dedicated IP: Not provided
TrustPilot Score: 4,7/5
Money-back: 30 days
Visit ExpressVPN »


www.cyberghostvpn.com
CyberGhost
Review
Price: $11.99 $2.25/month
Servers: 6600+ in 89 coutrines
Simultaneous connections: 7
Jurisdiction: Romania
Payment: PayPal, Crypto
Torrenting: OK
Unblocks US Netflix: Yes
Dedicated IP: $51/yr
TrustPilot Score: 4,8/5
Money-back: 45 days
Visit CyberGhost »


www.surfshark.com
Surfshark
Price: $11.95 $2.49/month
Servers: 3200+ in 65 coutrines
Simultaneous connections: Unlimited
Jurisdiction: British Virgin Islands
Payment: PayPal, Crypto, Google Pay, Amazon Pay
Torrenting: OK
Unblocks US Netflix: Yes
Dedicated IP: Not provided
TrustPilot Score: 4,3/5
Money-back: 30 days
Visit Surfshark »


www.purevpn.com
PureVPN
Review
Price: $9.60 $3.33/month
Servers: 6500+ in 140 coutrines
Simultaneous connections: 10
Jurisdiction: Hong Kong
Payment: PayPal, Credit Cards
Torrenting: OK
Unblocks US Netflix: Yes
Dedicated IP: $35.88/yr
TrustPilot Score: 4,7/5
Money-back: 31 days
Visit PureVPN »