Whether you live in Greece or are visiting, you probably want a VPN because your favorite websites and shows might be inaccessible within the country. If you travel outside Greece, you could be blocked from viewing your home country's content.
A virtual private network can encrypt your internet traffic and route it through a second server. It could be in any country, and the result is that the real IP is replaced by one in the chosen country. This helps you appear to be located there.
Since the traffic is encrypted, it protects your information. No one, including government agencies, hackers, and ISPs, can see what's done online.
1. Best VPN for Greece 2022
Each VPN provider is different, so some are better than others. Here are the criteria used to create the list:
Offers quick and knowledgeable support
Uses strong encryption and offers additional features
Includes many devices in one plan
Provides faster connection speeds for less downtime
Can unblock restricted sites
Has many servers in various countries
This list offers the best VPNs for Greece based on the criteria shown above. They include:
1.1 NordVPN – Best Overall Greece VPN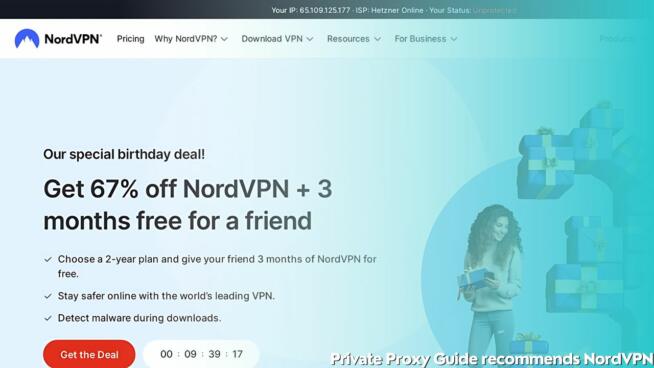 NordVPN is the best provider because it offers decent discounts to help with small budgets. Still, it doesn't scrimp on the services available and is one of the largest networks out there. In fact, it has more than 5,200 servers, and 11 of them are in Greece alone.
Overall, it features strong unblocking capabilities, so you can easily watch your favorite movies and TV shows on Hulu, Netflix, and other channels.
This provider is known for its strong privacy and security features. You get 256-bit encryption, a kill switch for desktop and iOS apps, and perfect forward secrecy. There is also automatic WiFi protection, IPv6 leak protection, WebRTC, and DNS. Plus, it's got servers focused on specific tasks, such as double VPN and P2P.
Generally, NordVPN doesn't keep logs of what you do online. Plus, you're allowed to download whatever apps you like for Android, iOS, Windows, Linux, and Mac OS. One plan lets you have six connections, and there's 24/7 live chat support to request help whenever the need arises.
1.2 ExpressVPN – Fastest VPN for Greece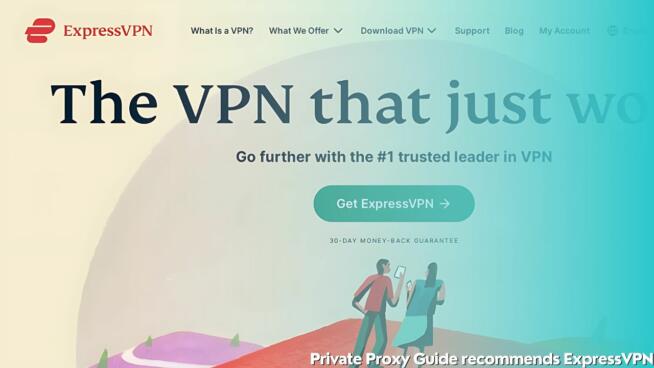 ExpressVPN features a vast network of servers, with over 3,000 in the world and 94 locations available. There is at least one in Greece, though we're not sure how many servers might be there because the company doesn't state this information. However, you're allowed to unlock content throughout the world and access your favorite Greek content while abroad.
Overall, ExpressVPN is the top performer for speed. Plus, it unblocks almost any streaming platform thrown at it, such as Hulu, Amazon Prime Video, and Netflix. You also have access to various Greek channels, such as ANT1 and Alpha.
This provider protects all of your information with many security features, such as perfect forward secrecy and military-grade encryption. Plus, there's a kill switch for desktop apps and protection from WebRTC, IPv6, and DNS leaks so that your data is always safe. In fact, it doesn't log information that might identify you, so online activities stay private.
You can download apps for Android, iOS, Linux, Mac OS, and Windows. Plus, it works with some home routers. Connect five devices at once with one plan, too!
1.3 Surfshark VPN – Best Budget VPN for Greece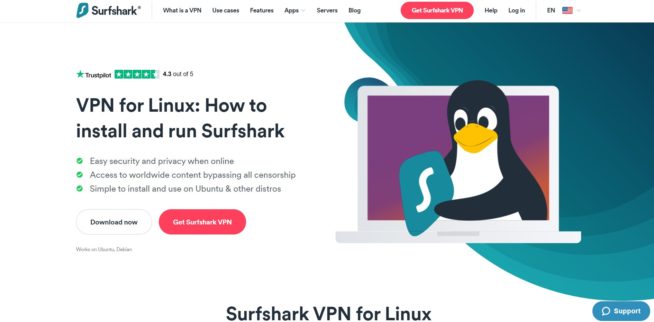 Surfshark is newer on the VPN scene, but it's a fierce competitor already. With it, you have fast speeds and can quickly unblock the popular sites you like to view, such as Hulu and Netflix. It features a growing network of over 800 servers in 50 countries. There are options in Greece, but it's unknown how many because the company doesn't provide that information.
Overall, Surfshark lives up to the many expectations put on it when it comes to your security and privacy. It features 256-bit encryption, a double VPN option, automatic WiFi protection, a kill switch, leak protection, and perfect forward secrecy.
You can download apps for Android, iOS, Mac OS, and Windows. Plus, the provider includes unlimited connections and doesn't keep logs of what you do online. There's also live chat support if you need help, so you may ask questions and get helpful answers quickly.
However, the server network is smaller, so you can experience slowness at times. The brand is working hard to fix those problems, so it's likely to be a contender for the future, too.
1.4 CyberGhost – User-friendly VPN for Greece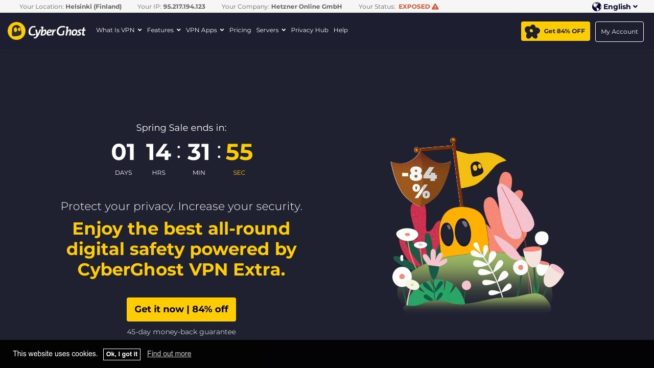 CyberGhost is a rapidly expanding VPN that's focused on its server network. In fact, it has over 5,500 servers in 90 countries. There are 36 servers available in Athens, so you can watch whatever shows you enjoy, even if you're outside the area.
Overall, CyberGhost makes it simple to unblock things with its easy-to-use applications. Plus, you can bypass restrictions for many websites like BBC iPlayer, Hulu, and Netflix.
This provider performs on the privacy and security front, as well. It never keeps logs, so it doesn't have access to your information and can't sell or send it to third parties. Plus, it uses 256-bit AES encryption and includes IPv6, WebRTC, and DNS protection along with perfect forward secrecy. You get a kill switch for all apps to protect your info if the connection stops.
Each plan lets you have seven devices connected simultaneously, and apps are available for iOS, Android, Mac OS, and Windows.
1.5 IPVanish – Greece

VPN With Many Locations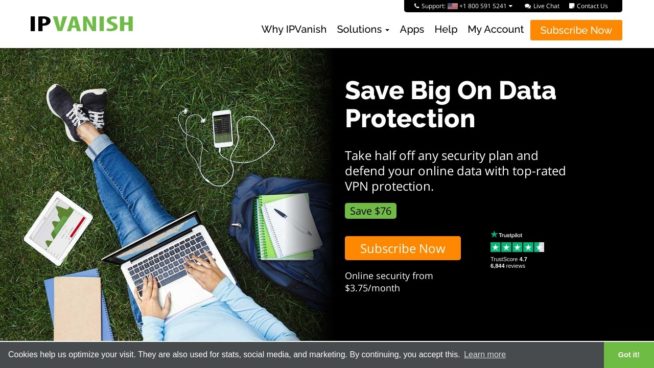 IPVanish provides a private and fast connection ideal for downloading and streaming. It has 1,110 servers in over 60 countries, and three of them are in Athens, Greece. Overall, it's highly popular for torrenters or Kodi users because of the Android APK. You can download it directly to the device, and your app is now remote-control-friendly.
This VPN can help you bypass geo-restricted content, such as those imposed by streaming sites like Netflix.
Privacy and security are at the top of the list for IPVanish. The VPN offers strong encryption and other features, including a kill switch for desktop apps, protection from WebRTC, IPv6, and DNS leaks, and perfect forward secrecy. Plus, it never keeps any logs about what you do online.
You can download mobile apps for Android and iOS, and it works for Windows and Mac OS systems, as well. Plus, you may connect 10 devices to one account!
2. Greece VPN FAQ
2.1 Should You Use a Free VPN While in Greece?
Free VPNs are often easy to find in Greece, but you shouldn't choose them. They typically provide smaller server counts and fewer locations, so you might not connect to one quickly.
Often many users try to connect to the servers, so there are long wait times. Then, you may experience unreliable and slow connections when you finally do join one.
Unfortunately, free VPNs still have to make money somehow. Therefore, they might serve up many advertisements. Sometimes, they track the websites you visit, selling that information to third parties.
Generally, security is weak, and some free virtual private networks don't encrypt the traffic at all as they promise. You're much better off spending money on a reputable VPN like the ones listed above to give you more peace of mind.
2.2 Why Do You Need a VPN While in Greece?
A VPN is often used to provide access to a person's favorite television shows and movies. However, it does a lot more than that. For example, VPNs bypass restrictions put on sports streaming websites, gaming sites, and gambling platforms.
There have been no historic reports of Greek internet censorship, but Greece did order all its ISPs to block 38 domains, such as The Pirate Bay. This happened in November 2018, so there are bound to be a few more added to that list.
Since your VPN connection is completely encrypted, no one can monitor what you do online. This is crucial when traveling because you're connecting to different WiFi networks, and hackers could easily steal your information if it's not protected.
VPNs also help you have a safe online banking experience. If you log into your account from outside of your country, you could raise fraud alerts. Some people are locked out completely. Avoid that issue by connecting to the VPN server in Greece to make it show you're in the area, even when you aren't!
2.3 Is It Legal to Use VPNs in Greece?
VPNs are currently legal in Greece, though the Greek government is trying to block them and censor internet websites.
2.4 What Are Greece's Online Privacy Laws?
Online privacy laws in the country aren't as great as they had been. The Processing of Personal Data laws protect all communications, but the Greek court system has recently ruled that all online communications are not protected. Therefore, Greek authorities may legally monitor the internet traffic to and from the country.
2.5 Should You Choose the Cheapest VPN for Greece?
No, it's unwise to go with a VPN just because it's the cheapest. It could cut corners with privacy and security. However, there are low-cost options on this list, so you're sure to find something that fits your budget!
3. Conclusion
While Greek visitors and residents can enjoy the internet without restriction, the government is cracking down on torrent sites and privacy laws. Therefore, it's best to have a VPN for Greece so that you can do whatever you want safely and without interference. NordVPN is an excellent choice, but you may consider any on this list.
VPN Service


www.nordvpn.com
NordVPN
Review
Price: $11.95 $3.71/month
Servers: 5500+ in 59 countries
Simultaneous connections: 6
Jurisdiction: Panama
Payment: PayPal, AmazonPay, Crypto, Google Pay, Klarna
Torrenting: OK
Unblocks US Netflix: Yes
Dedicated IP: $70/yr
TrustPilot Score: 4,7/5
Money-back: 30 days
Extra: Double VPN, Obfuscated servers
Visit NordVPN »


www.expressvpn.com
ExpressVPN
Review
Price: $12.95 $8.32/month
Servers: 3300+ in 94 countries
Simultaneous connections: 5
Jurisdiction: British Virgin Islands
Payment: PayPal, Crypto, AliPay, Klarna,
Torrenting: OK
Unblocks US Netflix: Yes
Dedicated IP: Not provided
TrustPilot Score: 4,7/5
Money-back: 30 days
Visit ExpressVPN »


www.cyberghostvpn.com
CyberGhost
Review
Price: $11.99 $2.25/month
Servers: 6600+ in 89 coutrines
Simultaneous connections: 7
Jurisdiction: Romania
Payment: PayPal, Crypto
Torrenting: OK
Unblocks US Netflix: Yes
Dedicated IP: $51/yr
TrustPilot Score: 4,8/5
Money-back: 45 days
Visit CyberGhost »


www.surfshark.com
Surfshark
Price: $11.95 $2.49/month
Servers: 3200+ in 65 coutrines
Simultaneous connections: Unlimited
Jurisdiction: British Virgin Islands
Payment: PayPal, Crypto, Google Pay, Amazon Pay
Torrenting: OK
Unblocks US Netflix: Yes
Dedicated IP: Not provided
TrustPilot Score: 4,3/5
Money-back: 30 days
Visit Surfshark »


www.purevpn.com
PureVPN
Review
Price: $9.60 $3.33/month
Servers: 6500+ in 140 coutrines
Simultaneous connections: 10
Jurisdiction: Hong Kong
Payment: PayPal, Credit Cards
Torrenting: OK
Unblocks US Netflix: Yes
Dedicated IP: $35.88/yr
TrustPilot Score: 4,7/5
Money-back: 31 days
Visit PureVPN »