Internet censorship is growing across the world. India is no exception to it, and there have been several rounds of websites, apps getting blocked without any proper intimation. The government doesn't keep a public record of the thousands of online sites and apps blocked by the concerned authority.
Oftentimes the ISPs are discreetly instructed to ban certain websites, apps without any prior notice. In the past year, Reddit NSFW subs have been the victims of the banhammer, where several subs were blocked as per the legal request from the company.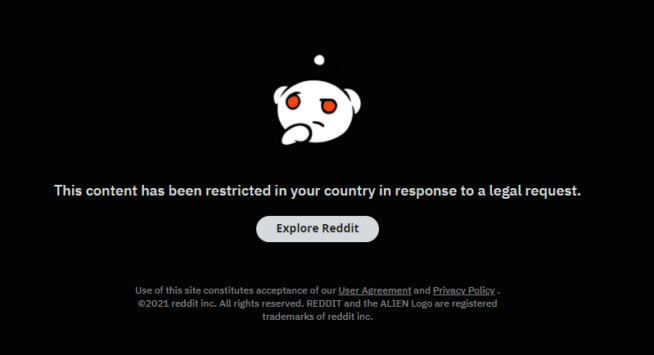 The state's most recent crackdown on PUBG, TikTok, and other 200 apps doesn't instill confidence. You could get a great VPN to continue using the blocked and censored apps, websites, and Reddit subs.
VPNs for India – At a Glance
VPN Provider
Pricing
(Annual)
Servers locations in India
Number of Servers
Based in
NordVPN
$4.90/mo.
1
5,000+
Panama
ExpressVPN
$8.32/mo.
2+1(virtual)
3,000+
British Virgin Islands
Surfshark
$6.49/mo.
3
3,200+
British Virgin Islands
PureVPN
$3.32/mo.
1
6,500|
British Virgin Islands
TorGuard
$4.99/mo.
1
3,000
USA
Windscribe
Free; paid plans available
3
600
Canada
TunnelBear
Free; paid plans available
1
3,000
Canada
1. Best VPN for India 2021
1.1 NordVPN – Best Overall India VPN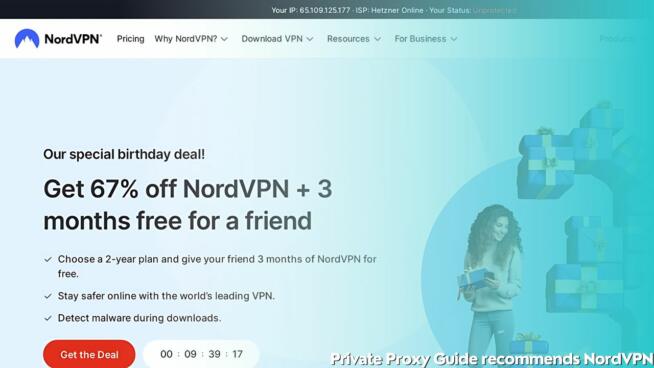 Total Servers: 5,000+ in 60 countries
Server Locations in India: 1
Maximum device: 6
Based in: Panama
Price (annually): $4.90/month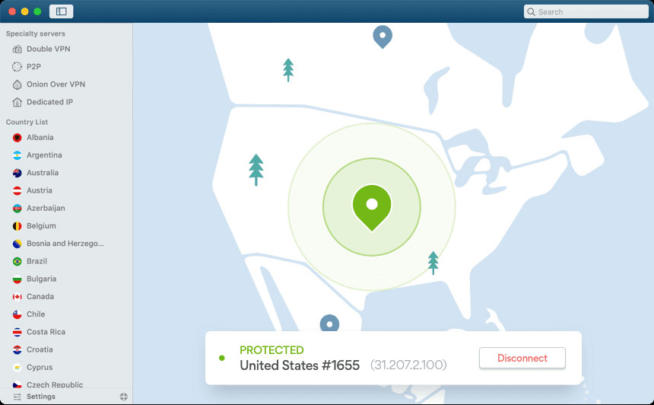 Pros
No restrictions on bandwidth
Dedicated Static IP address
Stream sites such as Netflix, Hulu, Prime Video, BBC iPlayer, etc. work
DNS Leak protection
Double layers of VPN
Cons
iOS app does not offer automatic setup
The single location of servers in India
Several Internet influencers out there are endorsing NordVPN for all the right reasons. The year-long deals and offers on its already cheap plans make it worth your while. To stay ahead, the VPN service has designed and launched its very own VPN protocol, NordLynx, built on inspiration from WireGuard. Along with that, NordVPN supports OpenVPN and IKEv2 protocols.
There are no restrictions on streaming Netflix or downloading torrents on any of the servers. However, there are a limited number of servers for torrenting. The desktop app has a fluid user interface, and when we move to mobile, the UI feels familiar. Most of the features are present across the platforms. Here the quick-connect helps connect to the nearest server available.
Kill-switch is available on all platforms, but split-tunnel is exclusive to Windows and Android. There is an in-built AdBlocker for mobile, but it is disappointing, to say the least.
1.2 ExpressVPN – Fastest VPN for India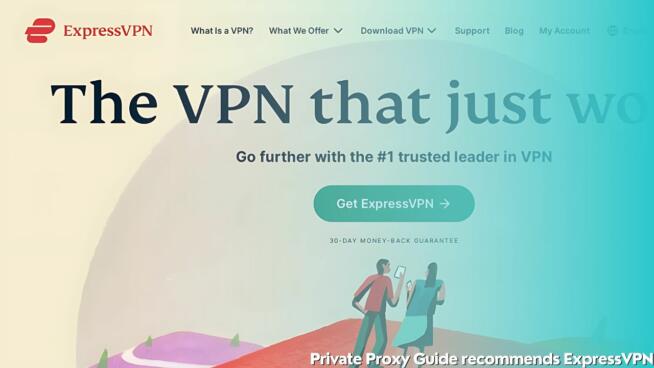 Total Servers: 3,000+ in 94 countries
Server Locations in India: 2 (plus 1 via the UK)
Maximum device: 5
Based in: British Virgin Islands
Price (annually): $8.32/month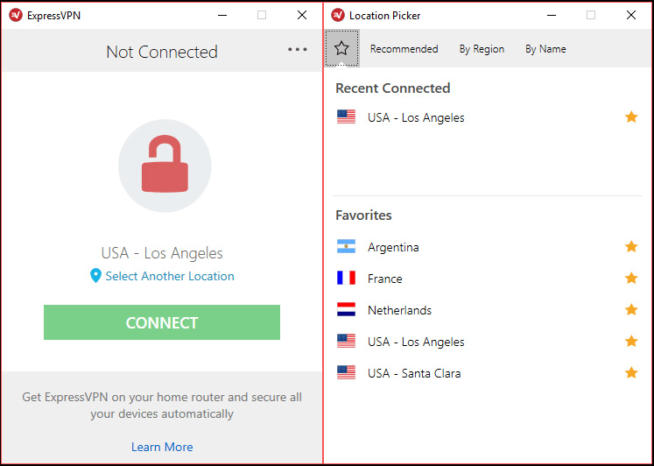 Pros
Multi-layered advanced split tunneling
Easy router VPN configuration
Impressive speeds in regions with Internet restrictions (China and UAE)
A most comprehensive range of platforms supported
Most number of Netflix Libraries
Cons
No support for IPv6
Lack of Split-tunneling on macOS
Taking on rigid censorship of China's The Great Firewall, ExpessVPN has shown its mettle in VPN performance. Their no-logs policy, along with DNS leak-proofing, goes a long way. Similar to NordVPN, they have their VPN protocol, Lightwise. It is built from scratch to the ground up, ensuring optimal security by using WolfSSL. The other supported protocols are OpenVPN, SSTP, L2TP, and PPTP.
Moving onto the desktop app, there is a quick dashboard, accessible through the taskbar icon. You can pin your favorite apps, which upon clicking will launch through the VPN connection. The favorite VPN server can be pinned there as well. Similarly, the Android mobile houses virtually all the features unless you are on iOS.
Netflix's content library offered in India doesn't do justice to the price charged in the region. You can unlock over 28 libraries worldwide and make the most out of the subscription plan. On another note, the browser extension has been handed all the powers. No need to install the desktop client if you have it on. The extension can handle all the VPN requests and connections through the web browser itself.
1.3 Surfshark VPN – Best Budget VPN for India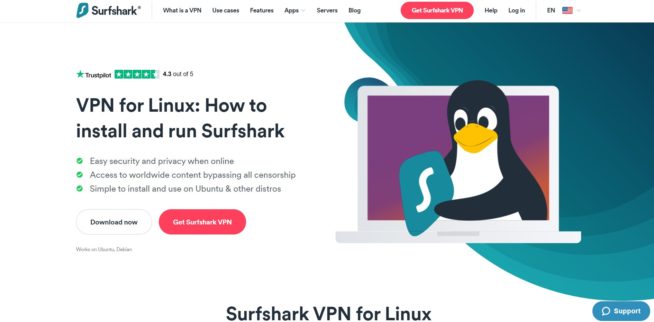 Total Servers: 3,200+ in 66 countries
Server Locations in India: 3
Maximum device: Unlimited
Based in: British Virgin Islands
Price (annually): $6.49/month
Pros
Support for Shadowshocks
No restrictions on the number of connections and bandwidth
No-border mode for regions with strict censorship in place
MultiHop connection for extra security
Camouflage mode for hiding VPN from ISP
Cons
No dedicated IP addresses
P2P servers lack reliability
Offering a wide range of VPN protocols, they have all bases covered when it comes to bypassing censorship for Indian users. Surfshark has special measures in place for bypassing censorship of the highest levels. Its No-Border mode is automatically enabled when the network detects a regional restriction.
A total of four different VPN protocols are available – OpenVPN, WireGuard, IKEv2, and Shadowshocks. The latter is based on proxy-like open-source encryption for ensuring the highest security and anonymity in regions such as China, Iran, etc.
Don't expect a lot from the desktop app, but it is enough to get by. Take advantage of the MultiHop connection for an extra layer of anonymity, which is also available on the browser extension. This multiple VPN feature is not available on mobile apps.
1.4 PureVPN – Secure VPN for India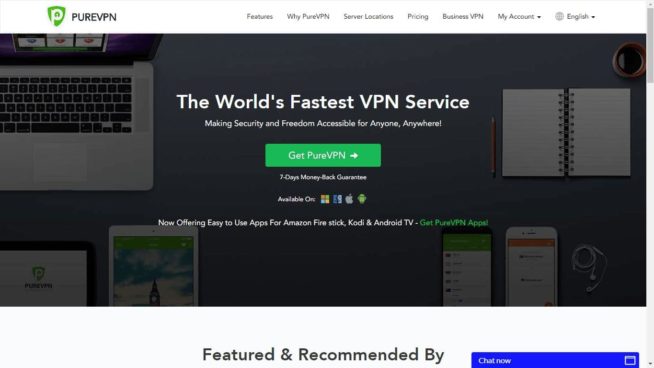 Total Servers: 6,500+ in 140 countries
Server Locations in India: 1
Maximum device: 10
Based in: British Virgin Islands
Price (annually): $3.32/month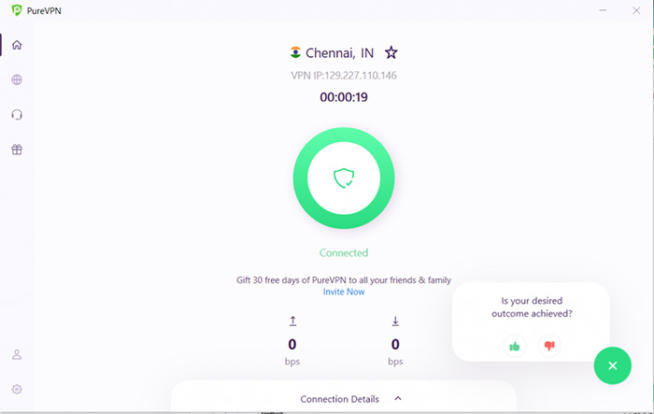 Pros
WebRTC leak protection
IPv4 and IPv6
Powerful ad blocker
10 concurrent connections across devices
Easy port forwarding for seamless P2P connection
Cons
Extra charges for a dedicated IP
Slower speed in regions with bare minimum servers
Among the few VPN services out there that offer five VPN protocols across all their platforms, the servers are spread across 140 countries around the world. There is no free trial here, or you have to put your money down for using it. For $0.99, a week-long trial is available for users.
Offering all the topmost protocols, it has – OpenVPN (TCP/UDP), L2TP, IPsec, IKEv2, SoftEther. The servers are caged using the AES-256 asymmetric encryption, leaving no room for security loopholes. Talking about performance, download all your torrents at impressive speeds using the P2P optimized servers while keeping the IPs and identity secure online.
The desktop app shines all till the end. It has everything placed systematically and linearly, making every function accessible right on the screen. There are different VPN modes, such as streaming, gaming, download, P2P, etc., for distinct usage patterns. You can even raise a support ticket without leaving the app.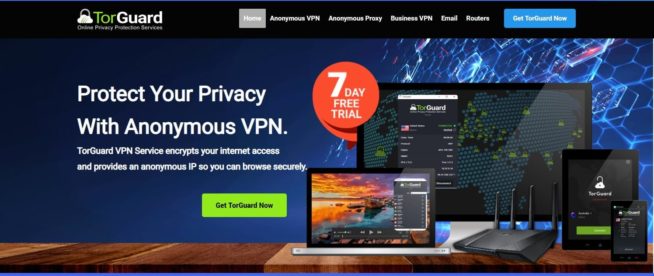 Total Servers: 3,000+ in 52 countries
Server Locations in India: 1
Maximum device: 8
Based in: USA
Price (annually): $4.99/month
Pros
Stealth Mode for VPN
App-specific KillSwitch
Encrypted webmail service
Up to 8 Connections
Built for torrenting
Cons
The user interface could use a rehaul
Wider learning curve
Several VPN services out there offer access to Netflix libraries and are optimized for OTTs. TorGuard, as the name might suggest, is built for torrenting, with all its servers optimized for P2P transmissions. India is amongst the largest torrent network consumers for downloading different games, files, and videos. The majority of the torrent sites are blocked in the country on special legal requests. With the help of TorGuard, all the restrictions on accessing torrent search engines, apps, and sites can be removed without breaking a sweat.
Take advantage of the Bypass DPI for improving the overall performance of the connection without any special configuration. There are no restrictions on the bandwidth and speed while connections are pegged at eight. Delving into the VPN protocols at hand, we have five different ones – OpenVPN, WireGuard, IKEv2, L2TP, and IPsec.
You can also calibrate the level of encryption for adjusting overall download performance. The TorGuard desktop app is available for all platforms. Its user interface feels regular and honestly could use a refresh. On the contrary, the mobile app feels more polished and utilizes the features to its full potential.
2. Best Free VPN for India 2021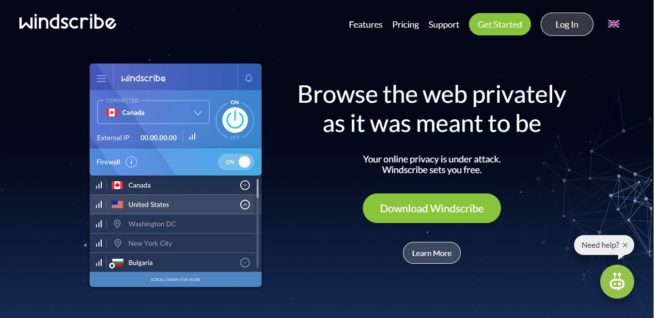 Total Servers: 600+ in 61 countries
Server Locations in India: 3
Maximum device: Unlimited
Based in: Canada
Price (annually): Free; Paid plans available
Pros
Monthly free data bandwidth for unpaid users
Capable browser extension and mobile app
Encrypted webmail service
Increase free data through a special program
Exclusive server lists optimized for different OTTs.
Cons
Shared IPs
Less number of servers
VPNs can be an expensive affair when you're a student or trying to cut back on the monthly budget. Windscribe doesn't hold up in providing free VPN service by offering a 2 GB monthly bandwidth. It can further be increased to 10 GB by verifying your email.
Winsdscribe offers the most secure VPN protocols – IKEv2, WireGuard, OpenVPN(TCP/UDP), Stealth, and Websocket Stealth. Before covering the desktop client, their mobile app deserves all the spotlight. Layered with 2FA on login, you get a next-generation user interface that combines usability and accessibility.
Like mobile, the desktop app feels at home, offering compact and fast operations with well-placed buttons. You cannot minimize the app window as it will exit the process and the application. The taskbar icon consists of the older styled right-click menu with locations, connect, and a preferences button. Advanced action parameters can be set up here apart from an optional IPv6, which is enabled by default.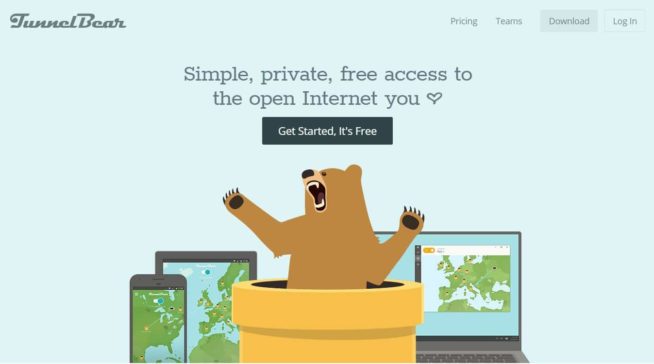 Total Servers: 3,000 + in 45+ countries
Server Locations in India: 1
Maximum device: 5
Based in: Canada
Price (annually): Free; Paid plans available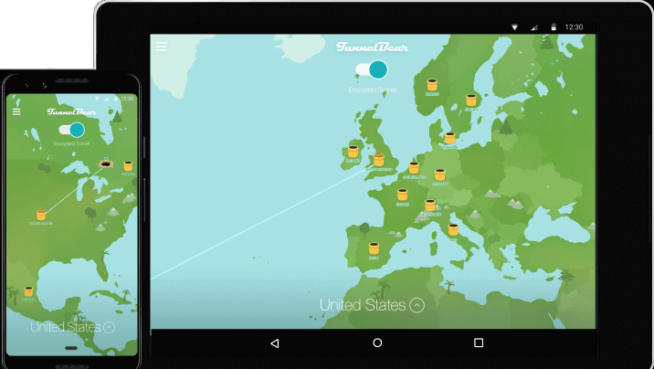 Pros
Ghostbear for bypassing areas that block VPN traffic
Interactive theme-based UI
Dedicated tracker blocker for browsers – TunnelBear Blocker
Get a one-time extra data bump by tweeting a post
256-bit-GCH encryption along with ChaCha20-Poly1305 data authentication
Cons
Single device/connection on the free plan
Does not support special OTT libraries
The second free VPN for use in India is TunnelBear, which honestly doesn't need an introduction. As a freemium service, it offers 500 MB monthly bandwidth with a one-time bonus of 1 GB by posting a tweet about the service.
TunnelBear's VPN protocol list is relatively short. OpenVPN is available for Windows, Android, and macOS. On the other hand, iOS relies on IPsec for the same. Unlike other free VPNs, there are no restrictions for server location access or any of the available features on the service. Swerving to security, TunnelBear uses AES-256 for data encryption, and SHA256 for data authentication, along with 2048-, 3072-, or 4096- bit Diffie-Hellman group for handshake encryption.
Their desktop provides a refreshing touch to the rather mundane line of VPN clients offered by others. Decked out in different colors, laced with animated characters performing subtle actions on each action. You have a giant world-map with server locations pinned. Both Android and iOS provided a toned-down version of what is offered for computers, with the map remaining the focal point.
3. India VPN FAQ
3.1 How to choose the best VPN for India?
Choose the best VPN for use in India by first looking at server locations in India itself. Check whether connecting to the locally located servers helps unblock sites and apps or cannot do so. For instance, few Indian servers offered by a certain VPN service have a Mumbai server but fail to unblock blocked subreddits on Reddit. And when you want to access OTT libraries of countries, look for servers in particular regions.
Secondly, look out for servers in the neighboring countries, such as Nepal, Bangladesh, Sri Lanka, and Bhutan. Fundamentally, the proximity to the server will play a role in the speeds you get on the VPN. Connect to the servers' houses in the neighboring countries and observe the speeds you experience on them. Our correspondent from India, sitting in the northern part of the country, had the best speeds from Bangladesh and Sri Lanka servers.
3.2 Which ISP block sites in India?
All the ISPs and Sim carriers with mobile Internet facilities must adhere to the TRAI circulars, instructing on blocking webpages, apps, and other related Internet-based services.
| | |
| --- | --- |
| Internet Service Providers | Region |
| Jio (mobile Internet and wired) | All over India |
| Airtel (mobile Internet and wired) | All over India |
| Atria Convergence Technologies – ACT | Karnataka, Tamil Nadu, Delhi, Kerala, Andhra Pradesh, Telangana, Uttar Pradesh |
| You Broadband | Maharashtra, Kerala, Tamil Nadu, Gujarat, Andhra Pradesh |
| Hathway | Jharkhand, Kerala, Tamil Nadu, Gujarat, Orissa, Maharashtra, Andhra Pradesh |
| MTNL | Delhi, Mumbai |
| BSNL | All over India |
| Vodafone India (mobile Internet) | All over India |
| Sikka Broadband | All over India |
3.3 Is it legal to use VPNs in India?
As of now, there are no regulations in India concerning the usage of VPNs.
Recently, the country's Parliamentary Standing Committee on Home Affairs has recommended banning VPNs, citing "such services enable criminals to remain anonymous." The Internet Freedom Foundation, a volunteer-based foundation in India fighting for net neutrality, is on the front to ensure that it doesn't happen.
In a nutshell, viewing anything prohibited by law can land in your trouble with the authorities. Using VPN, in general, will not land you in trouble until a law is passed.
3.4 Why use VPN in India?
Although India doesn't have stringent censorship laws in place yet, there are a few reasons why you should use VPN in India:
Access blocked websites and Reddit subreddits
The Indian government blocks certain websites and even subreddits by issuing a circular enforced by TRAI. Access them using a VPN where regular proxies become unusable.
Access geo-blocked content
The content libraries offered on Netflix, Prime Video, BBC iPlayer in India lack the majority of the content. Get access to them by using a VPN without worrying about your account getting banned.
Evade Workplace and School restrictions
The majority of workplaces and education institutions install a website blocker in place. As they don't want the offices to be used, understandably, for work alone. You can bypass the restrictions to access social media and other non-productive sites.
Prevent State monitoring
The state authorities have been accused of monitoring its citizens on various occasions. Other nefarious agencies also have a history of snooping on citizens. You can prevent it by using a secure VPN that will help shield your online activities and identity.
Access blocked Chinese Apps and Platforms
Popular Chinese apps like TikTok, WeChat, ShareIt, and CamScanner, amongst 200 others, can be accessed using a good VPN. Even the once very popular game in India before getting banned, PUBG Mobile, can be played using a VPN with good gaming optimized servers.
3.5 Which VPN offers the most Indian-based servers?
Use a server located in another part of your country is ideal for occasions such as private browsing and accessing websites that are specially blocked by your ISP alone. Windscribe offers the most with 3 locations, followed by Surshark, offering 2 locations in India and 1 virtual location routed through the UK. Rest offer 1 location in the country, primarily located in the city of Mumbai.
3.6 Can I watch Hotstar from outside India?
Hotstar is a part of Disney+, available in India with localized content along with the Disney library. You can't access it if you are not based in India. Use an Indian server on a VPN to access Hotstar from outside India.
3.7 Will Jio block my VPN?
Jio is infamous for blocking VPNs and proxies across their network. They do that by blocking GRE ports, primarily focusing on the ones used by PTPP since the company's launch. You can use ExpressVPN, NordVPN, and Surfshark, which run successfully on the Jio network, both wired and cellular.
3.8 Should I trust free VPNs?
The completely free VPN services often rely on user data which they sell to advertisers and other revenue sources. Instead of using them, you can try services such as Windscribe and TunnelBear, which offer a particular amount of free bandwidth every month. Post that, you can subscribe to continue using the service. This helps such VPN services offer free plans while being sustainable without relying on unethical tactics to earn revenue.
3.9. What to look for in a VPN?
Keep this list handy when selecting a VPN for use in India.
Speed: The VPN should be fast enough to stream videos online. For downloading torrents, it should offer consistent speed without sporadic drops. The nearest server provided by the service should offer the best in most cases.
Bandwidth: The more, the merrier is the motto here. Bandwidth should be in several GBs per month. Streaming videos and downloading makes your usage quota fly away within a few days. Make sure that the VPN service is offering an ample amount of bandwidth to accommodate your usage. Few services also offer unlimited bandwidth, being a tad more expensive than its competitor for some plans.
No Logs: Privacy is of utmost importance. There is no compromise there in any case. Ensure that the service doesn't store activity logs or data in any shape or form. You can always ask customer care before proceeding with the VPN.
Easy to Use: VPN should be easy, right from installing it on the device to using it on a daily basis. Complex settings and configurations should be left for the application to deal with on its own.
Kill-Switch: For some reason, when your VPN stops working, the Kill-Switch essentially stops the connection until the VPN network tunnel is available again. This way, the user is not vulnerable online at any moment in time.
VPN Service

www.nordvpn.com
NordVPN
Review
Price: $11.95 $3.71/month Servers: 5500+ in 59 countries Simultaneous connections: 6 Jurisdiction: Panama Payment: PayPal, AmazonPay, Crypto, Google Pay, Klarna Torrenting: OK Unblocks US Netflix: Yes Dedicated IP: $70/yr TrustPilot Score: 4,7/5 Money-back: 30 days Extra: Double VPN, Obfuscated servers Visit NordVPN »

www.expressvpn.com
ExpressVPN
Review
Price: $12.95 $8.32/month Servers: 3300+ in 94 countries Simultaneous connections: 5 Jurisdiction: British Virgin Islands Payment: PayPal, Crypto, AliPay, Klarna, Torrenting: OK Unblocks US Netflix: Yes Dedicated IP: Not provided TrustPilot Score: 4,7/5 Money-back: 30 days Visit ExpressVPN »

www.cyberghostvpn.com
CyberGhost
Review
Price: $11.99 $2.25/month Servers: 6600+ in 89 coutrines Simultaneous connections: 7 Jurisdiction: Romania Payment: PayPal, Crypto Torrenting: OK Unblocks US Netflix: Yes Dedicated IP: $51/yr TrustPilot Score: 4,8/5 Money-back: 45 days Visit CyberGhost »

www.surfshark.com
Surfshark
Price: $11.95 $2.49/month Servers: 3200+ in 65 coutrines Simultaneous connections: Unlimited Jurisdiction: British Virgin Islands Payment: PayPal, Crypto, Google Pay, Amazon Pay Torrenting: OK Unblocks US Netflix: Yes Dedicated IP: Not provided TrustPilot Score: 4,3/5 Money-back: 30 days Visit Surfshark »

www.purevpn.com
PureVPN
Review
Price: $9.60 $3.33/month Servers: 6500+ in 140 coutrines Simultaneous connections: 10 Jurisdiction: Hong Kong Payment: PayPal, Credit Cards Torrenting: OK Unblocks US Netflix: Yes Dedicated IP: $35.88/yr TrustPilot Score: 4,7/5 Money-back: 31 days Visit PureVPN »