Internet censorship in Iran is highly restrictive and sophisticated. In 2012, the Iranian government blocked about 27 percent of internet sites at any time. It also utilizes speed throttling to frustrate users and limit communications.
Overall, internet censorship in Iran is rising. The authorities block access to thousands of websites each day. Blocked sites can include international news outlets, human rights groups, religious groups, and many others.
Luckily, there's a way to avoid roadblocks! A VPN encrypts the internet connection, so Iranian ISPs and government officials can't detect or block your online activities.
This guide focuses on the top five VPNs in Iran. They all include no-logs policies, high levels of encryption, DNS leak protection, comprehensive support, and kill switch safeguards.
1. Best VPN for Iran 2022
1.1 NordVPN – Best Overall VPN for Iran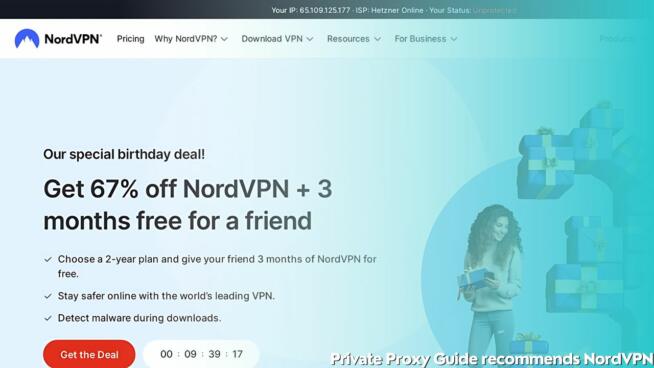 NordVPN has 5,400 servers in almost 60 countries, but there are none in Iran. This shouldn't concern you because you can still connect to any other country to bypass the restrictions in place for geo-blocked content.
It's a Panama-based VPN provider, so it doesn't have any data retention rules. It never keeps logs about your online activities, so you are protected and safe.
You are sure to appreciate the privacy features, and it includes obfuscated servers to bypass any censorship. You get auto-connect, a kill switch, double-hop VPN, VPN into Tor, and DNS leak protection. While the extra security can slow down your system, it helps you be as secure and private as possible while in Iran.
There's even a 30-day money-back guarantee, so you aren't out the money if you're not fully satisfied. You're allowed to connect six devices simultaneously with one account, and router support is included. Plus, it works on Android, iOS, macOS, Windows, and Linux, and offers browser extension options, too.
1.2 Surfshark VPN – Best Budget VPN for Iran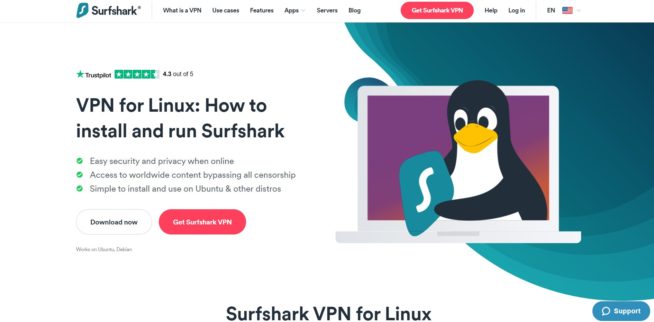 Surfshark has a global server network with 3,200 servers in 65 countries in the world, though none of them are in Iran specifically. That's often not a problem because you want to surf outside of the restrictions of the country, and you can log on and be shown in whatever country you wish.
The provider doesn't keep records of any online activities because of its no-logs policy. Plus, you can pay with cryptocurrency to remain anonymous, too. This VPN also runs the servers using volatile RAM. Therefore, no data gets written to a physical hard drive. Your information gets wiped from the server once it's turned off or rebooted.
You get military-grade encryption, DNS leak protection, and a kill switch to protect your online activities from prying eyes. Comprehensive offerings also include ad/tracker blocking and phishing/malware safeguards.
It's possible to protect unlimited devices simultaneously with one account. Plus, Surfshark covers macOS, Windows, Linux, Android, and iOS devices and comes with browser extensions for Firefox and Chrome.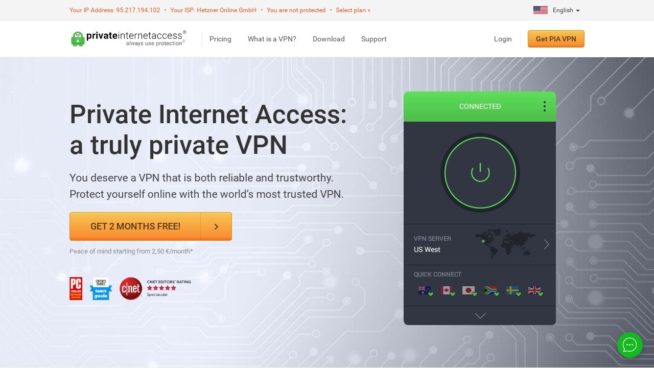 Private Internet Access (PIA) has 29,650 global servers available, though none are in Iran specifically. Still, the goal is to surf the web outside of your country, so this isn't a big deal. Likewise, the VPN servers deliver faster connections for streaming without delay.
There are plenty of security measures to enjoy, including two levels of encryption, OpenVPN, and WireGuard. Plus, this virtual private network features an automatic kill switch to avoid data leaks.
You get a strict no-logs policy available with IP and DNS leak protection. Both of these measures reinforce privacy while you're online. There's even an adware, malware, and tracker-blocking feature to ensure that you're on real websites while browsing.
It's possible to connect 10 devices simultaneously from one account. Plus, it protects all devices, including Linux, macOS, Windows, Android, and iOS operating systems.
Private Internet Access Review
1.4 Atlas VPN – Iran VPN With Unlimited Connections

Atlas VPN features a global server network with over 750 servers in 32 countries. None of them are in Iran, but that's not a problem because you want to surf outside of the restrictive rules.
The VPN provider uses a no-logs policy, so your information is never saved for the Iranian government to find later. However, it doesn't accept crypto payments.
Overall, the provider uses 256-bit encryption and offers kill switch protection to keep your activities hidden. It features a proprietary Safebrowse Plus and Safebrowse option to protect your browsing sessions from unwanted ads and malware. Plus, this provider offers MultiHop+, which adds anonymity online because it chooses a random exit server that rotates.
There are no limits to how many devices you may connect simultaneously on one account. Plus, it works on Windows, macOS, iOS, Android, Amazon Fire TV, and Android TV products. However, you can't get router support or browser extensions at this time.
1.5 PrivateVPN – Fast VPN for Iran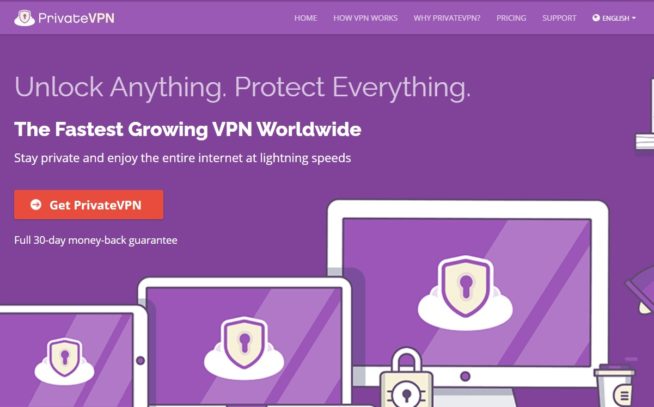 PrivateVPN offers well-protected and fast connections. It only has 200 servers spread out across 60 countries, and none of them are in Iran directly. However, that's no problem for most people because they want to connect to servers in other areas.
Overall, PrivateVPN doesn't save user logs and accepts Bitcoin as payment to protect your identity when paying. If you use a disposable email address, you're golden!
All connections feature 256-bit encryption and DNS/IP leak prevention to keep your online activities secure.
While it does protect macOS, iOS, Android, and Windows operating systems, there are no router support or browser extensions available. Still, you can connect six devices simultaneously from one account and never deal with bandwidth and data cap restrictions.
2. FAQ
2.1 How Do You Use a VPN for Iran?
Iran chooses to block websites from various VPN providers, so you can't subscribe while in the country. Therefore, it's ideal to download the virtual private network software before going there.
To use a VPN in Iran, follow these steps:
Choose a VPN from the list above, sign up for an account, and pay the fee.
Download and install the VPN's app to your devices.
Log into the server network.
Choose a server located outside of Iran and connect to it.
Open your browser and surf the web as needed.
2.2 Should You Consider a Free VPN in Iran?
No, it's unwise to use free VPNs at any time, especially when in a restrictive country like Iran. Overall, it's dangerous.
The primary reason to use a virtual private network in Iran is to protect the online activities from being investigated or observed. Free VPNs don't offer such features.
Most of the free VPNs track your online activities, log them, and sell them to third parties. If they're willing to do that, they aren't likely to prevent the Iranian government from taking that information.
Some free VPNs also inject trackers and ads into your session. That is a security risk. On top of it all, they might make you wait in line before connecting and severely limit your bandwidth.
2.3 How Does Iran Typically Censor the Internet?
Iran uses a three-prong and measured approach to censor the internet. These include:
Preventative Measures – They are designed to stop Iranians from accessing any forbidden content. These include DNS redirection, URL blacklist, HTTP filtering, keyword filtering, content-control software, and broadband speed limits.
Interceptive Measures – These techniques are primarily used to silently track and thwart users who get around the preventative measures put in place by the government. They include traffic analysis, man-in-the-middle attacks, and deep packet inspections.
Reactive Measures – These are used to censor and control users after accessing banned content. It includes surveillance and analysis, blocking of SSLs, connection throttling, and arresting developers and internet activists.
2.4 Are VPNs Considered Legal in Iran?
We recommend that you use a VPN to protect you, regardless of where you live or travel. However, it's best to be careful when utilizing a virtual private network in Iran and other restrictive countries. In fact, Iran restricted access to VPNs back in 2013.
It's difficult to find accurate information about Iranian laws pertaining to VPN usage and the internet. As far as we know, using non-government-approved technology, including a virtual private network, could lead to you going to jail for up to one year, though arrests are rare.
2.5 What Other Reasons Should You Use a VPN For?
In addition to protecting your internet activities while in Iran, VPNs offer additional benefits:
Access streaming and gaming content that might be blocked in your region
Prevent the ISP from throttling a connection speed because you're accessing non-approved services and websites
Protect your daily activities, such as banking, online shopping, and paying bills
2.6 How Do You Maximize Your Privacy While in Iran?
Once you are in Iran, you want to connect to a VPN. Before doing that, you should turn on any protections you can find. For example, use the OpenVPN protocol when available. You must also turn on auto-reconnect, kill switch protection, "scrambling" features, obfuscation options, and anything else to hide your activities.
It's also best to avoid public WiFi hotspots or connect with a VPN before doing so. Encrypted email providers and secure browsers are also crucial.
3. Conclusion
The Iranian government has heavily restricted internet usage in the country. However, you can still surf whatever you want while living or traveling to the area. You require a VPN!
Overall, the best VPN for Iran is NordVPN. It protects your online activities from surveillance, lets you stream services unavailable in the country, and protects you from internet censorship!
VPN Service


www.nordvpn.com
NordVPN
Review
Price: $11.95 $3.71/month
Servers: 5500+ in 59 countries
Simultaneous connections: 6
Jurisdiction: Panama
Payment: PayPal, AmazonPay, Crypto, Google Pay, Klarna
Torrenting: OK
Unblocks US Netflix: Yes
Dedicated IP: $70/yr
TrustPilot Score: 4,7/5
Money-back: 30 days
Extra: Double VPN, Obfuscated servers
Visit NordVPN »


www.expressvpn.com
ExpressVPN
Review
Price: $12.95 $8.32/month
Servers: 3300+ in 94 countries
Simultaneous connections: 5
Jurisdiction: British Virgin Islands
Payment: PayPal, Crypto, AliPay, Klarna,
Torrenting: OK
Unblocks US Netflix: Yes
Dedicated IP: Not provided
TrustPilot Score: 4,7/5
Money-back: 30 days
Visit ExpressVPN »


www.cyberghostvpn.com
CyberGhost
Review
Price: $11.99 $2.25/month
Servers: 6600+ in 89 coutrines
Simultaneous connections: 7
Jurisdiction: Romania
Payment: PayPal, Crypto
Torrenting: OK
Unblocks US Netflix: Yes
Dedicated IP: $51/yr
TrustPilot Score: 4,8/5
Money-back: 45 days
Visit CyberGhost »


www.surfshark.com
Surfshark
Price: $11.95 $2.49/month
Servers: 3200+ in 65 coutrines
Simultaneous connections: Unlimited
Jurisdiction: British Virgin Islands
Payment: PayPal, Crypto, Google Pay, Amazon Pay
Torrenting: OK
Unblocks US Netflix: Yes
Dedicated IP: Not provided
TrustPilot Score: 4,3/5
Money-back: 30 days
Visit Surfshark »


www.purevpn.com
PureVPN
Review
Price: $9.60 $3.33/month
Servers: 6500+ in 140 coutrines
Simultaneous connections: 10
Jurisdiction: Hong Kong
Payment: PayPal, Credit Cards
Torrenting: OK
Unblocks US Netflix: Yes
Dedicated IP: $35.88/yr
TrustPilot Score: 4,7/5
Money-back: 31 days
Visit PureVPN »