Why might someone need a VPN in Ireland? Typically, people want to encrypt their internet traffic to increase online security.
That means third parties, such as the ISP (Internet Service Provider), network administrator, and hackers, can't monitor any activities. This works well for those who access public WiFi and want to be safe.
However, most people prefer to use a virtual private network because it helps them stream geo-restricted content easily.
VPN services let people choose a server from anywhere in the world. Once you connect to it, your IP address is hidden; you receive a region-specific address.
Typically, geo-restricted services, such as streaming companies, use the IP address to determine a person's location. Using a VPN helps you appear to be located in the server's country, bypassing any regional restrictions so that you can view whatever you want.
1. Best VPNs for Ireland in December 2023
Selecting the best VPN for Ireland is challenging because there are various services available. When choosing the virtual private networks on this list, we ensured that they met the appropriate criteria, including:
Doesn't log identifying information
Has apps for popular operating systems
Offers many security features and powerful encryption
Includes an expansive network with one server (at least) in Ireland
Provides stable connections and high speeds
1.1 NordVPN – Best Overall Ireland VPN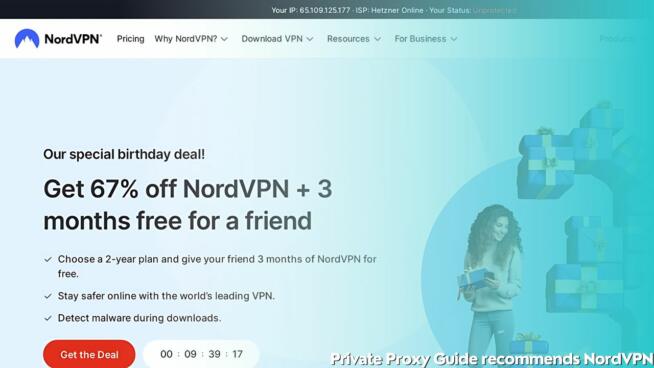 NordVPN can help you stream live content in HD without interruptions. It has over 5,200 servers, and more than 30 of them are in Ireland. Plus, servers are optimized for P2P file-sharing and anonymity, so this virtual private network can easily unblock websites like RTE Player, Amazon Prime Video, and Netflix.
This VPN puts significant emphasis on your privacy. By default, it offers protection from IPv6 leaks, port-forwarding, DNS leaks, and WebRTC leaks, and it includes 256-bit encryption. Plus, you get advanced features like malware scanning, ad-blocking, Tor over VPN, and dual VPN.
Overall, NordVPN doesn't keep logs and accepts cryptocurrency payments, so you can register and use the system anonymously. Plus, it works with all major operating systems, though you have to configure network routers manually.
Key Features
Expansive server network
No-logs policy included
24/7 live chat support
Fastest VPN on the market
Excellent unblocking capabilities
1.2 ExpressVPN – Fastest VPN for Ireland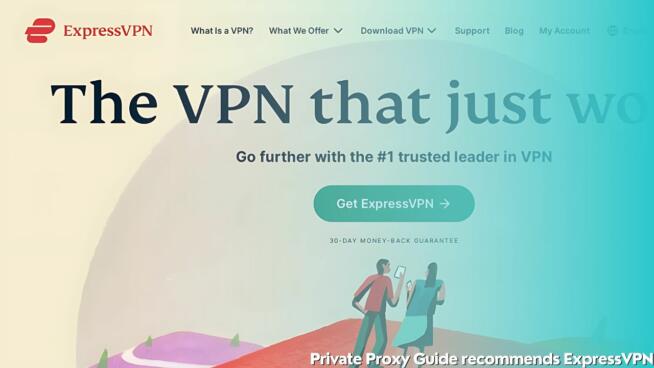 ExpressVPN offers multi-platform support, which means you can install it on routers, computers, phones, and more. Plus, it can unblock the most popular streaming services, including ITV Hub, BBC iPlayer, and Netflix. However, the best part is it has over 3,000 high-speed servers, with at least one in Ireland.
You're sure to appreciate ExpressVPN's 256-bit encryption, but it also includes a kill switch and perfect forward secrecy. Plus, it protects you from IPv6 and DNS leaks so that your internet traffic is always hidden.
Overall, the service never records your personally identifiable information, and you can pay with Bitcoin. That means an anonymous signup process. If you have trouble connecting or are new to VPNs, customer support is there 24/7 for assistance.
This VPN features apps for Android, Linux, iOS, MacOS, and Windows. Plus, you can quickly install it on most routers using the brand's custom router firmware. Though it's more expensive than the competition, it is one of the top choices.
Key Features
Strong security features
Great for streaming
Offers high-speed connections with at least one server in Ireland
Anonymous registration available
1.3 CyberGhost – Best Value VPN for Ireland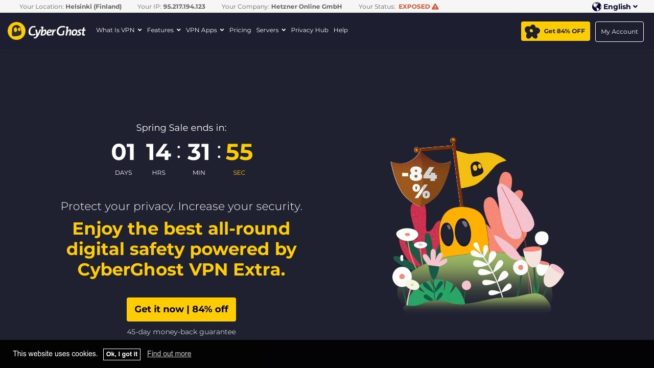 CyberGhost has more than 5,700 servers in 89 countries, and over 20 of them are in Ireland. Users can decide which country to connect to, and that often extends to the city, as well. There is even a list of servers that focus solely on unblocking streaming services like BBC iPlayer, Sky Go, and Netflix. Therefore, you can watch your favorite shows without the hassle or confusion.
This VPN offers a kill switch for its desktop and mobile apps, while the competition usually includes that for mobile devices only. Therefore, you can browse the internet and stay protected, regardless of where you are.
The virtual private network features 256-bit encryption by default, so it prevents DNS, IPv6, and WebRTC leaks. Plus, it can automatically scan your system for malware and block ads with ease.
Overall, the service never logs personal information from its users and accepts Bitcoin payments. Therefore, you've got full anonymity when using this VPN. Plus, live chat support is available 24/7 if you require assistance getting things set up.
Key Features
Easy enough for beginners to use
Seven connections allowed on one subscription
Fast enough for streaming in HD
One-click unblocking capabilities built-in
1.4 PrivateVPN – Fast VPN for Ireland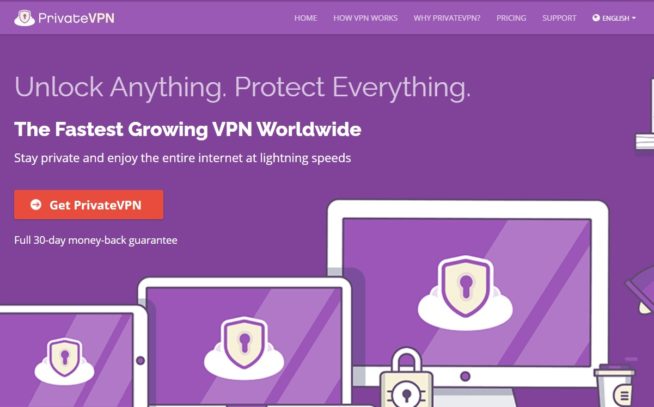 PrivateVPN reliably unblocks various streaming services like BBC iPlayer, Amazon Prime Video, and Netflix. Though it doesn't have the largest network available, there are still 90 servers in 57 countries, with one in Ireland. Plus, it's faster than most of the competition, allowing people to stream HD video without buffering and stuttering.
One great thing about PrivateVPN is that you get six simultaneous connections with one subscription. That means you can connect your desktop or laptop, smartphone, and phones for the kids with ease.
You stay safe with DNS, IPv6, and WebRTC leak protection, but you also get 256-bit encryption. Plus, it features a no-logs policy and accepts Bitcoin payments.
Key Features
Anonymous signup options
Doesn't keep logs
Can unblock all streaming services
Faster than similar VPNs
1.5 Surfshark VPN – Best Budget VPN for Ireland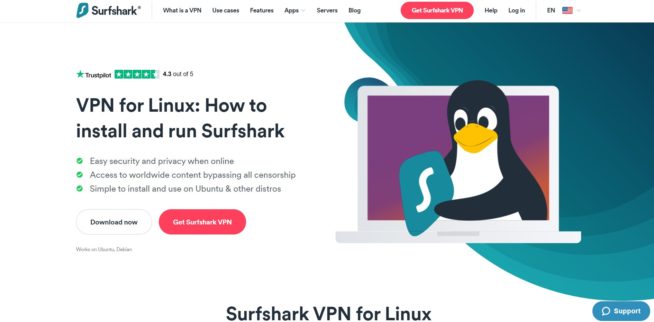 Surfshark has over 1,000 servers in 60 countries, and at least one is in Ireland. The service is well-known for its unblocking ability, so you can use BBC iPlayer and Netflix anywhere in the world. However, it has no connection limit, so you can secure all of your devices from one account.
Its security features include a kill switch for all apps, protection from IPv6, DNS, and WebRTC leaks, and 256-bit encryption. Plus, it automatically blocks malware and ads, and the NoBorders option lets you browse in areas with stricter online censorship.
Key Features
Secure all devices from one account
Unblocks geo-restricted services
Accepts three cryptocurrency payment options
Various privacy and security protections
2. Ireland VPN FAQ
2.1 Can You Use a Free VPN Instead of a Paid Version?
Free VPNs are highly tempting, but they're not the best option. Performance is the primary reason for that. These networks often have high user counts and limited server options. Therefore, you should expect slower speeds from them.
Generally, high-definition streaming is frustrating because it doesn't work at all or well. Even with low resolutions, you see long pauses for buffering and stuttering, meaning you can't easily watch your show.
Many free VPNs are known to major streaming platforms and ISPs, too. Therefore, they might block them altogether, leaving you unable to access the service.
Most free virtual private networks aren't technically free. They use ads to make money, and they're often obtrusive, large, and eye-catching. Sometimes, these VPNs store cookies on your devices, allowing them to get information about your favorite websites, when you visit them, and how often you do so. That data is then sold to third parties without your permission.
The fact that you use the free VPN means you're giving consent. You might click an accept button without reading the fine print, permitting them to do what they want.
Security is also a huge concern for free virtual private networks. Researchers tested almost 300 "free" VPNs and found that about one-third of them contained malware. Typically, they don't encrypt traffic like they promise and are more vulnerable to leaks.
Overall, the best way to protect your online activities is by using an established VPN. Choose one with a solid reputation like those on this list.
2.2 Does a VPN Provide an Irish-based IP Address?
Yes. If you choose an Ireland server, the internet traffic gets routed there. In a sense, it looks like you've got an Irish IP address, even if you're not in the country.
2.3 Why Should You Use a VPN?
A virtual private network can protect your personal information. Those who regularly log into banking or credit card apps need that extra security. Plus, some financial institutions block access to people with accounts when they're in different countries.
VPNs also let you access streaming services you pay for, regardless of where you are. Likewise, you're more likely to connect to a hotel's public WiFi when traveling. A virtual private network ensures that you can browse freely without fear of being tracked or hacked.
2.4 Are VPNs Legal within Ireland?
Yes, VPNs are legal to use. However, you are still liable for any crimes committed while connected to a virtual private network. If it's illegal, you can't do it with a VPN.
2.5 Does a VPN in Ireland Protect Your Personal Data?
Ireland's High Court has deemed the country's data-retention laws to be excessive. Regardless, you shouldn't worry if you choose the right VPN.
Most VPNs use a no-logs policy, so your personal information isn't stored and can't be shared. You may even be allowed to pay with cryptocurrency or prepaid debit cards so that no one can get those details.
3. Conclusion
While Ireland doesn't restrict content or put censors on what people can do, it's still wise to use a VPN. Virtual private networks protect you while using public WiFi and keep your browsing history private.
Choose the best VPN for Ireland from the list above. Any of these VPNs are suitable and can meet your needs.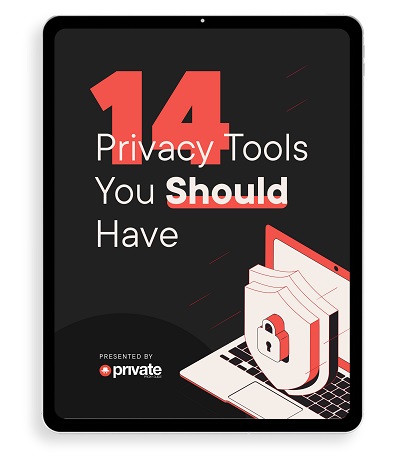 Learn how to stay safe online in this free 34-page eBook.