If you are wondering how challenging it might be to access your preferred online content in Israel, you have come to the right place. Luckily the Israeli government has liberal laws when it comes to unrestricted internet access. That makes most content around the world accessible unless you are looking to access geo-restricted content.
Website such as Netflix US is one such example of a Geo-restricted service that you might want to access when in Israel. You also find that the Israeli military might block access to specific media sites that they deem unfit. National security is critical to the country, so be sure anything that threatens this is going to be restricted.
There is one way to get around these restrictions, and that is with a VPN. Using a reliable VPN mask your Israeli IP address and makes browsing the internet free and easy. Once your VPN is set up, your connection is secured, and nobody can access your data.
One great thing about a VPN is the affordable price that the premium services come in. It is often the price of a cup of coffee to use the service for a month.
Some also give you the option of testing out the software first to see if it meets your criteria. Often, these trial versions come with limitations, but you still get access to servers worldwide and in Israel.
Let's learn more about how using a virtual private network can benefit you in Israel and the most recommended ones to use.
1. Why is a VPN Important in Israel?
There is some content that the Israeli government automatically blocks. Content that is illegal and associated with the sale of drugs, pornography, terror groups, or online gaming is all banned.
Any security threat detected by the military is censored, and this includes inciteful social media posts. So, people in Israel who would like to access this type of content need to find another way to access it.
The country's internet infrastructure is outdated and inadequate, making it effortless for cybercriminals to pose a threat. Many public networks are not secure, and you can experience potential access to your data from neighboring countries.
If you want to stream content online, you won't access sites such as Hulu, HBO Go, and Netflix US. The same goes for if you are aboard and want to watch Israeli TV shows, access to sites like Mako and Keshet is denied. The only way you are able to do this is by connecting to an Israeli server with a reliable VPN.
Torrenting, on the other hand, is not considered illegal by the government. There have been no cases of people arrested for downloading copyrighted material. In 2013 the Israeli government even considered making torrent downloading legal.
So if you put all the above into consideration, it's a better idea to use a VPN in Israel. VPNs that bypass geo-blocks offer security features that provide a fast connection with unlimited bandwidth are the most recommended.
2. Best VPN for Israel 2021
These VPNs are top performers giving you access to a world of content at your fingers. Choose one of these VPNs to experience unrestricted viewing of your favorite online content.
2.1 NordVPN – Best Overall Israel VPN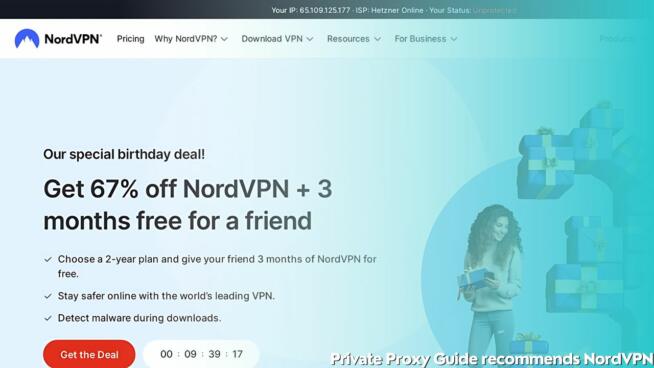 NordVPN is one of the most preferred virtual private networks in the world. The application makes it easy to get connected for newbies and advanced users. It can run on a variety of different operating systems making it a firm favorite amongst users.
The company has an Israel-based server that provides fast transfer speeds and superior security for a great price.
You quickly notice how effective this software is, and with the added DNS security features, there is no chance people are going to be able to track your online activity. There are hundreds of VPNs out there that promise to deliver exceptional performance but do not deliver.
NordVPN, on the other hand, does all of this and more. You can access all your geo-restricted content quickly and with no buffering times.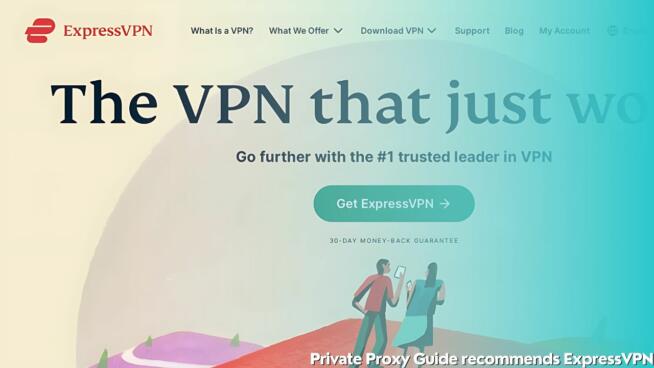 This VPN is known for its smooth streaming and high-speed connection, which keeps users engaged when watching their favorite content.
It offers 246-bit encryption that is SLL-secured. That gives it the ability to mask any online activity that you are busy with. It can also prevent your ISP from limiting your connection speed when using popular streaming sites.
The software is secure, and servers allow you to remain completely autonomous due to strict log policies that keep users safe.
ExpressVPN can unblock a range of streaming services such as Amazon Prime, Showtime, HBO, iPlayer, and so much more. It also works on a range of devices like Android, Chrome, macOS, and Windows.
It is an excellent VPN for people looking to gain access to their favorite content while in Israel. The company has server-based in Israel, so it is suitable for people in and outside of the country.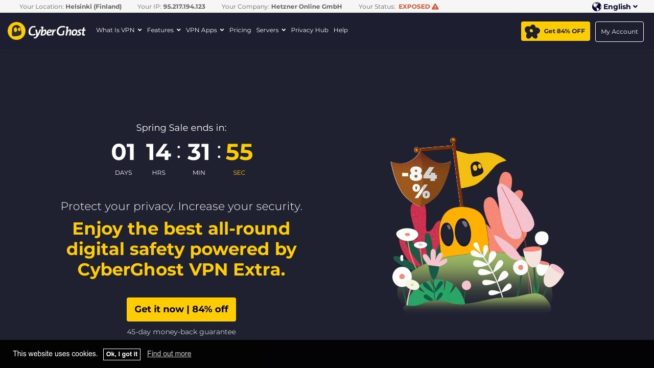 Cyberghost has a server that is physical based in Israel but does not support P2P torrenting services.
That shouldn't stop you from exploring this outstanding VPN to access your favorite content in Israel. P2P is unregulated in Israel already, making it acceptable to use this software to access geo-restricted sites.
The service is cheap and efficient, providing fast download speeds from its servers in Israel or anywhere else in the world. Cyberghost VPN comes with a nifty ad blocker that helps increase your loading time while using the internet.
Connecting to an international sports site has never been easier, and you can receive a transfer speed of 154Mbps. When you use this VPN, you secure your connection and access any content you like.
2.4 IPVanish – Israel VPN With Many Locations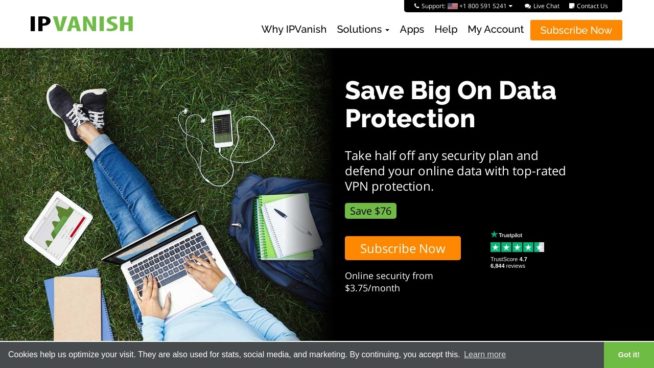 Making use of IPVanish in Israel might be the best that you can do to access games. You can use this VPN to gain access to download servers that might not be available to you.
By gaining access to various international sites, you can find the best price for the game you want. Because geo restricting includes pricing, it is good to take advantage of a VPN to get games for cheap. Please be aware that playing a particular online game through a VPN might get you banned, so be sure to research this before attempting it.
It secures your connection to the server using IKEv2 technology, which offers download speeds up to 182mbps.
Luckily for you, eight servers are based in Israel, and talk of more support coming to the country soon. It can easily unblock various geo-restricted streaming sites such as HBO Now or HBO GO.
You find accessibility and an intuitive design that helps protect your data when surfing the internet in Israel or abroad.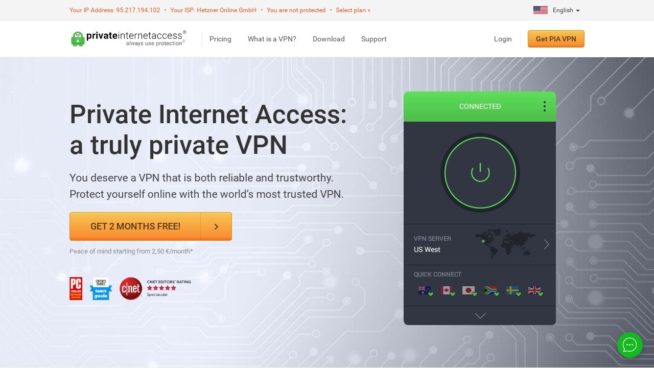 It is a world-renowned VPN loved by Israelis for its consistency and multiple servers available in Israel. It has a total of 93 servers in Israel alone.
The rest of its servers are spread worldwide, with a large number based in the US.
So, you can quickly get access to US restricted content by using Private Internet Access VPN. A service such as Netflix US can easily be accessed by connecting to one of the many servers in the United States.
The company is well established, and the software runs without any faults. The reliability of its services is top-notch, giving users the flexibility of multiple locations. On the other hand, speed reaches around 100mbps, which is probably the slowest on this list.
Don't let that make you look the other way because this is still an excellent VPN for the people of Israel. It is advantageous if you are outside Israel and want to connect to geo-restricted content within the country.
It is quick and effortless to set up, allowing you to access restricted content within a few clicks.
Private Internet Access Review
3. Final Thoughts
In the last 10 years, VPNs have grown in popularity because of their ability to secure people who browse the internet. Most packages come with built-in ad-blockers and encryption for your computer.
It is excellent for people on a budget, as most only cost a few dollars a month. That is fantastic news as it makes it accessible for nearly everyone to securing their internet connection.
With large amounts of cybercriminals on the rise, why would you not want to protect your connection from spying eye? Especially in Israel, where the infrastructure is not up to international standards.
It is always best to encrypt your data so that credit card fraud can be deterred. A reliable VPN can provide you with this type of protection. Be sure to check out all the options on offer before making your decision.
Online security is essential in this day and age as many threats come from all over the world. As the world progresses in the future, these threats are bound to increase and could cause potential harm to you or your device.
One of these VPNs is going to help keep you safe and secure while you browse the internet from the comfort of anywhere. Ensure that you are protected from any online invasion of privacy and system attacks with a reliable VPN today!
VPN Service

www.nordvpn.com
NordVPN
Review
Price: $11.95 $3.71/month Servers: 5500+ in 59 countries Simultaneous connections: 6 Jurisdiction: Panama Payment: PayPal, AmazonPay, Crypto, Google Pay, Klarna Torrenting: OK Unblocks US Netflix: Yes Dedicated IP: $70/yr TrustPilot Score: 4,7/5 Money-back: 30 days Extra: Double VPN, Obfuscated servers Visit NordVPN »

www.expressvpn.com
ExpressVPN
Review
Price: $12.95 $8.32/month Servers: 3300+ in 94 countries Simultaneous connections: 5 Jurisdiction: British Virgin Islands Payment: PayPal, Crypto, AliPay, Klarna, Torrenting: OK Unblocks US Netflix: Yes Dedicated IP: Not provided TrustPilot Score: 4,7/5 Money-back: 30 days Visit ExpressVPN »

www.cyberghostvpn.com
CyberGhost
Review
Price: $11.99 $2.25/month Servers: 6600+ in 89 coutrines Simultaneous connections: 7 Jurisdiction: Romania Payment: PayPal, Crypto Torrenting: OK Unblocks US Netflix: Yes Dedicated IP: $51/yr TrustPilot Score: 4,8/5 Money-back: 45 days Visit CyberGhost »

www.surfshark.com
Surfshark
Price: $11.95 $2.49/month Servers: 3200+ in 65 coutrines Simultaneous connections: Unlimited Jurisdiction: British Virgin Islands Payment: PayPal, Crypto, Google Pay, Amazon Pay Torrenting: OK Unblocks US Netflix: Yes Dedicated IP: Not provided TrustPilot Score: 4,3/5 Money-back: 30 days Visit Surfshark »

www.purevpn.com
PureVPN
Review
Price: $9.60 $3.33/month Servers: 6500+ in 140 coutrines Simultaneous connections: 10 Jurisdiction: Hong Kong Payment: PayPal, Credit Cards Torrenting: OK Unblocks US Netflix: Yes Dedicated IP: $35.88/yr TrustPilot Score: 4,7/5 Money-back: 31 days Visit PureVPN »