Krunker is a free multiplayer first-person shooting game that can be played right on your internet browser. As soon as you hit the Play button, the game immerses you in its pixelated universe, akin to Minecraft, and hands you a weapon with which to begin shooting your opponents.
The graphic style is blocky and vintage in appearance. This game is quite straightforward, with a variety of obstacles and game settings. The objective of the game is to shoot the other players. When it comes to this survival of the fittest-style game, you only get one chance to kill or be killed. Most gamers consider this a battle royale, as it allows you to improve your skills and get points in the game.
If you're good enough, you also earn a spot on the leader's board. Remember, however, that the game is fast-paced, and the joystick controls do not appear to be supported. Unless you adjust the setup, you have to use the ASWD controls instead.
However, unless you utilize a VPN, there are a few issues with playing this game. Krunker is entertaining, but it may also be somewhat addictive. In reality, one of the reasons why institutions such as schools prohibit this game is because of this. Another reason to prohibit this game is the high level of violence it contains.
However, many people have reported lagging and excessive ping when attempting to play Krunker. Due to network restrictions imposed by school or work administration, some people are unable to play the game in their online browser.
However, by utilizing the best VPNs for Krunker, you can solve all of these issues. A virtual private network service hides your browsing activity from your ISP by spoofing your IP address and location.
As a result, you have unrestricted access to the internet and any content previously blocked by the school or work administration, including Krunker.
You can also minimize ping and cure lag by connecting to a VPN server that is closer to the host's location. To do so, you need to set up a secure VPN on your computer.
1. Best VPN for Krunker 2022
Now that you have an idea of what Krunker is and why you might need a VPN, what are the best VPNs for this game? Consider the following options:
Let's take a look at these in further detail.
1.1 NordVPN – Best Overall Krunker VPN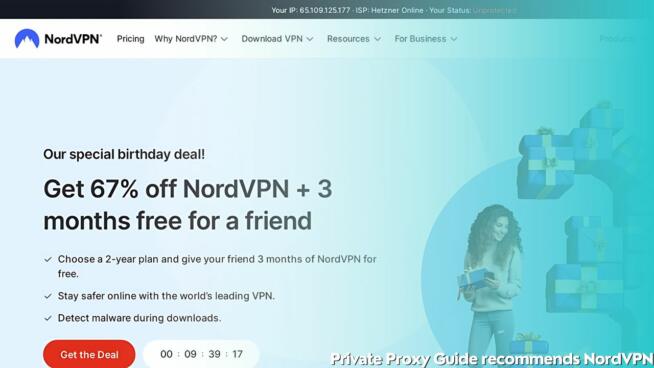 NordVPN is a very secure VPN created by Tefincom & Co. that you can use to play Krunker without jeopardizing your online security and privacy. This is why it is at the top of our list. It offers more than 5,100 VPN servers spread throughout 59 countries.
Moreover, NordVPN is a great option for browsing the internet safely and getting access to prohibited sites such as Krunker.io, particularly if the remote host refuses VPN connections. When this happens, simply activate obfuscation mode.
Furthermore, NordVPN provides OpenVPN, custom and private DNS servers, a kill switch, split tunneling, Onion-over-VPN servers, and dedicated IP addresses, and Double VPN mode, among other features. It can handle up to six connections at once.
If you're not in a region where coverage is available, you might want to connect to a NordVPN server. Simply find a country with the coverage you wish to have and connect to one of their servers.
One of the more unusual services offered by NordVPN is what they call a double VPN. This form of connection is referred to as "multi-hop" by many specialists in the community.
Other characteristics include:
24/7 live chat support
Add-on for Firefox and Chrome
No identifying leaks or logs
No free trial
30-day money-back guarantee
1.2 ExpressVPN – Fastest VPN for Krunker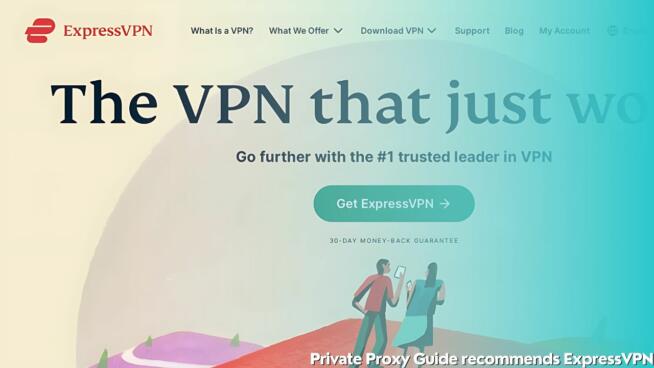 ExpressVPN is among the fastest VPNs for gaming, providing high-speed VPN connections, and is published by Express VPN International LTD. It has almost 3,000 servers in 94 different countries.
Because of its user-friendly design and powerful settings, ExpressVPN is highly popular in the VPN business. It is, nevertheless, more expensive than similar items.
OpenVPN with up to 256-bit military-grade encryption, split-tunneling mode, a Network Lock, private DNS servers, and up to five simultaneous device connections are all supported by the software.
If you're a gamer, there's something interesting you can do with ExpressVPN by getting a VPN server. Steam is one of the most popular gaming platforms across the globe. It's ubiquitous, and it's easy to get.
What you may not realize is that game costs vary based on where you are in the world. You can connect to a country where your preferred game is less expensive. You get the most bang for your buck this way. Brazil and India are two countries that should be considered for lower prices.
Other features offered include:
24/7 live chat support
Add-on for Firefox and Chrome
No IP leaks or data logs
Seven-day free trial for iOS and Android
30-day money-back guarantee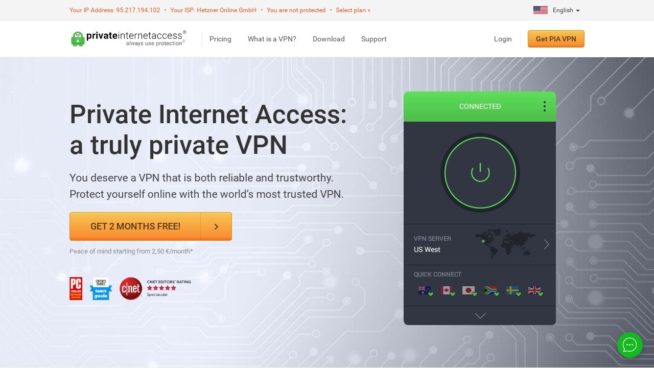 Private Internet Access, created by Kape Technologies, is one of the best VPNs for gaming, particularly Krunker. It can be used to reduce lagging and increase your in-game FPS.
PIA has over 3,300 VPN servers in 48 different locations. Because it has native support for port forwarding modes, you can also use it to run game servers for you and your pals.
Dynamic and static IP addresses, a kill switch, split tunneling, and private DNS servers are all included in Private Internet Access. It encrypts your data flow with OpenVPN and supports a maximum of 10 connections.
Private Internet Access has you covered if you're looking for a VPN that doesn't maintain logs. They've earned a well-deserved reputation in the community over the years.
Furthermore, Private Internet Access also offers:
24/7 live chat support
Zero leaks and logs
Add-on for Chrome, Firefox, and Opera
A 30-day money-back guarantee
There is no free trial
Private Internet Access Review
1.4 CyberGhost – Safe VPN for Krunker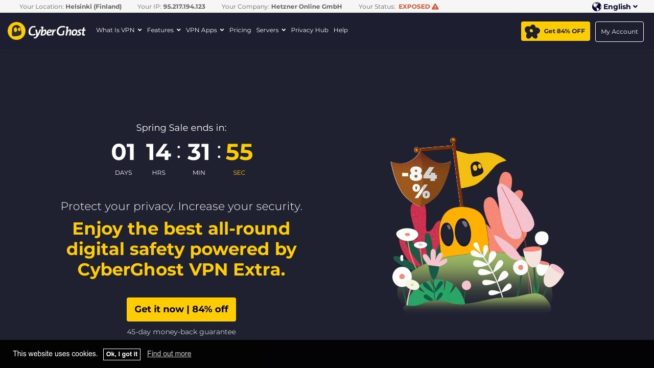 CyberGhost VPN, which is also owned by Kape Technologies, is one of the best free VPN for Krunker because it is a premium VPN with a short free trial. Furthermore, you don't need to use your credit card.
CyberGhost VPN boasts the largest server network, with over 6,500 servers in 89 countries. It's an excellent option for resolving browser delays when playing Krunker, as well as for getting access to the game even if it is restricted in your area.
Exclusive DNS servers and DNS leak protection are included in the VPN program, as well as OpenVPN with 256-bit encryption, a kill switch, and split tunneling. It supports up to seven simultaneous connections.
If you use CyberGhost to access a VPN server and are a gamer, there is something you need to be mindful of. Games on some overseas platforms may be priced differently than they are in your own country. Using a platform like Steam is an example of this.
You can occasionally get a better deal on your favorite games in other nations than you can on your own. Furthermore, you are going to be able to play your favorite games for a lower price if you utilize Steam cards as well.
Other features offered by CyberGhost include:
Add-on for Chrome and Firefox
24/7 live chat support
No activity leaks or logs
A 45-day money-back guarantee
Seven-day free trial for iOS and Android
One-day free trial for macOS and Windows
1.5 Surfshark VPN – Best Budget VPN for Krunker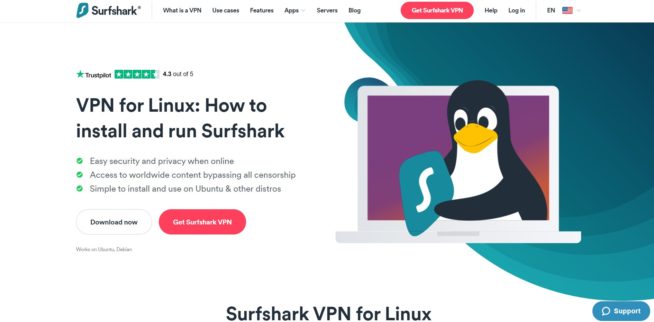 Surfshark, run by Surfshark LTD, is a safe VPN for Krunker that is also more inexpensive. It's the cheapest VPN on the list, with over 1,700 VPN servers spread across 63 countries.
The application performs an excellent job of removing any connectivity troubles that may arise when playing Krunker on your web browser. All you have to do now is connect to a VPN server.
Additionally, Surfshark also features OpenVPN, exclusive DNS, obfuscated servers, a kill switch, split tunneling, and multi-hop VPN connections, allowing you to connect to two servers at the same time. It allows for an unlimited number of device connections.
Surfshark also offers the following:
24/7 email support and live chat
No traffic leaks or logs
Add-on for Firefox and Chrome
Seven-day free trial for iOS and Android
30-day money-back guarantee
2. Krunker VPN FAQ
How Can You Run Krunker Faster?
You can use a browser with low memory usage to run Krunker faster.
Why Does Krunker Disconnect?
Krunker might be disconnecting because of few servers, too many players, or Internet connection problems.
How Can You Stop Krunker from Lagging?
Using a VPN for Krunker is an excellent way to stop in-game lags.
3. The Bottom Line
Krunker is a block version of a first-person shooter (FPS). When you visit Krunker.io, you are going to see that the game has graphics that are similar to those found in Minecraft. Krunker can be used in any web browser, as you might expect. You can design your block avatar as well as the weaponry you employ in this multiplayer game, which is quite popular. Despite the fact that the game might be a lot of fun, you may need to connect to a VPN.
To summarize, you may use a VPN for Krunker to boost your in-game, fix a lower ping, get rid of lags, as well as play Krunker on restricted networks such as campuses or schools.
VPN Service

www.nordvpn.com
NordVPN
Review
Price: $11.95 $3.71/month Servers: 5500+ in 59 countries Simultaneous connections: 6 Jurisdiction: Panama Payment: PayPal, AmazonPay, Crypto, Google Pay, Klarna Torrenting: OK Unblocks US Netflix: Yes Dedicated IP: $70/yr TrustPilot Score: 4,7/5 Money-back: 30 days Extra: Double VPN, Obfuscated servers Visit NordVPN »

www.expressvpn.com
ExpressVPN
Review
Price: $12.95 $8.32/month Servers: 3300+ in 94 countries Simultaneous connections: 5 Jurisdiction: British Virgin Islands Payment: PayPal, Crypto, AliPay, Klarna, Torrenting: OK Unblocks US Netflix: Yes Dedicated IP: Not provided TrustPilot Score: 4,7/5 Money-back: 30 days Visit ExpressVPN »

www.cyberghostvpn.com
CyberGhost
Review
Price: $11.99 $2.25/month Servers: 6600+ in 89 coutrines Simultaneous connections: 7 Jurisdiction: Romania Payment: PayPal, Crypto Torrenting: OK Unblocks US Netflix: Yes Dedicated IP: $51/yr TrustPilot Score: 4,8/5 Money-back: 45 days Visit CyberGhost »

www.surfshark.com
Surfshark
Price: $11.95 $2.49/month Servers: 3200+ in 65 coutrines Simultaneous connections: Unlimited Jurisdiction: British Virgin Islands Payment: PayPal, Crypto, Google Pay, Amazon Pay Torrenting: OK Unblocks US Netflix: Yes Dedicated IP: Not provided TrustPilot Score: 4,3/5 Money-back: 30 days Visit Surfshark »

www.purevpn.com
PureVPN
Review
Price: $9.60 $3.33/month Servers: 6500+ in 140 coutrines Simultaneous connections: 10 Jurisdiction: Hong Kong Payment: PayPal, Credit Cards Torrenting: OK Unblocks US Netflix: Yes Dedicated IP: $35.88/yr TrustPilot Score: 4,7/5 Money-back: 31 days Visit PureVPN »