There is a world-famous internet radio service known as Pandora Radio, and it leverages the Music Genome Project to suggest music based on hundreds of attributes. In contrast, most streaming radio services recommend a piece based on what you have in common with other listeners who like the same theme.
Pandora is a great way to discover new music because it has close to one million songs in its library. The only downside to Pandora is that you need to be situated in the United States if you want to listen to it.
That is where a reliable and effective VPN can help you gain access to one of the world's most popular online radio stations. Since 2007, Pandora has been restricting foreign users who want to access the service.
Due to being under pressure by copyright holders, it blocks listeners in other regions based on their internet protocol (IP) address.
In today's article, we show you the best VPNs for Pandora Radio and highlight some of their most beneficial features.
1. Best VPN for Pandora Radio 2022
We love using Pandora Radio and have significantly tested all the below VPNs to confirm they are the best on the market. Before deciding which virtual private network is best for you, we recommend taking your time to consider the features and price of each one carefully.
1.1 NordVPN – Best Overall Pandora Radio VPN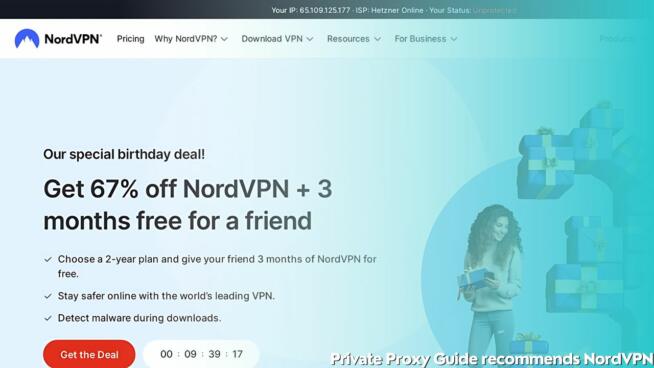 If you want a reliable, fast, and robust VPN service, you should look no further than this Panama-based virtual private network provider. People worldwide have been using NordVPN to listen to Pandora Radio for years.
NordVPN has an extensive range of features that can be used by novice and veteran internet users wanting to access geo-restricted content quickly. This virtual private network has proven its consistency and versatility by unlocking many online applications, including Pandora Radio.
The VPN provider has more than 4,900 servers in over 60 countries and honestly cares about your internet connection speed plus privacy. There are multiple servers in the United States, making it great to access Pandora Radio from outside of the country.
What is remarkable about NordVPN is the excellent ad blocker included with the application. You will never be bothered again by those pesky YouTube video advertisements constantly popping up.
Key Features
Allows you to stream HD quality content and won't hinder your internet speed
Hides trackers and ads
It doesn't keep track of logs
Available for multiple operating systems and browsers
5,000 available servers in over 60 countries
Your data remain anonymous due to the double encryption NordVPN provides
Impeccable customer service
1.2 ExpressVPN – Fastest VPN for Pandora Radio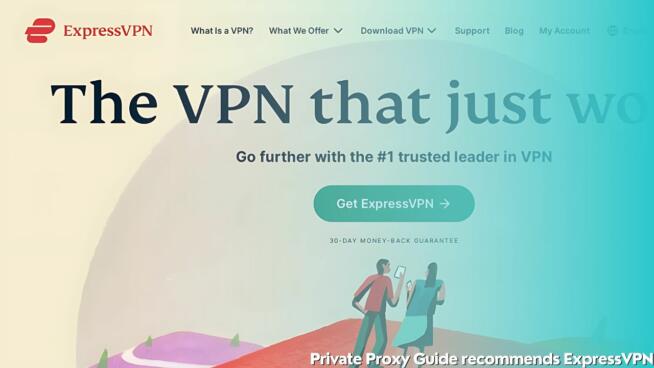 If you are after one of the most prominent VPNs on the market with a high level of security features, ExpressVPN is going to satisfy your desires. ExpressVPN is secure, super-fast, and dependable, making it an excellent choice for people who want to listen to Pandora Radio.
Even though ExpressVPN is a bit more expensive than the competition, you should still consider it for protecting your privacy. The service provides a fantastic experience for anyone looking to mask their internet connection and stands out from the crowd due to its list of extensive features.
If you are looking for a reliable VPN to listen to Pandora Radio or access other geo-restricted content, ExpressVPN is the best solution. Information that may be limited in your country can be seamlessly accessed through ExpressVPN's intuitive dashboard.
Over 2,900 servers are spread across more than 85 countries, with over 100 situated in the United States. No matter where you are in the world, you can use the innovative AI system to find a server close to Pandora Radio so that you get the best streaming performance possible.
If you are worried about security and privacy, you will be happy to know that ExpressVPN offers advanced encryption technology. Your connection is secured using the built-in SHA-512 algorithm to ensure your anonymity whenever you access Pandora Radio.
What's excellent about ExpressVPN is that the company follows a strict no-log policy that guarantees your information is never shared. You can expect to receive maximum privacy and no longer worry about security issues when you install ExpressVPN.
There is also a temporary network lock that is put in place to protect your connection should it suddenly fail.
ExpressVPN is one of our most preferred virtual private networks to listen to Pandora Radio.
Key Features
Easily access an array of content when you are listening to Pandora Radio
You can choose the best server accordingly to your location using the innovative location feature
Available on different operating systems and platforms
No bandwidth restrictions
Impeccable customer service and knowledgeable staff
It can be used on five devices at the same time
Browse securely with top-notch military-grade encryption
Outstanding availability and speed
There are over 3,000 in 94 countries
1.3 CyberGhost – Safe VPN for Pandora Radio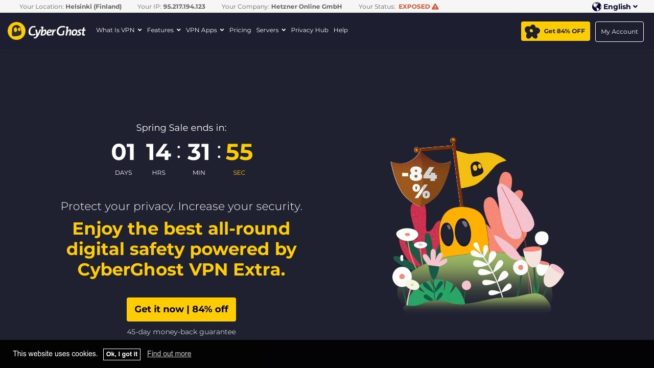 If you require bypassing the geo-restrictions put in place by Pandora Radio and don't want to spend a lot of money, CyberGhost is the best solution for you. The virtual private network has a ton of servers in the United States and is confirmed to unlock Pandora at the press of a button.
It provides you with a secure, swift, and effortless browsing experience that you will love.
There are more than 5,700 servers spread across over 100 countries, making this VPN perfect for people who require remote access to various geo-restricted content. The company is based in Romania but provides its services to listeners around the globe.
Unfortunately for users in the UAE and China, the software cannot be used because it is blocked. However, CyberGhost is the perfect VPN to access Pandora Radio for any other region or area.
The software includes SHA-256 authentication and 256-bit encryption that helps to keep your internet connection secure when accessing Pandora Radio from outside of the United States. A strict no-log policy guarantees that your activity is not tracked and keeps your identity safe when browsing the internet.
With the military-grade encryption that CyberGhost offers, you are going to be hard-pressed to find a better VPN solution for accessing Pandora Radio.
Key Features
45-day money-back guarantee
Great value for the price
Experience and competent customer service agents
Extremely reliable
Beginner-friendly interface
Secure network lock feature
No tracks of activity on the internet or logs
1.4 PrivateVPN – Best Budget VPN for Pandora Radio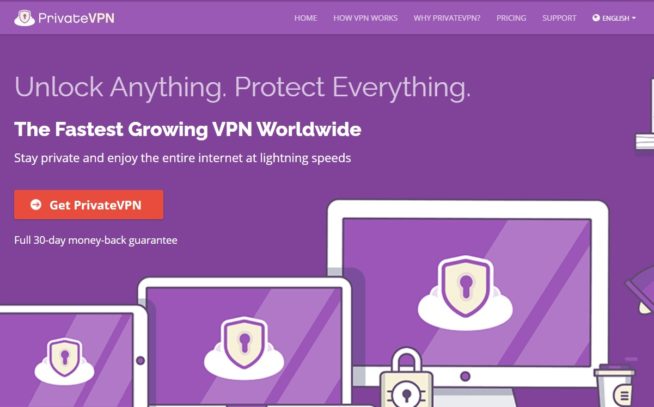 Suppose you are looking for an affordable and reliable VPN service similar to CyberGhost; PrivateVPN ticks those two boxes. People on a budget love this software because not only does it offer excellent IP masking abilities, but it is also an established name in the industry.
Within 60 countries and with over 3,200 servers, PrivateVPN is a great application for people who want to listen to Pandora Radio. It also allows you to access various streaming services, such as Netflix, Hulu, ABC, and much more.
If you are concerned about online security, do not fret! The software is equipped with 256-bit military-grade encryption technology and split tunneling for additional privacy.
When you purchase PrivateVPN, you receive a native malware scanner and ad blocker to make your internet experience more pleasant.
Key Features
Seamlessly reliable, secure, and fast connection
Server in over 60 countries
Great value for money
Affordable VPN solution
Great customer service
No data logging
It comes with a malware scanner and ad blocker
Split tunneling and kill switch in case of threats
Allows you to pay in cryptocurrency
1.5 StrongVPN – Pandora Radio VPN With Many Locations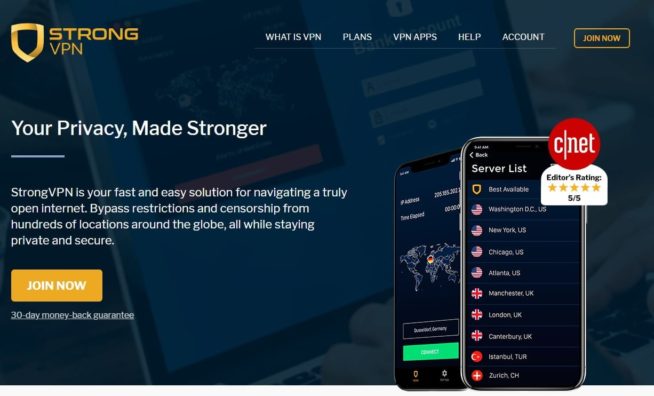 StrongVPN is a well-established brand that has been a favored VPN by people who want to listen to Pandora Radio. It goes above and beyond expectations regarding internet security and does this through an intuitive interface.
The reliable encryption standards and robust military-grade technology make this a great application to access Pandora Radio. You never have to worry about buffering times because the connection speed is fast and consistent.
This service provider has a lot fewer servers than other VPNs on this list, but that should not make you look the other way. There are 1,300 servers in 75 regions, including 30 in the United States, so listening to Pandora Radio is going to be a breeze.
Your anonymity is guaranteed when using StrongVPN because it includes a no data log policy with its subscription service. Thanks to 256-bit military-grade protection and a robust SHA-512 authentication process, you don't need to worry about your sensitive information being leaked.
Key Features
No lag
Great internet speeds
Not crazy expensive
An unlimited number of devices are supported
Log less VPN with high data standards and protocols
High-end encryption and priority data protection
Seamless access to restricted platforms while listening to Pandora Radio
2. Conclusion
If you live outside of the United States and want to access Pandora Radio, using one of the above VPNs will be your best option. Pandora Radio has strict orders from copyright holders that limit user access to the United States only.
Use one of the above VPNs to securely access geo-restricted content and blocked websites. It's time to get the anonymity and privacy you deserve by joining some of the best virtual private networks for listening to Pandora Radio.
VPN Service


www.nordvpn.com
NordVPN
Review
Price: $11.95 $3.71/month
Servers: 5500+ in 59 countries
Simultaneous connections: 6
Jurisdiction: Panama
Payment: PayPal, AmazonPay, Crypto, Google Pay, Klarna
Torrenting: OK
Unblocks US Netflix: Yes
Dedicated IP: $70/yr
TrustPilot Score: 4,7/5
Money-back: 30 days
Extra: Double VPN, Obfuscated servers
Visit NordVPN »


www.expressvpn.com
ExpressVPN
Review
Price: $12.95 $8.32/month
Servers: 3300+ in 94 countries
Simultaneous connections: 5
Jurisdiction: British Virgin Islands
Payment: PayPal, Crypto, AliPay, Klarna,
Torrenting: OK
Unblocks US Netflix: Yes
Dedicated IP: Not provided
TrustPilot Score: 4,7/5
Money-back: 30 days
Visit ExpressVPN »


www.cyberghostvpn.com
CyberGhost
Review
Price: $11.99 $2.25/month
Servers: 6600+ in 89 coutrines
Simultaneous connections: 7
Jurisdiction: Romania
Payment: PayPal, Crypto
Torrenting: OK
Unblocks US Netflix: Yes
Dedicated IP: $51/yr
TrustPilot Score: 4,8/5
Money-back: 45 days
Visit CyberGhost »


www.surfshark.com
Surfshark
Price: $11.95 $2.49/month
Servers: 3200+ in 65 coutrines
Simultaneous connections: Unlimited
Jurisdiction: British Virgin Islands
Payment: PayPal, Crypto, Google Pay, Amazon Pay
Torrenting: OK
Unblocks US Netflix: Yes
Dedicated IP: Not provided
TrustPilot Score: 4,3/5
Money-back: 30 days
Visit Surfshark »


www.purevpn.com
PureVPN
Review
Price: $9.60 $3.33/month
Servers: 6500+ in 140 coutrines
Simultaneous connections: 10
Jurisdiction: Hong Kong
Payment: PayPal, Credit Cards
Torrenting: OK
Unblocks US Netflix: Yes
Dedicated IP: $35.88/yr
TrustPilot Score: 4,7/5
Money-back: 31 days
Visit PureVPN »