The majority of people believe that their internet actions are private; however, this is not true. In truth, your Internet Service Provider (ISP), cybercriminals, your company, and the state in some countries can all monitor what you do online.
When you connect to a VPN, your data is encrypted and inaccessible by third parties. This is incredibly beneficial if you use PayPal on a public WiFi network, where prying eyes are waiting to steal your data.
Another major advantage of VPNs is that they enable you to disguise your location and use geo-restricted websites from anywhere on the planet. This includes getting access to PayPal in locations where it is banned.
PayPal, just like many other online companies, places restrictions on logins when a person accesses their account from a different location than they normally would. By connecting to a VPN in your native country before you leave, you can trick PayPal into thinking you never left the country, reducing the probability of your account being locked.
1. What Is PayPal?
PayPal is a safe online payment platform that allows you to pay for products online and send and receive money.
2. Why Do You Need a VPN for PayPal?
PayPal makes every effort to protect the security of its transactions and accounts; however, you can't rely on that alone.
Your information is accessible to cybercriminals if you visit your PayPal account in a public location or on an unsafe device without utilizing a VPN. This could give prying eyes access to your PayPal login credentials, allowing them to sign in and take funds from your account.
A VPN encrypts your data, rendering it fully unreadable and protected from possible scammers.
If you travel abroad frequently, another advantage of utilizing a VPN is that you may access it from a server in your native country. This can save you a lot of grief because PayPal frequently disables accounts when they log in from strange, faraway regions or even PayPal-restricted nations.
These bans are intended to protect you from fraud; however, they can be exceedingly inconvenient if you're away from home and need funds but can't access your account for a period of time.
3. Best VPN for PayPal 2022
PayPal is safe; however, there's no harm in using a VPN to add additional protection. We recommend the following VPNs:
3.1 ExpressVPN – Fastest VPN for PayPal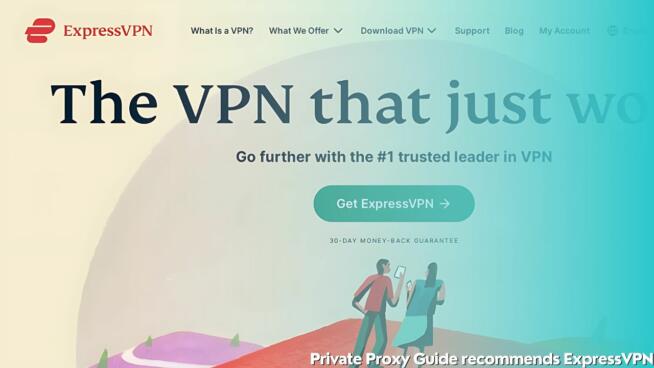 ExpressVPN is the fastest VPN available right now. It is also user-friendly and has a lot of security measures.
With over 3,000 servers in 94 locations, you'll have a lot of options when it comes to selecting a server to connect to.
Your data is securely safeguarded with an automatic kill switch and military-grade encryption every time you log into your PayPal account. Furthermore, y our information is never stored thanks to a stringent no-logs policy.
When a server is rebooted, ExpressVPN's TrustedServer technology increases security by erasing its hard drives. Split-tunneling allows you to use the VPN to access PayPal accounts in one window while browsing shopping websites and other parts of the web in another.
PayPal has apps for practically every platform – so you can use it on almost any device. You can even safeguard all of those devices at the same time because each account allows up to five simultaneous connections.
ExpressVPN offers a 30-day money-back guarantee, allowing you to test the service without risk. Simply ask for a refund if you're unhappy with the service.
3.2 NordVPN – Best Overall PayPal VPN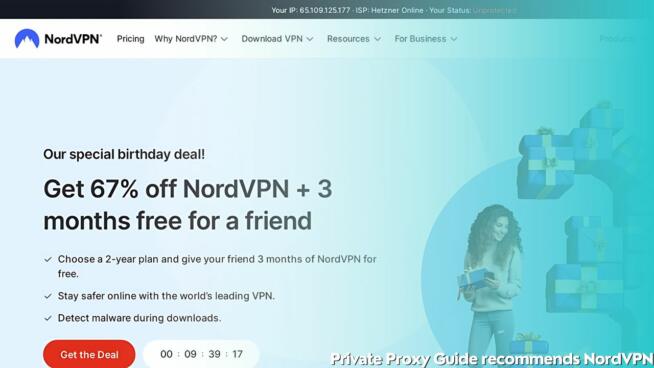 NordVPN boasts a massive network, with over 5,000 servers spread over 60 countries. This virtually guarantees you access to a high-speed, stable connection, which is especially useful if you use business-related applications such as Skype.
PayPal will not be a problem with NordVPN because it can simply unblock resistant platforms, such as Disney+ and Hulu.
To keep your data private, this VPN includes an app-specific kill switch, 256-bit encryption, DNS leak protection, and protection against port forwarding, IPv6, and WebRTC leaks.
However, that's only the beginning: there's also a malware scanner and an ad-blocker, as well as dual VPN and Tor over features. NordVPN keeps no logs and allows you to sign up using cryptocurrency. Customer service is available via live chat 24 hours a day, seven days a week.
Apps for MacOS, Windows, iOS, Android, and Linux are available from NordVPN. It works on a limited number of network routers but requires human installation.
NordVPN is compatible with China, the United Arab Emirates, and other countries that prohibit VPN use.
3.3 PrivateVPN – User-friendly PayPal VPN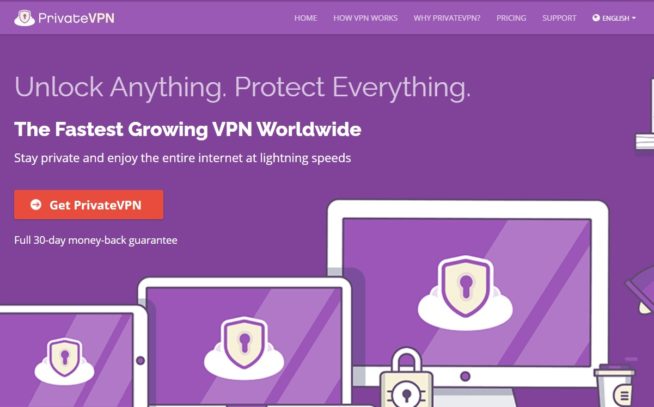 Although PrivateVPN has a smaller network of roughly 200 servers, those servers are spread across 63 countries. This implies that no matter where you are from, you have a good chance of connecting to a server in your own country.
Whether you're logging into your PayPal account, streaming videos, or browsing the internet, your data is protected by military-grade encryption and a rigorous no-logs policy.
Do you have a variety of gadgets on hand? PrivateVPN allows you to access PayPal and the rest of the web on your computers, smartphones, tablets, and other devices with up to 10 simultaneous connections per account.
Should the VPN connection ever drop, the provider's internet kill switch immediately stops the transport of your information, preventing the exposure of sensitive data. Its auto-reconnect function then reconnects your device to PrivateVPN's servers, allowing you to resume your previous activity.
If you prefer to try out a service before committing to a lengthier membership, PrivateVPN offers a 30-day money-back guarantee. You can use all of the premium features of the service without risk.
3.4 CyberGhost – Safe VPN for PayPal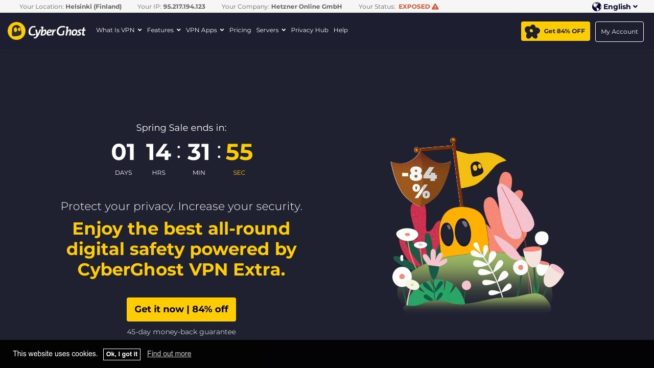 CyberGhost protects you with a no-logs policy, military-grade encryption, and an internet kill switch, among other security measures. Hackers won't be able to swindle you if you log in to your PayPal account.
It also has a strong global presence, with about 7,957 servers in 91 countries and over 1,000 servers in the United States alone, ensuring that you may safely utilize PayPal from anywhere across the world.
CyberGhost allows for up to seven simultaneous connections. This means you may use your computer or phone to log in to PayPal while your family members surf the web safely or watch their favorite TV shows on their own mobile devices.
Furthermore, CyberGhost has a user-friendly interface that makes it very simple to use. If you have any problems, you may contact the customer support team via email or live chat.
Like what you're hearing but don't want to commit to anything just yet? You get 45 days to test CyberGhost thanks to the generous money-back guarantee.
3.5 HideMyAss VPN – PayPal VPN

With Good Support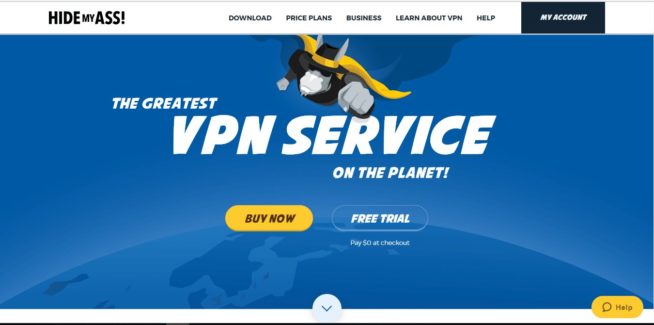 Hide My Ass (HMA) has more than 1,040 servers spread across 210 countries. This means you can keep using your PayPal account even when you're not at home.
Most of the time, the Hide My Ass VPN offers fast speeds. However, this might be slightly delayed during peak hours.
You'll have access to the most recent security updates. The OpenVPN protocol, which uses a no-logs policy and 256-bit AES encryption, is used by Hide My Ass. An automatic kill switch is also accessible to avoid data leakage by accident.
Cryptocurrencies are not accepted as a means of payment at Hide My Ass. Keep in mind that using cryptos to make payments may provide an additional layer of protection.
If you need assistance setting-up this VPN app on your router, the customer service department is responsive and friendly.
Hide My Ass offers a 30-day money-back guarantee on all of its VPN services.
4. PayPal VPN FAQ
4.1 Is it Legal to Use a VPN for PayPal?
PayPal's user agreement currently makes no mention of VPNs. It's worth noting, though, that if PayPal detects VPN servers, it may ban them. If you're having trouble accessing PayPal with your VPN, disconnect and reconnect to a different server. It's important to remember that it's your right to have access to your money.
4.2 Can You Safely Access PayPal with a VPN on Public WiFi?
While traveling on public WiFi is easy, it's rarely ever secure. Before connecting to public WiFi, use one of the VPNs recommended above to protect yourself against trackers, hackers, cyberattacks, and other online risks.
4.3 Are VPNs Reliable?
While some free VPNs might not be as reliable as you'd like, most professional VPNs, including those on our list, are secure to use for PayPal, streaming videos, online shopping, or doing anything else.
5. Conclusion
It doesn't matter how secure PayPal's transactions, accounts, or servers are; you could still be at risk if you don't safeguard your own mobile device. As a result, when accessing PayPal, it's a good idea to use a VPN.
We spent hours testing VPNs to figure out which ones worked best with PayPal. This article compared user-friendliness, security features, and overall value to find a few standouts. Finally, given its extensive server coverage and rigorous security features, ExpressVPN is our top option.
VPN Service

www.nordvpn.com
NordVPN
Review
Price: $11.95 $3.71/month Servers: 5500+ in 59 countries Simultaneous connections: 6 Jurisdiction: Panama Payment: PayPal, AmazonPay, Crypto, Google Pay, Klarna Torrenting: OK Unblocks US Netflix: Yes Dedicated IP: $70/yr TrustPilot Score: 4,7/5 Money-back: 30 days Extra: Double VPN, Obfuscated servers Visit NordVPN »

www.expressvpn.com
ExpressVPN
Review
Price: $12.95 $8.32/month Servers: 3300+ in 94 countries Simultaneous connections: 5 Jurisdiction: British Virgin Islands Payment: PayPal, Crypto, AliPay, Klarna, Torrenting: OK Unblocks US Netflix: Yes Dedicated IP: Not provided TrustPilot Score: 4,7/5 Money-back: 30 days Visit ExpressVPN »

www.cyberghostvpn.com
CyberGhost
Review
Price: $11.99 $2.25/month Servers: 6600+ in 89 coutrines Simultaneous connections: 7 Jurisdiction: Romania Payment: PayPal, Crypto Torrenting: OK Unblocks US Netflix: Yes Dedicated IP: $51/yr TrustPilot Score: 4,8/5 Money-back: 45 days Visit CyberGhost »

www.surfshark.com
Surfshark
Price: $11.95 $2.49/month Servers: 3200+ in 65 coutrines Simultaneous connections: Unlimited Jurisdiction: British Virgin Islands Payment: PayPal, Crypto, Google Pay, Amazon Pay Torrenting: OK Unblocks US Netflix: Yes Dedicated IP: Not provided TrustPilot Score: 4,3/5 Money-back: 30 days Visit Surfshark »

www.purevpn.com
PureVPN
Review
Price: $9.60 $3.33/month Servers: 6500+ in 140 coutrines Simultaneous connections: 10 Jurisdiction: Hong Kong Payment: PayPal, Credit Cards Torrenting: OK Unblocks US Netflix: Yes Dedicated IP: $35.88/yr TrustPilot Score: 4,7/5 Money-back: 31 days Visit PureVPN »