A well-liked substitute for more well-known BitTorrent applications is the lightweight torrent client qBittorrent. We suggest that anyone who uses this torrent client should use a VPN. Such a VPN allows you to unblock websites and services that may be restricted in your region, and it hides your identity from other torrent users.
Protecting yourself when using qBittorrent is simple with a VPN. Your downloads will remain entirely private if you simply open the VPN application and connect to a VPN server before and during each qBittorrent session.
In this article, we'll give you a list of the top five VPNs for qBittorrent along with some details on how using a VPN with qBittorent will keep you safe.
1. Best VPN for qBittorrent 2023
The top five qBittorrent VPNs are mentioned below. Carry on reading and look at our in-depth reviews of each VPN provider for more details about any of its services.
1.1 NordVPN – Best Overall qBittorrent VPN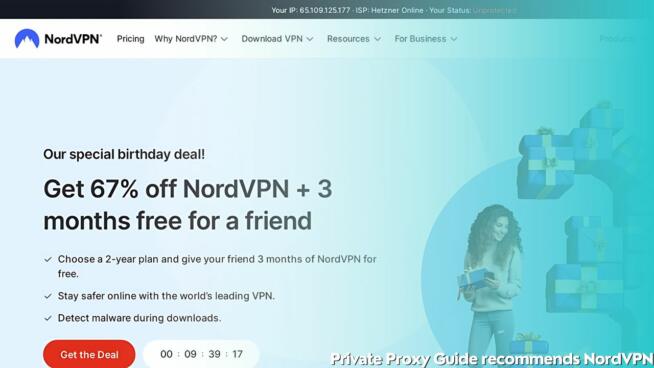 Essentially, the best overall option for qBitTorrent users is NordVPN. The VPN does not only allow torrenting throughout its entire VPN network, but it also has particular servers that are tailored for P2P use. With NordVPN, there are no data limits, so you can download as much as you want. Security is a real strong suit with NordVPN. It offers an excellent no-logging policy and 256-bit encryption.
However, where NordVPN really shines is in the extra security settings. These include the usage of anti-DDoS servers, TOR over VPN servers, double encryption, which encrypts your data twice for optimal security, and the choice of a dedicated IP address. Of course, there is also a kill switch available.
The server network of NordVPN has recently been enhanced and expanded. It now has a whopping 5,500 servers available in 59 countries, the majority of which have lightning-fast connection speeds.
NordVPN's apps are available for Windows, Mac OS, iOS, and Android, and you can also use Chrome or Firefox browser extensions with them.
1.2 ExpressVPN – Fastest VPN for qBittorrent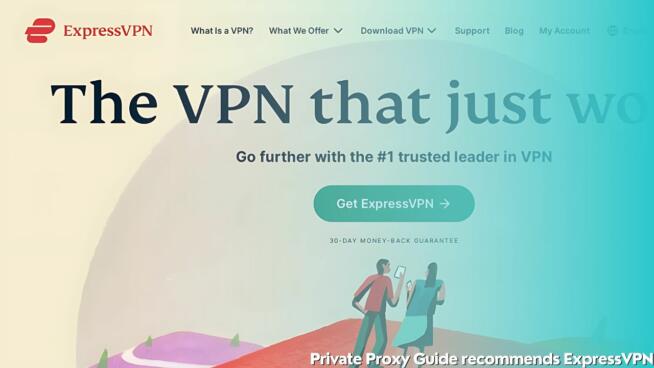 ExpressVPN is one of the most well-known brands in the VPN sector. It offers a huge selection of geolocated connections and thousands of supported servers. The user has access to a number of now-standard top-level VPN features through the ExpressVPN app, which is available for all popular OS systems.
These features include a Smart DNS, kill-switch, split tunneling, support for Wire Guard, and much more. You can also expect access to professional 24/7 customer support.
Above all, ExpressVPN offers extremely quick speeds. This helps download torrents, as does ExpressVPN's policy of allowing torrenting across all of its servers.
This network is huge, with more than 3,000 servers spread across 94 different countries, making it ideal for qBittorrent users. You can download as much as you like with ExpressVPN because there are no bandwidth restrictions at all.
Additionally, it has outstanding security features. These VPNs all come with the essential kill switch and use strong 256-bit encryption as a standard. Additionally, it has a solid no-logging policy, guaranteeing the privacy of all your online activities.
It has a wide selection of apps for all the popular gadgets, as well as some gaming consoles and Smart TVs. As for Chrome, Firefox, and Safari, there are even fantastic browser add-ons that allow you to manage your VPN connection directly from your browser.
1.3 Surfshark VPN – Best Budget VPN for qBittorrent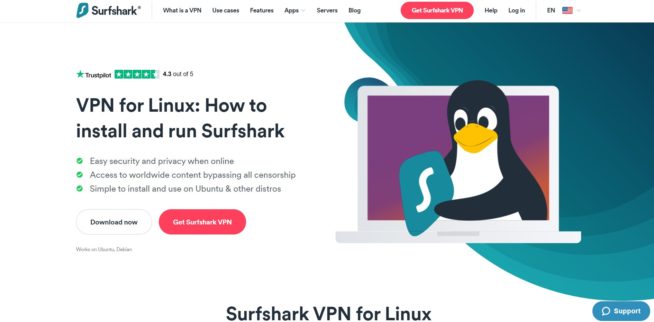 Since its release in 2019, Surfshark has quickly gained popularity among those concerned with privacy for activities like torrenting. It simply provides the most advanced VPN features while excluding old protocols and standards to provide a lean but incredibly powerful cybersecurity solution. This VPN is also reasonably priced!
Surfshark's 3200+ servers are spread across 65 countries and are accessible by OpenVPN, IKEv2/IPSec, and WireGuard, all of which use the 256-AES-GCM encryption cipher for security. These protocols are quite good at getting through ISP throttling and government restrictions.
Additionally, Surfshark does not discriminate against P2P traffic, never limits your bandwidth, and imposes no speed caps. You don't need specialized servers; just choose the closest one and start downloading anonymously.
The Surfshark's network is similarly based solely on RAM, preventing your provider from gathering and storing usage metadata. This is compatible with its tight no-logging policy, which has withstood independent privacy auditors' scrutiny.
1.4 CyberGhost – Safe VPN for qBittorrent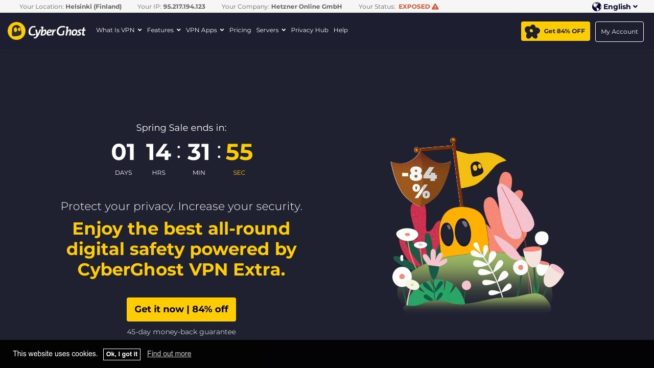 CyberGhost is a great choice for VPN newbies looking for an easy-to-use interface that will allow them to torrent safely. You will see a tab labeled "Torrent Anonymously" when you first launch the CyberGhost software. By simply clicking this button it will connect you to a server that supports P2P downloads. However, ease of use does not imply that CyberGhost has compromised other features of its VPN service.
A fantastic no-logging policy and 256-bit encryption are two of CyberGhost's security features. Additionally, CyberGhost has a kill switch feature and a sizable server network with 5,900 servers in 90 different countries. Excellent connection speeds are provided, and you can even use a speed boost feature to download files as quickly as possible.
All of the CyberGhost apps, which are available for Windows, Mac OS, iOS, and Android, have a simple user interface. To keep yourself safe while using qBittorrent, simply set your parameters as you see fit and click "Start Anonymous Torrenting."
1.5 IPVanish – qBittorrent

VPN With Many Locations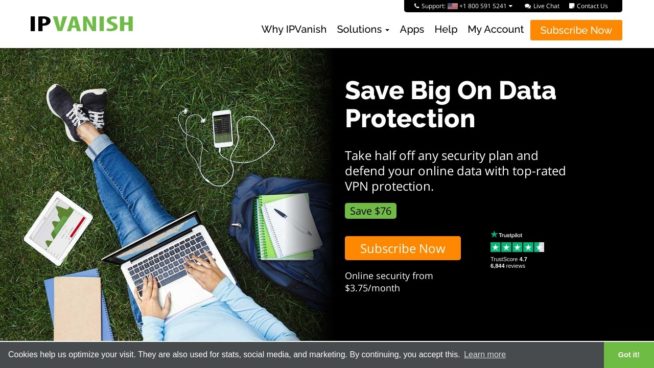 Another VPN service provider that is suitable for torrenting is IPVanish, which combines quick speeds with excellent security and privacy regulations. It does not impose Bittorrent usage restrictions and does not impose bandwidth limits either, much like ExpressVPN. No matter which server you connect to, download speeds will be fast because of the network's extremely fast servers.
IPVanish combines fast connections with excellent security, including the continued common usage of 256-bit encryption and a reliable no-logging policy. Along with several additional security measures like regular IP address changes and DNS leak protection, IPVanish also offers the crucial kill switch.
You won't have any trouble finding the ideal server for you thanks to the more than 1,300 servers on the IPVanish network, which are spread across more than 60 countries. With wonderful apps readily available for nearly any device and browser plugins, IPVanish is yet another excellent VPN option for qBittorrent users.
2. Frequently Asked Questions
2.1 What Is qBittorent?
Leading a new generation of BitTorrent clients, qBittorrent is seriously challenging market giants like uTorrent. The size of this little torrent client is just around 100MB. Services offered include RSS subscription, torrent prioritizing, torrent searching, selective content download, and BitTorrent protocol encryption.
Furthermore, qBittorrent also has a media playback feature and a torrent search feature. It's unclear how the company managed to fit all of this into such a minimal client.
qBittorrent is an open-source client that, in addition to these fantastic features, makes P2P downloading really simple and provides a clear, well-designed desktop to manage everything you are doing. It is a cutting-edge Bittorrent client that offers consumers a cutting-edge, all-around service when used in conjunction with one of our suggested VPNs.
2.2 How Can a VPN Hide Your Activity on qBittorent?
Essentially, when seeding and downloading files using qBittorrent or any other Bittorrent client, using a VPN effectively protects you from the prying eyes of copyright trolls. All of your internet activity is encrypted by a VPN to protect it.
When it is encrypted, no one can see what you are doing online. Even your choice of websites or internet services is hidden from everyone. Therefore, determining whether you are downloading or seeding copyrighted content is very difficult.
A VPN can also help with online ID privacy. All of your online activity will be redirected through a different server, and this new server will assign its own IP address to all of your data instead of the one that corresponds to your internet connection.
Most copyright trolls will use your IP address to connect your torrenting activity to you. However, it is nearly impossible for a copyright troll to connect your online behavior to you, as long as your VPN service doesn't store any logs of your online activity, including which server you are connected to.
2.3 Is Your VPN Working with qBittorrent?
The simplest way to determine whether your VPN is working properly is to check your IP address. If it is different from your actual address, your VPN is working properly.
Another way to check if your VPN is working is to look at the qBittorrent logs. If you see that the VPN constantly connects and disconnects or if there are any errors, then your VPN is not working properly.
2.4 How Can You Use qBittorent with a VPN? – Configuration
Below are the steps a user should follow when using a VPN with qBittorent:
Choose your preferred VPN from our list.
Sign up for your VPN.
Download and install the software.
Follow the instructions to set up your VPN with qBittorent.
Connect to a server in your location.
3. Get a VPN for qBittorent Today!
We fully recommend qBittorrent to any torrenter as a wonderful Bittorrent client. It certainly does raise the bar for Bittorrent clients, and user feedback indicates that so far, a few users have had no problems with it.
Essentially, we have listed the top five VPN services for qBittorrent and explained why we chose them from the options online. We have also included an explanation of what makes qBittorrent unique and why it is a wonderful client for people who are particularly concerned with security and privacy.
VPN Service


www.nordvpn.com
NordVPN
Review
Price: $11.95 $3.71/month
Servers: 5500+ in 59 countries
Simultaneous connections: 6
Jurisdiction: Panama
Payment: PayPal, AmazonPay, Crypto, Google Pay, Klarna
Torrenting: OK
Unblocks US Netflix: Yes
Dedicated IP: $70/yr
TrustPilot Score: 4,7/5
Money-back: 30 days
Extra: Double VPN, Obfuscated servers
Visit NordVPN »


www.expressvpn.com
ExpressVPN
Review
Price: $12.95 $8.32/month
Servers: 3300+ in 94 countries
Simultaneous connections: 5
Jurisdiction: British Virgin Islands
Payment: PayPal, Crypto, AliPay, Klarna,
Torrenting: OK
Unblocks US Netflix: Yes
Dedicated IP: Not provided
TrustPilot Score: 4,7/5
Money-back: 30 days
Visit ExpressVPN »


www.cyberghostvpn.com
CyberGhost
Review
Price: $11.99 $2.25/month
Servers: 6600+ in 89 coutrines
Simultaneous connections: 7
Jurisdiction: Romania
Payment: PayPal, Crypto
Torrenting: OK
Unblocks US Netflix: Yes
Dedicated IP: $51/yr
TrustPilot Score: 4,8/5
Money-back: 45 days
Visit CyberGhost »


www.surfshark.com
Surfshark
Price: $11.95 $2.49/month
Servers: 3200+ in 65 coutrines
Simultaneous connections: Unlimited
Jurisdiction: British Virgin Islands
Payment: PayPal, Crypto, Google Pay, Amazon Pay
Torrenting: OK
Unblocks US Netflix: Yes
Dedicated IP: Not provided
TrustPilot Score: 4,3/5
Money-back: 30 days
Visit Surfshark »


www.purevpn.com
PureVPN
Review
Price: $9.60 $3.33/month
Servers: 6500+ in 140 coutrines
Simultaneous connections: 10
Jurisdiction: Hong Kong
Payment: PayPal, Credit Cards
Torrenting: OK
Unblocks US Netflix: Yes
Dedicated IP: $35.88/yr
TrustPilot Score: 4,7/5
Money-back: 31 days
Visit PureVPN »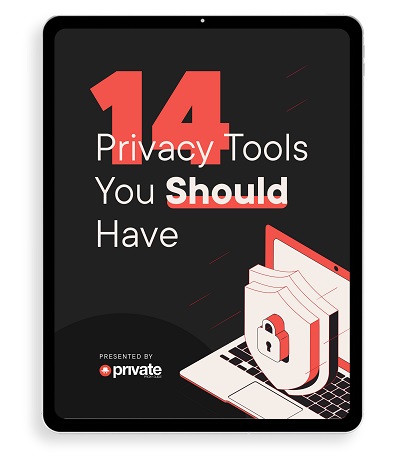 Learn how to stay safe online in this free 34-page eBook.