Remote work has become the new normal in this post-pandemic world in which we now reside. With RDP (Remote Desktop Protocol) software, you can easily control and access a computer over a network or the internet.
This technology works fantastically as a remote access solution, and in effect, it lets remote workers access their desktop computer no matter where in the world they are traveling.
A best practice is to include a VPN (Virtual Private Network) when accessing a computer with RDP software. Furthermore, not only does it protect your sensitive information, but it also masks your IP address so that your internet usage cannot be tracked.
Today's article shows you some of the best VPNs to use when working remotely and highlight their features. By the end of this piece, you are going to be armed with enough knowledge to make an informed decision regarding choosing the best virtual private network for your remote work.
1. Best VPN for Remote Work RDP 2022
We compiled this list with significant attention to detail and thorough testing to bring you the best VPNs on the market. Be sure to examine all the features and prices of each VPN before selecting the most suitable one for your work purposes.
1.1 NordVPN – Best Overall Remote Work RDP VPN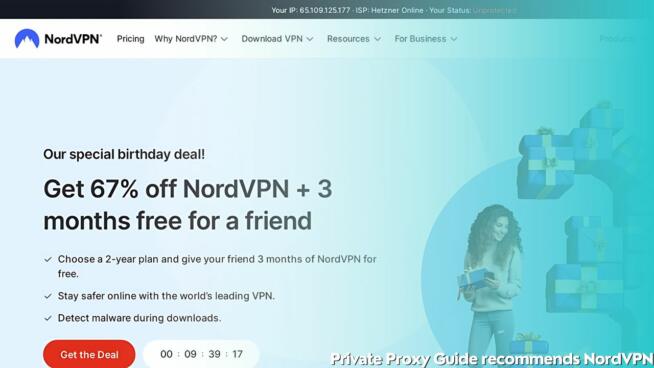 When it comes to a reliable and user-orientated VPN, you can trust NordVPN to tick all those boxes. Many remote workers around the world use this Panama-based virtual private network provider.
NordVPN has easy website unblocking abilities and an extensive range of features that make it stand out from other competing VPNs on the market. If you require access to a restricted website or log into a computer in a foreign country that has banned your connection, you can use NordVPN to bypass these issues.
This VPN has proven its consistency and versatility by unlocking restricted content at the click of a button.
There are over 5,100 servers in 65 countries, meaning you are just one step away from gaining access to the information you require. NordVPN also uses double masking to protect your identity and information while browsing the internet.
The last great thing about NordVPN is that you can experience ad-free YouTube video viewing because of the built-in ad blocker included with the software.
Key Features
Allows you to stream HD quality content and won't hinder your internet speed
Hides trackers and ads
Your data remain anonymous due to the double encryption NordVPN provides
Impeccable customer service
Available for multiple operating systems and browsers
5,000 available servers in over 60 countries
It doesn't keep track of logs
1.2 ExpressVPN – Fastest VPN for Remote Work RDP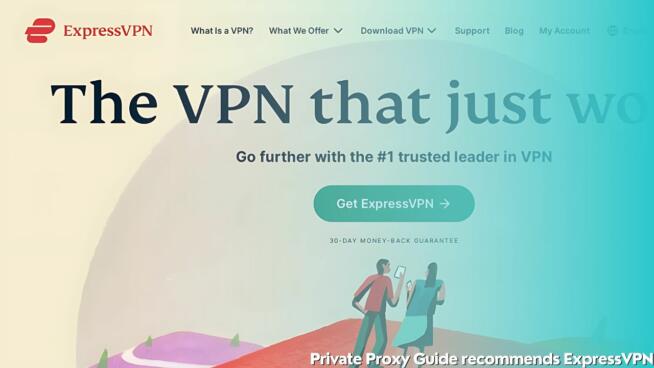 If you are looking for a secure, super-fast, and dependable virtual private network, ExpressVPN may be the best solution for you. Even though the choice between NordVPN and ExpressVPN may be arduous, the latter proves to be a better overall product.
Don't let the price of ExpressVPN scare you away, as it is jam-packed with features that help keep you safe while browsing the internet. The service stands out from the crowd due to all the fantastic safety elements that it boasts. It can help anyone mask their internet connection and secure online privacy through its unique user experience.
If you are looking for a VPN that you can use for remote work or RDP, you can count on ExpressVPN to get the job done. While performing daily work tasks, you can use the service's split-tunneling to keep your connection secure and unidentifiable.
There are 3,100 servers spread across more than 91 countries, so no matter where your remote desktop is located, you are going to be able to access it seamlessly. ExpressVPN also includes an intuitive AI system that can aid you in finding the most suitable server for optimal speed.
If you are concerned about security, you will be happy to know ExpressVPN offers advanced military-grade encryption and data management. You are entirely secure when doing remote work because the software includes a SHA-512 algorithm to protect the connection.
What's fantastic about ExpressVPN is that tracing is not possible due to the company's strict no-log policy. You never have to worry about security issues and always receive maximum privacy when using ExpressVPN.
There is also a network lock feature that protects your internet line in the event of a sudden disconnection.
These vital elements make ExpressVPN one of the best virtual private networks to use for remote work.
Key Features
Available on different operating systems and platforms
No bandwidth restrictions
It can be used on five devices at the same time
Browse securely with top-notch military-grade encryption
You can choose the best server accordingly to your location using the innovative location feature
There are over 3,000 in 94 countries
Outstanding availability and speed
Impeccable customer service and knowledgeable staff
Easily access an array of content when you are working remotely
1.3 CyberGhost – Safe VPN for Remote Work RDP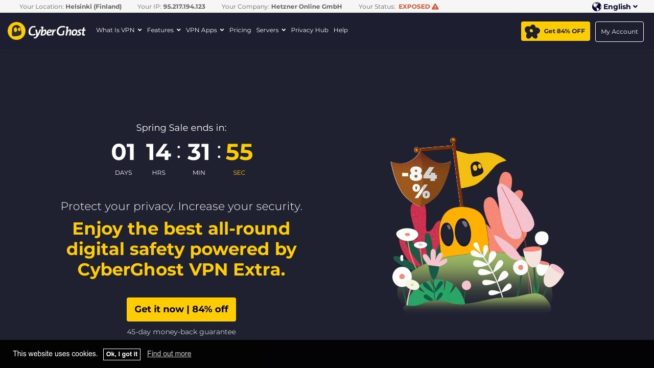 If you are required to bypass geo-restrictions while performing your work remotely and are searching for an affordable virtual private network for the task, CyberGhost may be your best bet.
Moreover, if you want to unlock content or access foreign streaming services, this VPN is confirmed to handle the job effortlessly, swiftly, and securely.
The company is based in Romania and has more than 5,500 servers in 92 countries and 110 locations. Unfortunately, remote workers based in the UAE and China cannot use CyberGhost as it is blocked in those countries.
However, if you are a remote worker anywhere else in the world, CyberGhost can help keep you protected while researching the web. It has SHA-256 authentication plus 256-bit encryption technology that secures your internet connection and masks your IP.
CyberGhost offers practical network lock features that operate similarly to the one included with ExpressVPN. What's great about the software is that it does not keep logs, which means you remain anonymous at all times.
With the military-grade encryption that CyberGhost offers, you will always be protected when working on significant work projects.
Key Features
45-day money-back guarantee
Great value for the price
Extremely reliable
Beginner-friendly interface
Experience and competent customer service agents
Secure network lock feature
No tracks of activity on the internet or logs
1.4 PrivateVPN – Best Budget VPN for Remote Work RDP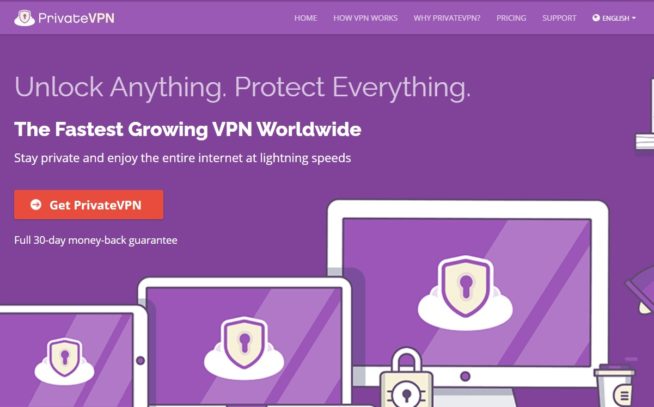 This software offers similar features to CyberGhost and is excellent value for money for anyone looking to use it for remote work. PrivateVPN is one of the most suitable options for people on a budget and is one of the most established names in the virtual private network industry.
Over 3,100 servers within 65 countries make it fantastic for remote workers worldwide. Using the split tunneling feature, you can use the software to access geo-restricted content for research purposes.
If privacy is a primary concern, do not stress as PrivateVPN has you covered. It can provide you with anonymity and security due to the software's high-end 256-bit data encryption technology.
You don't have to worry about those pesky video ads ever again because a built-in ad blocker is included with the package. Another great thing about PrivateVPN is its native malware scanner that helps keep your computer free from resource-draining applications.
Key Features
Split tunneling and kill switch in case of threats
Seamlessly reliable, secure, and fast connection
No data logging
Allows you to pay in cryptocurrency
Great value for money
Affordable VPN solution
Great customer service
Server in over 60 countries
1.5 StrongVPN – Remote Work RDP VPN With Many Locations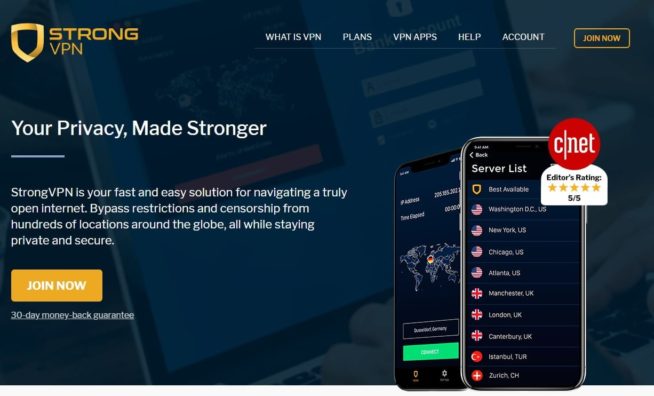 If you're looking for a virtual private network that is well established and offers an effective super-fast service, you have come to the right place. StrongVPN exceeds your expectations by including all the bells and whistles plus retails for a budget-friendly price.
The package is perfect for remote work because of its extensive range of servers in multiple locations. You always remain anonymous when browsing the internet due to the robust technology and highly reliable encryption standards used by StrongVPN.
What's excellent about StrongVPN is that the connection speed is swift, meaning you will never be held back with buffering videos or downloading essential documents.
The company has 1,300 servers in more than 70 regions, which is relatively insignificant compared to other virtual private networks on this list. Do not let that make you turn the other way, as StrongVPN is still a superb solution for someone looking to use it for remote work or with RDP software.
You will be protected from hackers at all times due to the 256-bit military-grade encryption and SHA-512 authentication. There is also a no data log policy to guarantee your anonymity whenever you browse the internet.
Key Features
No lag
Great internet speeds
Log less VPN with high data standards and protocols
Not crazy expensive
An unlimited number of devices are supported
High-end encryption and priority data protection
Seamless access to restricted platforms while performing remote work
2. Conclusion
If you are a remote worker or using RDP software, you know how vital internet speed and connection privacy is. Using one of the above VPNs, you not only secure your personal information but eliminate the threat of being hacked while dealing with sensitive data.
VPN Service

www.nordvpn.com
NordVPN
Review
Price: $11.95 $3.71/month Servers: 5500+ in 59 countries Simultaneous connections: 6 Jurisdiction: Panama Payment: PayPal, AmazonPay, Crypto, Google Pay, Klarna Torrenting: OK Unblocks US Netflix: Yes Dedicated IP: $70/yr TrustPilot Score: 4,7/5 Money-back: 30 days Extra: Double VPN, Obfuscated servers Visit NordVPN »

www.expressvpn.com
ExpressVPN
Review
Price: $12.95 $8.32/month Servers: 3300+ in 94 countries Simultaneous connections: 5 Jurisdiction: British Virgin Islands Payment: PayPal, Crypto, AliPay, Klarna, Torrenting: OK Unblocks US Netflix: Yes Dedicated IP: Not provided TrustPilot Score: 4,7/5 Money-back: 30 days Visit ExpressVPN »

www.cyberghostvpn.com
CyberGhost
Review
Price: $11.99 $2.25/month Servers: 6600+ in 89 coutrines Simultaneous connections: 7 Jurisdiction: Romania Payment: PayPal, Crypto Torrenting: OK Unblocks US Netflix: Yes Dedicated IP: $51/yr TrustPilot Score: 4,8/5 Money-back: 45 days Visit CyberGhost »

www.surfshark.com
Surfshark
Price: $11.95 $2.49/month Servers: 3200+ in 65 coutrines Simultaneous connections: Unlimited Jurisdiction: British Virgin Islands Payment: PayPal, Crypto, Google Pay, Amazon Pay Torrenting: OK Unblocks US Netflix: Yes Dedicated IP: Not provided TrustPilot Score: 4,3/5 Money-back: 30 days Visit Surfshark »

www.purevpn.com
PureVPN
Review
Price: $9.60 $3.33/month Servers: 6500+ in 140 coutrines Simultaneous connections: 10 Jurisdiction: Hong Kong Payment: PayPal, Credit Cards Torrenting: OK Unblocks US Netflix: Yes Dedicated IP: $35.88/yr TrustPilot Score: 4,7/5 Money-back: 31 days Visit PureVPN »