Romania is a country steeped in history, culture, and tradition. Nestled in the Balkan region of Europe, this beautiful green and mountainous nation proudly welcomes millions of tourists annually.
Whether they are escaping to the rolling hills and mountains, relaxing on the banks of the Danube, or immersing themselves in the ever-vibrant and culturally diverse capital city of Bucharest: Romania's visitors have one thing in common. They want to be able to get online quickly and securely.
Like most major cities in the 2020s, Bucharest is a hub of online activity, with plenty of public Wi-Fi networks to connect tourists with the world-wide-web. Unfortunately, they are not usually secure. Despite having some of the most advanced and detailed data security and privacy laws in the world, Romania is not immune to the growing threat of cybercrime.
Head away from the bustling city, and public networks become harder to find. No matter where you go in Romania, it is essential to maintain a secure connection- for safety and entertainment value.
1. Why Use a VPN in Romania?
Data mining is a problem in Bucharest. Websites and other online services collect and store information about people's activity to sell to advertisers, corporations, and data brokers. VPNs stop them from being able to do this, meaning you can enjoy your time online in Romania without worrying about unwanted communications.
Romanian streaming services are far more limited than what US consumers are used to. Netflix, for example, is entirely different, so you may not be able to access most of your favorite content! With the right VPN, you can stay connected with your usual platforms and programs rather than miss out during your travels.
Most international sporting events and channels do not work on Romanian networks, which is why so many people choose to stick with a reliable VPN.
Free VPN services that work in Romania are limited and lacking, with no security whatsoever. Installing one is unlikely to make much difference and certainly can't keep your information safe. Luckily, lots of premium VPN providers offer excellent Romanian packages at affordable prices.
2. Best VPN for Romania 2022
2.1 NordVPN – Best Overall Romania VPN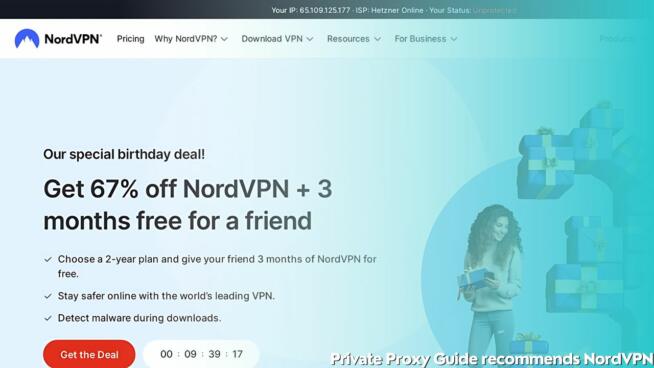 NordVPN is one of the best-known and most trusted VPN providers in the world, and it also happens to be our number one pick for use in Romania. Of its whopping 5100 international servers across 59 countries, the are 10 located in and around Bucharest, Romania.
It has a reputation for top-grade privacy protocols, strict no-logging policies, and tests as one of the fastest and most reliable connections internationally. In Romania, it provides the best secure access to leading streaming services, including HBO, Sky, and Netflix, while storing plenty of Romanian IP addresses for its users.
Top Three Benefits
24/7 live chat support from anywhere in the world
Excellent geo-blocker navigation
Reputation for high-quality connections and professional-grade privacy protocols
Any Downsides?
Maximum six devices connected at once
Other than the fact that it doesn't support unlimited devices (which shouldn't be a problem for an average trip), there is nothing negative to say. Affordable, flexible, effective, and with various servers in the country, NordVPN is an excellent choice for Romania.
2.2 ExpressVPN – Fastest VPN for Romania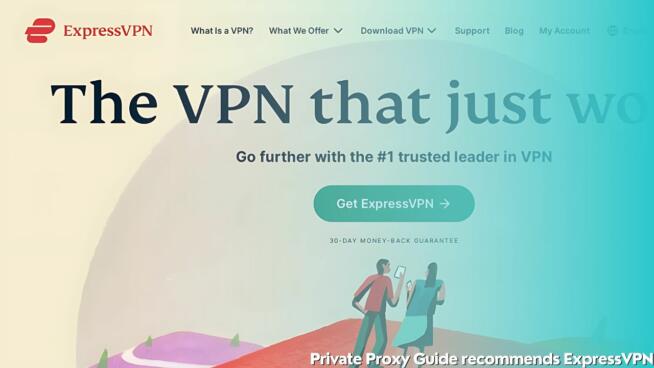 We can't talk about the best international VPN providers without mentioning Express. Widely considered the leading global provider, Express VPN is unbeatable for consistent high-speed connections and flexible accessibility. It has servers in more than 90 countries- including one in Romania.
Because of the server's central location, users in Romania can expect the same reliable service from Express VPN that has earned it such a stellar reputation. The program easily navigates around geo-blockers to unlock better Netflix content and more varied internet access. A list of Romanian IP addresses (number not specified) helps keep people secure and protected.
Top Three Benefits
Unrivaled connection speeds
Leading security and privacy protocols
Globally trusted with thousands of international services
Any Downsides?
One of the more expensive subscriptions
With ExpressVPN, you are paying for premium quality. It is not the cheapest subscription, but it still has excellent value overall.
2.3 CyberGhost – Best Value VPN for Romania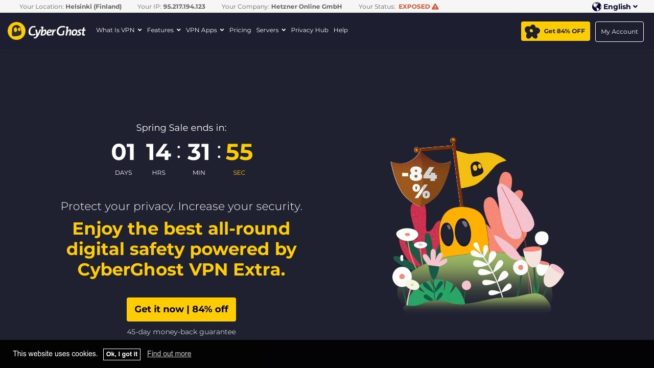 CyberGhost is actually a Romanian VPN company based in Bucharest, so it is an obvious choice for a visit to this country. Of all the providers on this list, it has the most Romanian servers- a total of 91, to be exact. With that size of national network, it is no wonder CyberGhost makes it onto this list.
What do all those servers provide? Other than a long list of secure IP addresses, they offer complete freedom for internet users to browse, stream, upload, and download with ease, convenience, and peace of mind. CyberGhost is renowned for its next-level encryptions and anti-data-mining efforts. It is Romania's largest VPN provider- and one of the only names that can rival Nord and Express.
Top Three Benefits
Based in Romania
User-friendly, convenient app controls
Money back guarantee for the first 45 days
Any Downsides?
Some streaming sites are hard to unblock
Overall, CyberGhost is a strong contender. It is fast, reliable, and affordable, with low-cost subscriptions to suit everyone. Other than one or two sites it struggles to unlock- this provider has Romanian private internet access covered.
2.4 PrivateVPN – Fast VPN for Romania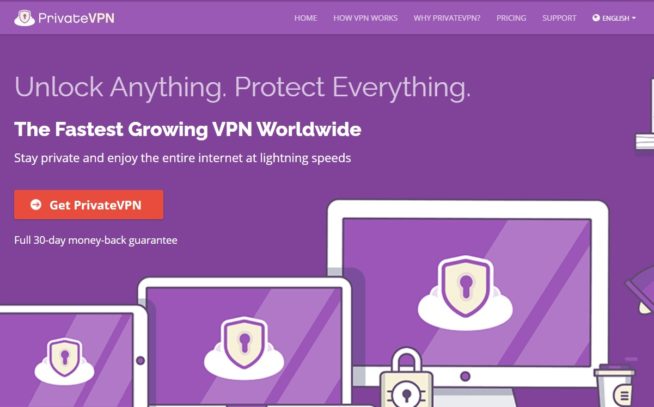 Despite being relatively new to the scene, Private VPN does a lot to impress. Its small but powerful network of servers offers visitors to Romania a fast, reliable, and secure internet connection across the country. Private VPN does not share how many servers it has in Romania, but it does confirm that it has a presence inside the country's capital city.
We love this VPN for its user-friendly approach to internet safety. The app is one of the best and comes with plenty of features to ensure users get the most out of the service. Additionally, the connection speeds in Romania are lightning fast- almost on par with the leading providers!
Top Three Benefits
Great at unblocking international Netflix content
Fast and reliable connection speeds
Impressive international network
Any Downsides?
It may be one of the smaller providers, but Private VPN shines in Romania. Connect quickly and securely to your favorite streaming services without worrying about unwanted prying eyes or content limitations.
2.5 HideMyAss VPN – Romania VPN

With Good Support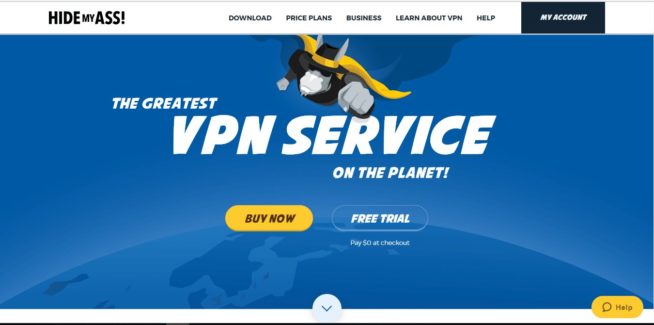 It may not be one of the first names that springs to mind when thinking of international VPN providers, but Hide My Ass actually has one of the widest networks of all. With servers in almost 300 locations (including two in Romania), HMA is a force to be reckoned with.
Ultra-affordable and with a renewed focus on top-quality privacy procedures, HMA does well at living up to its name. No logging policies and industry-leading encryptions give it an edge when it comes to shielding private data. It also unblocks US Netflix content with ease and maintains enjoyable, buffer-free streaming across Romania.
Top Three Benefits
Strong new focus on no-logging and privacy protocols
Servers in almost every country!
Compatible with all sorts of devices
Any Downsides?
Does not unblock Amazon Prime
One-year minimum subscription
If you travel regularly, a one-year low-cost subscription to Hide My Ass is well worth it- especially if some of those trips are to Romania!
3. Romania VPN FAQ
3.1 Are VPNs legal in Romania?
Yes, they are. It is perfectly legal to download and install a VPN in Romania, as long as it is not used to break any other Romanian laws.
3.2 Why is it important to get a Romanian IP address?
Data protection and privacy are essential no matter where you go in the world, and Romania is no exception. Although many people decide to use a VPN in Romania to unlock better and more varied online content, the security benefits should never be overlooked. Changing your device's IP address to a Romanian domain helps to shield your information from those who may try to take advantage.
3.3 How can I set up a VPN on my phone?
The exact process of getting set up with a VPN and new IP on a phone or any other device varies slightly from provider to provider, but the basics are the same. Once you choose what company you want to use, you buy the subscription and download the necessary software (most leading VPNs come with an app these days).
Users can automatically install and activate the VPN and check to see that the IP address has changed through the compatible app. You can also double-check your device settings to be sure. You can easily access the device's network information on most smartphones by going to Settings -> General -> VPN. From here, you can see whether or not it has successfully connected.
4. Final Thoughts
Nobody should gamble with data security when traveling abroad, nor should they have to compromise on connection and accessibility! When traveling to Romania, any of the five VPN providers mentioned above can help keep your digital information safe and your online experience enjoyable.
VPN Service


www.nordvpn.com
NordVPN
Review
Price: $11.95 $3.71/month
Servers: 5500+ in 59 countries
Simultaneous connections: 6
Jurisdiction: Panama
Payment: PayPal, AmazonPay, Crypto, Google Pay, Klarna
Torrenting: OK
Unblocks US Netflix: Yes
Dedicated IP: $70/yr
TrustPilot Score: 4,7/5
Money-back: 30 days
Extra: Double VPN, Obfuscated servers
Visit NordVPN »


www.expressvpn.com
ExpressVPN
Review
Price: $12.95 $8.32/month
Servers: 3300+ in 94 countries
Simultaneous connections: 5
Jurisdiction: British Virgin Islands
Payment: PayPal, Crypto, AliPay, Klarna,
Torrenting: OK
Unblocks US Netflix: Yes
Dedicated IP: Not provided
TrustPilot Score: 4,7/5
Money-back: 30 days
Visit ExpressVPN »


www.cyberghostvpn.com
CyberGhost
Review
Price: $11.99 $2.25/month
Servers: 6600+ in 89 coutrines
Simultaneous connections: 7
Jurisdiction: Romania
Payment: PayPal, Crypto
Torrenting: OK
Unblocks US Netflix: Yes
Dedicated IP: $51/yr
TrustPilot Score: 4,8/5
Money-back: 45 days
Visit CyberGhost »


www.surfshark.com
Surfshark
Price: $11.95 $2.49/month
Servers: 3200+ in 65 coutrines
Simultaneous connections: Unlimited
Jurisdiction: British Virgin Islands
Payment: PayPal, Crypto, Google Pay, Amazon Pay
Torrenting: OK
Unblocks US Netflix: Yes
Dedicated IP: Not provided
TrustPilot Score: 4,3/5
Money-back: 30 days
Visit Surfshark »


www.purevpn.com
PureVPN
Review
Price: $9.60 $3.33/month
Servers: 6500+ in 140 coutrines
Simultaneous connections: 10
Jurisdiction: Hong Kong
Payment: PayPal, Credit Cards
Torrenting: OK
Unblocks US Netflix: Yes
Dedicated IP: $35.88/yr
TrustPilot Score: 4,7/5
Money-back: 31 days
Visit PureVPN »