Unable to browse social media or access YouTube over your school Wi-Fi? It is because your school has restricted your access to such websites and probably more.
While blocking the distracting content on the internet is acceptable, sometimes, you will find yourself struggling to access certain research websites such as Wikipedia, which is essential to add a finishing touch to the research work. Likewise, several educational institutes blacklist YouTube, but it offers useful study materials that come in handy during exam preparations.
Thankfully, employing a VPN, Virtual Private Network, will help you unblock such websites without revealing your IP address, current location, or any trace of your online activities. Curious to know more? Stay with us as we discuss the restrictions imposed by school authorities and why VPN is the best option for tricking your school's network admins. Lastly, we have detailed the most compelling VPN providers that can empower you to unblock your favorite websites on your school network.
Verdict
Determining the best VPN provider is draining, especially if you want to unblock the internet restrictions imposed by your college authorities. Hopefully, the powerful VPN services we've illustrated below will help clear the air and make you settle for the right one. The best alternative for you will, of course, depend on your requirements, but I believe ExpressVPN will prove to be the best choice for the students owing to its versatility and the unlimited bandwidth it offers. Likewise, the encryption features and fast browsing speeds make NordVPN a solid alternative.
| | | | | |
| --- | --- | --- | --- | --- |
| VPN | Pricing(annual plan) | Free Trial without payment information | Total Devices at a time | Netflix Libraries |
| NordVPN | $4.99/mo. | No | 6 | 11 |
| ExpressVPN | $8.32/mo. | Yes | 5 | 20 |
| CyberGhost | $6.39/mo. | Yes | 7 | 4 |
| ProtonVPN | $5/mo. | Yes – free account | 10 | 8 |
| Surfshark | $3.99/mo. | Yes | Unlimited | 10 |
1. Best VPN for School and College in March 2023
1.1 NordVPN – Best Overall College and School VPN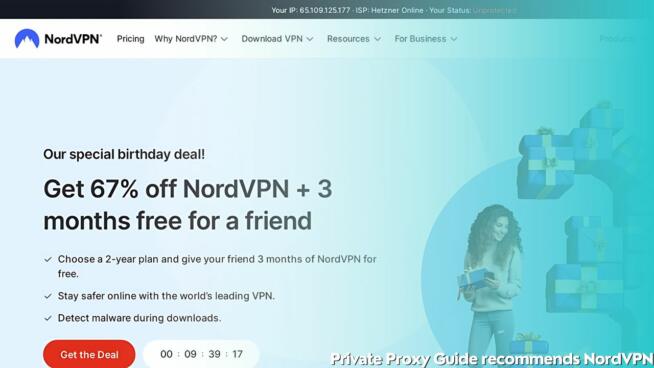 Pricing: Starts at $4.99/mo. (annual plan)
NordVPN is one of the most reliable VPNs in schools and colleges. With jurisdiction in Panama, it leverages a mix of privacy and security tools to provide the best internet censorship bypass experience. They have apps for virtually every major platform, including routers.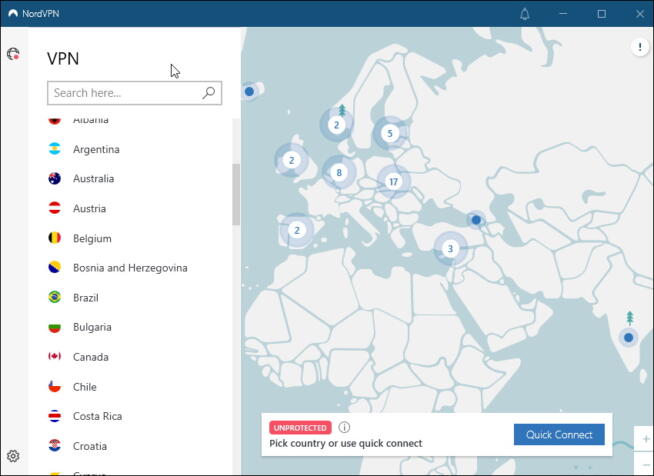 There is no free trial here, but we get a 30-day money-back guarantee on subscribing to any plans. The support helps resolve the issue through their emails and live chat.
Features
Double VPN, also known as Multi-hop, provides enhanced protection from censorship at all levels. The client connects to a different VPN location and then establishes a second connection to the second VPN before ultimately connecting to the destination.
The browser extension offers VPN protection without requiring an app installed on the computer. This comes in handy in college computers, where students have installation privileges. It automatically logs in if the NordVPN account is signed in on the browser. The extension also has an effective adblocker which works when the VPN is enabled.
NordVPN offers its in-house VPN protocol, NordLynx, built from scratch. It is based on WireGuard and NAT (Network Address Translation) for an additional security layer.
Consistent speeds are irrespective of the time of the day. The speeds are higher than its competitors and vary according to the distance from the user.
You can combine NordVPN with Tor (The Onion Router), adding an extra layer of security. Protect yourself from snoops on the internet through specialty servers.
Pros
Exclusive static IP is assigned to a user. It is available and parking for you, reducing the chances of being targeted by blacklisted IP bans.
Pause a VPN connection for a specific period, and it will automatically resume without user input.
Over 5500 servers across 59 countries worldwide, providing a wide range of locations.
Multi-hop servers offer an extra layer of security and anonymity from locally installed censorship
One of the largest collections of accessible Netflix libraries. Enjoy content from around the world.
Combine VPN with the Tor support and avoid getting snooped on.
Connect up to 6 different devices and get comprehensive protection anywhere.
Cons
No way to mark individual servers as favorites and access them later. Only recent connections are available.
Torrenting is not supported on all the servers.
The background process needs to run even when the VPN app is not running on the computer.
1.2 ExpressVPN – Fastest School VPN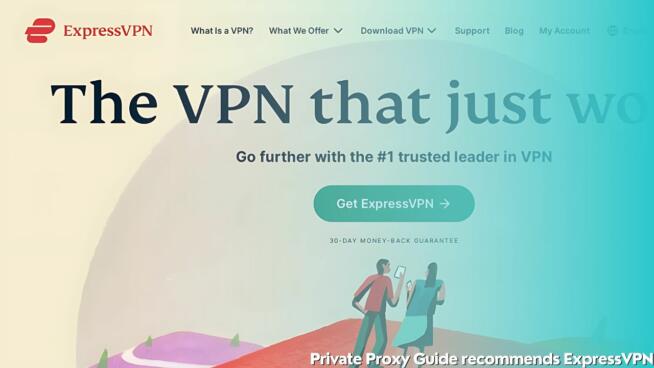 Pricing: Starts at $8.32/mo. (annual plan)
This VPN is a popular choice amongst users living in regions with state-implemented censorship. ExpressVPN justifies its higher pricing with the reliable VPN service that evades content filters and censorship in place.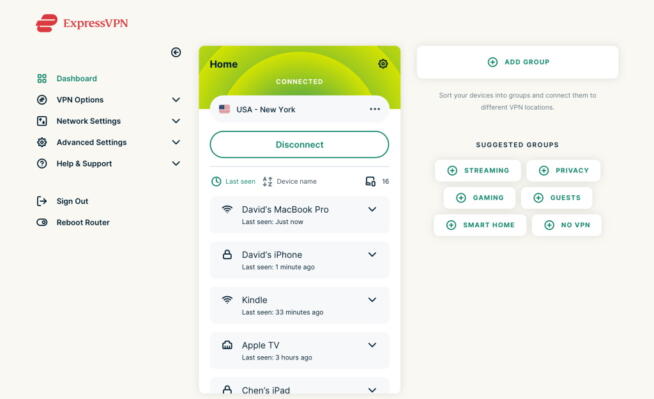 Sign up for a free 7-day trial through the mobile application. It does not ask for payment information. There is a standard month-long money-back guarantee on subscribing to a premium plan. ExpressVPN's web browser extension provides an all-around cover for the computer, eliminating the need for the app.
Features
The feature-rich mobile app has a plethora of options to explore, and the VPN connection gets established within 3 seconds, irrespective of the distance to the server location.
Peppy mobile app dashboard with the option to pin specific apps and websites. Tap on any of them, and they will be opened with the VPN connection enabled, routing all the traffic through them.
Unlimited bandwidth with zero caps on the traffic and speed. Stream the videos in 4K, and download content without worrying about drying up the data quota.
A private and encrypted DNS for every server, ensures that the activities stay safe and anonymous. No DNS hacking, blocking, filtering, or hijacking is possible.
One of the largest collections of OTT access from around the world. Netflix, Hulu, RaiPlay, Hotstar, BBC Iplayer, etc., are unblocked through ExpressVPN, just by turning on the VPN.
Pros
Six different VPN protocols are supported across different platforms.
TrustedServer Technology provides the latest security updates on the VPN server's end, ensuring the same code runs on all the server locations.
More than 3,000 servers in 94 countries across the world. It covers entire Europe, Africa, America, Asia, and other areas.
Versatile web browser extension which can run VPN on the entire system.
Government-grade 256-bit encryption for incoming and outgoing traffic on all the servers routed through the apps and DNS.
Spotless record of maintaining user privacy with no breaches since it began operations.
Reliable customer support through live chat goes out of the way to help the users.
Cons
Pricier than the rivals and not affordable for budget customers.
Servers are not marked for OTTs and P2P.
No official support for Tor Project.
1.3 CyberGhost – Safe VPN for School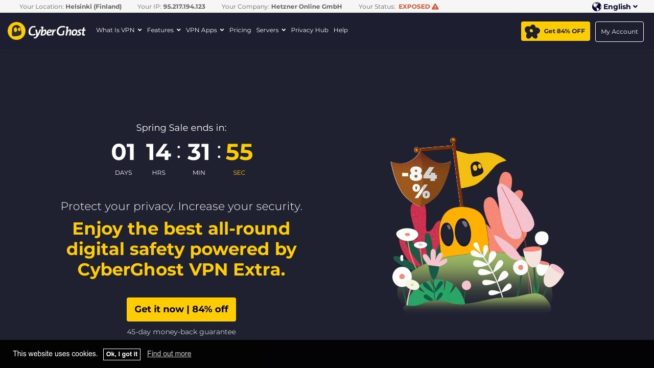 Pricing: Starts at $6.39/mo. (annual plan)
CyberGhost is not the most advertised VPN out there. It does tick all the boxes for being a dependable service that helps use the internet with freedom in school and college. Their desktop and mobile apps share the UI philosophy, providing a seamless switch between the two.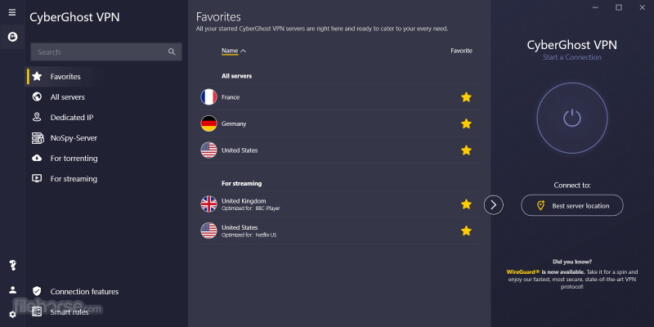 Like ExpressVPN, we get a 7-day free trial here, which can be availed from the mobile app. CyberGhost goes a step further and offers a 45-day long money-back guarantee, the longest assurance period among the competition.
Features
Domain fronting is available and circumvents censorship by replacing the visiting domain with a dummy one. The filters let the traffic go through without getting flagged.
CyberGhost offers P2P optimized servers and encourages using them for downloading files from torrent sites.
Create specific privacy triggers through Smart Rules, which work according to your instruction. Configure Wi-Fi protection, launch rules, app rules, and exceptions in one place.
NoSpy servers are located outside 5 eyes and 14 eyes jurisdiction. Use them without running the risk of being audited or snooped through the VPN server.
The in-built ad, malware, and tracker blocker is available across apps for different devices.
Pros
Connect up to 7 different devices on one subscription.
Consistent fast VPN server speeds with unlimited data bandwidth across the devices.
Wallet-friendly for long-term users and people on are looking for an economical solution. The festival offers to help save more on subscriptions.
Native support for streaming libraries of Netflix and other OTTs.
The dependable browser extension is faster than the mobile or desktop app. One click to instantly connect and start using the VPN protection.
They keep zero logs of the servers and the users. The company is situated in Romania, which helps them avoid stringent data retention laws.
The longest period of money-back guarantee helps in trying out different real-world scenarios of your standard usage.
Cons
Limited payment options for a few regions.
No city-based servers are available
Longer configuration time on non-standard platforms
1.4 ProtonVPN – Open-source School VPN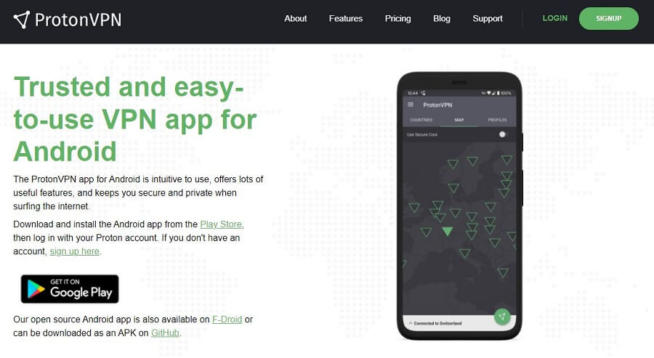 Pricing: Starts at $5/mo. (annual plan)
The company behind ProtonVPN is famous for its privacy-focused email service, spearheading the anti-censorship mission. Their VPN offering is not far behind, built on similar principles, emphasizing breaking down barriers of internet censorship.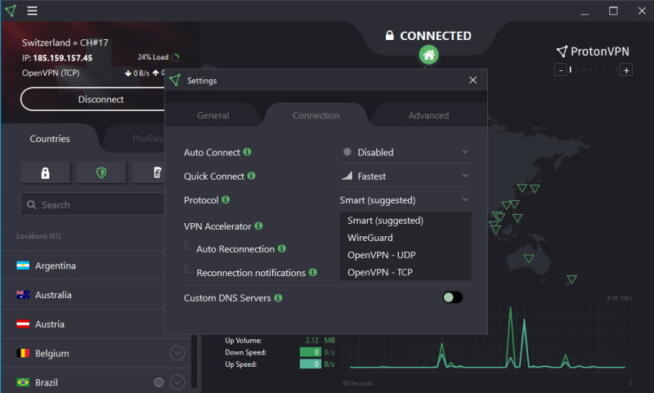 ProtonVPN offers a free account instead of a trial. It houses basic features bundled with fast VPN speeds, comparable to their subscription plans. Along with that, premium members can always opt for the 30-day money-back guarantee.
Features
Create numerous VPN profiles for different works – streaming, work, school, etc.
VPN accelerator boosts the connection speeds by overcoming CPU limitations, reducing latency, and redesigning the protocols.
ProtonVPN secures traffic by routing it through multiple servers before reaching the destination. Advanced adversaries cannot monitor the traffic, or the connection details.
App's source code is open-source and available for scrutiny on Github. It is independently audited by industry experts and veterans. This reduces vulnerabilities and patches the loopholes in the applications.
Robust DNS filtering blocks spam ads, and trackers and stops malware from reaching the user.
Pros
Establish up to 10 simultaneous connections at a time across devices and platforms
Open-source apps with code available for the public to review
4096-bit RSA keys for encrypting traffic, ensuring the highest level of protection.
Specially dedicated servers for use with torrent downloads. P2P is officially supported by ProtonVPN.
Headquartered in Sweden, with strong internet freedom laws, outside the jurisdiction of the EU and the US.
Tor over VPN is official supported, offering an additional layer of security and privacy while using the service.
Consistently high speeds in the free account for users who want to try the service before making a purchasing decision.
Cons
No live chat support, only through email and social media
Lower number of servers compared to its competitors, limited presence in Asia
Access to all the servers only on the highest premium plan
1.5 Surfshark VPN – Best Budget VPN for School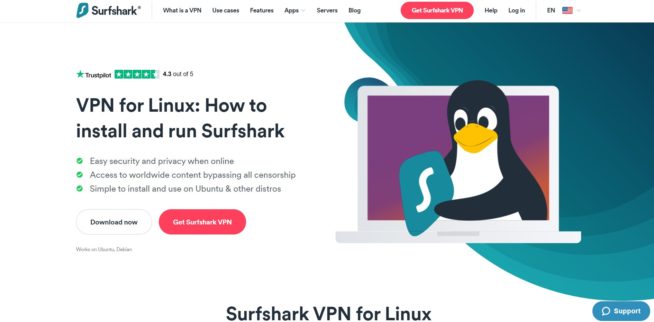 Pricing: Starts at $3.99/mo. (annual plan)
SurfShark starts off strong its aggressive pricing, often unmatchable by the competitors. Apart from a VPN, they offer antivirus, a tracer with a search engine, and a personal data leak monitor with the SurfShark One plan.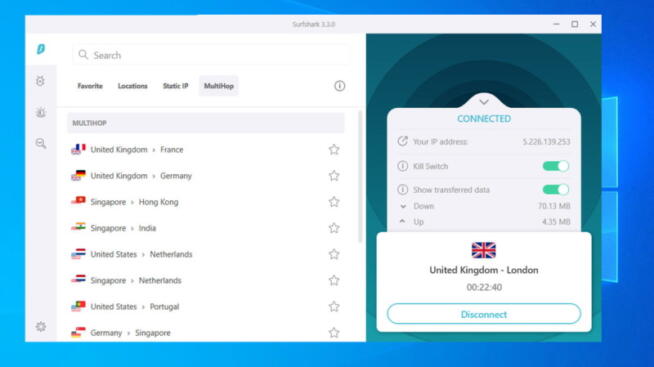 We get a week-long free trial, available through the mobile app alone. The alternative route is through the 30-day money-back guarantee with no questions asked.
Features
Register for a SurfShark account from the desktop app, available for Windows, macOS, and many Linux distros.
In-built antivirus on the Windows and Linux apps. It can be enabled from the settings.
Multihop is available, which connects to another destination server, before connecting to the destination. This keeps user information and activities concealed from the visiting websites and servers.
SurfShark has RAM-only servers, which does not allow storing anything on it apart from the default files, and they get wiped clean on turning off.
No cap on the number of devices, and unlimited bandwidth is available for every user.
Pros
Servers optimized specifically for gaming, torrenting, and streaming.
Unlimited simultaneous connections, meaning connecting any number of devices at a time.
The VPN works well in China, which is impossible on most VPNs.
A free seven-day trial without requiring a credit card or other payment information.
NoBorder mode offers a better mechanism to evade internet censorship without getting flagged on the firewall systems.
Industry leading AES-256-CGM encryption for all the VPN servers, including the traffic flows in both directions.
Periodic independent security audits done by leading cyber-security firms to ensure that the latest practies are followed.
Cons
No city-based servers for localized VPN experience.
The browser extension lacks the punch and offers basic functionalities.
Inconsistent speed in few regional servers.
2. School and College VPN FAQ

2.1 Why do schools and colleges censor the internet?
Schools and colleges censor the internet to prevent students from accessing questionable content. Generally, school administrations block social media, gaming, and websites offering explicit content. Internet is also restricted when colleges do not want the scholars to consume the bandwidth by streaming videos or watching live sports resulting in network throttle when employees need internet to complete office-related tasks.
While many may consider such limitations to be unfair, they are necessary to keep distractions at bay so that the students can concentrate on their studies. After all, binging on your favorite Netflix series over college Wi-Fi is not a good idea when you should be preparing for your presentation.
2.2 Can we unblock the internet at school?
Internet restrictions are extremely essential within the school premises to keep the students focused, but what if you need to access a restricted website to gather facts about your upcoming project or have to watch an educational documentary on YouTube?
In such scenarios, bypassing the restrictions set by your school's network administrators becomes essential. Luckily, there are plenty of ways to access the blocked content at school and, at the same time, maintain your online privacy, preventing your school admin from catching you.
2.3 How to unblock the internet at school without installing anything?
Below we have put together the most successful methods, employing which you can bypass the internet restrictions at school and browse the internet to your heart's content.
Use a Proxy: If you are in a hurry, a public Web Proxy is the best option, although not a secure one. They obscure your IP address from the school or university, allowing you to access geo-restricted websites.
Tor Browser: Tor is an open-source web browser and can also be used to surf the internet freely as it encrypts the data multiple times before directing it through a random network of servers, hiding the IP address from your school administration. Tor browser diminishes the browsing speed, and you might be restricted from downloading Tor browser on your college computers.
VPN: VPN is, by far, the most popular and secure way to circumvent the restrictions imposed on your college's network, especially if you have to do it regularly. VPN employs several security measures before connecting to a remote VPN server. This hides your real IP address and location, making your online activity completely anonymous.
2.4 How to choose a VPN for School and College?
There are several VPN providers in the market, so before settling for one, you need to compare them to the following factors.
A VPN imposing no restrictions on data consumption and bandwidth is a better choice for users planning to stream web content, access social media, or play games without having to worry about reaching the daily limit of VPN data.
Ensure that the VPN is equipped with features like malware protection, AES 256-bit encryption, Leak Protection, and most importantly, a Kill Switch that keeps your identity undisclosed even at the time of sudden connection failure.
Go for a VPN that offers sophisticated features without burning a hole in your pocket. Many VPN services offer a trial period so that users can be sure about the features they are promised before committing for the long term.
Go for a Zero-log VPN when purchasing one for your school that assures that none of the user's online activities or connection details are stored. Such VPNs ensure you do not leave digital footprints or a record of activities that may seem offensive to the school authority.
Opt for a powerful VPN that is capable of accessing geo-restricted content. That is essential if you are planning to binge on TV shows or access certain websites not accessible in your location.
2.5 Are VPNs legal to use?
Using VPN technology to be anonymous in the virtual world to safeguard online information is legal in most countries. However, performing unlawful activities such as torrenting or accessing the dark web while remaining hidden behind a VPN might not be permitted, so you should avoid such actions lest you want to land in hot waters. It is worth mentioning that some countries, Russia and China to be the prominent ones, have outright banned the use of VPNs for any purpose whatsoever.
2.6 Are free VPNs worth it?
While availing VPN without spending a penny might seem like a win-win, you should refrain from doing so. Most free VPN alternatives lack the advanced features required to bypass Wi-Fi restrictions imposed at school. Even worse, they are infamous for selling personal information and browsing history to advertisers without the user's knowledge, posing a severe threat to privacy. Most free VPN alternatives do not disclose their usage terms and may not even support data encryption. Moreover, free VPN services have a low success rate if you are looking for a VPN to bypass geo-restrictions.
VPN Service


www.nordvpn.com
NordVPN
Review
Price: $11.95 $3.71/month
Servers: 5500+ in 59 countries
Simultaneous connections: 6
Jurisdiction: Panama
Payment: PayPal, AmazonPay, Crypto, Google Pay, Klarna
Torrenting: OK
Unblocks US Netflix: Yes
Dedicated IP: $70/yr
TrustPilot Score: 4,7/5
Money-back: 30 days
Extra: Double VPN, Obfuscated servers
Visit NordVPN »


www.expressvpn.com
ExpressVPN
Review
Price: $12.95 $8.32/month
Servers: 3300+ in 94 countries
Simultaneous connections: 5
Jurisdiction: British Virgin Islands
Payment: PayPal, Crypto, AliPay, Klarna,
Torrenting: OK
Unblocks US Netflix: Yes
Dedicated IP: Not provided
TrustPilot Score: 4,7/5
Money-back: 30 days
Visit ExpressVPN »


www.cyberghostvpn.com
CyberGhost
Review
Price: $11.99 $2.25/month
Servers: 6600+ in 89 coutrines
Simultaneous connections: 7
Jurisdiction: Romania
Payment: PayPal, Crypto
Torrenting: OK
Unblocks US Netflix: Yes
Dedicated IP: $51/yr
TrustPilot Score: 4,8/5
Money-back: 45 days
Visit CyberGhost »


www.surfshark.com
Surfshark
Price: $11.95 $2.49/month
Servers: 3200+ in 65 coutrines
Simultaneous connections: Unlimited
Jurisdiction: British Virgin Islands
Payment: PayPal, Crypto, Google Pay, Amazon Pay
Torrenting: OK
Unblocks US Netflix: Yes
Dedicated IP: Not provided
TrustPilot Score: 4,3/5
Money-back: 30 days
Visit Surfshark »


www.purevpn.com
PureVPN
Review
Price: $9.60 $3.33/month
Servers: 6500+ in 140 coutrines
Simultaneous connections: 10
Jurisdiction: Hong Kong
Payment: PayPal, Credit Cards
Torrenting: OK
Unblocks US Netflix: Yes
Dedicated IP: $35.88/yr
TrustPilot Score: 4,7/5
Money-back: 31 days
Visit PureVPN »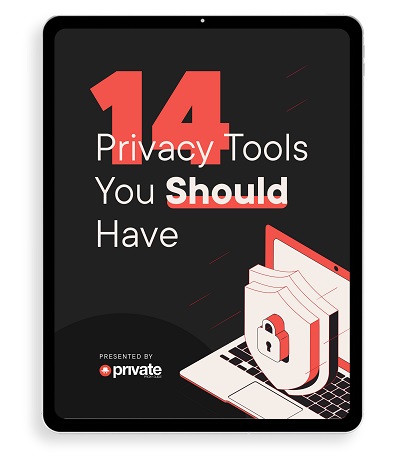 Learn how to stay safe online in this free 34-page eBook.