Slovakia, or the Slovak Republic, is a country in Central Europe. People there speak Slovak, but there are many cities in which citizens go for Hungarian instead. Moreover, people traveling to Slovakia from the U.S or any other English-speaking country don't have to worry about that since English is widely spoken there.
Since this country is in Europe, it's part of most European organizations such as the European Union and CERN. However, it's also an active member of the United Nations, NATO, the OSCE, and the Council of Europe. While people prefer traveling to other European countries, Slovakia has many things of its own.
This country is considered a developed country, and it has a high-income economy, which gives it enough funds to invest in more activities for tourists. Traveling there and getting to know its capital is not as expensive as it would be in other European countries, so it's an excellent option for people working on a budget.
Fortunately, the Slovak government doesn't restrict nor block content in any way, so you can use all the social media apps you want and watch the TV shows and broadcasts available in the country.
Mass surveillance is illegal in Slovakia, so you also don't have to worry about the government seeing what you do while browsing. However, as it happens in other countries, your ISP provider can see what you do and notify the government if there's any suspicious activity it should worry about.
Even if you don't do or browse anything wrong, no one likes the idea of their ISP provider studying everything they browse, and fortunately, there's an easy way to keep that from happening. VPNs are popular worldwide, and they help you stay anonymous while using the internet by encrypting your internet traffic.
Most people in Slovakia have access to either public or private internet connections, so make sure yours is a private and safe one. Using VPNs also protects you from cyber-attacks.
Regardless of that, the only way to get all the benefits we mentioned is by paying for a decent VPN. Many VPN providers and brands claim to offer you many things they don't give you at the end of the day, and that happens the most when using free VPNs.
Therefore, it's best for you to only use top-tier VPNs that offer all the features you need to have a comfortable, private, and safe browsing experience. You don't need to spend all day looking for one. Here are the five best VPNs for Slovakia, so try the one you like best!
1. Best VPN for Slovakia 2022
1.1 NordVPN – Best Overall Slovakia VPN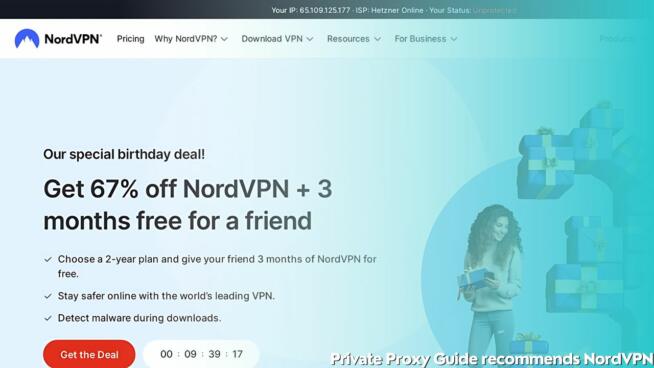 Although it's not the first one on this list, NordVPN is still a perfect option for people worried about getting hacked or watched by their ISP provider. Like the previous VPN mentioned on this list, NordVPN has servers in Slovakia.
NordVPN gives you excellent features when talking about unblocking geo-restricted content and optimizing your network settings. Nonetheless, it focuses on having a next-level encryption level to protect you from anyone trying to get to your personal information.
Companies and websites such as Forbes, the BBC, and BuzzFeed support and encourage people to use this VPN, so don't worry about it not being good enough for you. NordVPN allows you to have an active session on up to six devices at the same time, which is more than enough for your smartphone, desktop device, and even for your family or friends.
1.2 ExpressVPN – Fastest VPN for Slovakia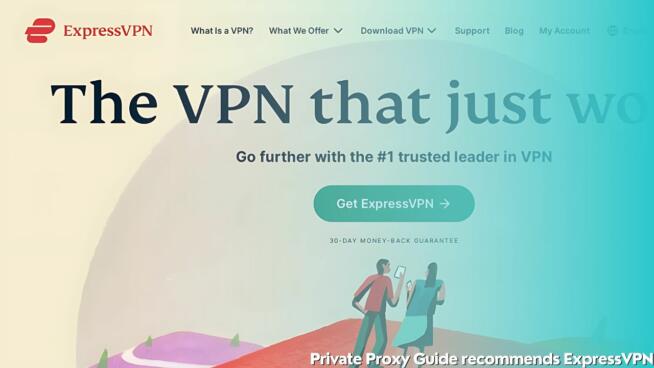 It's not odd to see ExpressVPN at the top of a list of the best VPNs on the market. This VPN offers you everything you would need in a VPN and even more than that! Geo-restrictions are a nuisance for people worldwide, and connecting to this VPN helps you get rid of them all.
ExpressVPN doesn't keep any track of logs, so you can stay safe and anonymous while browsing. This option supports desktop and mobile devices, so you can get it and use it on your smartphone and personal computer.
However, the flagship feature of this VPN is its servers. ExpressVPN focuses on giving you the fastest network settings you can ask for, so if what you want is speeding up your browsing speed, this is the must-go option for you.
This VPN has several servers in Slovakia, so you can also access any Slovak content you want.
1.3 ZenMate VPN – Safe VPN for Slovakia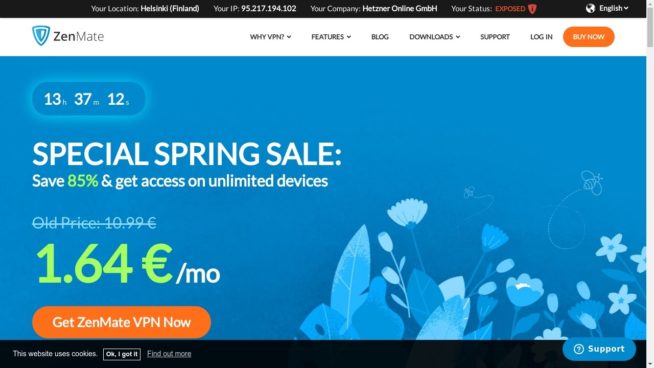 The third option on this list is Zenmate VPN, and for starters, you can get your first three months for free if you get it now. Downloading the Zenmate VPN's premium version allows you to keep active sessions on all kinds of devices, so it's perfect for offices.
Zenmate VPN has servers on more than 80 locations, which allows you to unblock geo-restricted content from anywhere you want. However, you can get your money back if you don't like the VPN thanks to its 30-day guarantee. This VPN offers plans for people of all budgets too.
One of the best things about this VPN is that it uses military-grade technology to encrypt your network and keep you anonymous at all times. VPNs need to be beginner-friendly since not everyone knows how these programs work, and ZenMate VPN understands that.
Therefore, you only need to make one click for the VPN to set everything up for you. ZenMate VPN offers a free browser extension for people not willing to pay for a paid VPN.
One of the best things about this VPN is it has 10 different servers in Slovakia.
1.4 CyberGhost – Slovakia VPN With Many Devices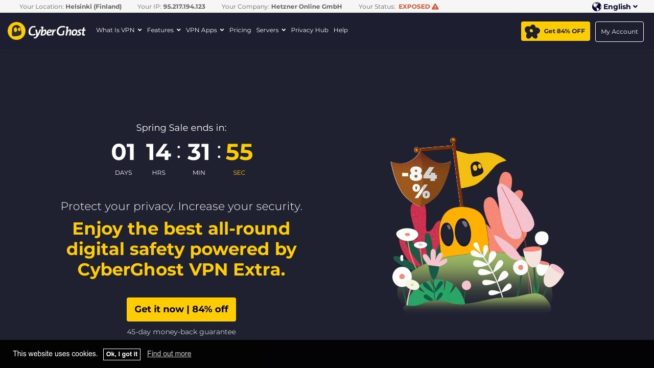 You don't need to pay for the most expensive plan you find online since some high-quality VPNs are also affordable. CyberGhost is an excellent example of that. While this VPN is not the best on the market, it offers all the features every VPN should have to protect you and unblock geo-restricted content.
The CyberGhost's interface is intuitive, so there's no way to get lost along the process. Its encryption level is a strong one, and that makes it difficult for anyone trying to hack you or steal your personal information. Additionally, you can use it on seven devices at the same time.
You can unblock content from streaming platforms such as Netflix, Hulu, and Crunchyroll with no problem while using CyberGhost, which is ideal for people looking forward to watching TV shows only available in foreign countries.
CyberGhost has 10 servers in Slovakia.
1.5 PureVPN – Slovakia VPN With Many Extensions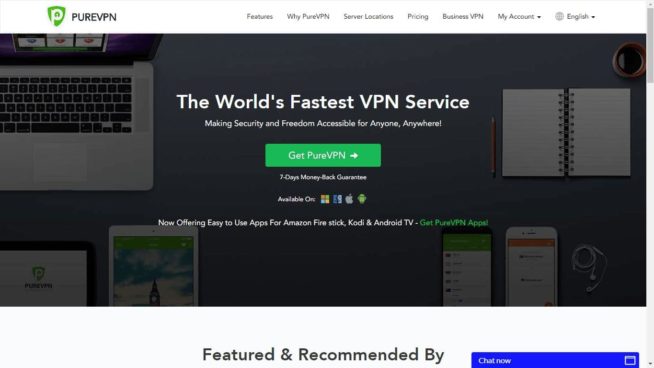 The last VPN on this list is PureVPN, and it gets to this list by offering you a reliable and safe VPN service. Whether you want it to unblock geo-restricted content or optimize your internet connection, this is one of the best options you can find among paid VPNs.
Like others on this list, PureVPN has a 30-day-money-back guarantee, so try it and see if it suits you and your needs. Safety features are also decent with this option due to its advanced 256-bit encryption.
PureVPN has more than 6,500 servers, but only one of them is in Slovakia.
2. Slovakia VPN FAQ
2.1 Can VPNs Make My Internet Connection Faster?
The answer is a bit more complex than a yes or a no. Using a VPN doesn't make your internet plan better all of a sudden or improve the internet infrastructure of a country. What VPNs do is send your connection to a server with optimized network settings that can take the most advantage possible from your internet connection, and that's what makes it faster.
Sometimes it's not that your internet plan is bad or not enough for you, is that you don't have the right internet settings for it to work properly. The problem with that is not many people know how those settings work.
Fortunately, VPNs servers have preset settings that aim to make your browsing experience a more comfortable and faster one.
2.2 Can I Get Hacked While Using a VPN?
Everything depends on the VPN you use and its encryption level. Using a VPN makes it almost impossible for people to hack you, but this only applies to paid VPNs. Not all free VPNs have a decent encryption level, so you are not that safe while using them.
Paid VPNs tend to have more features than free ones due to having more funds to work with. We don't recommend you go for free VPNs, so try to stick to the ones listed on this page.
2.3 Are VPNs Needed in Slovakia?
VPNs are useful regardless of where you use them. People are vulnerable to hackers and cyber-attacks at all times, so it's essential to stay safe while browsing. Apart from that, having better network settings is always a good thing.
Even if you don't think you need VPNs in the long run, they can make your overall browsing experience better, and that's already worth it.
3. Conclusion
Are you looking for a VPN that makes your browsing experience in Slovakia more comfortable and faster? All the apps mentioned here can help you with that!
It's useless to get a VPN that doesn't help you in any way or doesn't have enough features for you. Investing in a paid VPN, on the other hand, is a profitable thing to do in the long run.
Don't hesitate to invest in your safety and comfort!
VPN Service


www.nordvpn.com
NordVPN
Review
Price: $11.95 $3.71/month
Servers: 5500+ in 59 countries
Simultaneous connections: 6
Jurisdiction: Panama
Payment: PayPal, AmazonPay, Crypto, Google Pay, Klarna
Torrenting: OK
Unblocks US Netflix: Yes
Dedicated IP: $70/yr
TrustPilot Score: 4,7/5
Money-back: 30 days
Extra: Double VPN, Obfuscated servers
Visit NordVPN »


www.expressvpn.com
ExpressVPN
Review
Price: $12.95 $8.32/month
Servers: 3300+ in 94 countries
Simultaneous connections: 5
Jurisdiction: British Virgin Islands
Payment: PayPal, Crypto, AliPay, Klarna,
Torrenting: OK
Unblocks US Netflix: Yes
Dedicated IP: Not provided
TrustPilot Score: 4,7/5
Money-back: 30 days
Visit ExpressVPN »


www.cyberghostvpn.com
CyberGhost
Review
Price: $11.99 $2.25/month
Servers: 6600+ in 89 coutrines
Simultaneous connections: 7
Jurisdiction: Romania
Payment: PayPal, Crypto
Torrenting: OK
Unblocks US Netflix: Yes
Dedicated IP: $51/yr
TrustPilot Score: 4,8/5
Money-back: 45 days
Visit CyberGhost »


www.surfshark.com
Surfshark
Price: $11.95 $2.49/month
Servers: 3200+ in 65 coutrines
Simultaneous connections: Unlimited
Jurisdiction: British Virgin Islands
Payment: PayPal, Crypto, Google Pay, Amazon Pay
Torrenting: OK
Unblocks US Netflix: Yes
Dedicated IP: Not provided
TrustPilot Score: 4,3/5
Money-back: 30 days
Visit Surfshark »


www.purevpn.com
PureVPN
Review
Price: $9.60 $3.33/month
Servers: 6500+ in 140 coutrines
Simultaneous connections: 10
Jurisdiction: Hong Kong
Payment: PayPal, Credit Cards
Torrenting: OK
Unblocks US Netflix: Yes
Dedicated IP: $35.88/yr
TrustPilot Score: 4,7/5
Money-back: 31 days
Visit PureVPN »